D.C. gay couple robbed, pistol whipped but U.S. Attorney has yet to prosecute
Victim says attackers shouted anti-gay slurs, hit him in face with gun last year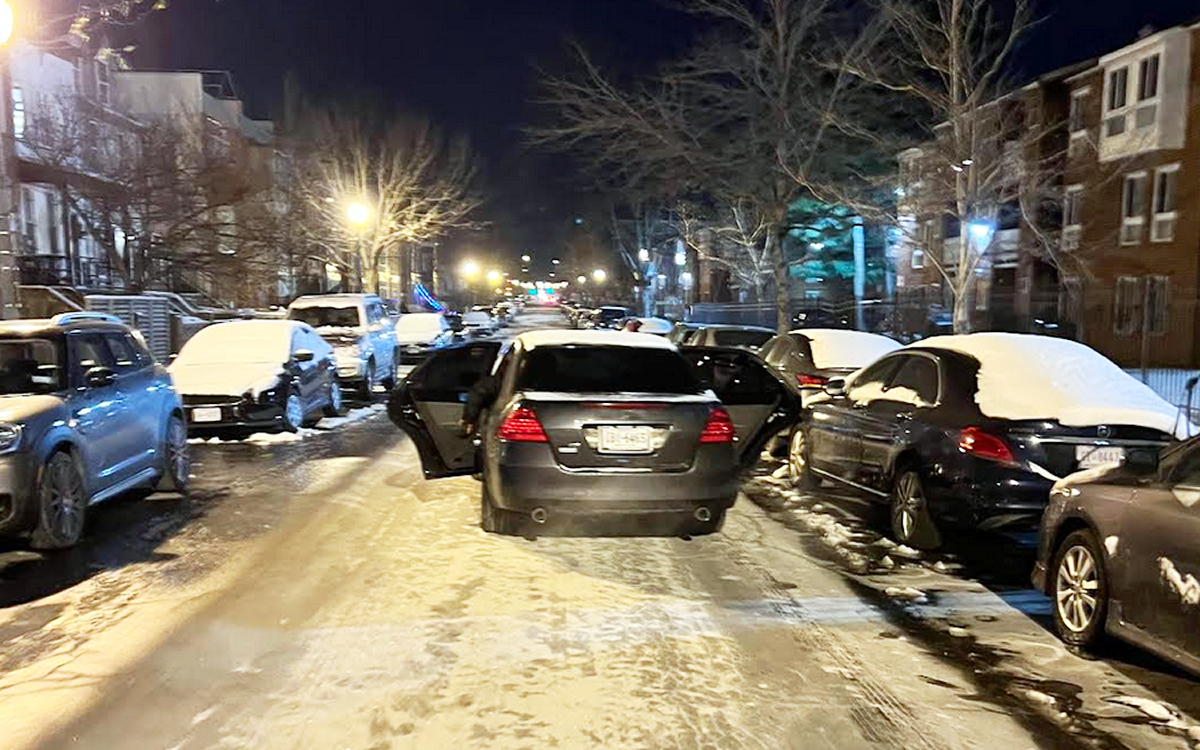 A D.C. gay man says an official with the Office of the United States Attorney for the District of Columbia last week explained to him why the office has yet to prosecute two male suspects identified by D.C. police who allegedly assaulted and robbed him and his partner at gunpoint near their home while yelling anti-gay slurs more than a year ago.
The gay man, who asked to be identified by his first name, Michael, said the incident took place shortly after midnight on Jan. 8, 2022, as he and his partner, who has also asked to be identified by his first name, Christopher, were walking home at the intersection of 4th and N streets, N.W., when two men wearing ski masks and brandishing handguns approached them and demanded their money.
According to Michael, the official with the U.S. Attorney's office, whom he declined to identify, told him the delay in prosecuting the case was due to a lack of sufficient evidence to bring the suspects identified by police to trial. But he said the official told him the case remains open and under investigation.
Michael described the incident in detail in an Aug. 1 letter he mailed to Matthew W. Graves, the U.S. Attorney for the District of Columbia, who serves as the city's lead prosecutor.
He urged Graves in his letter to take steps to prosecute the case using information he and Christopher provided police, including the license plate number of the suspects' getaway car and purchases made with a credit card stolen from the couple during the robbery. Michael provided a copy of the letter to the Washington Blade.
"Two men confronted us yelling homophobic slurs then robbed us at gunpoint," Michael told Graves in his letter. "During this time, I was also pistol whipped in the face before the two escaped in a getaway car," he wrote. "To my dismay, it has been more than a year since the incident occurred, and no progress has been made prosecuting the offenders," he told Graves in his Aug. 1 letter.
Michael points to a D.C. police report confirming that police obtained what they believed was sufficient probable cause to obtain a warrant for the arrest of at least two suspects they identified in their investigation. The police report says the U.S. Attorney's Office declined the police request for the warrant.
But the report does not list the incident as a hate crime, and a police spokesperson told the Blade that the two victims never told police investigators that the suspects called them anti-gay names. Michael and Christopher told the Blade they thought they mentioned the anti-gay name calling to police, but they acknowledge they may not have done so following the trauma of being robbed at gunpoint.  
Michael told the Blade that the official with the U.S. Attorney's office for the first time informed him in an Aug. 25 phone conversation that the delay in prosecuting the case was due to difficulty in definitively identifying the two suspects who robbed him and Christopher and a third suspect who drove the getaway car based on just the license number and credit card information.
"She said since they had multiple people in the vehicle, and because the gunmen were masked, they are having a hard time linking the credit card/phone information to the car's license plate," Michael said the official told him. "They have to specifically know who did what part of the crime to charge them," he attributed the official as saying.
Michael said in an Aug. 28 phone interview with the Blade that he told the U.S. Attorney's office official that he wants the office to prosecute the case, but he is doubtful the office will do so based on what the official told him.
The office of the U.S. Attorney for D.C. has a longstanding policy of not publicly disclosing its reasons for not prosecuting cases like this one.
Patricia Hartman, a spokesperson for the D.C. U.S. Attorney's office, when contacted by the Blade, declined to comment on the case, saying, "We can neither confirm nor deny the existence of investigations."
The Blade will update this story to include any explanation the U.S. Attorney's office decides to publicly disclose for its reason for not prosecuting this case.
Christopher, Michael's partner, told the Blade one of the two suspects that robbed the two men began touching and grabbing his crotch in an "unwelcome action" toward him as the suspect was checking his pants pockets for a wallet or any other belonging that the two suspects intended to steal from the two men as the armed robbery unfolded.
The man who touched his crotch did so after he pointed a gun at his chest, Christopher said.
The D.C. police report for the incident obtained by the Washington Blade says that in addition to taking the two men's wallets, at least $100 in cash, and credit cards, the armed gunmen took Christopher's Canada Goose jacket, which the report says had an estimated value of $1,500.
The police report includes the notation, "Prosecution Declined (May 4, 2022)."
The report, however, also states that the incident is not listed as a suspected hate crime.
D.C. police spokesperson Paris Lewbel provided a statement to the Blade saying the two men did not tell the officers responding to the scene of the incident or detectives in follow-up interviews that the suspects called them anti-gay names.
"We have reviewed the BWC [Body Worn Camera] footage of the officers who responded to the scene and interviewed the two victims of the crime," the police statement says. "They never told officers that the suspects made any statement or anti-gay remarks," it says.
"In a review of follow-up interviews by detectives, they also never stated the suspects made any statement," the statement continues. "Had they told the responding officers or detectives, this case would have been classified as a Hate Crime," it says.
The statement adds, "The detectives conducted a complete and exhaustive investigation of this offense, and based on probable cause, they submitted arrest warrants to the United States Attorney's Office; after a review, the USAO declined to pursue charges at that time, and MPD closed the case administratively."
The police statement concludes by saying, "We cannot comment about USAO's decision and refer you to them for additional information.
Both Michael and Christopher told the Blade they thought they told police about the anti-gay slurs made by the two suspects who robbed them, but they now believe they may not have disclosed that information under the stress and anxiety they experienced after having been robbed at gunpoint.
"I think we were mostly just in shock at the moment," Christopher told the Blade in a phone interview. "I don't know if we focused on that," he said in recalling that he and Michael were questioned by police officers at the time of the incident for about two hours.
"I'm used to being called a faggot," Christopher added. "I'm not fazed by that anymore," he said, pointing out that those feelings and the stress at the moment may have prompted him not to raise the issue of the anti-gay slurs by the two suspects.
Spokespersons for the D.C. police and the U.S. Attorney's office did not respond to a question by the Blade on whether they might bring a hate crime charge against the suspects if the case is eventually prosecuted.
Under the D.C. hate crimes law as recently amended, hatred need not be the only motive for the underlying crime for which a hate crime designation could be added. Although armed robbery was the underlying crime in this case, prosecutors can add a hate crime designation if they believe there is sufficient evidence to do so.
Michael states in his letter to U.S. Attorney Graves that he and Christopher provided D.C. police with a photo of the rear of the getaway car capturing the license plate number after the two suspects entered the car with a third person driving the vehicle. Christopher said he took the photo with his phone that the suspects, for unknown reasons, did not take. They took Michael's phone but minutes later tossed it out the window of the getaway car as it drove off.
According to Michael's letter to Graves, he and Christopher promptly reported the incident to D.C. police, provided police with the photo of the car license number and subsequently provided police with information about how one of the credit cards stolen from them was used to order food through a food delivery service.
"With the help of online account information provided by the food delivery service, MPD told us they had enough telephonic evidence to corroborate our stories and for an arrest warrant," Michael says in the letter.
Defense attorneys familiar with this type of case have said "probable cause" by itself may not be sufficient to convince a jury to render a verdict of guilty. Defense attorneys point to the requirement under criminal law that prosecutors must convince a jury that someone is guilty "beyond a reasonable doubt," which is a more stringent criteria than probable cause.
Michael said one or more of the detectives involved in the case told him they believed the evidence obtained from the license plate number of the getaway car, the use of at least one stolen credit card, and information from the food delivery service DoorDash that one of the suspects made purchases through the stolen credit card was substantial enough to charge the suspects, who Michael said the detectives declined to identify by name.
"I do believe that even if one could not prove armed robbery beyond a reasonable doubt, other illegal acts, such as credit card fraud, could be proven," Michael said in his letter to Graves.
Georgetown University hosts panel on transgender, nonbinary issues
Lawmakers from Mont., Okla. among panelists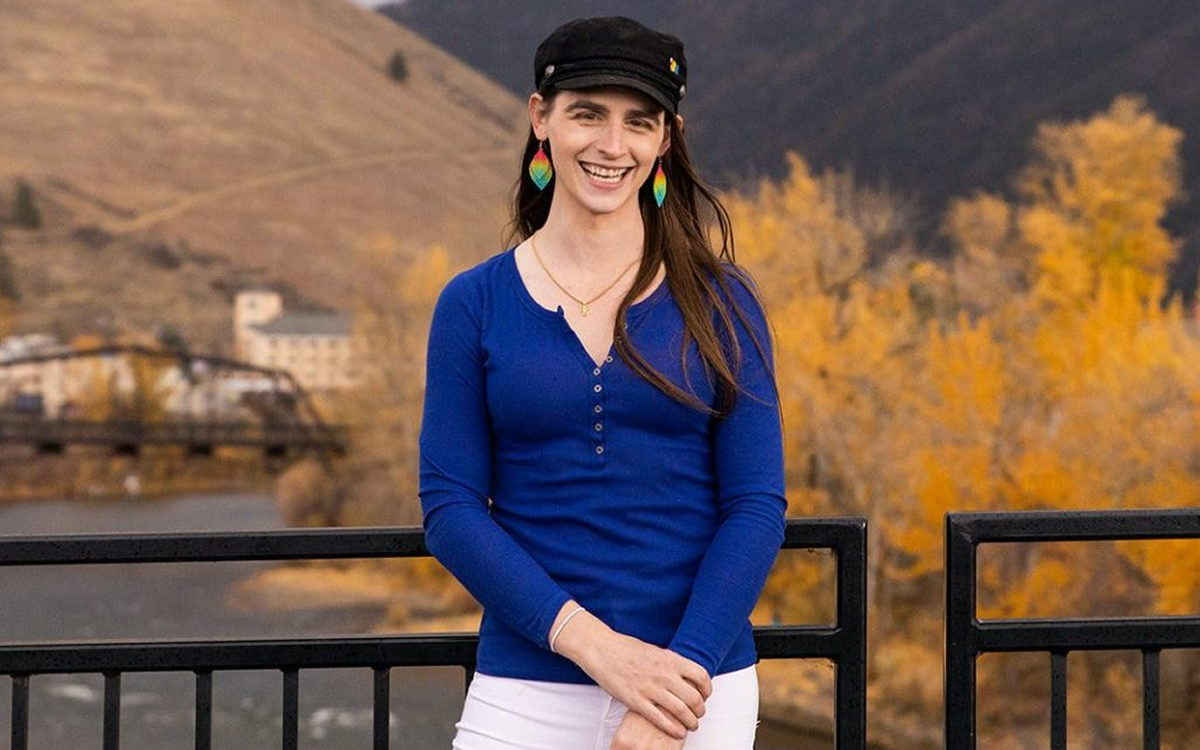 A panel on transgender and nonbinary issues took place at Georgetown University on Tuesday.
The panel included Montana state Rep. Zooey Zephyr and her fiancée, journalist Erin Reed, who are both trans, and nonbinary Oklahoma state Rep. Mauree Turner. Charlotte Clymer was also on the panel that Amanda Phillips, a nonbinary Georgetown professor, moderated.
The panel began with a discussion about anti-trans laws that have been enacted across the country.
Reed said the Alliance Defending Freedom and the American Principles Project developed a strategy in response to North Carolina's now repealed law that banned trans people from using public restrooms consistent with their gender identity.
They focused on states that are more "business-friendly and therefore harder to boycott, and started with sports. Reed said bans on gender-segregated sports put an "asterisk on [trans] identity" that made further attacks possible.
Clymer spoke on attitudes towards trans policies.
She referenced a survey that asked Americans if they supported nondiscrimination protections for LGBTQ individuals. Around 75 percent of respondents, including almost half of Republicans, said yes. Clymer said the next question that asked if such protections exist concerns her.
Roughly half of respondents said yes.
While there are two U.S. Supreme Court rulings — Obergefell and Bostock — that extended marriage rights to same-sex couples and employment protections to LGBTQ people respectively, Clymer noted there are no federal protections based on sexual orientation and gender identity.
Turner and Zephyr spoke about being censured for defending trans rights.
Oklahoma lawmakers in March censured Turner after they refused to turn into the authorities a trans person who had allegedly assaulted a state trooper. 
Turner said in Oklahoma, where there is no public debate, and politicians are openly anti-trans, residents are fighting against an "apathetic" and "heinous" legislature. On the topic of activism, they said being a "truth teller," and saying "absolutely not" is "what got [them] censured."
Zephyr's censure was in April after she criticized a bill to restrict gender-affirming health care in Montana. The protests that followed stemmed from trans issues, but Zepher said they were about much more.
"The protests […] were about recognizing that when you silence a legislator, you take away representation from their constituents," she said. "That fight became a larger fight about democracy."
The panelists talked about mental health and addressing it.
Turner said that being the representation they needed keeps them going.
"I didn't think I was going to make it through middle school," they said. "Representation matters for so many people […] if you can aid in being that representation, being that force that helps somebody else keep going, that is one of the most powerful experiences."
The panel agreed that finding community is important to mental health.
"Sometimes our best activism is finding our community," Reed said.
The panel also spoke about queer joy and strength.
"Queer joy is the thing they can't take away," Zephyr said.
Reed talked about photos of activists who were organizing before the Stonewall riots in 1969; they were smiling and enjoying their community.
"The queer story is a story of not just surviving in the margins but thriving in the margins," Reed said.
Turner added "trans lives aren't just lives worth fighting for, they are lives worth living."
A self-described "journalist" who didn't identify himself or his outlet asked the panel, "What is a woman?" Clymer turned the question back to him, and he said it "comes down to genetics."
Clymer began to explain that chromosomes don't always define sex. The audience member began to argue and ignored an event organizer who was asking him to leave. Security promptly escorted him out.
Reed continued Clymer's point that even biological sex is difficult to define.
"Last year, 15 different state legislators tried to define sex, did you know that none of them managed to do so in a way that was scientifically correct?"
The panelists also offered advice to allies.
Clymer said treading about trans issues and being informed about them is a great start.
"You've got to step up," she said.
Turner said allyship goes beyond relationships, and into the realm of being uncomfortable.
"Allyship is synonymous with action and moving forward," they said.
29 local LGBTQ supportive groups awarded gov't grants
Bowser says recipients 'tirelessly advance D.C. values'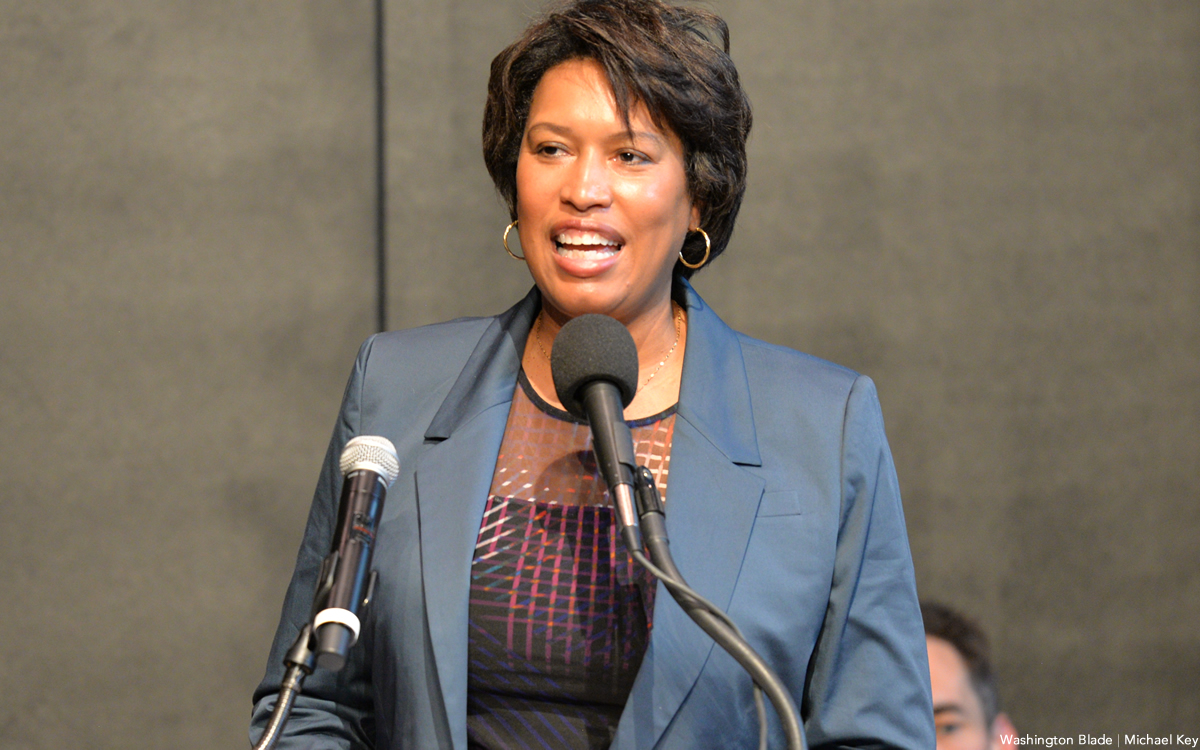 Mayor Muriel Bowser has awarded community grants to 29 D.C. organizations that provide direct services to the LGBTQ community, according to a Sept. 22 announcement by the mayor's office. Nine of the 29 groups identify as LGBTQ specific organizations.
Information released in the announcement says the 29 LGBTQ supportive organizations receiving the grants for Fiscal Year 2024 are among a total of 137 D.C.-based community organizations that will receive a total of more than $2.2 million in funding through these grants.
"With these awards, recipient organizations will continue to offer programs that provide direct resources to communities across Washington, D.C., in areas including health and human services, education, public safety, civic engagement, the arts, and more," a statement released by the mayor's office says.
The statement announcing the grants says the 29 organizations receiving the grants to provide LGBTQ-related services were selected by the Mayor's Office of LGBTQ Affairs.
Japer Bowles, the longtime LGBTQ rights advocate who serves as director of the Mayor's LGBTQ Affairs Office, said the grants awarded to the nine LGBTQ specific groups and the remaining 20 LGBTQ supportive groups are earmarked for LGBTQ specific programs or projects dedicated to LGBTQ people.
A spokesperson for the D.C. Department of Human Services, which oversees the community grants program, said the office was in the process of preparing a list of the dollar amount for each of the 137 grant recipients, which the office hopes to release soon.
Abby Fenton, an official with Whitman-Walker Health, which is one of the 29 grant recipients, said its grant was $20,000 for continued work on addressing the Monkeypox outbreak impacting LGBTQ people.
The nine LGBTQ specific groups named as grant recipients include:
• Capital Pride Alliance
• Equality Chamber Foundation
• Equality Chamber of Commerce
• Supporting and Mentoring Youth Advocates and Leaders (SMYAL)
• The DC Center for the LGBT Community
• Us Helping Us-People Into Living, Inc.
• Whitman-Walker Health
• Baltimore Safe Haven doing business as DC Safe Haven
• Washington Blade Foundation
The 20 LGBTQ supportive groups named as grant recipients include:
• Asylum Works
• Black Leaves Project dance company
• Casa for Children of DC
• Foster and Adoptive Parent Advocacy [FAPAC]
• Greater Hispanic Chamber of Commerce
• Harm Reduction at Westminster DC
• Hepatitis B Initiative of Washington, DC
• Joseph's House
• Latin American Youth Center
• MOSAIC Theater Company
• Project Briggs
• Sasha Bruce Youthwork
• Seabury Resources for Aging
• The Dance Institute of Washington
• The Giveland Foundation
• The Nicholson Project
• Totally Family Coalition
• Unity Health Care
• Washington Improvisational Theater
• Young Playwrights Theater, Inc.
Dignity Washington holds Catholic mass in honor of woman priest
LGBTQ group celebrates its support for ordination of women priests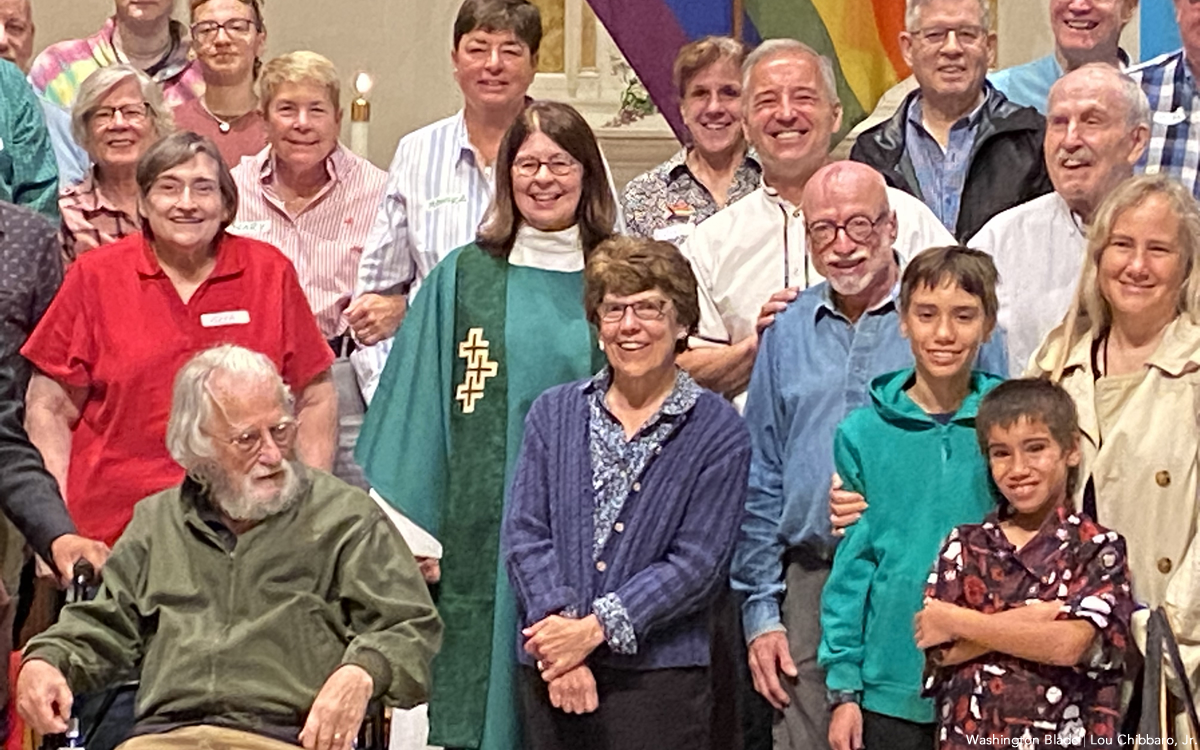 The D.C. LGBTQ Catholic group Dignity Washington says it dedicated its weekly Catholic mass on Sunday, Sept. 24, to honor a woman priest who has served as one of its priests since 2017 in a gesture of support for the women's priest movement.
"This Mass commemorates the ordination of Ann Penick as a Roman Catholic Woman Priest and celebrates the invaluable contributions of women who have served the church in various capacities," the group said in a statement.
"Rev. Ann Penick's ordination as a Catholic priest, and the ordination of female priests like her, represents a step forward in the Catholic Church's ongoing journey towards greater inclusivity and recognition of diverse vocations within its ranks," the statement says. "Dignity Washington is deeply honored to support her ministry and those of other women priests," it says.
The fact that the Dignity mass in honor of Rev. Penick, who presided over the mass, and all of its weekly Sunday masses are held at St. Margaret's Episcopal Church near Dupont Circle highlights the fact that the official Catholic church recognizes neither Dignity nor women priests.
Dignity, a nationwide LGBTQ Catholic group with chapters across the country, is banned from holding any of its masses in Catholic Churches.
Penick told the Washington Blade in an interview the week prior to her saying the Dignity Mass on Sept. 24 that she was ordained as a priest in June 2011 by a woman bishop associated with a breakaway Catholic organization, the Association of Roman Catholic Womenpriests. The organization was formed shortly after three male Roman Catholic Bishops ordained the first known women priests on a ship sailing along the Danube River in Europe in June 2002.
Two of the bishops who publicly disclosed their decision to ordain the women were excommunicated by Catholic Church officials at the Vatican in Rome. The third bishop acted anonymously and is believed to be continuing to serve as a bishop.
One of these bishops subsequently ordained female bishops who, in turn, began ordaining other women Catholic priests in Europe and in the U.S.
Information posted on the Association of Roman Catholic Womenpriests website says it and others associated with the women priest movement believe the ordination of women bishops and priests is valid under the biblical concept of 'apostolic succession."
Under that concept, the spiritual authority that Jesus bestowed on his original apostles has been handed down to subsequent generations of clergy, and the ordained women bishops and priests can pass that spiritual authority on to other female clergy.
A spokesperson for the Catholic Archdiocese of Washington, which oversees Catholic churches in D.C. and parts of Maryland, did not respond to a request by the Blade for comment on the women' priest movement.
Penick, who is married and has two stepchildren with her husband, points out that the women's priest movement has also broken with the official church over the longstanding church requirement that priests practice celibacy and cannot marry.
"The Roman Catholic women's priest movement sees celibacy as a personal calling," Penick told the Blade. "If a woman is personally called to celibacy, she follows that call," Penick said. "But a woman can also be married and have children, and that's always been a vision of the Roman Catholic Women's priest movement."
Penick notes that it was not until the early 1100s that the church put in place a celibacy requirement for its priests.
She has been active in the Catholic Church for most of her life in several states where she has lived and worked. She received a certification in lay ministry from the Diocese of Birmingham, Ala. in 1993, a master's in counseling degree from the University of Birmingham in 1995, and a master's in Pastoral Ministry from Boston College in 2008.
She and her family currently live in Alexandria, Va., and she currently works as a mental health counselor at the Counseling and Psychological Services department at George Mason University in Fairfax, Va. Penick said while living in Maryland she served as a priest for Living Water Inclusive Catholic Community in Catonsville, and currently serves as a priest for the D.C. Living Family Mass Community in D.C. as well as serving as one of Dignity Washington's rotating priests.
"We are so lucky to have her," said Dignity Washington former president Daniel Barutta, who noted that Penick and her husband are Dignity members. "She's just a shining star for women," he said. "And we really hope that Dignity Washington is leading the church, showing the church which direction to go in terms of empowering women and having them as our spiritual leaders."
Barutta said Penick has joined the Dignity Washington contingent in D.C.'s LGBTQ Pride parade and the city's St. Patrick's Day Parade and has led Dignity prayer services on various occasions.
Peter Edwards, Dignity Washington's vice president, said following its Sunday mass that the organization "certainly does affirm that women can serve as priests in our community." Edwards added, "We had a wonderful congregation tonight for a mass in celebration of Rev. Ann."
Sister Jeannine Gramick, co-founder of the Mount Rainier, Md., based LGBTQ Catholic advocacy organization New Ways Ministry, said she believes the fully approved ordination of women priests in the Catholic Church will someday happen.
"There is no theological reason, only cultural ones, why women have not been ordained priests," she said in referring to the official church. "I believe that a Catholic organization that ordains women priests is living out their sincere and deep-seated beliefs and preparing the wider community for what will eventually come to pass,' she said.
"Not all arrive at the destination at the same time, and I admire those with the courage of their convictions who lead the way," she added.