2020 Blade Pride Chats Presented By The Ariadne Getty Foundation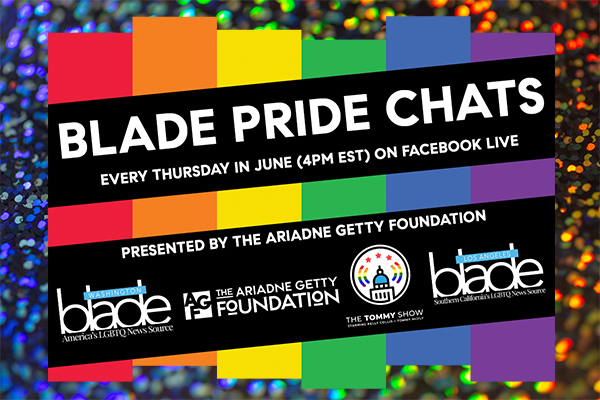 Join us every Thursday at 4p.m. (EST) for The Blade Pride Chats presented by the Ariadne Getty Foundation. Hosted by The Tommy Show!
Celebrate Your First Pride & Coming Out (6/4)
A discussion with Cain Andrade (Los Angeles LGBT Center), Jada Norris (SMYAL), and Brian Wenke (It Gets Better Project).

Pride in Business (6/11)
A discussion with EMichael Ferrera (LA Pride), Melissa Lavinson (PEPCO), and Jonathan D. Lovitz (NGLCC).

Reflections of Pride (6/18)
A discussion with Nii-Quartelai Quartey (AARP), Rev. Troy Perry (Metropolitan Community Church), Blossom Brown, and Rob Berger (Rainbow History Project).

Global Pride Preview & Where Do We Go From Here? (6/25)
A discussion with Madonna Cacciatore (LA Pride), Sarah Kate Ellis (GLAAD), Heidi Ellis (Former Obama Admin Official and Consultant), and Tiq Milan (Media Strategist, Writer and Advocate).
Streaming on the Facebook Pages of the Washington Blade, Los Angeles Blade, Blade Foundation, The Tommy Show! and select participants.