December 16, 2010 at 3:57 pm EDT | by David Bediz
Home for the holidays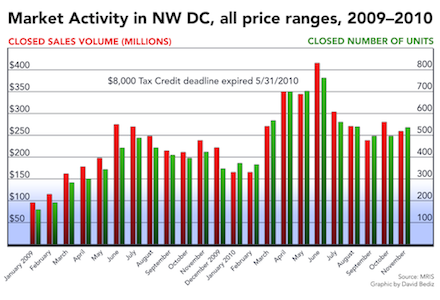 As the holidays fast approach (faster and faster each year, it seems), one interesting Christmas or Hannukah present I've noticed a lot of people shop for is a home. Yes, despite all the hustle and bustle of more modest holiday gift shopping, plus the added stress of dealing with frigid weather, darkness at 4 p.m. and holiday parties (hopefully less stressful and more merry!), we Realtors find that there are lots of home buyers shopping in the month of December.
What a lot of Realtors also know is that as soon as the Christmas lights go dim, so too can the heat of the real estate market for a cold, dark winter hiatus. The market is different every year, but in between our own holiday shopping obligations, we agents must stay available and energized for our clients now, since most January and February sales volumes dip along with the temperatures.
Perhaps it's the idea of starting a new year in a new home, or maybe the commercials advertising the idea of a new Lexus for Christmas have encouraged larger and larger purchases for the holidays — but for some reason business is generally really good between Thanksgiving and Christmas.
2009 and 2010 were fairly stable years for an analysis of market activity in Northwest, and therefore can be a model for normal market activity in the rest of the District and perhaps throughout the country. The data show that just as we agents feel a bit of a slowdown in winter months, so was the actual market activity.
True, much of the slowdown could also be attributed to the meltdown of September 2008 (beginning with the bankruptcy of Bear Stearns) and the subsequent three- or four-month market standstill, which reverberates a month or two later in the data due to a 30-45 day normal settlement period. But as an agent for over six years I can say that we feel the same slump nearly every winter.
The data also show that after a strong market pickup in the middle of 2009, the fall 2009 market was, although slower, still very strong and continued well into December. Then the winter lull in January and February appears quite noticeably, with sales volume dropping around 30 percent from its summer 2009 peak. But after a two month break, the market made an amazing rebound in 2010 with numbers, even while calming towards the end of the year, better than the best of 2009 in almost every month.
Of course, the huge rebound was due almost completely to the $8,000 Federal tax credit that expired May 31, 2010, but even after it expired the activity still remains strong to this day. Interestingly, no matter how the market was doing, the data for number of units sold rose and fell the same way as data for sales volume, showing an almost flat market in terms of changed property values across the board.
I'm confident the data for 2010 going into 2011 will in many ways mirror past years' activity, so what does that mean for you as a home seller or buyer? As a seller, it means that it's not too late to list your home now and expect good traffic before the end of the year. As a buyer, it means that if you're looking for a new home to hibernate in, don't be surprised to find other buyers competing with you.
It also means that you may be able to snag a steal in the colder winter months, but the decreased activity is not just a reflection of fewer buyers; in fact, it's more a reflection of fewer places to buy. Sellers know buyers aren't as motivated to look around in the cold and that their home will look all the more appealing with spring flowers blooming in the front yard, so they usually wait before listing. That means that while you, as a buyer, will have less competition, you'll also have less to choose from until springtime.
David Bediz is a Realtor at Coldwell Banker Residential Brokerage and part of the Dwight and David Real Estate Group. He can be reached at 202 352 8456 or through www.DwightandDavid.com.