March 10, 2011 at 2:45 pm EDT | by Kevin M. Norris
Exercise: the natural high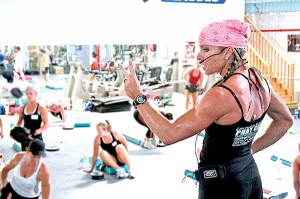 While the majority of fitness research efforts focus on the physical and health benefits of exercise, there is a growing body of work demonstrating that exercise promotes wellness and mental health.
The physical benefits of exercise are vast and varied from improved cardiovascular function and immune system boosting to disease prevention such as diabetes and obesity. The physical benefits of exercise also tend to focus on looking better: leaner waists, greater muscularity, trim thighs, etc. And often the less-visible-more-mental health benefits of exercise are taken for granted or overlooked. We become more focused on how we look and forget observing how we feel.
Nonetheless, the mental health benefits of exercise are as equally profound and in some instances are more noticeable. Exercise improves mental health by curtailing depression, promoting a positive self image and body image, which is linked to a higher self esteem.
Judith Easton, personal training director at Galter Life Center in Chicago notes, "Exercise leads to an increase in energy and to better sleep patterns, which may also explain why it is so helpful to people with depression. Low energy and poor sleep are common symptoms of depression."
Through exercise we feel better. You don't have to be suffering from a diagnosed mental illness to get significant mental health benefits from exercise. Well being is part of the exercise payoff.
"Physical exercise whether it is at the gym with my personal trainer or out in my garden, provides me with a certain peace of mind and tranquility like nothing else," says Michael Faubion, one of my clients. "The act of doing something that improves your physical and mental health is tremendously rewarding."
Another client, Kevin Nicholson, says, "I derive numerous mental health benefits from exercise.  The endorphins make you feel good, the exertion relieves built-up stress, and when I am done I have a sense of accomplishment."
The Mayo Clinic is clear to point out that the links to mental health benefits of exercise are not as clear as physical results. Particularly, imprecise are the links between anxiety, depression and exercise.
However, according to Mayo, exercise helps mental health in many ways, which may include releasing feel-good brain chemicals like endorphins that may ease depression and curtail anxiety. Exercise can also reduce immune system chemicals that can worsen depression and increase body temperature, which may have a calming effect.
Researchers at Duke University demonstrated several years ago that exercise has anti-depressant qualities by improving brain function and stimulating the production of endorphins, the feel-good chemicals produced in the brain. Endorphins are natural opiates that are chemically similar to morphine and also act as natural pain relievers.
In addition to the physiological benefits of exercise there may be noticeable psychological and emotional benefits as well. In particular the stress-release properties to exercise can be profound and exercise can boost your self-esteem and self-confidence and allow you to feel better about your appearance.
Exercise can also be used as a positive coping mechanism toward warding off or thwarting depression and anxiety and is a healthier alternative to dwelling on how badly you feel or resorting to substances such as alcohol to make you feel better.
Other mental health benefits to exercise are better sleep habits, a higher sex drive and a more positive upbeat attitude. And while these benefits are not readily measurable, it is clear that just about everyone will feel better after exercise.
It is important to note that exercise should not be a substitute for medical advice and that before engaging in any form of exercise a physician's permission and guidance is recommended.
So just how much exercise is enough to reap the mental health benefits of exercise? Every little bit of exertion will help. And doing 30 minutes or more of exercise a day, three to five days a week can significantly improve one's mental health and state of being.
Be sure to include some form of cardiovascular activity and consider including mindful exercise like yoga and meditation. Both according to Easton "answer the need to have down time along with the need to quiet down and look within."
Yoga participants often say they feel more centered and calm, along with the physical benefits of stretching and building strength.