An early holiday gift for city's gay couples
With about 200 spectators cheering from the pews, D.C. Mayor Adrian Fenty signed a bill last week to legalize same-sex marriage in Washington during a ceremony at a church that played a leading role in pushing for black civil rights in the 1950s and 1960s.
"To the world, today an era of struggle ends for thousands of residents of Washington, D.C., who have been denied the fundamental right to marry the person of their choosing," Fenty told the gathering at All Souls Unitarian Church in Northwest D.C.
"I say to all those residents who watch the nation's capital today that our city is taking a leap forward in ensuring freedom and equality to all residents."
Fenty signed the Religious Freedom & Civil Marriage Equality Amendment Act of 2009 four days after the D.C. Council gave its final approval of the measure, 11-2.
The signing also came five months after a separate bill passed by the Council and signed by Fenty, which recognizes same-sex marriages performed in other jurisdictions, became law after clearing its required congressional review.
The measure that Fenty signed Friday was expected to be sent to Capitol Hill this week, where it, too, must undergo a congressional review of 30 legislative days. Most congressional observers expect the Democratic controlled Congress will allow the bill to become law by taking no legislative action to overturn it.
"The signing of this bill marks a watershed moment for human rights in the District of Columbia," said Rev. Robert Hardies, pastor of All Souls Unitarian Church and one of the leaders of a coalition of D.C. clergy members who support same-sex marriage equality.
"I and the nearly 200 D.C. clergy who supported this bill look forward to celebrating the marriages of loving lesbian and gay couples in sanctuaries like this one all over our city," he said.
Among those standing behind Fenty as he signed the bill at a table set up in front of the church alter were D.C. Council Chair Vincent Gray (D-At Large); gay Council member David Catania (I-At Large), author and lead sponsor of the bill; and Council member Phil Mendelson (D-At Large), chair of the committee that shepherded the bill through the Council.
Also standing at the table for the signing were gay Council member Jim Graham (D-Ward 1), in whose ward the church is located; Council members Jack Evans (D-Ward 1); Muriel Bowser (D-Ward 4), and Harry Thomas Jr. (D-Ward 5); and Fenty's LGBT Affairs Office director, Christopher Dyer.
Fenty and Catania, among others participating in the bill signing ceremony, said the decision to hold the event in a church was symbolic of the message they sought to project during the campaign to legalize same-sex marriage in the city: that the legislation would not infringe on the rights of people of faith and would, in fact, give ministers supportive of marriage equality the right to legally perform same-sex marriages.
Most of the opposition to the legislation was led by clergy who oppose same-sex marriage on religious grounds. Bishop Harry Jackson, pastor of Hope Christian Church in Beltsville, Md., and the lead spokesperson for the bill's opponents, has vowed to continue efforts to urge Congress to overturn the legislation.
Jackson and his supporters also are appealing in D.C. Superior Court a ruling by the city's election board denying a proposed voter initiative that sought to ban same-sex marriage in the District of Columbia.
Catania told people gathered for the bill's signing that six generations of his family, including his grandfather, have been Baptist ministers. He noted that leaders of the churches in which his ancestors were a part were outspoken abolitionists in the fight against slavery prior to the Civil War.
"I was raised in a household that loved this country," he said. "And at times, even in our struggles, we wonder whether our best days are behind us. I have to be completely honest with you. I've never been more certain in my life that our best days are before us."
Catania said the passage and signing of a same-sex marriage bill was the culmination of years of work from committed LGBT activists and their allies, beginning with veteran D.C. gay activist Frank Kameny, who is credited with founding the local LGBT rights movement in the early 1960s.
"I was fortunate enough to simply guide the process and draft [the bill], but it would not have taken place without the extraordinary leadership of Phil Mendelson on the Judiciary Committee and our non-stop support from our [Council] chairman. And enough cannot be said about the rank and file members of this Council, who stood with us."
Sources familiar with the mayor's office said Fenty also considered holding the signing ceremony at Covenant Baptist church in
Southeast D.C., which is headed by pro-same-sex marriage pastors Dennis and Christine Wiley. The Wileys, along with Hardies of All Souls, were co-chairs of the coalition of clergy backing same-sex marriage. One source, speaking on condition of anonymity, said Fenty is thought to have chosen All Souls in part because it's located in the neighborhood where he grew up.
In his remarks, Fenty introduced his parents, who were in the audience, and noted that their status as an interracial couple made them a part of the marriage equality movement.
"My parents know a little something about marriage equality," he said. "They married almost 40 years ago and in a country at the time where every jurisdiction didn't agree that an interracial couple should be married. Had they not been able to, I would not be standing here as mayor of the District of Columbia right now."
Graham, who, along with Catania, has been a longtime LGBT rights advocate, appeared to express the emotion that many LGBT activists and same-sex couples present at the bill signing event shared.
"Thank God for this day," he said. "Thank God that I was able to live to see this day."
Graham praised Fenty for standing out as a "certainty" that the bill would be signed whenever the Council felt the time was right to pass it.
He also pointed to the historic support All Souls Unitarian Church provided for the African American civil rights movement in the 1950s, when the church founded one of the city's first integrated youth clubs. It was at a time when D.C.'s youth recreation facilities were segregated among black and whites.
"We can't overlook how fitting it is that we are in this church," he said, "because this church has a great tradition of fighting for civil rights and human rights."
Fenty, Catania and Graham were beseeched after the ceremony by activists and same-sex couples attending the event who asked them to pose for pictures with them and to sign copies of a mayoral press statement announcing the bill signing.
"It's an exciting day for many of us," said gay Democratic activist Peter Rosenstein, one of the organizers of the same-sex marriage advocacy group Campaign for All D.C. Families. "It's a day that many of us thought wouldn't come in our lifetimes. It's for us and for future generations."
Michael Crawford, co-chair of D.C. for Marriage, said he doesn't believe Fenty and the 11 Council members who voted for the bill would face serious opposition in their upcoming elections over this specific issue.
"The folks who are claiming they will enact political retribution against Council members that voted for marriage equality, by and large, don't live in the District," he said. "So it's going to be pretty difficult for them to have an impact on District elections."
Rev. Abena McCray, pastor of D.C.'s LGBT welcoming Unity Fellowship Church, and Bishop Rainey Cheeks, pastor of the city's Inner Light Ministries, which also has a largely LGBT congregation, each said the mayor's signing of the marriage bill would boost the faith and morale of LGBT people of faith.
"I don't anticipate a backlash," McCray said, when asked about clergy who have opposed the bill.
"God is in control," she said. "God spoke today. History was made. And we're going to move forward in only one thing, and that's love."
Cheeks said he expects efforts by people of faith to fight the legislation will be diminished once they understand it.
"When they really understand that this law does not take away anything from anybody, it adds to," they will be far less likely to try to reverse the law, he said.
"Every church and every denomination already has the right to say no to whomever they want to say no to," Cheeks said, on the question of performing same-sex marriages. "It simply expands the right for us to be able to do what we need to do."
Nellie's agrees to $5,000 fine, 7-day license suspension over brawl
Penalty prompted by security guard dragging Black woman down stairs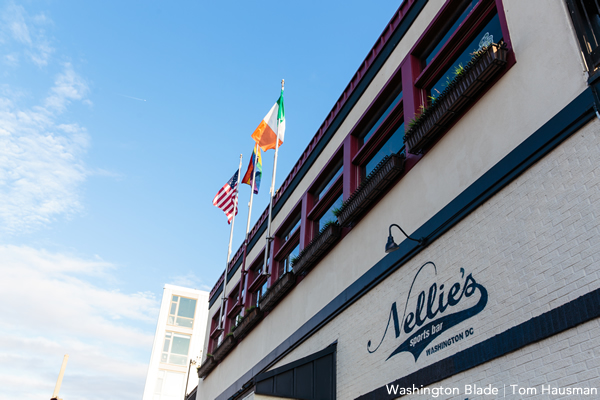 The D.C. Alcoholic Beverage Control Board on Wednesday, Oct 20, approved a compromise agreement it reached with Nellie's Sports Bar that calls for the U Street, N.W. gay bar to pay a $5,000 fine and serve a seven-day license suspension over a June 13 incident in which a Black woman was dragged down a flight of stars by a Nellie's security guard during a brawl between Nellie's customers.
The agreement calls for a license suspension of 24 days with 17 days to be suspended and seven days to be served "so long as the Respondent does not commit any violations within (1) year from the date of this Order," the ABC Board declared in a three-page order confirming the agreement.
The order states that the license suspension will be served from Dec. 20-26 of this year. It also states that Nellie's must pay the fine within 120 days from the date of the order. If the fine is not paid during that time "its license shall be immediately suspended until all amounts owed are paid."
As a final stipulation of the agreement, the ABC Board states that Nellie's must file a "legally compliant security plan" within 10 calendar days of the Oct. 20 order.
The security plan requirement stems from an earlier finding by the city's Alcoholic Beverage Regulation Administration related to the June 13 incident that Nellie's was in violation of several provisions of the city's liquor law, including a provision that a security plan that meets the standards of the city's liquor regulations is in place.
An ABRA investigation of the June 13 incident found, among other things, that "multiple assaults occurred inside the establishment while the licensee was engaged in a method of operation conducive to unlawful conduct."
The action by the Nellie's security guard, which took place during the city's LGBTQ Pride weekend, was captured on video taken by one of the customers on their phone. The video went viral on social media, prompting a series of protests against the bar by LGBTQ activists and Black Lives Matter advocates.
Nellie's issued an apology for the incident the following day and announced it had fired the private security company whose employee, who is Black, dragged Keisha Young, 22, down the stairs. Nellie's also announced it would temporarily close for business to assess what had happened and develop plans for reopening as a safe space for all members of the community. It reopened 35 days later, with protesters continuing to assemble outside the bar for several more weeks.
When the five-member ABC Board on Oct. 20 held a roll call vote to approve what is officially called an Offer-In-Compromise or OIC agreement with Nellie's that includes the fine, license suspension, and other provisions, gay ABC Board member Edward Grandis voted against the agreement, becoming the only member to do so.
A video recording of the virtual ABC Board meeting available through YouTube shows that Grandis expressed general support for the decision by both the board and Nellie's to reach a compromise agreement. But he said he objects to the license suspension requirement.
"In this particular regard, when the facts and the testimony indicate that the licensee on its own initiative without any knowledge, at least in the testimony, of prompting from the government or MPD or any party, to itself close for 35 days during – generally – the pandemic when so many companies lost their companies and their employees lost their jobs and the neighborhoods lost their establishments, I really believe that this particular situation shows that the licensee took this event seriously and accordingly in a manner that hopefully will prevent it from happening again or have better security measures to avoid this type of situation in the future," Grandis told his fellow board members.
"And I just wanted the record to show I'm supportive of the OIC generally, but I don't believe it was constructed in a way that indicates what this licensee has done since that incident," Grandis said.
Nellie's owner, Douglas Schantz, and Nellie's attorney, Andrew Klein, couldn't immediately be reached for comment.
Klein, who spoke at the ABC Board hearing on Wednesday, said in response to a question by Grandis that Nellie's reluctantly agreed to the fine and license suspension, which he called "excessive," among other things, because Schantz wants to put the matter behind him and to "heal" and "move on" with the community.
The ABC Board's action came one day after the Washington City Paper announced that Nellie's Sports Bar finished in second place among its readers in its annual Best of D.C. contest for the category of "Best Gay Bar/Club/Lounge."
UDC hosts event recognizing LGBTQ support at HBCUs
Seven campuses participate in annual event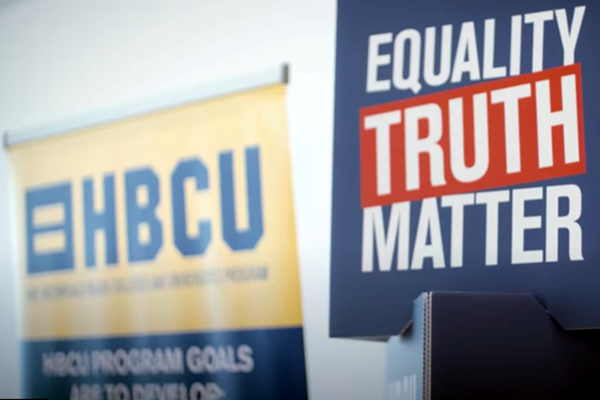 The University of the District of Columbia on Wednesday, Oct. 20, hosted one of seven "Out Loud Day" events highlighting LGBTQ visibility and inclusion at Historically Black Colleges and Universities (HBCUs) on college campuses throughout the country.
The Human Rights Campaign Foundation, the educational arm of the national LGBTQ advocacy group Human Rights Campaign, said in a statement that it created the annual Out Loud Day event three years ago to "celebrate LGBTQ+ people and develop innovative inclusion efforts" at the nation's historically black colleges and universities.
"It is also a day to take stock of all the challenges that LGBTQ+ students face in their daily lives at HBCUs and to have discussions on how to foster even more inclusion on their campuses," said Leslie Hall, the HRC HBCU Program Director in a statement.
"This is the third time that the Human Rights Campaign has hosted the day, and we couldn't be more excited to continue to expand upon the LGBTQ+ inclusion work we have been doing for years alongside HBCU administrations and student leaders," Hall said.
Rishard Butts, HRC's HBCU Program Senior Manager, told the Washington Blade that the UDC event included in-person activities that began at 5 p.m. on its campus in Northwest D.C. Among the events were an open dialogue session covering LGBTQ topics of interest to student participants. He said another session focused on LGBTQ figures in history, including those who were Black, and their impact on historic developments locally or worldwide.
He said a third session included a trivia contest in which student participants received small prizes for answering questions about LGBTQ topics of interest to the community.
Butts noted that the HBCU Out Loud Day event was taking place at UDC a little over two years after the university celebrated the grand opening of its Center for Diversity, Inclusion & Multicultural Affairs. At the time of its opening, the Center said it would provide services and a space to meet and socialize for "students of all sexual orientations and gender identities/expressions."
According to Butts, the concept for Out Loud Day at historically black colleges and universities began, in part, as a response to National Coming Out Day, which he said is not something that all LGBTQ people of color could do.
"So, we flipped this day around and instead of putting the responsibility of someone coming out, we put the responsibility on everyone to celebrate everyone," he said. "So, it's HBCU Out Loud Day so everyone is 'out loud', and everyone is proud, and everyone is celebrating and uplifting the stories of LGBTQ people and it's not just the responsibility of the person who is out or coming out."
Gay man attacked, beaten by neighbors in Northeast D.C.
Police list incident as hate crime but courthouse 'backlog' could delay arrests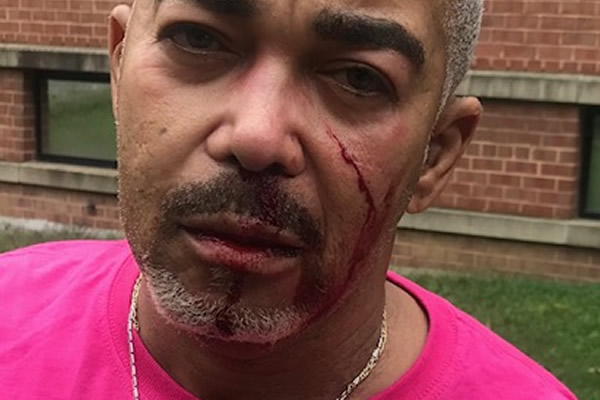 A woman, her daughter, and a man believed to be the daughter's father repeatedly punched a gay man in the face while the mother called him a "Jewish faggot" and other anti-gay slurs during an Oct. 13 incident on the grounds of an apartment building where the victim and the two women live, according to the victim and a D.C. police incident report.
The victim, Antonio Zephir, 51, told the Washington Blade the incident began after the mother began shouting anti-gay slurs at him as he walked past her and his roommate outside the Northwood Gardens Apartments at 4870 Fort Totten Dr., N.E. at about 12:40 p.m. on Wednesday, Oct. 13.
Zephir identifies the mother as Aurlora Y. Ellis in court papers seeking a restraining order against her that he filed in D.C. Superior Court. He said she had acted in a hostile way toward him before the assault incident.
"For several months, every time Ms. Ellis sees me, she shouts homophobic slurs and I continued to ignore her," Zephir told the Blade in an email.
He said that minutes before the Oct. 13 attack, Ellis yelled the words "Jewish faggot" when he walked past her as she was talking to his roommate, Steven Johnson. Zephir said it is well known among his neighbors at the apartment complex that he is of the Jewish faith.
"I responded with not-so-kind words. She ran towards me and assaulted me with hard punches toward my face," Zephir wrote in his email to the Blade.
"I punched back in an attempt to defend myself," he wrote. "Mr. Johnson tried to break us up when her daughter Latera Cox and [Cox's] father assaulted me," according to Zephir's account of the incident. "Ms. Ellis yelled, 'Call the police, you bitch faggot. They're not going to do anything. This isn't over yet."
At that point, Ellis, her daughter Latera Cox, and the man Zephir believes to be Cox's father fled the scene, Zephir told the Blade.
The D.C. police incident report, which lists the assault as a suspected hate crime, says, "All three suspects then fled east bound" on the 4800 block of Fort Totten Dr., N.E.
Zephir said he immediately called police, who arrived on the scene and took a report on the incident. The report obtained by the Blade lists the incident as a simple assault, which is a misdemeanor under D.C. law.
But Zephir said a detective working on the case told him this week that police were looking into speeding up the process of obtaining warrants for the arrest of the three attackers based, in part, on the injuries Zephir suffered from the attack. He provided the Blade with a medical report issued by the Washington Hospital Center, where his roommate took him to the emergency room the day following the attack, in response to severe pain he was experiencing to his face and head.
The report from the hospital, which treated and released him on Oct. 14, says he was diagnosed as having a fractured nose; a fracture of the "interior orbital wall," which is the bone surrounding one of his eyes; subconjunctival hemorrhage or bleeding of his left eye; and "laceration of oral cavity" which means an injury inside his mouth caused by trauma from the assault.
Zephir told the Blade that the same detective told him last week that due to a "backlog" in cases at the D.C. Superior Court, it could take between one and two months for police and prosecutors to obtain warrants for the arrests of the two women and the man who assaulted him.
A police spokesperson told the Blade the case remains under active investigation. A spokesperson for the Office of the U.S. Attorney for the District of Columbia, which acts as the prosecutor for adult criminal cases in D.C., said he would look into whether the office could publicly comment on the status of efforts to obtain arrest warrants for the three attackers.
Zephir said rumors had surfaced prior to the assault incident that Ellis may have access to a gun. Based on what he feared was a threat by Ellis when she told him during the attack that "this isn't over yet," he said he persuaded his roommate to drive him to the courthouse on the same day as the attack to apply for a court restraining order to prevent Ellis from harming him again.
Court records show he also filed a civil complaint against Ellis, Ellis's daughter, and Ellis's roommate, Linda Miller, who Zephir says in the complaint acted as an "enabler" for Ellis' hostility toward him.
The complaint, which is a civil lawsuit that Zephir wrote by hand and filed by himself without hiring a lawyer, calls for $18,000 in damages.
"I have nightmares," Zephir told the Blade. "I can't believe it happened. I keep reliving the experience over and over and over in my head," he said. "And I feel like I'm a prisoner in my own apartment. I don't feel safe because I, honest to God, feel like she is going to bodily harm me and I might be, God forbid, murdered."
Ellis, Cox, and Miller could not immediately be reached for comment.