An early holiday gift for city's gay couples
With about 200 spectators cheering from the pews, D.C. Mayor Adrian Fenty signed a bill last week to legalize same-sex marriage in Washington during a ceremony at a church that played a leading role in pushing for black civil rights in the 1950s and 1960s.
"To the world, today an era of struggle ends for thousands of residents of Washington, D.C., who have been denied the fundamental right to marry the person of their choosing," Fenty told the gathering at All Souls Unitarian Church in Northwest D.C.
"I say to all those residents who watch the nation's capital today that our city is taking a leap forward in ensuring freedom and equality to all residents."
Fenty signed the Religious Freedom & Civil Marriage Equality Amendment Act of 2009 four days after the D.C. Council gave its final approval of the measure, 11-2.
The signing also came five months after a separate bill passed by the Council and signed by Fenty, which recognizes same-sex marriages performed in other jurisdictions, became law after clearing its required congressional review.
The measure that Fenty signed Friday was expected to be sent to Capitol Hill this week, where it, too, must undergo a congressional review of 30 legislative days. Most congressional observers expect the Democratic controlled Congress will allow the bill to become law by taking no legislative action to overturn it.
"The signing of this bill marks a watershed moment for human rights in the District of Columbia," said Rev. Robert Hardies, pastor of All Souls Unitarian Church and one of the leaders of a coalition of D.C. clergy members who support same-sex marriage equality.
"I and the nearly 200 D.C. clergy who supported this bill look forward to celebrating the marriages of loving lesbian and gay couples in sanctuaries like this one all over our city," he said.
Among those standing behind Fenty as he signed the bill at a table set up in front of the church alter were D.C. Council Chair Vincent Gray (D-At Large); gay Council member David Catania (I-At Large), author and lead sponsor of the bill; and Council member Phil Mendelson (D-At Large), chair of the committee that shepherded the bill through the Council.
Also standing at the table for the signing were gay Council member Jim Graham (D-Ward 1), in whose ward the church is located; Council members Jack Evans (D-Ward 1); Muriel Bowser (D-Ward 4), and Harry Thomas Jr. (D-Ward 5); and Fenty's LGBT Affairs Office director, Christopher Dyer.
Fenty and Catania, among others participating in the bill signing ceremony, said the decision to hold the event in a church was symbolic of the message they sought to project during the campaign to legalize same-sex marriage in the city: that the legislation would not infringe on the rights of people of faith and would, in fact, give ministers supportive of marriage equality the right to legally perform same-sex marriages.
Most of the opposition to the legislation was led by clergy who oppose same-sex marriage on religious grounds. Bishop Harry Jackson, pastor of Hope Christian Church in Beltsville, Md., and the lead spokesperson for the bill's opponents, has vowed to continue efforts to urge Congress to overturn the legislation.
Jackson and his supporters also are appealing in D.C. Superior Court a ruling by the city's election board denying a proposed voter initiative that sought to ban same-sex marriage in the District of Columbia.
Catania told people gathered for the bill's signing that six generations of his family, including his grandfather, have been Baptist ministers. He noted that leaders of the churches in which his ancestors were a part were outspoken abolitionists in the fight against slavery prior to the Civil War.
"I was raised in a household that loved this country," he said. "And at times, even in our struggles, we wonder whether our best days are behind us. I have to be completely honest with you. I've never been more certain in my life that our best days are before us."
Catania said the passage and signing of a same-sex marriage bill was the culmination of years of work from committed LGBT activists and their allies, beginning with veteran D.C. gay activist Frank Kameny, who is credited with founding the local LGBT rights movement in the early 1960s.
"I was fortunate enough to simply guide the process and draft [the bill], but it would not have taken place without the extraordinary leadership of Phil Mendelson on the Judiciary Committee and our non-stop support from our [Council] chairman. And enough cannot be said about the rank and file members of this Council, who stood with us."
Sources familiar with the mayor's office said Fenty also considered holding the signing ceremony at Covenant Baptist church in
Southeast D.C., which is headed by pro-same-sex marriage pastors Dennis and Christine Wiley. The Wileys, along with Hardies of All Souls, were co-chairs of the coalition of clergy backing same-sex marriage. One source, speaking on condition of anonymity, said Fenty is thought to have chosen All Souls in part because it's located in the neighborhood where he grew up.
In his remarks, Fenty introduced his parents, who were in the audience, and noted that their status as an interracial couple made them a part of the marriage equality movement.
"My parents know a little something about marriage equality," he said. "They married almost 40 years ago and in a country at the time where every jurisdiction didn't agree that an interracial couple should be married. Had they not been able to, I would not be standing here as mayor of the District of Columbia right now."
Graham, who, along with Catania, has been a longtime LGBT rights advocate, appeared to express the emotion that many LGBT activists and same-sex couples present at the bill signing event shared.
"Thank God for this day," he said. "Thank God that I was able to live to see this day."
Graham praised Fenty for standing out as a "certainty" that the bill would be signed whenever the Council felt the time was right to pass it.
He also pointed to the historic support All Souls Unitarian Church provided for the African American civil rights movement in the 1950s, when the church founded one of the city's first integrated youth clubs. It was at a time when D.C.'s youth recreation facilities were segregated among black and whites.
"We can't overlook how fitting it is that we are in this church," he said, "because this church has a great tradition of fighting for civil rights and human rights."
Fenty, Catania and Graham were beseeched after the ceremony by activists and same-sex couples attending the event who asked them to pose for pictures with them and to sign copies of a mayoral press statement announcing the bill signing.
"It's an exciting day for many of us," said gay Democratic activist Peter Rosenstein, one of the organizers of the same-sex marriage advocacy group Campaign for All D.C. Families. "It's a day that many of us thought wouldn't come in our lifetimes. It's for us and for future generations."
Michael Crawford, co-chair of D.C. for Marriage, said he doesn't believe Fenty and the 11 Council members who voted for the bill would face serious opposition in their upcoming elections over this specific issue.
"The folks who are claiming they will enact political retribution against Council members that voted for marriage equality, by and large, don't live in the District," he said. "So it's going to be pretty difficult for them to have an impact on District elections."
Rev. Abena McCray, pastor of D.C.'s LGBT welcoming Unity Fellowship Church, and Bishop Rainey Cheeks, pastor of the city's Inner Light Ministries, which also has a largely LGBT congregation, each said the mayor's signing of the marriage bill would boost the faith and morale of LGBT people of faith.
"I don't anticipate a backlash," McCray said, when asked about clergy who have opposed the bill.
"God is in control," she said. "God spoke today. History was made. And we're going to move forward in only one thing, and that's love."
Cheeks said he expects efforts by people of faith to fight the legislation will be diminished once they understand it.
"When they really understand that this law does not take away anything from anybody, it adds to," they will be far less likely to try to reverse the law, he said.
"Every church and every denomination already has the right to say no to whomever they want to say no to," Cheeks said, on the question of performing same-sex marriages. "It simply expands the right for us to be able to do what we need to do."
Bill calls for designating D.C. street in honor of gay former slave
Black resident called 'early pioneer' for LGBTQ rights in 1880s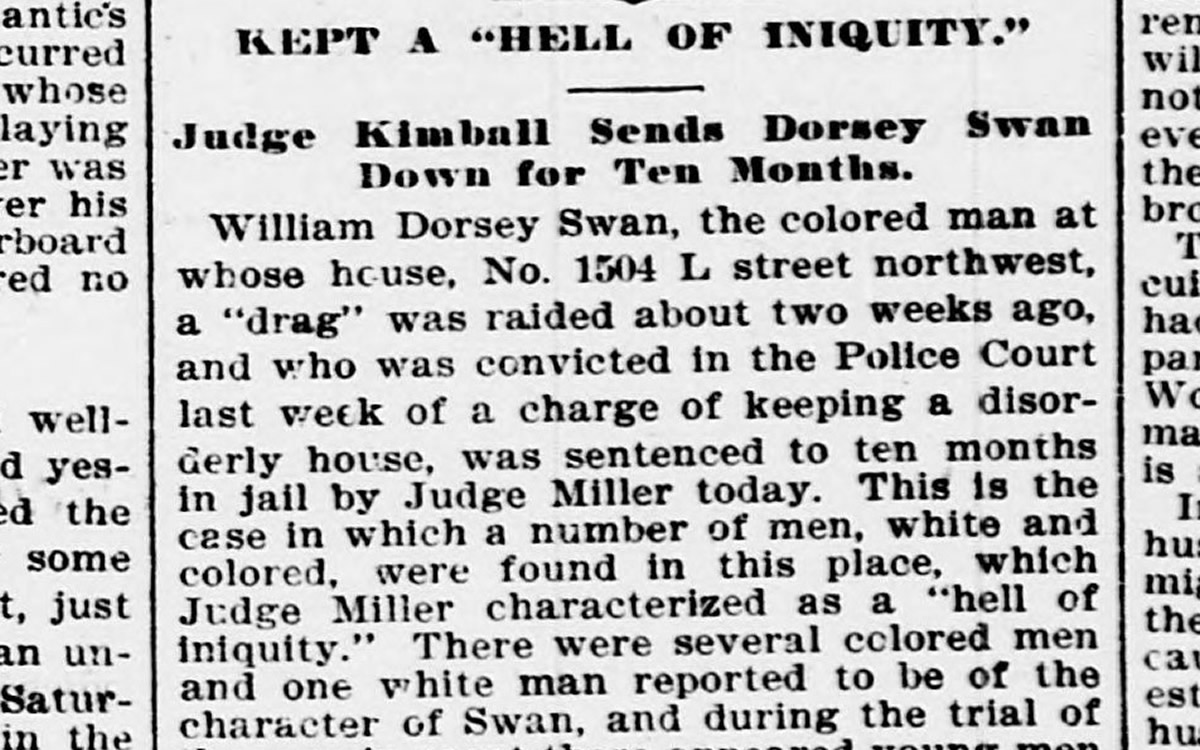 The D.C. Council is expected to approve a bill that calls for designating Swann Street, N.W., near Dupont Circle in honor of William Dorsey Swann, a little known Black gay D.C. resident and former slave who is credited with leading a group that organized drag shows in the late 1800s.
A statement released by D.C. Council member Brooke Pinto (D-Ward 2), who introduced the bill along with 10 other Council members, including gay Council member Zachary Parker (D-Ward 5), says William Dorsey Swann was an early pioneer in LGBTQ rights who referred to himself as "The Queen of Drag."
"Beginning in the 1880s, William Dorsey Swann ran a group known as the 'House of Swann' and organized balls, largely attended by queer, formerly enslaved men who would gather to dance and cross dress," according to Pinto's statement, which she released on Feb. 28 at the time she and the other Council members introduced the bill.
"William Dorsey Swann was persecuted by the authorities and arrested multiple times for 'impersonating a woman' and 'keeping a disorderly house,' and was the first American activist to lead an LGBTQQIA+ resistance group," Pinto's statement says. "Swann eventually sought a pardon from President Grover Cleveland, becoming the first American on record to pursue legal action in defense of LGBTQQIA+ rights," the statement says.
Her statement cites the Jan. 24, 1912, edition of the Congressional Record for the U.S. Senate as saying that Swann Street, N.W. had originally been named for Thomas Swann, an "enslaver" who served as mayor of Baltimore and governor of Maryland.
"Officially designating this street in honor of native Washingtonian and trailblazing LGBTQQIA+ rights activist William Dorsey Swann is an opportunity to ensure that our streets honor those who embody the District's value of social equality and human dignity," the statement says.
"The location of Swann Street, N.W. provides a physical and symbolic representation of the District's Black Queer community, sitting both within the Strivers' Section Historic District, a historic Black neighborhood, and the Dupont Circle neighborhood, the historic epicenter of D.C.'s LGBTQQIA+ community," it says. The street would maintain the current nomenclature and signage as 'Swann Street,'" the statement concludes.
Swann Street is located between 14th Street, N.W. and 19th Street, N.W. and parallel to and between S Street, N.W. and T Street, N.W.
Pinto's statement says William Dorsey Swann is believed to have been born in 1858 and died in 1925.
At the time of its introduction, the bill, called the William Dorsey Swann Street Designation Act of 2023, was sent to the Council's Committee of the Whole, which consists of all 13 Council members.
In addition to Pinto and Parker, the Council members who co-introduced the bill include Council Chair Phil Mendelson (D-At-Large), Brianne Nadeau (D-Ward 1), Robert White (D-At-Large), Kenyan McDuffie (I-At-Large), Charles Allen (D-Ward 6), Janeese Lewis George (D-Ward 4), Vincent Gray (D-Ward 7), Anita Bonds (D-At-Large), and Matthew Frumin (D-Ward 3).
Lindsey Walton, a spokesperson for Mendelson, said the Committee of the Whole voted unanimously on March 21 to approve the bill, which was expected to come before the full Council on April 4 for the first of two required votes.
One potential problem for the immediate passage and implementation of the Swann Street bill surfaced in a March 21 memo prepared by D.C. Chief Financial Officer Glen Lee and sent to Council Chair Mendelson.
Lee says in his memo that the D.C. Department of Parks and Recreation has determined it will cost $30,000 to fabricate and install a commemorative sign called for under the bill explaining the historic background of William Dorsey. It says the sign is to be located at the intersection of Swann Street, New Hampshire Avenue, and 17th Street, N.W.
"Funds are not sufficient in the fiscal year 2023 through fiscal year 2026 budget and financial plan to implement the bill," Lee says in his memo. "Department of Parks and Recreation will need to work with ANC 2B to design the sign and then will fabricate and install it…The fabrication and installation will cost $30,000 and the agency is unable to absorb the cost within its existing budgeted resources," the memo says.
Walton, Mendelson's spokesperson, said Mendelson and the other supporters of the bill on the Council will look for funds for the $30,000 needed to implement the bill in the city's supplemental budget.
Former Trump official elected president of D.C. Log Cabin Republicans
Says GOP group welcomes 'wide spectrum' of conservative adherents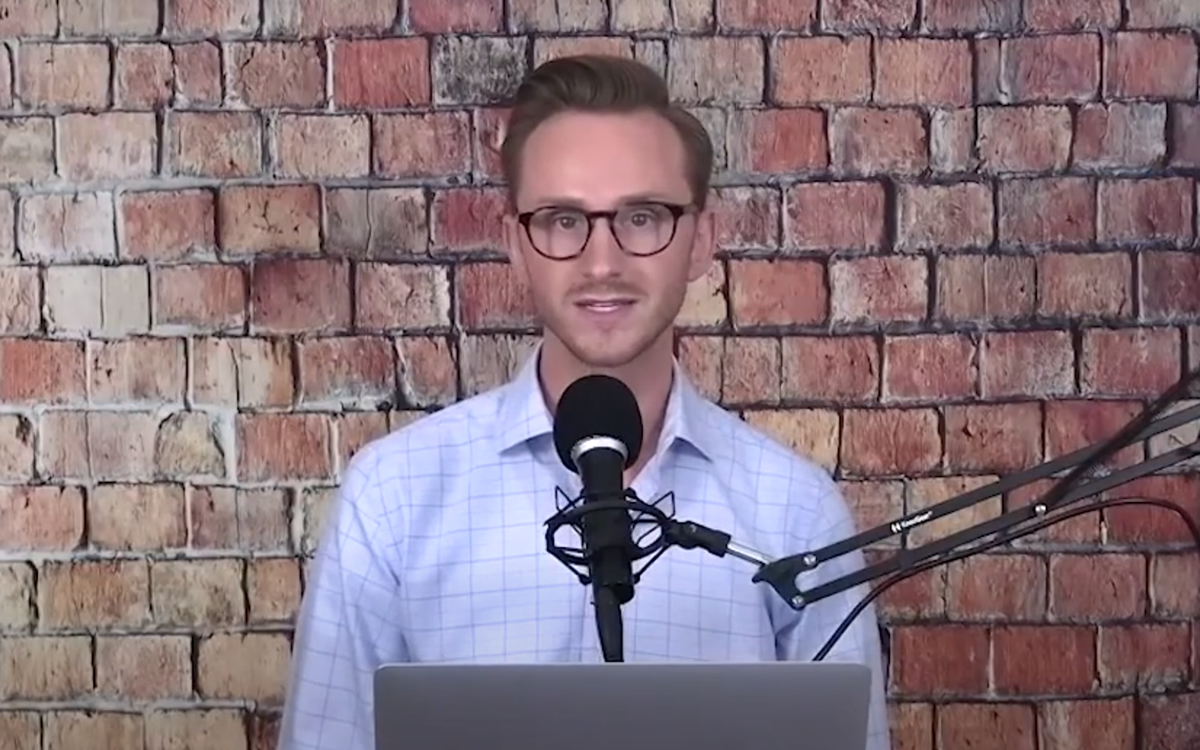 Log Cabin Republicans of D.C., the local chapter of the national LGBTQ Republican organization with the same name, earlier this month elected former Trump administration official Thad Brock as its new president.
Brock replaces longtime GOP activist Adam Savit, who served as the D.C. Log Cabin group's president for the past two years. The local group held its officers election on March 7 during a meeting in which U.S. Sen. Joni Ernst (R-Iowa) appeared as a guest speaker.
Brock served from 2018 to 2019 during the Trump administration as Assistant to the Administrator at the U.S. General Services Administration, according to his LinkedIn page.
His LinkedIn page says he served from 2019 to January 2021 as Special Assistant to the CEO at the Millennium Challenge Corporation, an independent U.S. agency that works with the State Department to help facilitate foreign trade and assistance for developing countries.
Brock told the Blade the two positions were presidential appointments.
Information released by the D.C. Log Cabin group says its members also elected Andrew Mink as vice president, Matthew Johnson as secretary, Greg Wallerstein as treasurer, and Andrew Desser, Tyler Stark, and Jaime Varela as at-large board members.
"Log Cabin Republicans is the nation's largest Republican organization dedicated to representing LGBT conservatives and allies," the national Log Cabin group states on its website. "For more than 40 years, we have promoted the fight for equality through our state and local chapters, our full-time office in Washington, D.C., and our federal and state political action committees," the statement says.
"We believe in limited government, strong national defense, free markets, low taxes, personal responsibility, and individual liberty," the statement continues. "We believe equality for LGBT Americans is in the finest tradition of the Republican Party," it adds, an assertion that many LGBTQ Democrats strongly dispute.
Asked what he thought about the Trump administration's record on LGBTQ rights, Brock said he would defer that question to Charles Moran, president of the National Log Cabin Republicans.
In discussing plans for the D.C. Log Cabin group, Brock said he and the newly elected board members will continue the types of activities and emphasis of the former board and former President Savit.
"We will definitely continue to build off the success of the former board members and continue with speakers and events that are representative to the interest of our membership," he said. "But one of our big focuses will be meeting people where they are," he said, noting that plans were underway to hold events in different D.C. neighborhoods.
"I think one of the things that we're also really looking forward to doing is a really big recruitment push to get a lot more members on the conservative spectrum that share a wide variety of ideas," he said.
But Brock said he and his fellow board members will likely retain a policy put in place by Savit and the previous board in which most of the group's meetings and events are closed to the press.
"The culture of our membership is strengthened by an open and honest dialogue with our speakers," he said, which have included GOP members of Congress. "For a better free-thinking environment, we have limited access for the press to attend," Brock said. "If there is an event that warrants press availability, I will certainly let you know," he said.
As Md. advances bill to fund gender-affirming care, LGBTQ advocates stress it will save lives
Trans Health Equity Act would impact state Medicaid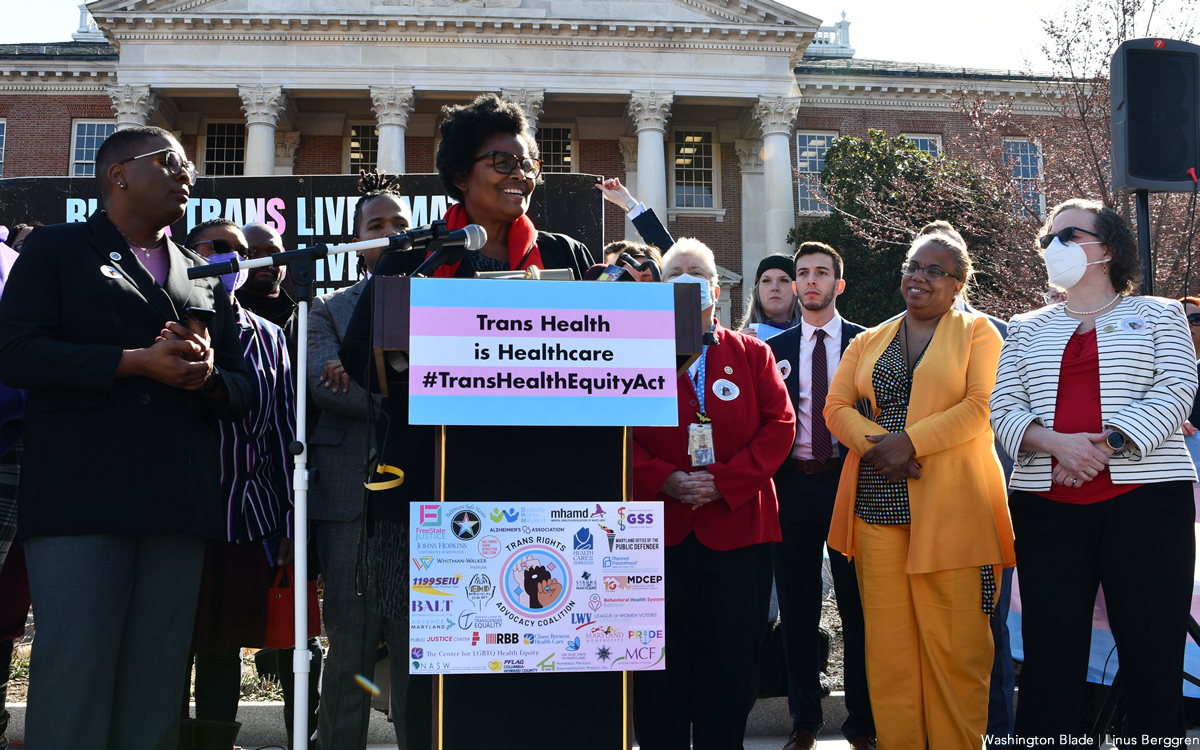 By John-John Williams IV | Shaylie Elliette wishes the Trans Health Equity Act that appears headed for final passage in the Maryland General Assembly would have been around seven years ago, when she turned 18. She believes that transitioning earlier in life would have eliminated years of torment, abuse and discrimination all linked to transphobia.
The rest of this article can be found on the Baltimore Banner website.