A striking new 'View' on 14th Street
David Franco laughs as he recalls his foray into the entrepreneurial arena. It was 1989 and his good friend, John Guggenmos, was pulling together a group of investors to buy the nightclub Tracks. Franco, a fresh-faced 24-year-old, could not have known that Tracks would shortly experience its heyday and become the focal point of D.C.'s gay nightlife scene, making it a hugely profitable venture, but he smelled opportunity. Or at the very least a really good time. He was ready to jump at the chance.
There was just one snag: "I was not out at the time."
Franco wasn't among the legions of gay men and lesbians who came to D.C. to explore and embrace life outside the closet. The recent University of Maryland graduate was a native Washingtonian who had never lived anywhere else. He and his four brothers worked for the family business, a chain of discount department stores run by their father, and they all lived within a mile of each other in the Maryland suburbs. How would his family, especially his Orthodox Jewish father, react to having a family member who was not only gay but owned a gay nightclub?
"I went to my father and said, 'Dad, I have this opportunity and the opportunity requires me to leave the family business.'" When his father asked what the opportunity was, Franco forced the words out. "I said, 'I have the opportunity to go in with a group of guys to buy a [gay] nightclub.' I thought my father was going to hit the roof.  But instead he said, 'If this is going to make you happy, you have my blessing.'"
The Tracks venture was the first step along a career path that would see Franco launch with his Tracks associates a new gay establishment in D.C., Trumpets restaurant, and with business partner Keith Clark start Universal Gear, a chain of clothing stores popular with gay men. Those accomplishments, however, were dwarfed with the opening last month of View 14, a $90 million 185-unit apartment building that he and business partner Jeff Blum developed and built through their real estate firm, Level 2 Development.
The building's interior was designed in collaboration with local furniture store owners Jason Claire and Eric Kole of Vastu and has the feel of a boutique hotel:  funky but modern, stylish with some flashes of whimsy. It boasts the usual upscale finishes like granite countertops and stainless steel appliances and an enviable array of amenities, some the kind you would expect in a new luxury building – roof decks with Weber grills, a party room, 24-hour concierge service, fitness center, underground parking – but some you might not have seen elsewhere, including a sculpture garden, yoga studio, fully loaded theater, and a screen in the cavernous lobby that tells you when the next green and yellow line trains will be arriving at the U Street Metro Station.
Franco likens View 14 itself to a "giant ship coming down 14th Street." It's a very fitting image, with the sleek and majestic glass, steel and stone structure seeming to glide down the hill from Columbia Heights to the U Street area. How View 14 came to be is a harrowing voyage in itself, fraught with the squalls and swells of a tanking real estate market and the ensuing lending crisis.
It was 2005, and Franco and Blum were finishing their first venture together, the development of a 12-unit apartment building on the 1400 block of Chapin Street, N.W., called the Mercury at Meridian Hill Park. The real estate market was moving from high gear into overdrive, Franco said, and the building sold out very quickly. Flush with excitement, the two decided that for their second project together they would go big in order to capitalize on the red hot market.
After losing a bid on a property in the NoMa neighborhood, they set their sights on the Petrovich Auto Repair garage at the corner of 14th Street and Florida Avenue, around the corner from the Mercury. The property was perfectly situated on a hill that would afford stunning views of the city, and was within a stone's throw of the popular U Street corridor.
Unfortunately, owners Paolo and Pedro Petrovich weren't exactly jumping at the opportunity.
"They weren't prepared [to sell] at that time," said Franco. "They wanted to reinvest [whatever profit they would make from the sale] but didn't know what to do."
Undeterred, Franco and Blum made themselves a fixture at the Petroviches' garage. "One of us would be in there at least once a week, seeing how things were," often over lunch. "We really cultivated a relationship." Franco, meanwhile, diligently researched opportunities for the Petroviches to reinvest their money. When the brothers took him up on a suggestion to tour some CVS stores in the Baltimore area, Franco began to feel guardedly optimistic.
Several months later, after a delicate dance with the Petroviches that could only be described as a wooing, complete with the appearance of a rival suitor, Franco and Blum won the sale.
Once that first major hurdle was cleared other challenges followed – finding a suitable architect and investment partner, navigating city bureaucracy to get the requisite permits to build a large scale condo building where an auto repair shop used to be, making expensive arrangements for the grounds to be cleansed of several decades worth of oil and gasoline seepage – but those were overcome with hard work and perseverance.
Franco and Blum quickly found strong support for their project among D.C. politicians, with Mayor Adrian Fenty attending the groundbreaking and Ward 1 Council member Jim Graham stepping in to facilitate communication with Comcast, which had been unresponsive to Franco and Blum's appeals to discuss with them the relocation of Comcast-owned satellite dish equipment and a signal receiver tower from the View 14 site. Graham would later champion legislation that gave the View 14 project $5.7 million in tax abatement.
The View 14 developers also won kudos from local community leaders and the city government by donating $1 million to the residents of Cresthill Apartments toward the purchase of their building and the formation of a cooperative. This was done as part of their deal with the city, which requires developers to provide affordable housing if they are building a high-density project. Rather than set aside units in the new building for that purpose, as is normally done, the View 14 developers, seeing need in their community, chose instead to donate needed funds to the Cresthill residents, whose building was less than a block away and was soon to be sold on the open market.
"I never will forget the first day I met David," said Sankofa Cooperative president Sheila Royster, who has lived in the Cresthill Apartments building for 40 years. "He came to my unit and he brought me a plant. I thought that was wonderful. It was a genuine gesture and to me it just demonstrated his respect for us and what we were doing."
Dark clouds began to loom though as speculation that the housing market was cresting gave way to fears of a housing bubble that could burst at any moment and send property values tumbling.  Still, Franco and Blum were confident. More than 1,000 people attended the lavish launch party in September of 2006. Rival developers nervously dubbed View 14 "The Death Star" because it was expected to "suck up all the other condo purchasers in the market," Franco said. "We were excited."
Contracts trickled in, a dozen and a half in the first two months, and the cold reality set in: they weren't selling enough units to finance the start of construction on time. It might be months, or even a year, before they reached that point. If they were able to reach that point.
The two men sat down with their project partners and made the difficult decision to re-engineer View 14 as a rental project. "It was literally the million dollar decision for us," said Franco. "We had spent a million dollars in marketing and building a sales center."
Franco said that he and Blum have accepted a letter of intent from a "well-known retail and services establishment in the area" that will use 8,000 square feet of space to expand their facilities.
"The neighborhood is going to be ecstatic when they learn who's going to be there," he promises. A signed lease and announcement is expected soon.
Franco is just as ebullient when he talks about the 14th and U Street neighborhood and its future. He points out that the Solea, a condo building directly across 14th Street from View 14, has nearly sold out. And there is just one unit left for sale at Union Row, the massive, 216-unit condo building that also houses Yes! Market, a CVS, and the restaurant Eatonville.
"That speaks volumes to the desirability of this neighborhood," said Franco.
About 25 leases have been signed so far and the first View 14 residents moved in over Thanksgiving weekend, among them Galan Panger, a 24-year-old gay man who is leasing a studio. Panger, who works in Google's downtown D.C. office, said he was impressed by the quality of the building's construction and with the finishes. The amenities solidified the decision to trade in his digs at nearby Union Row for View 14.
"It was nice of them to create these community spaces," Panger said. "My boyfriend and I have been grilling even though it's been cold." They have been sticking to the east roof deck after Franco joked during a tour of the building that it was the gayer of the two rooftop spaces since it has "the more fabulous view."
Franco himself is one of View 14's newest tenants, along with his dog; last week he sold his home near Meridian Hill Park and they moved into one of the penthouse units.
Franco sees a wide mix of people coming to View 14, from single young professionals to retired couples. There is also a fair bit of traffic from gay and lesbian renters like Panger, which Franco attributes to a variety of factors, including the fact that the building bears the strong imprint of two openly gay men, he and Blum, as well as the influence of other gay men they know like Claire and Kole of Vastu and Chris Cahill, a good friend of Franco's who works for Botanical Decorators and came up with the idea for using the courtyard space as a sculpture garden and helped select the sculptures and interior plants.
People, gay and straight alike, Franco observed, appreciate quality and, "not to rely too heavily on stereotypes, but gay men have a natural attention to detail. We as gay men are [attuned] to high style, high design and convenience. This building delivers that."
Top tax benefits of homeownership
Mortgage interest, property tax deductions, and more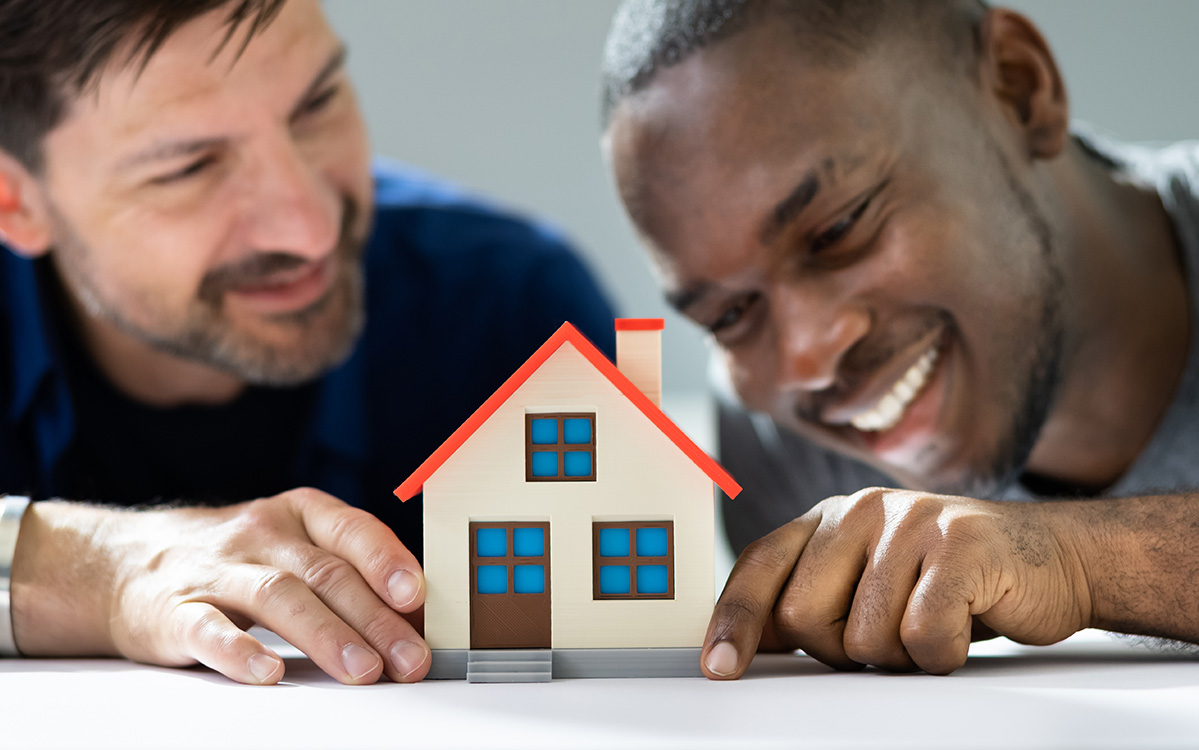 As we are closing out 2023 and getting ready to start 2024, now is a good time to review what tax benefits most homeowners are getting. There are several categories that you can look at to see if you will benefit from being a homeowner. According to RocketMortgage.com, here are some of them:
Mortgage interest. Most newer homeowners are paying more on the interest in their monthly mortgage payment than on the principal, so this could be a big tax benefit.
Home equity loan interest – HELOC (home equity line of credit) loans are like a 2nd mortgage on your home. Many homeowners can use it to make upgrades to their house and interest on these loans is deductible if you used it for that purpose.
Discount points – for those of you that purchased in the last year or so these may apply, as these are the price paid to lower an interest rate on a loan.
Property taxes – depending on where you live, your state and local property taxes may be a big source of tax deductions for you.
Necessary home improvements – even if you did not use a HELOC to improve your home, some of your expenses in this category may be deductible.
Home office expenses – as more and more people are working from home, this should not go unexamined in your search to find tax deductions.
Capital Gains – a capital gain is the difference between the value of a home when you sold it versus when you borrowed it. So, if you sold your home for a significant profit and did not roll over those gains into a new property within a short period of selling the old property, then ask your tax professional up to which amount of these profits are not taxable.
We asked Tina Del Casale ([email protected]), a DMV-area lender with Sandy Spring Bank, what she thought about the tax benefits of homeownership, and here is her answer:
"Most homeowners wish they knew sooner that most every major home improvement can reduce your future capital gains when you are ready to sell your home. While the deduction for a single person is $250,000, and for married couples is $500,000, the DMV has seen property appreciation that outpaces those numbers. So keep ALL your receipts for replacement items like your HVAC, windows, doors, roof, major landscaping and updating bathrooms and kitchens. You will thank me later! Of course most importantly consult a tax adviser for up-to-date information!"
Please don't hesitate to reach out to either of us if you have more questions and happy holidays! Let's get you home for the holidays.
Joseph Hudson is a Realtor with the Rutstein Group of Compass. Reach him at 703-587-0597 or [email protected].
The Importance of Offering Inclusive Family Planning Benefits
How one company helped two dads create their family.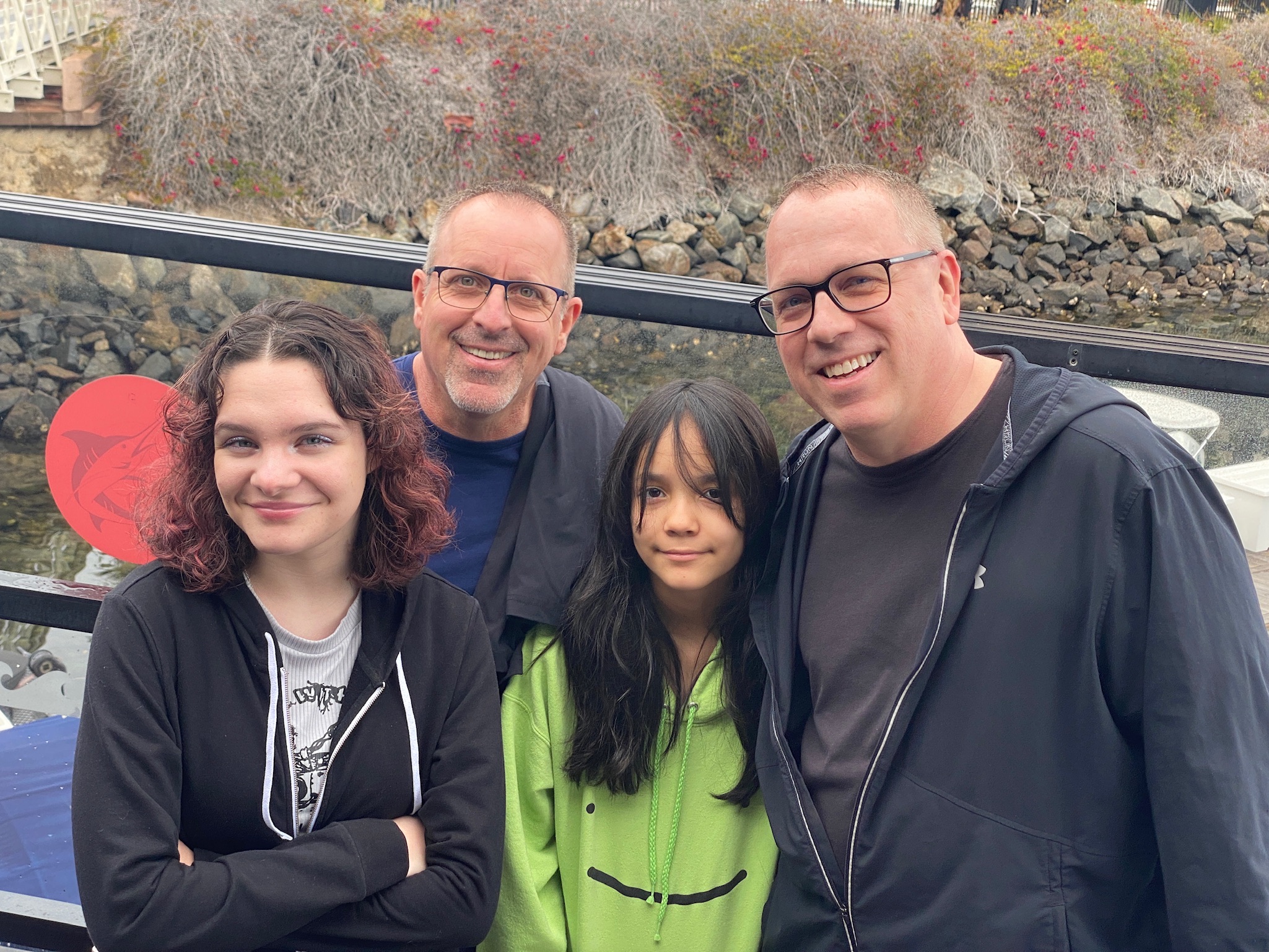 Don Jackson has worked for JPMorgan Chase for more than 30 years. He attributes this longevity in large part to the company's long-standing support of the LGBTQ+ community.
When Jackson and his husband were looking to adopt in 2008, and then again in 2009, the firm helped them navigate the complex process and legal requirements. Given the cost of family planning, finances were also a big concern.
"We had tons of support from family and friends, and thankfully from JPMorgan Chase," said Jackson, a senior leader in Chase's Home Lending business. "But outside of that, we were on own.
"Knowing JPMorgan Chase was willing to subsidize many of our expenses toward adoption took a lot of the stress out of our situation. We had enough stress in other aspects, but it meant everything to us to place some of the financial stress to the side."
A supportive environment
JPMorgan Chase has been at the forefront of LGBTQ+ workplace inclusion for decades. This year marks the 21st year in a row that JPMorgan Chase has scored a perfect 100 on the Human Rights Campaign's annual Corporate Equality Index. The firm is one of only a few companies to receive a perfect score every year since the CEI's inception.
As one of the first Wall Street firms to offer same-sex partner benefits in the U.S., JPMorgan Chase continues to provide a wide range of LGBTQ+ inclusive benefits for employees in the U.S. This includes comprehensive health care, insurance and wellness support, family planning, and transgender healthcare coverage.
Beyond inclusive benefits, JPMorgan Chase has established networks of support for employees to connect with one another and access opportunities to grow and advance in their careers.
The company's PRIDE Business Resource Group has more than 37,000 employee members across 39 countries. PRIDE hosts events and delivers personal development opportunities for LGBTQ+ employees and their allies. Other support networks for LGBTQ+ employees and their families include a Bi+ Council, Gender Expansive Council, Allies Council and LGBTQ+ Families Community.
For Jackson and his family, the LGBTQ+ Families Community has been pivotal. The group provides support and resources for parents, caregivers, and family members of LGBTQ+ children, as well as LGBTQ+ employees who are parents or are looking to build their families.
"What I've always been most proud of throughout my 30 years [working here], is the support and guidance I've received across all levels and teams," Jackson said. "I have never once hidden a single detail of my family, and I'm constantly amazed at how everyone accepts us."
Culture comes first
In 2022, JPMorgan Chase enhanced benefits for employees enrolled in the U.S. medical plan to include more robust gender affirming healthcare. The firm also increased family-building benefits and created a dedicated LGBTQ+ health concierge service, powered by Included Health.
Brad Baumoel, JPMorgan Chase's global head of LGBTQ+ Affairs, says this commitment to LGBTQ+ inclusive benefits goes beyond just checking boxes.
"These resources actually create a workplace culture where all employees feel valued, respected, and are able to bring their authentic selves to work," Baumoel said. "This in turn fosters a sense of belonging, which has a profound impact on employee satisfaction, productivity and overall well-being."
For the LGBTQ+ workforce, knowing your employer has your back can alleviate the stress and anxiety associated with potential discrimination or bias, Baumoel said. "It allows you to focus on your work and thrive in your career."
—
Visit JPMorgan Chase's website to learn more about the firm's commitment to the LGBTQ+ community.
Celebrating friends and family at Thanksgiving
The kitchen is always a bustling hub during this festive season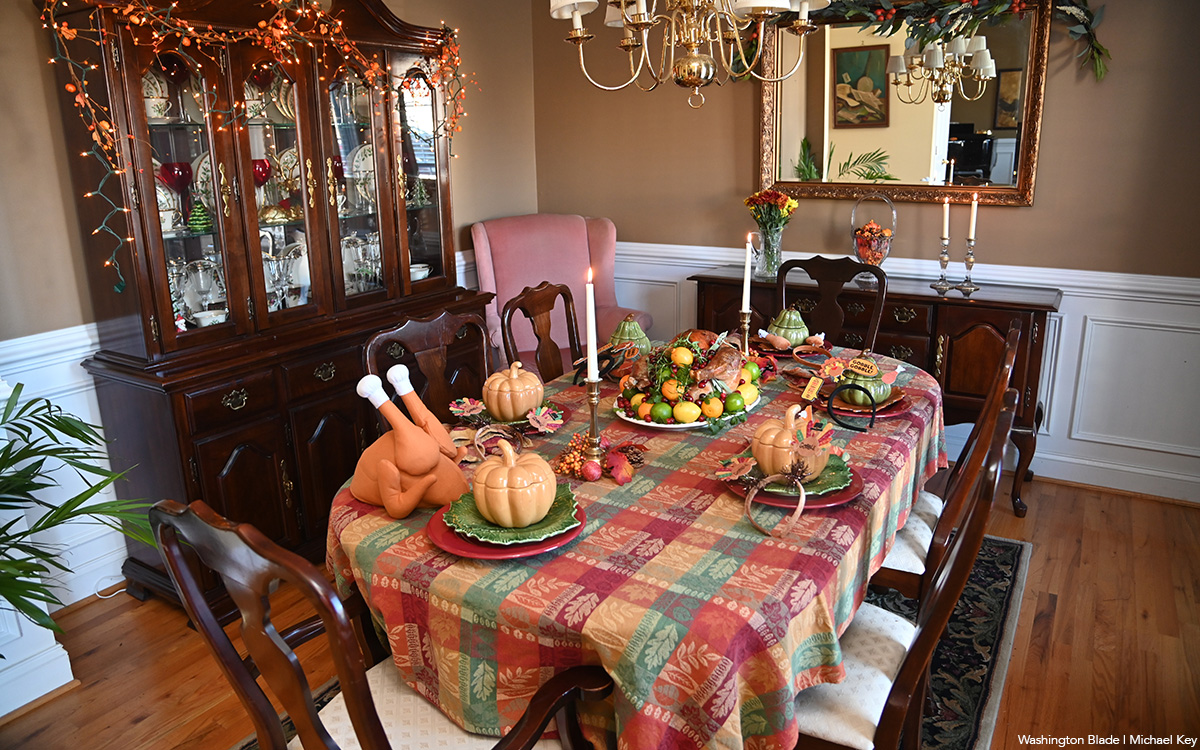 By the time you read this article, you will likely have filled up on turkey, dressing, gravy and pumpkin pie. Perhaps you have unbuttoned the top button on your pants or are lounging in your sweats, watching football, playing board games, reading a new book, or braving the crowds at the shops on Black Friday.
Maybe this is the day you buy a Christmas tree or bring one out of your storage area, intent on spending the weekend decorating and drinking hard cider. Perhaps you are celebrating Thanksgiving (or Friendsgiving) at someone else's home, or they may have come to your place, where you will be the gracious host.
Whatever your plans, Thanksgiving should be a time of gratitude and appreciation, offering a wonderful opportunity to reflect on the treasures within the sanctuary of our homes and the people who inhabit them, ruminating on things you are thankful for.
Wherever you are and whatever your role, the kitchen is always a bustling hub during this festive season and holds an abundance of reasons to be thankful. It's where the aromas of childhood family recipes waft through the air, promising a delectable feast and a weekend of leftovers. The communal act of preparing meals together can foster bonds that remind us of the importance of laughter and togetherness.
Within the walls of our homes lie spaces of relaxation and repose. The warmth of a cozy fireplace crackling softly, casting a gentle glow upon the walls, invokes a sense of comfort. It's a haven that shields us from the briskness of the outside world and encourages moments of reflection.
The soft embrace of a well-worn armchair or the inviting ambiance of a comfy sofa offer respite from the demands of the day. These items are more than just furniture; they become the cocoons where we can decompress and rejuvenate our spirits.
The belongings in your home, according to Marie Kondo, should spark joy. There may be a family heirloom passed down through generations, a gift from a special someone, or a shelf lined with well-worn and oft-read books that transport us to different worlds. These items, each holding a story or a memory, add richness and depth to the tapestry of our lives and the personality of our homes.
Outside, the surroundings also contribute to a sense of pride and accomplishment. The beauty of a well-tended garden, the soothing rustle of leaves in the wind, or the sight of a breathtaking sunset from the porch remind us of nature's glory. These outdoor spaces offer a retreat, a canvas for moments of quiet contemplation and appreciation for the world around us.
For those embracing a full house during the holidays, ingenuity transforms shared spaces into impromptu sleeping quarters. Nooks and alcoves are repurposed, made comfortable with privacy screens or curtains, ensuring a sense of personal space in otherwise communal areas.
Pull-out sofas in the living room transform seamlessly into slumber zones, outfitted with pillows and extra blankets. Air mattresses can turn any available space—a study, a home office, or even a cleared-out corner—into a peaceful resting place. The hidden Murphy bed has also resurfaced as a viable alternative and, if you're really crowded, consider a hotel or Airbnb – for yourself or for your guests.
The essence of hospitality lies not only in the physical comforts but also in the graciousness of hosts. A warm welcome and attentiveness to guests' needs contribute to the overall experience that transcends mere sleeping arrangements, creating an atmosphere of connection and camaraderie.
Beyond the confines of the designated sleeping quarters, the true magic of hosting overnight guests during the holidays lies in the shared moments, the spirit of togetherness, and often, the ability to hold one's tongue during uncomfortable conversations. Instead, laughter echoing through the halls, late-night chats by the fireside, and the joy of being together should evoke the true essence of the season.
Whether you live in an apartment, a condo, a house, or are meeting in another location, it is family, friends, and neighbors who fill our lives with love, support, and companionship. Their reminiscences and shared experiences enrich our lives and make our homes not just a series of rooms, but places to forge new memories.
So, what are you thankful for? Me, I'm grateful that I have a roof over my head and healthy food to eat when others have none. I am thankful to have helped many clients find housing amid the neighborhoods of the DMV. I am delighted to have beloved pets to keep my spirits up.
But most of all, I'm thrilled that I don't have to cook.
Valerie M. Blake is a licensed Associate Broker in D.C., Maryland, and Virginia with RLAH Real Estate / @properties. Call or text her at 202-246-8602, email her via DCHomeQuest.com, or follow her on Facebook at TheRealst8ofAffairs.