A striking new 'View' on 14th Street
David Franco laughs as he recalls his foray into the entrepreneurial arena. It was 1989 and his good friend, John Guggenmos, was pulling together a group of investors to buy the nightclub Tracks. Franco, a fresh-faced 24-year-old, could not have known that Tracks would shortly experience its heyday and become the focal point of D.C.'s gay nightlife scene, making it a hugely profitable venture, but he smelled opportunity. Or at the very least a really good time. He was ready to jump at the chance.
There was just one snag: "I was not out at the time."
Franco wasn't among the legions of gay men and lesbians who came to D.C. to explore and embrace life outside the closet. The recent University of Maryland graduate was a native Washingtonian who had never lived anywhere else. He and his four brothers worked for the family business, a chain of discount department stores run by their father, and they all lived within a mile of each other in the Maryland suburbs. How would his family, especially his Orthodox Jewish father, react to having a family member who was not only gay but owned a gay nightclub?
"I went to my father and said, 'Dad, I have this opportunity and the opportunity requires me to leave the family business.'" When his father asked what the opportunity was, Franco forced the words out. "I said, 'I have the opportunity to go in with a group of guys to buy a [gay] nightclub.' I thought my father was going to hit the roof.  But instead he said, 'If this is going to make you happy, you have my blessing.'"
The Tracks venture was the first step along a career path that would see Franco launch with his Tracks associates a new gay establishment in D.C., Trumpets restaurant, and with business partner Keith Clark start Universal Gear, a chain of clothing stores popular with gay men. Those accomplishments, however, were dwarfed with the opening last month of View 14, a $90 million 185-unit apartment building that he and business partner Jeff Blum developed and built through their real estate firm, Level 2 Development.
The building's interior was designed in collaboration with local furniture store owners Jason Claire and Eric Kole of Vastu and has the feel of a boutique hotel:  funky but modern, stylish with some flashes of whimsy. It boasts the usual upscale finishes like granite countertops and stainless steel appliances and an enviable array of amenities, some the kind you would expect in a new luxury building – roof decks with Weber grills, a party room, 24-hour concierge service, fitness center, underground parking – but some you might not have seen elsewhere, including a sculpture garden, yoga studio, fully loaded theater, and a screen in the cavernous lobby that tells you when the next green and yellow line trains will be arriving at the U Street Metro Station.
Franco likens View 14 itself to a "giant ship coming down 14th Street." It's a very fitting image, with the sleek and majestic glass, steel and stone structure seeming to glide down the hill from Columbia Heights to the U Street area. How View 14 came to be is a harrowing voyage in itself, fraught with the squalls and swells of a tanking real estate market and the ensuing lending crisis.
It was 2005, and Franco and Blum were finishing their first venture together, the development of a 12-unit apartment building on the 1400 block of Chapin Street, N.W., called the Mercury at Meridian Hill Park. The real estate market was moving from high gear into overdrive, Franco said, and the building sold out very quickly. Flush with excitement, the two decided that for their second project together they would go big in order to capitalize on the red hot market.
After losing a bid on a property in the NoMa neighborhood, they set their sights on the Petrovich Auto Repair garage at the corner of 14th Street and Florida Avenue, around the corner from the Mercury. The property was perfectly situated on a hill that would afford stunning views of the city, and was within a stone's throw of the popular U Street corridor.
Unfortunately, owners Paolo and Pedro Petrovich weren't exactly jumping at the opportunity.
"They weren't prepared [to sell] at that time," said Franco. "They wanted to reinvest [whatever profit they would make from the sale] but didn't know what to do."
Undeterred, Franco and Blum made themselves a fixture at the Petroviches' garage. "One of us would be in there at least once a week, seeing how things were," often over lunch. "We really cultivated a relationship." Franco, meanwhile, diligently researched opportunities for the Petroviches to reinvest their money. When the brothers took him up on a suggestion to tour some CVS stores in the Baltimore area, Franco began to feel guardedly optimistic.
Several months later, after a delicate dance with the Petroviches that could only be described as a wooing, complete with the appearance of a rival suitor, Franco and Blum won the sale.
Once that first major hurdle was cleared other challenges followed – finding a suitable architect and investment partner, navigating city bureaucracy to get the requisite permits to build a large scale condo building where an auto repair shop used to be, making expensive arrangements for the grounds to be cleansed of several decades worth of oil and gasoline seepage – but those were overcome with hard work and perseverance.
Franco and Blum quickly found strong support for their project among D.C. politicians, with Mayor Adrian Fenty attending the groundbreaking and Ward 1 Council member Jim Graham stepping in to facilitate communication with Comcast, which had been unresponsive to Franco and Blum's appeals to discuss with them the relocation of Comcast-owned satellite dish equipment and a signal receiver tower from the View 14 site. Graham would later champion legislation that gave the View 14 project $5.7 million in tax abatement.
The View 14 developers also won kudos from local community leaders and the city government by donating $1 million to the residents of Cresthill Apartments toward the purchase of their building and the formation of a cooperative. This was done as part of their deal with the city, which requires developers to provide affordable housing if they are building a high-density project. Rather than set aside units in the new building for that purpose, as is normally done, the View 14 developers, seeing need in their community, chose instead to donate needed funds to the Cresthill residents, whose building was less than a block away and was soon to be sold on the open market.
"I never will forget the first day I met David," said Sankofa Cooperative president Sheila Royster, who has lived in the Cresthill Apartments building for 40 years. "He came to my unit and he brought me a plant. I thought that was wonderful. It was a genuine gesture and to me it just demonstrated his respect for us and what we were doing."
Dark clouds began to loom though as speculation that the housing market was cresting gave way to fears of a housing bubble that could burst at any moment and send property values tumbling.  Still, Franco and Blum were confident. More than 1,000 people attended the lavish launch party in September of 2006. Rival developers nervously dubbed View 14 "The Death Star" because it was expected to "suck up all the other condo purchasers in the market," Franco said. "We were excited."
Contracts trickled in, a dozen and a half in the first two months, and the cold reality set in: they weren't selling enough units to finance the start of construction on time. It might be months, or even a year, before they reached that point. If they were able to reach that point.
The two men sat down with their project partners and made the difficult decision to re-engineer View 14 as a rental project. "It was literally the million dollar decision for us," said Franco. "We had spent a million dollars in marketing and building a sales center."
Franco said that he and Blum have accepted a letter of intent from a "well-known retail and services establishment in the area" that will use 8,000 square feet of space to expand their facilities.
"The neighborhood is going to be ecstatic when they learn who's going to be there," he promises. A signed lease and announcement is expected soon.
Franco is just as ebullient when he talks about the 14th and U Street neighborhood and its future. He points out that the Solea, a condo building directly across 14th Street from View 14, has nearly sold out. And there is just one unit left for sale at Union Row, the massive, 216-unit condo building that also houses Yes! Market, a CVS, and the restaurant Eatonville.
"That speaks volumes to the desirability of this neighborhood," said Franco.
About 25 leases have been signed so far and the first View 14 residents moved in over Thanksgiving weekend, among them Galan Panger, a 24-year-old gay man who is leasing a studio. Panger, who works in Google's downtown D.C. office, said he was impressed by the quality of the building's construction and with the finishes. The amenities solidified the decision to trade in his digs at nearby Union Row for View 14.
"It was nice of them to create these community spaces," Panger said. "My boyfriend and I have been grilling even though it's been cold." They have been sticking to the east roof deck after Franco joked during a tour of the building that it was the gayer of the two rooftop spaces since it has "the more fabulous view."
Franco himself is one of View 14's newest tenants, along with his dog; last week he sold his home near Meridian Hill Park and they moved into one of the penthouse units.
Franco sees a wide mix of people coming to View 14, from single young professionals to retired couples. There is also a fair bit of traffic from gay and lesbian renters like Panger, which Franco attributes to a variety of factors, including the fact that the building bears the strong imprint of two openly gay men, he and Blum, as well as the influence of other gay men they know like Claire and Kole of Vastu and Chris Cahill, a good friend of Franco's who works for Botanical Decorators and came up with the idea for using the courtyard space as a sculpture garden and helped select the sculptures and interior plants.
People, gay and straight alike, Franco observed, appreciate quality and, "not to rely too heavily on stereotypes, but gay men have a natural attention to detail. We as gay men are [attuned] to high style, high design and convenience. This building delivers that."
Study: One in ten LGBT workers experienced discrimination at work
LGBTQ employees of color were more likely to report being denied jobs and verbal harassment at work as opposed their white counterparts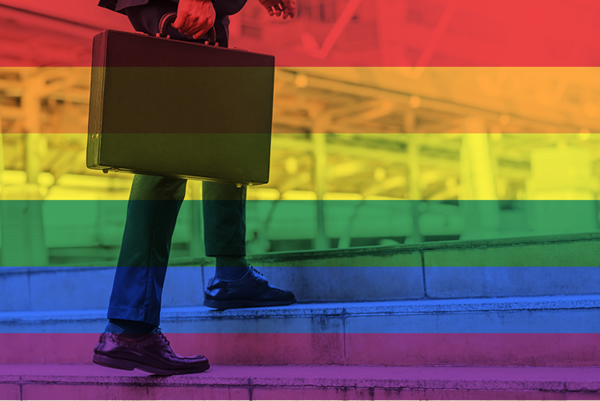 LOS ANGELES – A new study by the Williams Institute at UCLA School of Law finds an estimated 46% of LGBT workers have experienced unfair treatment at work at some point in their lives, including being fired, not hired, or harassed because of their sexual orientation or gender identity.
An estimated 9% of LGBT employees reported experiences of discrimination in the past year, despite the U.S. Supreme Court's 2020 decision in Bostock v. Clayton County, which extended employment non-discrimination protections to LGBT people nationwide. Approximately 11% of LGBT employees of color reported being fired or not hired because of their sexual orientation or gender identity in the last year.
Using survey data collected in May 2021 from 935 LGBT adults in the workforce, researchers examined lifetime, five-year, and past-year discrimination among LGBT employees.
Results show that over half (57%) of LGBT employees who experienced discrimination or harassment at work reported that the unfair treatment was motivated by religious beliefs, including 64% of LGBT employees of color and 49% of white LGBT employees.
"Employment discrimination and harassment against LGBT people remain persistent and pervasive in 2021," said lead author Brad Sears, Founding Executive Director at the Williams Institute. "Passing the Equality Act would ensure that LGBT people—particularly transgender people and LGBT people of color—are allowed to participate fully in the workplace as well as other public settings."
ADDITIONAL FINDINGS:
Discrimination
30% of LGBT employees reported experiencing at least one form of employment discrimination (being fired or not hired) because of their sexual orientation or gender identity at some point in their lives.
29% of LGBT employees of color reported not being hired compared to 18% of white LGBT employees.
Harassment
38% of LGBT employees reported experiencing at least one form of harassment (including verbal, physical, or sexual harassment) at work because of their sexual orientation or gender identity at some point in their lives.
LGBT employees of color were significantly more likely to experience verbal harassment than white employees.

36% of LGBT employees of color reported experiencing verbal harassment compared to 26% of white LGBT employees.
Religious Motivation
Of employees who experienced discrimination or harassment at some point in their lives, 64% of LGBT employees of color said that religion was a motivating factor compared to 49% of white LGBT employees.
Avoiding Discrimination
Half (50%) of LGBT employees said that they are not open about being LGBT to their current supervisor and one-quarter (26%) are not out to any of their co-workers.
Many LGBT employees reported engaging in "covering" behaviors to avoid harassment or discrimination at work, such as changing their physical appearance and avoiding talking about their families or social lives at work.

For example, 36% of transgender employees said that they changed their physical appearance and 28% said they changed their bathroom use at work to avoid discrimination and harassment.
Time to dust off your pre-pandemic budget
We can no longer rely on closures to restrict us from spending money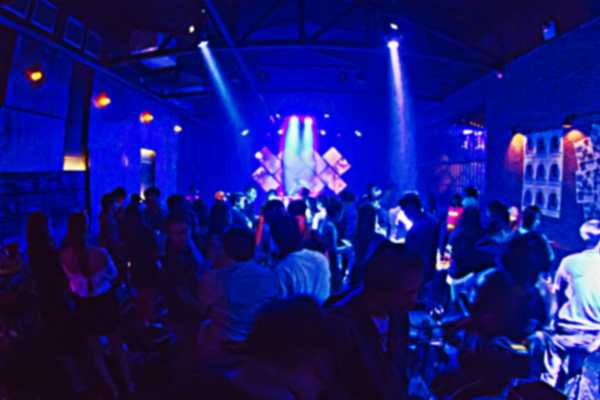 D.C.'s first 'mostly open' weekend shows there is a year's worth of socializing built up. It was amazing to feel the energy of the District roar back to life. From long lines outside bars to literal dancing in the streets – this is the city we all came to love. Now that the physical hangover may have subsided, you should prepare for the financial hangover. If you were lucky to keep your full pay and position through the pandemic, data tells us most of you were paying down debt.
The first thing everyone needs to do is dust off that old pre-pandemic budget. Sadly (or really luckily), we can no longer rely on health restrictions to naturally restrict us from spending. If you need a refresher, start with your post-tax income. From there, subtract 'fixed' or required expenses, like rent, and the balance is what you get to play with. Some may ask why I don't use gross income (aka the before tax income) like many financial institutions do for credit applications. Frankly, it's because net income (aka the money you actually receive) is the most practical number to budget daily life with. It's what you can tangibly use to live.
Now as you develop your budget, return to using an app like Mint to take some of the work out of it. If you prefer to retain some level of privacy, many banks offer their own version of 'spending trends' that you can use to put together a more simple budget. This time the challenge is a bit different – we are all 'restarting' our social lives. So instead of having to 'cut' things, we can better prioritize what we actually want to do. Still – it is not easy or fun to have to choose, but every dollar you don't spend today, will be there for the next rainy day.
Finally, so many of our friends and family lost their jobs or had their wages cut during the pandemic. Expanded unemployment benefits helped, but anyone trying to budget for life in D.C. knows that choices had to be made and often rent/utilities took a back seat to eating. Luckily, a state-run, but federal program will help people pay back rent and utilities, so they can focus on getting back to work. In D.C., this is called StayDC, but each jurisdiction offers a similar program.
Be prepared to do a little homework, you will need proof of income (or lack thereof) and documentation of the late payments. Finally, your landlord will need to complete separate forms, but it is in their best interest to receive those funds, so don't let them drag their feet. The program will cover back rent to April 2021, three months of future rent, and past utilities. Do not delay, nor feel any shame by participating – this is the key to your long term success and, frankly, is a drop in the bucket compared to other spending priorities.
I hope this helps and I wish everyone a much more fun and prosperous 2021.

Information contained herein is for informational purposes only and should not be considered investment advice or recommendations. Advice may only be provided after entering into an advisory agreement with an advisor.
Alex Graham is a Principal at Graham Capital Wealth Management, a registered Investment Advisor located on K Street.
Gay D.C. business owner to run 100-mile ultramarathon
Brandt Ricca to raise money for Capital Pride, LGBTQ businesses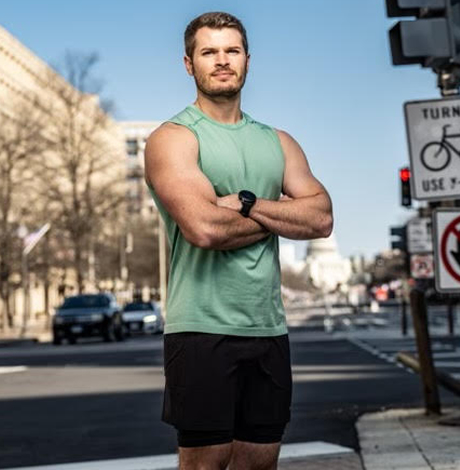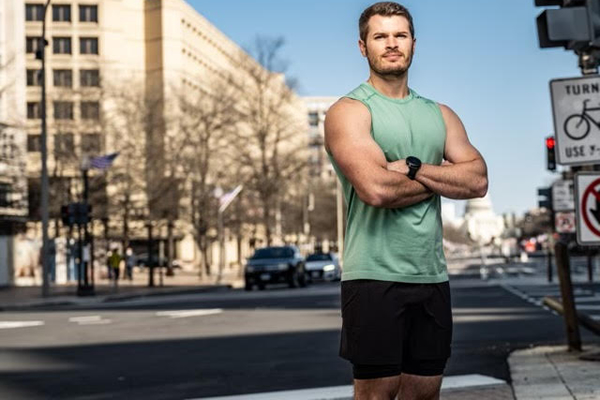 Brandt Ricca will begin a non-stop 100-mile ultramarathon at 6 a.m. on Oct. 7 while most D.C. residents will still be sipping their morning coffee.
In a year of isolation and economic downturn, Ricca decided to run 100 miles in two days to benefit local, LGBTQ-owned businesses affected by the coronavirus pandemic. Ricca, who's lived in D.C. for 10 years, is donating the money he raises to the Capital Pride Alliance and Equality Chamber of Commerce, where he has been a member since 2018.
The gay entrepreneur and owner of the D.C.-based business Nora Lee by Brandt Ricca understands first-hand how the ongoing pandemic affects small businesses, particularly LGBTQ-owned companies.
"I definitely want to give back to the community and local colleagues, especially because Capitol Pride has been now canceled two years in a row," Ricca said.
Out of the funds raised, 90 percent will go towards funding 20 small business grants through the Equality Chamber of Commerce and the remaining 10 percent will go towards supporting Capital Pride Alliance.
Brandt, already an avid runner and self-described "fitness explorer," decided after crowdsourcing ideas to pursue the 100-mile project. Ricca has been a frequent visitor at the Equinox Anthem Row in D.C. to prepare for the run.
"I was looking to do my next fitness endeavor, at the same time wanting to do something to get back to the fellow business owners in D.C.," he said.
Applications for the 20 grants of various sizes for LGBTQ businesses are projected to open this summer through the Equality Chamber of Commerce, Ricca said. His goal is to raise $100,000 from individuals and companies. The grants will be distributed in October following the completion of the run.
Equality Chamber of Commerce Vice President Riah Gonzales-King is in the process of developing grants and additional summer educational programming to help young LGBTQ entrepreneurs and students start their businesses.
"So much of the culture centers around these businesses, many of which have been around for decades," Gonzales-King said. "They're pillars of the community — their owners are pillars in the community. And I think it's time that we gave back."
Helping LGBTQ entrepreneurs specifically at this time is essential, Ricca said, especially entrepreneurs in the creative and hospitality industry.
Ricca began training in February with the help of several exercise experts like Brian Mazza, a New York City fitness entrepreneur who ran 50 miles last December to raise awareness for male infertility stigma. The former Men's Health headliner is guiding Ricca's physical training, which has been a near-daily routine. Ricca was inspired by Mazza's run in the first place.
Ricca reached out to Mazza over Instagram to get his assistance and training.
Mazza said Ricca reaching out over Instagram "meant the world."
"I believe what he's doing for his cause is remarkable," Mazza said. "It's important. I'm happy that he's standing up for what he believes in and helping these businesses and helping individuals in general."
Jacob Zemer, a coach and nutritionist, has designed a daily nutrition program for Ricca to prepare him for the run. Zemer and Mazza have been working together throughout the process to track Ricca's health and progress.
The two fitness experts work with Ricca multiple times a day to monitor his diet, mileage, heart rate and pace monitoring. Both Mazza and Zemer said Ricca'a training has been successful.
"Brandt's an excellent individual," Zemer said. "He's very easy to work with. He's highly coachable, he's a pleasure to talk to every day."
Pacers Running will be sponsoring and designing Ricca's 100-mile route throughout the D.C. region. The company is also working with Ricca to design specific shoes for the ultramarathon.
Pacers Running CEO Kathy Dalby won "Best Straight Ally" in the Washington Blade's 2019 Best of Gay D.C.
"I really wanted someone local who could really guide me on a route," Ricca said.
Elyse Braner, a community lead at Pacers Running and longtime friend to Ricca, said the local business was excited to collaborate with Brandt because of an alignment of values.
"As a community, inclusivity and diversity is extremely important to Pacers Running," Braner said. "As a small business, we really appreciated that Brandt wanted to do an event that supported small businesses — specifically LGBTQ businesses."
Originally an event-planning business, Nora Lee debuted in 2018 on the second annual Allison Gala, a fundraising event benefiting the Triple Negative Breast Cancer Foundation, which Brandt created in memory of a family friend. He's worked with a range of clients, including the Dupont Circle Hotel and Sotheby's Real Estate.
Looking back at events on his website, he said he found himself bored with the photography. This led him to focus on creative marketing and decided to pivot his business model at the beginning of the pandemic. Now, Ricca provides photography and video shoots for clients.
"When COVID hit I decided to, like every business owner, I revisited my plan," he said. "I really enjoyed the creative branding more in the photo shoot. So I decided to pivot strictly to just a full-on creative branding agency."
The training for the 100-mile run has provided a stable routine for Ricca, which has helped him get through the pandemic, he said. Ricca is planning to create a campaign this summer inviting LGBTQ entrepreneurs to do their version of 100 miles, with the hope it will provide positive stability in their lives as it does in his.
"Obviously, people think I'm crazy for doing this," Ricca said. "All the uncertainty out there right now – with business, with clients, with whatever; I needed an anchor. Something that was going to be a routine for me that I can control."