friday, jan. 15
Mid-Atlantic Leather Weekend, one of the largest gay leather gatherings in the world, is this weekend in Washington at the Washington Plaza Hotel. The event is sold out but some spillover hotels have rooms available and some events are open to the public. Visit leatherweekend.com for more information.
Gay District meets tonight. The group was formerly known as the Twenties Group but has expanded its age range for gay, bi, trans and questioning men from 18 to 35. The group meets for weekly discussion from 8:30 to 9:30 every Friday at St. Margaret's Church located at 1830 Connecticut Ave. Members dine afterwards then go dancing. The group is changing its contact information but for now, those interested can visit the group on Facebook under the name "GD: Gay District."
The D.C. Cowboys are having a new event starting tonight called Brodeo at Remington's. It will feature country, western, disco and club music, performances, giveaways, Jell-O shots, an auction and the Cowboys. Proceeds benefit the group, which uses funds to facilitate its ability to provide free entertainment for HIV and AIDS charity groups. For more information, visit dccowboys.org. Remington's is at 639 Pennsylvania Ave., S.E.
saturday, jan. 16
A new gay-owned gallery called Industry Gallery opens tonight from 6 to 8 p.m. with "Round the Corner," the debut solo U.S. exhibition of Jerusalem-born artist Shlomo Harush. Visit industrygallerydc.com for more information. The gallery will be open Wednesdays through Saturdays from 11 a.m. to 5 p.m.
Town has two events tonight. DJ Brett Henrichsen spins upstairs (Town's regular DJ Wess is downstairs). And monthly party "WTF?" is also tonight with a special Mexican installment. Doors open at 10 p.m. Town is located at 2009 Eighth Street, N.W. Visit towndc.com for more information.
Blowoff, a monthly party featuring gay DJs/remixers Bob Mould and Rich Morel, is tonight at the 9:30 club, located at 815 V Street, N.W. starting at 11:30 p.m. Visit blowoff.us for more information.
sunday, jan. 17
Reaction, the closing night party for Mid-Atlantic Leather Weekend, is tonight from 10 p.m. to 5 a.m. at the 9:30 club, located at 815 V Street, N.W., with music by DJ David LaSalle and entertainment by German retro singer Myke Lowe. Tickets are $35 in advance or $45 at the door. They're available at the Leather Rack or ticketfly.com.
monday, jan. 18
Metropolitan Community Church of Washington, the District's largest mostly gay church, has an HIV positive support group for people of faith every Monday at the church. For more information, contact Matt Senger at 202-546-2159 or e-mail him at [email protected] MCC-DC is located at 474 Ridge Street, N.W. Visit mccdc.com for more information about the church.
Freddie's Beach Bar, located at 555 S. 23rd Street in Crystal City, Va., has disco trivia every Monday at 8 p.m.
tuesday, jan. 19
A remembrance event for Martin Luther King Jr. is being held tonight by the GLBT Arts Consortium from 7 to 9 p.m. at Capitol Hill Presbyterian Church at 4th and Independence Ave., S.E. near the Eastern Market and Capitol South Metro stations. The event is free and open to the public.
D.C.'s HIV Working Group assembles safer sex kits with its "packing parties" every Tuesday at EFN Lounge. Those who volunteer their time get drink discounts. The events are held from 7 to 10:30 p.m. at Motley Bar, located above EFN, which is at 1318 9th St., N.W. Visit fighthivindc.com for more information.
Poz, a bar night for HIV-positive men and men open to dating HIV-positive men regardless of their own HIV status, is held every Tuesday night from 7 p.m. to midnight at Motley Bar, located above EFN Lounge at 1318 19th St., N.W. The event is organized by HIV-positive party promoter Jacob Pring. Visit the group's Facebook page at facebook.com/pozdc for more information.
Hollaback, a social club and support group for trans people, presented by Alpha Drugs, is tonight at 1638 R St., N.W., Suite 260. To RSVP, call Dee Curry at 202-290-0324.
Cobalt has "Flashback," a retro night, every Tuesday at 10 p.m. Cobalt is at the corner of 17th and R streets, N.W.
wednesday, jan. 20
The National Gay and Lesbian Task Force has weekly volunteer nights every Wednesday from 6 to 7:30 p.m. at its offices located at 1325 Massachusetts Ave., N.W., Suite 600. Volunteers fold and stuff letters for the gay rights organization. Pizza is provided. For more information, contact Ezra Towne at [email protected].
Ladies First night is tonight and every Wednesday at Fab Lounge, located at 1805 Connecticut Ave., N.W. For more information, visit myspace.com/ladiesfirst.
An HIV/AIDS support group, presented by Alpha Drugs, is tonight at 1638 R St., N.W., Suite 260. Dinner will be served but reservations are required. To RSVP, call 301-735-2805 or 301-674-8901.
The D.C. Center has career development for LGBT job seekers today from 3 to 4:30 p.m. Trained counselors will offer support for job searching, interviewing skills, resume writing, etc. The program has been adapted to meet the needs of the local gay community and the D.C. job market. The Center recently moved to its new location at 1804/1810 14th St., N.W., previous home of the Lesbian Services Program and Austin Center of Whitman-Walker Clinic. Visit thedccenter.org for more information.
thursday, jan. 21
D.C. Lambda Squares, a local gay square dancing group, meets every Thursday for square dancing. Those who've taken the group's "Mainstream" and "Plus" classes dance on the first and third Thursdays. "Plus" and "Advanced" classes are on the second and fourth Thursdays. For more information about the group or to find out when beginner classes are available, visit dclambdasquares.org.
friday, jan. 22
A GaySpirits event is being held this weekend in Annandale, Va. It's a spiritual retreat for gay men who've avoided religion because many faiths condemn them. GaySpirits creators say gay men have "unique spiritual giftedness." The events will take place at Little River U.C.C., located at 8410 Little River Turnpike, tonight from 7 to 9:30 p.m. and on Saturday from 9 a.m. to 6:30 p.m. Cost is $70. For more information, visit gayspirits.com or call 301-580-2953.
saturday, jan. 23
Adventuring Outdoors Group, a gay hiking group, is joining the Chrysalis Arts and Culture Group, another local gay social outfit, for a trip to Gettysburg today. A moderate 6-mile hike is planned with some steep passages. Those interested should bring beverages, lunch, hiking shoes and about $12 for transportation fees. The groups will meet at 9 a.m. at the Grosvenor-Strathmore Metro Station. For more information, contact Craig at 202-462-0535 or [email protected].
D.C. Lambda Squares, a local gay square dancing outfit, has a community dance today with guest caller Jeremy Butler from Virginia Beach. The dance will be held from 7 to 10 p.m. at Sligo Middle School in Silver Spring, Md. Cost is $10. For more information about this or other club affairs, visit dclambdasquares.org.
Several local gay social groups are joining D.C. Icebreakers, a local gay ice skating group, tonight for a large social event at the Kettler Capitals Iceplex in Ballston. Skating will run from 8 to 9 p.m. with a social to follow at Bailey's Pub and Grill. Other groups slated to join the Icebreakers are Zoom Urban Lesbian Excursions, NOVA Gay & Lesbian Professionals, D.C. Lesbian Singles, Burgundy Crescent Volunteers, NOVA Dynamic Lesbian Singles, the Mixed Ladies Arlington Pool League and Social Cheverly. For more information, visit dcicebreakers.org.
Busboys and Poets to focus on peace in 2022
Special guests include Angela Davis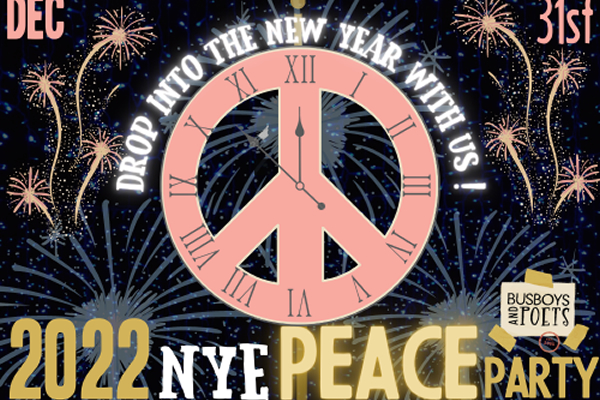 Busboys and Poets will host "The 2022 NYE Peace Party" on Friday, Dec. 31 at 9 p.m. at Busboys and Poets in Columbia.
The event will feature peace activists and literary powerhouses such as political activist, philosopher, academic, scholar and author Angela Davis, activist, scholar and educator Gina Dent, and renowned writer, poet, playwright and activist Sonia Sanchez, among others.
There will also be live music, food, party favors, champagne toast and free parking. Tickets are available on Eventbrite.
PHOTOS: GMCW Holiday Show
Chorus performs at Lincoln Theatre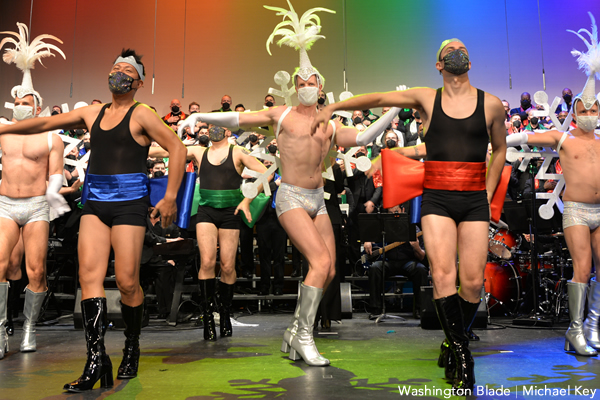 The Gay Men's Chorus of Washington performed its "Holiday Show" at Lincoln Theatre on Saturday. The Chorus has performances on Dec. 11 and 12. For tickets and showtimes, visit gmcw.org.
(Washington Blade photos by Michael Key)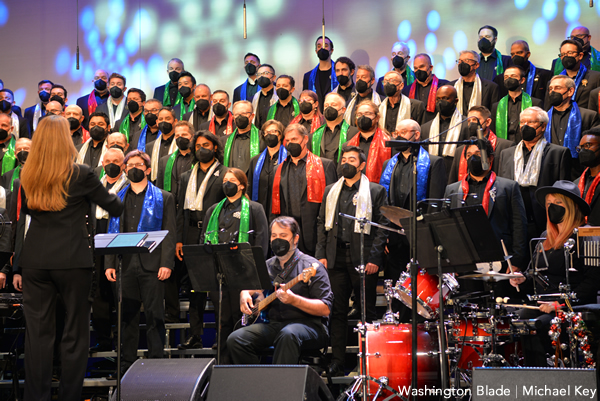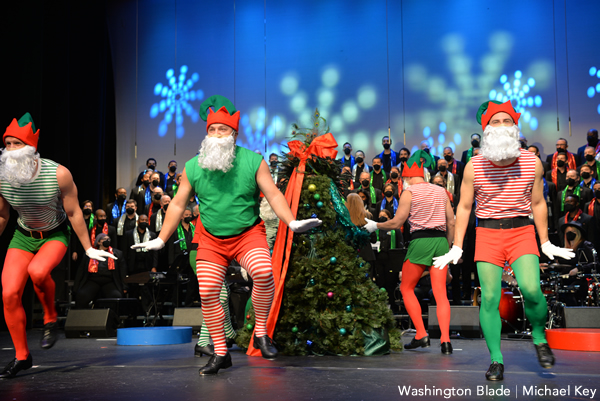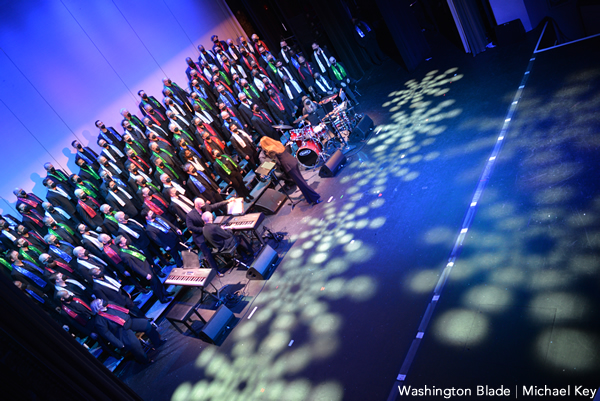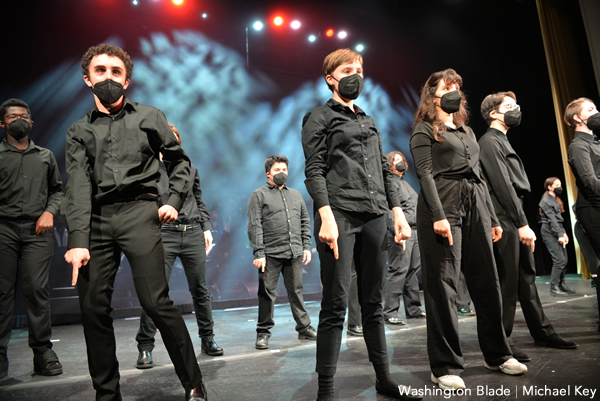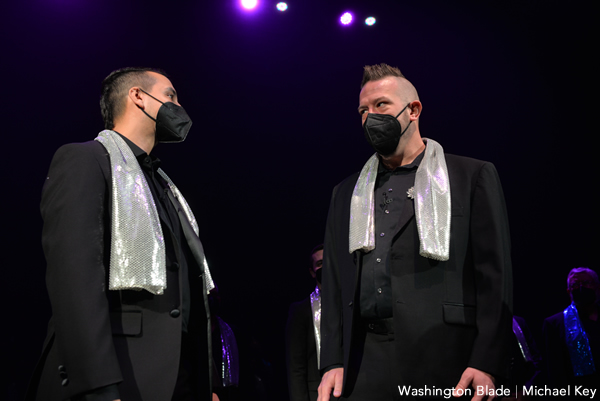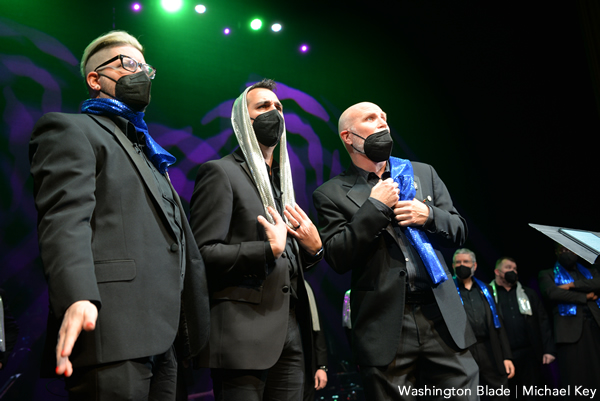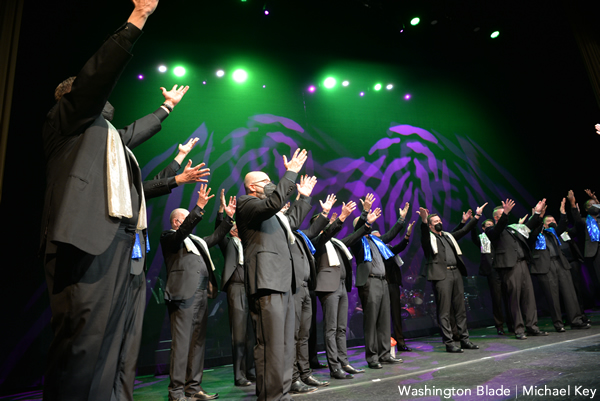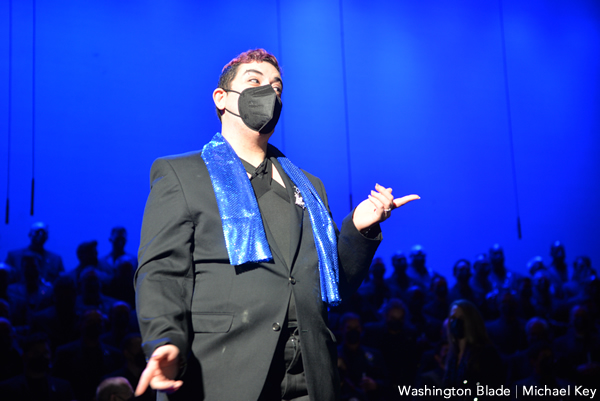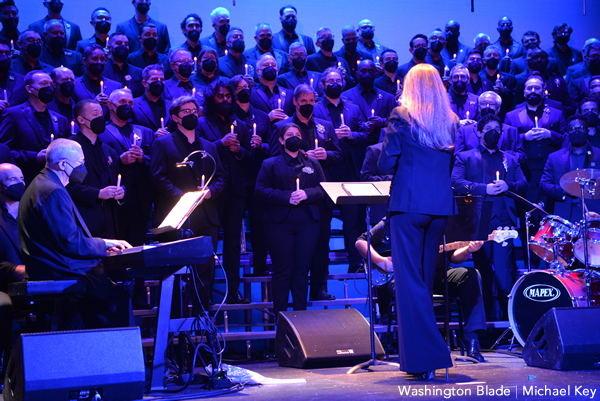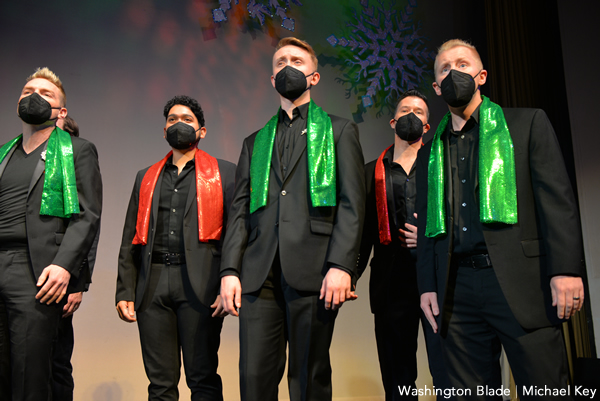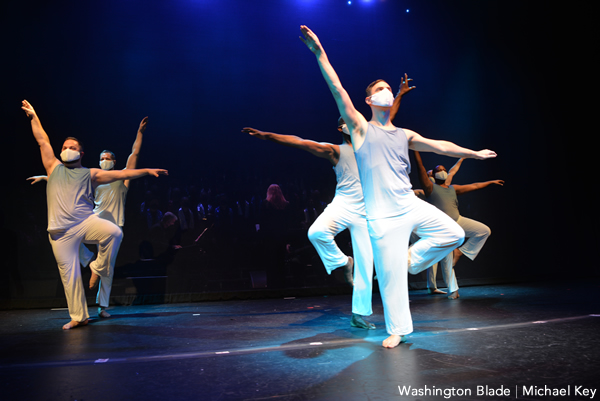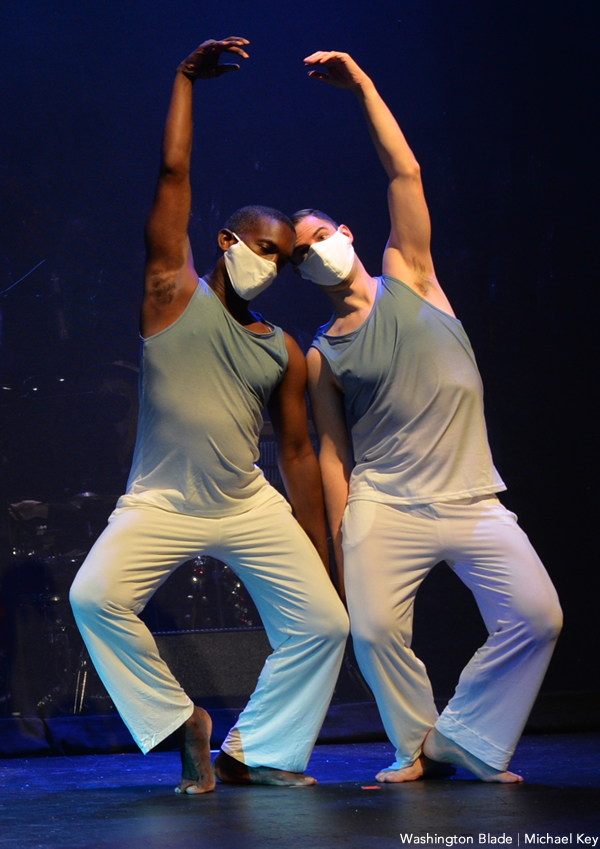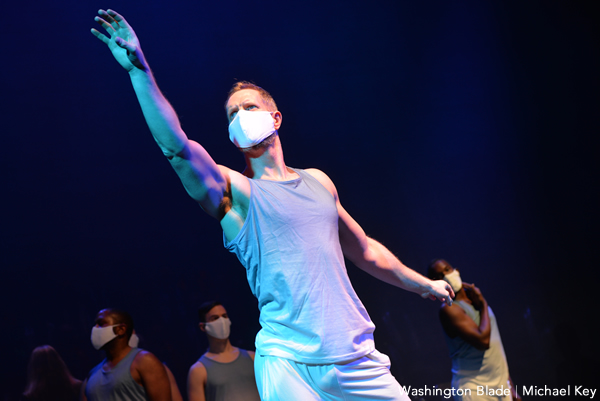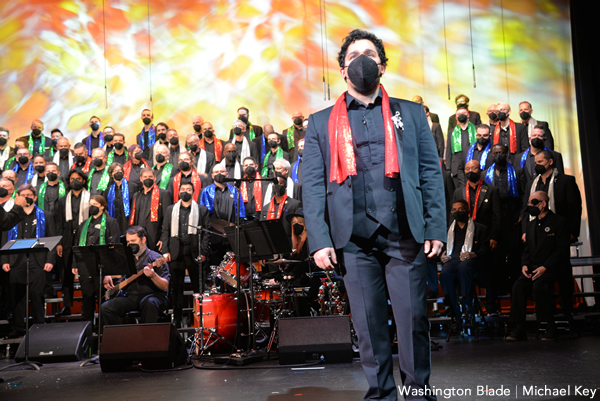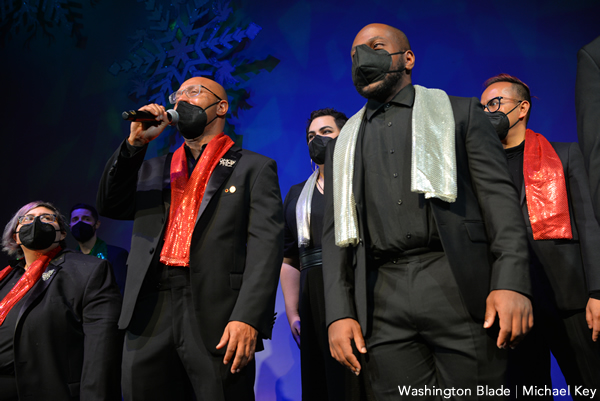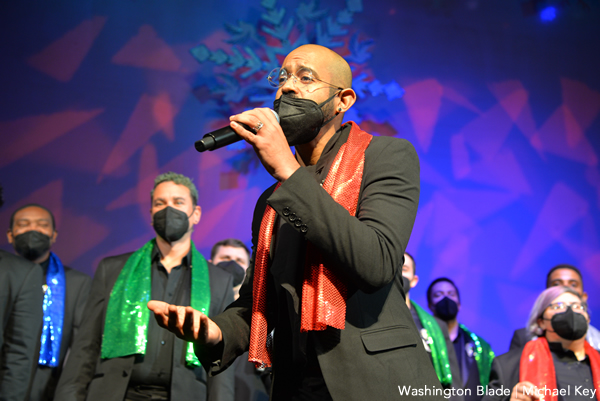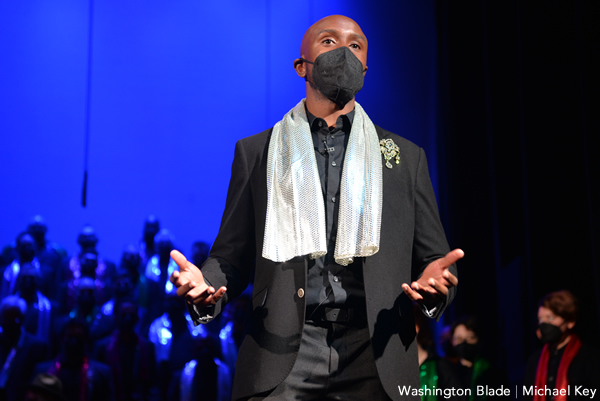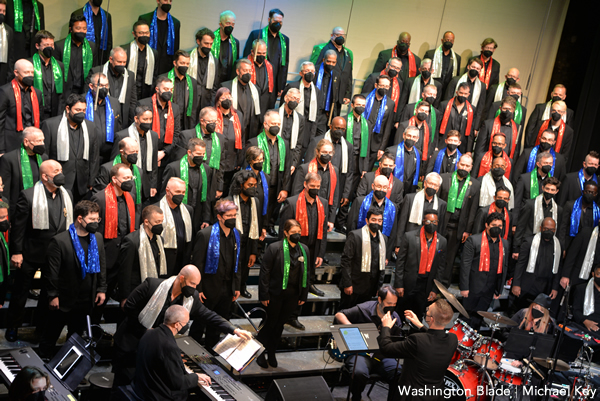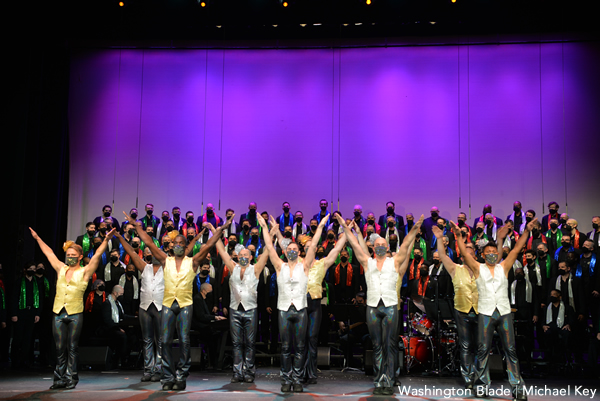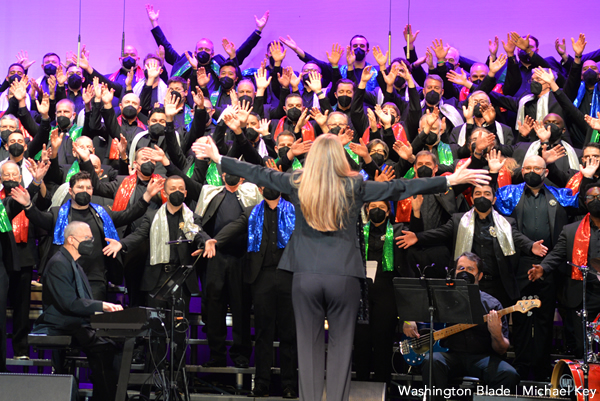 PHOTOS: International LGBTQ Leaders Conference opening reception
Politicians and activists from around the world met and mingled at the JW Marriott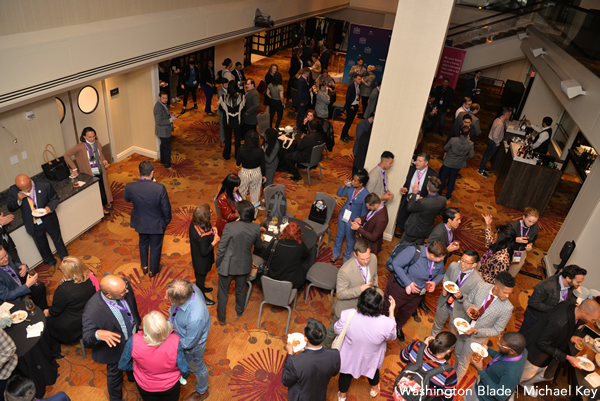 The LGBTQ Victory Institute held an opening reception for the 2021 International LGBTQ Leaders Conference at the JW Marriott on Thursday.
(Washington Blade photos by Michael Key)