Kip Hollar had no particular interest in leather. The Baltimore resident was at Baltimore Pride in 2008 and stopped at a few of the leather booths to say hi to friends he knew in COMMAND and ShipMates, two local leather clubs.
One of the clubs was sponsoring a charity fundraiser. Pay $5 to let them dress you up in leather and take your photo.
"I didn't have any real interest in it," Hollar says. "But they kept egging me on. That's where it all began. I liked what I saw and felt."
Hollar is shocked at how quickly the leather community embraced him. He came in second in the 2008 Mr. Maryland leather contest, which qualified him to enter Mr. Mid-Atlantic Leather, which he won last year. This weekend he'll be on the judging panel to help decide his successor.
Mid-Atlantic Leather Weekend is this weekend in Washington. Most participants stay at Washington Plaza Hotel. The contest is Sunday afternoon at 9:30 club. The weekend will culminate with the Reaction Dance, also at 9:30, which will go into the wee hours Monday morning.
"I don't even remember hearing my name called," Hollar says. "I didn't think I had a chance."
He also says he doesn't know why or how he won.
"Maybe it's because I was new to the leather community. Fresh into the scene, with a younger, fresher perspective. I'm not sure, but I've definitely become involved in the community and have taken the ball and run with it," the 33-year-old says.
Contestants are judged in a private pre-show interview, then model jock, formal and bar leather on stage. They give a speech and talk about their community involvement.
Hollar says the appeal for him is the sense of community leather offers.
"It's the brotherhood that's in it, the camaraderie, the unity."
But let's be real, there's a strong sexual component as well, right?
"Leather is a fetish lifestyle," he says. "How sexual you make it is up to you. It's what you make of it. It's first and foremost the social, but certainly there is a sex appeal. With the love of the fetish, there's the feel, the smell, the taste, the look. For most people there is a sexual component."
Mid-Atlantic Leather, organized each year by the Centaur Motorcycle Club, is the world's largest club-run gay leather event and is in its 26th year. Only Chicago's International Mr. Leather is larger. Organizers guess it's in the top five of all gay leather events in terms of size with about 1,000 people registered for the weekend. A few thousand others come for one or two side events but don't stay the whole weekend. There are sometimes up to 5,000 participants in total throughout the weekend.
The main event is leather cocktails, a social event that started in New York 36 years ago where enthusiasts don their favorite "uniforms" and mingle with each other among open bar and buffet. The Mr. Leather contest and the closing night party are the other main features but side parties are held for sub-fetish groups: sports gear, cigar smokers, uniforms and so on.
This year's weekend will not be significantly different from years past. Next year the group, realizing it's outgrown Washington Plaza Hotel, is moving to the Hyatt on Capital Hill, which is twice as large.
Involvement levels run the full gamut, but organizers such as promotions chair Larry Barat, say the ones who attend the weekend tend to take it seriously.
"It attracts a crowd that's much more committed to the community," he says. "They're more serious about the lifestyle. Not the sort of people who, not to be derogatory, but we don't attract a lot who are just interested in playing dress up. It's people who are committed to the community and the lifestyle and curious about getting into the lifestyle, rather than those hangers on who just think they look good in a harness."
And just what is the lifestyle, exactly? It's a world, after all, that gays in many circles have come to shun.
"There's certainly a range and there are people who live 24/7 in what one would call a leather lifestyle, maybe in a sub/dom relationship," Barat says.
Though leather has gained increased acceptance as the gay community itself has made gains, Barat says there's still stigma. Leather groups have sometimes been discouraged, he says, from participating in gay rights marches.
"The attitude is changing, but it's no coincidence that you see ads coming out from HRC with the blonde-haired, blue-eyed lesbians in polo shirts with their three kids," he says. "The subtle message there is we're just like you."
Actually the gay leather community is probably more "like you" for the straight world than some realize. Barat says gay leather events pale in size to those held by the straight leather community. It's a fetish not confined by sexual orientation, he says.
Mid-Atlantic Leather Weekend
Today through Monday
Washington Plaza Hotel, et. al.
leatherweekend.com
Disco Funk Brunch at Crazy Aunt Helen's
Tara Hoot and DJ Phil Reese perform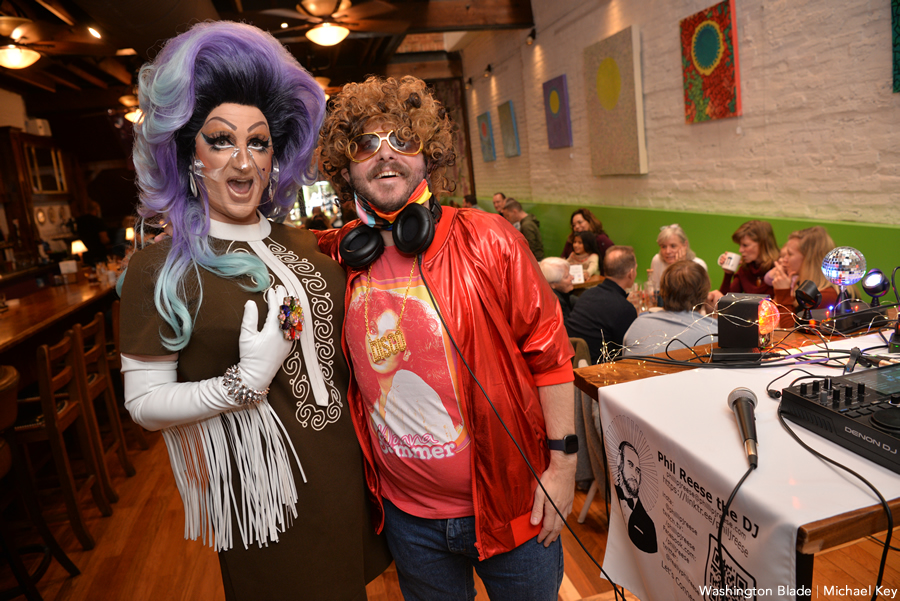 Drag queen Tara Hoot and DJ Phil Reese perform at the biweekly Disco Funk Brunch at the LGBT-owned Crazy Aunt Helen's on Sunday. For future showtimes, go to crazyaunthelens.com. (Blade photo by Michael Key)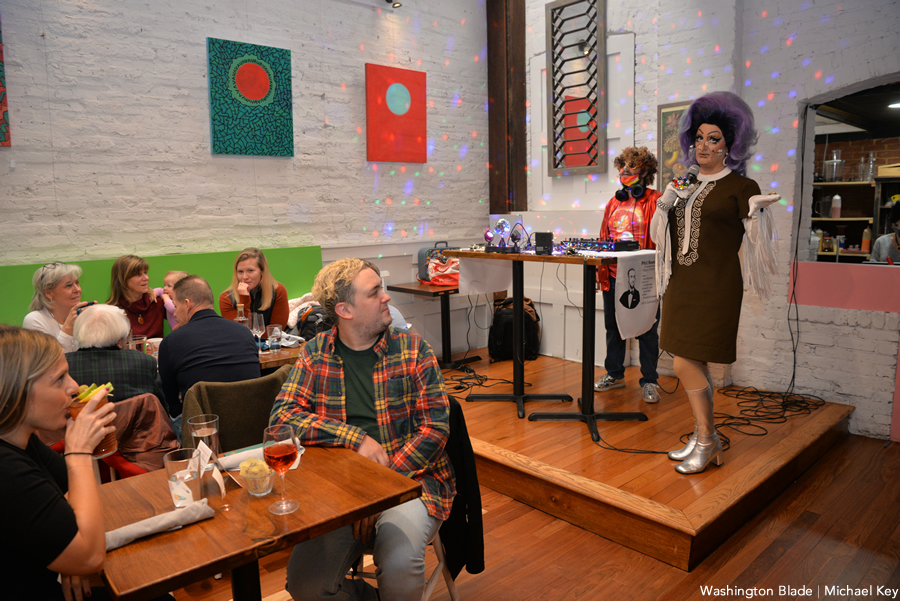 Blade's summer closing party set for Sept. 17 in Rehoboth
Benefits journalism scholarship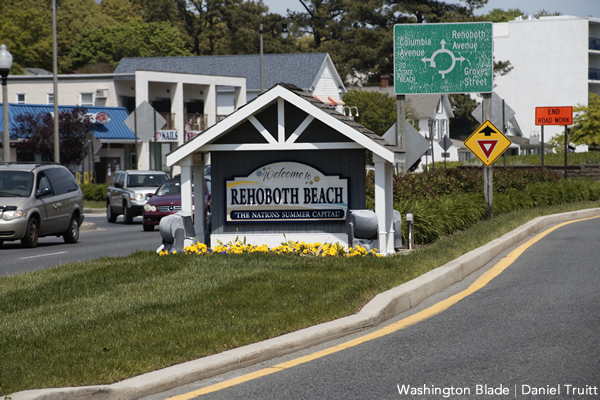 The Washington Blade's 15-year tradition of hosting a summer kickoff party in Rehoboth Beach was disrupted due to COVID restrictions. In lieu of that May event, the Blade is hosting a summer closing party on Friday, Sept. 17 at 6 p.m. at The Pines (56 Baltimore Ave., Rehoboth Beach, Del.).
Tickets are $20, which includes two drinks and appetizers. The event benefits the Blade Foundation's Steve Elkins Memorial Journalism Fellowship, a 12-week program in which an LGBTQ student journalist covers stories of interest to Delaware's queer community each summer.
All COVID safety protocols will be followed, including a requirement that attendees furnish proof of vaccination to gain entry.
If you are unable to attend you can make a donation to the Blade Foundation at BladeFoundation.org. Sponsors of the event include Delmarva Power and The Pines.
Rehoboth to close out summer with SunFest
Series of events to replace long-running Sundance due to pandemic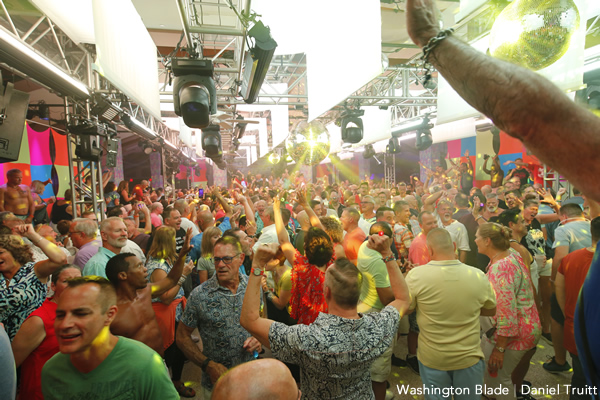 SunFest will feature a week of live performances, dances, and a live auction, sponsored by non-profit LGBTQ+ center CAMP Rehoboth.
The weeklong festival runs from Aug. 29 to Sept. 5 and is a change from the annual SunDance that CAMP Rehoboth has sponsored since 1988. This transformation began last year when the event was forced to go digital due to the coronavirus and the in-person events scheduled this year are important, according to development director and co-coordinator of SunFest Anita Broccolino.
"We love that community feel and the in-person makes all the difference in the world for us. Not being able to do it last year just reminded everyone how important we all are to one another," Broccolino said. "I think that bringing back these events this year is just huge for us and it will be extra celebratory as a result."
The festival begins with a 5k race and online auction opening on Sunday. Monday night features a give-back event at Iron Hill Brewery while Tuesday's agenda is still to be determined, said Broccolino. Diego's will host a Studio 54 give-back dance party on Wednesday and Thursday is the Port 251 women's give-back.
Live performances featuring the Skivvies, Randy Harrison and Diane Huey are scheduled for Friday night and Jennifer Holiday will follow with a performance on Saturday night, both at the Rehoboth Beach Convention Center. The festival closes out Sunday with auction pick-ups and Fun in the Sand and Sun, according to the CAMP Rehoboth website.
This event is also important to the organization's contributions to the community, said Broccolino.
"The essential services we provide for free to the community, which is a huge amount of health and wellness activities, as well as arts programming, a lot of youth programming and the community counts on us for those things. We never stopped during COVID, we made as much as we could virtual, but we took quite a hit not being able to raise those funds and awareness of the programs," Broccolino said. "We invite the entire community to come celebrate with us and make it to Rehoboth Beach, and let's make it joyful, and wonderful and make sure we're living up to the standards of all the people who helped found CAMP Rehoboth and live up to their legacy and beyond."