Minister alleges conflict of interest at election board hearing
A local minister calling for a voter referendum to ban same-sex marriage in the nation's capital startled a D.C. Board of Elections & Ethics hearing when he asked the board's two members if they have "homosexual" family members or friends.
Rev. Anthony Evans, associate pastor of D.C.'s Mount Zion Baptist Church and a same-sex marriage opponent, questioned the board's objectivity Jan. 27 in its role to decide whether a referendum seeking to ban gay marriage is an appropriate subject for the ballot.
"Deep down in your heart, are you for same-sex marriage?" Evans asked during his testimony. "Are any of your family members or friends homosexuals? Do you have any hatred in your heart towards the church … or towards clergy?"
Evans, who was applauded by some of the hearing's spectators, called on the two board members to withdraw from the proceedings if they "answered yes to any of these questions."
Board members Errol Arthur, who serves as chair, and Charles Lowery did not respond to Evans' questions. The two thanked him for his testimony and called the next witness.
Evans was one of about 50 witnesses who urged the board to allow a marriage referendum to be placed on the ballot. Eighteen witnesses, including LGBT activists, testified against holding a referendum, saying such a ballot measure would violate the city's human rights law.
The hearing was the third one held by the board during the past seven months to decide whether a ballot measure seeking to ban same-sex marriage could be held. The board ruled against two earlier requests — one for a referendum and the other for an initiative seeking to ban marriage.
D.C. Superior Court judges upheld both board rulings, saying members were correct in determining that a ballot measure seeking to ban same-sex marriage in the city would violate the city's Human Rights Act. The act, among other things, prohibits discrimination based on sexual orientation.
Rick Rosendall, vice president of the Gay & Lesbian Activists Alliance and one of the witnesses to testify against the proposed referendum, called Evans' questions to the election board "outrageous" and said they represented an escalating anger and vehemence among same-sex marriage opponents.
"They already lost twice and they're certainly going to lose again on this one," Rosendall said. "They're beginning to sound increasingly shrill and desperate."
Several witnesses, including D.C. residents Odessia Tolliver and Corinthia Boone, cited biblical passages. They said the excerpts showed that same-sex marriage is immoral and would hurt society and "traditional" culture.
"I teach history," Boone said. "Every great empire where they dared to redefine marriage as [something other than being exclusively] between a man and a woman declined and no longer exists."
Among those testifying against the proposed referendum were D.C. Council member Phil Mendelson (D-At Large), who worked with Council member David Catania (I-At Large) to shepherd the Religious Freedom & Civil Marriage Equality Amendment Act of 2009 through the Council.
The bill is undergoing its required congressional review following its approval by the Council in December and Mayor Adrian Fenty's decision to sign it. It's expected to become law in early March, with nearly all political observers predicting Congress won't overturn it.
U.S. Rep. Jason Chaffetz (R-Utah) has introduced a motion to overturn the same-sex marriage bill, but the Democratic-controlled Congress is expected to block his resolution.
Two attorneys opposed to the referendum joined same-sex marriage advocate Bob Summersgill in raising last week what some called a new and novel argument against ballot measures seeking to ban gay marriage in the city.
The three said the proposed referendum, if approved, would violate the D.C. City Charter by preventing the city from obtaining projected tax revenue generated from same-sex weddings. The revenue could total more than $1 million annually.
Brian Flowers, general counsel for the City Council, and Mark Levine, an attorney representing the Gertrude Stein Democratic Club, noted that a provision in the City Charter strictly prohibits initiatives and referenda that would appropriate funds, cut taxes or negatively impact the city's budget.
To invoke the provision, they cited a report issued in December by the city's chief financial officer projecting that same-sex weddings would generate millions of dollars a year in revenue for D.C. businesses that specialize in services related to weddings. That revenue, in turn, would result in additional tax revenue for the city, according to the report.
"Another study predicts that more than $50 million over three years would be generated in local tax and fee revenues, potentially creating approximately 700 new jobs," Flowers said in his testimony before the election board.
Flowers and Levine pointed to a 2004 decision by the D.C. Court of Appeals barring an initiative seeking to ban smoking in restaurants and bars and an appeals court ruling in 1994 rejecting an initiative to prevent the city from booting cars that are illegally parked. In those cases, the court ruled that advocates for a smoking ban and an anti-booting policy could not seek to enact those polices through a ballot measure because the policies would reduce city revenue by curtailing taxes generated by restaurants and bars or fines generated by booting cars.
Some legal observers believe the "revenue" argument may be stronger than the human rights act argument because the revenue-related restriction against ballot measures is written in the City Charter. The human rights law restriction is part of a regular city law passed in 1978 to implement the City Charter's creation of the initiative and referendum process.
Cleta Mitchell, an attorney representing supporters of the ballot measure to ban same-sex marriage, testified at the election board hearing that the human rights law argument used by marriage equality advocates is flawed. Mitchell and others calling on the board to allow a marriage referendum have argued that the human rights law restriction could only be used if they were embedded in the City Charter.
Two Superior Court judges have rejected that argument, however, and marriage equality activists said they were hopeful that the election board and yet another court ruling would support their view that the ballot measures must be rejected if they would result in discrimination against minorities protected by the Human Rights Act.
Pride flags vandalized, stolen in Loudoun County town
'Bigoted efforts to terrorize members of our community will not stand'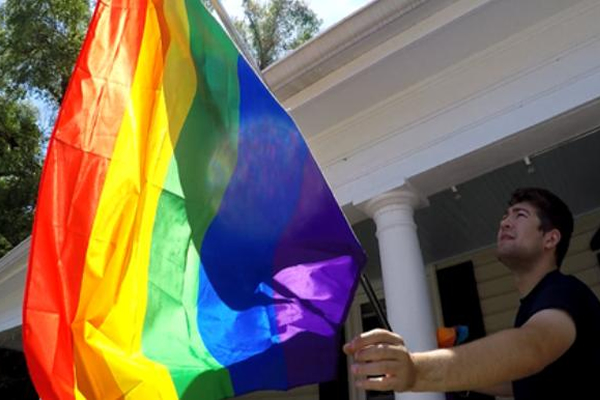 Vandals this week destroyed or stole Pride flags that Lovettsville residents had displayed on their homes.
Calvin Woehrie told WUSA the vandals used a blade to slash the Pride flag that was hanging from his house. The D.C. television station reported the vandals also targeted Woehrie's neighbors who are a lesbian couple with four children.
The Loudoun County's Sheriff's Office said the vandals damaged five Pride flags from three homes and they stole two more. A spokesperson for the Loudoun County's Sheriff's Office told WUSA the vandalism is being investigated as a possible hate crime.
"I wanted to address events that happened over the weekend, that are deplorable and devastating to the entire community," said Lovettsville Mayor Nate Fontaine in a letter he sent to town residents on June 16. "Over the weekend, there was destruction of property that specifically targeted our LGBTQ community. To make this even more heinous is that the destruction of property was done during Pride Month. To have property destroyed targeting members of our community is horrible and can be frightening for those targeted."
"For the individuals who committed these crimes, know that your bigoted efforts to terrorize members of our community will not stand," added Fontaine. "We are working closely with the Loudoun County Sheriff's Office and this has also been added as an agenda item for our June 24th Council meeting."
Glenn Youngkin, the Republican nominee to succeed Virginia Gov. Ralph Northam, on Saturday described the vandalism as "absolutely unacceptable."
"Whether someone is voicing an opinion or flying a flag, as Virginians — and as human beings — we must be respectful of one another," wrote Youngkin in a Facebook post.
"Politicians always seem to be pitting neighbor against neighbor, but I am committed to bringing people together around our shared values, like treating others the same way you want to be treated," he added. "We must all do better by respecting others' right to live their lives freely, without being targeted because of who they are."
WUSA reported Lovettsville residents bought Pride flags to replace the ones that had been vandalized and stolen.
Transgender man murdered in Va.
EJ Boykin was shot outside Lynchburg store on June 14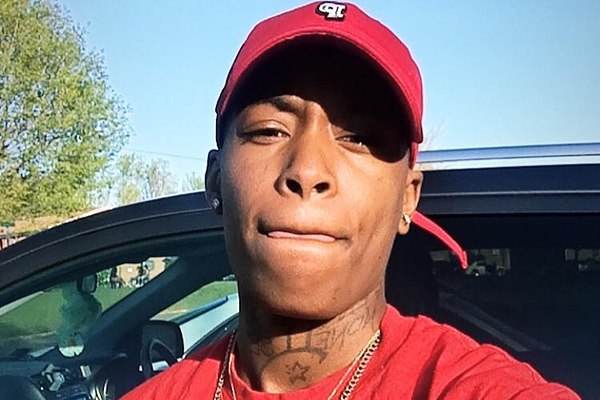 A transgender man was murdered in Lynchburg, Va., on June 14.
The News and Advance, a local newspaper, reported EJ Boykin, who was also known as Novaa Watson, was shot outside a Family Dollar store on the city's Fort Avenue at around 6 p.m. Boykin passed away at Lynchburg General Hospital a short time later.
A spokesperson for the Lynchburg Police Department told the News and Advance the shooting may have been the result of a domestic dispute. Authorities added there is no evidence to currently suggest the shooting was a hate crime based on Boykin's gender identity.
Pittsburgh Lesbian Correspondents reported Boykin was born and raised in Baltimore and was a student at Morgan State University. The blog said Boykin celebrated his 23rd Birthday on June 10, four days before his murder.
Tori Cooper, the director of community engagement for the Human Rights Campaign's Transgender Justice Initiative, in a statement notes Boykin is the fifth trans man reported killed in 2021. HRC notes at least 29 trans or gender non-conforming people are known to have been murdered so far this year.
"The level of fatal violence we've recorded this year is higher than we've ever seen," said Cooper. "All of these individuals deserved to live. We must strike at the roots of racism and transphobia, and continue to work toward justice and equality for trans and gender non-conforming people."
Comings & Goings
Jarvis lands lead consultant role at Meridian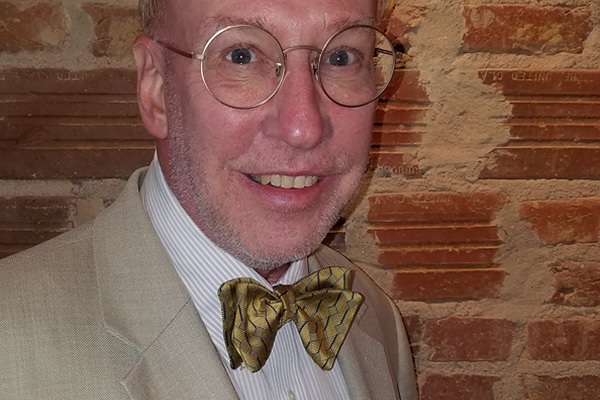 The Comings & Goings column is about sharing the professional successes of our community. We want to recognize those landing new jobs, new clients for their business, joining boards of organizations and other achievements. Please share your successes with us at: [email protected].
The Comings & Goings column also invites LGBTQ+ college students to share their successes with us. If you have been elected to a student government position, gotten an exciting internship, or are graduating and beginning your career with a great job, let us know so we can share your success.
Congratulations to Ted Jarvis on his new position as Lead Consultant with Meridian Compensation Partners, in D.C. He will work on executive compensation, governance research and development. When asked for a response to news of his new role, Jarvis told this story: "I was on the prowl for a new job, I contacted the CEO of Meridian, who worked closely with me during our years at Towers Perrin. After half an hour on the phone, he asked: 'Send me a list of things you really like to do.' I followed up with a list of activities that continually engage my interest. Within a few days he mailed me a job description that reiterated my list almost word-for-word. I feel truly blessed to have a job so aligned with what I enjoy doing. This is going to be great."
Prior to working for Meridian, Jarvis worked as Managing Director with Main Data Group in D.C. and Wilton Manors, Fla. He has also worked as Global Director of Executive Compensation Data, Research & Publications, Mercer, in D.C.; principal with Willis Towers Watson; and as a research consultant with McKinsey & Company. Jarvis is a member of the Lotos Club (New York); a benefactor at Drew University (Morristown, N.J.). He funded two undergraduate prizes (Wettstein Drama Prize; Norton Wettstein and Jane Brown Memorial Prize for Outstanding Academic Achievement); a benefactor, Woodmere Art Museum (Philadelphia): funded William Joseph Coverley-Smith Prize, awarded annually at the Juried Art Competition; and a benefactor, St. Thomas's Episcopal Church (Rochester, N.Y.).
Jarvis earned his MBA from The University of Chicago, Booth School of Business; his bachelor's (cum laude); his Ph.D. (ABD) major in music history, literature and theory from NYU. He earned a Fulbright Scholarship to the University of Vienna.