Poll finds majority continue to support 'Don't Ask' repeal
A majority of voters continue to support allowing gays to serve openly in the U.S. military, 57-36 percent, according to a new poll.
But the same findings, published Wednesday by the Quinnipiac University Polling Institute, found that voters favor restrictions on gay service members "exhibiting" their sexual orientation on the job, 54-38.
The new poll is consistent with several polls in recent years showing that the American public favors repealing "Don't Ask, Don't Tell," the 1993 law prohibiting gays, lesbians and bisexuals from serving openly in the U.S. military.
Support for repeal was particularly strong among Democrats, who favor repeal 72-23 percent. Independents support open service 56-37 percent, while Republicans oppose repeal by 53-40 percent.
Responders from military households with an active or reserve member or a veteran in their family were divided on repeal, 48-47 percent. Men narrowly favor repeal, 51-44 percent, while women support open service, 62-29 percent.
Peter Brown, assistant director of the Quinnipiac University Polling Institute, said in a statement that the new findings show "American voters say go ahead and allow gays to openly serve in the military."
"But they are much more mixed on exactly how the transformation of the military will occur and how the Pentagon should adjust to needs of gay soldiers, sailors and Marines," he said.
Brown also said the poll "perhaps surprisingly" found little difference in support for repeal among different age groups. The poll found that 57 percent of people ages 18-34 favor repeal; 59 percent of people ages 35-54 favor repeal; and 54 percent of people age 55 or older favor repeal.
The poll offered other findings on topics related to "Don't Ask, Don't Tell":
• voters said prohibiting open gays from serving in the U.S. military amounts to discrimination, 66-31 percent;
• responders said the military shouldn't pursue disciplinary action against gays who are outed by third parties, 82-10 percent;
• voters said ending the law won't be divisive in the U.S. military or impair the nation's ability to fight effectively, 65-30 percent;
• responders said the U.S. military shouldn't provide domestic partner benefits for service members with same-sex partners, 50-43 percent;
• and responders were split on whether straight service members should be required to share quarters with gay personnel, 45-46 percent.
Nathaniel Frank, author of "Unfriendly Fire" and research fellow at the Palm Center, a think-tank on gays in the military at the University of California, Santa Barbara, said the findings are "a reminder of just how poorly understood ['Don't Ask, Don't Tell'] is, and also of the limitations of polls."
"Respondents say highly contradictory things, including the assertion that majorities both oppose restrictions on openly gay service and believe that such openness should continue to be restricted," he said.
Frank said the notion of whether the ban on open service is discrimination isn't "a matter of opinion but an empirical question."
"Whether banning open gays is discrimination in the first place is not open to question, and even the creators of ['Don't Ask, Don't Tell'] acknowledge the policy is discriminatory," he said.
But Frank said the new findings have "some relevance to the debate" because they show continued decline in opposition to open service over time.
"While polls should not be the basis of social or military policy, these trends do undercut the old 'unit cohesion' argument that says openly gay service will harm the bonds of trust that create cohesive units," he said. "As tolerance of, and comfort with, homosexuality continues to rise, it becomes harder to claim with a straight face that working closely with a gay person is going to bring down the world's most powerful fighting force."
Quinnipiac University determined the results of the survey by surveying 2,617 registered voters nationwide, Feb. 2-8. The margin of error is 1.9 percentage points.
National Gay & Lesbian Chamber of Commerce Certifies Brown, Naff, Pitts Omnimedia, Inc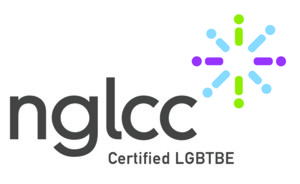 Washington, D.C. — Brown, Naff, Pitts Omnimedia, Inc, the parent company of the Washington Blade and Azer Creative, announced today it has been certified by the National Gay and Lesbian Chamber of Commerce (NGLCC) as an LGBT Business Enterprise. The NGLCC supports and advocates for diversity and inclusion for LGBT-owned businesses. With this certification the Blade's parent company joins more than 510 business and 134 corporate partners of the NGLCC.
Brown, Naff, Pitts Omnimedia, Inc. owns and operates the Washington Blade, the oldest and most acclaimed LGBT newspaper in the country. In 2012, the company launched Azer Creative, a full-service design firm. The company employs more than a dozen full-time LGBT staff.
"We are excited to become one of the 500 LGBT businesses across the country certified by NGLCC," said Lynne Brown, the Blade's publisher and a co-owner of the company. "The LGBT community has been part of our company from the beginning and we look forward to continue that for many years to come."
The Washington Blade was founded in 1969 and is known as the "newspaper of record" for the LGBT community both locally and nationally. Visit washingtonblade.com for more information. Azer Creative is a full-service graphic design firm based in Washington, D.C. Visit azercreative.com for more information. 
Vote now for the 2013 Best of Gay DC!
Choose in dozens of categories among hundreds of nominees, and make your voice heard!
Nominate the 'Best of Gay D.C.' now!
Dozens of categories cover all the best for LGBT Washington. Who deserves the prize this year?