Don't miss "Treemonisha" and Intersections this weekend
"'Treemonisha' is a gem of an opera by one of America's most treasured composers, Scott Joplin," says Michael Bobbitt, who is directing the Washington Savoyards' production — a first in the D.C. area for more than 30 years.
Bobbitt, who is gay and lives with his partner and their son in Glen Echo, is also the producing artistic director of Adventure theatre, the D.C. area's longest running children's theatre.
Joplin is arguably America's greatest black composer. Joplin died forgotten at age 49 in 1916 of advanced-syphilis dementia in a mental hospital and was never able to see his opera performed, due to Jim Crow laws blocking his path as a black musician.
Joplin, dubbed the "king of ragtime" during the heyday of that distinctive genre, became popular again after Joplin rags were the soundtrack for the 1973 hit film "The Sting." Ragtime was a toe-tapping syncopated "ragged-time" music often associated with the red-light-district saloons and bordellos where Joplin himself often played.
Yes, that Scott Joplin. Well, brilliant though he was as a composer of ragtime, Joplin also wrote two operas, one of them a work of unalloyed genius — "Treemonisha" — a work of folk Americana at least the artistic equal of, say, Gershwin's "Porgy and Bess" that languished unperformed until 1972 when finally it was produced in Atlanta after a new score was commissioned, since Joplin's own original orchestration had long since been lost.
"One could arguably say that Scott Joplin changed the landscape of American music and influenced what modern music is today," says Bobbitt. "That music is vast and various, but extremely accessible and joyous."
Only here through March 7, the Bobbitt-helmed production is on stage at the splendid Atlas Performing Arts Center, the jewel in the crown of D.C.'s newest arts venue on H Street, N.E. Break off significant social engagements if you must, but get thee to the Atlas stage and see and hear the wonder of "Treemonisha" and then spread the word: this is a must-see musical triumph, easily earning 6 stars out of a possible 4.
Bobbitt says, "Because the story deals with superstition, belief, and magic, we decided to lean toward a slightly fantastic place" in the sets and costumes, especially the wonder of a great tree that forms the towering backdrop above the wooded village in post-Civil War Louisiana bayou country where the young girl, the eponymous Treemonisha, lives and risks death but eventually leads her people to freedom from superstition.
Our young heroine, played to pert perfection and with marvelous girlish pipes of a soaring soprano by Joanna Marie Ford, "enjoys the wonders of reading and tries to spread that love throughout her community," says Bobbitt. But unfortunately she clashes with local "conjurors," magicians peddling bags of luck to ward off evil, who see the young girl with her book-reading, should it spread throughout the community, as a threat to their livelihoods. Enter conflict. And cue the forces of wicked magicians who conspire to kidnap her and throw her into a nest of poisonous snakes.
Standing beside her, however, are protectors — her "parent" figures, the incomparable contralto of Marilyn Moore playing Monisha, and the equally talented Darry Winston, as her doting Uncle Ned, who even has a soft-shoe up his sleeve when the stage shifts from rapturous music to a kaleidoscope of dancers — and even Uncle Ned can keep time to the music! Moore comes to this role with her acting chops as Bess in "Porgy and Bess" with the New York City Opera and countless other roles in opera from Violetta in "La Traviata" to Mimi in "LaBoheme." Moore is also a faculty member at the Levine School of music and at Delaware State University.
Winston, meanwhile, has his own roots deep in such baritone roles as Lucas in "The Student Prince" on Broadway and regionally in "Madame Butterfly" and "Cosi fan tutti" and perhaps most of all his signature Wagnerian roles in the Ring Cycle. And of course who can forget his endless offstage patter about the wonders of Nelson Eddy and Jeanette McDonald?
As for Ford, she was a Fulbright Scholar in Germany and studied at the Lyric Opera Studio of Weimar where she performed as Despina in Mozart's "Cos fan tutti." She has also toured as a soloist with the Morgan State University Choir in Ghana and is often a featured singer throughout the Maryland/D.C. area. Her career will soar even higher after "Treemonisha."
The remainder of the diverse cast includes other standouts, and they all blend into a stirring rendition of vocal command and eye-dazzling footwork in this true American classic, a folk opera about freedom, a song cycle about the liberation of a people through community values and the doors opened through education.
In Bobbitt's words, "we took the "opportunity to have fun with this opera," in which he accents its fantasy elements where what he calls "good and love triumph over evil." And the audience on opening night had so much infectious fun that they broke into rousing cheers at the curtain call. You will, too.
Be aware that "Treemonisha" is only one ornament on this late-winter tannenbaum of "Intersections: A New America Arts Festival" which runs through March 7 at the Atlas Performing Arts Center, 1333 H St. NE.
Performances of "Treemonisha" continue on Friday and Saturday, March 5 and 6 at 8 p.m., and Sunday March 7 at 2 p.m. Ticket prices range from $10-$40.
Tickets for all Atlas Performing Arts Center offerings during "Intersections" are available at the Atlas box office: 202-399-7993, x2, and at www.intersectionsdc.org.
A few samples of the other multi-media offerings during Intersections:
• a concert by legendary folk singer and activist Tom Chapin ($20, 7:30 p.m. Sunday March 7)
• a community open-reading of the African-American classic play "A Raisin in the Sun," hosted by DC's Woolly Mammoth Theatre Company, which is also in fact staging the show as its next production (free, 4:30 p.m. Saturday, March 6)
• on-site building pieces of a high-flying mobile to be set balanced in mid-air by artist Kevin Reese (free, 2 p.m. Saturday, March 6)
• Dance Discovery, an explosion of dance styles from D.C.'s award-winning Joy of Motion Dance Center (5 p.m. on Saturday, March 6)
For a complete listing of all events times and charges if any go to www.intersectionsdc.org. And then plan your weekend around Intersections, which is bound to intersect its multi-media message of art and community-building right into your soul.
KINETIC: Pride DC launches with 3 major events
Weekend kicks off Friday with UNCUT XL at BLISS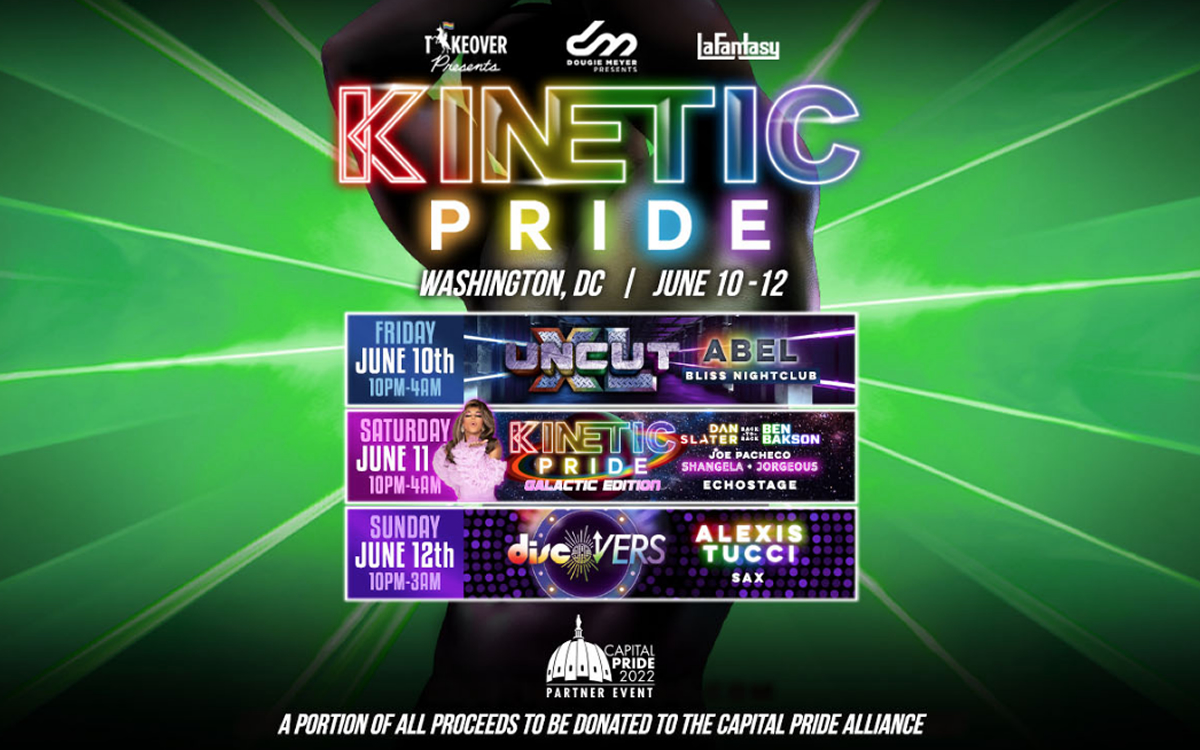 KINETIC: Pride DC will partner with Capital Pride Alliance to celebrate Pride month with three official events that will feature leading gay DJs: Abel, Ben Bakson, Joe Pacheco, Dan Slater and Alexis Tucci.
The weekend kicks off Friday, June 10 at 10 p.m. with UNCUT XL at BLISS Nightclub. Grammy-nominated DJ Abel will headline the city's "most risqué circuit event of the year" at BLISS nightclub.
"Uncut is returning to DC Pride for the first time in four years so there will be lots of sweating, dancing, and men bumping and sliding into one another on the main floor as well as in the play zone," said producer Jesus Quispe in a press release late May.
KINETIC: Pride Galactic Edition will be on Saturday, June 11 at 10 p.m. at Echostage. DJs Dan Slater and Ben Bakson will perform back-to-back sets. DJ Joe Pacheco will open the night.
The series of events will wrap up on Sunday June 12 with DC Pride's official closing party, "discoVERS" at 10 p.m. at SAX in Downtown D.C. Disco-diva Alexis Tucci will spin an open-to-close set with Disco, Nu-Disco, and Disco House music all night long. Special performances throughout the night will be integrated into her high-energy disco set as well.
To purchase tickets, visit KINETIC: Pride DC.
Beyonce vs. Rihanna dance party
Music provided by DJ Just Different at Union Stage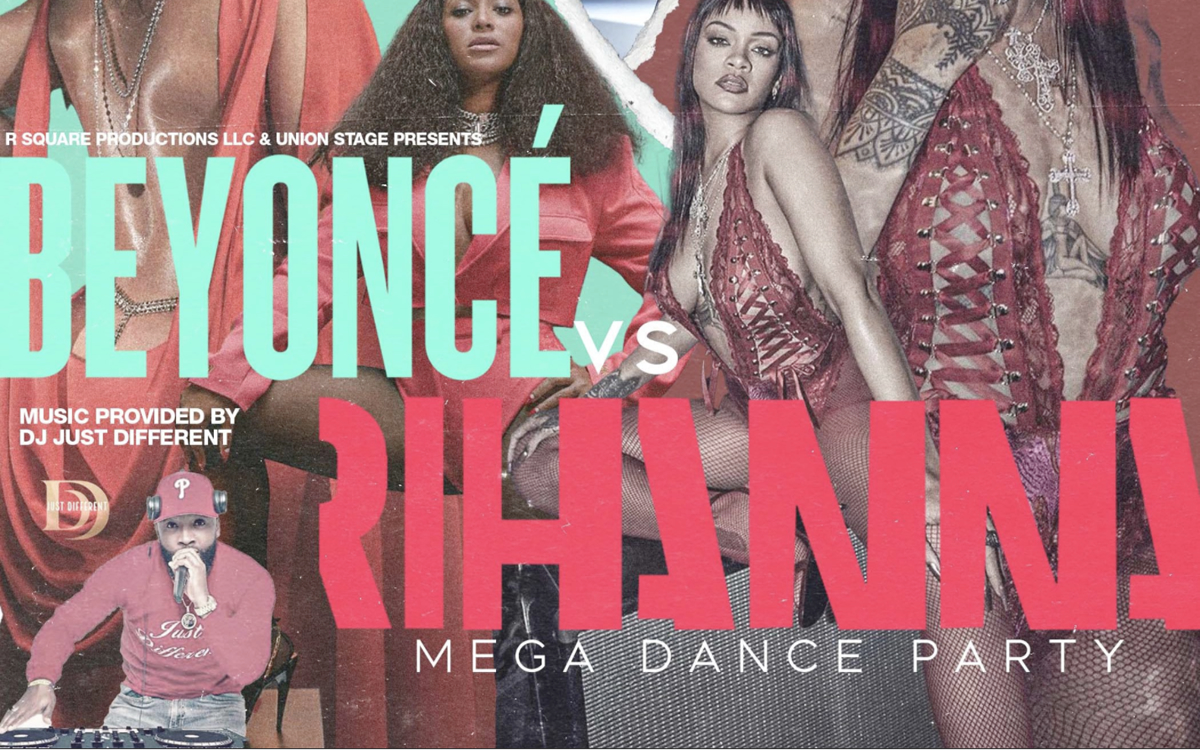 R² Productions LLC and Union Stage are teaming up to host R² Productions' inaugural "MEGA Dance Party" on Thursday, Feb. 24 at 7 p.m. at Union Stage at The Wharf.
The event will be a night full of dancing to music by pop stars Beyonce and Rihanna. DJ Just Different will be performing at the event.
General Admission tickets cost $25 and Premier Plus tickets cost $35. For more information about ticket purchases, visit Union Stage's website.
Kiki quickly becomes popular LGBTQ destination
New bar on U Street plans summer expansion, patio space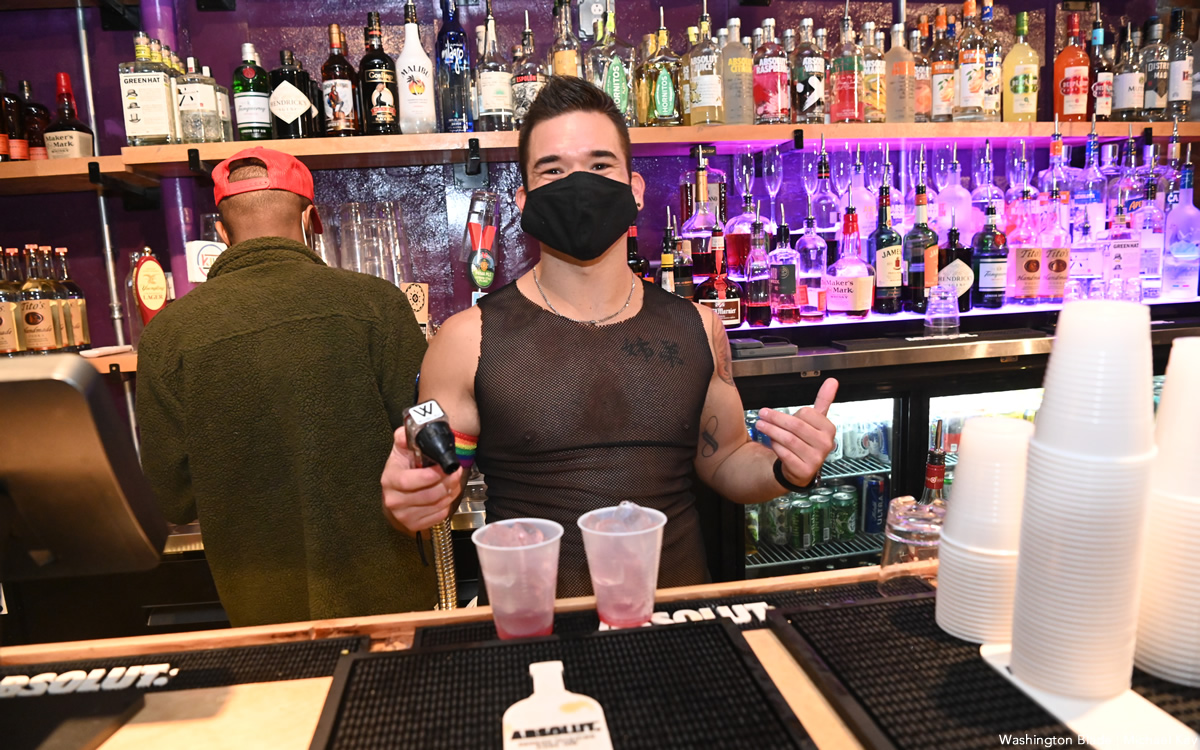 After a New Year's Eve soft opening, Kiki has become one of the most popular LGBTQ destinations in Washington, D.C.
The two-floor bar takes over the space vacated by Velvet Lounge and Dodge City on the 900 block of U Street. Both closed during the pandemic. The locale is directly adjacent to another gay bar, Dirty Goose.
Owner and gay man Keaton Fedak, a general manager at Dirty Goose, noticed that these two next-door bars had gone dark during the pandemic, and met with the owners of the two buildings, who are cousins. Plans quickly developed to use both buildings to craft an expansive, interconnected, inclusive space to transform the city's gay bar landscape.
Fedak called the bar "Kiki" both after himself (it's a nickname) and for its connection with the LGBTQ community. "The word wasn't invented by the Scissor Sisters song," he explains. "It's been an important concept in the community for decades."
The first half of Fedak's vision has already opened. The ground floor of the 915 U St. building is open-plan space with bar stools and a color-block wall of rainbow panels. A bar sits in the back up a short flight of stairs. This level will feature music, but quieter than the second-floor space. There, a DJ booth presides over a large dance floor. Disco lights flood this space; there is a bar on this level as well. The elevated dance floor is set to hold drag shows.
In the spring, a small patio will open, strung with fairy lights. It will have a "backyard aesthetic," he says, to be green, bright, and relaxing. "It's a good place to chill on a nice day outside." It may even be reminiscent of Town Danceboutique's popular patio.
The second half, at 917 U St., is still waiting for permits, and Fedak hopes to open this section in the summer.
It will connect to the current space via the outdoor patio. This section will have more of a sports bar feel, given Fedak's connection to D.C.'s Gay Flag Football League (he is a former board member). The bar will welcome Stonewall Sports and other LGBTQ sports teams, and will be replete with plenty of mounted TVs to show various games.
After the closing of Cobalt and Town, Fedak wanted to ensure that Kiki was "an inclusive space, so that there's vibes for everyone," he says. "It should be a place where regulars would just show up and hang out." He made sure that he recruited staff from different professional and personal backgrounds.
Fedak began working in food and hospitality at age 17 in his hometown in Pennsylvania. After moving to the D.C. area for work, he continued to moonlight as a bartender. Fedak joined Dirty Goose as general manager in 2019 before starting his Kiki journey.
To stock the bar, Fedak has plenty of spirits to go around. There is a focus on the vodka offerings, but he ensures that local distilleries take center stage: He carries District Made Vodka and Rye Whiskey, as well as Green Hat Gin. The beer game is also a winning strategy: there are more than 25 bottles and cans available, with three beers on tap. Local options are first-string, including selections from DC Brau, Right Proper, and Anxo Cider. Finally, the bar comes complete with a house margarita on tap (" it's a homemade recipe," notes Fedak, using agave nectar syrup instead of sugar). The 16-ounce marg is always on special for $10.
While Kiki doesn't serve food, Fedak is exploring options for a small truck or stand in the backyard.
Moving forward, Kiki will host weekly events. The bar already hosts drag shows during "RuPaul's Drag Race" viewing parties. Fedak plans to begin a "Cobalt-style underwear contest" as well. Once COVID cases decline, he also wants to resurrect the Sunday funday parties that Cobalt would host with sports teams.
Fedak's mantra for Kiki is evident in the mural that will take up the backyard patio – a quote from "Schitt's Creek": "I like the wine and not the label."