Adoption anti-discrimination bill gets reboot
An adoption anti-discrimination bill previously introduced in the U.S. House is set to get a new start this week when the bill's sponsor reintroduces it with modified language.
Rep. Pete Stark (D-Calif.), the sponsor of the Every Child Deserves a Family Act, is planning to reintroduce the bill — which would prohibit discrimination against LGBT people seeking to adopt children — after having introduced it for the first time last year.
Additionally, on March 11, Stark plans to lead a congressional briefing panel on Capitol Hill featuring discussion from experts on LGBT adoption. The dialogue is intended to educate lawmakers on the bill's importance.
Jennifer Chrisler, executive director of the Family Equality Council, said the reintroduced legislation would be similar in scope to the previously introduced bill, except it would make technical changes and allow for new education opportunities for programs helping children find homes.
"This bill added some language around training and education to help people understand what it is that they can and should do when it comes to looking for potential parents," she said.
The earlier version of the adoption anti-discrimination bill has 14 co-sponsors. Chrisler said the co-sponsors for the earlier legislation would go to the newer version upon its introduction.
To bar discrimination against LGBT people seeking to adopt, the proposed legislation would restrict federal funds for states that have laws or practices barring LGBT people from taking children into their homes.
Currently, three states bar LGBT people from adopting children. Another seven states don't permit same-sex couples to jointly adopt. Florida, for example, has a statute in place prohibiting gays from adopting, while Arkansas voters in 2008 approved Act 1, which prevents all co-habitating unmarried couples from adopting children.
The laws in 34 other states are unclear about whether same-sex couples may jointly adopt, sometimes resulting in discrimination.
Chrisler said the legislation is intended to provide an incentive for states so they don't discriminate and instead "focus on what's in the best interest of the children, which is really finding the right home for that particular child."
The legislation, Chrisler said, would help thousands of children in foster care throughout the country find new homes.
"This is fundamentally, at its heart, a child welfare bill that seeks to open up more pools of potential parents to provide a loving, stable home environment to children who need those homes," she said.
Chrisler said about 500,000 children in the U.S. are in the foster care system, and about 120,000 are legally available for adoption.
Children who never find homes have been found to be at greater risk for various problems as they enter adulthood. Chrisler said in 2007, more than 25,000 youth "aged out" of the foster care system, and these children were at higher risk for poverty, homelessness, incarceration and early parenthood.
"A bill like this helps shine a light on the fact that the more available parents that we have to provide loving, permanent homes for children who need them, the better the outcomes for those kids will be," Chrisler said.
Chrisler said research from the Williams Institute, a think-tank on sexual orientation at the University of California, Los Angeles, shows that more than 2 million LGBT people throughout the country have considered becoming parents, but are barred from existing state laws from doing so.
"If even a quarter of them became foster or adoptive parents, it would meet the needs of all 500,000 children waiting in the foster care system," she said.
The Every Child Deserves a Family Act is modeled after the Multi-Ethnic Placement Act of 1994 as amended in 1996, which similarly prohibits states from receiving federal funds if they engage in racial or ethnic discrimination when placing children into homes.
Asked whether she thinks Congress will pass the legislation this year, Chrisler expressed uncertainty but noted that advocates will continue to support its passage.
"I'm optimistic that we can leverage this bill to have really good educational conversations," she said. "I think as anybody who has watched Congress knows, the process of making a bill into a law is a complicated one, but we are going to put all of our energy and all our resources into trying to do just that."
Chrisler said Stark is optimistic the bill will have a hearing in the House Ways & Means subcommittee to which it's been assigned.
She also said advocates are working on getting a Senate companion for the bill introduced, although she declined to disclose which senator she was seeking as a sponsor for the legislation.
The unvaccinated are 14 times more likely to contract monkeypox: health officials
Guidance updated to allow shots in places other than forearm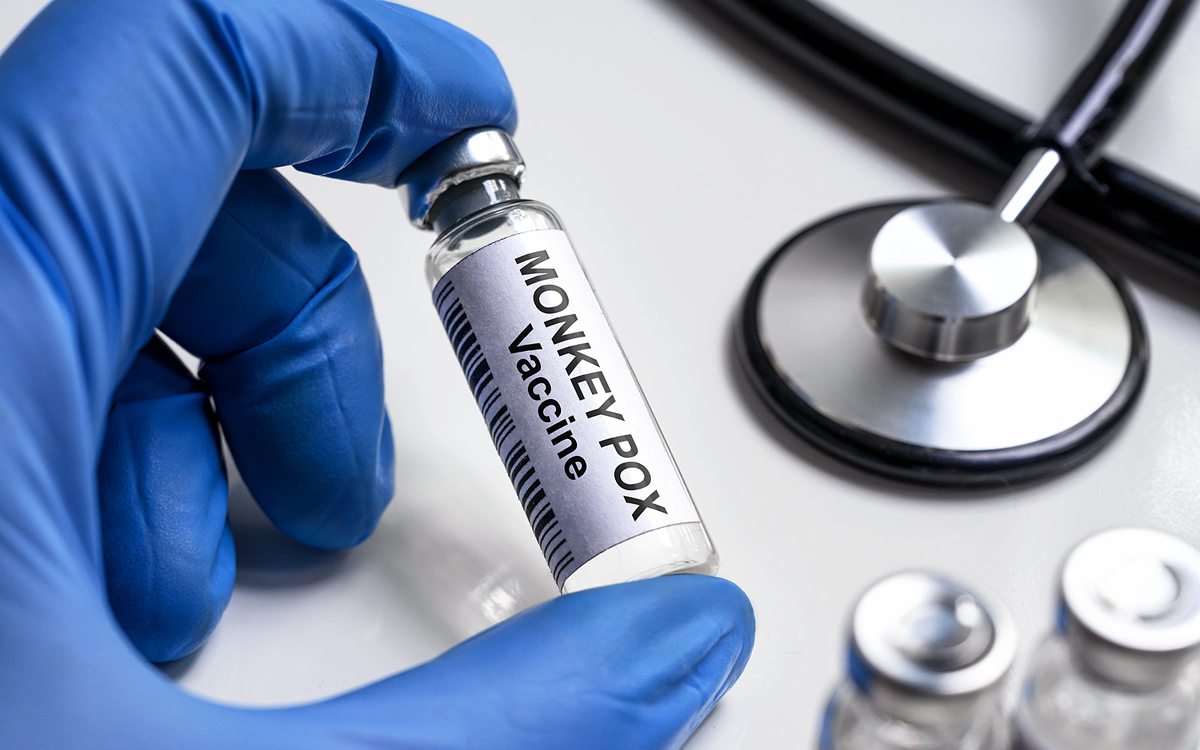 U.S. health officials are celebrating preliminary data on the vaccine used in the monkeypox outbreak, which has led them to conclude eligible persons who didn't get a shot were 14 times more likely to become infected than those who are vaccinated.
The new data, as described by health officials on the White House monkeypox task force during a call with reporters on Wednesday, comes as the overall number of new cases of monkeypox is in sharp decline, although considerable racial disparities persist in the remaining cases as Black and Latino people are overrepresented in the numbers.
Rochelle Walensky, director of the Centers for Disease Control & Prevention, said during the conference call the preliminary data — collected from 32 states between July 2022 and September 2022 — provides an early shapshot of the effectiveness of the vaccine and cause for optimism on the path forward.
"These new data provide us with a level of cautious optimism that the vaccine is working as intended," Walkensky said. "These early findings and similar results from studies and other countries suggest even one dose of the monkeypox vaccine offers at least some initial protection against infection."
Walensky during the conference call admitted the data is incomplete in numerous ways. For example, the data is based on information on individuals who have obtained only the first shot as opposed to both shots in the two-shot vaccination process. (The data showing positive results from individuals who have only one shot contradicts previous warnings from the same U.S. health officials that one shot of the monkeypox vaccine was insufficient.)
The data also makes no distinction between individuals who have obtained a shot through subcutaneous injection, a more traditional approach to vaccine administration, as opposed to intradermal injection, which is a newer approach adopted in the U.S. guidance amid the early vaccine shortage. Skeptics of the new approach have said data is limited to support the idea the intradermal injection is effective, particularly among immunocompromised people with HIV who have been at higher risk of contracting monkeypox.
Not enumerated as part of the data were underlying numbers leading health officials to conclude the unvaccinated were 14 times more likely to contract monkeypox as opposed to those with a shot, as well as any limiting principle on the definition of eligible persons. Also unclear from the data is whether individual practices in sexual behavior had any role in the results.
Despite the positive data on the monkeypox vaccine based on one shot, U.S. health officials warned during the conference call the two-shot approach to vaccine administration is consistent with their guidance and more effective.
Demetre Daskalakis, the Biden administration's face of LGBTQ outreach for monkeypox and deputy coordinator for the White House monkeypox task force, made the case that for individuals at risk obtaining a second dose is "really important."
"So we see some response after the first [shot] in the laboratory, but the really high responses that we want to really get — that you know, level 10 forcefield as opposed to the level five forcefield — doesn't happen until the second dose," Daskalakis said. "So the important message is this just tells us to keep on trucking forward because we need that second dose at arms that people haven't gotten the first should start their series of two vaccines."
Also during the call, health officials said they would be expanding opportunities for vaccines as pre exposure prophylaxis, as opposed to practices in certain regions granting vaccines in their limited supply to individuals who meet certain criteria or have had risk of exposure.
The Centers of Disease Control & Prevention, officials said, is also updating its guidance to allow injection of the vaccines in places other than a patient's arm.
Daskalakis said fear of stigma about getting a noticeable shot in the forearm after obtaining a monkeypox vaccine was a key part of the decision to issue the new guidance on implementation.
"Many jurisdictions and advocates have told us that some people declined vaccine to monkeypox because of the stigma associated with the visible but temporary mark often left on their forearm," Daskalakis said. "New guidance from CDC allows people who don't want to risk a visible mark on their forearm to offer a vaccine on their skin by their shoulder or their upper back. Those are areas more frequently covered by clothes."
Members of Congress call for gender-neutral travel documents
Letter sent to the State Department, DHS on Tuesday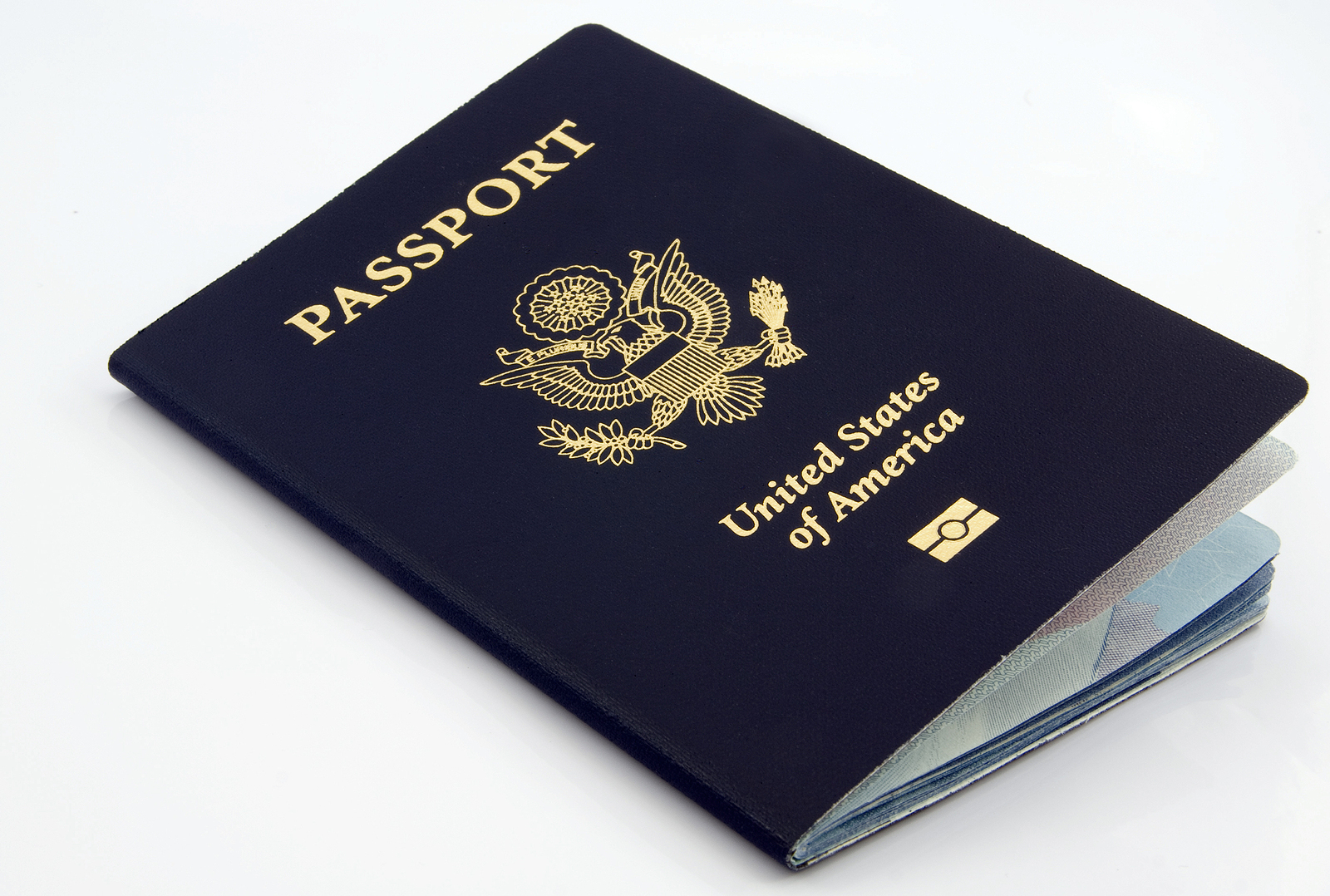 California Congressman Adam Schiff and 18 other House Democrats on Tuesday sent a letter to the State Department and the Department of Homeland Security that encourages them to make the "X" gender marker available for all U.S. passport applications and Trusted Travelers programs.
A spokesperson for Schiff told the Washington Blade in an email:
"The letter was inspired by a constituent who reached out to our office trying to get an emergency passport appointment with an 'X' gender marker — right now you can only get rush passport service with the 'X' gender marker at one passport agency in D.C., so if they had gone through the L.A. passport agency, they only would have been able to get a passport with the M or F gender marker. Our office was able to resolve the case successfully, but it inspired our team to figure out a legislative solution that will help LGBTQI+ individuals access these services in the future."
Secretary of State Antony Blinken in March 2021 announced passports with an "X" gender marker will be available starting April 11.
Dana Zzyym, an intersex U.S. Navy veteran who identifies as non-binary, in 2015 filed a federal lawsuit against the State Department after it denied their application for a passport with an "X" gender marker. Zzyym last October received the first gender-neutral American passport.
In Tuesday's letter, the House members noted that while State Department and the Department of Homeland Security made history by expanding the gender marker options available for U.S. passports and TSA PreCheck applications, creating a new "X" marker for individuals who identify as unspecified or another gender identity.
"The departments have yet to implement the 'X' gender marker for their wide range of passport services and application forms, including the rush, non-routine, and Trusted Traveler programs such as Global Entry that are currently accessible to other travelers."
The letter also highlights: "As long as the Department of State fails to provide non-routine services to individuals seeking an 'X' as their gender marker, non-binary applicants will continue to face an undue and unjust burden when pursuing international travel. The State Department's current timeline to provide these services by late 2023, with no clear date released to the public, would deny these travelers equal access for far too long. Moreover, the Department of Homeland Security's current policy limitations simply force non-binary travelers to choose a gender that does not reflect their gender identity."
The members and concerned LGBTQ and intersex advocacy groups who endorsed the letter are asking the State Department and the Department of Homeland Security to ensure.
Solidified and accelerated implementation of the "X" gender marker option for passport cards, emergency passports printed at embassies and consulates, Consular Reports of Birth Abroad (CRBAs) and on Trusted Traveler Programs forms
A public date by which the "X" gender marker will be available for applicants for all passport services and application forms
Schiff was joined by U.S. Reps. Pramila Jayapal (D-Wash.), Ayanna Pressley (D-Mass.) Eleanor Holmes Norton (D-D.C.), Earl Blumenauer (D-Ore.), Jim McGovern (D-Mass.), Janice Schakowsky (D-Ill.), Raúl Grijalva (D-Ariz.), Mike Quigley (D-Ill.), Suzanne Bonamici (D-Ore.), Donald Payne Jr. (D-N.J.), Dina Titus (D-Nev.), Mark Pocan (D-Wis.), Bonnie Watson Coleman (D-N.J.), Dwight Evans (D-Pa.), Lisa Blunt Rochester (D-Del.), Dean Phillips (D-Minn.), Katie Porter (D-Calif.) and Rashida Tlaib (D-Mich.).
Schiff's office also noted that this request was endorsed by COLAGE, Equality California, Equality Federation, Family Equality, GLBTQ Legal Advocates and Defenders, Human Rights Campaign, Los Angeles LGBTQ Center, National Center for Transgender Equality and the Trevor Project.
Additional reporting by Michael K. Lavers
Elton John performs at White House
President, first lady honored British pop icon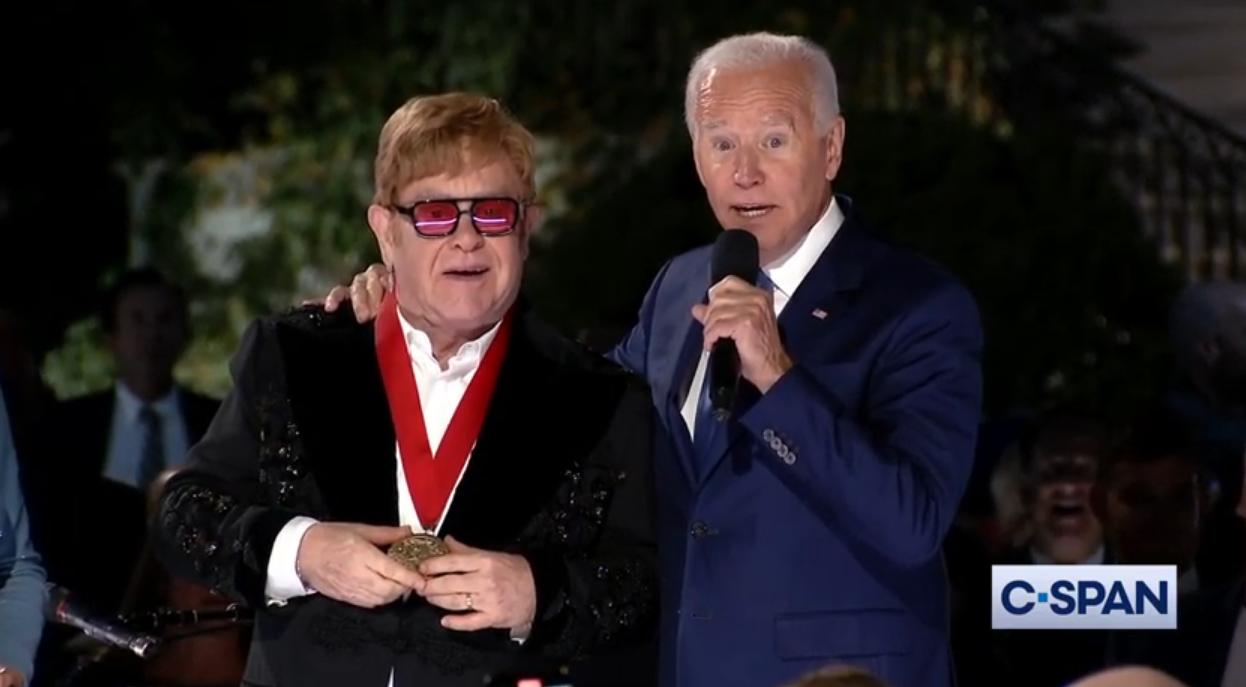 After a performance from a repertoire of the best known hits from his songbook in a special musical concert at the White House Friday evening, Elton John was called to the podium where, accompanied by the first lady Jill Biden, President Joe Biden surprised the iconic British singer-songwriter with an award.
The president presented John with the National Humanities Medal for his advocacy work in recognition of LGBTQ rights and tireless activism against the global HIV/AIDS crisis disease through his contributions in music and the arts.
The National Humanities Medal, inaugurated in 1997, honors individuals or groups whose work has deepened the nation's understanding of the humanities and broadened its citizens' engagement with history, literature, languages, philosophy and other humanities subjects.
A stunned John was moved to tears. After the president had the citation read by a military aide and hung the medal around the singer's neck, Biden told the audience gathered, "I think we surprised him" to which they cheered and applauded.
The medal's citation read in part that it was honoring John "for moving our souls with his powerful voice and one of the defining song books of all time. An enduring icon and advocate with absolute courage, who found purpose to challenge convention, shatter stigma and advance the simple truth — that everyone deserves to be treated with dignity and respect."
Visibly moved, the iconic musician and performer said: "I just said to the first lady, I'm never flabbergasted — but I'm flabbergasted and humbled and honored by this incredible award from the United States of America. I will treasure this so much — I will make me double my efforts to make sure this disease goes away. Your kindness — America's kindness to me as a musician is second to none, but in the war against AIDS and HIV it's even bigger and I can't thank you enough … I'm really emotional about this — thank you."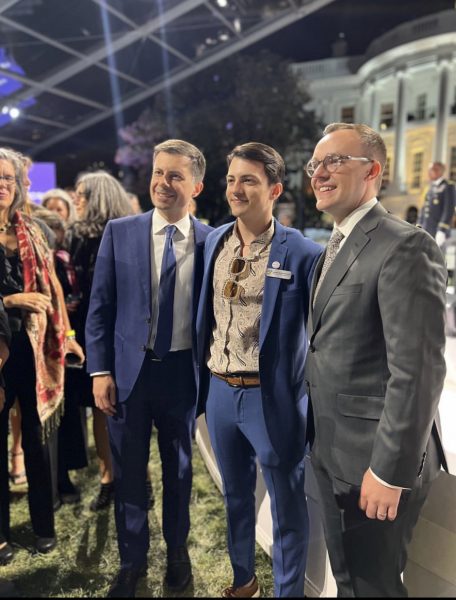 The special gathering held under a vaulted glass and aluminum "tent" on the South Lawn of the White House was attended by 2,000 guests including former first lady Laura Bush, House Speaker Nancy Pelosi (D-Calif.) and Transportation Secretary Pete Buttigieg, his husband Chasten, as well as teachers, nurses, LGBTQ advocates and military families, who the White House had dubbed "everyday history-makers."
During a pause in his performance earlier, the singer addressed Bush, praising her husband, former President George W. Bush's ongoing work on the Presidential Emergency Plan for AIDS Relief, which President Bush had initiated while in office and is credited with saving millions of lives across the African continent and helping to change the trajectory of the HIV/AIDS crisis globally.
"I want to say to the first lady, President Bush accelerated the whole thing with his PEPFAR bill. It was the most incredible thing," he said to Laura Bush.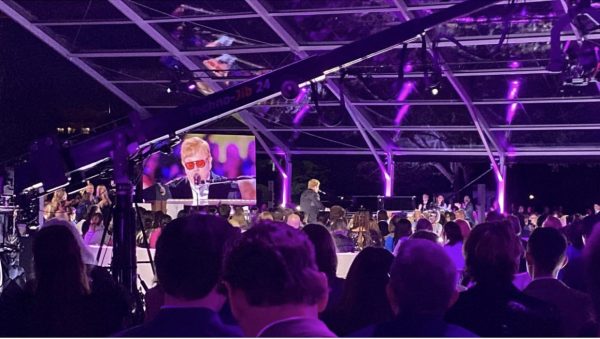 Biden awards Elton John with National Humanities Medal
Full text of the president and the first lady's remarks:
THE FIRST LADY:  Hello! Good evening. Thank you, Athen. It's leaders like you, those helping the next generation live authentically and find their voice, who make me so hopeful for our future.

And thank you to Paul Buccieri and A&E for helping us put this event together.

Isn't this incredible?    

First Lady Laura Bush is with us tonight. And, Laura, it's such an honor to welcome you and your family back to the White House. 

And finally, I want to say what a joy it is to be here with the man who has inspired, supported, and loved Sir Elton John for so many years: His husband, David. 

Few things have the power to bring us together like music. It can compel us to move as one on the dance floor, to sing along with strangers when we hear that familiar tune. It's a voice for the feelings we can't always define. 

When the piano plays, the strings swell, the drums beat in time with our hearts, we find joy or a balm for our sorrows or the harmonies that tell us we aren't alone. 

And in that spirit, as we celebrate Elton John's music, we also celebrate you — everyday history-makers. 

Many of you are my colleagues — fellow teachers, like Leah Michael Dillard. (Applause.)  Love the teachers! So, Leah has taught 7th grade English for 20 years. And, Leah, your students are better thinkers and more engaged citizens because of you. 

We also have first responders and healthcare heroes like — like Dr. Amber Pearson. Amber was the first person in her family to go to college. And it wasn't easy. She worked multiple jobs, took out loan, and when she finally reached her dream, she gave back to others, as an audiologist for veterans and their families, serving the women and men who serve us so well. 

And in this crowd are leaders of the beautiful, bold, and diverse future we are building together, like Javier Gomez, a student from Miami. When his governor passed a law targeting the LGBTQ community, he didn't sit back. 

Javier, you remind us of the power of one person who is willing to speak up for what is right, and that's what this night is all about. Coming together, using our voices, celebrating that, here in America, our differences are precious and our similarities infinite.

Elton once said, "Music has healing power. It has the ability to take people out of themselves for just a few hours."

We're here tonight to once again lose ourselves and be brought together — perhaps even healed — by the power of music. 

And now, I get to introduce another huge fan, who also happens to be the president of the United States and my husband, Joe Biden. 

THE PRESIDENT:  You had to stand for Jill, but you can sit for me. Please, all have a seat.  Please, have a seat.
Look, I — as my colleagues — many of whom from the Senate are still here, came tonight — they always used to kid me because I — I was quoting Irish poets on the floor of the Senate.
The think I did it because I'm Irish. That's not the reason; I did it because they're the best poets in the world.
One who we lost not too long ago, Seamus Heaney, once wrote, and I quote, "Once in a lifetime, the longed-for tidal wave of justice rises up, and hope and history rhyme."

Throughout this incre- — his incredible career, Sir Elton John has been that tidal wave — a tidal wave to help people rise up and make hope and history rhyme. Three hundred million records sold. Seventy-one billboard hits, nearly half in the top 10. Six Grammy Awards. Two Oscars. One Tony, among the multiple, multiple nominations across the board. Four thousand performances around the world. A singer, songwriter of our time, for all time.

On his final tour in Washington, Jill and I invited Elton to the White House to thank him on behalf of the American people.

So, like so many Americans, our family loves his music. His songs take us — take us back to a time, a place, a memory. Songs that make every day exceptional, help us connect and come alive. And songs that reflect the artist's gift, that sixth sense to imagine what no one else can, and then sing and play and dream until he sets that feeling free.

As Jill just mentioned, we're joined by so many people that it's — he's set free to be themselves, to be treated with the dignity and respect they deserve. 
Families and advocates in the fight against HIV/AIDS — a fight — a fight that he has led with sheer will, and fight for those lives lost and those lives that we can save.
Leaders standing up for equality of all people, no matter who you are or who you love.

Every day — every day Americans of every generation, of every background who know that life can be cruel and full of struggle, but it can also be full of joy and purpose.

And we're joined tonight by the U.K. Ambassador to the United States, Karen Pierce, during a difficult time. Karen, thank you. Thank you for being here, Karen.

Jill and I travelled to London to pay our respects to the Royal Family on the queen's passing.

Our hopes tonight — our hope is that Sir Elton John's music heals the sorrow, as it often has in the past.
Throughout his career, Elton found his voice — not only his voice, but his voice to help others and help them find their voice.

With his hope, he made history rhyme for countless people in our nation. That's what tonight is all about.

Elton often talked about how American music changed his life and how the different genres and sounds influenced his own music and imagination. It's clear Elton John's music has changed our lives.

To David and the boys, thank you for sharing your husband and dad with us tonight.  (Applause.)  And to Elton, on behalf of the American people, thank you — and I sincerely mean this — thank you for moving the soul of our nation.