'Don't Ask' repeal supporters predict Senate victory
Recent announcements from two U.S. senators in support of a "Don't Ask, Don't Tell" repeal measure has pushed through the threshold necessary for a successful vote in the Senate, according to activists.
On Wednesday, Sens. Ben Nelson (D-Neb.) and Robert Byrd (D-W.V.) announced they would vote in favor of the legislative compromise unveiled by Sen. Joseph Lieberman (I-Conn.) earlier in the week. Activists said these announcements give them at least the 15 votes necessary to pass repeal in the Senate Armed Services Committee when the measure comes before senators on Thursday.
The compromise unveiled earlier in the week provides for delayed implementation of "Don't Ask, Don't Tell" repeal, meaning the law would only be repealed after the Pentagon completes its study on the issue, which is due December 1. Further, the president and Pentagon leaders would have to certify the U.S. military is ready for the transition before repeal could happen. The legislation also lacks non-discrimination language and would return authority on discharges to the Pentagon.
In a statement Wednesday, Byrd said he was willing to support the legislative compromise, but only if another provision was included to add another 60 days to the timeline after the president and Pentagon leaders certify repeal.
"This period of time will allow the Congress, along with the American people, to thoroughly review the proposed policy recommendations to ensure that these changes are consistent with the standards of military readiness, military effectiveness, unit cohesion, and recruiting and retention for our armed forces," Byrd said.
In an earlier statement Wednesday, Nelson said he's supporting the "Don't Ask, Don't Tell" repeal compromise because he doesn't believe "most Nebraskans want to continue a policy that not only encourages but requires people to be deceptive and to lie." Further, Nelson said the legislative compromise made public by Lieberman "removes politics from the process."
"It bases implementation of the repeal on the Pentagon's review and a determination by our military leaders that repeal is consistent with military readiness and effectiveness, and that the Pentagon has prepared the necessary regulations to make the changes," Nelson said.
Supporters of "Don't Ask, Don't Tell" said they were confident in having the votes for passage in the Senate Armed Services Committee following the Byrd announcement.
Aubrey Sarvis, executive director of the Servicemembers Legal Defense Network, said the Byrd announcement was more than enough to put support over the edge.
"The Byrd modification last night put repeal advocates over the finish line and of course Sen. Ben Nelson's announcement late this morning moved Lieberman and Levin to a sweet Senate 16," Sarvis said.
Alex Nicholson, executive director of Servicemembers United, also said the Byrd announcement means the necessary votes are present and went so far as to call Senate passage "pretty inevitable."
"We do have 15 confirmed on the record," he said. "We have 15 confirmed and then we're expecting a 16th by the vote."
Sen. Evan Bayh (D-Ind.) hasn't yet formally issued a statement in favor of the "Don't Ask, Don't Tell" measure. Activists are saying they expect him to vote in favor of the measure when it comes before the committee.
However, Fred Sainz, spokesperson for the Human Rights Campaign, was more cautious about declaring victory before the vote had taken place.
"This vote will come down to the wire and we are not taking any vote for granted," Sainz said. "Sen. Byrd is to be thanked and congratulated for his support. It clearly reflects the support this issue has."
While the 60-day timeline that secured the Byrd vote means more time is necessary before open service is available, repeal supporters are saying the additional time is acceptable.
Sarvis said Byrd's 60-day concept "incorporates earlier proposals around coordinated and delayed implementation" and gives Congress "time to receive and review submissions and recommendations" from the Pentagon.
Nicholson said having the 60-day time period after the requirements are met for statutory repeal "is not unusual at all."
"It doesn't have to go back to Congress now for any sign off after the 60 days or anything like that," Nicholson said. "It's just an extra 60-day cushion added into the overall timeline, which is negligible in the grand scheme on things."
Nicholson said he thinks the official vote in the Senate Armed Services Committee will take place on Thursday and the vote could become public on the same day.
Laphonza Butler appointed as California's first openly LGBTQ U.S. senator
Dianne Feinstein died in D.C. on Sept. 28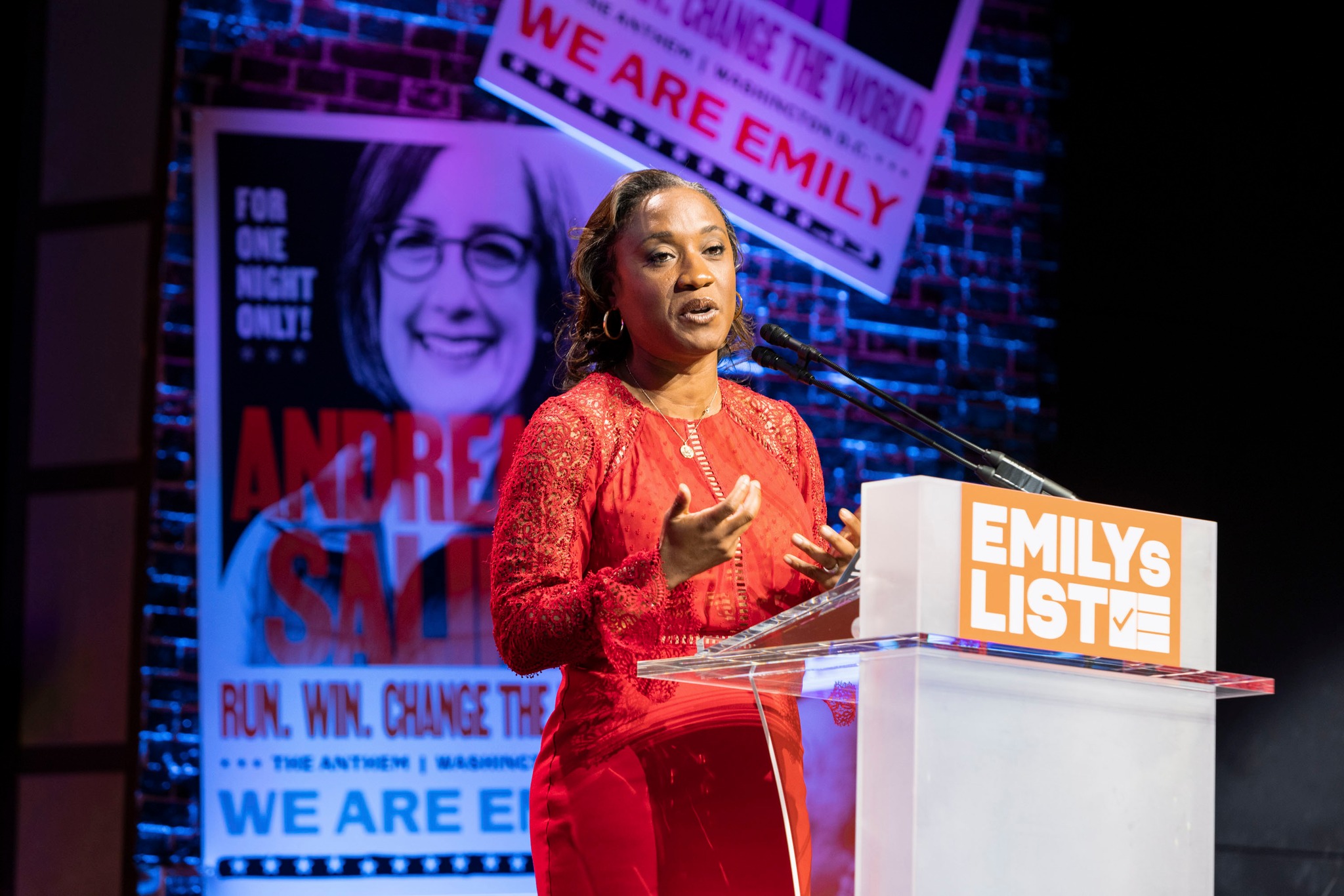 On Sunday evening, California Gov. Gavin Newsom announced he is appointing Black openly lesbian EMILY's List President, Laphonza Butler, to the vacant seat of the late U.S. Sen. Dianne Feinstein who died Friday at age 90.
Butler's wife is Neneki Lee, the D.C.-based director for labor union SEIU's Public Services Division.
News of Butler's selection by Newsom was first reported by Politico's California Bureau Chief Christopher Cadelago. A source knowledgeable on the governor's team told Politico there were no preconditions about whether she could run in 2024.
Newsom's office confirmed that he has picked Butler, a Democratic strategist who rose to prominence in the labor movement, to fill Feinstein's seat.
In an emailed statement, Newsom said:
"An advocate for women and girls, a second-generation fighter for working people, and a trusted adviser to Vice President Harris, Laphonza Butler represents the best of California, and she'll represent us proudly in the U.S. Senate. As we mourn the enormous loss of Senator Feinstein, the very freedoms she fought for — reproductive freedom, equal protection, and safety from gun violence — have never been under greater assault. Laphonza will carry the baton left by Senator Feinstein, continue to break glass ceilings, and fight for all Californians in Washington D.C."
SCOOP: Gavin Newsom will appoint EMILY's List President Laphonza Butler to fill the seat of the late Sen. Dianne Feinstein, elevating the head of a fundraising juggernaut that works to elect Dem women who support abortion rights, per a person familiar.https://t.co/FtOv4fneAk

— Christopher Cadelago (@ccadelago) October 2, 2023
Equality California tweeted a statement praising Newsom's action:
Executive Director @TonyHoang on Governor @GavinNewsom's selection of @LaphonzaB to serve as the next U.S. Senator from California: pic.twitter.com/6RYB1SUyEr

— Equality California (@eqca) October 2, 2023
Democrat Alex Padilla, now serving as California's senior U.S. senator, released the following statement after Newsom appointed Butler to fill the vacancy created by the late Senator Feinstein:
"Throughout her career, Laphonza Butler has been a strong voice for working families, LGBTQ rights, and a champion for increasing women's representation in politics. I'm honored to welcome her to the United States Senate.
"Governor Newsom's swift action ensures that Californians maintain full representation in the Senate as we navigate a narrow Democratic majority. I look forward to working together to deliver for the people of California."
Butler is a longtime leader in Democratic politics in California and beyond. She has been involved in campaign strategy, and the labor movement for two decades, and according to her official biography she has dedicated her life to empowering women and supporting them in finding their voice, and using it to make meaningful change.
Newsom's office noted in its statement:
"Butler, a longtime senior adviser to Vice President Kamala Harris, labor leader and advocate for women and working people, will be the first openly LGBTQ person to represent California in the Senate. She will also be the first Black lesbian to openly serve in Congress in American history and the second Black woman to represent California in the Senate following Vice President Kamala Harris."
Prior to joining EMILYs List, Butler served as Director of Public Policy and Campaigns in North America for Airbnb. She also was a partner at SCRB Strategies, a political consulting firm where she was a strategist for candidates running up and down the ballot and a senior advisor to Vice President Kamala Harris' presidential campaign.
With nearly 20 years in the labor movement, Butler has served as the president of the biggest union in California, and the nation's largest home care workers union, SEIU Local 2015. She was elected to this position at just 30 years old, one of the youngest to take on this role. As president, Butler was the leading voice, strategist, and architect of efforts to address pay inequity for women in California and a top advocate for raising the state's minimum wage to $15 an hour — the first state in the nation to do so, benefiting millions of working women in low wage jobs. That effort also gave hundreds of thousands of home workers access to paid time off. She also served as an SEIU International Vice President and President of the SEIU California State Council.
Throughout her career, Butler has been highly regarded as a strategist working to elect Democratic women candidates in political offices across California and nationally. A long-time supporter of Kamala Harris in her California runs, Butler was a key leader in Vice President Harris' presidential campaign. She served as a senior advisor to Hillary Clinton's presidential campaign in California during the primary and general elections. Most recently, Butler was a campaign operative behind the campaign to make the Los Angeles Board of Supervisors all-women for the first time in its history with the election of Supervisor Holly Mitchell.
She has been a member of the University of California Board of Regents and a member of the board of directors for the Children's Defense Fund and BLACK PAC.
Laphonza grew up in Magnolia, Miss., and attended one of the country's premier HBCUs, Jackson State University. She lives in Maryland with her wife, Neneki, and together they have a daughter, Nylah.
EMILY's List is an American political action committee that aims to help elect Democratic female candidates in favor of abortion rights to office. It was founded by Ellen Malcolm in 1985. The group's name is an acronym for "Early Money Is Like Yeast." Malcolm commented that "it makes the dough rise."
Related:
Newsom appoints Laphonza Butler to the U.S. Senate:
Shutdown averted with bipartisan bill over objections of far-right House caucus
45-day continuing resolution passed 335-91.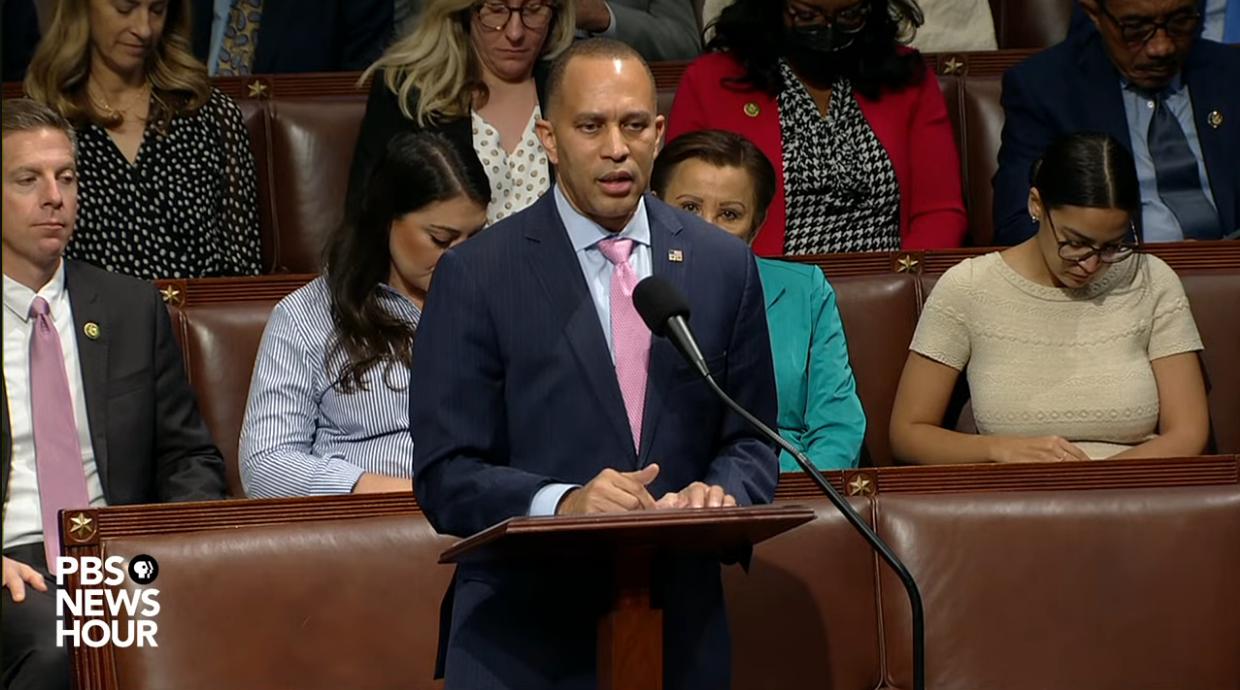 The U.S. House on Saturday approved a 45-day continuing resolution that, should the Senate approve the stopgap measure, as expected, will avert a government shutdown.
In a stunning turn of events, a coalition of Republicans and Democrats backed the proposal, H.R. 5860 advanced by House Speaker Kevin McCarthy (R-Calif.), which was passed with a vote of 335-91.
Ninety Republicans and one Democrat voted against the continuing resolution which, in addition to funding U.S. government agencies through mid-November, will provide billions in disaster relief .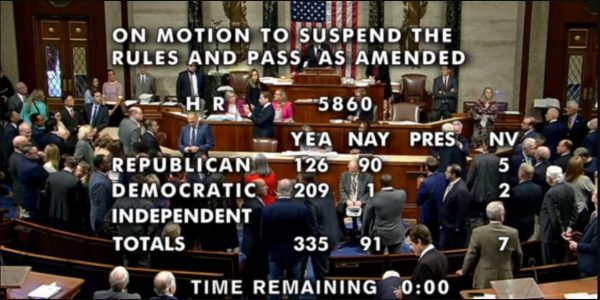 Democrats agreed to the bill even though it did not contain U.S. aid to Ukraine. Still, the most conservative members of McCarthy's caucus have warned they would replace their speaker if he cooperated with Democrats on a deal to avoid a shutdown.
In recent weeks, these members advanced far-right anti-LGBTQ amendments to spending packages that stood no chance of becoming law.
The Senate voted 88-9 to pass a "clean" continuing resolution (CR) that funds the government at current levels through Nov. 17 and gives the Biden administration $16 billion it requested to assist victims of natural disasters.
"Bipartisanship, which has been the trademark of the Senate, has prevailed. And the American people can breathe a sigh of relief," Senate Majority Leader Chuck Schumer (D-N.Y.) told reporters.
After the Senate voted late Saturday evening to pass the House stop-gap continuing resolution, the White House released the following statement from President Biden:
"Tonight, bipartisan majorities in the House and Senate voted to keep the government open, preventing an unnecessary crisis that would have inflicted needless pain on millions of hardworking Americans. This bill ensures that active-duty troops will continue to get paid, travelers will be spared airport delays, millions of women and children will continue to have access to vital nutrition assistance, and so much more. This is good news for the American people.
But I want to be clear: we should never have been in this position in the first place. Just a few months ago, Speaker McCarthy and I reached a budget agreement to avoid precisely this type of manufactured crisis. For weeks, extreme House Republicans tried to walk away from that deal by demanding drastic cuts that would have been devastating for millions of Americans. They failed.
While the Speaker and the overwhelming majority of Congress have been steadfast in their support for Ukraine, there is no new funding in this agreement to continue that support. We cannot under any circumstances allow American support for Ukraine to be interrupted. I fully expect the Speaker will keep his commitment to the people of Ukraine and secure passage of the support needed to help Ukraine at this critical moment."
Biden is expected to sign the measure once it is delivered to the White House before the midnight deadline.
UPDATED:
On Saturday, September 30, 2023, the President signed into law:

H.R. 5860, which provides fiscal year appropriations to Federal agencies through November 17, 2023, for continuing projects of the Federal Government and extends several expiring authorities.
McCarthy dealt another blow by far-right members seeking to replace him
Rep. Emmer denies he's interested in becoming next Speaker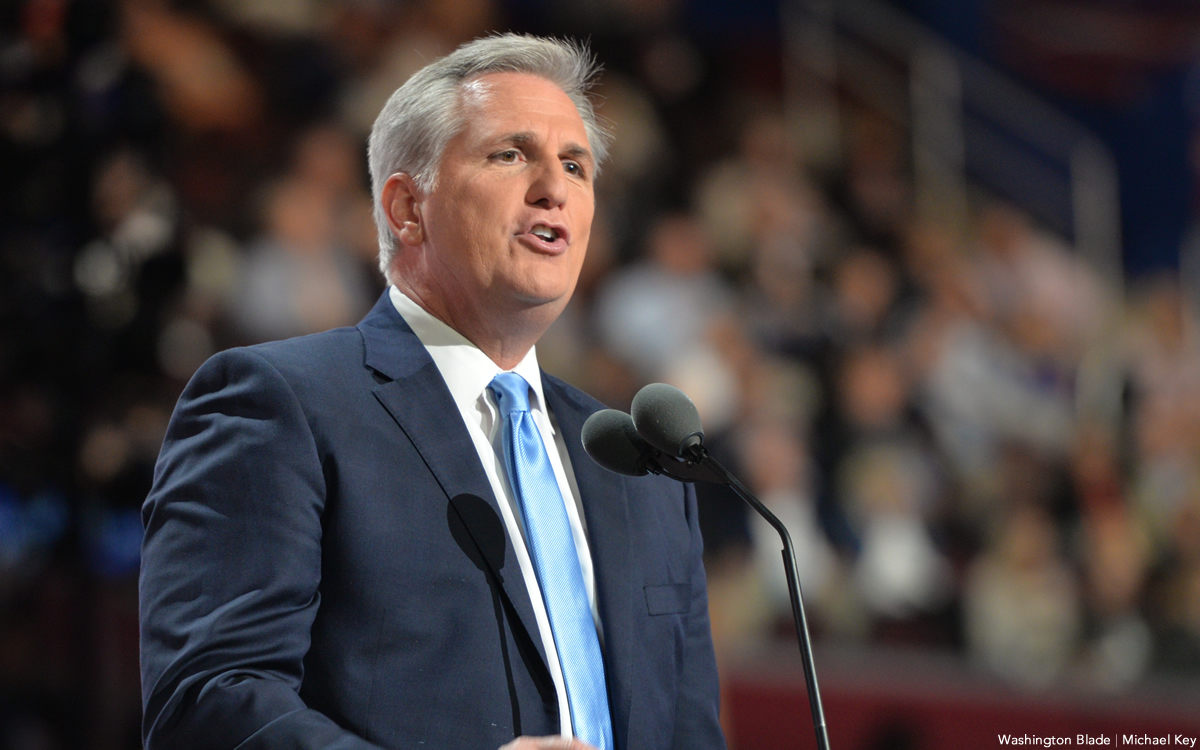 After joining with the Democrats on Friday to sabotage House Speaker Kevin McCarthy's (Calif.) plan to forestall a government shutdown with a last-ditch spending package, a group of far-right members are now focused on replacing him.
The stop-gap funding bill was defeated 232-198 with more than 20 Republicans voting against the measure.
House GOP sources tell the Washington Blade that removing McCarthy from the speaker's chair is now a top priority, along with resisting pressure from Senate Republicans seeking to broker a deal to avoid allowing funding to lapse.
These sources confirmed reporting in the Washington Post about discussions of tapping U.S. Rep. Tom Emmer (Minn.) to become the chamber's top Republican, though the congressman told CBS Minnesota/WCCO News, "I fully support Speaker McCarthy. He knows that and I know that. I have zero interest in palace intrigue. End of discussion."
While Emmer was among the 39 House Republicans who voted with the Democrats in support of the Respect for Marriage Act, which protects the rights of couples in same-sex marriages, in April he was among the more vocal members pushing for a federal ban to prohibit transgender women and girls from competing on sports teams consistent with their gender identity.
In January, McCarthy narrowly secured his bid for the speakership after an unprecedented 15 votes from his caucus. Many of the same members now calling for his replacement demanded concessions, including conditioning their votes on McCarthy's agreement to allow any member to call for a motion to vacate the chair at any time.
During the votes, which were held over a period of five days, other members like U.S. Rep. Byron Donalds (R-Fla.) were nominated for the position.