SLDN advises LGBT troops against taking part in DOD survey
Servicemembers Legal Defense Network issued a statement on Thursday warning LGBT service members about a potential risk if they participate in a Pentagon survey over "Don't Ask, Don't Tell."
Aubrey Sarvis, SLDN's executive director, said his organization received numerous requests from LGBT service members seeking guidance on whether they should participate in the survey.
"At this time SLDN cannot recommend that lesbian, gay, or bisexual service members participate in any survey being administered by the Department of Defense, the Pentagon Working Group, or any third-party contractors," Sarvis said. 
Sarvis said the surveys are designed to protect privacy, but said there isn't a sufficient guarantee of avoiding a discharge if someone is inadvertently outed in the process. He said LGBT service members who participate should do so in a way that doesn't identify their sexual orientation. 
The statement says SLDN asked the Pentagon working group for information about the survey, including the survey texts, possible certificates of confidentiality, and whether the Pentagon could guarentee immunity for those inadvertently outed by the surveys. According to SLDN, the Pentagon was unable to satisfy this request.
The survey went out on Wednesday to around 400,000 service members. The results are intended to help inform the Pentagon working group that's developing a plan for implementing "Don't Ask, Don't Tell" repeal. The group's work is due Dec. 1.
The Blade will have a more complete story on the Pentagon survey shortly. Download a copy of the survey here.
Victory Fund honors Maine House speaker at D.C. conference
Ryan Fecteau is gay Catholic University alum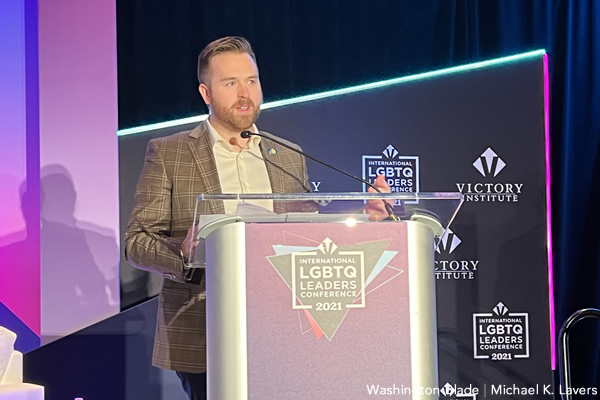 The Victory Fund on Saturday honored Maine House Speaker Ryan Fecteau on the last day of its International LGBTQ Leaders Conference in D.C.
Fecteau — an openly gay Catholic University of America alum — won a seat in the Maine House of Representatives in 2014. He became the chamber's speaker in 2018.
"Hate and intolerance will not derail us," said Fecteau after Florida state Rep. Carlos Guillermo Smith presented him with the Tammy Baldwin Breakthrough Award, which is named after U.S. Sen. Tammy Baldwin (D-Wis.). "Our community will not be intimidated."
The Victory Fund on Friday honored Guatemalan Congressman Aldo Dávila, a gay man who is living with HIV.
Rachel Levine: Efforts to deny health care to trans youth are 'politics'
Former Pa. health secretary opened Victory Fund conference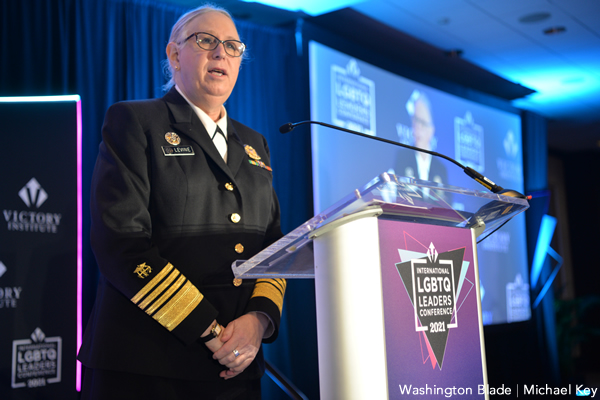 Assistant Health Secretary Rachel Levine on Thursday criticized efforts to prevent transgender youth from accessing health care.
"Unfortunately, some have fought to prevent transgender youth from accessing the health care that they need," she said in a speech she delivered at the opening of the Victory Fund's 2021 International LGBTQ Leaders Conference that took place in-person at the JW Marriott in downtown D.C. "This is politics and this politics has no place in health care and public health and they defy the established standards of care written by medical experts."
Levine was Pennsylvania's Health Secretary until President Biden nominated her to become assistant secretary of health.
She became the first openly trans person confirmed by the U.S. Senate in March. Levine in October became a four-star admiral in the U.S. Public Health Service.
The conference will take place in-person and virtually through Sunday.
VIDEO: Biden addresses advocates on World AIDS Day
President says end to transmission 'within striking distance'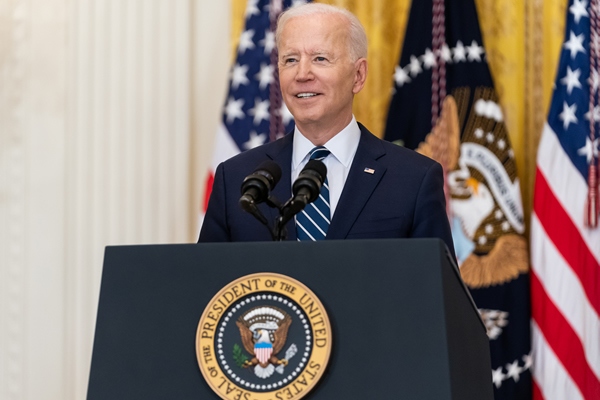 President Biden, in remarks delivered Wednesday at the White House in recognition of World AIDS Day, said to advocates in the fight against HIV/AIDS the end to HIV transmission was near.
"It's because of you and it's not hyperbole to suggest that we are within striking distance of eliminating HIV transmission, within striking distance," Biden told attendees in the East Room.
Joining Biden in the East Room were Secretary of Health & Human Services Xavier Becerra and Gabriel Maldonado, an HIV/AIDS Advocate and founder of TruEvolution, a Riverside, Calif.-based LGBTQ group.
Biden also during his remarks touted having made the appointment of Harold Phillips to lead the White House Office of National AIDS Policy — a position that had gone vacant throughout the entirety of the Trump administration.
Notably, Biden talked about the Ending the HIV Epidemic plan, an initiate health officials started in the Trump administration, by saying was to beat HIV domestically by 2030. That was initial target date when the initiative, but Biden had campaigned on defeating by HIV by 2025 to the skepticism off observers.
Watch Biden full remarks below: