Local news in brief
Park Police seek help in P Street Beach robbery & more

Park Police seek help in P Street Beach robbery
U.S. Park Police are asking for help in their investigation into a May 5 robbery in P Street Beach of a victim who might have met the robber inside a gay bar in the Dupont Circle area.
A Park Police spokesperson said an investigation found that the victim and robber most likely met in one of the nearby clubs and walked together into P Street Beach about 2:30 a.m. P Street Beach is recognized as a gay male cruising area where men meet for sexual liaisons.
Park Police Sgt. David Schlosser said the robber reportedly picked the pocket of his victim and took his wallet but did not assault the victim or use a weapon. Schlosser noted that the robber used a credit card he stole from the victim to make purchases in a number of stores in the Dupont Circle area, including the CVS drug store located on Dupont Circle.
Schlosser said the suspect is described as being a Latino male sporting a thin beard. On the night of the incident, the suspect was wearing black pants, a blue T-shirt, a black striped hat and carrying a black backpack with a Nike logo and black string shoulder straps. The suspect is believed to be a regular at the gay clubs in the P Street area near Dupont Circle.
Anyone with information about the incident is asked to contact the Park Police tip line at 202-610-8737.
LOU CHIBBARO JR.
Poll shows Graham leading in Ward 1
A poll commissioned by gay D.C. City Council member Jim Graham's re-election committee shows him far head in the Ward 1 race, with 68 percent support from likely voters in the Sept. 14 Democratic primary.
The poll shows Graham's two opponents, Bryan Weaver and Jeff Smith, receiving 8 percent and 7 percent, respectively. Seventeen percent of the respondents in the poll said they were undecided.
Lake Research Partners, a national public opinion and political strategy research firm, conducted the poll, which included responses from 300 likely Democratic voters living in Ward 1 who were contacted between June 28 and July 1.
The poll also showed Graham receiving a 77 percent favorability rating among the respondents, with 71 percent rating his job performance as "excellent/good," according to a statement released by the Graham campaign.
In addition, the poll found that among the participating Ward 1 respondents, 43 percent said they support Mayor Adrian Fenty in his re-election bid; 37 percent support Fenty's main rival, D.C. City Council Chairman Vincent Gray; and 2 percent support challenger Leo Alexander.
LOU CHIBBARO JR.
New liquor law bill affects clubs displaced by stadium
D.C. Mayor Adrian Fenty has introduced legislation that would raise the fee for maintaining liquor licenses for gay and straight nightclubs displaced by the Washington Nationals baseball stadium that have yet to reopen.
The Omnibus Alcoholic Beverage Regulation Amendment Act of 2010 would assess a special fee of 25 percent above the annual liquor license renewal cost for every six months that a nightclub or bar retains its license while the bar or club is closed and the license is held in "safe keeping" with the city. If a club or bar remains closed for two years, the special fee would increase to 50 percent of the annual renewal cost of the license every six months.
The annual license renewal cost for a nightclub with a capacity of between 500 and 999 patrons is $4,550, according to a spokesperson for the city's Alcoholic Beverage Regulation Administration.
The special "safe keeping" fee would apply to all clubs and bars, not just those displaced by the stadium. But LGBT activists have expressed concerns that the city has failed to take sufficient steps toward helping clubs displaced by the stadium find new locations. Some of the displaced clubs offered nude dancing, a status that limits their ability to relocate due to zoning restrictions against adult entertainment.
Some activists have said they are considering asking the Council to add new language to the mayor's bill that would ease restrictions on the relocation of adult clubs and ease some of the restrictions for clubs currently operating.
Gay Council member Jim Graham (D-Ward 1) chairs the committee with jurisdiction over the bill. Graham is expected to hold a public hearing on the bill within the next month or two.
LOU CHIBBARO JR.
Gay congressman endorses Fenty
Gay U.S. Rep. Jared Polis (D-Colo.) delivered a ringing endorsement of D.C. Mayor Adrian Fenty's re-election bid June 30 at the Logan Circle gay bar MOVA, where Fenty held an LGBT community reception.
With more than 150 people packed into the bar's upper floor lounge, Polis praised Fenty for what the congressman said was a "tremendous" improvement in the city's public schools and efficient and "great" overall city services during Fenty's first term as mayor.
Polis also praised the mayor for his support for LGBT rights and for helping bring about "gay marriage in Washington, D.C."
Fenty thanked Polis for the endorsement and told the crowd he believes his record on LGBT issues — as well as citywide issues — is strong and he hoped people attending the event would consider voting for him in the Sept. 14 Democratic primary.
The mayor then waded through the crowd, agreeing to requests by supporters wearing Fenty campaign stickers on their shirts to pose with them for photos.
"This is the actual LGBT community folks who will turn out and vote for the mayor," said gay activist John Fanning, a Fenty supporter. "We've been hearing a lot from a few vocal activists who aren't supporting the mayor … but I think this event tonight shows the rank-and-file people are with him."
Some people in the crowd said they had yet to make up their mind on who to vote for in the D.C. mayor's race, saying they came to the event because it was billed as a "meet and greet" session rather than a campaign rally.
Fenty said he plans to host more campaign events in the LGBT community.
LOU CHIBBARO JR.
D.C. releases first gay health report
Although they smoke at a higher rate than the overall population, a higher percentage of D.C.'s gay, lesbian and bisexual residents rated their overall health as good or better compared to straight residents, according to a new city report.
The report, prepared by Mayor Adrian Fenty's Office of Lesbian, Gay, Bisexual & Transgender Affairs and released last month, is said to be the first document assessing the overall health of the city's lesbian, gay male and bisexual residents.
The report's findings were taken from data collected in 2005 and 2007 as part of an ongoing Behavior Risk Factor Surveillance System Survey coordinated by the U.S. Centers for Disease Control & Prevention and conducted in D.C. and all 50 states.
According to the D.C. report, 6,218 D.C. residents were surveyed by phone, with 90 percent identifying as straight, 4.5 percent identifying as gay or lesbian, and 2.3 percent identifying as "bisexual/other." All findings are based on self-reporting by the respondents.
The 2005 and 2007 data for transgender residents was too small to yield meaningful results, but improved data for transgender residents would be sought for future reports, said a source familiar with the report.
Among the report's findings of the city's gay, lesbian and bisexual respondents:
• 93.4 percent of gay and lesbian respondents rated their health as good, very good or excellent compared to 86.9 percent of straight and 86.3 percent of bisexual respondents;
• 39.5 percent of gay and lesbian and 37.9 percent of bisexual respondents had a flu shot in the past year compared to 32.4 percent of straight respondents;
• 68.6 percent of gay and lesbian respondents reported having a routine check up in the past year compared to 85.2 percent of bisexual and 73.6 percent of straight respondents;
• 93.3 percent of gay and lesbian respondents reported having health care coverage as compared to 90.0 percent of bisexual and 91.1 percent of heterosexual respondents;
• and 39.8 percent of gay and lesbian and 45.7 percent of bisexual respondents reported having one or more days of bad mental health in the 30 days prior to the survey compared to 31.3 percent of heterosexual respondents.
A copy of the report is available online at http://glbt.dc.gov/DC/GLBT.
LOU CHIBBARO JR.
Mitchell Gold, Timothy Scofield wed
Mitchell Gold, co-founder and chairman of the Mitchell Gold + Bob Williams home furnishings company, married his partner, Timothy Scofield, on June 19 in Des Moines, Iowa.
The two have been together for three years. Polk County District Judge, Robert B. Hanson, who issued the first ruling in favor of same-sex marriage in Iowa, performed the ceremony for about 100 guests.
The couple said in a statement that they chose to wed in Iowa because of the symbolism of getting married in the heartland.
"Judge Hanson, I am here to tell you that I know you did not start out to be a hero when you issued your initial ruling, but for 14-year-old kids in Iowa and everywhere in America and in the world, you have said to them, you are a part of society, you are whole, you are wonderful. You can have anything and everything – especially love," Gold said during his speech at the wedding.
Gold is also the founder of a non-profit organization called Faith in America that works to combat religion-based discrimination. Scofield is the founder of the Velvet Foundation, which is working to establish a national museum of LGBT history in D.C.
The couple honeymooned in Italy and will reside in Conover, N.C. and New York City.
STAFF REPORTS
Dupont Circle 'gayborhood' preserved in Council redistricting bill
All of neighborhood remains in Ward 2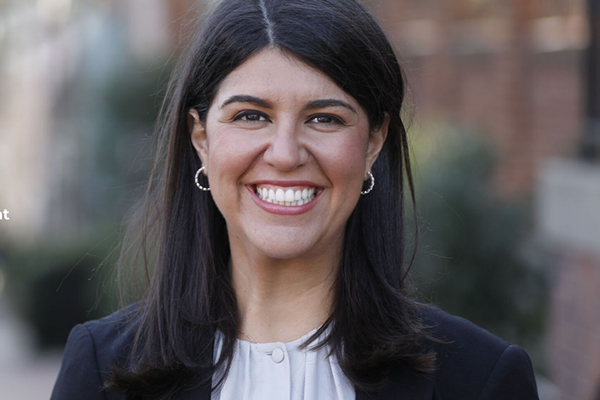 A bill approved by the D.C. Council in a first-reading vote on Tuesday to redraw the boundaries of the city's eight wards keeps all of the Dupont Circle neighborhood, which LGBTQ activists have referred to as the city's preeminent "gayborhood," in Ward 2.
The redistricting plan approved by the Council included a change from an earlier proposal by a special redistricting subcommittee that called for transferring part of the North Dupont Circle neighborhood into Ward 1.
Councilmember Brooke Pinto, who represents Ward 2, joined many of her ward's LGBTQ residents in raising strong objections to dividing the Dupont Circle neighborhood into two different wards.
A number of LGBTQ residents, including Mike Silverstein, one of five openly gay members of the nine-member Dupont Circle Advisory Neighborhood Commission, said the initial subcommittee proposal would unnecessarily split Dupont Circle's historic "gayborhood," which he said has served as a safe space for LGBTQ D.C. residents for decades.
"Excising this part of Ward 2 would arbitrarily cut off the LGBTQIA+ community that has such a rich and pronounced presence in North Dupont," Pinto said in a statement her office released last month. "I will be working with my colleagues to ensure that this community remains in Ward 2," Pinto said.
A spokesperson for D.C. Council Chair Phil Mendelson (D-At-Large) said Mendelson worked with the three members of the redistricting subcommittee and other Council members to make some changes to the subcommittee's initial release of three proposed maps with redrawn ward boundary lines. All three of the maps included plans to move the north part of Dupont Circle to Ward 1, each of which was dropped in the final proposal approved by the Council.
The Council is scheduled to hold a second and final vote on the redistricting measure later this month.
City officials have noted that a redrawing of the city's ward boundary lines is needed to bring the city into legal conformance with the 2020 U.S. Census count for D.C., which shows shifts in population within the city.
U.S. Attorney's Office declines to prosecute anti-gay assault case
D.C. police report says man beaten by neighbors in Northeast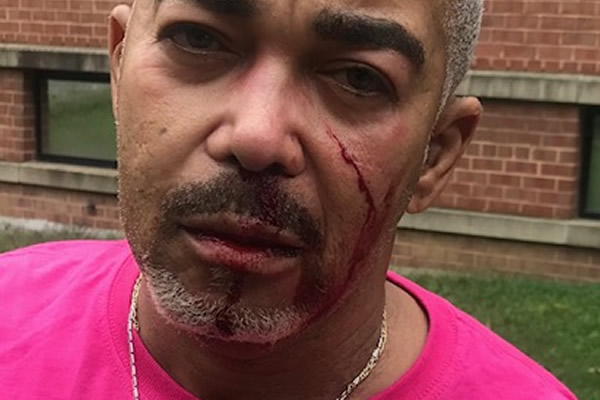 The U.S. Attorney's Office has declined to prosecute two women and a man who, according to a D.C. police report, assaulted a gay man after one of the women called him a "Jewish faggot" during an Oct. 13 incident on the grounds of a Northeast Washington apartment building where the victim and the two women live.
The victim, Antonio Zephir, 51, said one of the women, her daughter, and a man he believes to be the daughter's father repeatedly punched him in the face after he shouted back at the mother in response to the anti-gay and anti-Jewish slur he says she hurled at him.
The incident took place outside the Northwood Gardens Apartments at 4870 Fort Totten Dr., N.E. at about 12:40 p.m. the police report says.
Zephir told the Blade this week that an official with the U.S. Attorney's Office, which prosecutes crimes committed by adults in D.C., informed him in a phone call that the office decided not to prosecute the case after police and prosecutors viewed a surveillance camera video that reportedly captured the entire incident.
He said the official, Crystal Flournoy, Deputy Chief of the U.S. Attorney's Office's Early Case Assessment Section, told him the video showed that he was the "aggressor" in the incident.
Zephir says he strongly disputes that characterization and believes the camera angle from the video may not have captured the full altercation in which he was assaulted first before attempting to defend himself.
A D.C. police spokesperson said police opened an investigation into the incident after Zephir called police immediately after the altercation. A police report lists the incident as a suspected anti-gay hate crime and lists the offense as a misdemeanor simple assault.
Zephir, who was treated and released from the Washington Hospital Center the day after the incident, suffered a fractured nose, a fractured bone surrounding one of his eyes, and other facial injuries, according to a hospital report he provided to the Blade. He said his doctor told him he may need facial surgery to treat ongoing effects from the injuries.
In a Dec. 7 email, a copy of which Zephir sent to the Blade, D.C. Police Lt. Scott Dowling informed Zephir that the U.S Attorney's Office declined to process an affidavit submitted by police requesting the case be prosecuted.
"[T]he affidavit submitted to the United States Attorney's Office was declined, meaning that their office is not willing to move forward with criminal charges," Dowling told Zephir in his email message. "As a result, there will be no arrests relating to the offense you reported," Dowling said. "As the Affidavit was declined, our investigation is closed," Dowling wrote in the message.
"The U.S. Attorney's Office declined to prosecute this matter after reviewing the evidence," William Miller, a spokesperson for the office, told the Blade in a statement on Wednesday. "Beyond that, we typically do not comment on charging decisions and have no further comment," Miller said.
Zephir said he doesn't think the video, which he hasn't seen, shows that one of the two women involved in the altercation was the first to assault him. He identified her in court papers he filed seeking a stay away protection order as Aurlora Ellis.
Court records show that a D.C. Superior Court judge on Nov. 30 issued a "Consent Stay Away Order" requiring Ellis and her daughter, identified as Latera Cox, and a woman who Zephir says lives at Ellis's apartment, to "stay at least 100 feet away from Plaintiffs Zephir or Johnson."
Steve Johnson, who is cited in the stay away order, is Zephir's roommate who the police report says attempted to stop the Oct. 13 altercation in which Zephir says he was assaulted.
The court order further states that the three women "shall not contact Plaintiffs Zephir or Johnson in any manner, including but not limited to by telephone, in writing, and in any manner directly or indirectly through another person, including social media," and that the order will remain in effect for one year.
"Ms. Ellis was the person who made those threats and slurs against me," Zephir said. "I responded with not-so-kind words. She ran towards me and assaulted me with hard punches toward my face," Zephir recounted. "I punched back in an attempt to defend myself," he said.
According to Zephir, during the altercation Ellis told him, "Call the police, you bitch faggot. They're not going to do anything. This isn't over yet." He said he continues to worry that Ellis's comment that the matter "isn't over yet" was a threat and that she may try to harm him again.
Ellis couldn't immediately be reached for comment.
Zephir said the October altercation wasn't the first time Ellis has acted in a hostile way toward him.
"For several months, every time Ms. Ellis sees me, she shouts homophobic slurs and I continued to ignore her," he told the Blade in October after contacting the Blade about the incident.
On Tuesday, Zephir told the Blade that Ellis later apologized for the altercation and asked him to drop the charges he filed against her with D.C. police. He said he declined her request, but said he's now dismayed that the U.S. Attorney's Office has refused to prosecute what he calls a "serious hate crime" against him.
Dignity Washington opens new center in Dupont Circle
Proceeds from sale of old building used to expand programming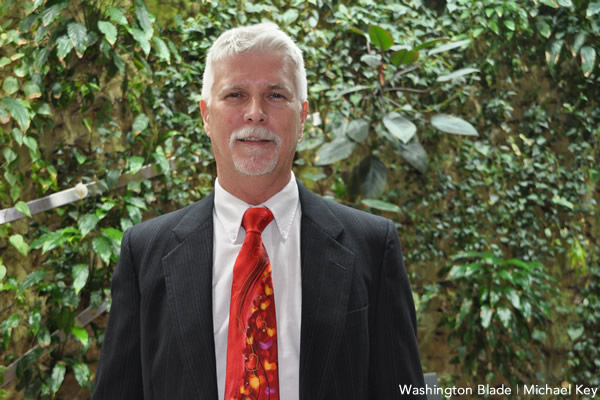 The local LGBTQ Catholic organization Dignity Washington recently opened its new Dignity Center office and community meeting space at a Dupont Circle condominium building that includes first-floor offices for small businesses and community organizations.
Dignity Washington President Tom Yates said the new space at the Imperial House condominium building at 1601 18th Street, N.W., is currently being used as Dignity's office headquarters and for meetings of the group's board and committees. He said as COVID-related restrictions are relaxed the space will be used for various events and possible use by other LGBTQ community organizations.
Yates said the group purchased the 1,700-square-foot office space in March of this year, eight months after selling its former Dignity Center building at 721 8th St., S.E., in the Barracks Row section of Capitol Hill. Dignity officials have said the Capitol Hill building was larger than the space the group needed and the proceeds from its sale would provide funds to expand its programs.
"Dignity Washington, making use of the fiscal support made possible by the change of properties, hopes to become more active speaking truth to power of the Catholic Church," Yates told the Blade. "The new facility is only a handful of blocks from the Cathedral of St. Matthew," he said, referring to one of the city's largest Catholic churches.
Noting the Catholic Church's historic lack of support for the LGBTQ community, Yates said the proximity of the new Dignity Center would help the group's mission of showing "the local same-sex community that one can be both Catholic and same-sex loving."
Yates said Dignity Washington, founded in 1972, is the largest chapter of the national LGBTQ Catholic organization Dignity USA.
Dignity Washington, among other things, organizes a weekly 6 p.m. Sunday Mass for LGBTQ Catholics and their friends and families at St. Margaret's Episcopal Church at 1830 Connecticut Ave., N.W.