McCain objects to Senate 'Don't Ask' consideration
Sen. John McCain (R-Ariz.) on Thursday objected to a motion to bring "Don't Ask, Don't Tell" repeal up for consideration on the Senate floor — indicating support for a filibuster of the measure.
McCain spoke out against the inclusion of repeal in the fiscal year 2011 defense authorization bill in an exchange with Senate Armed Services Committee Chair Carl Levin (D-Mich.) on the Senate floor.
Levin asked for unanimous consent to bring to the floor in September the defense bill to which the Senate Armed Services Committee already attached repeal, but McCain objected and said he wouldn't allow the Senate to proceed.
"I'm not going to allow us to move forward," McCain said. "I will be discussing with my leaders and the 41 members of this side of the aisle as to whether we're going to be moving forward with a bill that contains that "Don't Ask, Don't Tell" policy repealed before, before a meaningful survey of the impact on battle effectiveness and morale of the men and women who are serving this nation in uniform."
McCain called the inclusion of repeal in the defense legislation without the completion of this study a "disgrace."
Levin, a proponent of repeal, responded by saying allowing the bill to come to the floor would allow the Senate to consider amendments to the "Don't Ask, Don't Tell" language.
"The main point is that the place to debate these policies is on the floor of the Senate," Levin said. "The Senate will determine, if we can get this bill to the floor, whether or not we make that conditional change in the 'Don't Ask, Don't Tell' or whether we do a number of other things."
Levin further noted the language in the bill makes repeal conditional on completion of the "Don't Ask, Don't Tell" study currently underway at the Pentagon, which is due Dec. 1, as well as certification from the president and military leaders.
In a statement, Joe Solmonese, president of the Human Rights Campaign, accused McCain of flip-flopping on his position, noting an article in Congressional Quarterly earlier on Thursday quoting McCain as saying he wouldn't support a filibuster.
"In less than 24 hours, Sen. McCain seems to have changed his mind on blocking a critical defense bill in order to score some political points with his base," Solmonese said. "Our country needs the best and brightest men and women in uniform and no one should play politics when it's time to get down to doing the people's business."
Continuing to rail against the inclusion of the "Don't Ask, Don't Tell" language, McCain recalled his discontent over the inclusion of hate crimes protections language in the previous year's budget legislation.
"I've only been a member of this committee, Mr. President, since 1987," McCain said. "I never seen what the chairman of the committee did last year by bringing a totally irrelevant and very controversial issue and put it on the defense authorization bill."
The attachment of hate crimes legislation to the defense authorization bill happened at least twice before last year in the Senate in 2004 and 2007. Supporters of the hate crimes measure at the time said this method helped to protect the legislation against dangerous amendments.
Solmonese also addressed McCain's remarks in opposition to inclusion of hate crimes protections in the defense bill.
"He tried his hardest to prevent Americans from being protected from hate crimes and lost," Solmonese said. "His attempt to prevent qualified openly lesbian and gay service members from serving will be a failing effort as well."
Following his floor speech, McCain elaborated to the Blade on his opposition to repeal language in the defense authorization bill.
"I just think that a survey needs to be conducted as to the effect on morale and battle effectiveness before the repeal is voted on, and everybody's entitled to their own views, but to repeal it before before we get that assessment, I think, is really a serious mistake," he said.
Asked whether he would introduce a motion to strike or a substitute amendment with regard to that langauge, McCain replied, "We don't yet know exactly what we're going to do."
Senate passes Respect for Marriage Act
Bill approved by 61-36 vote margin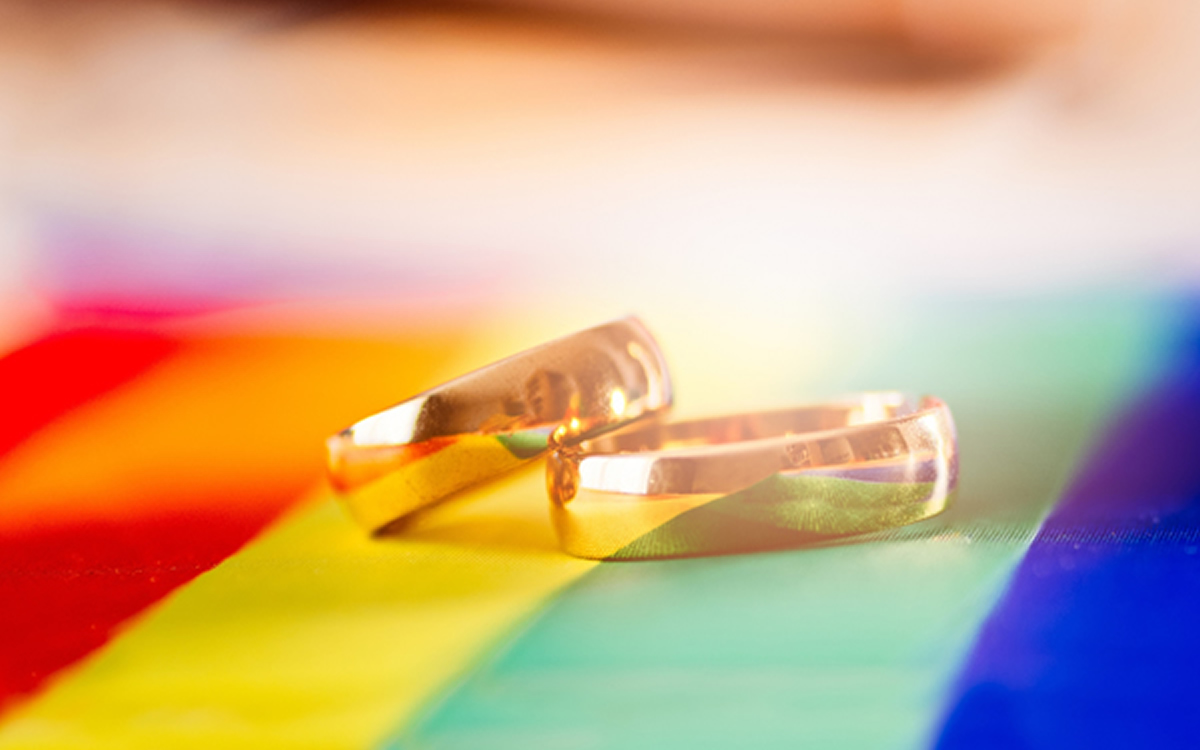 The U.S. Senate voted 61-36 on Tuesday to officially pass the Respect for Marriage Act, a historic piece of legislation that is expected to soon become law after members in the U.S. House of Representatives sign off on a bipartisan amendment added by their Senate colleagues.
Designed as a vehicle to mitigate the fallout if the U.S. Supreme Court's conservative supermajority guts the constitutional protections for marriage equality, the bill was narrowly construed — in part to help guarantee that it withstands potential challenges from conservative legal actors.
Nevertheless, the Respect for Marriage Act is a landmark bill that has been backed by virtually every LGBTQ advocacy organization in the country. The legislation repeals the Clinton-era Defense of Marriage Act while enshrining into law substantive protections for same-sex couples.
Regardless of whether or how the high court might decide to revisit the marriage question, the Respect for Marriage Act will protect the federally ordained rights and benefits that have long been enjoyed by married gay and lesbian couples. And should the court pave the way for conservative states like Texas to renew their bans on same-sex marriage, the law will require them to officially recognize and honor those that are performed in jurisdictions where they remain legal.
Despite earning broad bipartisan support from lawmakers in the House, which passed its version of the bill this summer with an overwhelming majority — including votes from 47 Republican members — the Respect for Marriage Act faced an uncertain future in the Senate.
Conservative members in the chamber's Republican caucus argued the bill would jeopardize religious freedoms, concerns that a group of five bipartisan senators sought to allay with an amendment that, among other provisions, clarifies the right of religious nonprofit organizations to refuse "any services, facilities, or goods for the solemnization or celebration of a marriage."
Writing the amendment were Sens. Susan Collins (R-Maine), Rob Portman (R-Ohio), Kyrsten Sinema (D-Ariz.), Thom Tillis (R-N.C.) and Tammy Baldwin (D-Wis.), who was considered the driving force behind the bill's passage through the Senate.
Several Republican senators proposed additional amendments that — per a narrow procedural vote before and another shortly after the Thanksgiving break — were not put up for debate, thereby allowing the Respect for Marriage Act to clear the Senate with Tuesday's vote.
Barely surpassing the 60-vote filibuster-proof majority with one extra "yea," the Senate's passage of the bill came despite the best efforts of conservative opponents who had run coordinated campaigns to erode support among GOP members.
President Joe Biden and Vice President Kamala Harris each issued statements shortly after Tuesday's vote.
The president celebrated the "bipartisan achievement" by Congress, writing: "For millions of Americans, this legislation will safeguard the rights and protections to which LGBTQI+ and interracial couples and their children are entitled. It will also ensure that, for generations to follow, LGBTQI+ youth will grow up knowing that they, too, can lead full, happy lives and build families of their own."
Harris wrote: "The Respect for Marriage Act ultimately stands for a simple principle: all Americans are equal and their government should treat them that way. Today, we are one step closer to achieving that ideal with pride."
The Congressional LGBTQ+ Equality Caucus also praised the victory.
"Today, a bipartisan group of 61 Senators made clear that this country will not roll back the clock on marriage equality," said Congressman David Cicilline (D-R.I.), chair of the Equality Caucus. "The Respect for Marriage Act is a crucial safeguard for LGBTQ+ people whose lives have been forever changed by Obergefell v. Hodges and Americans who are in interracial marriages thanks to Loving v. Virginia. On June 26, 2015, the Supreme Court declared marriage equality as the law of the land. Today, the Senate ensured those marriages will continue to be protected."
LGBTQ groups celebrate the win
"Diverse faith traditions across the nation came together to demand respect for LGBTQ+ Americans – we staked our ground and refused to let this opportunity slip away, " said Rev. Paul Brandeis Raushenbush, president of the Interfaith Alliance, in a statement Tuesday.
"The LGBTQ+ community has faced ongoing deadly violence, legislative assaults and constant threats — including the deadly shooting in Colorado Springs barely one week ago," said Kelley Robinson, president of the Human Rights Campaign, in a statement from the organization.
"Today, with the passage of the Respect for Marriage Act in the Senate — a historic moment that marks the first federal legislative win for LGBTQ+ equality in over 10 years, since the repeal of Don't Ask Don't Tell — the 568,000 same-sex married couples in this country can breathe a sigh of relief that their marriages will be protected from future attacks," said Robinson, who yesterday began her tenure as the first Black queer woman to lead America's largest LGBTQ organization.
GLAAD President Sarah Kate Ellis responded on Twitter and in a statement, writing: "As so many LGBTQ people face uncertainty and harm on the state level and extremists on the Supreme Court vow to reconsider the landmark Obergefell decision, this victory will provide comfort and security to millions of people and their families."
"Today's bipartisan vote in the Senate to pass the Respect for Marriage Act is a proud moment for our country and an affirmation that, notwithstanding our differences, we share a profound commitment to the principle of equality and justice for all," reads a statement from National Center for Lesbian Rights Executive Director Imani Rupert-Gordon.
LGBTQ Victory Institute President Annise Parker said, "This landmark piece of legislation protects the marriages of millions of LGBTQ Americans who have not slept well for months, wondering if our marriages would be dissolved by an activist court. While the Respect for Marriage Act is undoubtedly one of the most important pro-LGBTQ laws ever passed, it does not require states to grant marriages to LGBTQ couples. Until then, our fight is not over."
U.S. Senate vote clears path for passage of the Respect for Marriage Act
Anti-LGBTQ groups have launched conservative effort to block bill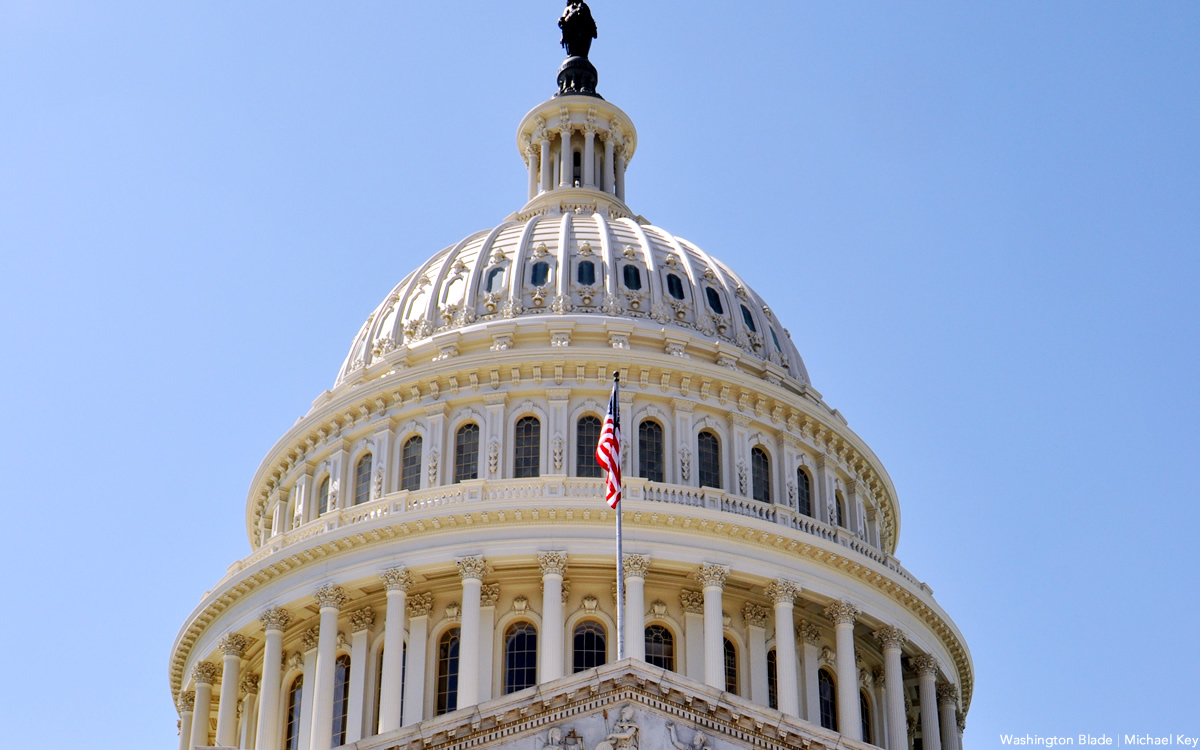 Passage of the Respect for Marriage Act became all but certain with the U.S. Senate's procedural 61-35 vote on Monday night to forego additional debate in the chamber over the landmark legislation.
From here, the bill will return to the U.S. House of Representatives, which will consider — and is expected to approve — an amendment that was added by a bipartisan group of Senators led by Tammy Baldwin (D-Wis.). Then, it will reach President Joe Biden's desk.
The president has repeatedly urged lawmakers to pass the bill so he can sign it into law. His administration, along with Congressional Democratic leadership, has made the Respect for Marriage Act a top legislative priority in the weeks before the new Congress is seated in January.
Today's move by the Senate came on the heels of a coordinated campaign by conservative and anti-LGBTQ advocacy groups that wield considerable influence on Capitol Hill and marshaled their efforts to peel off support from Republican senators in the days leading up to Monday's vote.
Republican Sens. Todd Young (Ind.) and Cynthia Lummis (Wyo.), who were among the 12 Senate Republicans who supported advancing the legislation in a procedural vote taken before Thanksgiving, cast the final two votes on Monday allowing the measure to clear the 60-vote majority threshold to pass. Axios reports the two lawmakers faced particular pressure from conservative activists who sought to erode their support for the legislation.
The Respect for Marriage Act will repeal the Clinton-era Defense of Marriage Act, adding legal protections for same-sex couples, many of whom would otherwise face devastating consequences if the U.S. Supreme Court reverses or substantially weakens the constitutional right to marriage equality.
Notwithstanding criticism from some progressives who feel the bill is too conservative in scope, the Respect for Marriage Act — along with the bipartisan amendment that was introduced in the Senate to enshrine protections for religious liberty — is supported by major LGBTQ organizations including the Human Rights Campaign, GLAAD, Lambda Legal, the National Center for Transgender Equality, GLSEN and PFLAG National, among others.
The bill's aim, narrowly tailored, was to gird against the possibility that the high court would revisit its precedential decisions in United States v. Windsor (2013) and Obergefell v. Hodges (2015).
Justice Clarence Thomas signaled his intention to do so with his concurring opinion earlier this year in Dobbs v. Jackson Women's Health Organization — a case that revoked Americans' constitutional right to abortion, overturning the Court's historic rulings in Roe v. Wade (1973) and Planned Parenthood v. Casey (1992).
Over the summer, the House passed the Respect for Marriage Act with an overwhelming majority, including votes from 47 Republican members. Dozens of religious denominations and groups that represent a broad spectrum of beliefs have endorsed the legislation, including the Mormon church, which took pains to reaffirm its position that same-sex relationships are sinful. Scholars representing a similarly diverse range of opinions on germane legal questions have also publicly backed the bill.
Still, the opposition remained steadfast.
"Religious Americans will be subject to potentially ruinous litigation, while the tax-exempt status of certain charitable organizations, educational institutions, and non-profits will be threatened," said Sen. Mike Lee (R-Utah) in a statement opposing the legislation as written and proposing an additional amendment to the bill.
Organizations like the Heritage Foundation, a conservative think tank, echoed Lee's concerns about the Respect for Marriage Act vis-à-vis protections for religious liberty. Others, like the Liberty Counsel, designated by the Southern Poverty Law Center as an anti-LGBTQ hate group, peddled outrageous arguments including the lie that the Respect for Marriage Act would normalize or facilitate child sexual exploitation and abuse.
Even in the aftermath of the deadly shooting on Nov. 19 at a Colorado Springs, Colo., LGBTQ nightclub, these attacks from conservative groups continued apace and even increased as the Senate's vote on Monday drew nearer.
Amendment to weaken Respect for Marriage Act targets D.C.
Norton calls measure by Utah Sen. Lee 'attack' on LGBTQ residents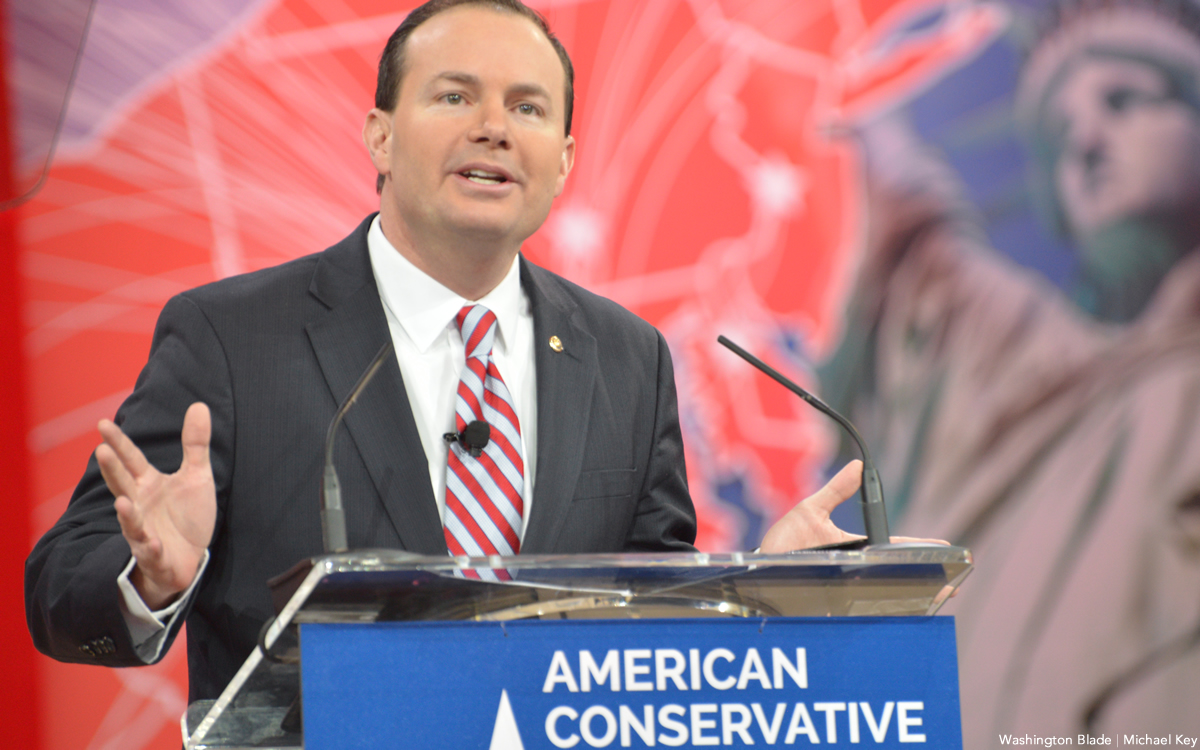 D.C. congressional Delegate Eleanor Holmes Norton released a statement on Thursday disclosing that an amendment introduced by U.S. Sen. Mike Lee (R-Utah) to weaken the Respect for Marriage Act includes little-noticed language that would prohibit D.C. from enforcing laws protecting same-sex couples from discrimination.
Norton's statement came one day after 12 GOP senators joined all 50 Democratic senators to approve a procedural motion known as cloture to block a filibuster and allow the Respect for Marriage Act to come up for a full Senate vote.
The act, which was passed by the House of Representatives earlier this year, would enshrine marriage equality into federal law, preventing states from banning same-sex marriage if the U.S. Supreme Court reverses its historic 2015 Obergefell decision legalizing same-sex marriage in all 50 states.
Lee, who is among the Republican senators who opposes the Respect for Marriage Act, introduced his amendment on Nov. 16 shortly before the cloture motion was approved by a 62 to 37 vote. He was expected to introduce it again at the time the Respect for Marriage Act came up for a final vote on the Senate floor, which Capitol Hill observers say could take place this week.
Norton said she has called on the Senate to reject the Lee amendment. A spokesperson for Sen. Tammy Baldwin (D-Wisc.), one of the lead sponsors of the Respect for Marriage Act, said no action was taken on the amendment on Wednesday, Nov. 16, and it was expected to receive little or no support if Lee were to introduce it again.
"Specifically, the amendment would prohibit D.C. from taking certain adverse actions, such as denying grants or contracts, against individuals and entities that otherwise unlawfully discriminate against same-sex couples if such individuals or entities have a sincerely held religious belief or moral conviction that marriage is a union of individuals of the opposite sex," Norton said in her statement.
"While the amendment is framed as prohibiting the federal government from taking adverse action for violations of federal law, it defines the term federal government and federal law to include the D.C. government and D.C. law, respectively," Norton said.
"This amendment is an attack on all LGBTQ+ Americans, but it also uniquely attacks D.C.'s LGBTQ+ residents," said Norton in her statement. "Senator Mike Lee, who professes to support local control of local affairs, regularly tries to use Congress' undemocratic power over D.C. to interfere in D.C.'s local affairs," she said. "I have defeated all his prior attempts to interfere in D.C.'s local affairs, and I will defeat this one, too."
In his own statement released on Nov. 16, Lee says the religious protections added to the Respect for Marriage Act as a bipartisan compromise among Senate Democrats and several key Republican senators, including Mitt Romney (R-Utah) and Susan Collins (R-Maine), were "severely anemic and largely illusory."
Lee said in his statement that supporters of the bill were misleading the public by claiming it would merely codify in federal law the Obergefell Supreme Court ruling.
"Religious Americans will be subject to potentially ruinous litigation, while the tax-exempt status of certain charitable organizations, educational institutions, and non-profits will be threatened," his statement says. "My amendment would have shored up these vulnerabilities. It is a shame it wasn't included," he said, referring to lack of support for a vote to take it up on Nov. 16.
Eli Rosen, a spokesperson for Baldwin, told the Blade on Thursday that a bipartisan coalition of both Democratic and Republican senators as well as religious leaders strongly dispute Lee's claim that the current Senate version of the Respect for Marriage Act will be harmful to religious organizations.
Rosen points out that religious universities and the Mormon Church are part of the coalition that supports the Senate's changed version of the act, which was expected to be voted on Thursday or possibly shortly after the Thanksgiving holiday if the vote doesn't take place this week. He noted that upon approval by the Senate, the measure would go back to the House, which was expected to approve the changes made to the House bill through the Senate compromise language.