September 23, 2010 at 6:32 pm EDT | by Staff reports
National news in brief
Police investigating slaying of Atlanta black Pride organizer
ATLANTA — Atlanta detectives are attempting to trace the steps of a black gay Pride organizer there whose body was found in the middle of a road Aug. 26. Durand Robinson, 50, organizer of Atlanta's black Pride celebration and co-owner of the club Traxx, was found dead about 1:30 a.m. in the middle of Hadlock Street in southwest Atlanta. Several media, including the Atlanta Journal-Constitution, have reported that Robinson was kidnapped at Greenbriar Mall, driven to Hadlock Street and thrown from a car. Police told the Journal-Constitution they have not determined if the case warrants a "bias crime" classification and also said they have no suspects or information on a motive, though they are considering carjacking, robbery, possible anger with the bar or gay communities and more. Robinson's sexual orientation was unclear from media reports. The Journal-Constitution said the 50-year-old man never married and was raising five of his nieces. His brother told the paper Robinson was thinking of marrying a woman.
Poll finds majority of Americans support same-sex marriage
NEW YORK — For the second time, a national poll has found that a majority of Americans support the freedom to marry for same-sex couples. Echoing the findings of a CNN poll last month, the Associated Press released a poll this week that found that 52 percent of Americans support the right of gays to wed. The AP asked 1,007 Americans: "Should the federal government give legal recognition to marriages between couples of the same sex or not?" Yes responses comprised 52 percent of the results with 46 percent responding no and 2 percent responding "don't know."
Many LGBT college students harassed on campus: report
CHARLOTTE, N.C. — A new report from the LGBT advocacy group Campus Pride found that many LGBT college students feel uncomfortable on campus. About 25 percent of LGBT students and university employees have been harassed due to their sexual orientation as well as a third who identify as trans, according to the study reported by the Chronicle of Higher Education. The study surveyed 5,150 people at about 100 colleges to learn of their experiences in the last year. The report, called "The 2010 State of Higher Education for LGBT People" was conducted by Campus Pride Q Research Institution of Higher Education. Although previous studies have shown that LGBT students are consistently discriminated against throughout elementary and high school, this report is the first to document incidences of harassment at the college level.
Montana Republicans hoping to outlaw homosexuality
HELENA, Mont. — The Montana Republican Party adopted an official platform in June that maintains a long-held position in support of making homosexual acts illegal, a policy the party adopted after the Montana Supreme Court struck down such laws in 1997, the Huffington Post reported. The fact that it's still the official party policy more than 12 years later, despite a tidal shift in public attitudes since then and the party's own pledge of support for individual freedoms, has exasperated some GOP members there. "I looked at that and said, 'You've got to be kidding me,'" the Post reported state Sen. John Brueggerman (R-Polson) as saying. "Should it get taken out? Absolutely. Does anybody think we should be arresting homosexual people? If you take that stand, you really probably shouldn't be in the Republican Party." The party's platform statement says: "We support the clear will of the people of Montana expressed by legislation to keep homosexual acts illegal." The state party's executive director said the language has remained in the platform statement because it has never been brought up for discussion.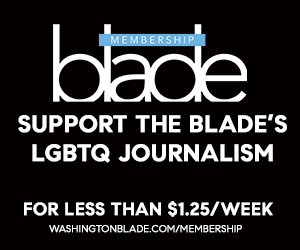 Sign Up for Blade eBlasts