The following was submitted as a letter to the editor. Go here to join the discussion.
Re: "HIV remains a gay disease," op-ed by Daniel Frederick O'Neill (Sept. 24)
O'Neill gets it right — succinctly charting the impact of HIV/AIDS from early fear and devastation to current complacency.
Working with the CDC in the late '80s and early '90s to develop and market the ground-breaking "America Responds to AIDS" national campaign, we were able to raise awareness, promote understanding, encourage compassion and influence risk reduction behaviors that changed the way most Americans view HIV/AIDS. Much of this success was due to the gay community's swift and effective mobilization. However, since that 10-year campaign ended, the landscape has changed as O'Neill so correctly observes.
Because of the success of antiretroviral (ARV) therapies,  prevention has taken a back seat to treatment — to the point where many now perceive HIV as a chronic, manageable disease. Yes, thankfully, ARVs work and PEP and PrEP (post and pre-exposure prophylaxis) as well as microbicide gels show increasing promise. However, they are no substitute for prevention.
Looking back, the first turning point against HIV/AIDS was not testing or new drugs, but the promotion of HIV/AIDS awareness and prevention that changed attitudes and behaviors. Even today, as HIV continues to disproportionately impact MSMs, especially among racial and ethnic populations, the gay community must continue to integrate prevention into its comprehensive HIV/AIDS programs. — Yolan Laporte, former executive vice president, Ogilvy Public Relations, Fairfax, Va.
National Gay & Lesbian Chamber of Commerce Certifies Brown, Naff, Pitts Omnimedia, Inc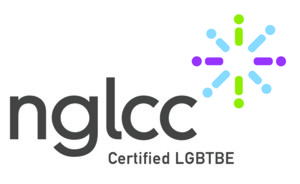 Washington, D.C. — Brown, Naff, Pitts Omnimedia, Inc, the parent company of the Washington Blade and Azer Creative, announced today it has been certified by the National Gay and Lesbian Chamber of Commerce (NGLCC) as an LGBT Business Enterprise. The NGLCC supports and advocates for diversity and inclusion for LGBT-owned businesses. With this certification the Blade's parent company joins more than 510 business and 134 corporate partners of the NGLCC.
Brown, Naff, Pitts Omnimedia, Inc. owns and operates the Washington Blade, the oldest and most acclaimed LGBT newspaper in the country. In 2012, the company launched Azer Creative, a full-service design firm. The company employs more than a dozen full-time LGBT staff.
"We are excited to become one of the 500 LGBT businesses across the country certified by NGLCC," said Lynne Brown, the Blade's publisher and a co-owner of the company. "The LGBT community has been part of our company from the beginning and we look forward to continue that for many years to come."
The Washington Blade was founded in 1969 and is known as the "newspaper of record" for the LGBT community both locally and nationally. Visit washingtonblade.com for more information. Azer Creative is a full-service graphic design firm based in Washington, D.C. Visit azercreative.com for more information. 
Vote now for the 2013 Best of Gay DC!
Choose in dozens of categories among hundreds of nominees, and make your voice heard!
Nominate the 'Best of Gay D.C.' now!
Dozens of categories cover all the best for LGBT Washington. Who deserves the prize this year?