Gay lawmakers back Pelosi's leadership bid
But some advocates unhappy with decision to pursue post

U.S. House Speaker Nancy Pelosi's (D-Calif.) decision to pursue a bid as minority leader in the upcoming Congress is being met with unanimous support among the openly gay members of Congress as some LGBT advocates expressed regret that more pro-gay legislation didn't pass during her tenure as presiding officer.
After Pelosi announced her decision to run for House minority leader last week, openly gay members of Congress declared their support for her decision and praised her work representing San Francisco in Congress for 23 years and her work in the last four years as speaker.
Rep. Tammy Baldwin (D-Wis.), the only out lesbian in Congress, said in a statement to the Blade that she's among those endorsing Pelosi in her decision to become Democratic leader in the next Congress.
"I remain loyal to Nancy Pelosi," Baldwin said. "In the last two years, she accomplished things that we've been trying to do for decades. Without her unique leadership passing health care reform, [the stimulus package], higher education reform, Wall Street reform, the Matthew Shepard Hate Crimes Act, and the House-passed Energy and Climate Change bill would never have happened."
In an interview with the Washington Blade on Monday, Rep. Barney Frank (D-Mass.), the longest-serving openly gay member of Congress, also said he backs Pelosi's decision to stay on as Democratic leader. He's often spoken highly of her commitment to LGBT issues.
"I'm supporting her; I think she'll win," Frank told the Blade.
Also among those expressing support for Pelosi's continued leadership is Rep. Jared Polis (D-Colo.), a gay lawmaker who last week issued a statement praising Pelosi's decision and her support for the LGBT community.
"I strongly support the speaker and her decision to run for Democratic leader," Polis said. "She has been a longstanding and ardent supporter of the LGBT community and I will do anything to help continue her leadership. The speaker has led the Democrats out of the wilderness before and I am confident she can do it again."
David Cicilline, the Rhode Island politician who last week was elected to become the fourth openly gay member of Congress, also endorses Pelosi's move. Richard Luchette, a spokesperson for Cicilline, said the congressman-elect "will be supporting Nancy Pelosi for minority leader."
During the course of her tenure as speaker since 2007, Pelosi has pushed through a number of pro-LGBT bills through the U.S. House. The chamber passed hate crimes protections legislation in 2007 and again in 2009.
Pelosi also mustered enough votes in 2007 to pass through the House a version of the Employment Non-Discrimination Act that later died. This year, a measure that would lead to "Don't Ask, Don't Tell" repeal passed the House by a 40-vote majority.
The health care reform legislation that Pelosi dragged to the finish line earlier this year increases access to Medicaid for people with HIV and improves Medicare Part D by closing the "donut-hole" for people participating in AIDS Drug Assistance Programs. Additionally, the law prohibits insurance companies from discriminating based on pre-existing conditions, such as HIV status.
But despite Pelosi's success in the House with pro-LGBT legislation, only hate crimes legislation also successfully passed through the Senate during her time as speaker. Additionally, Pelosi has endured criticism for not moving forward with a trans-inclusive ENDA during the 111th Congress.
Drew Hammill, who's gay and a Pelosi spokesperson, said the California lawmaker has been "a staunch advocate" for LGBT people during her more than 20 year in Congress. Among the positions she's taken that he cited are leading the fight against HIV/AIDS, opposing a U.S. constitutional amendment banning same-sex marriage and speaking out against Proposition 8 in California.
"Nancy Pelosi will continue to be a friend, advocate and staunch ally to the community and the leading voice in the Congress for LGBT equality," Hammill said.
House Democrats will vote at the start of the lame duck session next week on who will become minority leader in the 112th Congress as well as which members will assume other positions in Democratic leadership. As of Blade deadline, no other House member has challenged Pelosi in her bid to become Democratic leader.
The more contentious battle will likely be over who will take the No. 2 position in the Democratic caucus. Both current House Majority Leader Steny Hoyer (D-Md.) and House Majority Whip Jim Clyburn (D-S.C.) are vying to become House minority whip. Hoyer is expected to have the backing of more moderate members of Congress, while Clyburn will likely have support from progressives as well as the Congressional Black Caucus and the Congressional Hispanic Caucus.
Although Pelosi thus far is running unopposed as minority leader, the speaker's decision to continue to lead the House Democratic caucus has irked some conservative Blue Dogs who distanced themselves from the speaker during the campaign and barely survived the Republican onslaught on Election Day.
Among the U.S. House members who've publicly said they wouldn't vote for Pelosi as minority leader are Reps. Larry Kissell (D-N.C.), Jim Matheson (D-Utah), Health Shuler (D-N.C.) and Dan Boren (D-Okla.).
Eager to tie Democrats to Pelosi again in the 2012 election, the Republican National Committee last week draped a red banner across the front of its headquarters reading, "Hire Pelosi." Prior to Election Day, as Republican candidates hammered House Democrats belonging to the caucus that voted Pelosi into power, a similar banner hung on the face of the building reading, "Fire Pelosi."
One Democratic lobbyist, who spoke to the Blade on the condition of anonymity, expressed disappointment with Pelosi's decision to stay on as minority leader and said the move doesn't bode well for Democrats.
The lobbyist noted that fewer Democrats will be in the House next year than the number that were present in the minority prior to Pelosi's ascension to speaker in 2006.
"Her polarizing history as leader will severely hamper Democratic recruitment efforts in the districts we just lost; couple that with what will almost certainly be additional Democratic losses after redistricting next year and it makes Democrats' road to reclaiming the House — and her speakership — nearly impossible in the foreseeable future," the lobbyist said.
Among LGBT rights supporters, Pelosi's decision to continue as Democratic leader in the 112th Congress is inspiring mixed reactions. Some commend her for pushing through pro-gay bills while others said she could have done more.
Fred Sainz, the Human Rights Campaign's vice president of communications, said the decision on whether Pelosi would be able to stay on as minority leader is up to the Democratic caucus and "not any one group." Still, he praised the Democratic lawmaker for her support for the LGBT community.
"Speaker Pelosi has been a consistent ally and advocate not just for LGBT people but for all fair-minded Americans throughout her congressional career," Sainz said. "She has vigorously supported full and equal rights for LGBT people long before it was politically acceptable to do so."
But John Aravosis, the gay editor of AMERICAblog, said Pelosi is responsible in part for the lack of progress on pro-LGBT legislation during the first two years of President Obama's administration. Still, while he said he's not completely satisfied with Pelosi, Aravosis said other LGBT advocates in power deserve worse job evaluations.
"All of our leaders let us down: HRC, Barack Obama, Harry Reid and Nancy Pelosi," Aravosis said. "Having said that, Nancy Pelosi strikes me as the least culpable of the four. I'm not happy that she wasn't able to even get ENDA through committee, but I'm a lot less happy at the moment with HRC, President Obama and Harry Reid. Pelosi at least came through for us part-way, the others have been MIA the last two years."
GetEQUAL, the LGBT organization responsible for civil disobedience acts across the country, is calling on Pelosi to make public a plan for moving forward with LGBT legislation to win the group's endorsement in her bid to become minority leader. The organization has protested the speaker both on Capitol Hill and in her home district of San Francisco for not moving forward with ENDA in the 111th Congress.
Heather Cronk, managing director for GetEQUAL, maintained her organization is "interested in full equality for all LGBT Americans" and "happy to endorse" any member of Congress that can "commit to carrying the mantle of full federal LGBT equality."
"While GetEQUAL has protested Rep. Pelosi throughout 2010 to hold her accountable to her promises to the LGBT community, we'd be happy to endorse her if we see a concrete and realistic plan for moving pro-equality legislation through the House," Cronk said. "We would also be happy to endorse any other representative who can offer such a plan. We're seeking bold action for equality — and we're far more interested in that end than in the political horse race that started the day after Election Day."
Minnesota middle school principal ousted for displaying Pride flag
Critics ramped up attacks on the career educator- some compared her to the Devil after publicly associating with LGBTQ+ people and students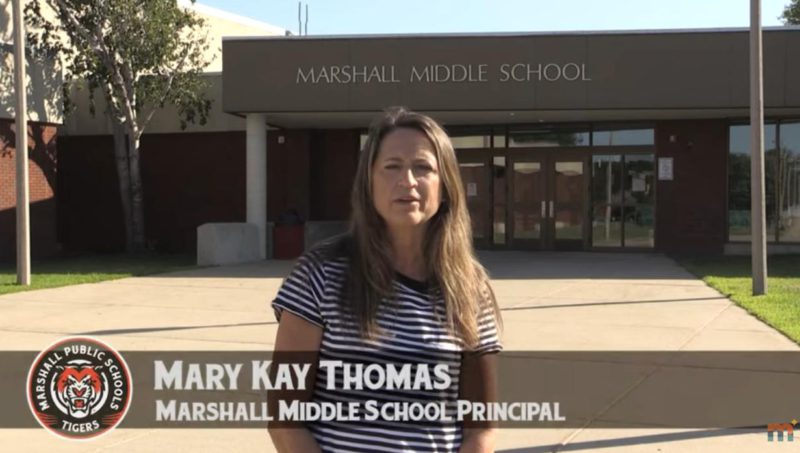 MARSHALL, Mn. — A former middle school principal in Minnesota who lost her job after displaying a Pride flag alleges in a federal lawsuit that the school system retaliated against her for supporting LGBTQ+ students.
Mary Kay Thomas filed the complaint against Marshall Public Schools in the U.S. District Court of Minnesota Tuesday after anti-LGBTQ+ middle school staff, parents, students and local clergy began efforts to remove the Pride flag that she put up in her middle school's cafeteria in 2020 as a part of an inclusiveness effort.
According to the lawsuit, Thomas has been a teacher and principal for more than three decades with a long track record of success. She held the principal position at Marshall Middle School for 15 years, receiving contract renewals, pay raises and praise for her performance.
"But when Thomas decided to display an LGBTQ Pride Flag in the school cafeteria in early 2020, everything changed," reads the complaint.
Thomas refused to take down the Pride flag as critics ramped up attacks on the career educator. The lawsuit alleges that some even compared her to the Devil after publicly associating with LGBTQ+ people and students.
"Sadly, the Marshall School District has sided with these critics," her lawyers wrote.
What followed was an "escalating series of adverse actions" taken by the Marshall School District, said the lawsuit. She claims that the school targeted her by threatening her employment, conducting a "bad-faith" investigation, putting her on indefinite involuntary leave, suspending her without pay and putting a notice of deficiency in her personnel file.
The complaint says that the deficiencies were "false, distorted, and/or related to Thomas's association with members of the LGBTQ community."
Thomas also claims that the District attempted to get her to quit by removing her as principal and assigning her to a "demeaning 'special projects' position."
At one point, Marshall Public Schools Superintendent Jeremy Williams, who is named as a defendant in the case, told Thomas he could "make this all go away" if she stepped down, according to the complaint.
The school removed the Pride flag in August 2021 after settling a lawsuit brought by residents who opposed it.
The Blade reached out to Williams for comment but did not receive a response. However, according to the Marshall Independent, Williams did release a statement on the matter.
"Marshall Public Schools is committed to the education of every child and has strong policies and practices in place against discrimination, against both students and staff members. The school district is committed to creating a respectful, inclusive, and safe learning and working environment for students, staff and our families," Williams said. "While the school cannot comment about the specific allegations made in the complaint, the school district strongly denies any allegation of discriminatory conduct. The school will vigorously defend itself against these allegations."
In addition, Thomas alleges that she resisted unwanted sexual advancements from school board member Bill Swope. She claims she told Williams about the sexual harassment.
As of Thursday, the school has not filed a response, and no hearing has been scheduled yet.
Thomas is seeking a jury trial, damages and reinstatement as principal of Marshall Middle School.
Matthew Shepard honored at National Cathedral
Daylong services held to mark his 45th birthday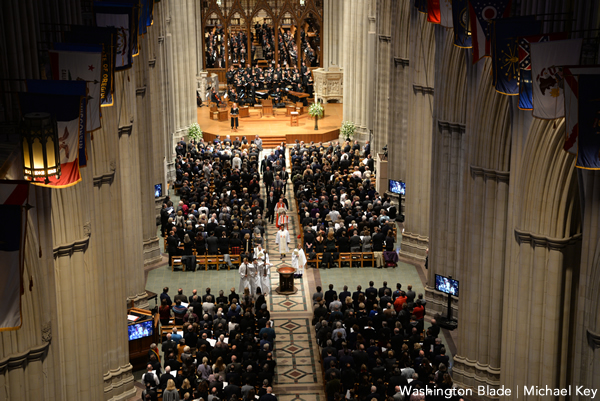 The parents of gay University of Wyoming student Matthew Shepard, who was murdered in a 1998 hate crime that drew international attention to anti-LGBTQ violence, were among those attending a day of religious services commemorating Shepard's 45th birthday on Wednesday at the Washington National Cathedral.
The services, which the Cathedral organized in partnership with the Matthew Shepard Foundation, included tributes to Shepard at the Cathedral's St. Joseph's Chapel, where his remains were interred in a ceremony in 2018.
"Matthew Shepard's death is an enduring tragedy affecting all people and should serve as an ongoing call to the nation to reject anti-LGBTQ bigotry and instead embrace each of our neighbors for who they are," the Very Rev. Randolph Marshall Hollerith, Dean of Washington National Cathedral, said at the time of Shepard's interment.
"In the years since Matthew's death, the Shepard family has shown extraordinary courage and grace in keeping his spirit and memory alive, and the Cathedral is honored and humbled to serve as his final resting place," Hollerith said.
The first of the Cathedral's Dec. 1 services for Shepard began at 7 a.m. with prayers, scripture readings, and music led by the Cathedral's Rev. Canon Rosemarie Logan Duncan. The service was live streamed on YouTube.
An online, all-day service was also held from 8 a.m. to 5 p.m. that Cathedral officials said was intended to "connect people around the world to honor Shepard and the LGBTQ community and pray for a more just world."
The Shepard services concluded with a 5:30 p.m. in-person remembrance of Shepard in the Cathedral's Nave, its main worship space. Among those attending were Shepard's parents, Dennis and Judy Shepard, who have said they created the Matthew Shepard Foundation to continue their son's support for equality for all.
A statement released by the Cathedral says a bronze plaque honoring Matthew Shepard was installed in St. Joseph's Chapel to mark his final resting place at the time Shepard was interred there in 2018.
Following the Cathedral's Dec. 1 services for Shepard, the Adams Morgan gay bar Pitchers hosted a reception for Dennis and Judy Shepard, according to Pitchers' owner David Perruzza.
One of the two men charged with Shepard's murder, Russell Henderson, pleaded guilty to the charge after prosecutors agreed not to seek the death penalty for him. The second of the two men charged, Aaron McKinney, was convicted of the murder following a lengthy jury trial.
Prosecutors said McKinney repeatedly and fatally struck Shepard in the head with the barrel of a handgun after he and Henderson tied Shepard to a wooden fence in a remote field outside Laramie, Wy., on Oct. 6, 1998. Police and prosecutors presented evidence at McKinney's trial that McKinney and Henderson met Shepard at a bar in Laramie on that day and lured him into their car, where they drove him to the field where authorities said McKinney fatally assaulted him.
Shepard died six days later at a hospital in Ft. Collins, Colo., where he was taken after being found unconscious while still tied to the fence.
In a dramatic courtroom scene following the jury's guilty verdict for McKinney, Dennis Shepard urged the judge to spare McKinney's life by not handing down a death sentence. He said that out of compassion and in honor of his son's life, McKinney should be allowed to live. The judge sentenced McKinney to two consecutive terms of life in prison without the possibility of parole, the same sentence given to Henderson.
'Very familiar': Mark Glaze's story brings into focus mental health for gay men
Experts see common story as LGBTQ people enter middle age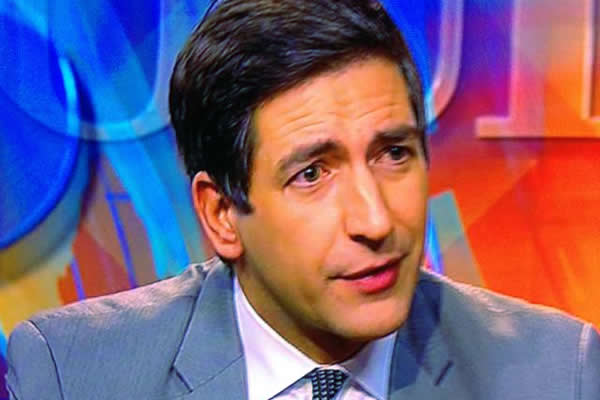 The death by suicide at age 51 of Mark Glaze, a gun reform advocate who was close to many in D.C.'s LGBTQ community, is striking a chord with observers who see his struggles with mental health and alcoholism as reflective of issues facing many gay men as they enter middle age.
Glaze's story resonates even though much of the attention on mental health issues in the LGBTQ community is devoted to LGBTQ youth going through the coming out process and transgender people who face disproportionate violence and discrimination within the LGBTQ community in addition to a growing focus on LGBTQ seniors entering later stages of life.
Randy Pumphrey, senior director of behavioral health for the D.C.-based Whitman-Walker Health, said Glaze's story was "very familiar" as a tale of mental health issues facing gay men in the middle stage of life.
"You're talking about a gay-identified man who is in his 50s, somebody who has struggled with alcohol misuse — or maybe abuse or dependence— and also depression," Pumphrey said. "I think that there has always been a higher incidence of suicide for men in general in their middle age 50 and above, but this increases when you're talking about gay men, and also if you're talking about gay men who suffer with mental health issues, or substance use disorder issues."
Several sources close to Glaze said his death did not come as a surprise. His family has been open about his death by suicide last month while he was in jail after allegedly fleeing the scene of a car accident in Pennsylvania and a long history of depression and alcoholism.
Pumphrey said Glaze's situation coping with mental health issues as well as the consequences for his role in the accident, were reflective of someone who might "begin to perceive that this is an issue that they can't get away from, or the consequences they can't get away from exposure and that can lead somebody to a fatal outcome."
"My experience is that there have been gay men that I have worked with over the years — particularly in their 50s and early 60s — it's taken them a long time to recognize the severity of the problem, whether it's their depression or their substance abuse, and then they find themselves in a very precarious situation because of shame, and so they may not necessarily seek help even though they need help."
A 2017 study in the American Journal of Men's Health found the prevalence of depression among gay men is three times higher than the general adult population, which means they are a subgroup at high risk for suicide.
The study found "scant research exists about gay men's health beyond sexual health issues," most often with HIV, which means issues related to depression and suicidality "are poorly understood."
"Gay men's health has often been defined by sexual practices, and poorly understood are the intersections of gay men's physical and mental health with social determinants of health including ethnicity, locale, education level and socioeconomic status," the study says.
The study acknowledged being male itself is one factor incorporated in addressing mental health issues in this subgroup because "regardless of sexual orientation, men can be reluctant to seek help for mental health problems." Another study quoted in the report found 23 percent, less than one quarter of gay men, who attempted suicide sought mental health or medical treatment.
In addition to mental health issues facing gay men in Glaze's age group, others saw his situation as a common story in the culture of Washington, which is notorious for celebrating and prioritizing success with little tolerance for personal setbacks.
In the case of Glaze, who had sparred on Fox News with Tucker Carlson as executive director of Everytown for Gun Safety, the threat of exposure and threat to his career may have seemed overwhelmingly daunting.
Steven Fisher, who knew Glaze since the 1990s and worked with him at the D.C.-based Raben Group, said one factor that contributed to Glaze's condition was "he could only see upward in terms of his career trajectory."
"We saw that in him and it had me very concerned because I felt like he might end up in a place that wasn't good once he left Everytown, and that's tragically and sadly what happened," Fisher said. "I think he just had trouble adjusting to what is usually a roller coaster ride, I think, in people's careers, especially in the D.C. world."
Along with Glaze, Fisher has worked on gun issues for Everytown, which has been a client of his since 2015 after he worked for them in 2012 after the Newtown shooting.
Compounding the challenges that Glaze faced is a culture among many gay men focused on sexuality, which prioritizes youth and appearance and presents problems as those qualities start fading when men enter middle age.
Fisher said another factor in Glaze's condition was social media, pointing out public perception about his identity was important to him.
"If you look at his social media — I think this is instructive to the rest of us — a lot of the comments are about how Mark was so good looking and he was charming, and he was so smart and so funny," Fisher said. "That's all true, and that's why he was very appealing to many people, but those qualities don't really tell you everything about a person. In fact, one could argue they're superficial in a way, and people have to remember people are more complicated than what you see on social media."
One issue for gay men facing mental health issues as they enter middle age is they don't have the same resources as those available to LGBTQ youth, who have been more of a focus in terms of mental health issues in the LGBTQ community.
Among the leading organizations for LGBTQ youth is the Trevor Project, which has resources and a hotline for LGBTQ youth facing mental health crises.
Kevin Wong, vice president of communications for the Trevor Project, said his organization would be receptive to an older LGBTQ person who calls the hotline, but ultimately would refer that person elsewhere.
"If an LGBTQ person above the age of 25 reaches out to The Trevor Project's crisis services for support and expresses suicidal thoughts, our counselors will listen, actively and with empathy, and work with them to de-escalate and form a safety plan, like any other contact," Wong said. "However, our organization has remained youth-centric since its founding and our volunteer crisis counselors are specifically trained with younger LGBTQ people in mind."
Much attention is focused on the coming out process for LGBTQ people, a time that can upend close relationships — as well as reaffirm them — and a process more commonly associated with youth.
Ilan Meyer, senior scholar of public policy at the Williams Institute at the University of California, Los Angeles, said data is scant about suicide rates among LGBTQ people, but information on suicide attempts shows they tend to be at a heightened rate for LGBTQ people as they go through the coming out process.
"What we do know is that there is a connection with the coming out period at whatever age coming out happens," Meyer said. "And so, we see a proximity to coming out whatever age that happened, we see the suicide attempts proceeding and after that."
Suicide attempts, Meyer said, are much higher for LGBTQ people than the population at large. The self-reported rate of suicide attempts in the U.S. population as a whole, Meyer said, is 2.4 percent, but that figure changes to 20 to 30 percent among LGBTQ youth, which about to 10 to 15 times greater.
Black and Latino people, Meyer said, have been less likely to make suicide attempts in their lifetimes, although he added that may be changing in recent years.
With the primary focus on mental health issues elsewhere in the LGBTQ community, Glaze's death raises questions about whether sufficient resources are available to people in his demographic, or whether individuals are willing to seek out care options that are available.
Meyer said whether the resources for suicidal ideologies among LGBTQ people are sufficient and what more could be done "is the the million-dollar question."
"It's definitely not determined by just mental health," Meyer said. "So many people have depression, but they don't attempt suicide. And so, then the difficult thing is to find the right moment to intervene and what that intervention should be."
Meyer said much of the focus on mental health is on a person's last moments before making a suicide attempt, such as making suicide hotlines readily available, but some of the stressors he sees "are more chronic, ongoing things related to homophobia and the kind of experience that LGBT people have as they come to terms to realize their sexual identity."
Pumphrey said another factor in mental health issues not to be underestimated for almost two years now is "dealing with the COVID and loneliness epidemic," which appears to have no immediate end in sight with the emergence of the Omnicron variant.
"There was always this piece of sometimes the experience of being in your 50s and early 60s…we talk about the invisibility factor," Pumphrey said. "But when there's just this sense of being disconnected from community, especially in the early days of the pandemic, and kind of being locked down, I think that just raised the risk."