Gay lawmakers back Pelosi's leadership bid
But some advocates unhappy with decision to pursue post

U.S. House Speaker Nancy Pelosi's (D-Calif.) decision to pursue a bid as minority leader in the upcoming Congress is being met with unanimous support among the openly gay members of Congress as some LGBT advocates expressed regret that more pro-gay legislation didn't pass during her tenure as presiding officer.
After Pelosi announced her decision to run for House minority leader last week, openly gay members of Congress declared their support for her decision and praised her work representing San Francisco in Congress for 23 years and her work in the last four years as speaker.
Rep. Tammy Baldwin (D-Wis.), the only out lesbian in Congress, said in a statement to the Blade that she's among those endorsing Pelosi in her decision to become Democratic leader in the next Congress.
"I remain loyal to Nancy Pelosi," Baldwin said. "In the last two years, she accomplished things that we've been trying to do for decades. Without her unique leadership passing health care reform, [the stimulus package], higher education reform, Wall Street reform, the Matthew Shepard Hate Crimes Act, and the House-passed Energy and Climate Change bill would never have happened."
In an interview with the Washington Blade on Monday, Rep. Barney Frank (D-Mass.), the longest-serving openly gay member of Congress, also said he backs Pelosi's decision to stay on as Democratic leader. He's often spoken highly of her commitment to LGBT issues.
"I'm supporting her; I think she'll win," Frank told the Blade.
Also among those expressing support for Pelosi's continued leadership is Rep. Jared Polis (D-Colo.), a gay lawmaker who last week issued a statement praising Pelosi's decision and her support for the LGBT community.
"I strongly support the speaker and her decision to run for Democratic leader," Polis said. "She has been a longstanding and ardent supporter of the LGBT community and I will do anything to help continue her leadership. The speaker has led the Democrats out of the wilderness before and I am confident she can do it again."
David Cicilline, the Rhode Island politician who last week was elected to become the fourth openly gay member of Congress, also endorses Pelosi's move. Richard Luchette, a spokesperson for Cicilline, said the congressman-elect "will be supporting Nancy Pelosi for minority leader."
During the course of her tenure as speaker since 2007, Pelosi has pushed through a number of pro-LGBT bills through the U.S. House. The chamber passed hate crimes protections legislation in 2007 and again in 2009.
Pelosi also mustered enough votes in 2007 to pass through the House a version of the Employment Non-Discrimination Act that later died. This year, a measure that would lead to "Don't Ask, Don't Tell" repeal passed the House by a 40-vote majority.
The health care reform legislation that Pelosi dragged to the finish line earlier this year increases access to Medicaid for people with HIV and improves Medicare Part D by closing the "donut-hole" for people participating in AIDS Drug Assistance Programs. Additionally, the law prohibits insurance companies from discriminating based on pre-existing conditions, such as HIV status.
But despite Pelosi's success in the House with pro-LGBT legislation, only hate crimes legislation also successfully passed through the Senate during her time as speaker. Additionally, Pelosi has endured criticism for not moving forward with a trans-inclusive ENDA during the 111th Congress.
Drew Hammill, who's gay and a Pelosi spokesperson, said the California lawmaker has been "a staunch advocate" for LGBT people during her more than 20 year in Congress. Among the positions she's taken that he cited are leading the fight against HIV/AIDS, opposing a U.S. constitutional amendment banning same-sex marriage and speaking out against Proposition 8 in California.
"Nancy Pelosi will continue to be a friend, advocate and staunch ally to the community and the leading voice in the Congress for LGBT equality," Hammill said.
House Democrats will vote at the start of the lame duck session next week on who will become minority leader in the 112th Congress as well as which members will assume other positions in Democratic leadership. As of Blade deadline, no other House member has challenged Pelosi in her bid to become Democratic leader.
The more contentious battle will likely be over who will take the No. 2 position in the Democratic caucus. Both current House Majority Leader Steny Hoyer (D-Md.) and House Majority Whip Jim Clyburn (D-S.C.) are vying to become House minority whip. Hoyer is expected to have the backing of more moderate members of Congress, while Clyburn will likely have support from progressives as well as the Congressional Black Caucus and the Congressional Hispanic Caucus.
Although Pelosi thus far is running unopposed as minority leader, the speaker's decision to continue to lead the House Democratic caucus has irked some conservative Blue Dogs who distanced themselves from the speaker during the campaign and barely survived the Republican onslaught on Election Day.
Among the U.S. House members who've publicly said they wouldn't vote for Pelosi as minority leader are Reps. Larry Kissell (D-N.C.), Jim Matheson (D-Utah), Health Shuler (D-N.C.) and Dan Boren (D-Okla.).
Eager to tie Democrats to Pelosi again in the 2012 election, the Republican National Committee last week draped a red banner across the front of its headquarters reading, "Hire Pelosi." Prior to Election Day, as Republican candidates hammered House Democrats belonging to the caucus that voted Pelosi into power, a similar banner hung on the face of the building reading, "Fire Pelosi."
One Democratic lobbyist, who spoke to the Blade on the condition of anonymity, expressed disappointment with Pelosi's decision to stay on as minority leader and said the move doesn't bode well for Democrats.
The lobbyist noted that fewer Democrats will be in the House next year than the number that were present in the minority prior to Pelosi's ascension to speaker in 2006.
"Her polarizing history as leader will severely hamper Democratic recruitment efforts in the districts we just lost; couple that with what will almost certainly be additional Democratic losses after redistricting next year and it makes Democrats' road to reclaiming the House — and her speakership — nearly impossible in the foreseeable future," the lobbyist said.
Among LGBT rights supporters, Pelosi's decision to continue as Democratic leader in the 112th Congress is inspiring mixed reactions. Some commend her for pushing through pro-gay bills while others said she could have done more.
Fred Sainz, the Human Rights Campaign's vice president of communications, said the decision on whether Pelosi would be able to stay on as minority leader is up to the Democratic caucus and "not any one group." Still, he praised the Democratic lawmaker for her support for the LGBT community.
"Speaker Pelosi has been a consistent ally and advocate not just for LGBT people but for all fair-minded Americans throughout her congressional career," Sainz said. "She has vigorously supported full and equal rights for LGBT people long before it was politically acceptable to do so."
But John Aravosis, the gay editor of AMERICAblog, said Pelosi is responsible in part for the lack of progress on pro-LGBT legislation during the first two years of President Obama's administration. Still, while he said he's not completely satisfied with Pelosi, Aravosis said other LGBT advocates in power deserve worse job evaluations.
"All of our leaders let us down: HRC, Barack Obama, Harry Reid and Nancy Pelosi," Aravosis said. "Having said that, Nancy Pelosi strikes me as the least culpable of the four. I'm not happy that she wasn't able to even get ENDA through committee, but I'm a lot less happy at the moment with HRC, President Obama and Harry Reid. Pelosi at least came through for us part-way, the others have been MIA the last two years."
GetEQUAL, the LGBT organization responsible for civil disobedience acts across the country, is calling on Pelosi to make public a plan for moving forward with LGBT legislation to win the group's endorsement in her bid to become minority leader. The organization has protested the speaker both on Capitol Hill and in her home district of San Francisco for not moving forward with ENDA in the 111th Congress.
Heather Cronk, managing director for GetEQUAL, maintained her organization is "interested in full equality for all LGBT Americans" and "happy to endorse" any member of Congress that can "commit to carrying the mantle of full federal LGBT equality."
"While GetEQUAL has protested Rep. Pelosi throughout 2010 to hold her accountable to her promises to the LGBT community, we'd be happy to endorse her if we see a concrete and realistic plan for moving pro-equality legislation through the House," Cronk said. "We would also be happy to endorse any other representative who can offer such a plan. We're seeking bold action for equality — and we're far more interested in that end than in the political horse race that started the day after Election Day."
Country's first nonbinary state lawmaker participates in Gaza ceasefire hunger strike
Oklahoma state Rep. Mauree Turner is Muslim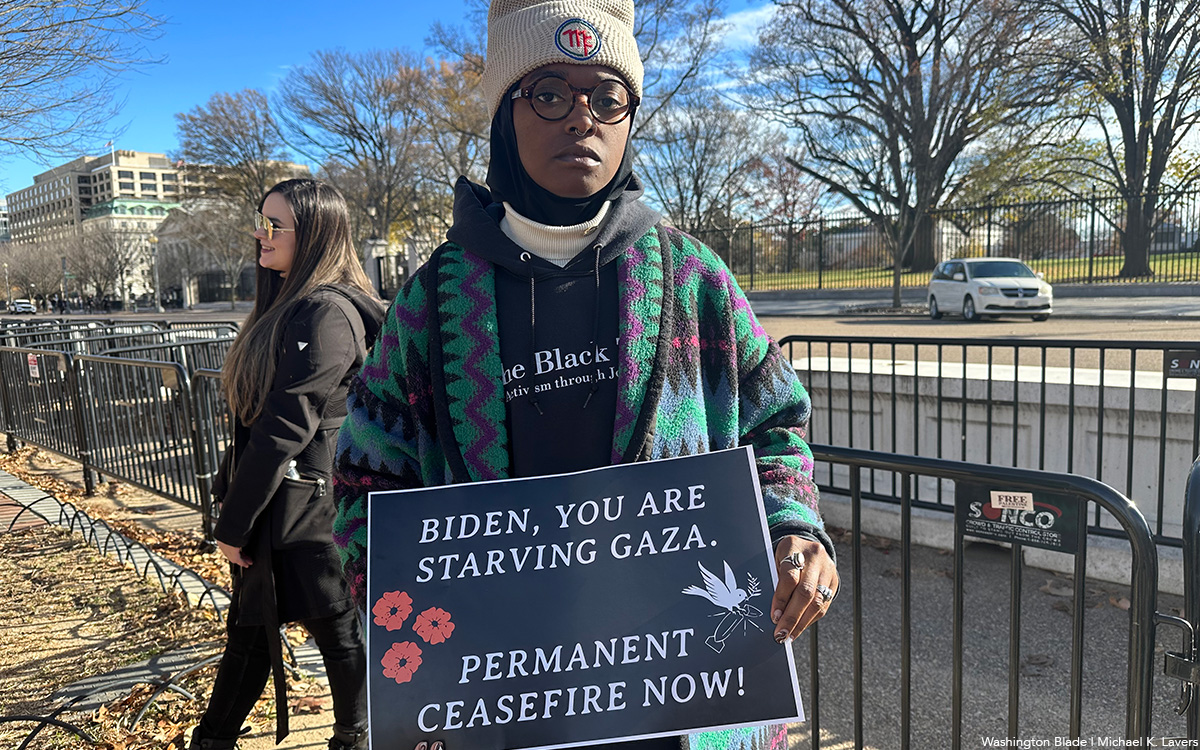 The country's first nonbinary state lawmaker last week participated in a hunger strike for a permanent ceasefire in the Gaza Strip that took place in front of the White House.
Oklahoma state Rep. Mauree Turner took part in the 5-day action alongside actress Cynthia Nixon, Virginia state Del. Sam Rasoul, Delaware state Rep. Madinah Wilson-Anton, New York State Assemblymember Zohran Mamdani, Michigan state Rep. Abraham Aiyash, former New York Congressional candidate Rana Abdelhamid, Muslim Girl.com Founder Amani Al-Khatahtbeh, Adalah Justice Project Director of Strategy and Communications Sumaya Awad and Linda Sarsour. The U.S. Campaign for Palestinian Rights, Jewish Voice for Peace, Democratic Socialists of America, IfNotNowMovement, Dream Defenders, the Institute for Middle East Understanding and the American-Arab Anti-Discrimination Committee are the organizations that either participated in the hunger strike or endorsed it.
"This is the place where you should be," Turner told the Washington Blade on Nov. 30 while they were standing in front of the White House.
Turner is from Ardmore, Okla., and has been a member of the Oklahoma House of Representatives since 2021. They are the first Muslim person elected to the Oklahoma Legislature.
"Oklahoma is no stranger to genocide, displacement, uprooting communities — beautiful, vibrant, vulnerable communities — just because they could," said Turner, referring to the treatment of Native Americans in what became Oklahoma during the 1800s and early 1900s. "Specifically as a Muslim and as an Oklahoman it is my duty to be here."
The hunger strike took place nearly two months after Hamas, which the U.S. has designated a terrorist organization, launched a surprise attack against communities in southern Israel from Gaza.
The Israeli government has said roughly 1,200 people have been killed, including at least 260 people who Hamas militants murdered at an all-night music festival in a kibbutz near the border between Israel and Gaza. The Israeli government also says more than 5,000 people have been injured in the country since the war began and Hamas militants kidnapped more than 200 others.
Yarden Roman-Gat, whose gay brother, Gili Roman, spoke with the Washington Blade on Oct. 30 in D.C., is one of the 105 people who Hamas released during a truce with Israel that began on Nov. 24 and ended on Dec. 1.
The Hamas-controlled Gaza Health Ministry says more than 15,000 people have died in the enclave since the war began. Israel after Oct. 7 cut electricity and water to Gaza and stopped most food and fuel shipments.
"It's absolutely wild to think about what is happening to the Palestinian people in Gaza and in the West Bank," said Turner.
Turner noted the war began two days before Indigenous Peoples' Day.
"By October the 10th, when the world was really seeing what was happening in Gaza," they said. "So many people who had celebrated specifically Indigenous Peoples' Day had also sided with the Israeli government over the indigenous people of the land."
'The death of civilians is absolutely horrible'
Turner in response to the Blade's question about the Israelis who militants killed on Oct. 7 emphatically said "the death of civilians is absolutely horrible." Turner added they "cannot stress enough that when we back people into a corner, we don't know what will happen."
"The truth of the matter is our governments, our governmental officials do not have to put people in a corner," said Turner.
Turner was particularly critical of the Israeli government's actions in Gaza after Oct. 7.
"I don't think there's any place where a government has the power to shut off right water, food, healthcare supplies, things like that," they said. "It's just in doing so against a population that has 2 million people … that's not anyone looking for equitability or justice. That is genocide against its people."
Turner noted Republican Oklahoma Gov. Kevin Stitt continues to publicly support Israeli Prime Minister Benjamin Netanyahu. Turner told the Blade "when we oppress people over decades and decades … we cannot, we don't get to cherry pick" or "we don't get to tone police or however they are fighting back to be heard, to be, to live for vibrant lives."
"We cannot tell oppressed people how to hurt out loud," they said, specifically referring to Palestinian people. "We can create governments that care for people from a community standpoint who are thinking creatively about how we provide aid and support and we can ask our elected officials (members Congress, President Joe Biden, state and local officials) to teach truth. We can ask them to continuously make sure that we are providing the best care and understanding of the situations at hand. We can ask them to do a ceasefire to stop sending aid to the Israeli government and emboldening their military forces."
Climate change threatens LGBTQ resort communities
Provincetown, Cape Cod, other destinations face 'existential' challenge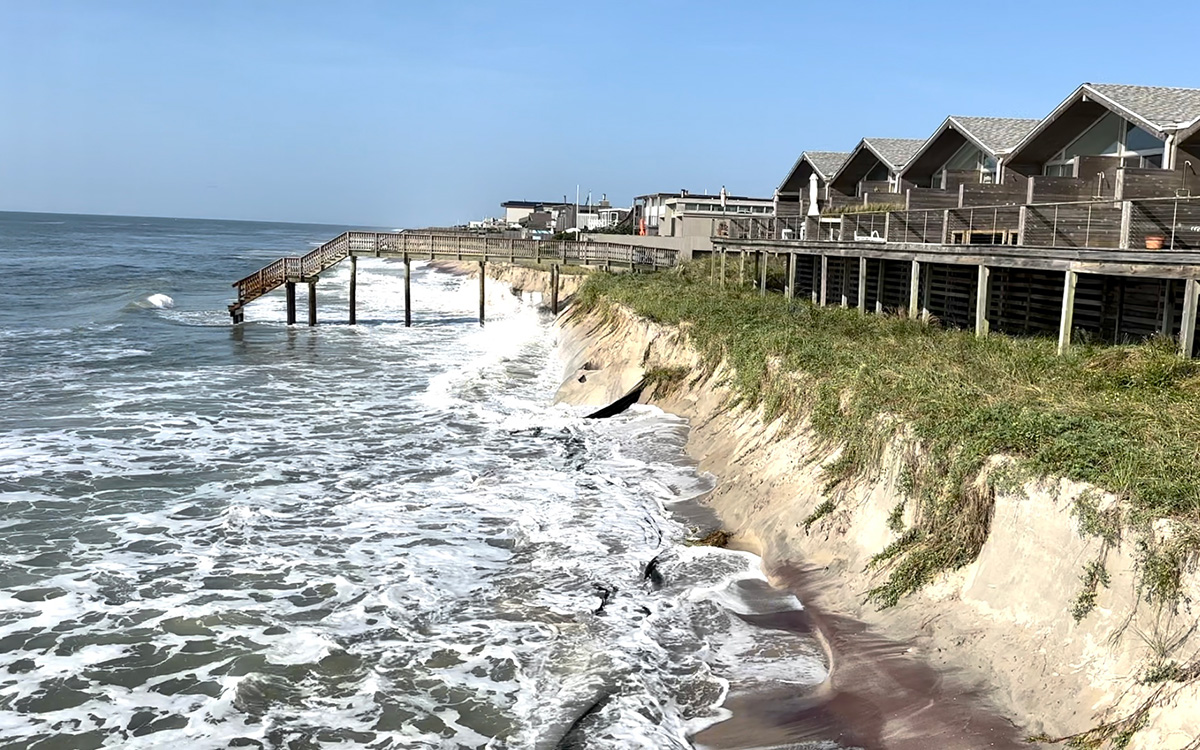 As the world reckons with worsening impacts of climate change, some LGBTQ communities and destinations are grappling with the "existential" threat posed by the crisis.
The United Nations' annual climate conference will take place in the United Arab Emirates through Dec. 12. LGBTQ climate activists, however, are concerned about representation at COP28 because the meeting is taking place in Dubai, which is in a country that criminalizes consensual same-sex sexual relations.
President Joe Biden on Nov. 14 delivered a statement on climate change policy during his administration. Biden spoke on the American Rescue Plan, the Fifth National Climate Assessment, new transparency about the state of the country's climate and more.
Biden emphasized "advancing environmental justice for disadvantaged communities, because they're the ones always left behind." Evidence of this trend can be found in LGBTQ destinations across the country.
Julian Cyr, a gay Massachusetts state senator who represents Provincetown and other towns on Cape Cod, recognizes the state's importance to the LGBTQ community, stating that "according to the Census, it may be the highest per capita density of LGBTQ+ people certainly in the United States, and perhaps internationally."
Provincetown, a popular gay destination located at the tip of Cape Cod, is facing worsening storms as climate change advances. These storms reshape the natural environment as well as damage the built environment. A series of Nor'easters in 2018 flooded Provincetown, damaging homes, businesses and the town hall.
"The climate crisis is … already forcing us to do a lot of planning and reevaluation of coastal resilience of our built environment," said Cyr.
All hope isn't lost yet for Massachusetts destinations.
Then-Gov. Charlie Baker, a Republican, in 2022 introduced the Climate Roadmap, which aims for zero carbon emissions by 2050. The state also is building the country's first offshore wind farm, Vineyard Wind.
Cyr said citizens can push for climate change legislation by making the urgency known to their local elected officials.
"This is truly existential for coastal, low-lying communities like those that I represent," said Cyr. "It's really important that constituents weigh in with their elected officials and make sure that they know that this issue is crucially important. I don't know how we not solve this issue."
Experts are seeing similar effects in nearby LGBTQ destinations, such as Cape Cod.
"One thing that we do see already is the effect of storms," said Mark Adams, a retired Cape Cod National Seashore cartographer. "Those storms are the signal of sea level rise."
Adams said that as a result of rising temperatures and new, intense storms, he is also starting to see damaged ecosystems, unnatural migration patterns of local wildlife, and planting-zones moving northward. Adams told the Washington Blade these changing ecological relationships may mean an uncertain future for life along the coast: the self-sustaining lifestyle and seafood could be at risk as ocean acidification puts shellfish in danger.
"If you can't get oysters and clams, that would really change life on Cape Cod," he said.
In addition to the damage caused by storms, Cape Cod's natural environment is also facing the threat of littering and plastic pollution. While the area's beaches keep tourism alive, fishing gear and marine debris washing up on the shore are growing concerns for the community.
Adams said this is where the choices individuals make to avoid plastics will make a huge difference in the future of these communities.
"There are little choices we can make to get off of the petroleum stream," he said.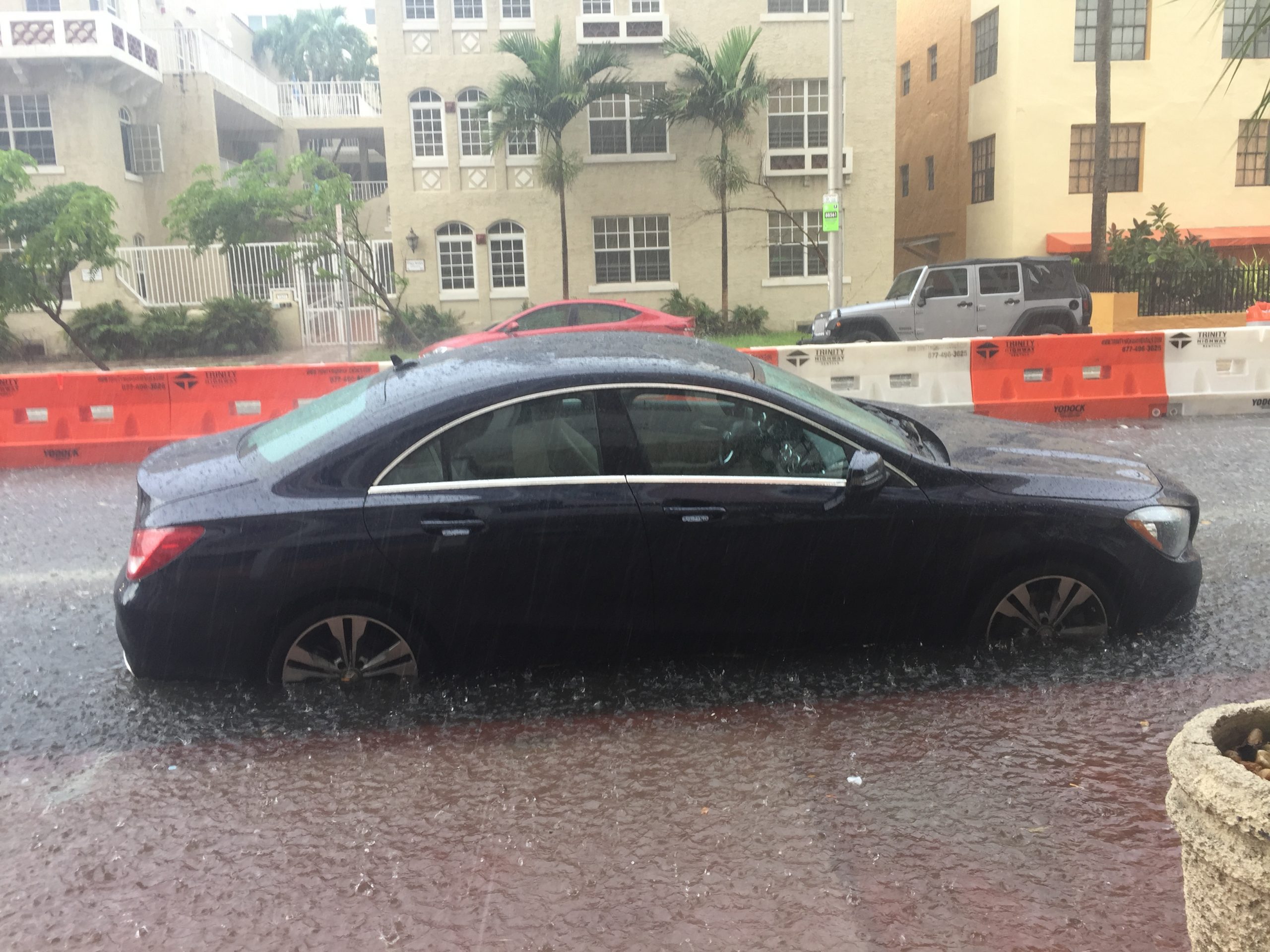 Aspen Gay Ski Week adapts to warmer winters
Aspen Gay Ski Week was the first gay ski week, and it is the largest such event in the world, and is the only non-profit gay ski week.
Rising temperatures and short winters are growing concerns for destinations like Aspen, Colo., that depend on snow, according to AspenOUT Executive Director Kevin McManamon.
"As our seasons get shorter … we have to plan for the future," McManamon said.
Colorado has also faced increased forest fires in recent years.
The Marshall Fire in 2021 devastated the state, destroying buildings and killing two people. Increasingly dry conditions feed into these fires, which will mean more impacts on humans, nature, and infrastructure.
McManamon nevertheless said he is optimistic about Aspen Gay Ski Week's future due to the organization's forward thinking. One such initiative is its involvement with Protect Our Winters, an organization that advocates for protecting the environment with the support of the outdoor sports community.
"The cool part about being here in Aspen and having a great relationship with Aspen Skiing Company is that they are … on the leading edge of climate change," said McManamon.
Stronger storms threaten Fire Island
Fire Island Pines on New York's Fire Island has been a safe haven for the LGBTQ community since the 1950s.
Fire Island Pines Property Owners' Association President Henry Robin notes natural disasters cause more damage in the community as opposed to those that are across the Great South Bay on Long Island because Fire Island is a "barrier island."
"When Superstorm Sandy hit, or when a Nor'easter hits, or a hurricane hits, the brunt of the storm is first taken by the Pines," said Robin.
Robin said "the Pines is thriving" just over 11 years since Sandy, but there is no climate change response. The federal government implemented a beach restoration project for Fire Island, and later, the U.S. Army Corps of Engineers created an engineered beach for the Pines.
Robin also formed three task forces — comprised of community members — to address local concerns, many of which were climate related, according to focus groups and a survey. Robin is also hoping to introduce recycling programs and solar energy to the Pines.
US announces additional sanctions for Ugandan officials
Anti-Homosexuality Act signed on May 29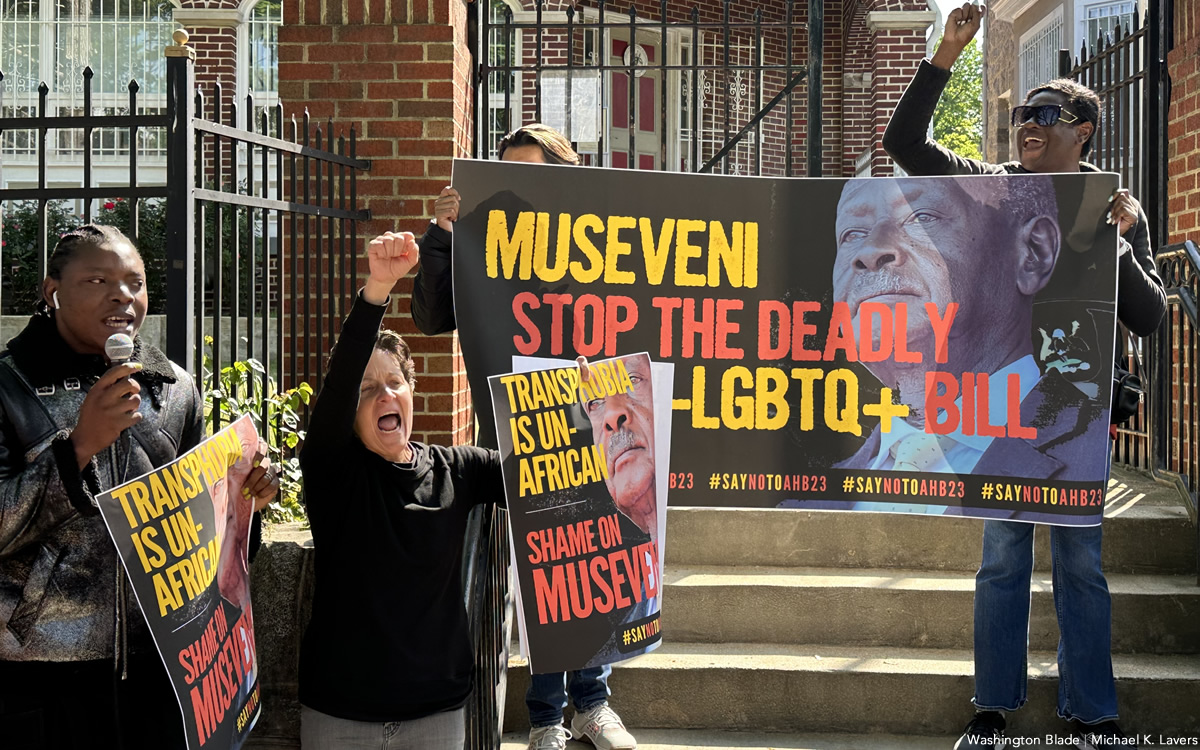 Secretary of State Antony Blinken on Monday announced sanctions against current and former Ugandan officials who committed human rights abuses against LGBTQ people and other groups.
"After Uganda's flawed 2021 presidential elections, I announced a visa restriction policy targeting those believed to be responsible for, or complicit in, undermining the democratic process in Uganda," said Blinken in a statement. "At that time, I implored the government of Uganda to significantly improve its record and hold accountable those responsible for flawed electoral processes, violence and intimidation."
Blinken announced "the expansion of the visa restriction policy to include current or former Ugandan officials or others who are believed to be responsible for, or complicit in, undermining the democratic process in Uganda or for policies or actions aimed at repressing members of marginalized or vulnerable populations."
"These groups include, but are not limited to, environmental activists, human rights defenders, journalists, LGBTQI+ persons and civil society organizers," he said. "The immediate family members of such persons may also be subject to these restrictions."  
Blinken added the U.S. "stands by the Ugandan people and remains committed to working together to advance democracy, human rights, public health and mutual prosperity."
"I once again strongly encourage the government of Uganda to make concerted efforts to uphold democracy and to respect and protect human rights so that we may sustain the decades-long partnership between our countries that has benefited Americans and Ugandans alike," he said.
Ugandan President Yoweri Museveni on May 29 signed the Anti-Homosexuality Act, which contains a death penalty provision for "aggravated homosexuality." The State Department a few weeks later announced visa restrictions against unnamed Ugandan officials.
The Biden-Harris administration in October said it plans to remove Uganda from a program that allows sub-Saharan African countries to trade duty-free with the U.S. The White House has also issued a business advisory for Uganda in response to the Anti-Homosexuality Act.