November 19, 2010 at 7:24 pm EST | by Lou Chibbaro Jr.
Clay Aiken, parents join lawmakers to push anti-bullying bills
"American Idol" singer Clay Aiken and two mothers whose sons committed suicide because of anti-gay bullying at their schools appeared at a Capitol Hill briefing Thursday to urge Congress to pass two bills that would require schools to address bullying and harassment targeting LGBT students.
The Gay, Lesbian and Straight Education Network (GLSEN) organized the briefing as a means of drawing public attention to the two pending bills, the Safe Schools Improvement Act and the Student Non-Discrimination Act.
"Like many kids now in middle schools and high schools, I was bullied," said Aiken, who came out as gay in 2008 after winning the runner up title of best singer on the widely viewed television show "American Idol."
"I was picked on, I was called gay, I was called fag, I was called sissy, you name it," he said. "Fortunately, I was able to overcome it and live through it because of a number of friends who were supportive of me."
Aiken and Louis Van Amstel, host of the television show "Dancing with the Stars," joined parents Sirdeaner Walker of Massachusetts and Tammy Aaberg of Minnesota in making an impassioned plea for lawmakers to pass the two bills. Sirdeaner and Aaberg's sons took their own lives earlier this year due to anti-gay bullying.
"Over the past few months I have heard so many stories about other youth who were suffering," said Walker, who lost her 11-year-old son Carl Joseph Walker, who hanged himself in his bedroom with an electrical cord.
"Too many of our children are being tormented in schools – and not enough of our adults are doing the right thing and teaching respect for all. Enough is enough," she said.
Sen. Bob Casey (D-Pa.) and Rep. Linda Sanchez (D-Calif.), who introduced the Safe Schools Improvement Act, and Sen. Al Franken (D-Minn.) and Rep. Jared Polis (D-Colo.), who introduced the Student Non-Discrimination Act, also spoke at the briefing, calling on their colleagues to support the legislation.
"No student should have to dread going to school because they fear being bullied," Franken told those gathered for the event, held in a committee hearing room at the Rayburn House Office Building. "We must address bullying and harassment in schools in the next Congress."
Polis, who is gay, said school bullying affects students living in both Republican and Democratic leaning states, saying he would work with his colleagues on both sides of the political isle to push for passage of the legislation.
"Every student has the right to an education free from bullying, harassment and violence, and we are here today to show that Congress is ready to take a stand against bullying in our schools," he said.
Franken and Casey cited recent cases of suicides due to anti-gay bullying in their home states. They pointed to what they called a courageous decision by Walker and Aaberg to speak at Thursday's briefing to tell the stories of the loss of their own teenage sons as a means of drawing support for the legislation.
"Recent stories of the tragic effects of bullying in Pennsylvania and throughout the country are evidence of the urgent need to address this issue in our schools," Casey said. "We owe it to our children to do whatever we can to ensure their pleas for help do not go unheard."
Casey introduced to the briefing Joey Kemmerling, a high school student in Bucks County, Pa., near Philadelphia, who helped form an anti-bullying group as well a Gay-Straight Alliance organization at his school.
"I came out in eighth grade and ever since then I have been bullied every day," Kemmerling told the briefing. "There's not been a day that has gone by where I have not heard the word faggot, queer or fairy or told that I was not human."
He described an incident when another male student threatened him with a knife on the school grounds after school officials declined Kemmerling's plea that they search the student for a weapon.
"He came up to me and he looked me in the eyes and he had the look of hatred," Kammerling recounted. "I didn't know who he was but I knew that he hated me. And he said, 'Your life is in my hands.' And he walked away."
The incident caused him to become deeply depressed and to contemplate suicide, Kammerling said.
"I thought I didn't deserve to live. I was gay so did my life really matter? I didn't think so," he said.
"I almost committed suicide, and somehow I overcame that and started working to change the schools," he said. "I was so thankful to meet GLSEN and work with them to fight all injustices all around the United States.
"I really just hope you'll join me in that fight because the real change is going to come from society and the change is going to come from the people stepping up and saying, 'I don't want to see another kid ever go through what I went through and what the students went through that committed suicide.'"
His remarks drew a loud and prolonged applause from the audience, which included staff members of senators and members of the House.
GLSEN Executive Director Eliza Byard said she was hopeful that Congress would act on the two bills next year despite reports by Capitol Hill observers that the new Republican controlled House of Representatives would block all LGBT-supportive legislation.
"They currently have bipartisan support in this Congress," Byard said. "And I think just as children's safety, it's not a gay or straight issue, it is not a Republican or Democratic issue."
The Safe Schools Improvement Act requires schools receiving federal funds to develop policies to prohibit bullying based on race, sex, national origin, religion, sexual orientation and gender identity and expression. It has 130 co-sponsors in the House and 15 cosponsors in the Senate.
The Student Non-Discrimination Act calls for providing protections to students who are targeted for bullying, harassment and discrimination based on their "actual or perceived" sexual orientation or gender identity. It currently has 127 cosponsors in the House and 30 cosponsors in the Senate.
Franken said he has proposed that the Student Non-Discrimination Act be incorporated as an amendment to legislation reauthorizing the longstanding and highly popular Elementary and Secondary Education Act, which Congress is scheduled to vote on next year.
Lou Chibbaro Jr. has reported on the LGBT civil rights movement and the LGBT community for more than 30 years, beginning as a freelance writer and later as a staff reporter and currently as Senior News Reporter for the Washington Blade. He has chronicled LGBT-related developments as they have touched on a wide range of social, religious, and governmental institutions, including the White House, Congress, the U.S. Supreme Court, the military, local and national law enforcement agencies and the Catholic Church. Chibbaro has reported on LGBT issues and LGBT participation in local and national elections since 1976. He has covered the AIDS epidemic since it first surfaced in the early 1980s. Follow Lou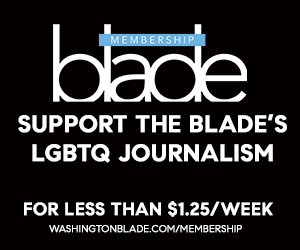 Sign Up for Blade eBlasts