GOP letter complicates 'Don't Ask' repeal efforts
All 42 members of GOP caucus penned names to missive
A recent letter in which the Senate Republican caucus has pledged to obstruct movement on legislation unrelated to government funding or taxes is complicating efforts for "Don't Ask, Don't Tell" repeal.
In the missive, dated Nov. 29, Republicans vow to Senate Majority Leader Harry Reid (D-Nev.) that they'll vote against cloture for any legislative item until the Senate has "acted to fund the government and we have prevented the tax increase that is currently awaiting all taxpayers."
"With little time left in this Congressional session, legislative scheduling should be focused on these critical priorities," the letter states. "While there are other items that might ultimately be worthy of the Senate's attention, we cannot agree to prioritize any matters above the critical issues of funding the government and preventing a job-killing tax hike."
The letter is signed by all 42 members of the Republican caucus, including those who are seen as swing votes on moving forward with "Don't Ask, Don't Tell," such as Sens. Susan Collins (R-Maine), Olympia Snowe (R-Maine) and Scott Brown (R-Mass.). Newly seated Sen. Mark Kirk (R-Ill.) is also among the signers.
Capitol Hill observers see the letter as an attempt to derail movement on the DREAM Act, an immigration-related bill, as well as repeal of "Don't Ask, Don't Tell." Legislation to repeal the military's gay ban is pending before the Senate as part of the fiscal year 2011 defense authorization bill.
A Democratic aide, who spoke to the Washington Blade on condition of anonymity, said the letter is "very, very bad news" for "Don't Ask, Don't Tell" repeal efforts.
"They've essentially said that they're going to vote against cloture on any bill but the tax bill, so they've actually just all drawn the line … on all armed services bills," the aide said.
Kevin Kelley, a Collins spokesperson, said in a statement that although the Maine senator signed the letter and believes tax cuts and funding for the government "are the top two priorities for the lame duck session," she still wants to see "Don't Ask, Don't Tell" repeal this year.
"However, she also believes the there is time in December to consider all three issues, including the defense authorization bill, which includes a repeal of 'Don't Ask, Don't Tell,'" Collins said. "She has made it clear that if the majority leader brings the defense authorization bill to the floor and allows sufficient debate and amendments, she would vote to proceed to that bill."
In a statement, Aubrey Sarvis, executive director of the Servicemembers Legal Defense Network, chided Republicans for not being as committed to the defense authorization bill as they are to taxes.
"The Republican caucus that has expressed strong support for a vote on extending the Bush era tax cuts should be as equally unified in support of a vote in the lame-duck session on the nation's defense bill, the very bill which provides for our security and the well being of service members who defend us every day," Sarvis said.
Winnie Stachelberg, senior vice president for external affairs at the Center for American Progress, said the letter underscores Senate Minority Leader Mitch McConnell (R-Ky.) has a "sole focus on obstruction" and wants to make President Obama a one-term president.
"Rather than dealing with the myriad of issues that face this country, he's made clear what his route is," Stachelberg said.
Stachelberg also noted a recent report from the Washington Post's Greg Sargeant quoting a Collins spokesperson as saying even though the senator signed the letter, she would be open to voting for a motion to proceed on the defense authorization bill.
Additionally, Stachelberg said she's had conversations with people on Capitol Hill suggesting Collins, Sen. Richard Lugar and Sen. Lisa Murkowski would be open to voting to moving forward on the defense legislation.
"They actually maintain that while the focus should be on taxes and the economy, that they believe, too, that other issues should be considered as well," Stachelberg said.
One gay GOP organization was sympathetic to the goals of the letter. R. Clarke Cooper, executive director of the National Log Cabin Republicans, said Congress must push forward with tax legislation "to avoid punitive tax increases come 2011," but said the Senate can take action on taxes as well as "Don't Ask, Don't Tell" before the year's end.
"Further, while time is limited, the Congress can complete action on taxes as well as a ['Don't Ask, Don't Tell'] repeal inclusive [defense authorization bill]," Cooper said.
Download a copy of the letter here.
Va. Senate subcommittee essentially kills three anti-transgender bills
Measures would ban transition-related health care for minors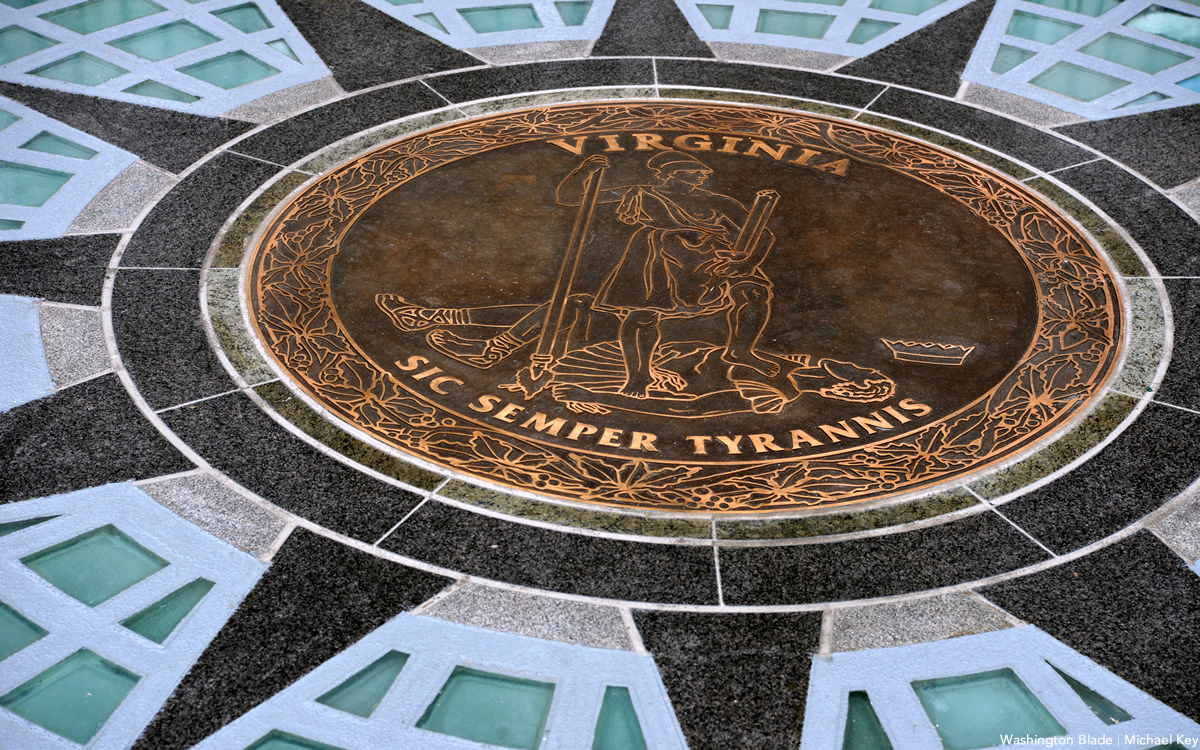 A Virginia Senate subcommittee on Tuesday essentially killed three bills that would have banned transition-related health care for minors in the state.
Equality Virginia in a tweet noted the Senate Health Subcommittee "recommended killing" state Sen. Mark Peake (R-Lynchburg)'s Senate Bill 960, state Sen. Amanda Chase (R-Colonial Heights)'s Senate Bill 791 and state Sen. Bryce Reeves (R-Spotsylvania County)'s Senate Bill 1203.
"We expect these bills to be officially dead after the full committee meets on Thursday," said Equality Virginia.
🎉VICTORY 🎉 Tonight a Senate subcommittee recommended killing all three trans healthcare bans! We expect these bills to be officially dead after the full committee meets on Thursday! #TransYouthBelongVA #VAleg

— Equality Virginia (@EqualityVA) January 31, 2023
Democrats have a 22-18 majority in the state Senate, and they have said they will block any anti-LGBTQ bill that reaches their chamber. State Del. Danica Roem (D-Manassas), who is the first openly transgender woman seated in a state legislature in the U.S., on Tuesday reiterated this point.
"With the defeat of these bills in the Senate, our (Virginia Senate Democrats) made it clear that *any* bills in the House targeting trans kids during the final week before crossover will not become law if they make it to the Senate," she tweeted. "Let's focus on feeding kids, not singling them out."
With the defeat of these bills in the Senate, our @VASenateDems made it clear that *any* bills in the House targeting trans kids during the final week before crossover will not become law if they make it to the Senate.

Let's focus on feeding kids, not singling them out. https://t.co/vF8MOp4I8C

— Del. Danica Roem (@pwcdanica) January 31, 2023
Doug Emhoff visits monument to gay victims of the Nazis in Berlin
Second gentleman marked International Holocaust Remembrance Day at Auschwitz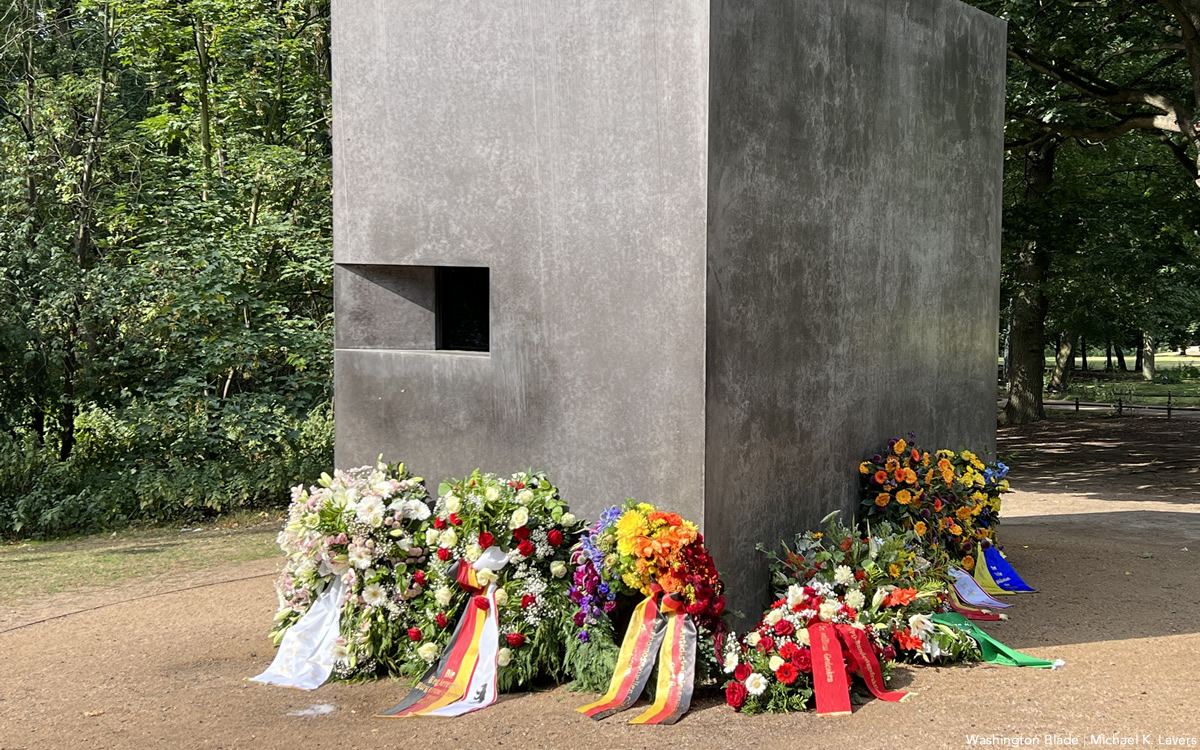 Second gentleman Doug Emhoff on Tuesday visited a monument to gay victims of the Nazis in Berlin.
A readout from Emhoff's office notes he visited the Memorial to the Persecuted Homosexuals under National Socialism with Philipp Braun of the Lesbian and Gay Federation of Germany, a German LGBTQ and intersex rights group. Christopher Schreiber and Alexander Scheld of the Berlin-Brandenburg Lesbian and Gay Federation were also with Emhoff.
"The Memorial to the Persecuted Homosexuals under Nazi Socialism is intended to honor the homosexual victims of National Socialism and at the same time 'set a constant sign against intolerance, hostility and exclusion towards gays and lesbians,'" notes the readout.
Emhoff on Tuesday visited other memorials that honor the Sinti and Roma and people with disabilities who the Nazis killed. The second gentleman also visited Berlin's Holocaust memorial before he met with five people who survived it.
The second gentleman earlier in the day participated in a roundtable with Jewish, Muslim and Christian leaders and met with Ukrainian refugees at Berlin's New Synagogue. Emhoff on Monday participated in a meeting at the city's Topography of Terror Museum that focused on antisemitism.
In Berlin, I met with experts from around Europe to hear about what our allies and friends are doing to combat antisemitism. We can build coalitions, learn from each other, and trade best practices. It's going to take a global effort to tackle this epidemic of hate. pic.twitter.com/BeA1tP4aMy

— Douglas Emhoff (@SecondGentleman) January 31, 2023
International Holocaust Memorial Day, which commemorates the liberation of the Auschwitz-Birkenau concentration camp in Poland in 1945, took place on Jan. 27. 
Emhoff, who is Jewish, traveled to the Auschwitz-Birkenau State Memorial and Museum and participated in ceremonies that commemorated the camp's liberation. He later attended a Shabbat dinner with members of the Jewish community in Krakow, visited Oscar Schindler's factory and met with Ukrainian refugees at a U.N. Refugee Agency community center before he traveled to Germany.
I'm still processing what I saw today at Auschwitz. It was emotional. Displays of children's shoes. Piles of women's hair.

We must educate the next generation on the horrors of the Holocaust and call out those who deny it. pic.twitter.com/a6NjlTvYqd

— Douglas Emhoff (@SecondGentleman) January 27, 2023
Memphis police release Tyre Nichols arrest, fatal beating video
29-year-old Black man died after traffic stop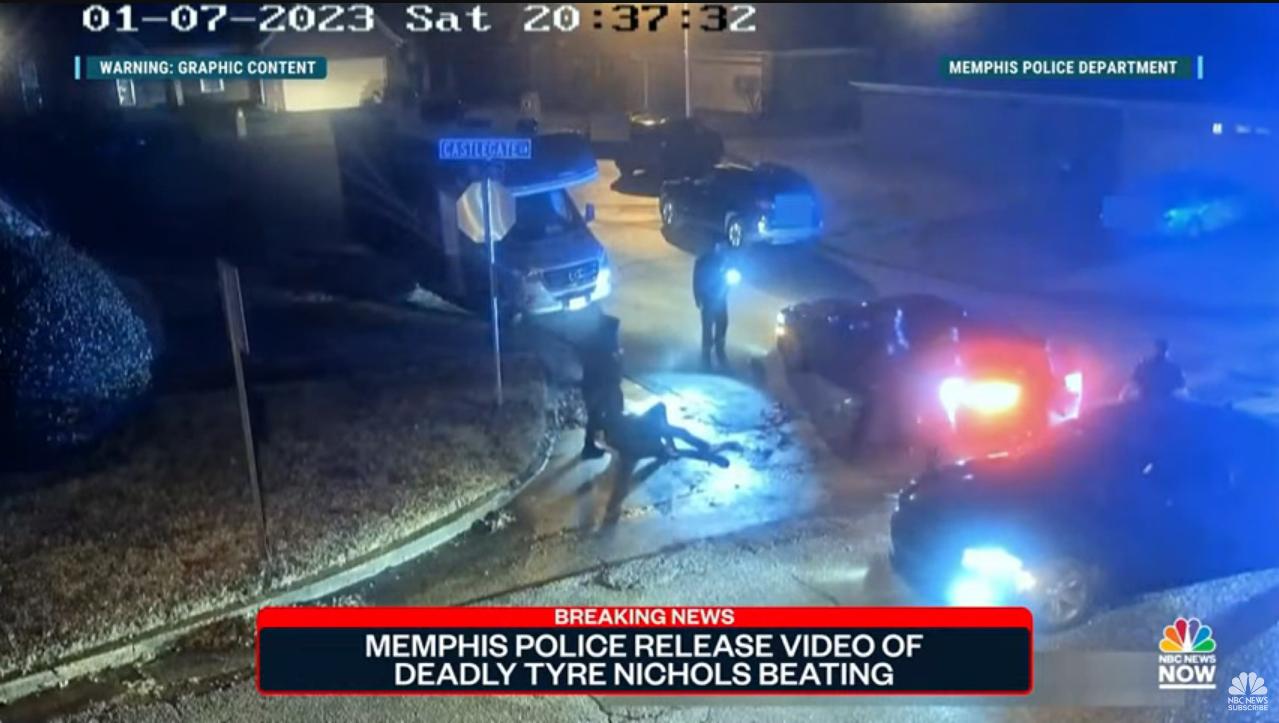 Three videos consisting of both body cam footage and street surveillance footage were made public by the Memphis Police Department Friday evening showing the violent arrest and beating of Memphis resident 29-year-old Tyre Nichols.
Nichols died three days after he was beaten by police in a traffic stop in the Hickory Hill neighborhood around 8:22 p.m. on Jan. 7, in an altercation Memphis Police Chief C.J. Davis described, saying "in my 36 years in law enforcement, I don't think I have witnessed the disregard for a human being displayed in this video." 
Shelby County District Attorney Steve Mulroy announced Thursday that five now-former Memphis police officers — Tadarrius Bean, Demetrius Haley, Emmitt Martin III, Desmond Mills, Jr., and Justin Smith — were fired for misconduct, indicted by a grand jury and taken into custody.
Each is charged with second-degree murder, aggravated assault, two counts of aggravated kidnapping, two counts of official misconduct and official oppression. By Friday morning, they had posted bond.
As news of the beating and death spread beyond Tennessee, officials expressed concern that release of the footage would touch off violent protest in reaction.
The attorneys and family of Nichols asked for justice for their son, and peace in their city, at a press conference in Memphis on Friday, WREG News 3 reported.
Speakers included family members, attorneys Ben Crump, Antonio Romanucci and Van Turner, president of the Memphis branch of the NAACP.
Rodney Wells, Nichols' stepfather, said that he initially wanted first-degree murder charges against the officers, but the family is satisfied with second-degree murder.
He pleaded for peace in Memphis Friday night.
"We want peace. We do not want any type of uproar. We do not want any type of disturbance," Wells said. "Please, please, protest, but protest safely."
Protests took place in Memphis after police released more than an hour of footage in the case with some major highways temporarily shut down.
Other protests were organized in New York, as well as D.C., Sacramento, Los Angeles, Atlanta, Philadelphia and Seattle, with police at the ready for potential violence.
"Tonight, I stand with the millions of Americans sending condolences and love to the family of Tyre Nichols as the navigate this unimaginably difficult tragedy," said D.C. Mayor Muriel Bowser in a statement. "We are a nation traumatized by violence, especially violence against Black Americans. We don't even need to see the video to feel outraged that those five former officers, sworn to protect their community and now arrested and charged with murder, killed Tyre. But tonight, many people will see the video and it will elicit strong feelings — from sadness and anger to confusion and despair. Tonight, we are a city and country united by tragedy, but we are also determined — to deliver justice for Tyre and change for our nation."
The White House held a joint emergency call Friday with the mayors of at least 16 cities before the video's release "to brief them on federal preparations in support of state and local leaders."
"Participating mayors shared their perspectives on how important it is to recognize the pain felt by communities across this country, be prepared in advance with a game plan to provide adequate community support, and to reinforce the importance of peace and calm during these difficult moments," the White House said in a statement about the call, which included cities from New York City, to Atlanta, Los Angeles, D.C., Seattle and Portland.
The Los Angeles Police Department issued a statement condemning the actions of the Memphis officers and calling for demonstrations to remain peaceful.
"The accounts of the circumstances of this heinous crime and the criminal actions of those involved are reprehensible," the LAPD said.
"The department will do all within its power to ensure the lawful expression of the public's anger and frustration is protected and prepared to facilitate those wishing to exercise their First Amendment rights."
The Los Angeles County Sheriff's Department told local media that it is preparing for the possibility of disturbances after the footage is made public. and is coordinating with other state, local and federal agencies.
"Our patrol stations and specialized units remain in a state of readiness to respond to any disturbances that might occur," the LASD said.
"The sheriff's department supports the First Amendment and the people's right to protest."
Speaking with reporters as he prepared to depart for Camp David at the White House Friday evening, President Joe Biden said that he had spoken with Nichols' mother prior to the video footage release for about 10 or 15 minutes.
"I spoke with Tyre's mother and expressed my condolences and told her that I was going to be making the case to the Congress to pass the George Floyd Act. We should get this under control. I can only do so much on the executive order at the federal level," Biden said. "I was really pleased that she called for peaceful protest, no violence," he added.
When asked about the potential for violence Biden said:
"I'm obviously very concerned about it. But I think she has made a very strong plea. She's obviously in enormous pain. I told her I had some idea of what that loss is like and although it is impossible to believe now, a time will come when his memory brings a smile before a tear."
The White House released a statement from the president that said in part:
"Like so many, I was outraged and deeply pained to see the horrific video of the beating that resulted in Tyre Nichols' death. It is yet another painful reminder of the profound fear and trauma, the pain, and the exhaustion that Black and Brown Americans experience every single day.

My heart goes out to Tyre Nichols' family and to Americans in Memphis and across the country who are grieving this tremendously painful loss. The footage that was released this evening will leave people justifiably outraged. Those who seek justice should not to resort to violence or destruction. Violence is never acceptable; it is illegal and destructive. I join Mr. Nichols' family in calling for peaceful protest."
California Gov. Gavin Newsom issued a statement in response to the Memphis Police Department's body camera footage being released, showing the deadly actions that took the life of Nichols, a Sacramento native, and led to the charging of five since fired Memphis law enforcement officers.
"Jennifer and I send our deepest condolences to the family and friends of Tyre Nichols. Tyre Nichols should be alive today. The video released shows abhorrent behavior and these officers must be held accountable for their deadly actions and clear abuse of power," said Newsom. "Today, we are a country in mourning, and must continue our work nationwide to push reforms to prevent excessive use of force and save lives."
"Tonight, we saw ferocious violence from an out-of-control herd," said Los Angeles Mayor Karen Bass.
Late Friday evening Vice President Kamala Harris' office released a statement from the vice president on Nichols:
"Tyre Nichols should have made it home to his family. Yet, once again, America mourns the life of a son and father brutally cut short at the hands of those sworn to protect and serve. The footage and images released tonight will forever be seared in our memories, and they open wounds that will never fully heal.

The persistent issue of police misconduct and use of excessive force in America must end now.
I join President Biden in his call for accountability and transparency. We must build trust—not fear — within our communities."

VIDEO COURTESY OF KTLA:
TYRE NICHOLS VIDEO VIEWER DISCRETION ADVISED, GRAPHIC CONTENT AND LANGUAGE WARNING.