2012 march on Washington is a mistake
Let's focus on state, local victories for next two years

We may still be on a bit of a high. Just months after our historic (and a bit lucky) success in repealing "Don't Ask, Don't Tell," friends of mine in the LGBT rights movement are clamoring to paint protest signs and go marching on our National Mall.
While it may seem appealing to some, politically it's the wrong move. Now, I'm not against marches. In college I marched for women's lives and in 2009 I was in the National Equality March even though at the time I couldn't really decide if it was beneficial to the movement.
I enjoyed it but it clearly directed resources away from important statewide battles we were fighting at the time. So at the end of the day it just ended up being a really expensive therapy session for a few thousand people.
Yes, that may sound harsh and I respect the organizers a lot, but I wanted to make my point very clear because a march in 2012 would be a mistake.
First, I am not sure what a march would accomplish. I've worked for two current cabinet secretaries and three current members of Congress and while they do pay attention to these things, at the end of the day they are not going to vote or even do something unless something is going to move.
Let's face it: Barney Frank is right. Not much is going to happen with LGBT rights on a federal level through 2012.
As perplexing to so many of us as it may seem, people like Sen. Lindsay Graham and Rep. Aaron Schock are never going to come around and support the rights of their LGBT constituents.
Even the Student Non-Discrimination Act (SNDA) oddly faces opposition in Congress. If we can't pass a bill that protects America's youth from bullies, then ladies and gentlemen, we ain't getting much from this Tea Party Congress.
This is why we need to do everything in our power from now until 2012 to support candidates up for election who believe their LGBT constituents are just as important as everyone else. Leaders like Sen. Sherrod Brown from Ohio, who while in a swing state, gave what is probably the most passionate "It Get Better" speech on the U.S. Senate floor last fall:
"History is on your side. It will, in fact, get better. Workers fought for the right to organize, women fought for the right to vote, African Americans fought for equal justice, and now LGBT Americans of all backgrounds are fighting for equality.
"It is up to us to join this fight. It is up to us to be on the side of people whose lives are a little bit more difficult, perhaps, than others' lives. It is that spirit of inclusion, it is the pursuit of the American dream, that will, in fact, make it better for these young people, and it will make it better for all Americans."
Sure gridlock in Washington is frustrating but there is a lot going on in states around the country to keep us busy.  It may not be as sexy as protesting on the Mall or chaining oneself to the White House, but it is just as effective, if not more so.
Maryland is about to pass marriage equality and Rhode Island is just behind. Across the country, districts and states are considering anti-bullying legislation. This is where our battles should take place through 2012: in our state capitals, local governments and school districts.
So let's go to where the fight is. And when Obama is re-elected and the American public realizes what a disaster the Tea Party Congress has been, we can shift our focus back to the beltway – and I hope you'll join me then.
National Gay & Lesbian Chamber of Commerce Certifies Brown, Naff, Pitts Omnimedia, Inc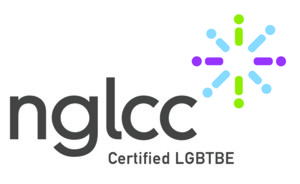 Washington, D.C. — Brown, Naff, Pitts Omnimedia, Inc, the parent company of the Washington Blade and Azer Creative, announced today it has been certified by the National Gay and Lesbian Chamber of Commerce (NGLCC) as an LGBT Business Enterprise. The NGLCC supports and advocates for diversity and inclusion for LGBT-owned businesses. With this certification the Blade's parent company joins more than 510 business and 134 corporate partners of the NGLCC.
Brown, Naff, Pitts Omnimedia, Inc. owns and operates the Washington Blade, the oldest and most acclaimed LGBT newspaper in the country. In 2012, the company launched Azer Creative, a full-service design firm. The company employs more than a dozen full-time LGBT staff.
"We are excited to become one of the 500 LGBT businesses across the country certified by NGLCC," said Lynne Brown, the Blade's publisher and a co-owner of the company. "The LGBT community has been part of our company from the beginning and we look forward to continue that for many years to come."
The Washington Blade was founded in 1969 and is known as the "newspaper of record" for the LGBT community both locally and nationally. Visit washingtonblade.com for more information. Azer Creative is a full-service graphic design firm based in Washington, D.C. Visit azercreative.com for more information. 
Vote now for the 2013 Best of Gay DC!
Choose in dozens of categories among hundreds of nominees, and make your voice heard!
Nominate the 'Best of Gay D.C.' now!
Dozens of categories cover all the best for LGBT Washington. Who deserves the prize this year?