Obama's stand: a day for the history books
President's stance on DOMA a likely turning point for marriage wars
Wednesday will go down in history as the day that the fight for marriage-equality and full human and civil rights for the LGBT community turned the corner.
It is the day that President Obama announced that he has instructed the Justice Department to stop defending Section 3 of the Defense of Marriage Act (DOMA) in both the Pedersen v. OPM and Windsor v. United States lawsuits challenging Section 3 of the DOMA. This is the section that defines marriage for federal purposes as only between a man and a woman. Three cheers for President Obama who said he believes that this law is unconstitutional. Now as the saying goes, from his lips to the Supreme Court's ears. But the reality is that this was an extraordinary step for a President who has yet to say he approves of marriage between same-sex individuals. A President who says his views are still evolving.
You could hear the cheers from across the nation from all people who want to ensure full human and civil rights for gay and lesbian Americans. And you also heard the whines of those like Maggie Gallagher, President of the National Organization for Marriage (NOM), that anti-gay hate group, who took to the airwaves to say this was a great chance for her people to continue their fight in the States against marriage-equality and for some bigoted members of the Congress to stand up and defend DOMA which after all is their creation.
I applaud the President for his stance on DOMA, one he actually took when he ran for office, but we must remain vigilant and know we still have a long way to go before marriage-equality is legal across this great nation or ours. We will need the President to stand with us as we continue this fight.
As the President's statement was being reported yesterday evening and reporters were talking about Maryland being the next state to approve marriage-equality the President of the Maryland Senate, Mike Miller, Jr., said he believes that in a referendum the citizens of Maryland will vote it down.
Maryland may be the place that the Maggie Gallagher's of the world will try to make their next stand. The same Maggie Gallagher who makes a habit of saying dumb things like "Europe which gave us the idea of same-sex marriage is a dying society, with birthrates 50 percent below replacement." But I actually like one of her quotes and hope that it will come true. She once said to a group of supporters referring to the future when marriage-equality is a reality across this nation, "Public Schools when they teach about marriage are going to teach your children and grandchildren that your views on marriage are discarded relics of ancient bigotry."
We in the LGBT community and our allies will have to rededicate ourselves to continuing to make our case for why marriage-equality simply allows gay and lesbian persons to express their love and have the same responsibilities and benefits that anyone in a civil-marriage has. Educate people that our marriages have no impact on anyone else's and repeat over and over that we don't expect religions to change their point of view and aren't forcing them to recognize our marriages. That may be the charitable and loving thing to do but we are not expecting or asking it. We will have to continue to educate our politicians and demand of them that they separate their personal religious views from what they do when making civil law and remind them that this country was founded on the principle of the separation of church and state.
We also have to remember to thank our supporters. President Obama is helping to move us toward full equality. It may not be happening fast enough for some, but the alternatives aren't pretty. There is not one Republican who supports our equal rights with a chance in hell of winning a Republican Presidential primary. The Log Cabin Republicans are fighting for our issues on the Hill but in all my private conversations with the members of Log Cabin they concede that the leaders of their party today, the ones who control the issues, aren't there yet when it comes to LGBT equality. I wish them only success in moving the bar.
And then there is that other organization, GOProud, who claimed credit for bringing that stalwart new Republican Donald Trump to CPAC. Talk of a man lacking in any real principles. He has been a Democrat, Independent, and now a Republican. He is a thrice married, sometime adulterer, who currently is opposed to marriage-equality and is pro-life but who donated $50,000 to pro-choice, pro marriage-equality Democrat Rahm Emanuel in his winning Mayoral race in Chicago. I guess the most complimentary word I can think of for Trump is opportunist. And this is the man that GOProud is happy to associate with and present to CPAC.
We have come a long way in the two short years that Barack Obama has been President. We are seeing movement on issues that impact the LGBT community that we haven't seen in years. We are also seeing a rapidly changing world, a world in which people are standing up for their rights and winning. We will need to continue to stand up and push for ours. Mark my words, February 23, 2011 will be seen as a turning point in our fight for full equality.
National Gay & Lesbian Chamber of Commerce Certifies Brown, Naff, Pitts Omnimedia, Inc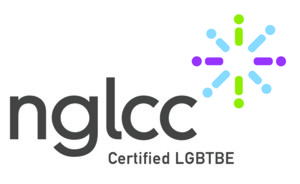 Washington, D.C. — Brown, Naff, Pitts Omnimedia, Inc, the parent company of the Washington Blade and Azer Creative, announced today it has been certified by the National Gay and Lesbian Chamber of Commerce (NGLCC) as an LGBT Business Enterprise. The NGLCC supports and advocates for diversity and inclusion for LGBT-owned businesses. With this certification the Blade's parent company joins more than 510 business and 134 corporate partners of the NGLCC.
Brown, Naff, Pitts Omnimedia, Inc. owns and operates the Washington Blade, the oldest and most acclaimed LGBT newspaper in the country. In 2012, the company launched Azer Creative, a full-service design firm. The company employs more than a dozen full-time LGBT staff.
"We are excited to become one of the 500 LGBT businesses across the country certified by NGLCC," said Lynne Brown, the Blade's publisher and a co-owner of the company. "The LGBT community has been part of our company from the beginning and we look forward to continue that for many years to come."
The Washington Blade was founded in 1969 and is known as the "newspaper of record" for the LGBT community both locally and nationally. Visit washingtonblade.com for more information. Azer Creative is a full-service graphic design firm based in Washington, D.C. Visit azercreative.com for more information. 
Vote now for the 2013 Best of Gay DC!
Choose in dozens of categories among hundreds of nominees, and make your voice heard!
Nominate the 'Best of Gay D.C.' now!
Dozens of categories cover all the best for LGBT Washington. Who deserves the prize this year?