February 24, 2011 at 12:58 pm EST | by Terri Schlichenmeyer
Death of a heartthrob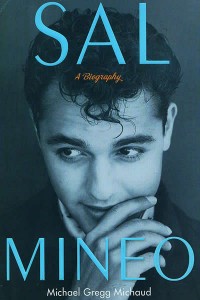 Familial ties — our own, those of our friends and those of celebrities — often make for interesting fodder.
In the new book "Sal Mineo: A Biography" by Michael Gregg Michaud, we find that Mineo was close to his siblings early on, and they shared everything.
But when he was murdered, they hadn't a clue.
Sal Mineo's parents always treated their children equally: opportunity and possessions were strictly balanced. So when Sal, the youngest son, became smitten with acting at age eight, his parents paid for music lessons for their two older boys while Sal learned to dance.
Quickly becoming a regular at New York City auditions, Sal was obsessed with dancing, which led to an obsession with acting that worried his mother. By age 11, he was working on Broadway. Before he was 16, he was working in Hollywood with James Dean and Natalie Wood in "Rebel Without a Cause," and bringing home more money than was his coffin-making father.
Co-stars and co-workers described Mineo as an "angel" and a "puppy-dog" who was open and eager to learn. He was friendly but focused on his acting and was willing to try anything his directors asked of him. Mineo and Wood became close friends, as did Mineo and James Dean. Some even say that Mineo had a crush on Dean.
"Rebel Without a Cause" made Mineo a star. His singing career and his good looks made him a teenage heartthrob. Indeed, he was known as a ladies' man who dated women as often as possible, and he was nearly engaged to longtime girlfriend, Jill Haworth. But Haworth noticed certain Mineo quirks that made her uncomfortable.
Mineo was heavily into drugs and partying, and requests for his talents had begun to dry up. He was also heavily in debt and had distanced himself from his family, who vociferously denied rumors coming from Hollywood. But then there was the night Haworth caught Mineo in bed with Bobby Sherman.
Yes, that's probably the most explosive, most controversial thing you'll read in this book except, perhaps, what's written about Don Johnson — neither of which makes this a good book.
But "Sal Mineo: A Biography" isn't bad, either.
Author Michaud does a thorough job with his subject and while many parts are lively and interesting, there were times when my eyes slammed shut because the plethora of names and locales began to swim together. Then, in the space of a paragraph, something juicy would snap my focus back and I found myself enjoying this biography again — until the next time.
And so it went for nearly 400 pages.
"Sal Mineo: A Biography" is middle of the road — interesting enough for film buffs but not compellingly enough crafted to entice those unfamiliar with Mineo to tackle it.