Who will take care of us as we age?
Talk to family — and attorney — now to ensure independence
When you get old there are some phone calls and conversations you just don't want to have.  Chief among them: "We are sorry but the only alternative for you is a nursing home."
If we don't plan, this can indeed be the only alternative for us. Why? First, look at the numbers. The MetLlife "Out and Aging Study" points out that 75 percent of heterosexual seniors live with at least one other person, generally a spouse or an adult child and about 80 percent of long-term care services are provided by unpaid caregivers, usually adult children. In some circles this is called the "sandwich generation," adults taking care of parents as they work to get their kids through college and become grandparents themselves.
The same study found that 75 percent of LGBT seniors live alone and are four times less likely to have children. Most of us are in the "open sandwich generation," adult children taking care of their frail parents and most of us with no children to take care of us. We are certainly busy though, 53 percent of LGBT adults are providing care for their relatives.
Certainly, many LGBT seniors are thriving. They lead exciting lives and are keystones for volunteer activities in our community and many continue to work in satisfying careers. But, make no mistake, old age does bring vulnerabilities and it doesn't take much to turn a life of independence to one requiring a community of support. Think about what would happen if you could not drive anymore, or maybe you need to restrict yourself to driving during the day. No dementia, good hearing, good vision, but some arthritis is slowing your reactions. Nothing really dramatic, you just can't get out much anymore. One thing can lead to another and, with astonishing rapidity, the best time of life starts into reverse.
Many of us don't plan for any of this. Why not? Here are two culprits.
Too many of us take a look around and come to the subtle and sadly powerful conclusion that aging is not something we want to think about. Unfortunately, ageism seems not to rank very high on the list of LGBT social justice concerns. This ageism is not evenly experienced in our diverse community. Feminism has had a significant impact and lesbian communities are far more engaged in exploring and confronting ageism. But it is still there. Sadly, "Outing Age 2010" published by NGLTF Policy Institute states: "Gay and bisexual men appear to have had little connection to this dialogue." Planning means confronting and many of us would rather hide. I am 68 and I can tell you that it makes me angry to encounter this new closet. You know the line said with a smile – "Oh, I'm not ready for that." Imagine whether we would be where we are now if the pioneers of our movement thought in a like fashion – "Oh, I am not lesbian or gay or bisexual or transgender."
Second, continuing inequality in health and retirement benefits including Social Security, Medicare and Medicaid prevents access to the same benefits as our heterosexual friends and neighbors and this inequality makes planning for independence a far more complicated process.
One measure of concern about our care came up in the first community forum hosted by SAGE Metro DC. Participants from the broad spectrum of older LGBT residents of the metropolitan area were invited to air their views on how they saw the challenges of aging. This group had clearly done far more thinking and preparing for aging than most folks. Yet, the one tough question from most of the participants was: Who will take care of us?
We will learn how to take care of each other.  We are certainly qualified. A key finding of the MetLife study mentioned above is that gay and bisexual men are just as likely to report being caregivers for another adult as are lesbians and bisexual women. The levels of support are startling with 34 percent of the respondents providing from 1 to 10 hours per week and 20 percent reporting 41 hours per week.
More help is on the way. The network of support in the larger aging community is growing slowly more responsive with major associations like the National Association of Area Agencies on Aging and one of the nation's largest associations of long-term care providers, the National Center for Assisted Living providing guidance to their members on how to sensitively serve participants and residents from our community. SAGE Metro DC continues to work in the Washington, D.C., metropolitan area to support all of the efforts to assure that we will indeed be able to take care of ourselves.
If you have not already done so, talk with your friends, partner, spouse about how to plan for independence. Make an appointment with an elder law attorney to draft the documents that will preserve your right to make independent decisions. Aging LGBT boomers created the revolution that gave us our rights. They and their friends will also create a new revolution to insure independence and advancement in their "new age."
Alan Dinsmore is chair of SAGE Metro DC. Reach him at [email protected].
National Gay & Lesbian Chamber of Commerce Certifies Brown, Naff, Pitts Omnimedia, Inc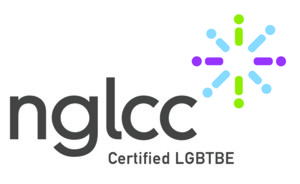 Washington, D.C. — Brown, Naff, Pitts Omnimedia, Inc, the parent company of the Washington Blade and Azer Creative, announced today it has been certified by the National Gay and Lesbian Chamber of Commerce (NGLCC) as an LGBT Business Enterprise. The NGLCC supports and advocates for diversity and inclusion for LGBT-owned businesses. With this certification the Blade's parent company joins more than 510 business and 134 corporate partners of the NGLCC.
Brown, Naff, Pitts Omnimedia, Inc. owns and operates the Washington Blade, the oldest and most acclaimed LGBT newspaper in the country. In 2012, the company launched Azer Creative, a full-service design firm. The company employs more than a dozen full-time LGBT staff.
"We are excited to become one of the 500 LGBT businesses across the country certified by NGLCC," said Lynne Brown, the Blade's publisher and a co-owner of the company. "The LGBT community has been part of our company from the beginning and we look forward to continue that for many years to come."
The Washington Blade was founded in 1969 and is known as the "newspaper of record" for the LGBT community both locally and nationally. Visit washingtonblade.com for more information. Azer Creative is a full-service graphic design firm based in Washington, D.C. Visit azercreative.com for more information. 
Vote now for the 2013 Best of Gay DC!
Choose in dozens of categories among hundreds of nominees, and make your voice heard!
Nominate the 'Best of Gay D.C.' now!
Dozens of categories cover all the best for LGBT Washington. Who deserves the prize this year?