Santorum to gay soldier: 'Don't Ask' repeal is 'tragic'
Gay soldier asks question on LGBT rights at GOP debate

Former U.S. Sen. Rick Santorum reiterated his support for reinstating "Don't Ask, Don't Tell" on Thursday in response to a question asked by a gay soldier serving in Iraq during a presidential debate.
Santorum — one of nine GOP presidential hopefuls who attended the Fox News/Google debate in Orlando, Fla. — said he'd reinstitute the military's gay ban but suggested he would allow troops who have already come out to continue serving.
The question came via video from an Army soldier serving in Iraq identified as Stephen Hill. The service member said he was gay during the video and asked if debate participants would rollback LGBT advances in the military that have been achieved under President Obama.
"In 2010, when I was deployed to Iraq, I had to lie about who I was because I'm a gay soldier and I didn't want to lose my job," the soldier said. "My question is: under one of your presidencies, do you intend to circumvent the progress we've made for gay and lesbian soldiers in the military?"
In response to the question, which was audibly booed by audience members during the debate, Santorum said, "Any type of sexual activity has absolutely no place in the military."
Santorum maintained repeal of "Don't Ask, Don't Tell" — the 18-year-old ban on open service that officially came to an end Tuesday — amounts to affording special protections to gay troops.
"The fact that they're making a point to include it as a provision within the military — that we are going to recognize a group of people and give them a special privilege in removing 'Don't Ask, Don't Tell,' I think tries to inject social policy into the military," Santorum said. "And the military's job is to do one thing, and that is to defend our country."
Santorum continued, "We need to give the military, which is all volunteer, the ability to do so in a way that is most efficient in protecting our men and women in uniform, and I believe this undermines that ability."
The audience shouted in approval and applauded as the former U.S. senator from Pennsylvania made his remarks.
Pressed by Fox News anchor Megyn Kelly on what he would do with troops like Hill who are in service but already out, Santorum replied, "What we're doing is social experimentation. That's tragic."
Santorum then restated his pledge to reinstitute "Don't Ask, Don't Tell" as he maintained service members who are already out should be excluded from expulsion.
"I would just say that going forward, we would reinstitute that policy if Rick Santorum was president: period," Santorum said. "That policy would be reinstituted, and as far as people who are in it, I would not throw them out because that would be unfair to them because of the policy of this administration."
But then, in a seeming contradiction, Santorum said he'd "move forward with conforming with what was happening in the past," under which he said "sex is not an issue. "
"It should not be an issue. Leave it alone," Santorum said. "Keep it to yourself — whether you're heterosexual or homosexual."
Gay GOP groups railed against Santorum in response to the answer he gave to the gay service member during the debate.
In a joint statement, Jimmy LaSalvia, executive director of GOProud, and Chris Barron, chair of the organization, said Santorum "disrespected" troops and owes the soldier who asked the question "an immediate apology."
"That brave gay soldier is doing something Rick Santorum has never done — put his life on the line to defend our freedoms and our way of life," LaSalvia and Barron said. "It is telling that Rick Santorum is so blinded by his anti-gay bigotry that he couldn't even bring himself to thank that gay soldier for his service."
LaSalvia and Barron noted that Hill is serving in the Iraq war, an operation that Santorum said he supports.
"How can Senator Santorum claim to support this war if he doesn't support the brave men and women who are fighting it?" LaSalvia and Barron said.
R. Clarke Cooper, executive director of the National Log Cabin Republicans, said Santorum gave a "shameful response" to the service member and "was incoherent and out of touch."
"America's uniformed leaders support gays and lesbians serving alongside their colleagues with dignity and respect," said Cooper, who's also an Iraq combat veteran and current Army Reserve officer.
"Santorum's divisive and homophobic remarks do not befit a commander-in-chief," Cooper continued. "Americans want to hear about how our next president is going to cut our national debt, advocate for a confident foreign policy and most importantly help let the private sector thrive to create jobs."
It's not the first time Santorum has said he'd reinstate "Don't Ask, Don't Tell." He affirmed he would institute the military's gay ban when Think Progress asked him about the issue in April.
Republican presidential candidate and U.S. Rep. Michele Bachmann (R-Minn.) has also said she'd reinstitute "Don't Ask, Don't Tell" if elected to the White House.
Watch the video here (via Think Progress):
http://www.youtube.com/watch?v=hKtzOjAWGIE&feature=player_embedded
UPDATE: In a subsequent appearance Friday on Fox News, Santorum said he condemns those in the audience who booed Hill, although the candidate added he heard no jeers during the debate.
"I condemn the people who booed that gay soldier," Santorum said. "That soldier is serving our country. I thank him for his service to our country. I'm sure he's doing an excellent job. I hope he is safe. I hope he returns safely and does his mission well."
Santorum continued, "I have to admit I seriously did not hear those boos. Had I heard them, I certainly would have commented on them, but, as you know, when you're inside that sort of environment, you're sort of focused on the question and formulating your answer, and I just didn't hear those couples of boos that were out there. But certainly had I, I would have said, 'Don't do that. This man is a serving our country and we are to thank him for his service.'"
Watch the video here (via Think Progress):
LGBTQ literature advocacy org to host celebrity panel
Discussion to be moderated by writer Sa'iyda Shabazz, 'Glee' actor Chris Colfer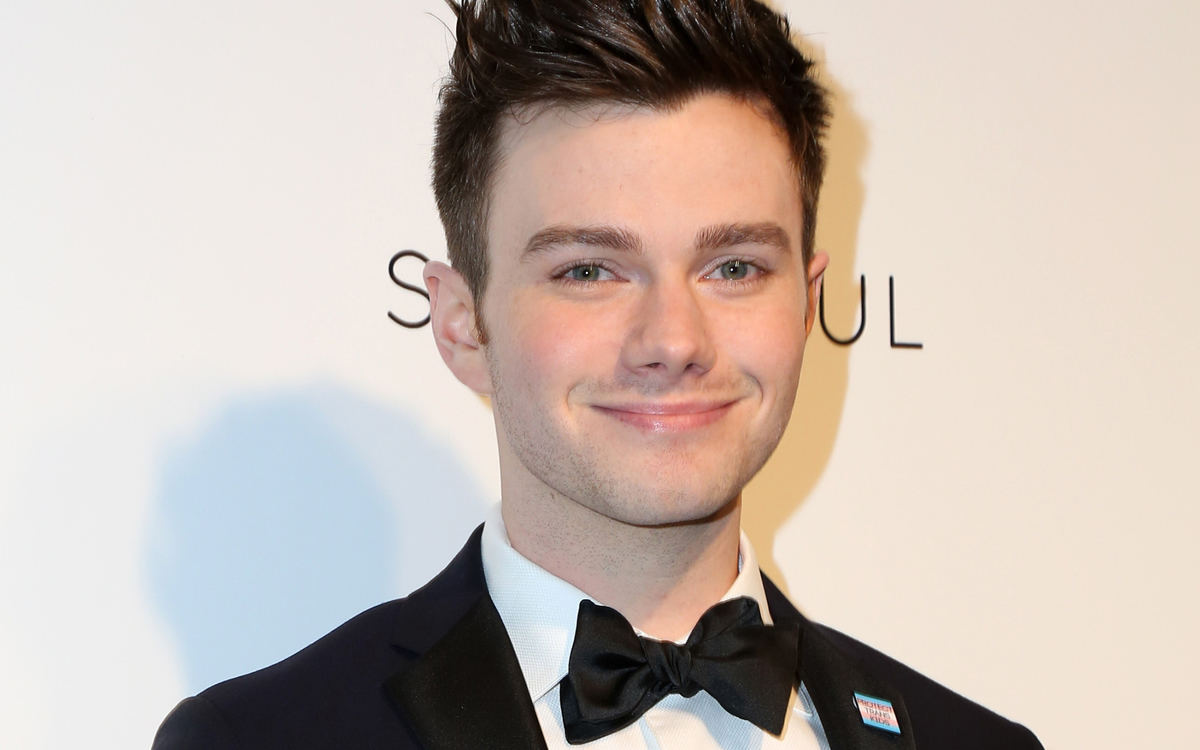 Affectionately known by fans of the show as the "fashionable soprano," Chris Colfer's character in "Glee" came out as gay to his father in the fourth episode of the Golden Globe-winning musical drama series. Colfer paused in between fragments of sentences to catch his breath as his pupils, set atop his recognizable rosy cheeks, dilated.
"Being a part of…the glee club and football has really shown me that I can be anything," he said. "And what I am is…I'm gay."
Colfer, who is also author of young adult fiction series "The Land of Stories," will be one of four panelists at a virtual event hosted by LGBTQ organization Pride and Less Prejudice (PLP) on Saturday, June 3. At the event, panelists will discuss queer visibility in authorship and the importance of queer people telling queer stories.
"We selected [them] because we're trying to look at the intersection between TV, film, podcasts, [and] books because it's all media and it's all really great avenues for queer people telling their own story," said Rebecca Damante, co-founder and outreach coordinator of the organization.
PLP began in 2019 when Damante had conversations with her mother about her experiences as a queer person and how she came to terms with her sexuality in high school. Although she watched shows such as "Glee" and "Pretty Little Liars" that had great queer representation, she knew that "it would've made a huge difference" if she had seen this as a kid.
"I was a huge reader as a kid and my mom had a lot of great books in our library about interfaith families and adoption," said Damante. "I come from an interfaith family and have family members who are adopted, so she had diverse books in that way but never really had LGBTQ inclusive books."
This motivated the mother-daughter duo to start an organization that donates LGBTQ-inclusive books to classrooms from pre-K to third grade.
They posted a Google form to social media that was reposted by GLAAD, where Damante had interned, and amplified by LGBTQ activist Kristin Russo. Teachers would put in requests for books and this allowed PLP to start an email chain that they could also use to solicit donations.
It wasn't until Damante posted to Pantsuit Nation, a Facebook group that rallied Hillary Clinton supporters during her 2016 presidential run, that PLP garnered interest from hundreds of teachers. This led to a celebrity campaign video where actors Nicole Maines, Theo Germaine, and Darryl Stephens, among others, emphasized the importance of LGBTQ literature in classrooms.
Since 2019, the organization has raised more than $140,000 in grants and donations and donated over 8,000 books.
Dylan Moss, a kindergarten teacher in Albany, N.Y., is among those who have benefitted from PLP's efforts.
During a quest for more diverse and inclusive books for his classroom, he stumbled upon PLP's website between 2020 and 2021 and reached out to the organization. Since then, he has been actively involved in PLP's efforts and is now a member of the advisory committee that helps to create lesson plans that accompany the books.
"Biases start to get formed [in kindergarten], so I like to help [my students] create better narratives," said Moss in a Zoom interview. "It's easier to learn it now than to take away all the negative biases they have from everyday society, family, and just being around other humans."
Moss also added, over email, that when discussing diverse topics in the classroom, conversations are aligned with social studies standards.
"I'd rather [my students] understand that people are different and that there's a reason we're different and that we should love that we're different," he said on Zoom. "You don't have to go deep into the ideas necessarily. You can just give them the basis of what you're saying and kind of let them take it from there."
For Lisa Forman, Damante's mom and co-founder and executive director of PLP, approaching education this way is not only a form of allyship and advocacy, it's "standing up for what's right."
The first half of the 2022-2023 school year saw 1,477 attempts to ban 874 individual book titles, 26% of which had LGBTQ characters or themes, according to data from Pen America, an organization that advances human rights and literature causes in the United States and worldwide. 
In 2022, the Washington Blade reported that a Loudoun County, Va., school board voted to remove "Gender Queer: A Memoir," an illustrated autobiography by non-binary author Maia Kobabe that contains descriptions and comic book style drawings of sexual acts that Kobabe uses to tell the story of the journey and struggle in discovering the author's gender identity.
"As much as these books are for the queer kids in the classroom, they're for every kid," said Forman. "We're doing this not just for the queer kids…we want to normalize the idea of being queer in the classroom."
Looking to the upcoming celebrity panel, Damante wants to leave attendees feeling inspired enough to own their narratives, whether they identify as queer or not.
"If teachers are able to see the impact of these queer stories then they'll understand why it's important for them to share the books," she said.
Gay Days 2023 will go on despite DeSantis and anti-LGBTQ animus
Tens of thousands expected at Walt Disney World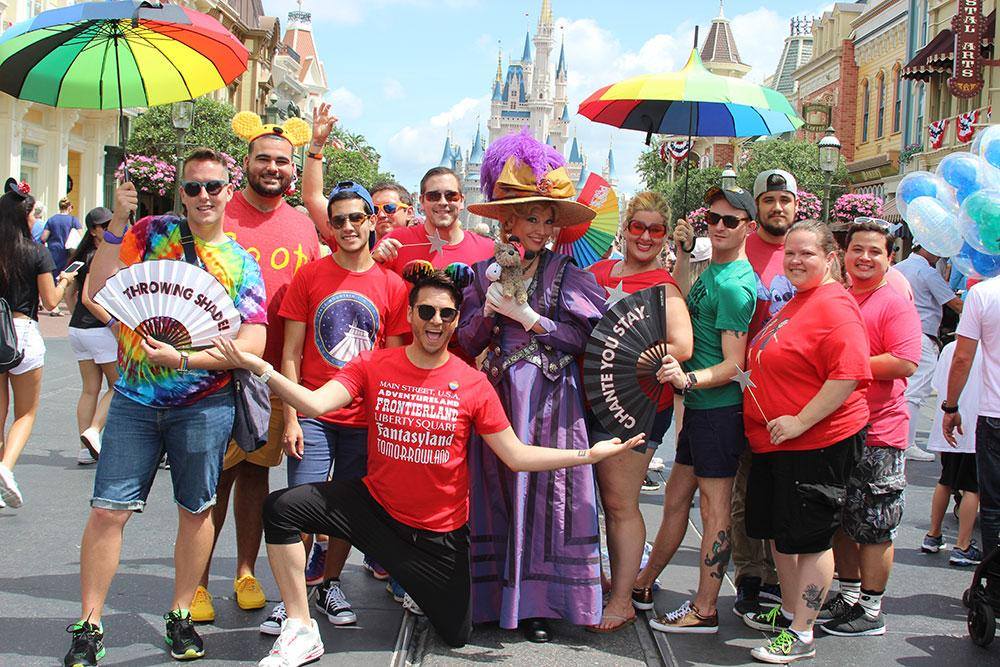 Equality Florida has issued a travel advisory to LGBTQ people that traveling to the state isn't safe given the plethora of anti-LGBTQ laws. On May 23, the Human Rights Campaign joined with Equality Florida urging LGBTQ people to avoid travel to Florida.
Citing six anti-LGBTQ bills passed and signed by Gov. Ron DeSantis, the two groups noted that while not a blanket recommendation against travel nor a call for boycott, the travel advisory outlines the devastating impacts of laws that are hostile to the LGBTQ community.
As Pride month gets underway Thursday, an annual event that is celebrating its 32nd anniversary this year and draws tens of thousands of LGBTQ people to Walt Disney World and the Disney resort areas near Orlando, is slated to commence over the next four day period.
Wearing red shirts to identify themselves, participants in the unofficial Disney Gay Days celebration gather for parties, meet-ups and enjoying a Disney holiday. In an interview with the Associated Press, Joseph Clark, CEO of Gay Days, Inc., said that he is hoping that this year can see upwards of 150,000 LGBTQ people descending on Central Florida to mark the start of Pride season.
In addition to Disney, the LGBTQ folks will also be visiting the neighboring amusement parks of Universal Studios and SeaWorld.
Pride celebrations this year in Florida have taken on a different tone, St. Cloud organizers of the 'PRIDE in St. Cloud' scheduled for June 10 cancelled the event joining a growing list of Pride events being cancelled as a "climate of fear" has overtaken the state in the wake of DeSantis' extreme new anti-LGBTQ laws.
The Pride Alliance of the Treasure Coast notified the greater Treasure Coast community that the Pride parade was cancelled and that Pridefest will only be accessible to residents 21-years-old or older.
The Wilton Manors City Commission as well as the city's mayor voted to amending the permit for Stonewall Pride, Inc., to force compliance of a new state law that expands the definition of "live adult entertainment" to include drag entertainment.
Brandon Wolf, the press secretary for the largest state-wide LGBTQ equality and human rights advocacy group Equality Florida, in a text with the Washington Blade noted: "These are the intended chilling effects of DeSantis' slate of hate legislation. Just as the Don't Say LGBTQ law didn't direct school districts to rip down rainbow stickers, this bill does not ban drag or pride. But it uses vague language and threats to induce self-censorship."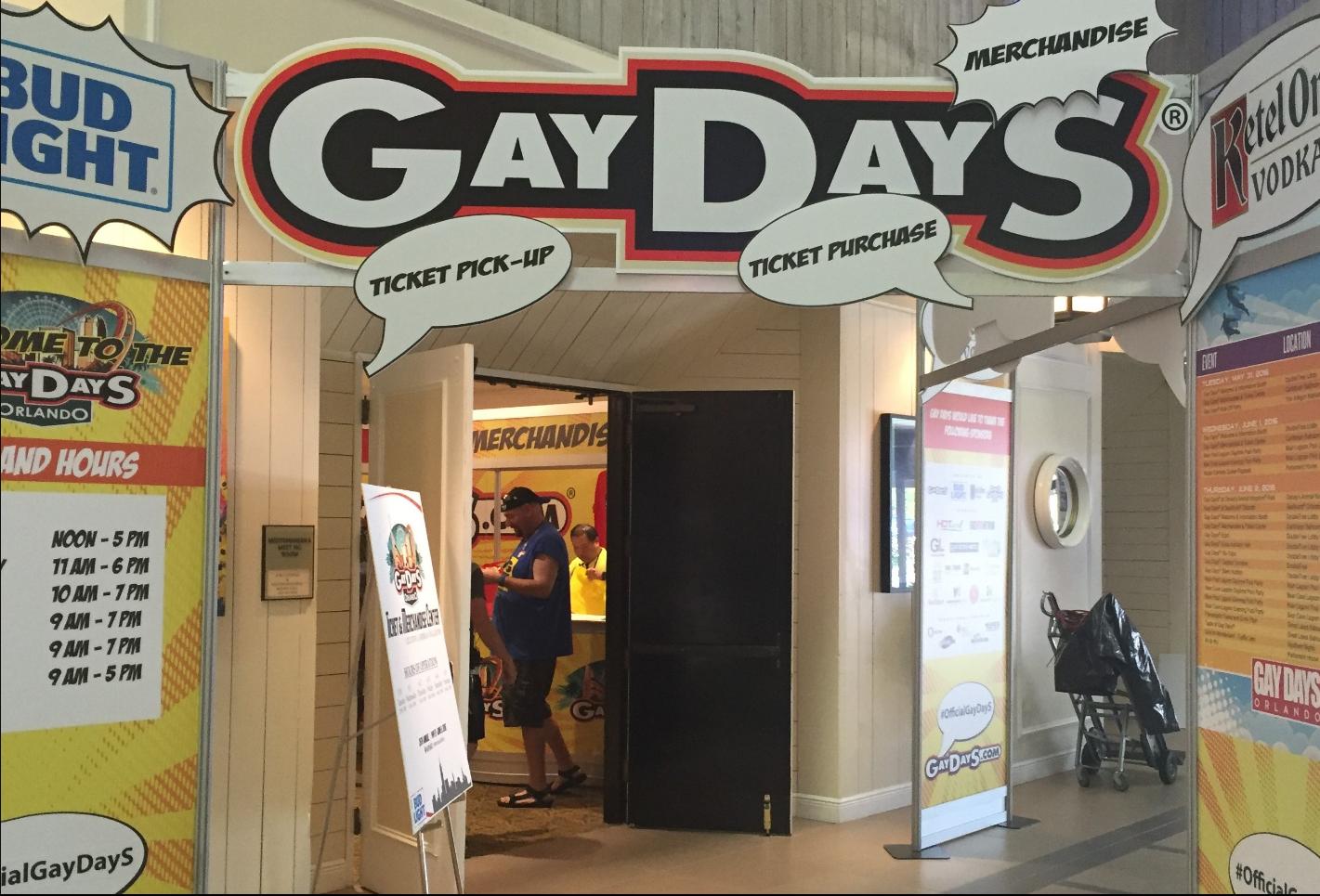 "We continue to be that blue speck in a sea of red, but ultimately laws are laws, and that is the interesting situation we are in," Clark told Deadline, adding that many folks have reached out to ask whether it's safe to visit Florida.
In a Facebook post earlier this week, GayDays® announced the cancellation and "reimagining" of Taste of GayDays® as "due to challenges caused by the current political climate in Florida which recently caused concerns for a large group of our restaurant partners."
"UPDATE: We're deeply sorry to announce the cancellation and 'reimagining' of Taste of GayDays® due to challenges caused by the current political climate in Florida which recently caused concerns for a large group of our restaurant partners. Because of these circumstances, and though we adamantly tried to recruit additional vendors, it became clear that we would be unable to provide the exceptional experience that our guests have come to expect at the Taste of GayDays® Event.
But FEAR NOT! We've planned something special for you all. Join us for the FREE GayDays Orlando 2023 'Taste of GayDays® Entertainment Preview Show' at 6 p.m. on Thursday, June 1! This new event aims to give a preview of several other special events during GayDays® Orlando including performances by some of our Miss GayDays® Pageant competitors, introductions and meet and greets with Mr. GayDays® Leather Competitors and more. Please know — we are committed to delivering extraordinary experiences at GayDays® Orlando.
As we are days away from the start of GayDays Orlando 2023 this was not an announcement we had expected to have to make. We will not let this deter us! We are determined to work towards changing the mindset of people and ensure that future events uphold the high standards that are synonymous with GayDays®. It is because of you, that together, we'll make a difference," the group wrote.
GayDays® at Area Theme Parks | #RedShirtDays schedule linked here: (Link)
Biden's Pride month proclamation: 'Our nation faces another inflection point'
States across the country have passed anti-LGBTQ laws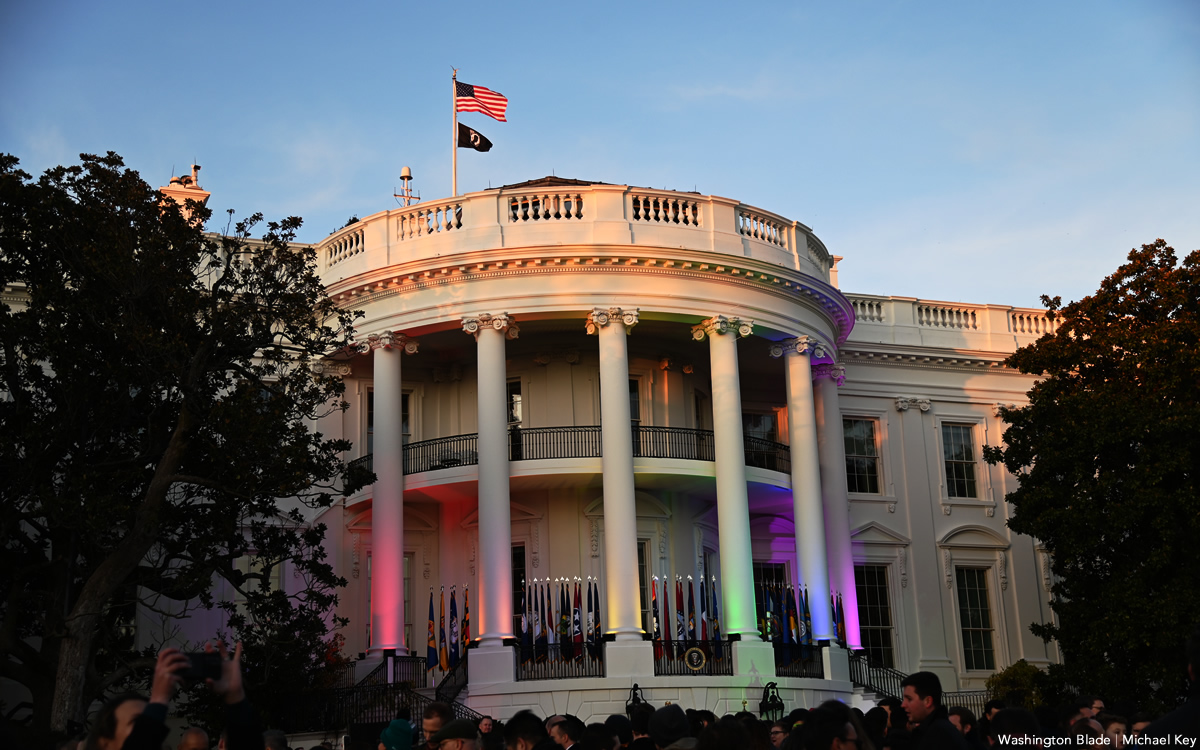 Just as the 1969 Stonewall riots marked a transformational time for LGBTQ civil rights in America, the country now faces another critical inflection point, President Joe Biden said in the White House's proclamation Wednesday honoring Pride month.
This moment is precipitated by the wave of hateful anti-LGBTQ legislation moving through state and local legislatures across the country and amid the escalating violence and threats of violence against the community, the statement notes:
"In 2023 alone, state and local legislatures have already introduced over 600 hateful laws targeting the LGBTQI+ community. Books about LGBTQI+ people are being banned from libraries. Transgender youth in over a dozen states have had their medically necessary health care banned. Homophobic and transphobic vitriol spewed online has spilled over into real life, as armed hate groups intimidate people at Pride marches and drag performances, and threaten doctors' offices and children's hospitals that offer care to the LGBTQI+ community. Our hearts are heavy with grief for the loved ones we have lost to anti-LGBTQI+ violence."
Biden drew parallels between the "LGBTQI+ protestors" who "bravely stood their ground" against the law enforcement dispatched to arrest them more than 50 years ago and the youth organizers leading walkouts in response to discriminatory education laws, along with the "young people and their parents [who] are demonstrating unimaginable courage by testifying in state capitols in defense of their basic rights."
The statement reaffirms the Biden-Harris administration's commitment to standing "proudly with the LGBTQI+ community in the enduring struggle for freedom, justice and equality," chronicling some of the major steps the administration has taken on this front.
Biden highlighted his issuance, on his first day in office, of an executive order prohibiting anti-LGBTQ discrimination, along with his signage last year of the Respect for Marriage Act, which codified protects for the rights of same-sex couples that might otherwise be jeopardized by the U.S. Supreme Court's conservative supermajority.
The statement then noted the administration's moves to protect LGBTQ youth by ordering federal agencies to: Combat conversion therapy, "end the crisis of homelessness among LGBTQI+ youth and adults," and address anti-LGBTQ discrimination in foster care.
Meanwhile, Biden said, the Justice Department is fighting against discriminatory laws targeting transgender youth, while the U.S. Departments of Education and Health and Human Services have drafted rules that would better protect anti-LGBTQ discrimination "in healthcare, at school and in sports" and the White House is developing ways to combat online harassment and abuse that "disproportionately target LGBTQ people."
Finally, the White House noted: Its rollout last year of the Suicide and Crisis Lifeline for LGBTQ youth, who can now reach specially trained counselors by dialing 988 and then three; the administration's appointment of historic numbers of LGBTQ appointees at all levels of the federal government; and its repeal of bans preventing trans people from serving in the U.S. Armed Forces.
From passing federal nondiscrimination protections for LGBTQ Americans via the Equality Act to addressing "the crisis of violence against transgender women and girls of color," Biden acknowledged the work that lies ahead.
"This month and every month," his proclamation concludes, "let us celebrate the pride that powers the movement for LGBTQI+ rights and commit to doing our part to help realize the promise of America, for all Americans."