September 29, 2011 at 4:50 pm EST | by Staff reports
Gay-themed exhibit in Baltimore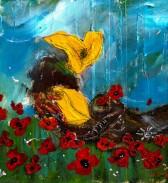 In affiliation with the Black Male Identity Project, the Fleckenstein Gallery (3316 Keswick Rd.) in Baltimore has a new exhibit, "Travelin' Shoes" opening Wednesday with an artist reception from 5 to 9 p.m.
The exhibit features works by Kylis Winborne, Schroeder Cherry, and gay artist, Rams Brisueño, who portrays male and female figures in his work. Some are shown asexual and some with gender-bending qualities.
The gallery is open Tuesday through Friday from 11 a.m. to 7 p.m. and Saturdays from 11 a.m. to 6 p.m. The exhibit will be on display through Nov. 5.