Trials and tribulations
Ford's takes chance on daring musical 'Parade'

'Parade'
Through Oct. 30
Ford's Theatre
511 1oth Street, NW
$15-$75
fords.org
Not all musicals end happily. Case in point: "Parade." Based on the real life trial and lynching of Leo Frank in early 20th century Atlanta, the Tony Award winner (currently playing at Ford's Theatre) is some depressing stuff.
Yes, Jason Robert Brown's gorgeous score softens the grim facts and when sung by the talented actors gathered for this respectable production, the show remains a sad story, but one that's beautifully told.
It's 1913 and the bloody body of 13-year-old Mary Phagan (Lauren Williams) is found in the basement of Atlanta's National Pencil factory on Confederate Memorial Day. Following a mishandled investigation, Frank (Euan Morton), a young Brooklyn Jew who has moved south to marry nice Jewish girl Lucille (Jenny Fellner) and run the factory, is arrested for the murder of his young employee.
Atlanta's citizenry is out for blood. A lingering resentment of Northerners (it's just 50 years since the Civil War) combined with a heavy dose of anti-Semitism are the prefect recipe for injustice. One by one, the coached and coerced give damning testimony in a mostly sung-through trial sequence whose high point is the sensational "That's What He Said" in which slippery witness James Conley (Kevin McAllister) backed by the ensemble set the stage for Frank's railroading.
Fellner sings a heartrending rendition of "You Don't Know This Man," Lucille's balladic defense of her husband. Similarly, Morton as Leo (an uptight adding machine so unfamiliar with southern ways) begins to open up with "It's Hard to Speak My Heart." But despite the couple's best efforts, their foes — ambitious prosecuting attorney Hugh Dorsey (James Konicek) and rabble-rousing publisher Tom Watson played by a mustachioed Will Gartshore (local gay actor whose glorious tenor was also heard in "Parade" when it opened on Broadway in 1998, but in a different part) — aren't listening.
Morton, the versatile Scottish actor who became well known for playing Boy George in Broadway's musical "Taboo," is terrific. His Leo is at turns nebbishy, brusque, slightly superior, but in the end loving. Unfortunately neither Brown's score nor the show's book by Alfred Uhry (who also wrote "Driving Miss Daisy," another peek into Atlanta's Jewish community) provides an opportunity for Leo to reveal his fear and anguish.
The heart of the story is Leo and Lucille's changing marriage. What starts out as a loveless seemingly arranged union forges into a respectful partnership as the pair work to secure Leo's freedom and ultimately blossoms into full blown romance. Jailhouse visits are breezy. Lucille sets out her finicky husband's home cooked favorites while Leo busily works on his appeal. If only for a short time, they behave like a happily married couple despite the macabre circumstance.
Conducted by Steven Landau, Brown's soaring score references military marches, spirituals and waltzes. There are sad ballads and grave melodies aplenty, but a few tunes encourage toe tapping too. It's those along with choreographer Karma Camp's cake-walking moves that remind us of the circus like good time surrounding Leo's trial and lynching. They were big entertainment, the hottest tickets in town.
Sure-handedly staged by Stephen Rayne, the production moves at a good clip. Set designer Tony Cisek imagines the newly industrialized Atlanta as two tiers of red brick arches that serve variously as factory, courthouse, jail, governor's mansion and the Frank home. Two towering columns – each in unchecked stages of decay — stand as fading remnants of a prouder, more glorious South. And Wade Laboissonniere's many period costumes are spot on and superbly rendered.
There's a lingering sadness to Ford's "Parade." Long after the actors have taken their bows, we're haunted by the ghosts of little Mary Phagan, Leo Frank, his wife and the people of Atlanta. Neither they nor the tragic events are easily forgotten.
PHOTOS: GMCW Holiday Show
Chorus performs at Lincoln Theatre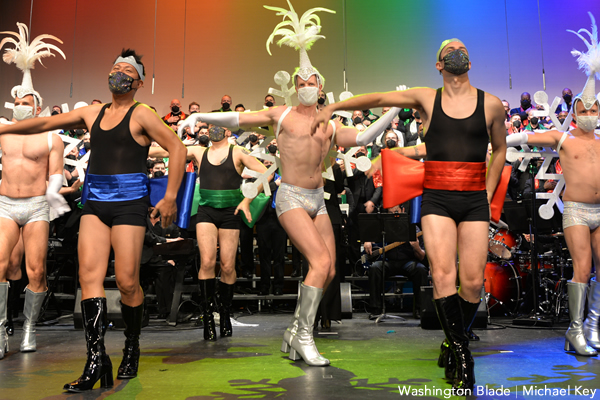 The Gay Men's Chorus of Washington performed its "Holiday Show" at Lincoln Theatre on Saturday. The Chorus has performances on Dec. 11 and 12. For tickets and showtimes, visit gmcw.org.
(Washington Blade photos by Michael Key)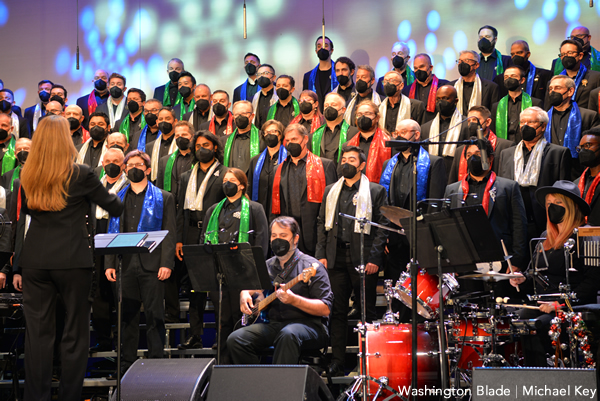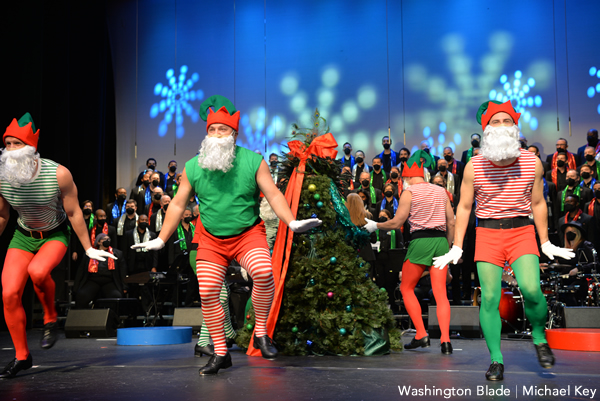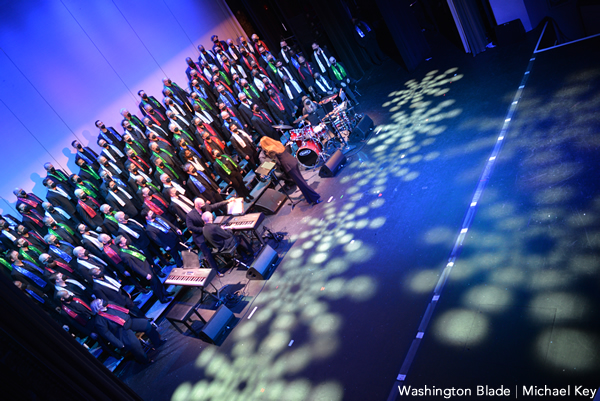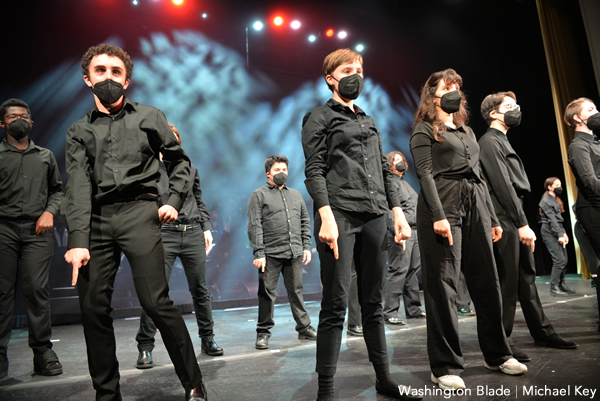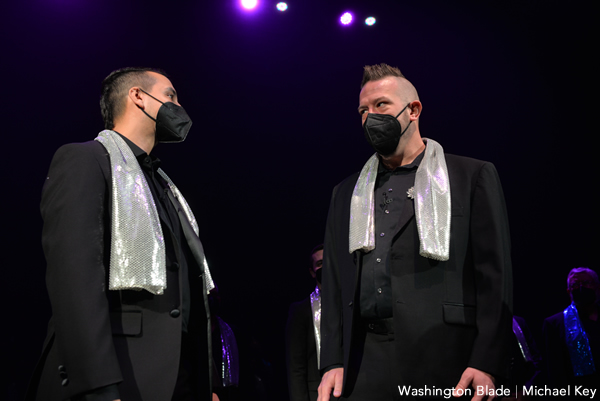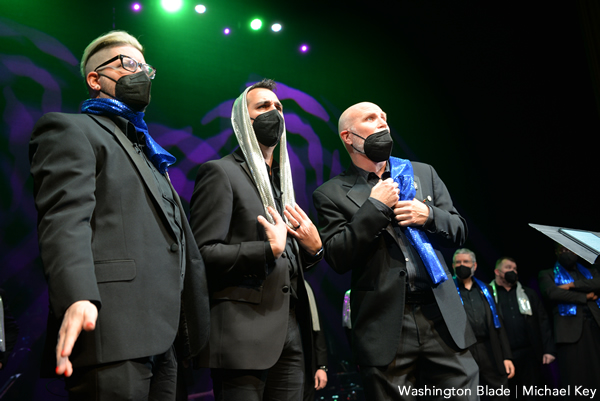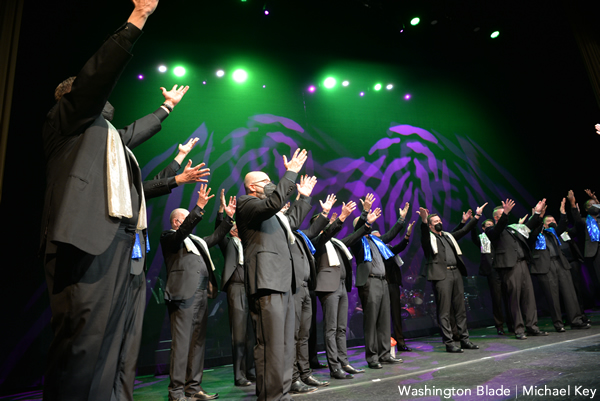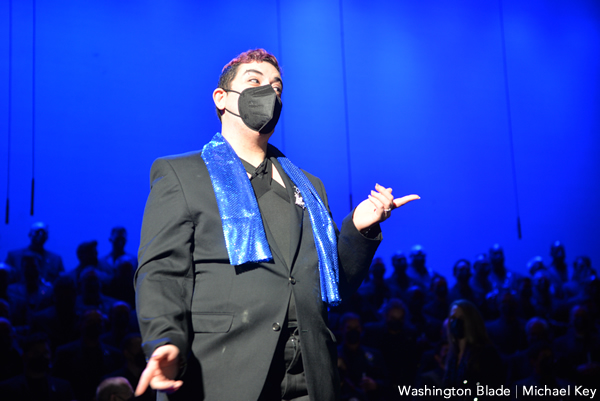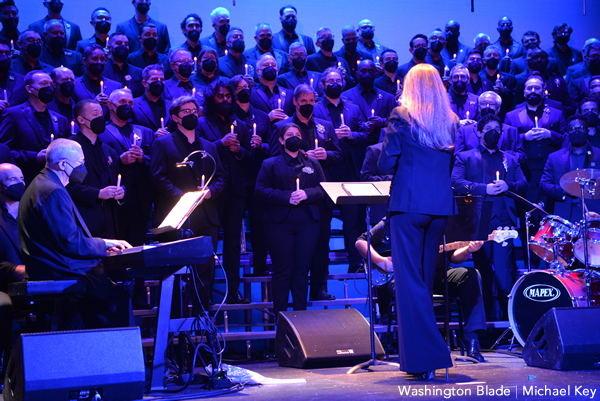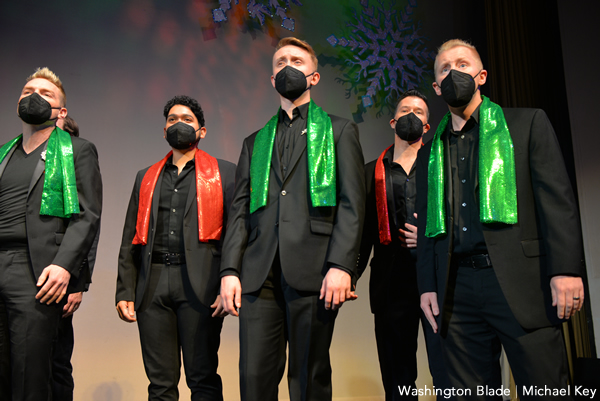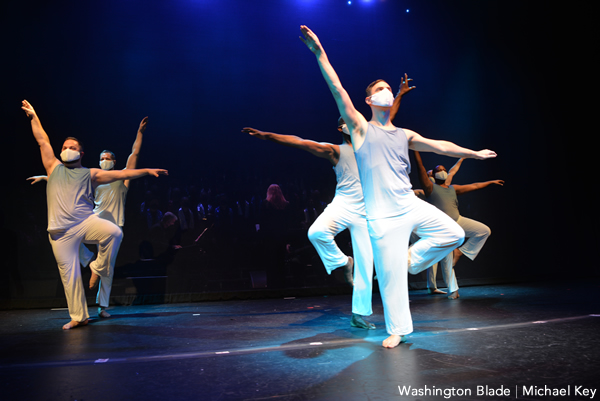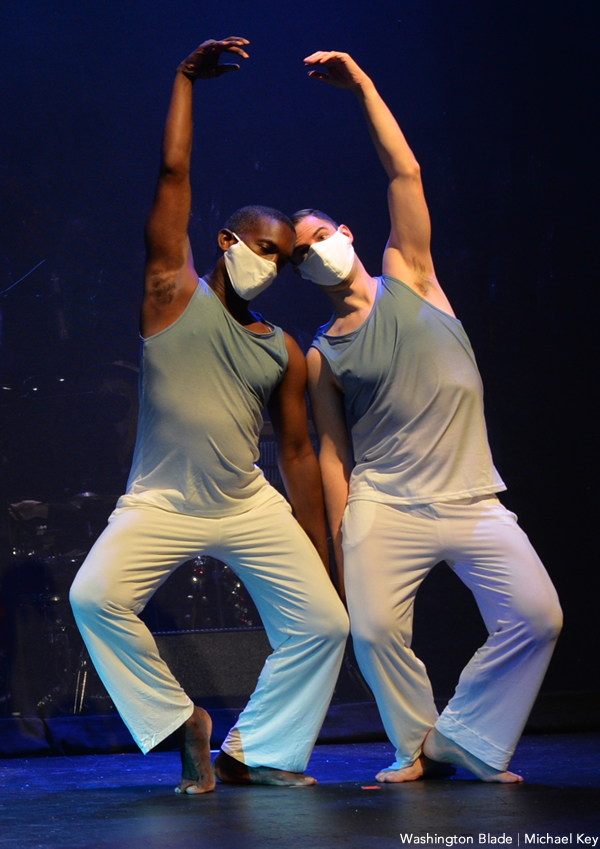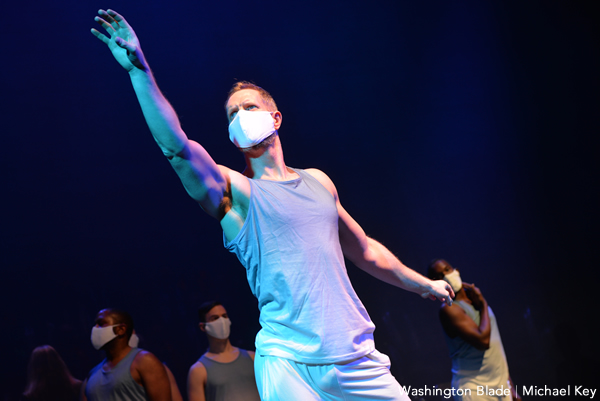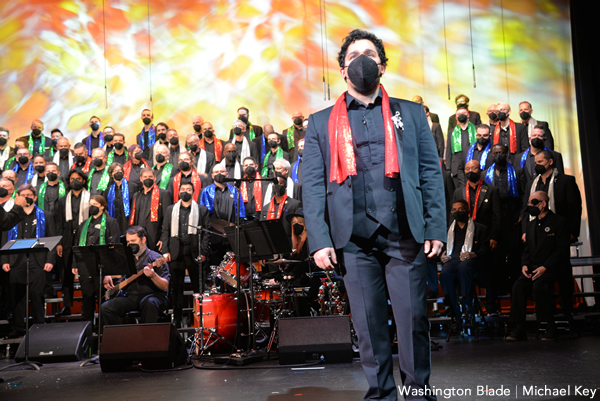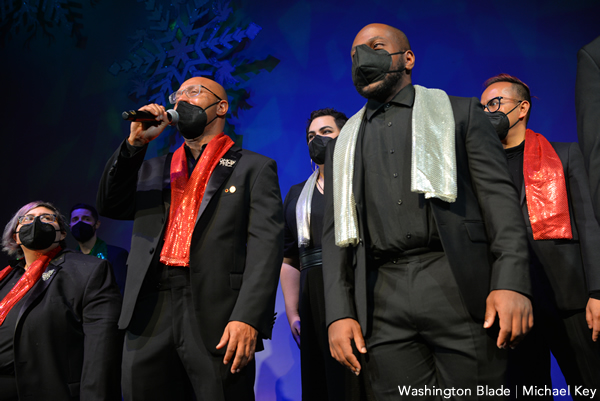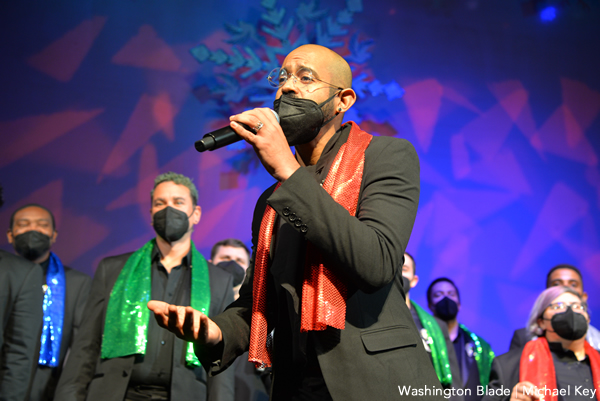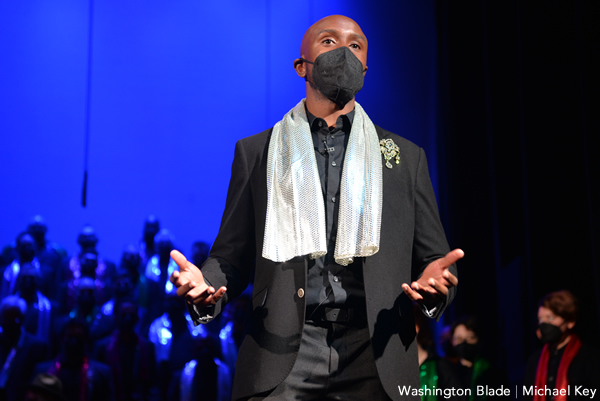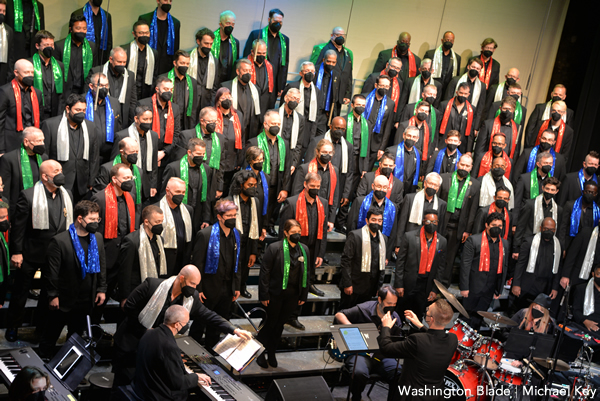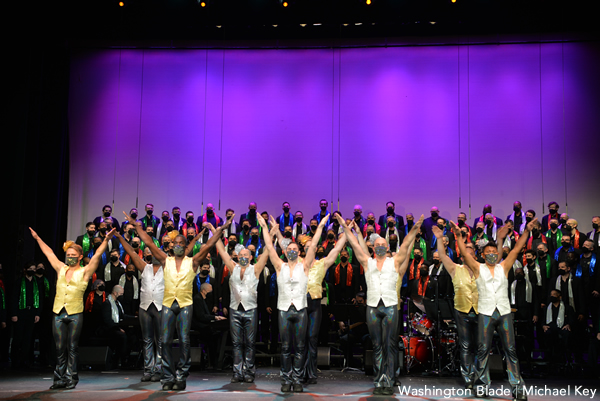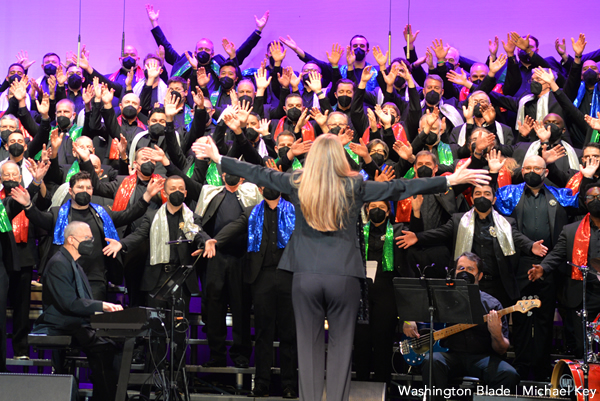 PHOTOS: International LGBTQ Leaders Conference opening reception
Politicians and activists from around the world met and mingled at the JW Marriott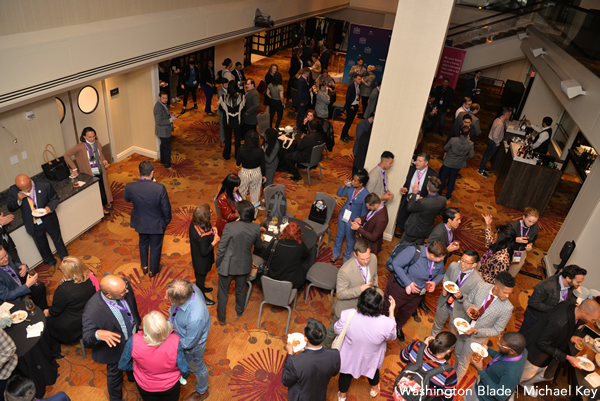 The LGBTQ Victory Institute held an opening reception for the 2021 International LGBTQ Leaders Conference at the JW Marriott on Thursday.
(Washington Blade photos by Michael Key)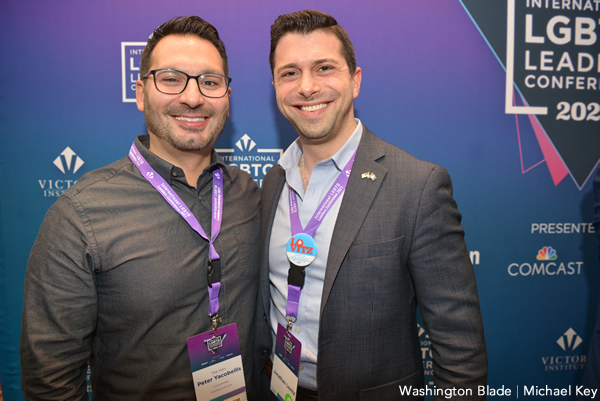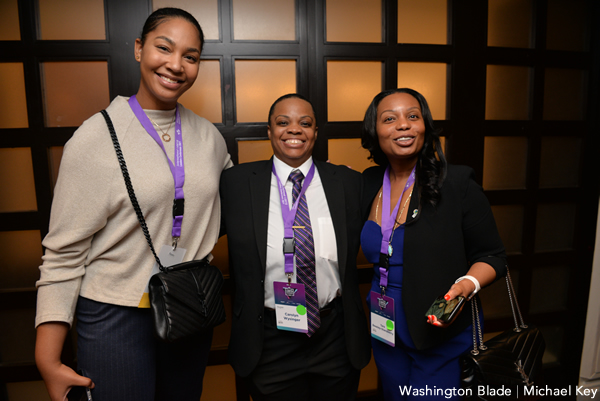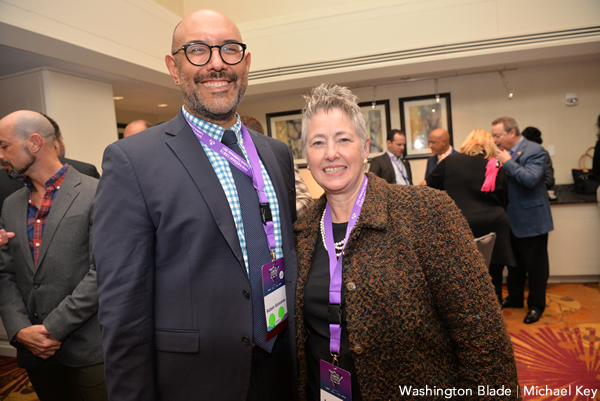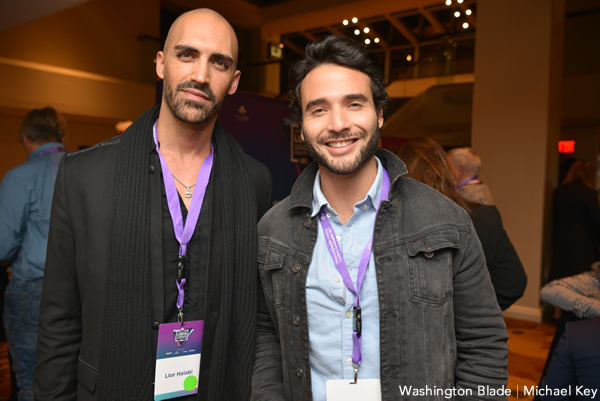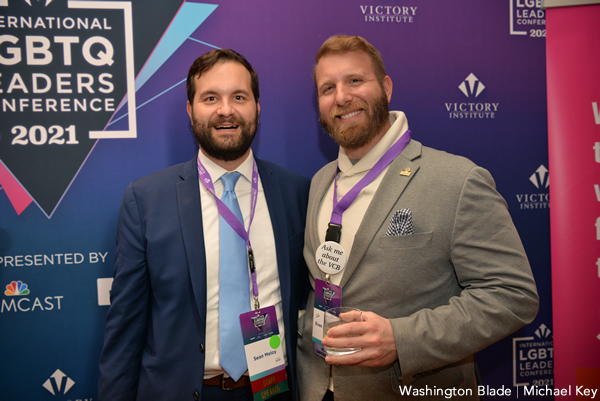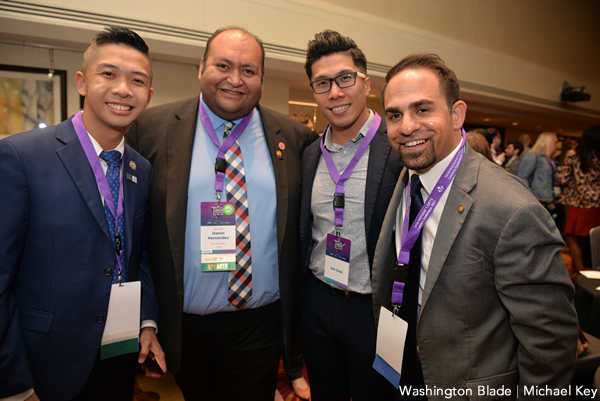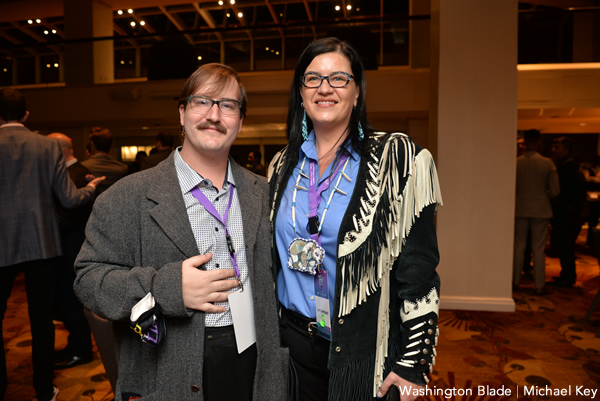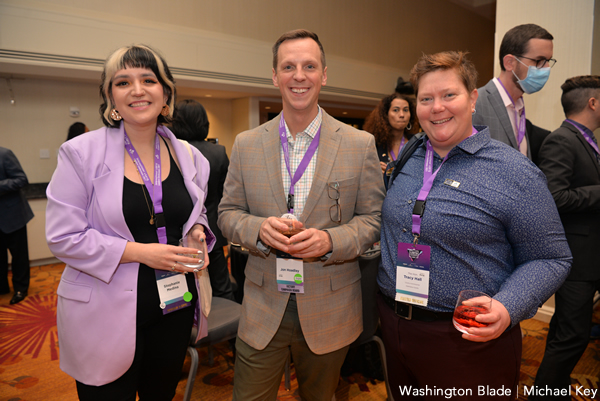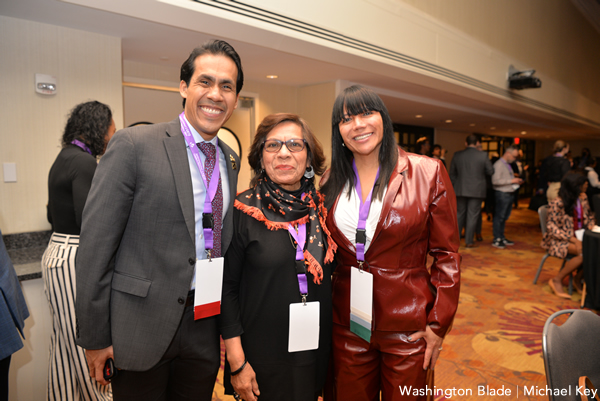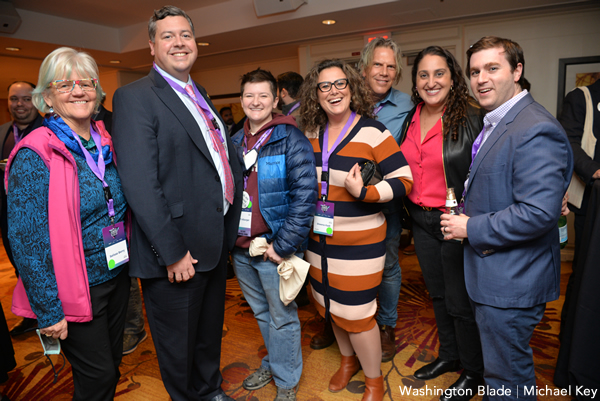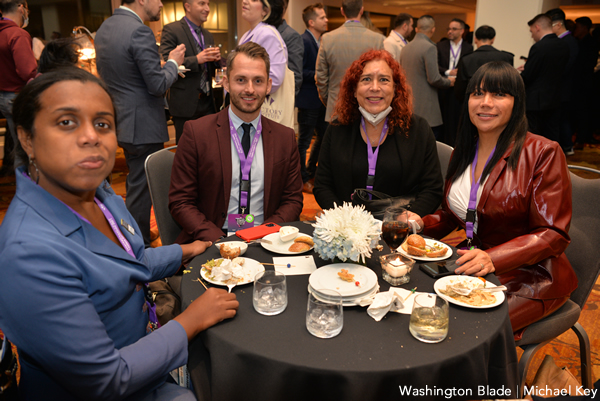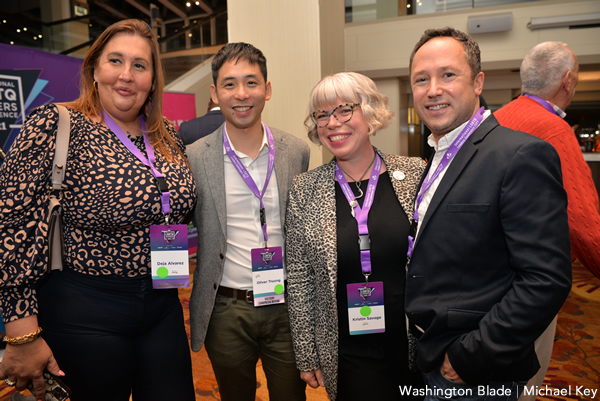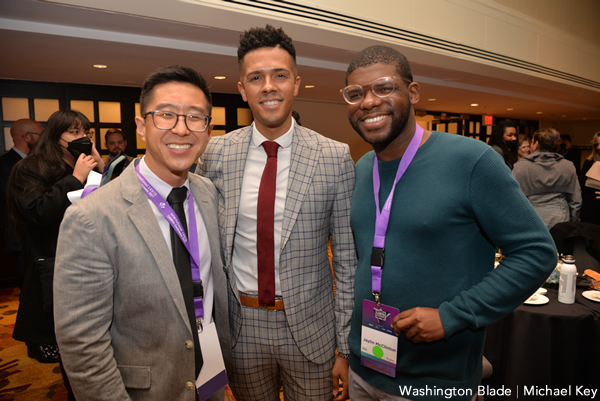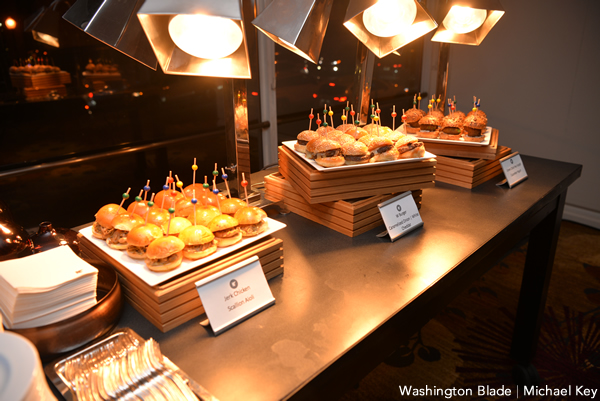 Meet the husbands and creative partners behind 'Christmas Angel'
A funny, redemptive world premiere with a diverse cast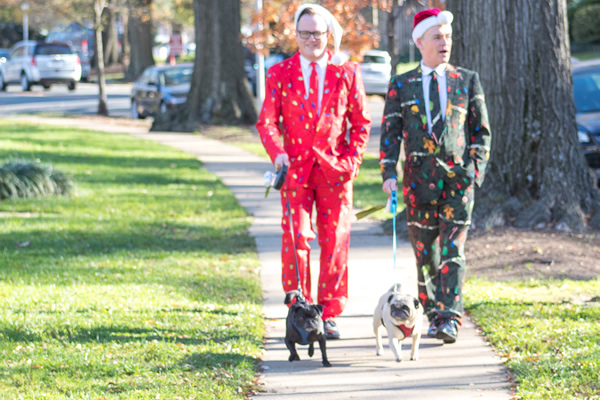 'The Christmas Angel'
Dec. 9-19
Creative Cauldron
410 South Maple Avenue
Falls Church, VA 22046
Tickets:  $35. Students $20.
Masks and proof of vaccination are required
creativecauldron.org
"Ours is like a lava lamp," says composer Matt Conner describing the collaborative creative process he shares with musical writing partner and husband Stephen Gregory Smith. "We move together in motion in a continual ebb and flow."
A couple for 23 years, married for eight, and making musicals together for 11, the talented pair's current offering is "The Christmas Angel," opening on Dec. 9 at Creative Cauldron in Fairfax.
A musical adaptation of the same-named 1910 novel by Abbie Farwell Brown, it's the story of Angelina Terry (Kanysha Williams), a wealthy embittered recluse who learns the lessons of Christmas from a box of old toys that she casts into the street. Also featured in the hour-long one-act are Ryan Sellers as Horton, Angelina's butler, and Carl Williams who plays her brother. The angel and toys are brought to life by an ensemble of a dozen teens plucked from the company's musical theater training program.
Via phone from their home in Arlington, Smith and Conner shared thoughts on their new show and working style. In attendance are pug dogs Edgar Allan Pug and Lord Byron, whom they call Eddie and Byron in public – otherwise "it's just too much," says Conner whose ultimate fantasy involves living on a pug farm where he'd write music and present the occasional show.
Rather than finish each other's sentences, the duo (both Helen Hayes Award winners – Smith for acting and Conner for directing) expound on one another's thoughts.
While Conner composes the music, Smith writes the book and lyrics, and together they co-direct. "But there's no end and beginning where my job ends and his begins," says Smith. "What we do complements each other's work."
Still, there are differences. Smith's approach is focused. He writes pages at night and edits in the morning. Conner's method is more relaxed, preferring to sit at the keyboard and talk rather than writing things down. But throughout the creative process, there's never a moment when the project isn't on their mind. They can be watching TV or buying milk when an exciting idea pops up, says Conner.
A clever nod to Dickens, the novel is more than just a female "Christmas Carol," says Smith. And in some spots, he's beefed up the 55-page book, fleshing out both storyline and characters including the toys whose shabby appearance belies a youthful confidence.
He adds, "Every holiday season you go to the attic and pull down the box, or boxes in my case, of holiday decorations and it's all old but it's new. That's the nostalgic feeling of toys from the attic that we're trying to find through the show."
The music is a combination of traditional carols performed by a hand bell chorus, and original Christmas songs that intentionally sound very familiar. The score includes songs "Don't Hide Your Light," "The Sweetest Gift," and "Yestermore" – the moment when the past, present, and future come together.
Also, there's Angelina's Bah! Humbug! number "Fiddlesticks," her great renunciation of the holidays. She believes the world a disappointing place to be, and the sooner realized the better.
Conner and Smith aren't new to Creative Cauldron. Through the company's Bold New Works project, the team was commissioned to write five world premiere musicals in just five years. The result was "The Turn of the Screw," "Monsters of the Villa Diodati," "Kaleidoscope," "Witch" and "On Air."
Judging from some of the titles and their slightly macabre content, it seems the duo was better poised to write for Halloween than Christmas, but nonetheless, they were commissioned. Creative Cauldron's producing director Laura Connors Hull brought them the obscure yet charming book that surprisingly had never before been reworked for stage or celluloid, and the pair got to work last spring.
Conner and Smith agree, "The show is a lot of things rolled up into one."
Not only is it a funny, redemptive world premiere with a diverse cast, but it's also a story largely unknown to today's audiences. Additionally, the show boasts intergenerational appeal while holding messages about Christmas, family, and finding light when you're in a darker place.
More information about Conner and Smith, including links to their music and popular podcast "The Conner & Smith Show," can be found on their terrific website at connersmithmusicals.com.