Longtime gay activist Frank Kameny dies
Community, public officials mourn loss of LGBT movement hero, pioneer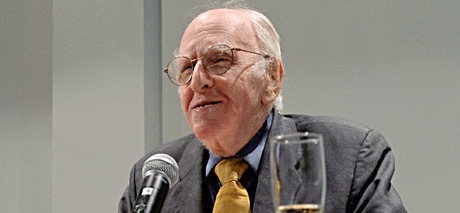 Expressions of condolences from LGBT activists and their straight supporters poured in from across the country this week following the death in Washington on Tuesday of Franklin E. Kameny, one of the nation's most prominent gay rights leaders.
Friends said Kameny, 86, appears to have died in his sleep while in bed at his house in Northwest Washington. A representative of the D.C. Medical Examiner's office, who spoke to friends and well-wishers who stood outside the house Tuesday night, said the cause of death couldn't be immediately determined.
Kameny's passing came a little more than a month before the planned celebration on Nov. 15 of the 50th anniversary of his founding of the Mattachine Society of Washington, the first gay rights organization in the nation's capital.
LGBT rights advocates Charles Francis and Bob Witeck, who were longtime friends of Kameny's and established the project to preserve Kameny's papers over a 50-year period, said they would be announcing soon plans for a memorial service to honor the gay rights leader's life.
Witeck said Nov. 15 is being considered as a possible date for a Kameny memorial gathering.
Timothy Clark, Kameny's tenant and friend, said he found Kameny unconscious and unresponsive in his bed shortly after 5 p.m. on Tuesday. Clark said he became concerned when he arrived home a few minutes earlier and noticed Kameny hadn't retrieved his newspapers, which are delivered outside the house in the morning.
He said he called 911 and rescue workers determined that Kameny had passed away earlier, most likely in his sleep. Clark said he had spoken with Kameny shortly before midnight on the previous day and Kameny didn't appear to be ill or in distress.
Kameny is credited with being one of the leading strategists for the early gay rights movement – beginning nearly a decade before the 1969 Stonewall riots in New York's Greenwich Village and continuing forward.
The Stonewall riots, triggered by a police raid of the Stonewall gay bar, are considered by most activist leaders as the starting point of the modern LGBT rights movement. But movement leaders credit Kameny and his collaborators in the Mattachine Society of Washington with laying the groundwork that enabled the post-Stonewall LGBT organizing to flourish.
"Frank was a revolutionary who lived to see the world change, and I'm comforted by that," said Francis. "He was the first gay American to root the argument for gay civil equality in the words of Thomas Jefferson and the Declaration of Independence and Constitution."
Gay historian David K. Johnson, who wrote about Kameny in two books on the gay rights movement, said Kameny broke from the early American "homophile" movement's tactics of accommodation with the prevailing views that homosexuality was a disorder.
"Kameny's style and tactics differed markedly from those of earlier homosexual leaders," Johnson wrote in a 2002 article posted on the website of D.C.'s Rainbow History Project. "By unabashedly proclaiming that homosexuality was neither sick nor immoral, Kameny helped move gays and lesbians out of the shadows of 1950s apologetic, self-help groups and into the sunlight of the civil rights movement, setting the tone for a movement that continues today."
It was during his years as head of the Mattachine Society of Washington that Kameny in July 1968 coined the phrase, "Gay is Good," which activists say became a forerunner to the gay pride celebrations that followed the 1969 Stonewall riots.
Born and raised in New York City, Kameny served in combat as an Army soldier in World War II in Europe. After the war, Kameny received his doctorate degree in astronomy from Harvard University.
He came to Washington in 1956 to take a position teaching astronomy at Georgetown University. The following year, government recruiters persuaded him to take a job as a civilian astronomer with the U.S. Army Map Service in Washington.
NASA career derailed
Kameny told the Blade in a 2002 interview that the nation's race against the Soviet Union for superiority in space had just begun in full force and he set his sights, among other things, on a possible role in the U.S. space program.
A short time later, Congress created the National Aeronautics and Space Administration and Kameny said he would have seriously considered applying to become an astronaut. But that was not to come about.
Just five months into his job at the Army Map Service, U.S. government security investigators uncovered information leading them to believe Kameny was gay. They opened an investigation into his alleged "threat" to national security. Within a few weeks he was dismissed from his job, with his name placed on a list of people labeled as government security risks.
Kameny challenged the dismissal before the U.S. Civil Service Commission, which set personnel policies for federal employees. The commission upheld the firing, prompting Kameny to take the matter to court. After losing in the lower courts, he appealed his case to the U.S. Supreme Court, becoming the first known gay person to file a gay-related case before the high court.
The Supreme Court upheld a lower court ruling against Kameny and declined to hear the case. But Kameny's decision to appeal the case through the court system motivated him to become a lifelong advocate on behalf of LGBT equality.
Gay historian Johnson wrote in his 2002 article that Kameny's lawyer withdrew from the case after the U.S. Court of Appeals ruled against Kameny, forcing Kameny to write his own appeal to the Supreme Court.
Johnson called Kameny's 60-page legal brief filed before the high court a groundbreaking challenge to the federal government's policy barring homosexuals from working for the government in any capacity. Johnson said it served as Kameny's and the gay movement's strategy document for advancing legal rights for gays in the years going forward.
Kameny's Supreme Court brief, or petition, also offered the world its first glimpse of what became his trademark use of blunt, sometimes inflammatory language combined with reasoned arguments to challenge anti-gay policies.
"The government's regulations, policies, practices and procedures, as applied in the instant case to petitioner specifically, and as applied to homosexuals generally, are a stench in the nostrils of decent people, an offense against morality, an abandonment of reason, an affront to human dignity, an improper restraint upon proper freedom and liberty, a disgrace to any civilized society, and a violation of all that this nation stands for," he wrote in his Supreme Court petition.
"These policies, practices, procedures, and regulations have gone too long unquestioned and too long unexamined by the courts," he wrote.
Gov't apologizes to Kameny
Although Kameny lost his own case, he spent the next decade working with attorneys and other gay and lesbian federal workers to chip away at the then U.S. Civil Service Commission's ban on gay federal employees through new court challenges. By 1975, after losing several cases to gay employees who won reinstatement to their jobs over a period of years, the Civil Service Commission dropped its ban on gay employees.
The change, which came under the administration of President Gerald Ford, was based on court rulings saying the government could not discriminate against homosexual federal employees if no evidence exists to show a harmful "nexus" between someone's sexual orientation and their ability to perform their job.
Kameny, who called the development a major victory for gay rights, turned next to ongoing efforts to end two other anti-gay policies of the government – the ban on gays from receiving government security clearances and the ban on gays in the military.
In 2009, the Obama administration through the U.S. Office of Personnel Management – the successor agency to the Civil Service Commission – issued Kameny a formal apology for his 1957 firing. The apology was extended by OPM Director John Berry, an openly gay man.
In an area of work for which Kameny is less known, he established a paralegal practice in the 1970s that continued through the 1980s and early 90s to represent gays encountering problems obtaining or retaining security clearances as well as gays facing discharge from the military because of their sexual orientation.
Activists following his paralegal work, including those who he helped keep their security clearances, called Kameny a tenacious counsel who sometimes worked with lawyers and other times served as an administrative representative before adjudicatory hearings, including discharge hearings in all branches of the military.
"When the super-secret National Security Agency (NSA) was on the verge of firing me simply for discovering I was gay, I enlisted Frank Kameny's help in resisting," said Jamie Shoemaker, a linguist and NSA career employee.
"His gutsy, unapologetic efforts to save my career and that of many others with security clearances led to a ground-breaking change in the attitude of our country's intelligence agencies toward gays," Shoemaker said.
Kameny said he was pleased when his security clearance practice became mostly unnecessary in the 1990s when President Bill Clinton issued an executive order prohibiting discrimination based on sexual orientation in the issuance of government security clearances.
Soliciting sodomy
In his work with military service members ensnared in what activists called witch hunts, where military investigators pressured vulnerable gays to identify other gays under false promises of lenient treatment, Kameny coined another phrase aimed at helping those under investigation – "Say nothing, sign nothing, get counsel."
Charles Francis and others who knew Kameny said his paralegal work met an important need in the years before groups such as Lambda Legal Defense and Education Fund and Servicemembers Legal Defense Network emerged to take on this type of legal work.
LGBT movement colleagues also credit Kameny with playing a lead role in the effort to persuade the American Psychiatric Association in 1973 to remove homosexuality from its list of disorders. As a scientist by profession, Kameny wrote and spoke often beginning in the 1960s about what he called the faulty or "junk" science that the psychiatric profession used to support its claim that homosexuality was a mental disorder.
Kameny and others supporting him within the profession argued that nearly all of the "gays are sick" theories were based on studies of patients in therapy. There were little or no studies made of the overwhelming majority of gays who never sought therapy and functioned well in society despite widespread anti-gay prejudice, Kameny and others argued.
When broader studies were conducted of gays and lesbians in the population at large, findings showed there were no differences in the numbers found to have mental health problems between samples of gays and straights, Kameny often pointed out.
In yet another area of work, Kameny is credited with playing an early and effective role in pushing for repeal of state sodomy laws, which made it illegal for consenting adults to engage in oral or anal sex in the privacy of the home. In keeping with his characteristic defiant rhetoric, Kameny sought to dramatize what he called the "lunacy" of laws prohibiting private, consenting sex.
On a number of occasions he publicly solicited public officials, including D.C.'s police chief in the 1960s, to engage in sodomy with him. In 1987, when the U.S. Supreme Court upheld Georgia's sodomy law in the case Bowers vs. Hardwick, Kameny said he wrote letters soliciting sodomy to each of the Supreme Court justices that voted to uphold the law.
"I defied them to prosecute me," he told the Blade. "They never did."
Joe Solmonese, president of the Human Rights Campaign, said Kameny "led an extraordinary life marked by heroic activism that set a path for the modern LGBT civil rights movement."
"From the early days fighting institutionalized discrimination in the federal workforce, Dr. Kameny taught us all that 'Gay is Good,'" Solmonese said. "As we say goodbye to this trailblazer on National Coming Out Day, we remember the remarkable power we all have to change the world by living our lives like Frank – openly, honestly and authentically."
Chuck Wolfe, CEO of the Gay & Lesbian Victory Fund, said Kameny's death marked the "loss of a hero and a founding father of the fight to end discrimination against LGBT people."
"Dr. Kameny stood up for this community when doing so was considered unthinkable and even shocking, and he continued to do so throughout his life," Wolfe said. "He spoke with a clear voice and firm conviction about the humanity and dignity of people who were gay, long before it was safe for him to do so. All of us who today endeavor to complete the work he began a half century ago are indebted to Dr. Kameny and his remarkable bravery and commitment."
Local activists who knew Kameny said they are deeply saddened over his passing but pleased to have shared time with him at several LGBT events in Washington during the past three weeks.
On Sept. 30, D.C.'s LGBT Community Center honored Kameny along with three other activists with its community service award at a ceremony at the downtown Hotel Sofitel. Kameny delivered what his activist friends called his standard and beloved fiery speech asserting his 50-year struggle to change society to bring about full and unabridged rights for LGBT people. It was to be his last speaking engagement.
His passing inside his house on Tuesday came several years after the city designated the house at 5020 Cathedral Ave., N.W., as a historic landmark because of the work Kameny and his activist colleagues performed there since the 1960s on behalf of LGBT rights. In 2010, the D.C. City Council voted unanimously to name a two-block section of 17th Street near Dupont Circle as Frank Kameny Way in honor of Kameny's lifelong work on behalf of equality for the LGBT community and the community at large."
Kameny's death also came five years after Francis and Witeck helped arrange for the Library of Congress to acquire more than 50,000 documents from the Kameny Papers Project, which pulled together nearly 50 years of papers and documents that Kameny compiled through his work on behalf of LGBT people.
"Frank Kameny was the Rosa Parks and the Martin Luther King and the Thurgood Marshall of the gay rights movement," Yale Law Professor William Eskridge told the Associated Press earlier this year.
Vice President Harris joins D.C. Pride Walk, makes history
First post-COVID Pride events include rally, Pridemobile Parade
Vice President Kamala Harris drew loud cheers and prolonged applause when she and her husband, Second Gentleman Douglas Emhoff, joined more than 1,000 LGBTQ participants in D.C.'s Capital Pride Walk on Saturday, June 12, becoming the first U.S. vice president to participate in an LGBTQ Pride event.
Harris' appearance at the Pride Walk, which some described as a march, was unannounced and came as a complete surprise to the dozens of onlookers who saw her as well as to leaders of the Capital Pride Alliance, the group that organizes D.C.'s annual Pride events.
"Oh my God, I can tell you that I screamed my head off," said Tiffany Royster, a Capital Pride official who said she saw Harris at the Pride Walk.
"The fact that she showed up for us means that we mean something to her because she wouldn't have stopped by randomly," Royster told an NBC 4 News cameraman at Thomas Circle at the conclusion of a separate event on Saturday called the Pridemobile Parade. "We didn't know she was coming."
An NBC 4 report showed Harris making brief remarks while walking along 13th Street as the Pride Walk passed the Warner Theater and as it approached Pennsylvania Avenue at Freedom Plaza.
The Channel 4 News report said Harris called for Congress to pass the LGBTQ rights bill known as the Equality Act and said the Biden administration understands the importance of LGBTQ rights.
"We need to make sure that our transgender community and our youth are all protected," she states in the Channel 4 News broadcast. "We need, still, protections around employment and housing," she told people walking beside her and her husband. "There is so much more work to do, and I know we are committed."
Harris wore a shirt with the words, "Love is Love" printed on it. Emhoff could be seen waring a T-shirt with a rainbow-colored design on it.
Harris and Emhoff did not appear at the Capital Pride Rally, which began at Freedom Plaza shortly before 2 p.m.
Among those speaking at the rally was D.C. Mayor Muriel Bowser, who received loud applause when she told the crowd that during her travels across the country and abroad, she tells people that D.C. is "the gayest city in America."
"So, Capital Pride, we have a lot to celebrate," the mayor told rally attendees, many of whom waived hand-held rainbow Pride flags. "We have a lot to work for still," she said. "We know that discrimination and violence is real. We know there's too many guns on the street. And we know when all of us are not safe, none of us are safe," she said.
"So, I know you're going to stand shoulder to shoulder with me and I'm going to be with you every step of the way," she said. "Happy Pride!'
Bowser also announced at the rally that Sheila Alexander-Reid, who has served as director of the Mayor's Office of LGBTQ Affairs since Bowser took office in January 2015, would be leaving that position soon to go on to "bigger and better things." Alexander-Reid has said she will be joining a company that provides advice and training in the area of workplace nondiscrimination based on race, gender, and LGBTQ related workplace competency training.
At the conclusion of the rally, about 50 vehicles that had been parked next to and near Freedom Plaza led by a Capital Pride bus decorated with signs and banners began the city-wide Pridemobile Parade.
The route of the parade released by Capital Pride shows it was scheduled to travel through all four quadrants of the city, including neighborhoods east of the Anacostia River. Capital Pride organizers said the parade or caravan of vehicles, all of which were decorated with Pride displays, would be passing by homes and businesses in the city's residential and commercial areas that also were decorated with Pride displays as part of its "Paint the Town Colorful" Pride event.
The Pride Walk began shortly after noon at Dupont Circle and traveled along P Street to Logan Circle, where it proceeded south on 13th Street to Freedom Plaza.
Capital Pride Alliance President Ashley Smith said a little over 1,000 people participated in the walk, which he noted Capital Pride decided to do and first announced less than two weeks before it was to take place.
Smith and Capital Pride Alliance Executive Director Ryan Bos have pointed out that the city announced it would be lifting its more than year-long restrictions on large public gatherings in May, which didn't give them enough time to pull together a large parade and street festival that have been part of D.C.'s Pride celebrations in the years prior to the COVID pandemic.
"Today has been truly phenomenal," Smith told the Blade. "The turnout has been amazing. The total number of people that have come to support this and the efforts that we're trying to do, it's just been amazing," he said.
"The community has truly been supportive of all the great work that the team, the staff, the volunteers and board members have been part of," said Smith.
Bos said people had gathered in the various neighborhoods in the city where the Pridemobile Parade passed in advance of the parade's arrival and cheered and waived as the vehicles drove by.
"There were kids with their parents and their families just sitting on the sidewalks waiting for the Pridemobile to come by," Bos said. "It was pretty cool."
About 100 people were standing or sitting in Thomas Circle, the final destination of the Pridemobile Parade, as it arrived there to loud cheers. The vehicles drove around the circle several times while honking their horns before the parade disbanded.
A smaller crowd waving Pride flags had also gathered on the steps of National City Christian Church, which faces Thomas Circle. Large rainbow-colored banners were hanging from the front of the church, showing its support for the Pride events.
Speakers at the Freedom Plaza rally, in addition to Mayor Bowser, included Smith of Capital Pride; Alexander-Reid; Ben De Guzman, director of the Mayor's Office of Asian and Pacific Islander Affairs; gay Latino activist Jose Gutierrez, who reflected on the fifth anniversary of the Pulse nightclub shooting in Orlando, Fla., on June 12, 2016 in which 49 mostly LGBTQ people were killed and 53 wounded; transgender activist Monica Nemeth, who reflected on transgender lives lost to violence in the U.S.; Nancy Canas, president of Latinx Pride; Rehana Mohammed, chair of the board of the D.C. Center for the LGBTQ Community; and June Crenshaw, executive director of the Wanda Alston Foundation, which provides housing for homeless LGBTQ youth.
Pride celebrations were scheduled to continue on Sunday, June 13, with about a dozen D.C. area restaurants participating in Capital Pride's Taste of Pride Brunches, which would be raising money for local LGBQ organizations, according to an announcement on the Capital Pride website. The names and locations of the restaurants can be accessed at capitalpride.org.
Sheila Alexander-Reid to step down as director of D.C. LGBTQ Affairs Office
Veteran community activist to take new job workplace bias consultant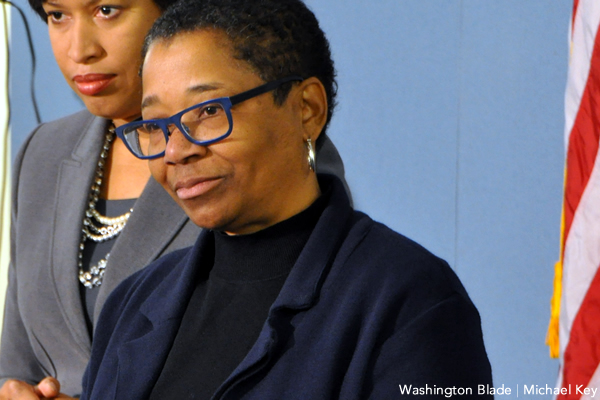 Longtime LGBTQ community advocate Sheila Alexander-Reid, who has served since 2015 as director of Mayor Muriel Bowser's Office of Lesbian, Gay, Bisexual, Transgender, and Questioning Affairs, is stepping down from her city job in mid-July.
Alexander-Reid told the Washington Blade she will take a few weeks of accumulated leave beginning June 15 to recuperate from follow-up knee surgery before officially leaving her current job to take on a new role as a private sector consultant in the area of workplace bias and diversity training.
She said will announce the name of the private sector company she will be joining as a senior vice president when she begins her new job in mid-July.
Among her duties at the Mayor's LGBTQ Affairs Office has been to lead the office's staff in providing LGBTQ related diversity or competency training for D.C. government employees at all city agencies.
According to the office's website, other activities it carries out include connecting LGBTQ residents with city services they may need, advocating on behalf of programs and policies that benefit the lives of LGBTQ residents, providing grants to community-based organizations that serve the LGBTQ community and LGBTQ homeless youth; and host events that "enrich, promote, and bring together" the LGBTQ community in D.C.
"That work is always going to be part of who I am," Alexander-Reid said. "But now I will be expanding on that work to look at racial equity and gender bias as well as LGBTQ bias," she said. "I feel like I will be doing the same work but in a different format."
Prior to starting her job at the mayor's office, Alexander Reid served as Vice President of Strategic Initiatives at the Washington Blade, Director of Strategic Engagement at the Washington City Paper, and Founder and Executive Director of the D.C. based Women in the Life Association. She has also served as host of Inside Out, a local FM LGBTQ radio show.
Alexander-Reid noted that when she began work at the LGBTQ Affairs Office in late January 2015, less than a month after Bowser took office as mayor, the office consisted of two full-time employees, including her, with a budget of $209,000. In the current fiscal year 2021, the office now has four full-time employees and two additional detailed employees, from the Department of Health and Department of Human Services. The mayor is proposing a budget of $561,000 for the office for fiscal year 2022.
"I would be remiss if I didn't say what a pleasure it has been to work for Mayor Bowser," said Alexander-Reid. "I was excited to work for her and I don't regret it for one second. "It's been an amazing journey and I appreciate her having faith in me."
She said she expects an interim director to be named to run the office in mid-July while a search is conducted for a permanent director.
Attack on trans woman in D.C. laundromat captured in video
Police seek help from community in identifying suspects.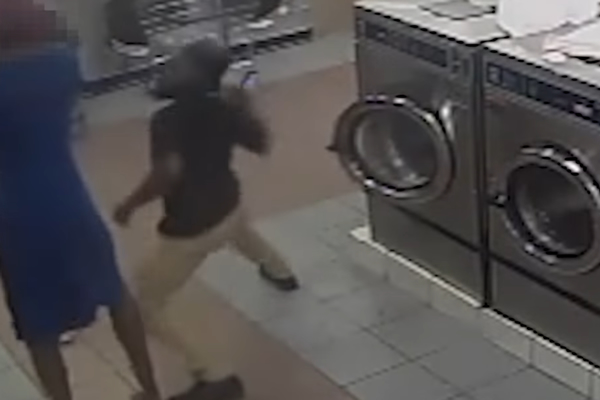 D.C. police on Thursday night released a dramatic video taken from a surveillance camera showing two women and a man repeatedly punching and shoving a transgender woman at a laundromat on Benning Road in Northeast Washington in an incident in which the victim was stabbed in the head.
Police, who have listed the Sunday, June 6, incident as a suspected anti-LGBTQ hate crime, are appealing to the community for help in identifying the three suspects, who are shown in the video attacking the trans woman before escaping in a black SUV while carrying laundry bags.
Detectives from the Metropolitan Police Department's Sixth District obtained the video from a surveillance camera at the Capital Laundry Mat at 1653 Benning Road, N.E., according to a police report and a police statement released Thursday night.
The video shows that the suspects were accompanied by two young children. It shows one of the adult female suspects appearing to be dancing by herself in front of a row of washing machines seconds before the three suspects lunged at the victim and began punching her.
"One of the suspects brandished a knife and stabbed the victim," the police statement says. "The suspects fled the scene in a vehicle. The victim was transported to a local hospital for treatment of non-life-threatening injuries," the statement says.
"Anyone who can identify these individuals, or vehicle, or has knowledge of this incident should take no action but call police at 202-727-9099 or text your tip to the Department's TEXT TIP LINE at 50411," the statement adds. It says the department's Crime Solvers program offers a reward of up to $1,000 to anyone who provides information leading to the arrest and indictment of a person or persons responsible for a crime committed in D.C.
Police spokesperson Alaina Gertz told the Washington Blade that because the investigation is ongoing, police could not immediately disclose whether they know if the victim knew one or more of the attackers before the incident took place or what, if anything, prompted the suspects to attack the victim other than due to her status as a transgender person.
The video released by D.C. police can be accessed here: https://youtu.be/7v8lthvUPcg