Covering Frank Kameny
A reporter's 35-year journey chronicling the nation's preeminent gay activist

I met Frank Kameny for the first time in the summer of 1974 at a meeting in Washington of the Gay Activists Alliance, now the Gay and Lesbian Activists Alliance.
At 24 years old, I had just landed my first job as a reporter covering the energy and environment beat for a company that published newsletters specializing in reporting on government regulations.
With an undergraduate degree in political science and a year's worth of graduate studies in journalism under my belt, I walked into that GAA meeting at D.C.'s Quaker Meeting House near Dupont Circle knowing next to nothing about gay rights, gay politics or the gay community.
In the process we know as coming out, I had come to terms with myself as a gay man just months earlier.
So with that as a backdrop, I listened intently to the main topic of the meeting — reports of arrests of gay men at cruising areas by undercover officers assigned to the D.C. police vice squad.
Most of the arrests were not linked to sex in public places, one of the members reported. The men, whom the GAA member described as consenting adults, were merely seeking to meet one another for a sexual tryst or perhaps a lasting friendship that was to take place in the privacy of their homes, not in the public areas where they met.
But in an action I learned later was a routine practice throughout the country at that time, the undercover officers reportedly posed as willing participants and enticed the gay men into "soliciting" them to engage in sodomy, which was a criminal offense that led to an arrest. In some cases the undercover officers used body language suggesting they were inviting the men to touch them in a sexually suggestive way.
If the men took the bait and touched the officers, they were charged with committing a lewd act, a development that could ruin their careers, especially if they worked for the government.
After listening to these reports, a man appearing in his late 40s or early 50s with a booming voice and an obvious thorough knowledge of the issue at hand mapped out a strategy for GAA's and the gay community's response: The entrapment arrests of gay men would be portrayed as an "utter" waste of taxpayer's money and police resources at a time when "real" crime was running rampant in the city.
This self-assured man, who I quickly learned was gay rights pioneer Frank Kameny, raised his voice to emphasize each of his points, attracting the attention of a maintenance worker in the hallway outside the room. He said police officials were unresponsive to earlier requests to stop the entrapment arrests and it was time to take another course of action.
Kameny said GAA should enlist community allies to help it lobby the City Council to eliminate city funding for the vice squad, which was known at the time as the Prostitution, Perversion, and Obscenity (PPO) Branch.
"It's an outrage and an injustice," I recall him saying. "We're citizens of this city. The police, like all government officials, are public servants. And public servants answer to us."
Much to my amazement, within a year or two, the City Council, voted to eliminate from the police budget funding for the PPO Branch. Although some of its work in the area of prostitution continued, the police practice of entrapment of gay men soon came to an end.
I was naïve and uninformed on the nuances of the gay rights movement when I attended that meeting in 1974. But I knew a good news source when I saw one.
Frank Kameny over the next 25 years or more was to become my preeminent news source in my coverage of the LGBT community as a reporter for the Washington Blade.
From the start, I had the good fortune of getting to know Frank Kameny and getting a crash course from him on the history of the gay movement and its current struggles and aspirations.
Since Kameny's death last week, much has been written about his vast contribution to the LGBT movement over a 50-year period, especially in the decade before the Stonewall rebellion of 1969, which is viewed as the starting point of the modern gay movement.
What hasn't been reported as widely is Kameny's impact on the lives of individual lesbians, gay men, and transgender people whom he helped and with whom he interacted. His self-confident and assertive demeanor on behalf of the rights of all LGBT people and his unyielding spirit for fighting injustice – no matter how great the odds appeared to be – came across to those around him.
I'll never forget the story told to me by a gay man I met at a GAA meeting about six months after that first meeting I attended in the summer of 1974. Appearing in his 40s, the man told me he was born and raised in a conservative, fundamentalist Christian household in southern Virginia and had struggled to accept his homosexuality. He said five years of psychotherapy upon moving to the D.C. area had little effect in helping shake his inner struggles over his sexual orientation.
He said his meeting Kameny and other activists at GAA meetings, and subsequent weekly phone conversations with Kameny on a wide range of issues over a period of months, boosted his self-confidence to a degree that he could never attain in years of therapy.
"I fired my therapist," he told me while smiling broadly "Frank and the other folks here gave me the insight to understand that the external forces of discrimination and oppression and homophobia are what got me down," I recall him saying.
Kameny's assistance to individual LGBT people blossomed in his role as a paralegal counsel representing gays encountering problems with security clearances in the late 1960s through the 1980s. When his clients were comfortable going public with their case, Kameny provided me with copies of his legal briefs challenging actions by various U.S. government agencies, often the Defense Department, seeking to deny or revoke a gay person's security clearance.
Those targeted for loss of a clearance usually worked for the government or for a private company doing contract work for the government. The main argument used for revoking a clearance was that gay people were susceptible to blackmail and were thus a threat to the safeguarding of government secrets.
Kameny often argued that the government had yet to disclose a single case where a gay person breached government secrets due to blackmail or coercion related to his or her sexual orientation.
He noted that government security officials appeared to be obsessed with the private sex lives of gays holding security clearances. In the course of investigating a gay person over a clearance, security officials demanded to know the identities of all of their sex partners over a period of years and insisted they reveal the specific types of sexual acts the gay person performed with his or her partners.
Kameny's characteristic response to these inquires surfaced in a 1969 case in which he represented a New York gay man named Benning Wentworth, whose application for a clearance was opposed by the government solely on grounds of his status as a "sexually active" homosexual.
"We state to the world, as we have stated for the public, we state for the record and, if the [Defense] Department forces us to carry the case that far, we state for the courts that Mr. Wentworth, being a healthy, unmarried, homosexual male, 35 years old, has lived, and does live a suitable homosexual life, in parallel with the suitable active heterosexual sexual life lived by 75 percent of our healthy, unmarried, heterosexual males holding security clearances," Kameny stated in a government hearing to adjudicate Wentworth's clearance application.
Added Kameny, "Mr. Wentworth will get his clearance as the sexually active homosexual that he is and that he will continue to be…just as heterosexuals get their clearances as sexually active heterosexuals."
He won many of his cases when, at his suggestion, his clients submitted letters disclosing their sexual orientation to co-workers and family members, eliminating, in Kameny's assessment, any chance of blackmail threats to reveal the client's homosexuality.
Some of his clients and fellow activists urged Kameny to get his law degree and become a lawyer, noting that he already knew more about the field of security clearance law than most lawyers. He told me his becoming a lawyer would tie his hands, saying the sometimes outlandish tactics he used would get him disbarred.
"They can't disbar me if I'm not a member of the bar," he often said.
In cases where he represented members of the military under investigation for being gay in the years prior to "Don't Ask, Don't Tell," Kameny was blunt about the only means of preventing a discharge: "Lie through your teeth," he told his clients, or refuse to answer any questions about your sexual orientation.
In one of his military cases in the 1980s, Kameny was scheduled to attend a hearing to discuss planned action by the Army to discharge a service member who was identified as being gay by an acquaintance who was pressured into "snitching" on his fellow service member, as Kameny put it.
For some reason, Army officials insisted on meeting with the service member in private, saying Kameny couldn't attend that particular session, in which the service member was to be "interviewed," Kameny said.
As a gesture of protest, Kameny placed his foot in the doorway of the meeting room, preventing one of the officials from closing the door. He backed down after being threatened with arrest, saying the gesture was intended to emphasize his strong opposition to the closed meeting.
His use of fiery language as well as humor often surfaced in his testimony before public hearings held by governmental bodies, including the D.C. City Council.
In the early 1990s, Kameny testified before a D.C. Council committee deliberating over a proposed alley closing sought by Georgetown University to clear the way for construction of a new law school building located near the U.S. Capitol.
Gay activists, led by Kameny and GAA, called on the Council to withhold approval of the alley closing and thus prevent construction of the building until the university ended its policy of refusing to recognize gay student groups on campus.
Shortly after beginning his testimony, Kameny opened his briefcase and pulled out a spray can that he identified as a room deodorizer. He pressed down on the nozzle, spraying a mist in the direction of the Council members seated about 10 feet in front of him.
The "stench of discrimination" being carried out by Georgetown University against gay student groups cannot continue, he said, drawing laughter from the Council members and the audience in the hearing room.
Kameny also directed his sense of humor toward anti-gay organizations, which he closely monitored. On several occasions during the 1980s and 1990s he rushed to the city's office of corporations and created his own corporation under the exact name of an anti-gay group, preventing the group from setting up its own corporation to do business in D.C.
Although he's known mostly for his work in the LGBT rights movement, Kameny contributed his talents to other progressive causes. He became the first open gay to be appointed to a prominent city post in the 1970s, when Walter Washington, the city's first mayor under D.C.'s newly acquired home rule government, named Kameny to the D.C. Commission on Human Rights.
In the early 1980s, Kameny won election to the D.C. Statehood Constitutional Convention and played a lead role in drafting a constitution for the proposed State of New Columbia.
During all of his years as an activist and movement leader in which I had the privilege to cover him, Kameny excelled as a news source in more stories than I can count. Thank you, Frank. You'll be sorely missed.
Vandals target 2 Rehoboth Beach LGBTQ-owned businesses
Staff discovers graffiti on walls, doors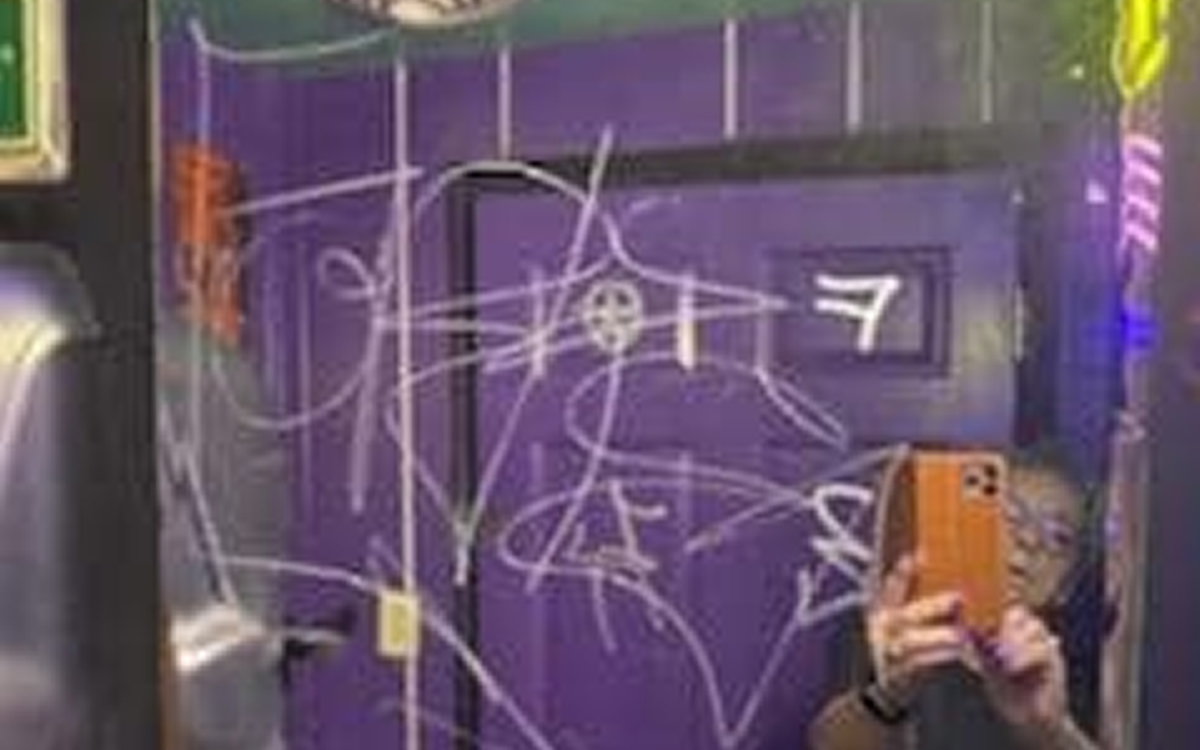 Freddie's Beach Bar and the Purple Parrot — two LGBTQ+ bars and restaurants in Rehoboth Beach — discovered that their establishments had been vandalized on Monday, according to a series of posts to the Purple Parrot's Facebook page made by Hugh Fuller, the restaurant's owner.
The vandal, whose identity remains unknown, painted on the walls and carved graffiti into the mirrors of the Purple Parrot's bathroom, and painted graffiti on the front door of Freddie's Beach Bar, the posts recounted. The establishments have since filed police reports with the Rehoboth Police Department.
Tony Rivenbark, a manager at Freddie's, said that a staff member first noticed the vandalism around 10:30 a.m. on Monday, and that it was dry to the touch, leading restaurant management to believe it was painted early in the day. Upon discovering the graffiti, restaurant staff reported it to local police and were told that other nearby locations had similarly been vandalized, he said.
Between its Rehoboth and Arlington, Va. locations, Rivenbark has worked at the establishment for almost two decades, and added that this was the first instance of vandalism at the Rehoboth venue, which has been open for less than one year. He noted that Freddie's management is currently reviewing security footage for further information, and is likely to soon install additional security cameras.
At the establishment's Arlington, Va., location, "we've had some minor spray painting done, we've had some rocks thrown at windows," he recounted. "Mostly I have attributed it to drunken antics, not so much hate. Hopefully that's the case here as well."
Rivenbark added that Freddie's staff remains positive despite the circumstances. "It doesn't seem like a huge issue. It's something we'll probably just paint over tomorrow," Rivenbark said. "I'd much rather it be some kid that's got a new little airbrush … than it being somebody that's targeting LGBT businesses."
The Rehoboth Beach Police Department declined to comment or to confirm details of the reports filed.
Pride Run returns after two-year hiatus
1,500 participants to join 10th annual event on June 10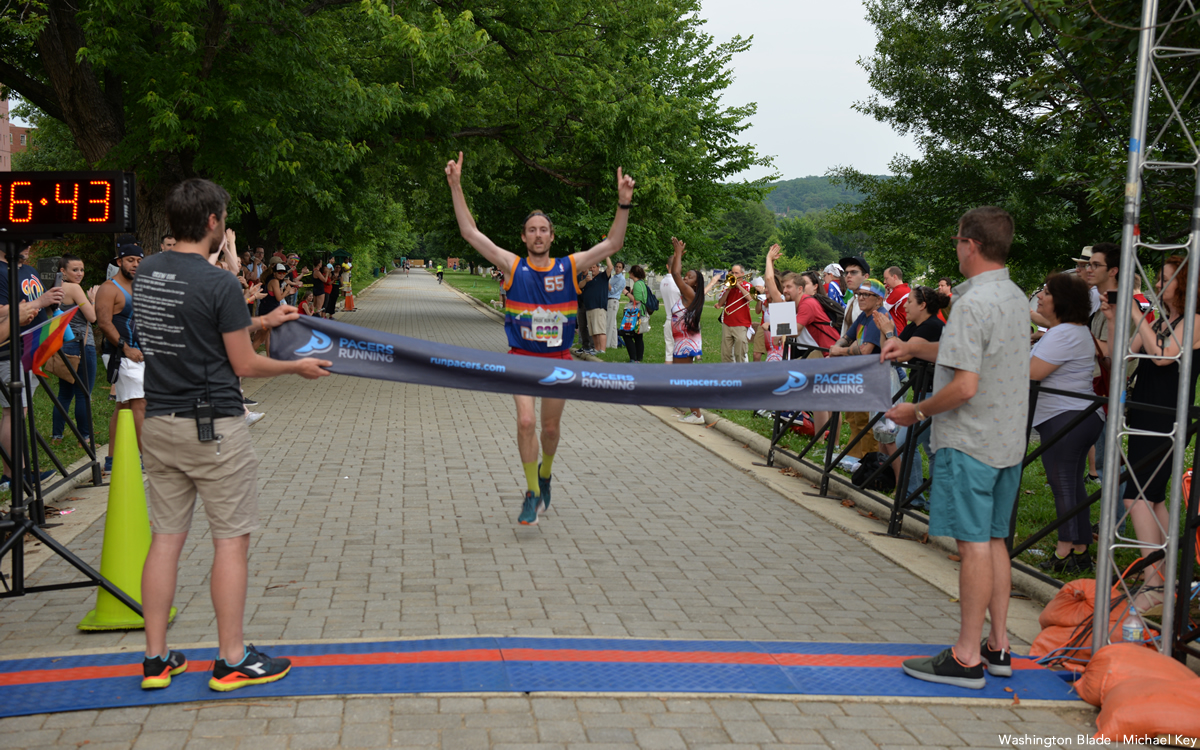 After a two-year pandemic hiatus that saw the Pride Run go mostly virtual, the DC Front Runners Pride Run 5K is elated to once again welcome nearly 1,500 runners, walkers, volunteers, and spectators back to the Historic Congressional Cemetery for their Tenth Anniversary Race on Friday, June 10.
As an official Capital Pride Partner Event, the Pride Run 5K kicks off Capital Pride weekend with a bang. Well perhaps more of a "On your mark, get set, GO!"
Join us as we run, walk, skip, shantay, and sashay on a course that starts near the cemetery's "Gay Corner" where many LGBTQ rights activists, such as Leonard Matlovich, are interred. The race then winds along the Anacostia Riverwalk Trail to finish where you started.
Gates open at 5 p.m. for packet pickup with the race beginning at 7 p.m. The post-race party includes beer and hard seltzer provided by DC Brau along with a DJ playing music until 9 p.m. Be sure to check out the return of the DCFR dance troupe performing to a hyped-up crowd.
Race proceeds benefit the following local LGBTQ and youth-supporting organizations via the Pride Run Foundation: Ainsley's Angels (National Capital Region), Casa Ruby, Team DC Student-Athlete Scholarship, SMYAL, The Wanda Alston Foundation, The Blade Foundation, and Teens Run DC. You can help support these amazing charities by registering for the race or donate directly at DCPrideRun.com.
A special thanks to the presenting sponsors, Capital One Café, Choice Hotels, KNEAD Hospitality + Design, Shake Shack, and Wegmans Food Market to the premier sponsors DC Brau, Pacers Running, and Wilkinson Barker Knauer, LLP, and our elite sponsors, AHF Healthcare Centers, Avalon Bay Communities, Casey Trees, Endorphin Fitness, and Starbucks, and of course our special partner the Historic Congressional Cemetery. Last, but not least, a big thank you to all individual donors who contribute via the race website directly to our incredible charity partners. Together, we proudly celebrate who we are in a festive, safe, and inclusive event.
Mattachine Society of D.C. donates documents to William & Mary
New LGBTQ archive established at Swem Library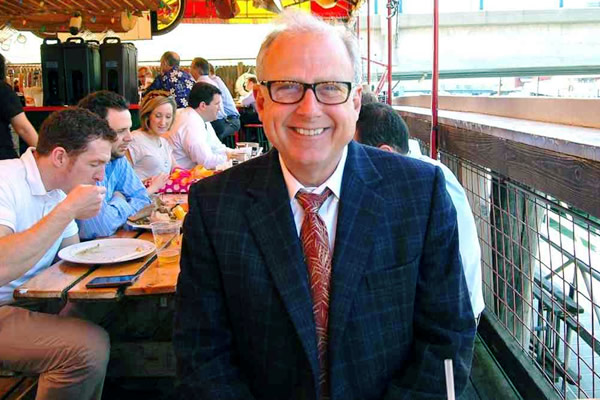 The Mattachine Society of Washington, D.C., the group that collects historic documents related to the federal government's discrimination against and persecution of LGBTQ people in past years, announced this week that it is donating all its documents to a newly created Archive of American LGBTQ Political and Legal History at the College of William & Mary.
The Williamsburg, Va., based college announced last week that its new LGBTQ archive is being established at its Swem Library in memory of the renowned gay historian John Boswell, who was a 1969 Bachelor of Arts graduate in history at the College of William & Mary.
"There are many fabulous collections of LGBTQ historical materials in libraries across the country, but this archive will have a unique focus on the political and legal architecture of the movement," said Carrie Cooper, dean of University Libraries at William and Mary.
"Our motto 'Archive Activism' brings us to this decision to donate all of our collection to William and Mary, for the benefit of historians, researchers, and students nationwide," said Charles Francis, co-founder of the reestablished Mattachine Society of Washington, D.C. The group was originally founded by D.C. LGBTQ rights pioneer Frank Kameny in the early 1960s as D.C.'s first politically active LGBTQ organization.
"This exciting new archive will collect materials that illuminate the history of LGBTQ Americans' struggle to secure their rights through the political process and legal systems of the nation," according to LGBTQ rights advocate and former William & Mary Rector Jeff Trammell.
Trammell is donating to the new archive material collected from his tenure as the first openly gay board chair of a major public university, a statement released by William & Mary says. It says Trammell's donation is the second donation after the Mattachine Society of Washington, D.C., which made the first of what is expected to be many more LGBTQ-related documents to be donated to the new archive.
The Mattachine donation includes "original, declassified documents obtained by meticulous research into sources such as the Library of Congress, the National Archives and Records Administration, numerous presidential library archives, and public and university libraries, to name just a few, according to attorney Pate Felts, the other Mattachine co-founder.