White House holds LGBT health summit
Officials hail LGBT progress at Philadelphia conference

PHILADELPHIA — The White House heard the concerns of LGBT people here during the first of a series of conferences aimed at allowing the Obama administration to engage directly with the LGBT community and highlight its achievements.
More than 300 people from 22 states attended the conference, which was focused on LGBT health, on Thursday in the Dorrance H. Hamilton Building at Thomas Jefferson University.
Obama administration officials touted their work over the past three years on health and LGBT issues. Conference participants asked questions of officials in a town-hall style format — many focused on transgender inclusion of the administration's LGBT work — and participated in workshops on issues such as LGBT aging, youth and transgender health as well as the health care reform law and engagement opportunities with the administration.
Secretary of Health & Human Services Kathleen Sebelius delivered the keynote speech and emphasized the purpose of the conferences was to allow the Obama administration to have greater engagement with the LGBT community.
"The goal of these conferences is to talk about some of the work that we're doing that might be of interest to you in health, but it's also a real opportunity … to listen, to have you share your ideas and your challenges and your struggles with us because that really helps us inform our policy each and every day," Sebelius said.
The secretary invoked President Obama's State of the Union address, recalling his emphasis on "fairness" as a core American value, and said this sense of fairness applies to LGBT people.
"We need to have an America that values everyone and has the same set of values and same set of rules for everyone," Sebelius said. "And that belief means ensuring that LGBT Americans have the same protections and opportunities as their neighbors, as their colleagues, as their family members."
Sebelius also emphasized the importance of the health care reform law. Among the LGBT-specific areas the secretary trumpeted was preventing insurers from discriminating against someone based on LGBT status, initiating data collection efforts on LGBT health and expanding HealthCare.gov to facilitate searches for health insurance plans covering same-sex partners.
The secretary also touted the insurance exchanges aimed at lowering costs to make health care more affordable.
"Every American in 2014 will have access to an insurance exchange, either run by the state or run by the federal government," she said. "The only thing that the state can do is opt out of running it themselves, but believe me, right behind them, is us."
Sebelius also addressed the administration's effort to combat HIV/AIDS through the National AIDS Strategy, noting that half of all black gay men in urban areas are living with the disease.
"The result is more momentum behind domestic HIV efforts today than we've had for nearly a decade, and we're only just beginning," Sebelius said. "We think we have an opportunity … to look at a generation that will be HIV free."
On Monday, Obama made public his budget request for fiscal year 2013, which includes an increase in funding for domestic HIV/AIDS programs, but flat-lined research programs and cut the President's Emergency Plan for AIDS Relief, which is aimed at fighting AIDS overseas.
No mention was made about progress in research efforts to lift the Food & Drug Administration's ban prohibiting gay and bisexual men from donating blood. HHS told members of Congress in July it was studying four areas to determine whether it could end the ban.
John Berry, director of the Office of Personnel Management and the most senior openly gay official in the Obama administration, delivered opening remarks at the event that catalogued Obama's LGBT achievements, including repeal of "Don't Ask, Don't Tell" and discontinuation of the defense of Section 3 of the Defense of Marriage Act in court.
"I grew up in a time when it was OK to discriminate based on sexual orientation, when I could be kept from a loved one's hospital bed, when I couldn't serve the country I loved just because of who I loved," Berry said. "Many of us in this room grew up in the midst of that fear and hostility, but thankfully the tide is turning."
Berry cited the legal briefs the Obama administration has filed in cases against DOMA: both in Golinski v. United States and Windsor v. United States.
"I encourage you, if you've never read a legal brief, pick this one up," Berry said. "It explains why discrimination based on sexual orientation is entitled to heightened constitutional scrutiny, and that is based upon the history that we have lived through and why they conclude — the president and the Justice Department — that Section 3 fails that scrutiny."
Outstanding work on LGBT issues that the president wants to see accomplished, Berry said, includes removing DOMA from the books and passage of the Employment Non-Discrimination Act.
After his speech, Berry told the Washington Blade that he couldn't "go into any specifics" about forthcoming LGBT-related policy changes.
"The beauty of having over 200 LGBT appointees embedded across our government is that every day they're making changes in regulations and forms and laws and working in policies that are making the future," Berry said.
Berry deferred questions to the White House on whether the new initiatives would include an executive order requiring federal contractors to have LGBT-inclusive non-discrimination policies.
The conference also featured a panel of three HHS officials: Kathy Greenlee, assistant secretary for aging; Howard Koh, assistant secretary of health; and Ken Choe, deputy general counsel. Greenlee and Choe are openly gay.
During his remarks on the panel, Greenlee said she "must crow about" how HHS recognizes diversity within the LGBT community as it works on related issues.
"The people at HHS are sophisticated enough and committed enough to understand that LGBT is not a word and that each of those letters represents a different community," Greenlee said. "As we do the analysis of our work, there are times that we stop and say, 'What are we doing for the transgender community? Do we have anything for bisexuals? And lesbian and gay health are different issues."
According to the White House, later conferences planned in other places throughout the country will focus on topics including — but not limited to — housing and homelessness, safe schools and communities, and HIV/AIDS prevention. An informed source said the next conference will take place March 9 in Detroit and will focus on LGBT homelessness.
Kellan Baker, a health policy analyst for the Center for American Progress' LGBT research and communications project, attended the conference.
"It's amazing that LGBT health is the first in this series of really groundbreaking events that the White House is doing, and it's really exciting to have the secretary here to talk about all the great work that HHS is doing now and that they're planning to do in the future," Baker said.
But Baker identified one area of improvement that HHS could pursue: expanding the search option on HealthCare.gov to find plans that don't exclude care for transgender people.
"I get a lot of questions about where to find lists of plans or policies that don't include these exclusions," Baker said. "Almost every single plan — including Medicare, most state Medicaid plans, most private plans, including those sold through the Federal Employees Health Benefits Program — has exclusions that specifically target care for transgender people and make it impossible for them to get a wide range of care, including basic primary care."
Laurie Young, director of aging and economic security for the National Gay & Lesbian Task Force, was also in attendance and said the conference was important because it enabled members of the LGBT community to voice concerns.
"I think it's just stunning that everyday people get to stand up and talk about what they feel and talk about what they need, and the administration's listening," Young said.
CORRECTION: An earlier version of this article incorrectly stated that Howard Koh, assistant secretary of health, is openly gay. The Blade regrets the error.
DOJ urged to investigate threats against providers of transition-related care
Boston-area hospital forced to evacuate in August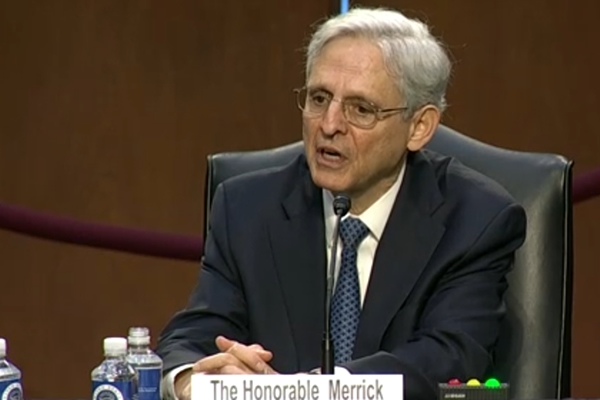 A coalition of major health organizations are calling on U.S. Attorney General Merrick Garland to investigation threats against providers of gender transition-related medical care for youth, asserting ongoing hostility, including bomb threats and threats of personal violence.
The letter, dated Oct. 3, says medical providers are facing threats for providing "evidence-based health care" to youth, which has meant care for gender transitions, such as hormones, puberty blockers and gender reassignment surgery. The targets of these threats, the letter says, are children's hospitals, academic health systems and physicians across the country.
"These coordinated attacks threaten federally protected rights to health care for patients and their families," the letter says. "The attacks are rooted in an intentional campaign of disinformation, where a few high-profile users on social media share false and misleading information targeting individual physicians and hospitals, resulting in a rapid escalation of threats, harassment and disruption of care across multiple jurisdictions."
The letter has an organizational signature from American Academy of Pediatrics, American Medical Association and Children's Hospital Association, listing no names as representatives. According to the letter, the group represent 270,000 physicians and medical students and CHA represents more than 220 children's hospitals across the country.
Major health organizations call on the U.S. Justice Department to take action weeks after Boston Children's Hospital was forced to evacuate over a bomb threat. Authorities later arrested a woman charged with making the after she reportedly phoned in the threat and called the staff "sickos."
The threats, the letter says, have had significant impact on providers and services to patients, including a new mother being prevented from being with her preterm infant because of a bomb threat; the need for increased security at children's hospitals; and staffers facing "increased threats via social media – including to their personal accounts."
A statement from organizations accompanying the letter urges social media companies — including Twitter, TikTok and Meta, which owns Facebook and Instagram — to "do more to prevent coordinated campaigns of disinformation."
Jack Resneck, president of the American Medical Association, said in a statement accompanying the letter "individuals in all workplaces have the right to a safe environment, out of harm's way and free of intimidation or reprisal."
"As physicians, we condemn groups that promote hate-motivated intolerance and toxic misinformation that can lead to grave real-world violence and extremism and jeopardize patients' health outcomes," Resneck said.
The Washington Blade has placed a call in with the Justice Department seeking comment on the letter and the American Medical Association seeking comment on why the letter has organizational signatures as opposed to signatures from any of their representatives.
Youngkin makes additional appointments to Va. LGBTQ+ Advisory Board
Governor plans to revise transgender, nonbinary student guidelines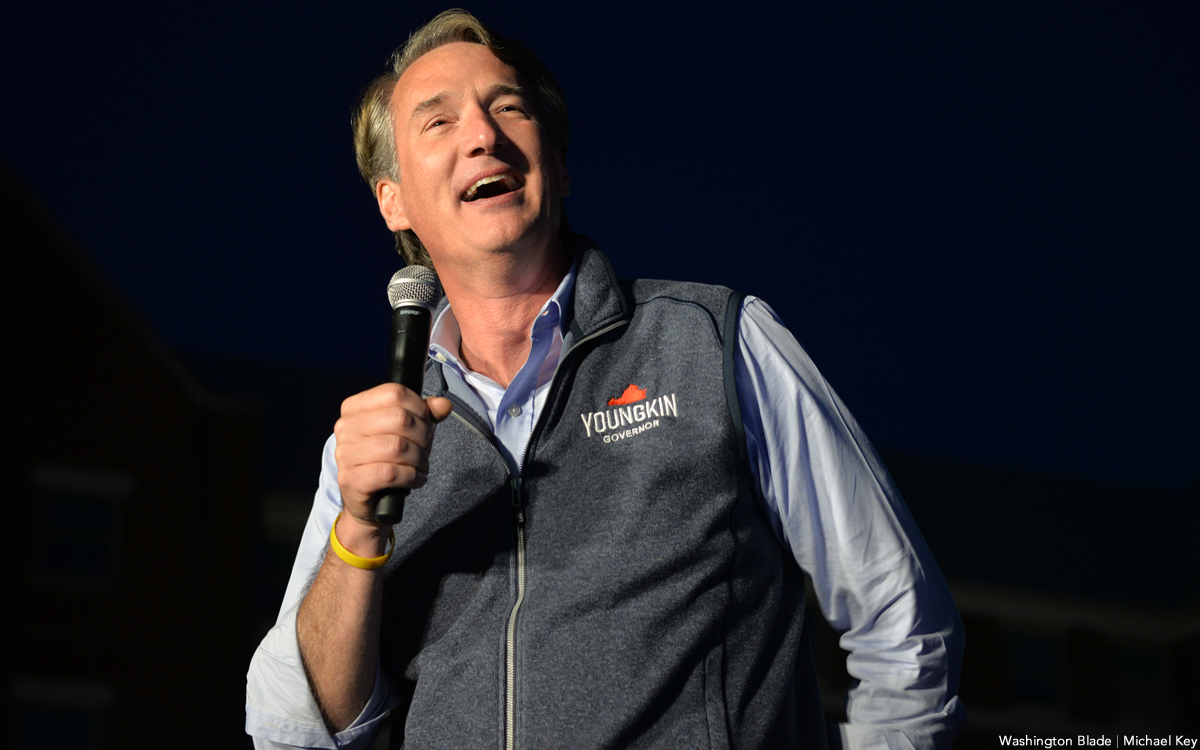 Republican Virginia Gov. Glenn Youngkin on Friday announced the appointment of three people to the Virginia LGBTQ+ Advisory Board.
Youngkin named Kerry Flynn, Jason Geske and Collin J. Hite to the board.
Casey Flores, the president of Log Cabin Republicans of Richmond, in July resigned from the board before his tenure was to begin. The resignation came amid growing criticism over a series of anti-LGBTQ and misogynist comments he made against Vice President Kamala Harris and U.S. Rep. Ted Lieu (D-Calif.), among others.
Youngkin last month announced he plans to revise the Virginia Department of Education's guidelines for transgender and nonbinary students. Thousands of high school students across Virginia on Sept. 27 walked out of class in protest of the planned revision.
Survey shows 72% of Utah residents back same-sex marriage
Troy Williams, executive director of Equality Utah said he's not surprised to see that a majority of Utahns now support marriage equality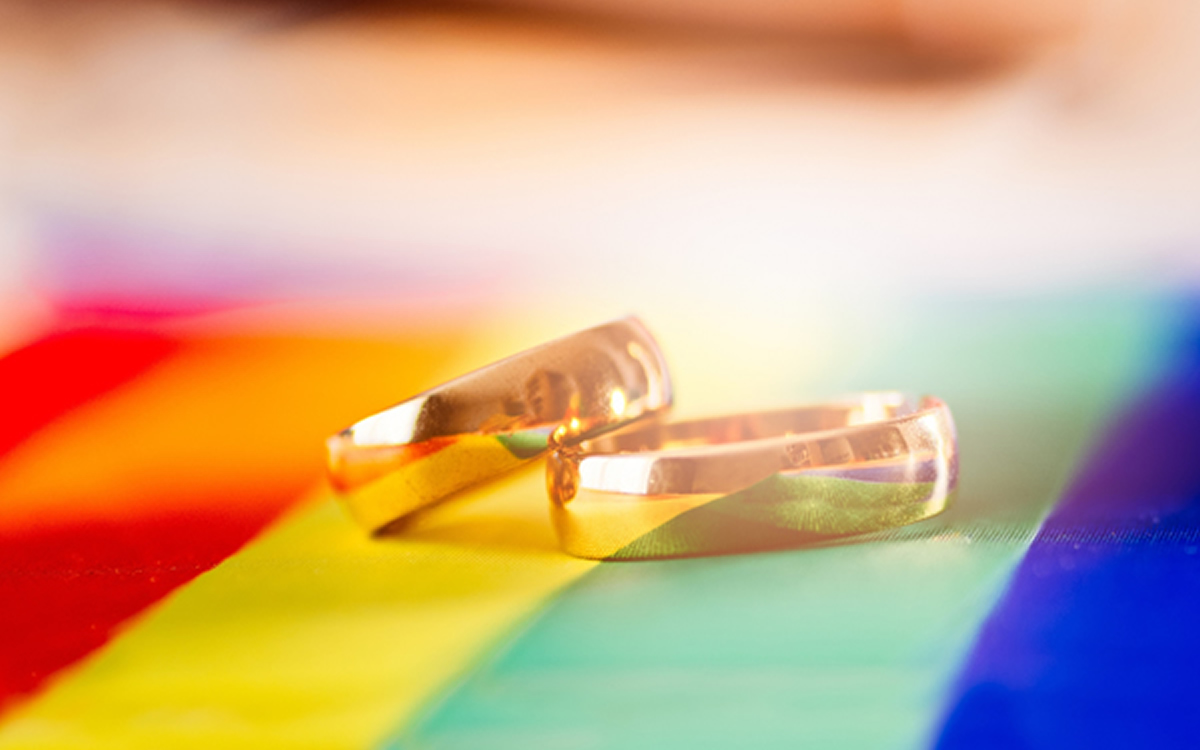 The results of a poll run by the Hinckley Institute of Politics and the Desert News found 72% of Utah's residents agree that marriages between same-sex couples should be recognized by law as valid, with the same rights as cis-gender marriages.
"For a state that less than 20 years ago passed laws and a constitutional amendment prohibiting same-sex marriage, there has been a seismic shift in opinion," said Jason Perry, director of the Hinckley Institute of Politics at the University of Utah.
The Deseret News/Hinckley Institute of Politics survey also found that 23% of those surveyed disagreed, while 5% expressed that they don't know.
The poll shows Utahns are aligned with the nation as a whole on the issue. A Gallup poll in May found 71% of Americans say they support legal same-sex marriage, a new high.
Troy Williams, executive director of Equality Utah, told the Desert News that he's not surprised to see that a majority of Utahns now support marriage equality.
"Utah is a pro-family state, and we recognize that families come in all shapes and sizes. When we see loving, committed couples joining in matrimony, our natural impulse is to support and encourage that love. This gives me great hope for the future," he said.
A new poll shows nearly three-fourths of Utahns support legal same-sex marriage. | By @dennisromboy #utpolhttps://t.co/DBJHHNgmnJ

— Deseret News (@Deseret) September 30, 2022