Scissor Sisters energize audience in D.C. performance
Songs include "Comfortably Numb," "Let's Have a Kiki," "Invisible Light"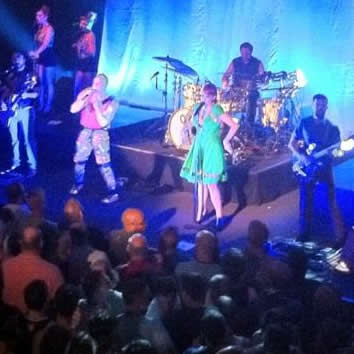 Few events can draw more gay men in striped tank tops and pastel-colored shorts in one place than a concert from a glam rock band with a buff, shirtless male lead and four best-selling albums.
The Scissor Sisters — led by gay sensation Jake Shears — performed two consecutive nights this week at D.C.'s 9:30 Club. Both performances sold out, filling the 1,200-person capacity of the venue.
On the night of the Monday performance, the five-member ensemble made their entrance on stage one at a time, starting with the drummer Randy Real, guitarists Babydaddy and Del Marquis and back-up singers, Female lead Ana Matronic came on stage in a jazzified full-skirted green dress and, finally, Shears in what looked like a velcroed-together green marble-colored jacket and pants with yellow sneakers.
The opening song: "Any Which Way" from the group's third album. Shears belted out the lyrics — backed by Matronic — as he pranced around stage in a dance style resembling the moves of an aerobics instructor. It doesn't take long for Shears to disassemble his jacket, revealing an orange tank underneath.
Greeting the audience after the completion of the opening, Shears called the auditorium "one of our favorite rooms on the planet." Matronic recalls the last time the group performed in D.C. was for a performance at D.A.R. Constitution Hall, eliciting boos from the audience.
"We say boo to that because they have seats," Matronic said, adding she knows her audience prefer a venue with greater dance capacity.
Among the songs that continued were several from their new album, including "Baby Come Home," but also old favorites like "Take Your Mama Out" and their cover to Pink Floyd's "Comfortably Numb." For their latest hit, "Let's Have a Kiki," the group led the audience in a series of hand gesturing accompanying the chorus: raise hand, clap, point, wave away, repeat.
Half-way through the set, the group take a break to engage with the audience. Matronic jokes, "I'm sweating more than a blind lesbian at a fish market."
Not afraid to shy away from politics while performing in D.C. during campaign season, Matronic says she was excited to have elected President Obama four years ago, but looks forward to "running those motherfuckers out of the House" who were sent to office in the last election.
A number of audience members — the vast of majority of which consisted of gay men in their 20s and 30s — said they had personal connections with the group and its music.
Jeremy Fegley, a gay 25-year-old D.C. resident, said the band's music played a role for him during his coming out process in high school.
"I was working at a retail store and my manager put them on," Fegley said. "He didn't come out to me; I wasn't out yet. He was like, 'What do you think of this?" I was like, 'This is amazing. This is the best thing in the world.' And I came out like three weeks later."
Michael Adolph, a gay 45-year-old D.C. resident, said he knew when Shears when he went by Jason Sellers and had conversations with him at friend's home even before the band came into prominence.
"It was at mutual friend's house in upstate, and it was kind of a camping weekend, post-hippie wannabe and a lot of performances," Adolph said. "Jason — as he was then, Jason Sellers — sang a really cute little song a cappella, and he was thinking about redoing 'Comfortably Numb.' I don't think the band had started yet, but I knew he was a special person. He exudes happiness and qualities that make him what he is today."
The group begins the second half of their performance with "Mary." Shears returns to the stage with a silver tank and pants with grey sneakers and red shoelaces. By the time group moves onto "Invisible Light," Shears is shirtless on stage, showing off a muscular torso he obviously spends time working on.
While initially ending with "Don't Feel Like Dancing" and exiting the stage, the audience begged them to return with loud hollers and a unified clap. And the group complied in new azure attire. Shears returned clad in a blue jumpsuit and Matronic wore a shorter blue dress.
Closing the encore with "Only The Horses" and "Music Is The Victim," Shears notes the group has been together now for 11 years, and "it breaks my heart in the best way that you're still coming to our shows." At the first performance by the group at the 9:30 club, Shears said they had about one-third the audience they had now.
The group was met with groans when it became clear the performance was over. Shears left the crowd with a parting gesture — he jumped into the crowd to high five fans in the front row closing an energetic performance with an equally energized exit.
National Gay & Lesbian Chamber of Commerce Certifies Brown, Naff, Pitts Omnimedia, Inc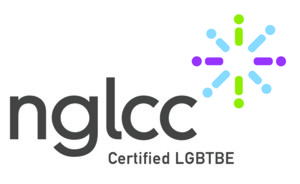 Washington, D.C. — Brown, Naff, Pitts Omnimedia, Inc, the parent company of the Washington Blade and Azer Creative, announced today it has been certified by the National Gay and Lesbian Chamber of Commerce (NGLCC) as an LGBT Business Enterprise. The NGLCC supports and advocates for diversity and inclusion for LGBT-owned businesses. With this certification the Blade's parent company joins more than 510 business and 134 corporate partners of the NGLCC.
Brown, Naff, Pitts Omnimedia, Inc. owns and operates the Washington Blade, the oldest and most acclaimed LGBT newspaper in the country. In 2012, the company launched Azer Creative, a full-service design firm. The company employs more than a dozen full-time LGBT staff.
"We are excited to become one of the 500 LGBT businesses across the country certified by NGLCC," said Lynne Brown, the Blade's publisher and a co-owner of the company. "The LGBT community has been part of our company from the beginning and we look forward to continue that for many years to come."
The Washington Blade was founded in 1969 and is known as the "newspaper of record" for the LGBT community both locally and nationally. Visit washingtonblade.com for more information. Azer Creative is a full-service graphic design firm based in Washington, D.C. Visit azercreative.com for more information. 
Vote now for the 2013 Best of Gay DC!
Choose in dozens of categories among hundreds of nominees, and make your voice heard!
Nominate the 'Best of Gay D.C.' now!
Dozens of categories cover all the best for LGBT Washington. Who deserves the prize this year?