Supreme Court asked to hear Conn. DOMA case
Petition means Supreme Court asked to hear four DOMA cases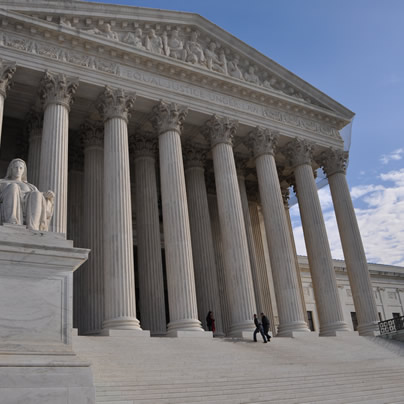 The New England-based LGBT group behind successful litigation against the Defense of Marriage Act is asking the U.S. Supreme Court to hear yet another case in which a district court ruled against the anti-gay law.
Gay & Lesbian Advocates & Defenders is asking the Supreme Court to take up the case of Pedersen et al v. Office of Personnel Management after U.S. District Judge Vanessa Bryant of Connecticut last month ruled against Section 3 of DOMA as a result of the litigation. The organization had earlier called on the high court to take up its case of Gill v. Office of Personnel Management, which led the U.S. First Circuit Court of Appeals to overturn DOMA.
The question presented to the Supreme Court is the same question presented in other case: Does Section 3 of the Defense of Marriage Act violate the equal protection guarantee of the Fifth Amendment to the U.S. Constitution as applied to legally married same-sex couples?
The 33-page petition also lays out similar arguments why the Supreme Court should take up DOMA and strike it down as unconstitutional. Among them are the case raises questions of national importance that are ripe for review and the case presents an opportunity for the Supreme Court to rule that laws related to sexual orientation should be subjected to heightened scrutiny — a position held by the Obama administration.
But GLAD also argues that Pedersen case should be taken up by the Supreme Court because the six married couples and a widower who are plaintiffs in the lawsuit demonstrate the many ways in which same-sex couples are affected by DOMA, such as the federal income tax, Social Security, federal employee and retiree benefits, the Family & Medical Leave Act and the Employment Retirement Income Security Act.
"DOMA is not a narrow statute that discriminates against gay men and lesbians in discrete contexts, but rather a broad- based enactment whose effects pervade the entire U.S. Code," the petitions states. "Because they have been disadvantaged in so many different ways, the Petitioners in this case best represent the range of DOMA's effects on married gay men and lesbians."
The petition means the Supreme Court has been asked to hear a total four cases within the course of a couple months challenging DOMA. Others lawsuits in which both opponents and proponents of DOMA have called on justices to consider the anti-gay law are Windsor v. United States and Golinski v. Office of Personnel Management, which have led district courts to overturn DOMA, and the consolidated case of Gill v. Office of Personnel Management and Commonwealth of Massachusetts v. Health & Health Services.
The Pedersen case has seen activity at the circuit court level, where it currently sits. The U.S. Justice Department, which has stopped defending DOMA and has assisted in efforts to litigate against it, has appealed the case to the U.S. Second Circuit Court of Appeals even though the House Republican-led Bipartisan Legal Advisory Group, which has taken up defense of the DOMA, hasn't yet taken action following the district court decision.
The Supreme Court won't be able to decide whether it will hear the Pedersen case or other DOMA cases until it returns from summer recess. Most observers expect the justices to take up consideration of the statute banning federal recognition of same-sex marriage.
As NYC Pride nears, ban on police seen as support for trans, BIPOC attendees
Organizers to provide 'community-based security and first responders'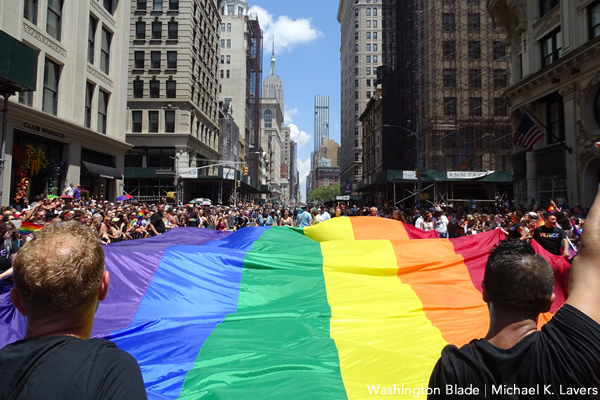 NYC Pride announced last month that it would no longer allow corrections and law enforcement exhibitors to participate in NYC Pride events until 2025. The decision is in accordance with NYC Pride's commitment to create safe spaces for marginalized LGBTQ groups including BIPOC and transgender individuals at their Pride festivities.
"Effective immediately, NYC Pride will ban corrections and law enforcement exhibitors at NYC Pride events until 2025. At that time their participation will be reviewed by the Community Relations and Diversity, Accessibility, and Inclusion committees, as well as the Executive Board," reads NYC Pride's statement. NYC Pride is scheduled for June 27.
To make sure that safety regulations are still adhered to at events, NYC Pride will "transition to providing increased community-based security and first responders, while simultaneously taking steps to reduce NYPD presence at events."
Police officers being banned from participating in Pride parades and festivities is not an unfamiliar conversation to LGBTQ advocacy and activist groups in North America. In 2018, Capital Pride in D.C. announced that uniformed officers would not be allowed to march in the Pride parade. In 2019, Pride Toronto announced that uniformed police officers would not be permitted to attend any Pride Toronto events.
The announcement was preceded by a voting session that took place among Pride Toronto members. Global News, a Canadian news platform, reported a final result of 163-161, disallowing police participation in Pride Toronto events.
Global News also reports that Pride Toronto committed to using their $1.25 million federal grant to examine the LGBTQ community's feelings regarding police, and to forge a way forward.
In solidarity with the #BlackLivesMatter movement, Vancouver Pride Society announced in 2020 that police officers were no longer welcome to march and exhibit during any of Vancouver Pride Society's festivities.
"The roots of Pride are in righteous anger, riot and uprising against police brutality. These riots against the violence of the police were led by Black and Brown trans women and queer people. The Stonewall Riots propelled gay movements from assimilationist tactics towards unapologetic Pride. These riots worked," reads Vancouver Pride Society's statement.
The organization also pledged to ensure public safety by participating in calls to defund the police and "commit to learning and convening community dialogues about what these alternative forms of managing public safety look like."
Why ban the police? The decision from NYC Pride was simple: given the law enforcement's history of police brutality in America, there is a need to ensure that BIPOC and transgender individuals who attend Pride events can do so comfortably, without feeling vulnerable at events meant to be safe havens that allow full, unabashed identity expression and manifestation.
"After many interactions between the police and LGBTQ community locally, [including] the passive aggressive moves between the NYPD and peaceful protestors in Washington Square Park last year, we have to look at the history," said André Thomas, NYC Pride co-chair. "The ability to welcome Black, Brown, and trans Americans at our events is an even higher priority than for someone to be able to wear police uniform in a parade."
It is no secret that BIPOC and transgender communities are some of the most vulnerable groups when it comes to interactions with corrections and law enforcement officers.
Mapping Police Violence reports that in 2020, Black people constituted 28% of those killed by the police despite only constituting 13% of the country's population. The 2015 U.S. Transgender Survey also reports that Black transgender people were 50% more likely to report that their interactions with police officers as suspecting them of soliciting sex work and leading to an arrest. In addition, the Movement Advancement Project reports in a 2017 study that nearly 40% of incarcerated girls identify as LGB and 85-90% of incarcerated LGBTQ youth are LGBTQ youth of color.
With this in mind, NYC Pride's goal is to make their events harm-and-fear-free for members of the LGBTQ community.
To supplement the absence of corrections and law enforcement officers at NYC Pride events, the organization will provide community-based security companies and first responders who will ensure that Pride events are secure and will also be on standby in case of emergencies.
As part of their training, the security companies are primed on how to deal with all kinds of situations including responding to an active shooter.
"Our staff has gone through active shooter training and everything it entails including what they're wearing and how they're identifiable to the community," said Thomas. "We want to ensure people that even though the NYPD may be a block away, there is still security [present] to take care of your needs."
A lot of NYC Pride's information regarding security measures is currently being relayed through social media and reportage from various news sources.
"We tweeted about our meetings that we had with the NYPD to reinforce public safety after the initial news broke out of what's been going on," said Thomas.
Regarding whether NYC Pride will implement this year's model for next year's Pride, "[NYC Pride is] figuring out what works and what doesn't," said Thomas. "We're trying to do things in a hybrid model with some limited in-person and some virtual events. We're going to figure out what to keep and what to change, and this will influence the planning and processes that we do."
As for future Prides, Thomas wants everyone to remember this: "It's always someone's first Pride, and so, you want to be able to give someone that special experience. So, for future Prides, we'll be working on greater inclusivity and representation."
National LGBTQ Task Force welcomes new leadership
Mayra Hidalgo Salazar named deputy executive director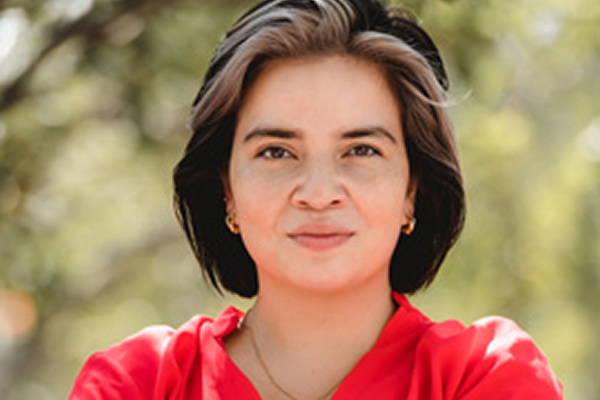 Earlier this month, the National LGBTQ Task Force named Mayra Hidalgo Salazar as its new Deputy Executive Director. Hidalgo Salazar joined the then newly appointed Executive Director Kierra Johnson as part of the Task Force's new and growing leadership team that will continue to advocate for LGBTQ individuals across the country while paying close attention to intersectionality as a crucial component of LGBTQ activism.
As part of a statement released by the Task Force, Hidalgo Salazar said, "I am overjoyed to stand on the shoulders of the giants, elders in our movement who started the National LGBTQ Task Force over 40 years ago. The seeds that the Task Force has planted in training and developing LGBTQ+ leaders for nearly 5 decades are in full bloom."
As Hidalgo Salazar embarks on this new journey, it is clearer for her that fighting for LGBTQ rights is important now more than ever.
Hidalgo Salazar was introduced to LGBTQ activism at age 17. She worked on the Trail of Dreams in 2010, a 1,500-mile walk from Miami to Washington, D.C., in support of immigrant rights. The Trail of Dreams's goal, according to Amnesty International, was to "[raise] awareness about broken U.S. immigration laws and to demand fair and humane immigration law and policy."
During her time working on this campaign, Hidalgo Salazar became more personally acquainted with the concept of intersectionality, in addition to her basic academic understanding of the concept.
"Before I could really understand what intersectionality meant…this campaign really showed me, in action, a great example of what it looks like to support people and support our community, which is not living single-issue lives," said Hidalgo Salazar. "Two of the walkers [at the Trail of Dreams] were actually a queer couple: Isabel Sousa Rodriguez and Felipe Matos, and, it's interesting because all of the demands that the campaign was making people really understood them as solely immigrant rights or immigrant justice issues."
This realization, showed Hidalgo Salazar that to adequately advocate for the LGBTQ community, activists must recognize that LGBTQ individuals inhabit multiple identities, such as undocumented immigration status, that shape their realities as members of the queer community.
Being a young activist did not come without its challenges for Hidalgo Salazar. She acknowledges that while passionate about her work, she was not prepared for the emotional baggage that accompanies leadership.
"I will say that now at 29, I can recognize that I wasn't emotionally prepared for a lot of things leadership would bring my way," said Hidalgo Salazar. "I was part of the first generation of undocumented people in Florida that started coming out publicly, and it was a very different time for immigrant justice than it is now."
Hidalgo Salazar further remarked, "There were so many people who were afraid and even outraged, people who said 'No don't do that; you can't do that; you're putting yourself at risk; you're putting yourself and your family in danger' and, I think so many of us were at a place where our current existence was unbearable."
Hidalgo Salazar is grateful that she did not let those remarks cloud her vision and stand in the way of the work she was doing. Given this, her main advice to young and upcoming activists is to "actively listen and carve your own path" amid people whose relationship to risk will force them to impose their problems on young activists. Simultaneously, she also believes in practicing self-care as it establishes longevity within the activism world.
"I can't tell you how many gifted, incredible organizers I know who have burned out before they were even 25. There's environmental reasons for this and also, it's about how we hold — or don't — our boundaries. So, self-care is really important," said Hidalgo Salazar.
Spearheading new era of leadership
As Hidalgo Salazar embarks on her new role with the LGBTQ Task Force, one of the goals at the forefront of her mind is to "level-up" the work that has already been done by her predecessors and existing leaders within the LGBTQ activism space.
"I think [that in] any role I undertake, it's super important that I'm building a bench, that I am leveling up the existing leaders. That's just important for me when I think about the longevity of this work and really building a culture of passing on the torch and normalizing it," said Hidalgo Salazar.
Hidalgo Salazar will also support Kierra Johnson's vision to build the Task Force's organizing efforts, and better train, support, and defend local grassroots power. Having worked with undocumented youth at United We Dream as the development director, Hidalgo Salazar understands the importance of having an organized front of directly impacted people ready to mobilize and hold those in power accountable.
"The Task Force used to have a field organizing team that was in the double digits in the '80s and '90s. Right now, our organizing team is three people, and as we've seen these past four years, no one advancement and policy is actually ensured unless we have an organized base of grassroots leaders," said Hidalgo Salazar. "So, part of what Kierra Johnson is wanting to settle down at the Task Force is really building out [our] local organizing arm."
In addition to this, Hidalgo Salazar brings a deep understanding of America as it exists today and how integral youth are to mobilizing masses to demand change. She is aware of the power and fervor Generation Z possesses and how this passion has become one of the main driving forces of modern day activism.
"[Young people] are at the forefront of social change across so many different issues from climate change, to immigrant justice, to uprisings against police brutality, and so many more," said Hidalgo Salazar. "We are forging a future for ourselves and we're inviting people to come with us; and we're going [in full force]."
Ultimately, Hidalgo Salazar's work will be aimed at preserving and continuing the tradition at the Task Force of approaching LGBTQ activism and advocacy with a strong consciousness surrounding intersectionality, a tradition that she appreciates.
"I think the Task Force has done such an amazing job at really focusing not just on how different genders and sexualities are criminalized, but also working from this place of really innovating and creating a space where folks can enter a sex-positive framework really young," said Hidalgo Salazar.
Hidalgo Salazar's modus operandi will focus on participating in an exercise where LGBTQ individuals outline and work toward what they would like their liberation to look like.
"I think it's about being able to articulate the alternative worlds we want to live in. And when I think about intersectionality at the Task Force, we have the first-ever Black bisexual woman and the first woman with an undocumented immigrant experience in leadership," said Hidalgo Salazar. "So, there's so much opportunity for us to really leverage our own stories so that more people that maybe didn't see themselves as part of the LGBTQ movement per se, can see this work as relatable."
476,000 U.S. transgender adults no IDs with correct gender marker
20 states and DC allow a gender marker of "X" on driver's licenses, and 13 states allow an "X" gender marker on birth certificates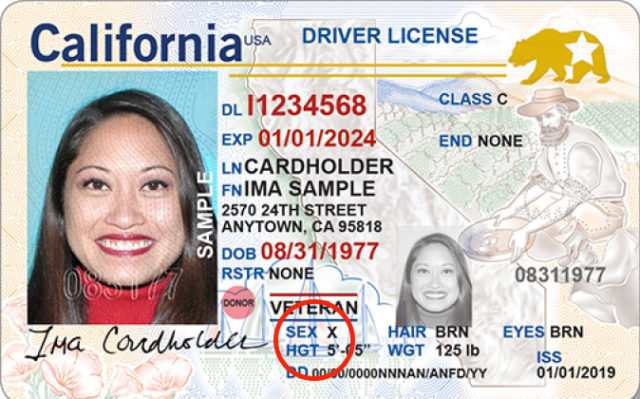 LOS ANGELES – An estimated 476,000 transgender adults in the U.S. are without any form of identification with the correct gender marker, according to a new report by the Williams Institute at the University of California Los Angeles School of Law. Michigan has the highest percentage of transgender adults without an ID that lists the correct gender (78%), and Delaware has the lowest (31%).

Using data from the 2015 U.S. Transgender Survey (USTS), researchers estimated the number of transgender people nationally and by state without accurate IDs and examined the relationship between state-level policies and having accurate IDs.

Findings show that transgender people in states with the fewest policy barriers to updating their gender marker are significantly more likely to have accurate birth certificates and driver's licenses than those in states with the most barriers. States with the most burdensome requirements may require proof of gender-affirming surgical care to update a gender maker. States with less burdensome requirements may require individuals to fill out specified forms or submit an affidavit.

"Having inaccurate IDs can lead to harassment and discrimination for transgender people, which can negatively impact mental health," said lead author Jody L. Herman, Scholar of Public Policy at the Williams Institute. "State and federal policymakers should enact policies that make gender marker changes on IDs less burdensome and more accessible for transgender people."

KEY FINDINGS
55% of respondents to the 2015 USTS did not have any IDs with the correct gender marker.
In states with the fewest policy barriers, 47% of transgender people have corrected the gender markers on their driver's licenses, compared to 26% of those living in states with the most policy barriers.
In states with the fewest policy barriers, 16% of transgender people have corrected the gender markers on their birth certificates, compared to 8% of those in states with the most policy barriers.
26% of transgender people with an incorrect gender marker on their driver's license had the name or gender on their ID questioned by TSA officers, compared to 9% of those with the correct gender marker.
18% of those with an incorrect gender marker on their passport had the name or gender on their ID questioned by TSA officers, compared to 6% of those with the correct gender marker.
Currently, 20 states and the District of Columbia allow a gender marker of "X" on driver's licenses, and 13 states allow an "X" gender marker on birth certificates.