Madge and beyond
Fall concert season dotted with biggest legends to hippest new underground queer acts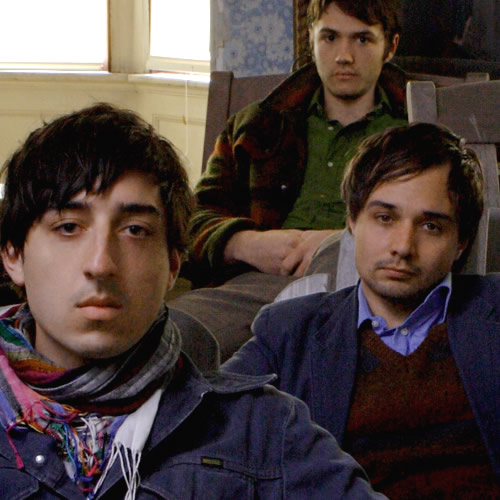 A bounty of queer bands are slated for Phasefest which starts Thursday and runs through next weekend at Phase 1's Eastern Market (original) location (525 8th Street S.E.). Look for indie bands like Bitch, Athen Boys Choir, Angie Head, People at Parties, Mitten, Hunter Valentine, D.C. band Glitterlust, Vanity Theft and many others. Weekend passes are $55. Tickets for individual nights are $15 Thursday, $20 for Sept. 22 and $25 for Sept. 22 and are available only at the door. Visit phasefest.com for details.
Grizzly Bear, whose new album "Shields" is slated to drop Tuesday, plays two nights at the 9:30 Club (815 V Street, N.W.) Sept. 20-21. Both shows are sold out. Gay singer/songwriter Ed Droste fronts the Brooklyn-based quartet. Try StubHub if you really want to go. Doors are 7 for the Thursday show; 8 for the Friday show. Unknown Mortal Orchestra opens.
Madonna brings her "MDNA Tour" to the Verizon Center (601 F Street, N.W.) Sept. 23-24, her first D.C. shows here since the "Re-Invention Tour" in 2004. Tickets were still available for the second night as of Blade press time but be warned the night of the show — as longtime fans now, she almost never starts on time. She didn't go on in Philly a few weeks ago until almost 10:30 p.m. Check Ticketmaster or StubHub for availability.
Diamond Rings, a one-man outfit consisting of openly gay John O (his new album drops Oct. 22), opens for Stars at the 9:30 Club on Sept. 23. Doors are at 7. It's sold out.
"Spill: True Stories of Queer Sex, Desire and Romance," a new monthly performance event, kicks off at Black Fox Lounge (1723 Connecticut Ave. N.W.) at 8 p.m. on Sept. 27. It's free. Bi New Yorker Jefferson hosts. More info at spillstories.wordpress.com.
Tony winner Sutton Foster ("Anything Goes," "Thoroughly Mordern Millie" and "Shrek the Musical") plays George Mason University's Center for the Arts (on the George Mason campus in Fairfax County, Va.) Sept. 29 at 8 p.m. Tickets are available for $40, $55 and $70. Visit cfa.gmu.edu for information.
Broadway legend Patti LuPone brings her "Matters of the Heart" show to the Strathmore (5301 Tuckerman Lane, North Bethesda) for two nights Oct. 5-6. The 8 p.m. shows will find the double Tony winner singing love songs from a wide range of composers from Broadway legends like Rodgers and Hammerstein to pop singers such as Joni Mitchell and Cyndi Lauper. Tickets range from $45-$85. Buy online at Strathmore.org.
Look for '70s teen idol David Cassidy, inspiration for surely many gay coming-of-age fantasies, at the Birchmere Oct. 6. Tickets are $49.50 for the 7:30 p.m. show. Details at birchmere.com.
Shi-Queeta-Lee and her "cast of celebrity female impersonators" return to the Howard Theatre (620 T Street, N.W.) Oct. 10 for another "Drag Salute to the Divas" after a successful debut there in August. The lady poses as Mary J. Blige in the ads. Tickets are $20 in advance ($25 at the door) for the 8 p.m. show.
In other drag news, Special Agent Galactica (Jeffrey Johnson) plays Black Fox Lounge (1723 Connecticut Ave. N.W.) every second and fourth Friday of the month from 6-9 p.m. and the first Tuesday of each month she brings her "Ye Olde Rock 'n Roll Show" to MOVA (2204 14th Street) from 8-10 p.m. All free. Details at pinkhairedone.com.
Queer Women of Color successfully raised $5,000 in an online drive for its third annual Revival Poetry Tour that's slated to wrap in D.C. Oct. 13. Details pending.
Soul legend Mavis Staples plays the Hamilton (600 14th Street, N.W.) Oct. 17. Tickets are $55-$62 for the 7:30 p.m. show. Info at thehamiltondc.com.
It's a trek from D.C., but if you want to catch Liza Minnelli's fall show "Confessions," the closest spot is the Luhrs Performing Arts Center (1871 Old Main Drive) in Shippensburg, Pa., on the campus of Shippensburg University. It's about a two-hour drive from D.C. Tickets range from $67-$95. Details at luhrscenter.com.
Perrenniel lesbian road warriors The Indigo Girls are slated to play Rams Head Live (20 Market Place) in Baltimore Oct. 20. Tickets are $35 for the 9 p.m. show. Check ticketfly.com for tickets or link there through ramsheadlive.com.
Gay comedian David Sedaris plays the Strathmore Oct. 23. Tickets range from $48-$58 for the 8 p.m. show. Details at Strathmore.org.
Of course there's an ocean of stuff going on all the time in New York, but if you happen to be there Oct. 30 (the night of the High Heel Race in D.C., by the way), consider checking out a special Freedom to Marry concert there featuring Rufus Wainwright, They Might Be Giants, John Cameron Mitchell, Justin Bond and more. It will be held at the Beacon Theatre (2124 Broadway, New York) at 8 p.m. and 100 percent of the $50-$155 tickets benefit LGBT advocacy group Freedom to Marry (Rufus's dad, Loudon Wainwright III, who's been playing a new song he just wrote for Rufus's gay wedding at his summer shows, plays the Birchmere Oct. 12-13).
Lesbian rocker Melissa Etheridge plays the Strathmore Nov. 2 for her "4th Street Feeling Tour." Tickets range from $57.50-$102.50. Details at Strathmore.org.
The Gay Men's Chorus of Washington has its Home Cooked Cabaret night dubbed "Showmen and Showstoppers" at Town Danceboutique (2009 8th Street N.W.) Nov. 3 at 6:30 p.m. Tickets are $100 for reserved seats or $75 general admission. Visit gmcw.org for information.
Dance diva Stephanie Mills plays the Birchmere Nov. 10. Tickets are $69.50 (birchmere.com).
Aretha Franklin plays DAR Constitution Hall (1776 D Street, NW) Nov. 20. Tickets are $59.50-$115.50 at Ticketmaster.
The Chorus's "Winter Nights" show is the weekend of Nov. 30-Dec. 1 at the Lisner Auditorium (730 21st Street, N.W.). No word yet on ticket prices for that show.
That's the big stuff but a few other venues to keep an eye on or plan checking out include gay-owned Comet Ping Pong (5037 Connecticut Ave., N.W.), a gay-owned pizza restaurant, live music venue that hosts indie bands — some queer — all the time. Info at cometpingpong.com.
The Clarice Smith Performing Arts Center at the University of Maryland (claricesmithcenter.umd.edu), the Washington Performing Arts Society (wpas.org) and Wolf Trap (wolftrap.org) all have great events scheduled throughout the fall.
Forget Santa Claus – Ginger Minj is comin' to town
'Drag Race' alum's Winter Wonderland Tour stops in D.C. Nov. 29 and 30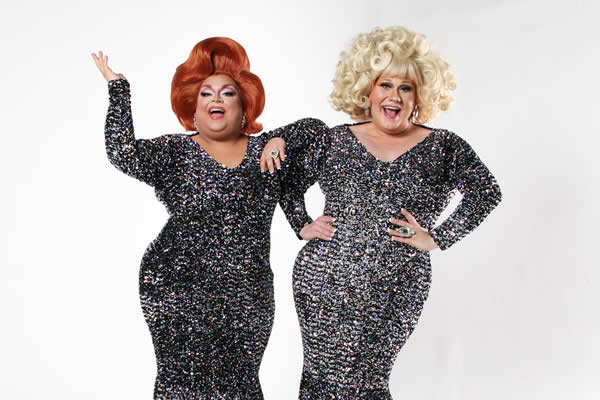 Ginger Minj is a busy little elf.
From her new country album "Double Wide Diva" to sporadic stints in TV and movies to her upcoming book, "Southern Fried Sass" (which reportedly scored her a six-figure deal), the "Drag Race" diva is everywhere these days, including a venue near you. On Nov. 29 and 30, the new queen of Christmas will perform her holiday spectacular Winter Wonderland Tour at Miracle Theatre.
We recently caught up with the multitalented actress/comedian/singer to discuss her continued success, including making friends with Jennifer Aniston while filming Netflix's "Dumplin,'" her take on the latest Dave Chappelle backlash, the best Christmas gift she's ever received, and what exactly makes her the "nicest bitch" this side of the North Pole – but first, let's take a sleigh ride back to the beginning.
BLADE: Tell me a bit about how you got started in drag and the genesis of Ginger Minj.
GINGER MINJ: Like most good show-tune-loving queers, I stumbled into drag through musical theater. I auditioned for a show that required either full-frontal nudity or drag, and I figured I would fare better in a wig and heels than nothing at all. I got the role and really took to it quickly. I felt more free and honest as a performer than I ever had before, and I realized I could make a livable income doing something that I was wholly responsible for creating.
BLADE: How has your appearance on "Drag Race" helped your career, and what are your top takeaways from your time on the show?
GM: It's an international platform that allows us to introduce ourselves to the entire world. It got me a seat at the table with people and places that refused to even open the door for me in the past. I think there was – and maybe still is sometimes – this initial assumption that drag artists are limited in their talents, but we have been able to show the world that we are just as talented and capable as any other entertainer. I don't wear a wig as a gimmick. I wear it as an accessory, and it doesn't mean I shouldn't be taken as seriously as any other actor, singer, etc. "Drag Race" is doing a great job of showing the world that – and I'll forever be grateful.
BLADE: If folks didn't catch you on "Drag Race," they might recognize you from the 2018 Netflix movie "Dumplin'" starring Jennifer Aniston and Dove Cameron. What was your experience like on set, and do you have any other TV/film projects in the works?
GM: "Dumplin'" was the single best experience of my life! Jennifer Aniston brought me coffee every morning, and Kathy Najimy had my trailer moved next to hers so we could listen to Beyoncé and play with makeup. That entire cast and crew treated all of us queens with unbelievable respect. It really gave me a passion for filmmaking and, yes, I'm happy to say there are a few more projects – big screen and small – coming your way soon.
BLADE: What makes you the "nicest bitch you'll ever meet?"
GM: It's like those good ole' southern church ladies who will give you the shirts off their backs but read you to filth for not bringing one of your own. The only thing bigger than my mouth is my heart and the "shady" things I say should never be taken seriously.
BLADE: As a comedian yourself, what are your thoughts on the latest Dave Chappelle/Netflix controversy?
GM: I've always felt like comedy and drag go hand in hand: It's an outrageous way to start a conversation and make people confront their own feelings about anything and everything. That being said, I think there's a way to do that without disparaging and discrediting an entire group of human beings. I think it's shameful that someone with that great of a platform would choose to punch down.
BLADE: Your new single "Walk Tall" is about growing up gay in the South – and it's a very good song. Radio worthy even, but a hard sell, given its content, to a country-music audience. How do you think that changes? Will LGBTQ+ country artists ever enjoy the kind of success their straight counterparts do?
GM: I think so. To be completely honest with you, I've gotten much more support for that album from the country community than I have from the drag world. The message is so universal, and we were very careful to do it in an authentic, simple way. When we stop focusing on our differences and start embracing our similarities, the world can change. I just do the things that make me happy and hope it finds the people who need to hear it.
BLADE: Christmas is just around the corner – do you prefer giving or receiving? What's your most prized Christmas present from the past?
GM: I'm definitely a giver! I drive myself crazy for months researching and planning and looking for the perfect gifts for everyone. It's my way of showing the people I care most about that while I may be busy, I'm listening. I hear them, I see them, and I appreciate them. The best Christmas present I ever got was a cheap plastic pair of ruby slippers from my mama when I was a kid. I still have them. That moment changed my life forever. It's what actually inspired "Walk Tall."
BLADE: Like Santa Claus himself, the Ginger Minj Winter Wonderland Tour 2021 is coming to town. What do you have in store for audiences this holiday season?
GM: What don't we have in store?! There are 20 costume changes, instructional videos gone terribly wrong, singing, dancing, magic tricks, fog machines, comedy, and it even snows over the audience! This is the biggest, prettiest, most ambitious show we have ever put together.
BLADE: Looking forward to 2022, what's in the works? What are a few of your New Year's resolutions?
GM: So many great things — more music, some movies, some TV, a stage production of "La Cage aux Folles" in Chicago, and my book "Southern Fried Sass" will hit the shelves. It's a great time to be the "Glamour Toad," and I am grateful every single day.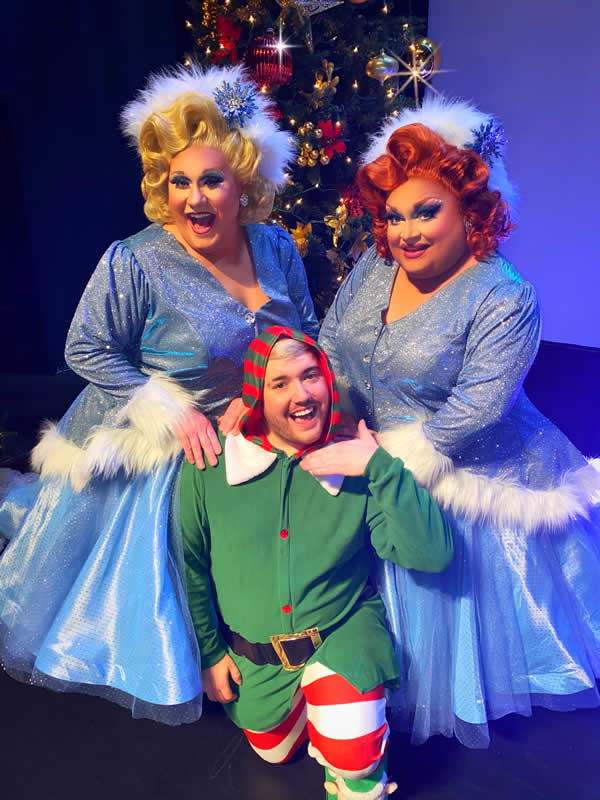 Mikey Rox is an award-winning journalist and LGBT lifestyle expert whose work has been published in more than 100 outlets across the world. Connect with Mikey on Instagram @mikeyroxtravels.
Forget streaming, the holiday classics return to area stages
Bring your proof of vaccination and check out a local production this season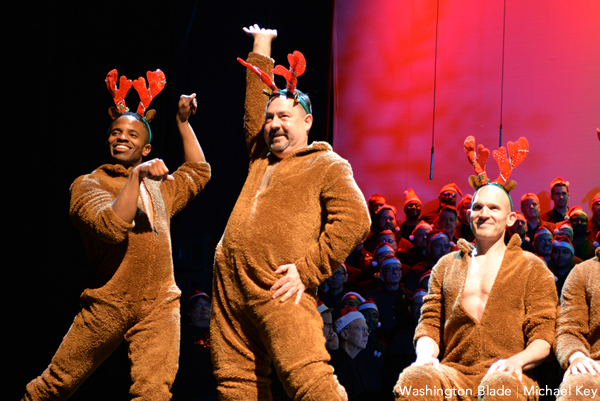 A year ago, the holiday season was streamed. But now, thanks to various protocols including masks and proof of vaccination, DMV theatergoers can come together and experience – live and in-person — both beloved classics and some promising new works. Here's a smattering of what's out there.
At Olney Theatre, Paul Morello is thrilled to bring back "A Christmas Carol 2021" (through Dec. 26), his solo adaptation of Dickens' ghost story. Concerning returning to a live audience, Morello says, "While this is technically a one-person show, it's really about the connection and collaboration with an audience, being in the same room, breathing in unison. I can't do this without an audience and for a story that thrives on redemption, mortality, isolation, the need for community and connection, and the things that matter most, the timing couldn't be better."
Olney also presents "Disney's Beauty and the Beast" through Jan. 2. This musical "tale as old as time" stars out actor Jade Jones as Belle and Evan Ruggiero plays the Beast. olneytheatre.org
For the holidays, Synetic Theater at Crystal City is reworking "Cinderella" (Nov. 27-Dec. 26). Led by an all-female team of creators, this festive take on the classic fairytale is inspired by Afro-Latino music and dance. Directed and adapted by Maria Simpkins who also plays the title role. synetictheater.org
Last year, because of COVID-19, Ford's Theatre presented "A Christmas Carol" as a radio broadcast, but now the fully produced play returns to the venue's historic stage through Dec. 27. A popular Washington tradition for more than 30 years, the thoroughly enjoyable and topnotch take on the Dickens' classic features Craig Wallace reprising the part of Scrooge, the miser who after a night of ghostly visits, rediscovers Christmas joy. fords.org
Another D.C. tradition guaranteed to put audiences in a holiday mood is the Washington Ballet's "Nutcracker," playing at the Warner Theatre through Dec. 26. Set to Tchaikovsky's enchanted score, this charming and superbly executed offering takes place in Georgetown circa 1882 and features a retinue of historic figures along with children, rats, fairies and a mysterious godfather. Choreography is by Septime Webre. washingtonballet.org
The Folger Consort, the superb early music ensemble in residence at the Folger, will be performing seven concerts of "A Medieval Christmas" (Dec. 10-18) at St. Mark's Church on Capitol Hill. A streaming version of the concert will also be available to view on-demand. folger.edu
At Lincoln Theatre, the Gay Men's Chorus of Washington, D.C. presents "The Holiday Show" (Dec. 4, 11, and 12) replete with tap-dancing elves, a dancing Christmas tree, snow, and a lot more. The fun and festive program's song list includes "Let It Snow! Let It Snow! Let It Snow!", "The 12 Rockin' Days of Christmas," and "Boogie Woogie Frosty." Featured performances range from the full Chorus, soloists, all GMCW ensembles, and the GenOUT Youth Chorus. gmcw.org
Arena Stage is marking the season with August Wilson's "Seven Guitars" (through Dec. 26), a drama about a small group of friends who gather following the untimely death of their friend, a blues guitarist on the edge of stardom. Directed by Tazewell Thompson, the production features an exciting cast that includes local actors Dane Figueroa Edidi and Roz White. arenastage.org
Creative Cauldron is serving up some holiday magic with "The Christmas Angel" (Dec. 9-19). Based on a little-known 1910 novel by Abbey Farwell Brown, it's the story of a lonely and bitter spinster who returns to happiness through a box of old toys. The commissioned new holiday musical is a collaboration of longtime musical collaborators and married couple Matt Conner and Stephen Gregory Smith (lyrics and book). creativecauldron.org
In keeping with the Yuletide spirit, the National Theatre presents two feel-good national tour musicals. First, it's "How the Grinch Stole Christmas!" (through Dec. 5), a musical take on Dr. Seuss' classic holiday tale featuring the hit songs "You're A Mean One, Mr. Grinch" and "Welcome Christmas."
Next up is "Tootsie" (Dec. 7-12), the hit musical based on the 1982 gender-bending film starring Dustin Hoffman as an out-of-work actor who disguises himself as a woman to land a role on a popular soap opera. The show boasts a Tony-winning book by Robert Horn and a score by Tony winner David Yazbek (The Band's Visit). thenationaldc.com
Keegan Theatre presents its annual holiday offering, "An Irish Carol" (Dec. 10-31). Set in a modern Dublin pub, the funny yet poignant original work (a nod to Dickens) tracks the changes in the life of a rich but miserable publican over the course of one Christmas Eve. keegantheatre.org
At Theater J, it's the Kinsey Sicks' "Oy Vey in a Manger" (Dec. 17-25). Blending drag, four-part harmony, and political humor, the "dragapella beautyshop quartet" brings its own hilariously irreverent view on the holidays. theaterj.org
And through Jan. 2, Signature Theatre continues to brighten the season with its production of Jonathan Larson's "Rent" directed by the company's out artistic director Matthew Gardiner and featuring out actor David Merino as Angel, a preternaturally energetic drag queen and percussionist. sigtheare.org
The Music Center at Strathmore, also in Bethesda, is presenting a wide range of musical holiday offerings including "Manheim Steamroller Christmas" (Dec. 3 and 4), a multimedia holiday tradition; Sarah Brightman in "A Christmas Symphony" (Dec. 6 and 7); "A Celtic Christmas with Séan Heely Celtic Band" (Dec. 11); Washington Bach Consort's "Bach's Epic Christmas Oratorio" (Dec. 11); the beloved "The Washington Chorus: A Candlelight Christmas" (Dec. 16 and 17); and last but not least "The Hip Hop Nutcracker" (Dec. 20), Tchaikovsky's classic reimagined with MC Kurtis Blow ("White Lines"). strathmore.org
And finally, something strictly for the kids: Imagination Stage presents "Corduroy" (Dec. 11-Jan. 24). Based on the beloved children's books by Don Freeman, it's the heartwarming story of a girl and her perfectly imperfect Teddy Bear. Best for ages 3-9. imaginationstage.org
Disco Funk Brunch at Crazy Aunt Helen's
Tara Hoot and DJ Phil Reese perform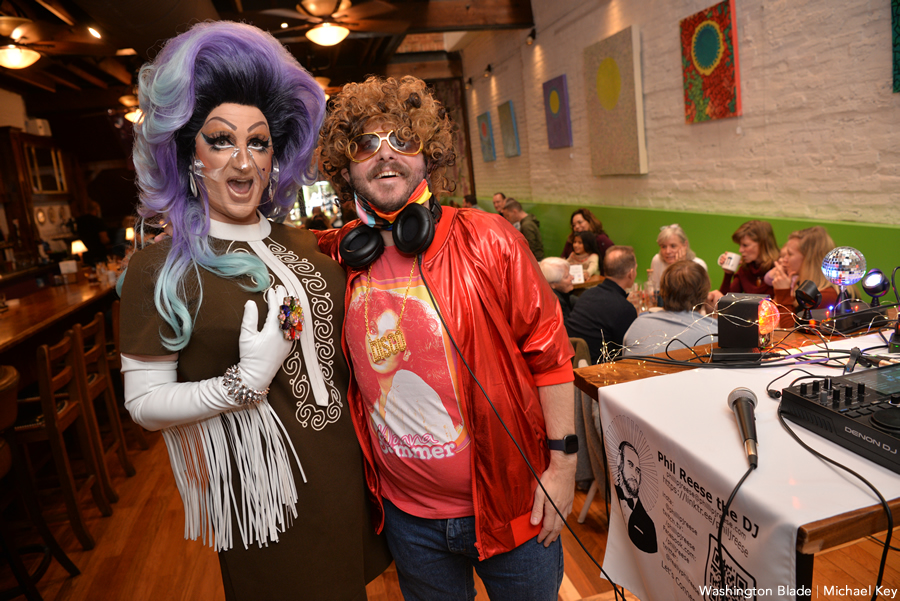 Drag queen Tara Hoot and DJ Phil Reese perform at the biweekly Disco Funk Brunch at the LGBT-owned Crazy Aunt Helen's on Sunday. For future showtimes, go to crazyaunthelens.com. (Blade photo by Michael Key)