Queery: Steven Wilson
The Oasis Dance Company founder/director answers 20 gay questions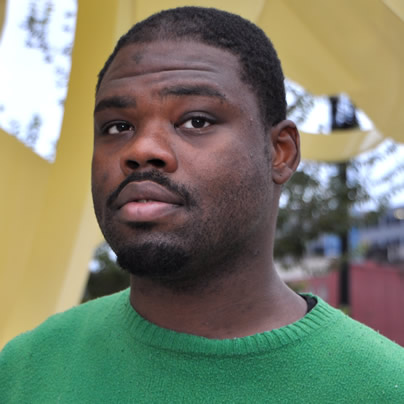 When Steven Wilson moved to Washington in 2008 because his husband, Brandon Wilson, got a job in the area, the 28-year-old dancer and choreographer decided to re-launch his Oasis Dance Company here.
It's evolved since then — this weekend's event "The Affair: Bow Ties & Pumps," a benefit for Transgender Health Empowerment and the Wanda Alston House for homeless LGBT youth, is the launch of his expanded vision which will be known as the Oasis Dance Collective. It will continue to encompass his adult company for 18-25-year-olds (there are 13 dancers in the troupe) but a youth contingent is also launching along with a series that will find well-known choreographers coming to D.C. to offer master classes (the group is online at oasisdanceco.com). Wilson re-launched the group with co-founder Jami Shackles.
Sunday night's event, to be held at THEARC Theater (1901 Mississippi Ave., S.E.), is designed as a dance tribute to several local public figures, both LGBT and allies, who are making a difference in the D.C. area. Similar to the Kennedy Center Honors, Wilson is overseeing mini-tributes to each of this year's honorees: Revs. Dennis and Christine Wiley, pastors of LGBT-welcoming Covenant Baptist United Church of Christ; comedian Sampson McCormick; youth advocate Kenya Hutton, Abdur-Rahim Briggs, president of Al Sura; drag performer Shi-Queeta Lee; The Center's David Mariner; and Rev. Aaron Wade, pastor of Community Church of Washington.
"Imagine Victoria's Secret meets the Grammys meets 'So You Think You Can Dance,'" Wilson says. "It will be so many different things and highly entertaining."
Red carpet starts at 6:30 p.m. The performance is at 7:30. General admission is $30; VIP admission is $50. Tickets will be available at the door or can be purchased in advance at thearcdc.org. Proceeds go to the Alston House and THE. Details are at oasisdanceco.com/events.
Wilson works by day in Annandale, Va., as a clinical research assistant at Clinical Alliance for Research Education in Infectious Diseases (CARE-ID) and lives in Fairfax, though all his Oasis work is in Washington. The Norwich, Conn., native enjoys dancing, writing and hiking in his free time. He and Wilson have two dogs, Joi and PJ.
How long have you been out and who was the hardest person to tell?
I have been out since my sophomore year of college in 2004 and my father was the hardest person to tell.
Who's your LGBT hero?
Alvin Ailey
What's Washington's best nightspot, past or present? 
Town
Describe your dream wedding.
With all family in attendance on the coast of Spain.
What non-LGBT issue are you most passionate about?
Education
What historical outcome would you change?
The transfer of HIV/AIDS from primates to humans.
What's been the most memorable pop culture moment of your lifetime?
My first concert was a Janet concert (the "Velvet Rope Tour") and it just kind of solidified everything I wanted to do in life. A lot of my friends were really into Michael Jackson, but I didn't really grow up on Mike. I grew up way more on Janet.
On what do you insist?
Faith
What was your last Facebook post or Tweet?
"The Affair Sunday, September 23, 2012"
If your life were a book, what would the title be?
"Pieces of a Dream"
If science discovered a way to change sexual orientation, what would you do?
Nothing. I am proud of who I am and wish everyone else the same — just be you.
What do you believe in beyond the physical world? 
Heaven
What's your advice for LGBT movement leaders?
Stay connected, make sure the messaging remains relevant and focus on legal issues more than emotional ones. A person may not agree with me, but I want to ensure that they cannot legally hinder my happiness.
What would you walk across hot coals for?
My family
What LGBT stereotype annoys you most?
That gay equates to be a feminine male or butch female.
What's your favorite LGBT movie?
I don't have one. "Center Stage," but that not really gay.
What's the most overrated social custom?
Shaking hands
What trophy or prize do you most covet?
My ultimate goal is to win a Tony Award for choreography.
What do you wish you'd known at 18?
The only person who must buy into your vision is you!
Why Washington?
It is the nuclei of America.
PHOTOS: Benefit show for Hagerstown Hopes
Drag event at Shepherd University raises money for LGBTQ organization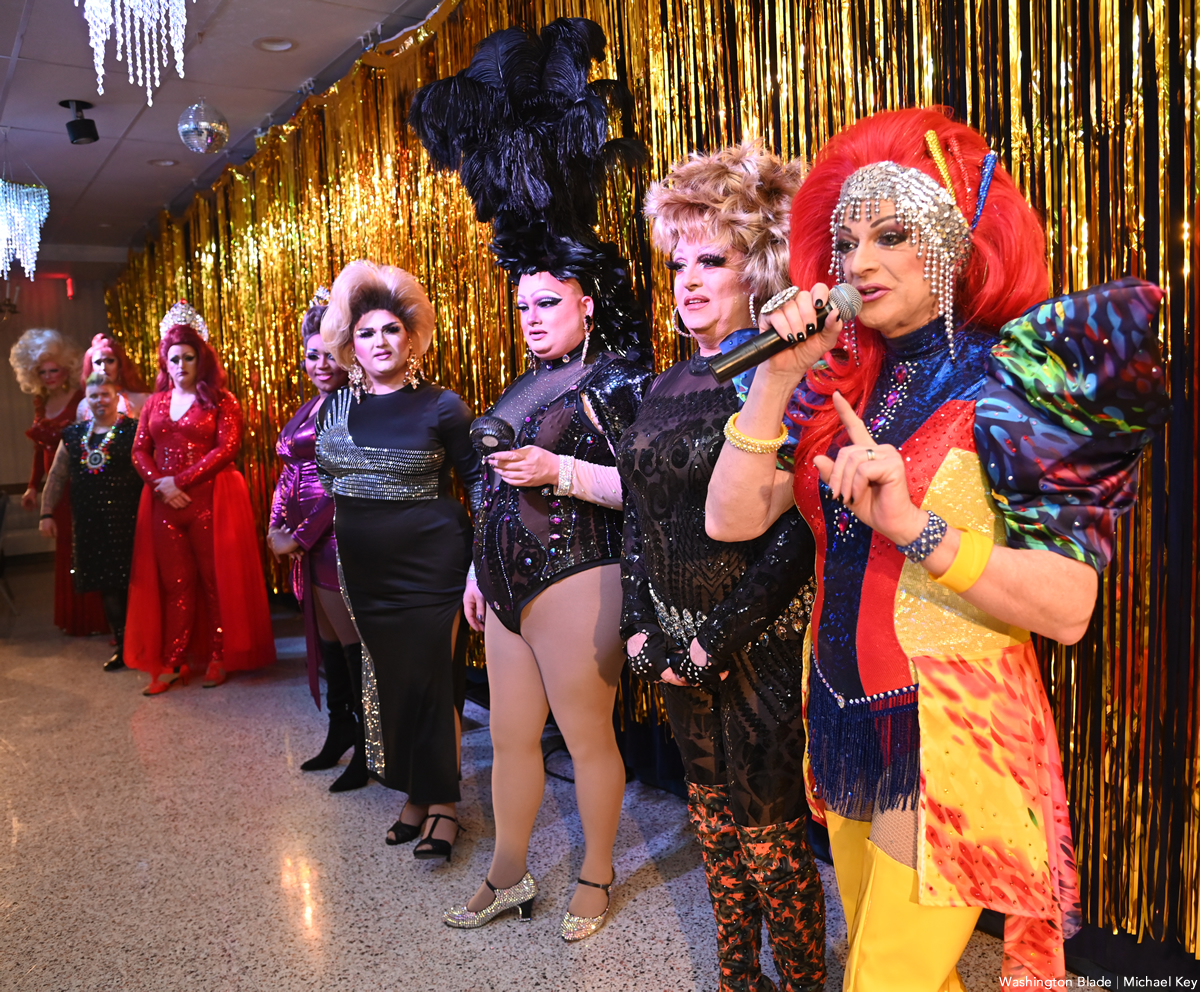 The Shepherd University Program Board and GSA presented a drag show benefit for Hagerstown Hopes at the Storer Ballroom in the Student Center in Shepherdstown, W. Va. on Saturday, April 1. Performers included Ashley Bannks, Alexa V. Shontelle, Maranda Rights, Ivanna Rights, Chasity Vain, Bayley, Dezi Minaj, Nicole James and Remington Steele.
(Washington Blade photos by Michael Key)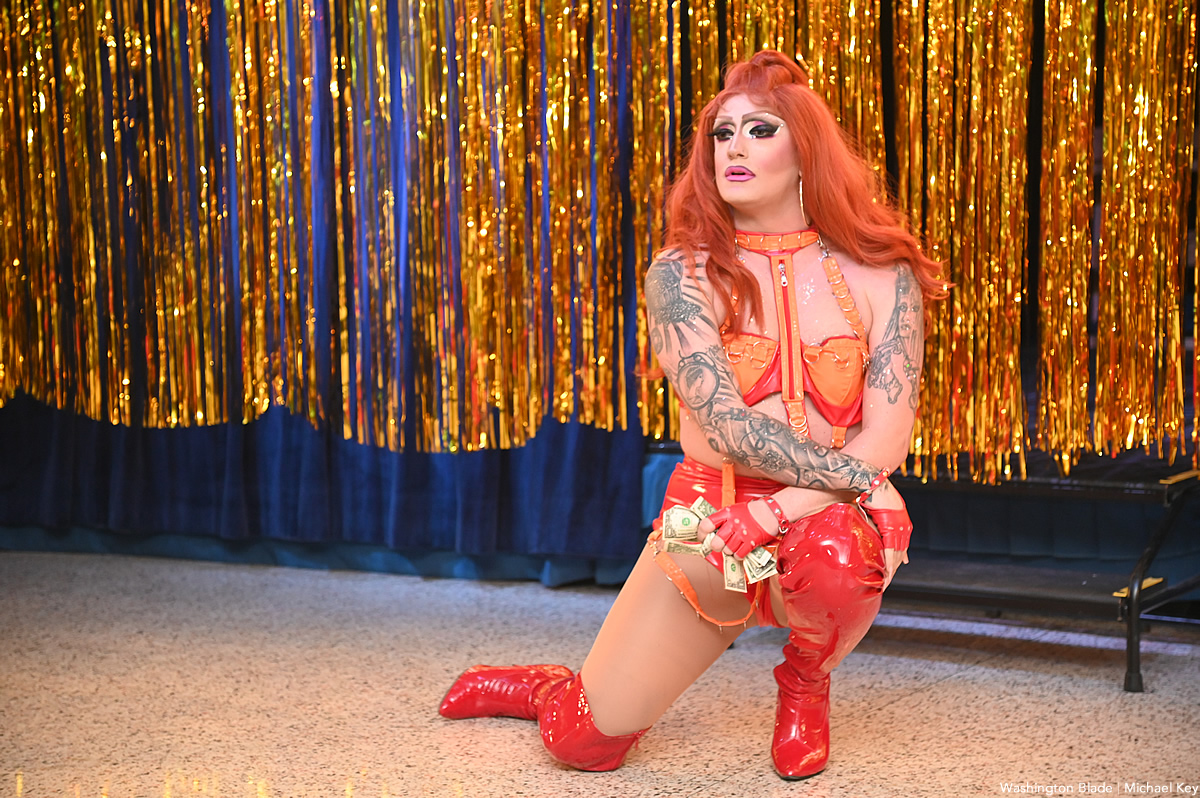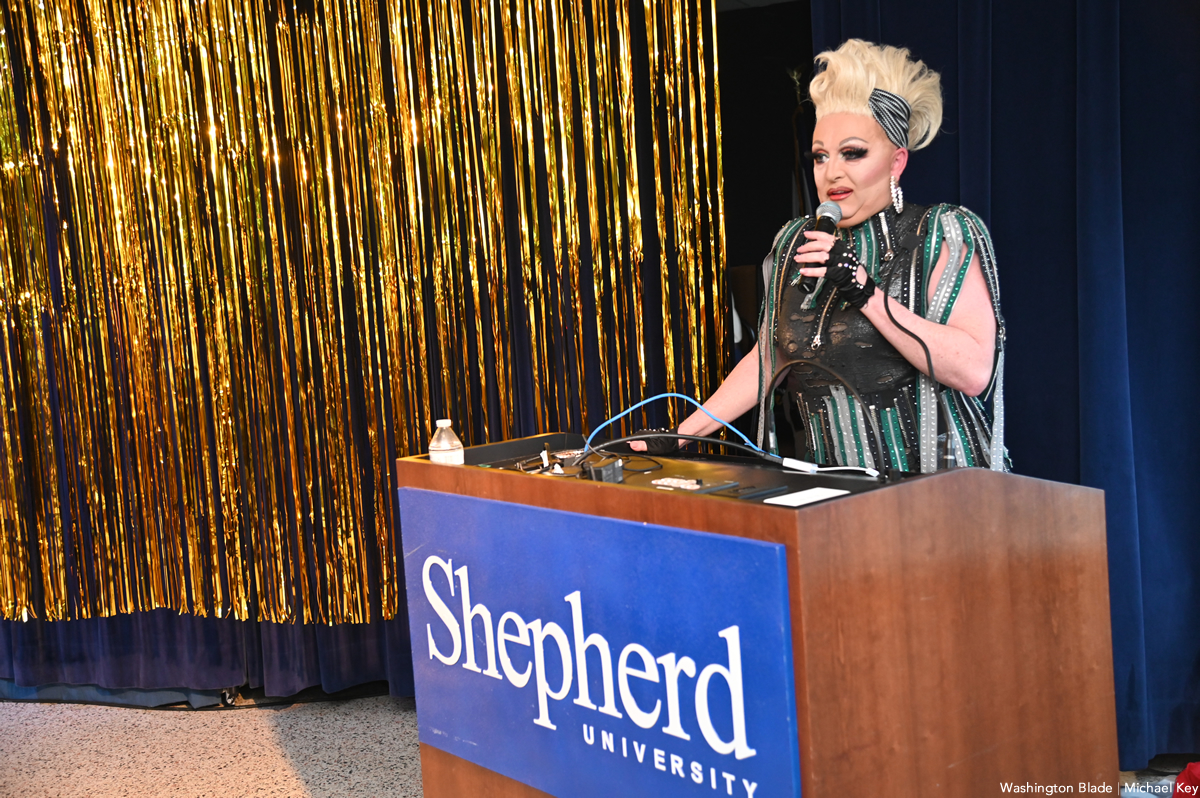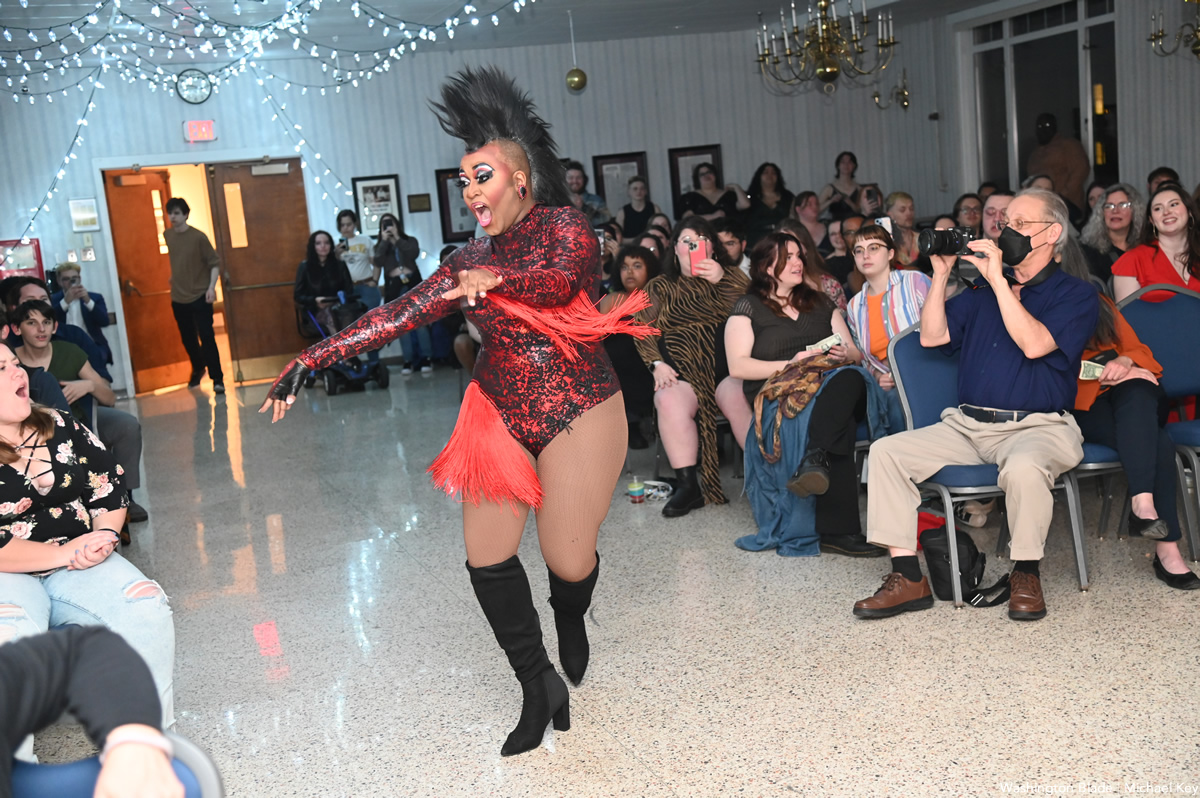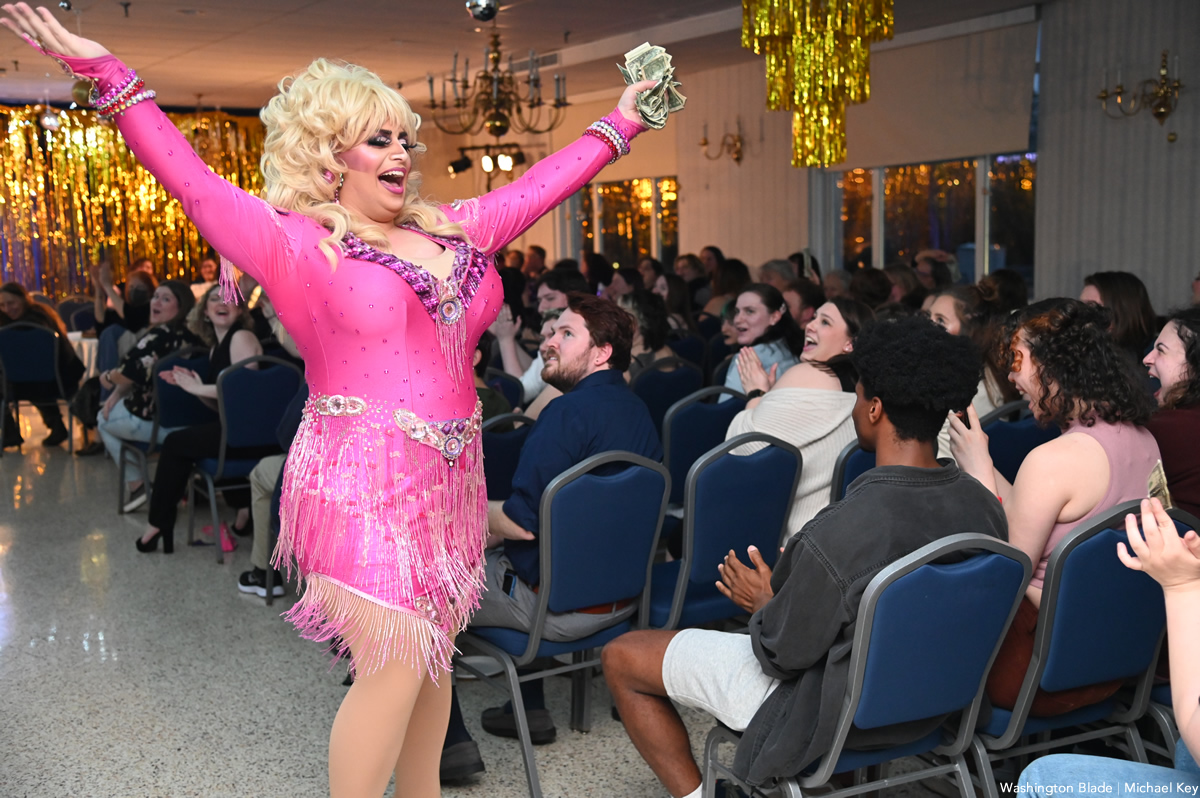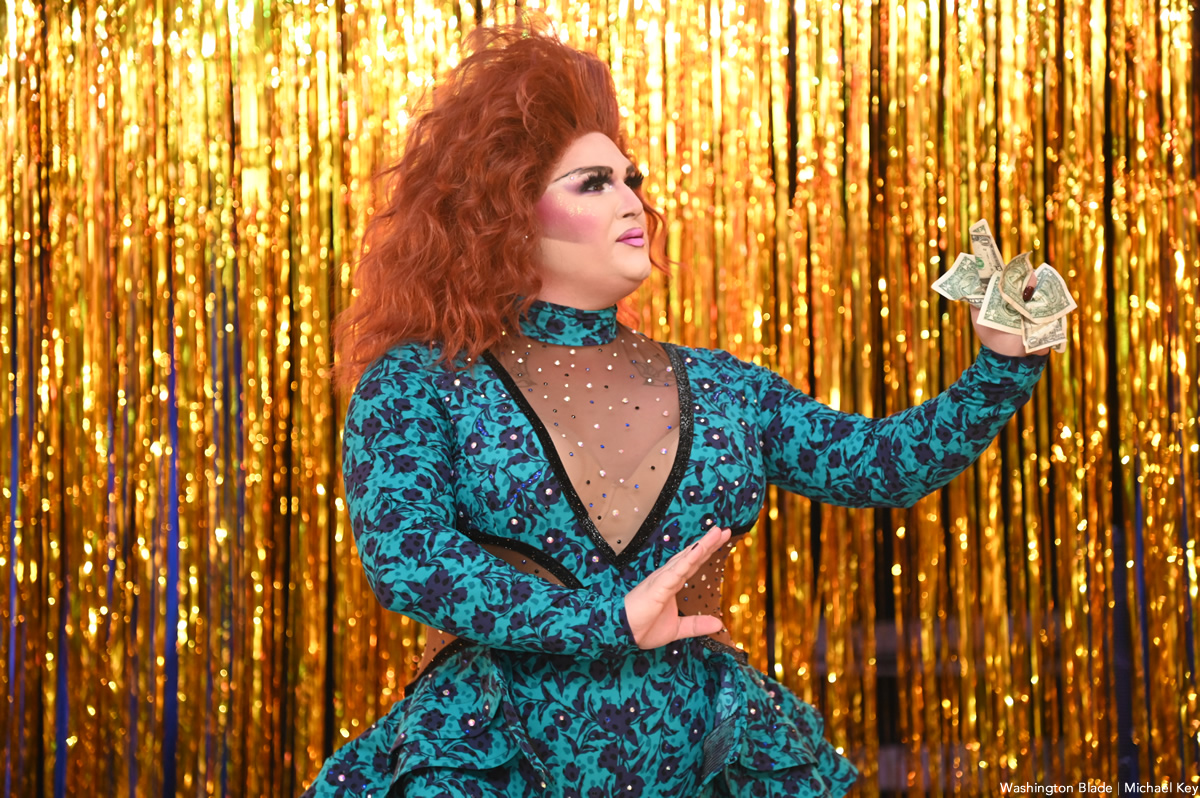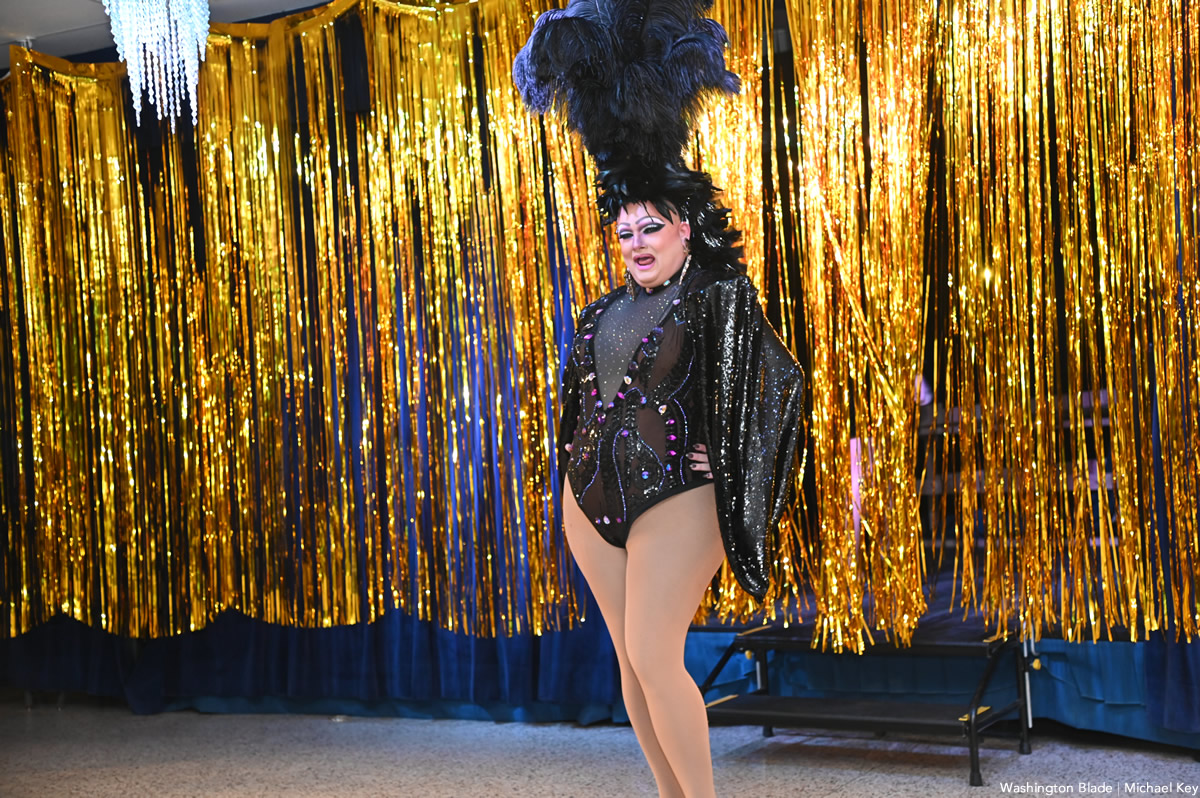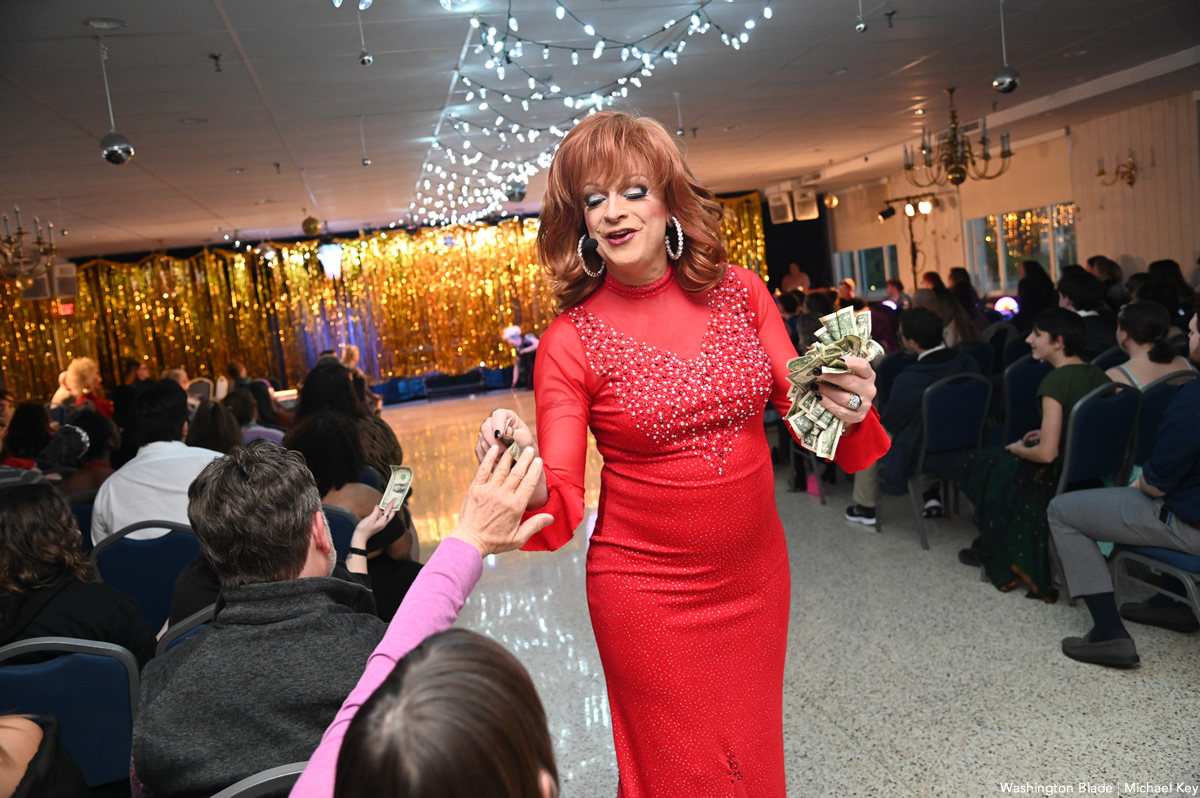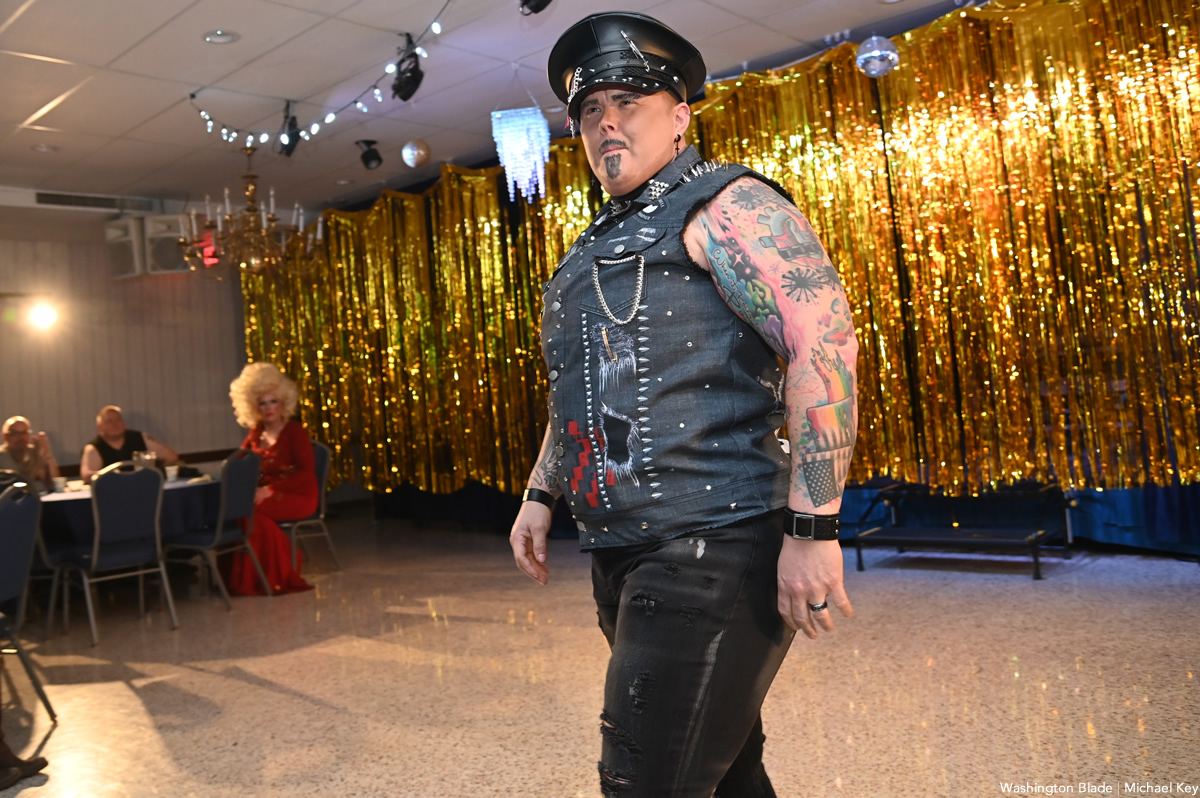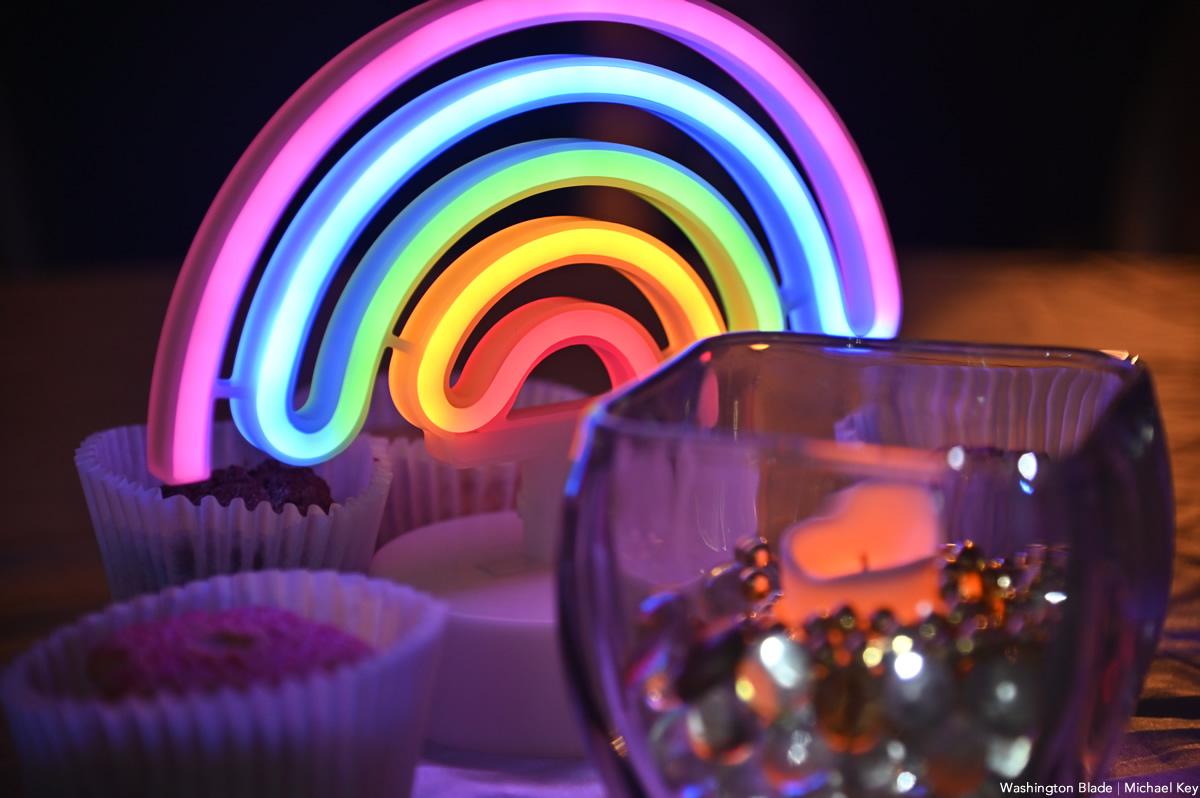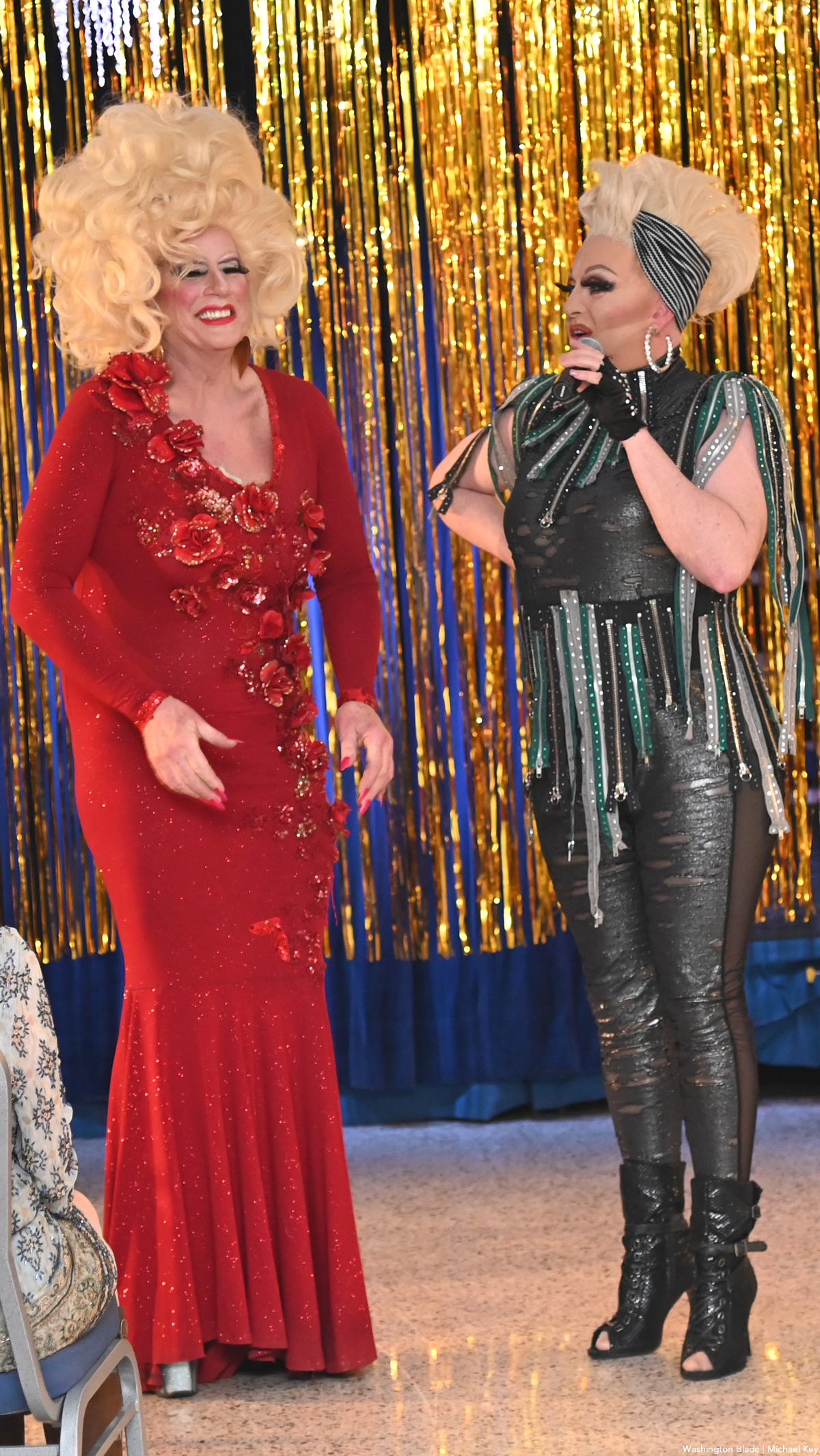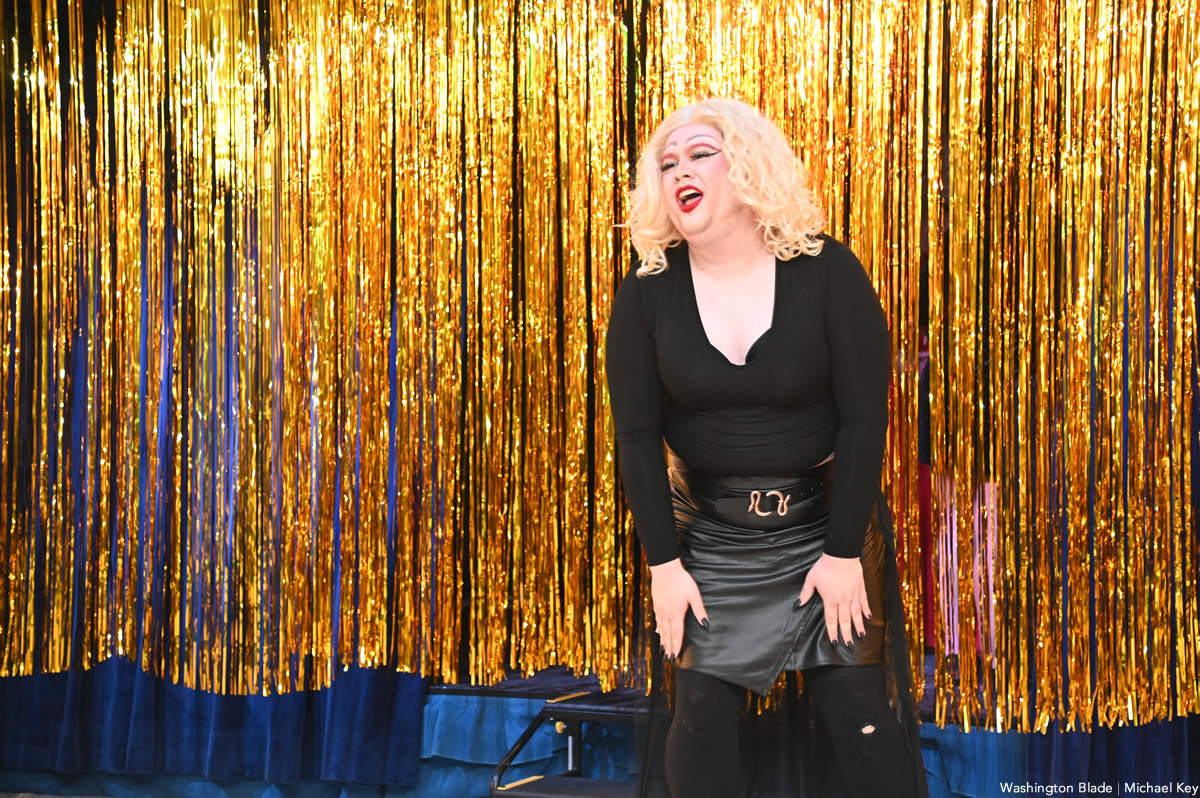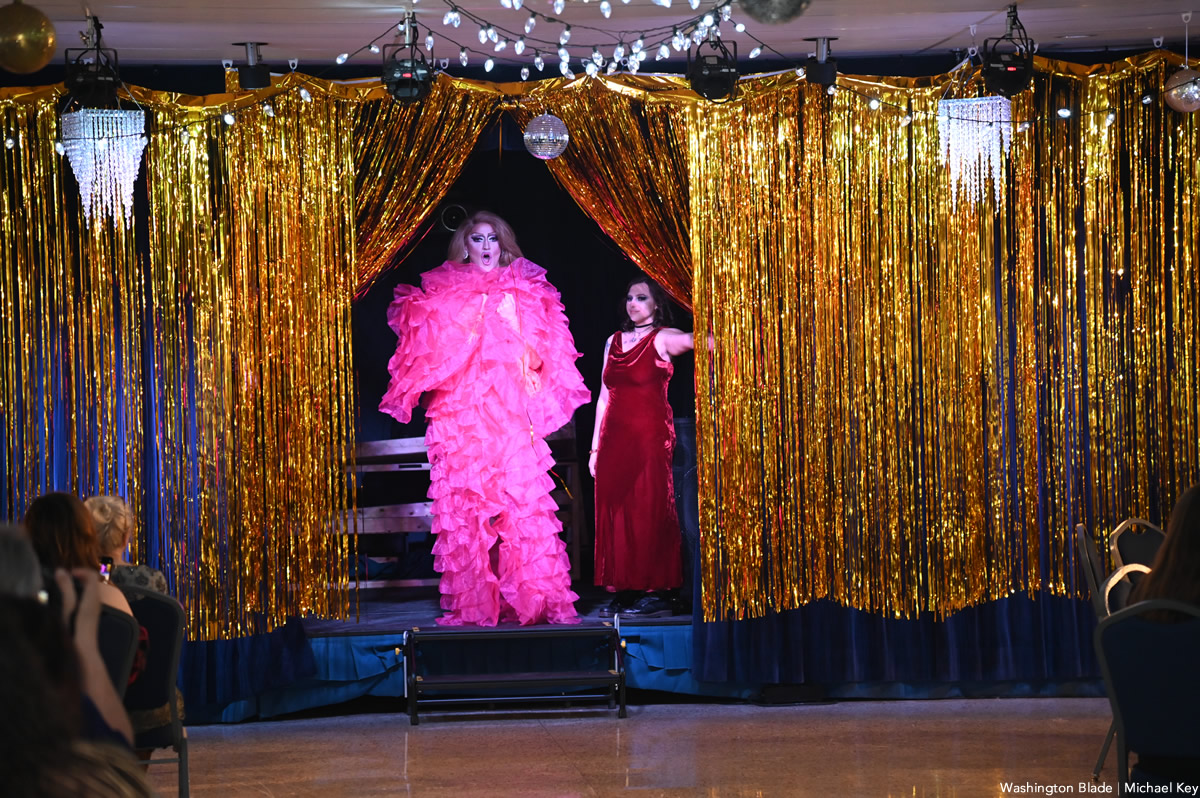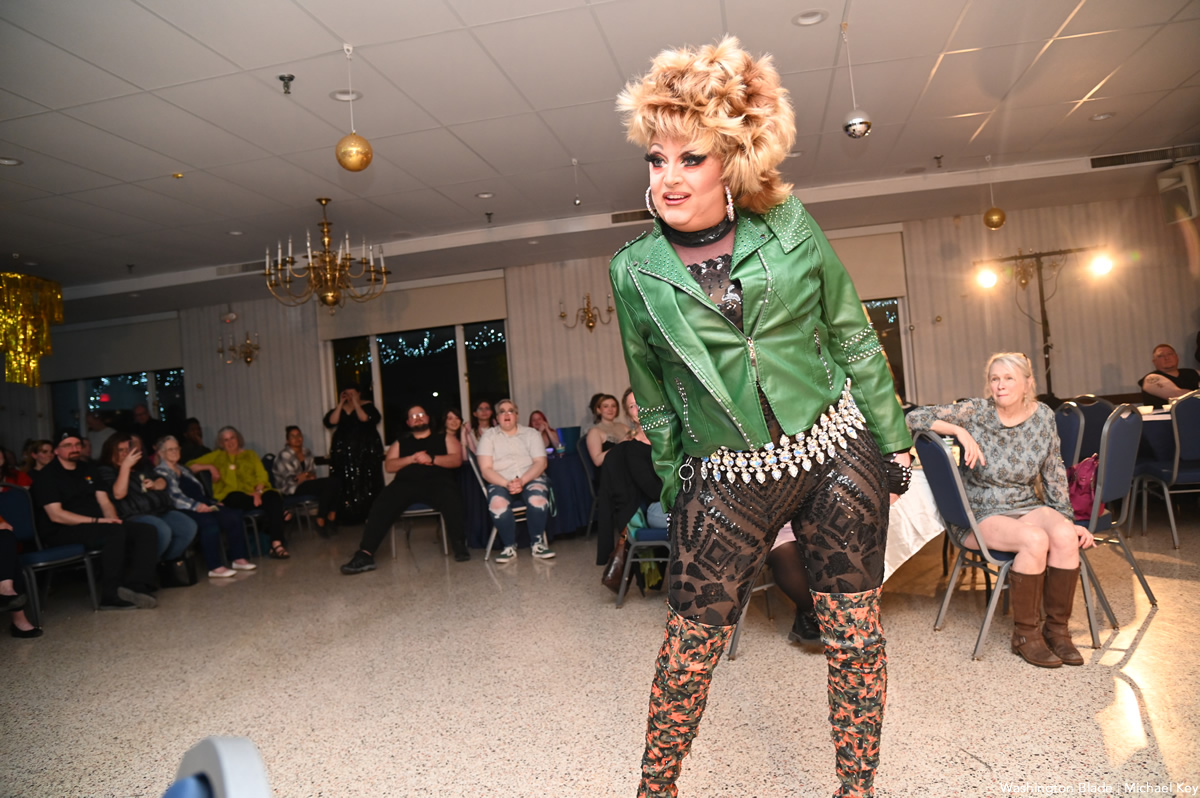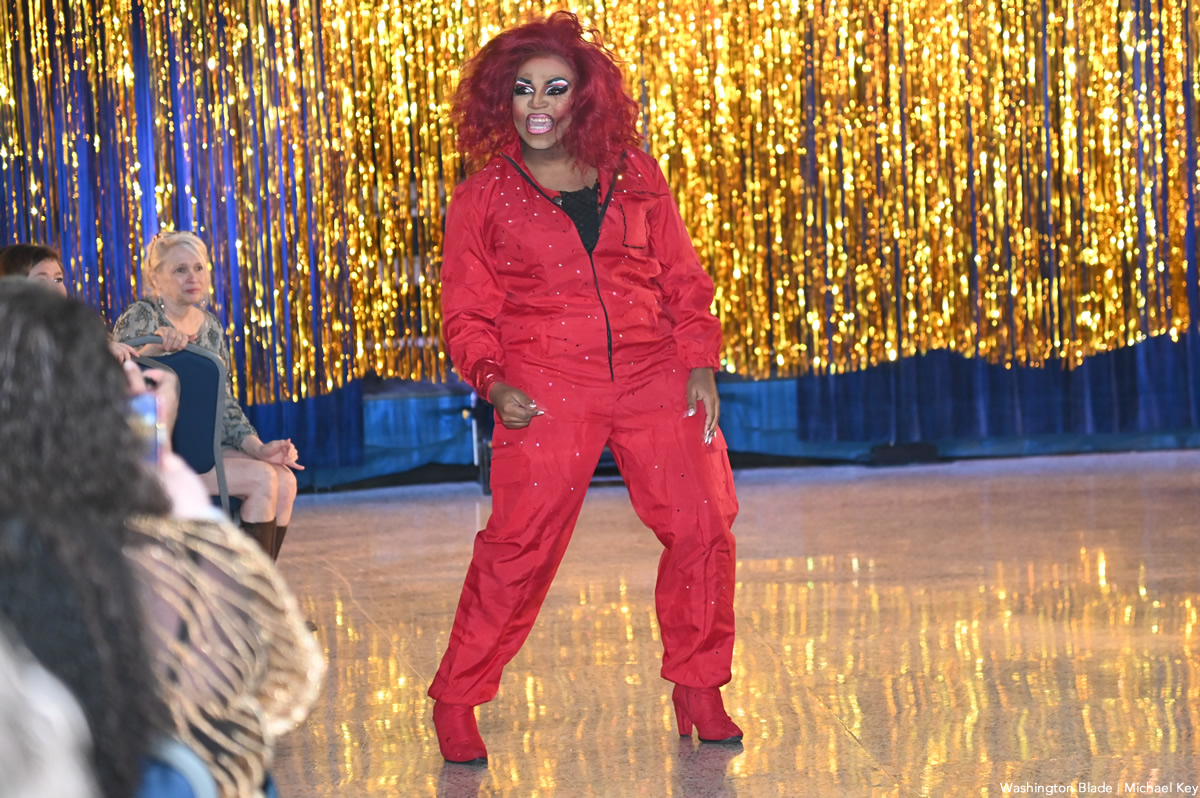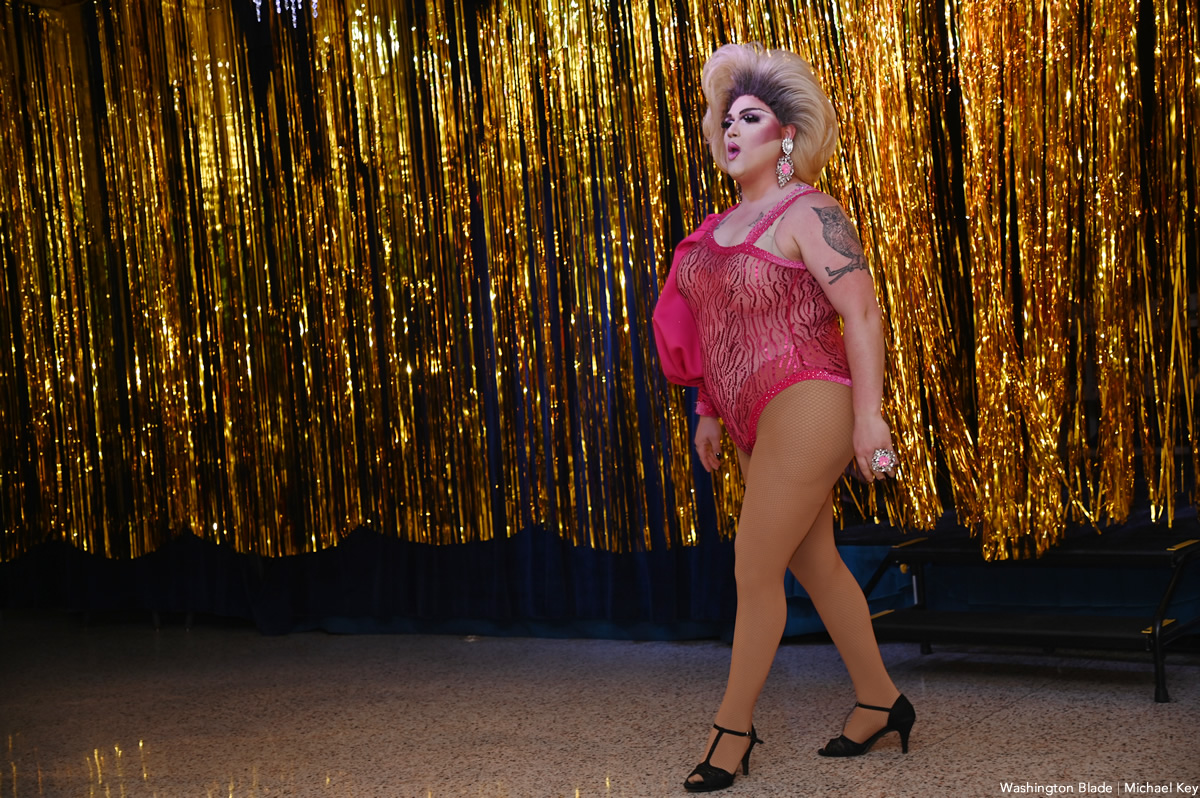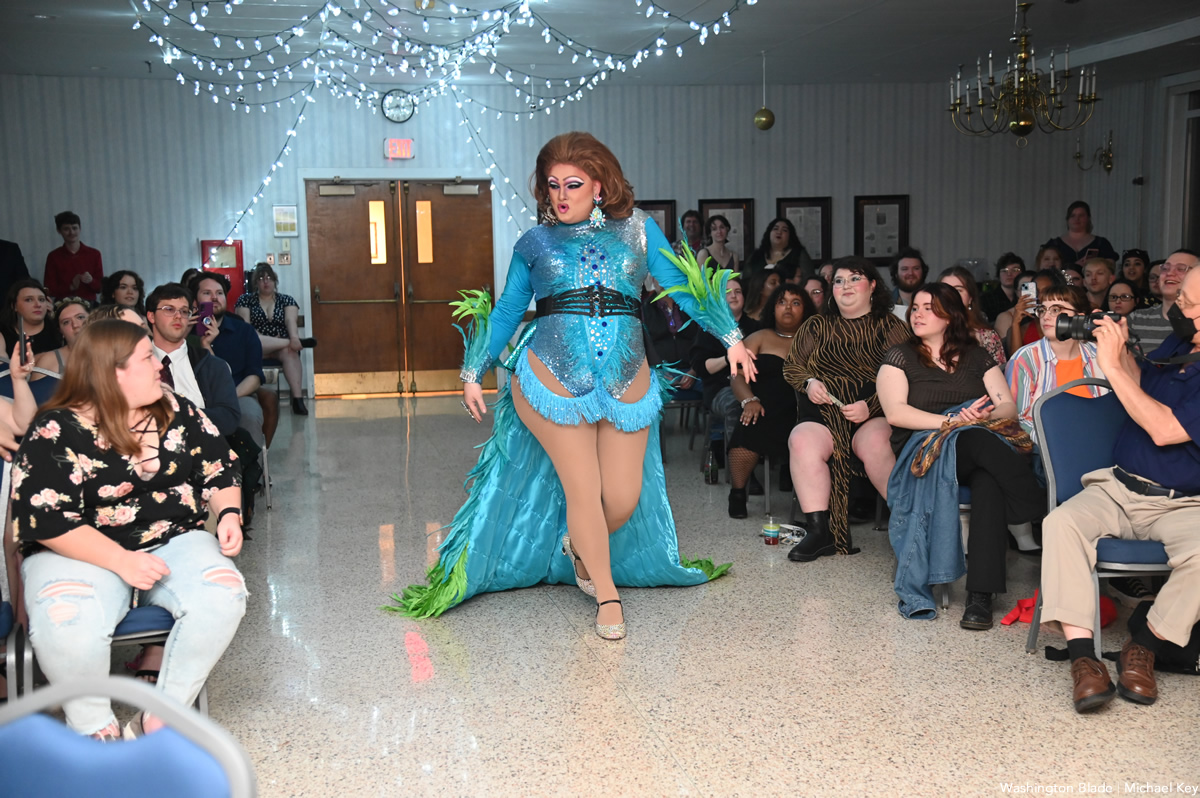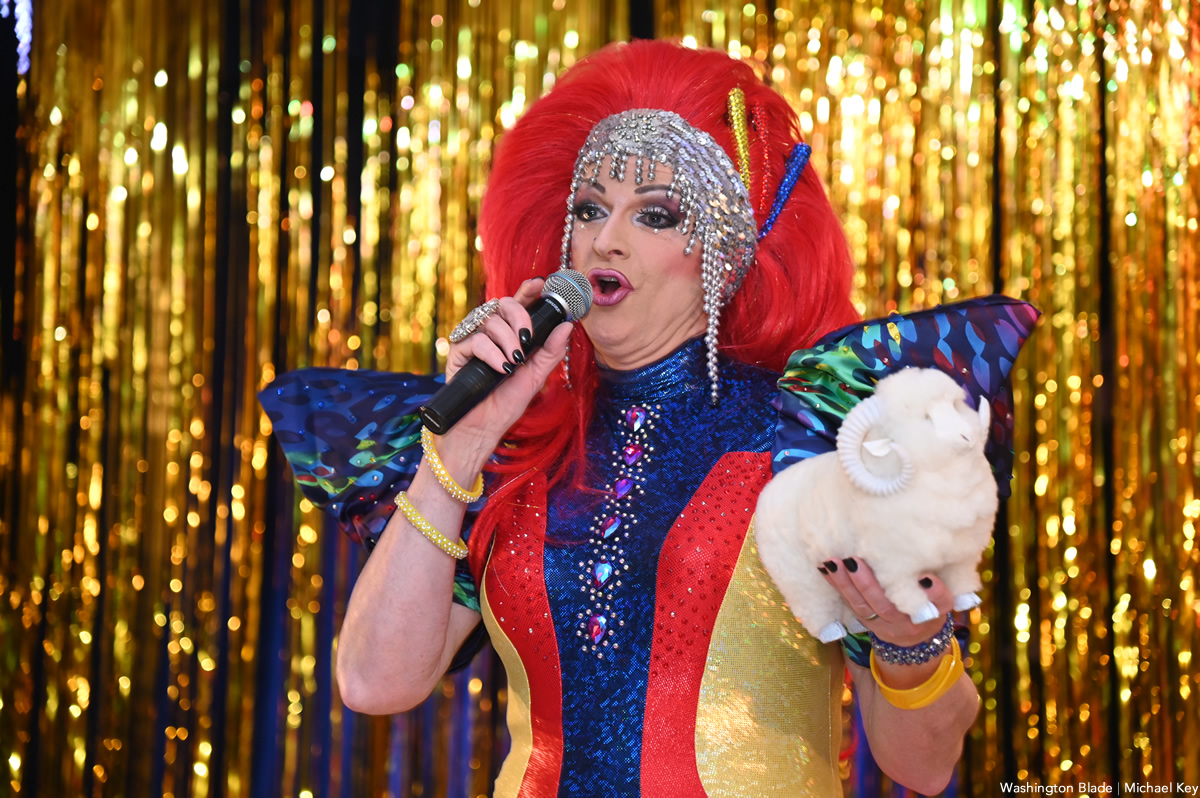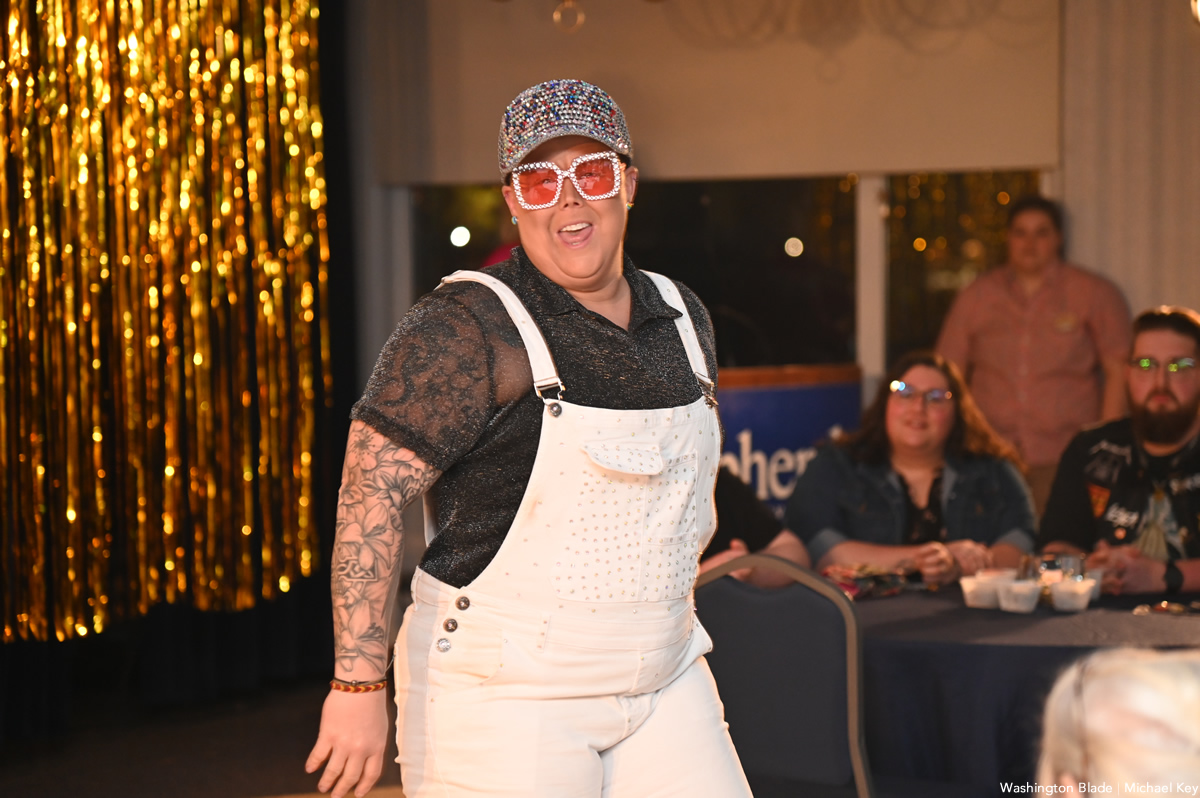 Covering a @HagerstownHopes benefit at @ShepherdU for @WashBlade . @ChasityVain performing: pic.twitter.com/Y4VpGmd3Dj

— Michael Patrick Key (@MichaelKeyWB) April 1, 2023
Washington National Opera honors Katherine Goforth
Award recognizes an artist who identifies as transgender or non-binary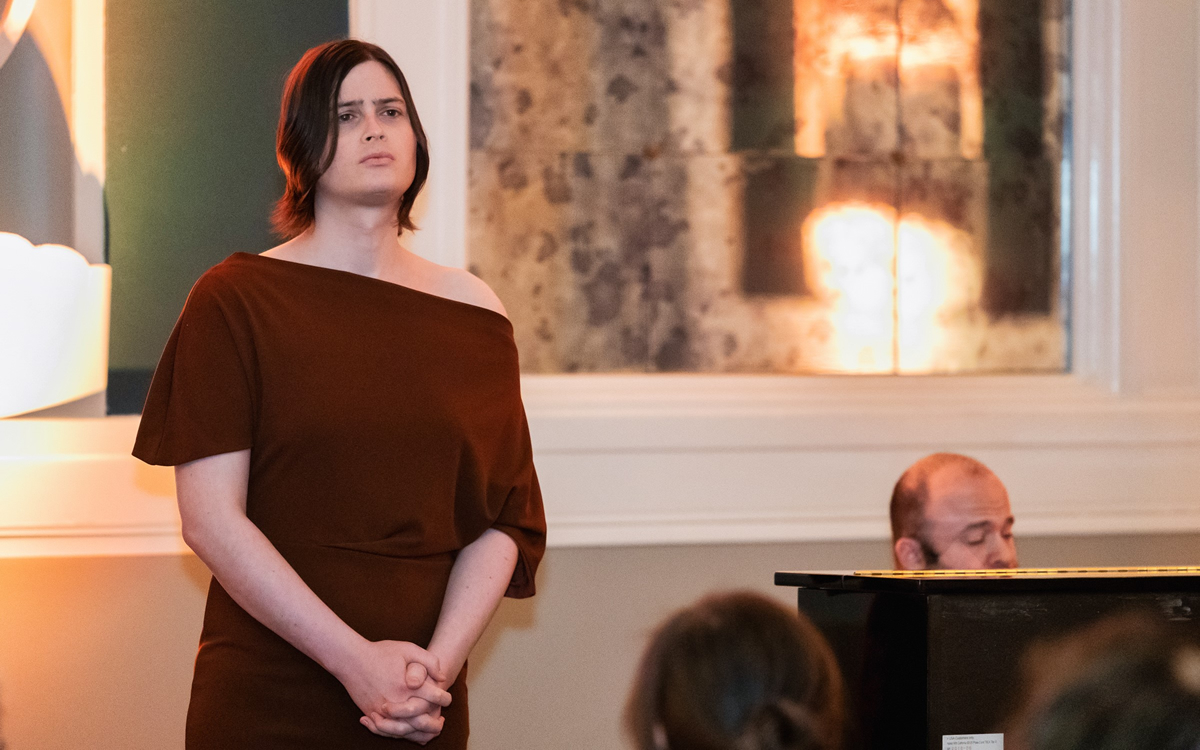 Katherine Goforth was recently announced as the inaugural recipient of Washington National Opera's True Voice Award. This award was created to provide training and increase the visibility of opera singers who self-identify as transgender and non-binary. Each recipient will receive a financial award and the chance to participate in career training, artistic coaching, and a performance with the Cafritz Young Artists. Recipients will also be presented by the Kennedy Center in a recital at the Millennium Stage. Goforth's recital will take place in May 2024.
The Washington Blade chatted with this talented singer about her artistic journey, experience as a trans opera singer, her future plans for her own career, and how she hopes to shape the field of opera.
Washington Blade: Can you share about your journey as an artist? How did you begin this journey and eventually pursue opera?
Katherine Goforth: I had an interest in music and singing for my entire life, but I looked at it as more of a hobby until my high school choir teacher required me to take voice lessons. After a few months of lessons, I started winning prizes and getting special attention for my singing, which meant a lot to me at the time because I was struggling a lot socially and at home. It was easy to dedicate myself to singing after that and hard to imagine pursuing another career.
Talking about art is a lot broader than talking about music for me. As a teenager, I attended Vancouver School of Arts and Academics, a public arts magnet middle and high school, and we had arts education integrated into most of our subjects. Some of my most memorable projects were a mural painted on school windows I co-designed and co-created, a mockumentary film about the meaning of art, and the semi-opera I composed as my senior year capstone project.
Since I was a kid, I felt like I had something to prove and have always tried to do more than what others thought possible in my performing and creative work. It has only been since I transitioned that I really started to feel like I was enough. The part of me that wanted to prove myself could calm down and I learned that it is enough for me when I stand in my own values and desires.
Blade: What has been your experience as a trans person in the field of opera?
Goforth: As a young person coming into a sense of trans and gender non-conforming identity, opera was a damaging space to be part of. At the time, I believed there was no way to actualize my gender identity and continue working. Sure, there were queer people in opera, but almost all of them were straight-presenting men—and those who weren't, didn't seem to get the same opportunities. I have a strong memory of seeing the news about the premiere of As One [a chamber opera with a sole transgender protagonist]in 2014. It was the first time I had heard anyone mention trans people in an opera space. I don't know how much this has changed for students, but I do think that fewer people are postponing their transitions for the sake of working in this industry, which is good.
I haven't worked in opera very much since I came out and it will be interesting to see how that develops over the next few years. I've heard a lot of people say that major opera companies aren't ready for trans singers yet, but I hope they're wrong. My struggle is that I feel much happier playing female characters, but I'm not capable of singing soprano-alto roles on stage right now. That's something I hope will change in the future, but I think it's important for me to accept my voice and try to find affirming projects to work on with the voice that I have.
I'm going to Europe this summer to sing in the premieres of Philip Venables and Ted Huffman's The Faggots and Their Friends Between Revolutions, which is an adaptation of a novel by Larry Mitchell. My sense is that, although I love singing standard rep, the work that will feel best to me as a human being is contemporary opera. There are new works coming out all the time where a character's vocal range isn't restricted by their gender, or where parts are written to be affirming to trans singers. It's an amazing experience to work on roles like that, like the non-binary protagonist in Drew Swatosh and Brian Dang's If Only I Could Give You The Sun, a role I premiered.
For me, the bottom line is that even in a perfectly affirming opera space, there's a lot for me to navigate. We haven't even gotten into the contrast between the project of self-actualization that, for me, defines transition and the way control is exercised over singers in the operatic space. It is hard to spend your whole life working on being your authentic self only to then step into an industry where self-identity is encouraged only if you have the right identity. I'm not going back into any closet.
Blade: Congratulations on being the inaugural True Voice Award recipient. How do you hope to use this award as a platform to further your career, and more broadly, shape the field of opera?
Goforth: I'd like to thank Washington National Opera, Kimberly Reed, Laura Kaminsky, Mark Campbell, and the rest of the selection committee for choosing me for this award. When I decided to come out, I wasn't sure if I was going to be able to work in this industry again. It seems to me that trans people have never had this level of institutional support in our industry. I'm honored to receive it, but I'm also aware of all the other people who competed for this award and ways that my selection leaves them out.
For me, I think my next step is getting out of a young artist box, getting management, and moving into a career where I'm making a living wage from singing without any second or side jobs, singing lead roles instead of supporting roles, and taking the creative work that I develop to the next level.
PHOTOS: Jackie Cox and Jan at Pitchers
RuPaul's Drag Race alums join local performers at gay sports bar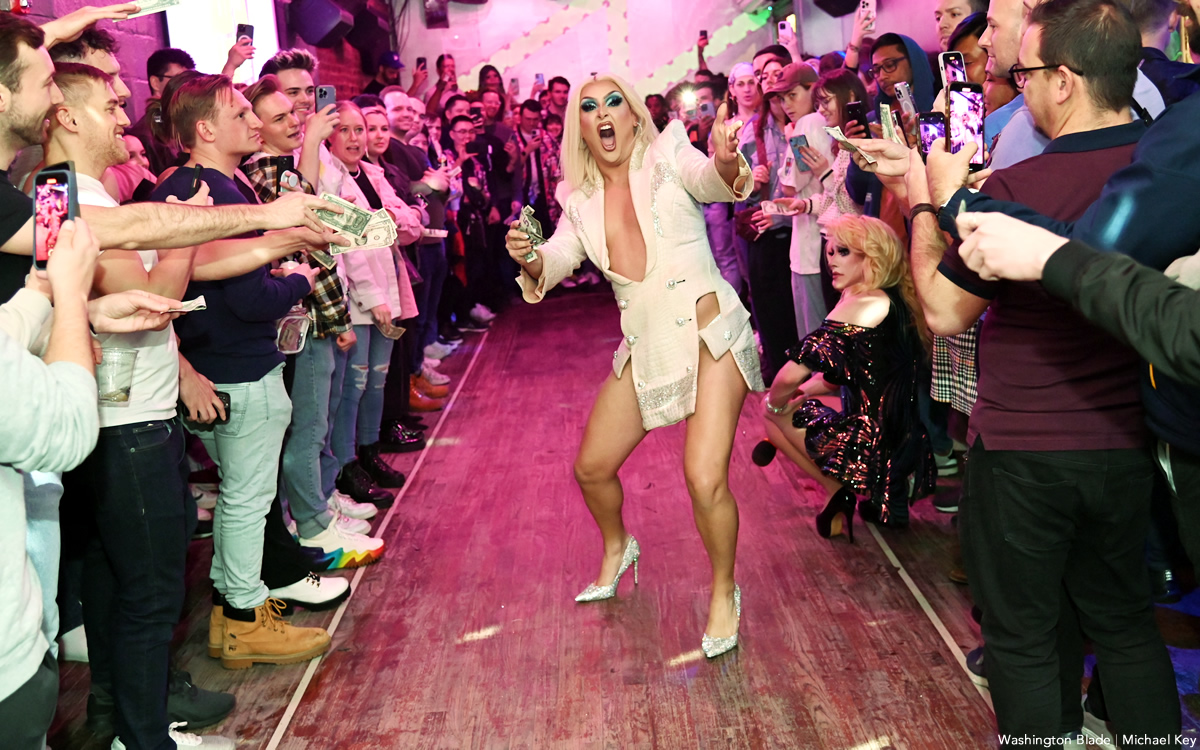 RuPaul's Drag Race alums Jackie Cox and Jan performed at Pitchers DC on Wednesday, March 29. Other performers included Cake Pop!, Venus Valhalla, Brooklyn Heights, Jayzeer Shantey and Logan Stone.
(Washington Blade photos by Michael Key)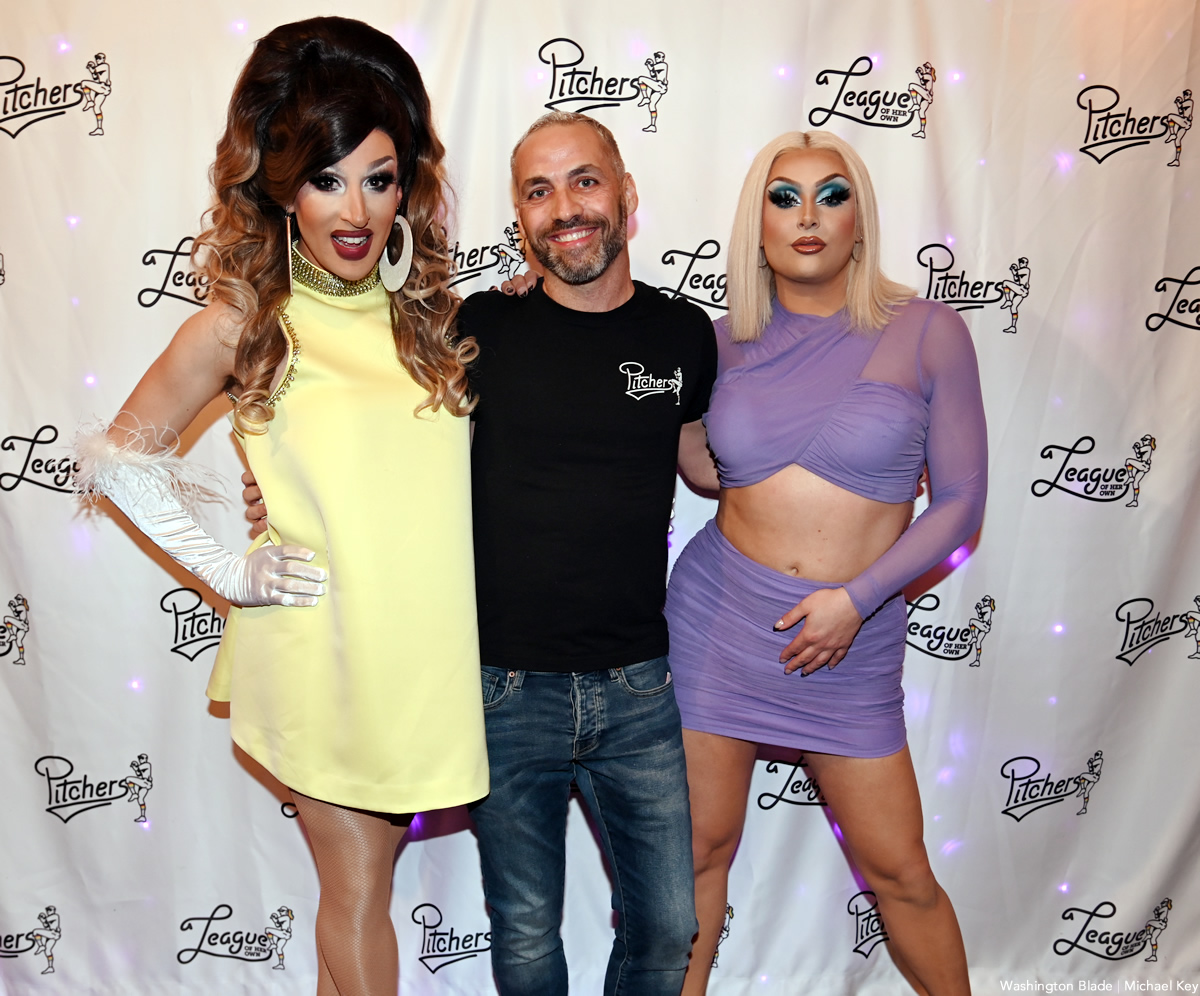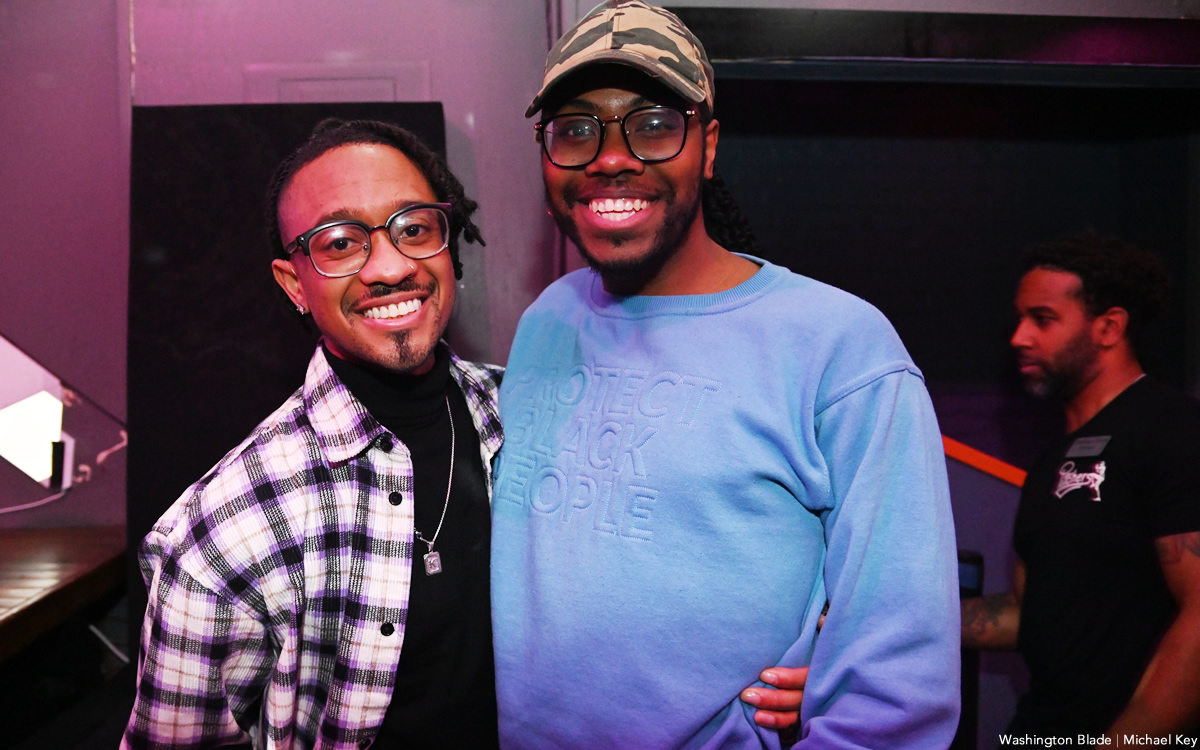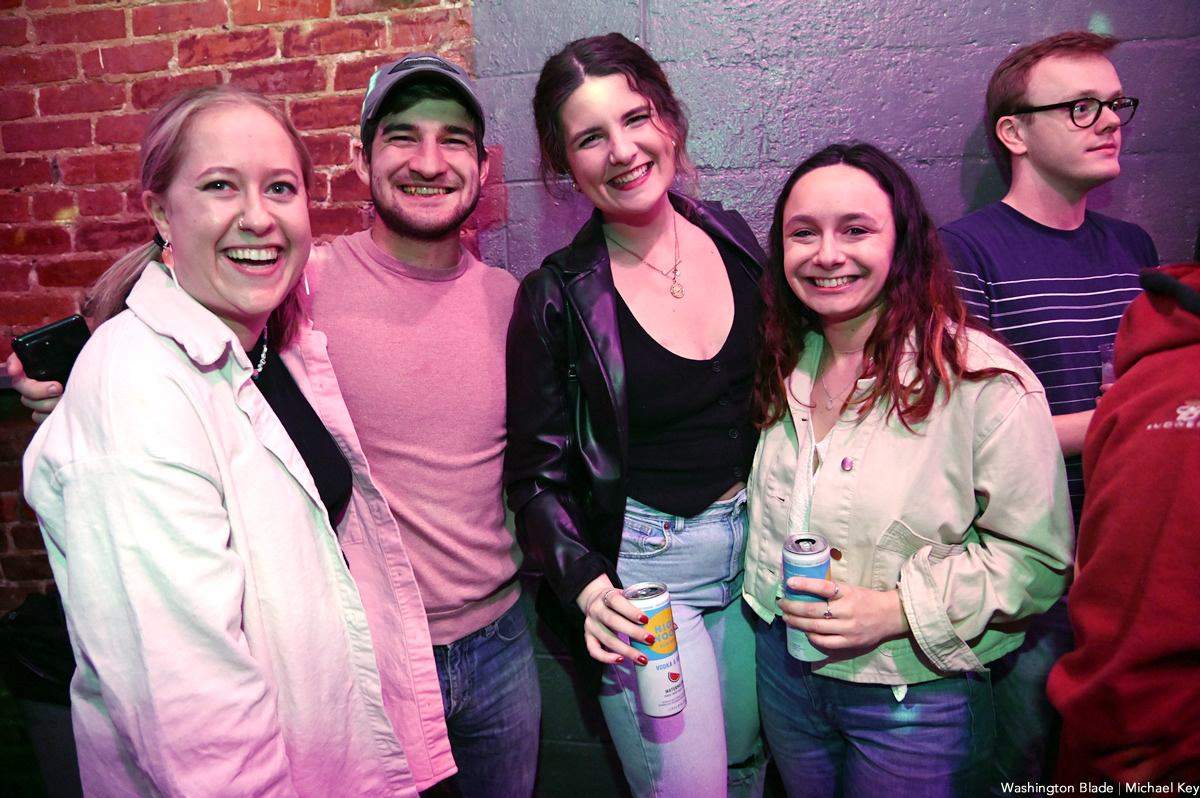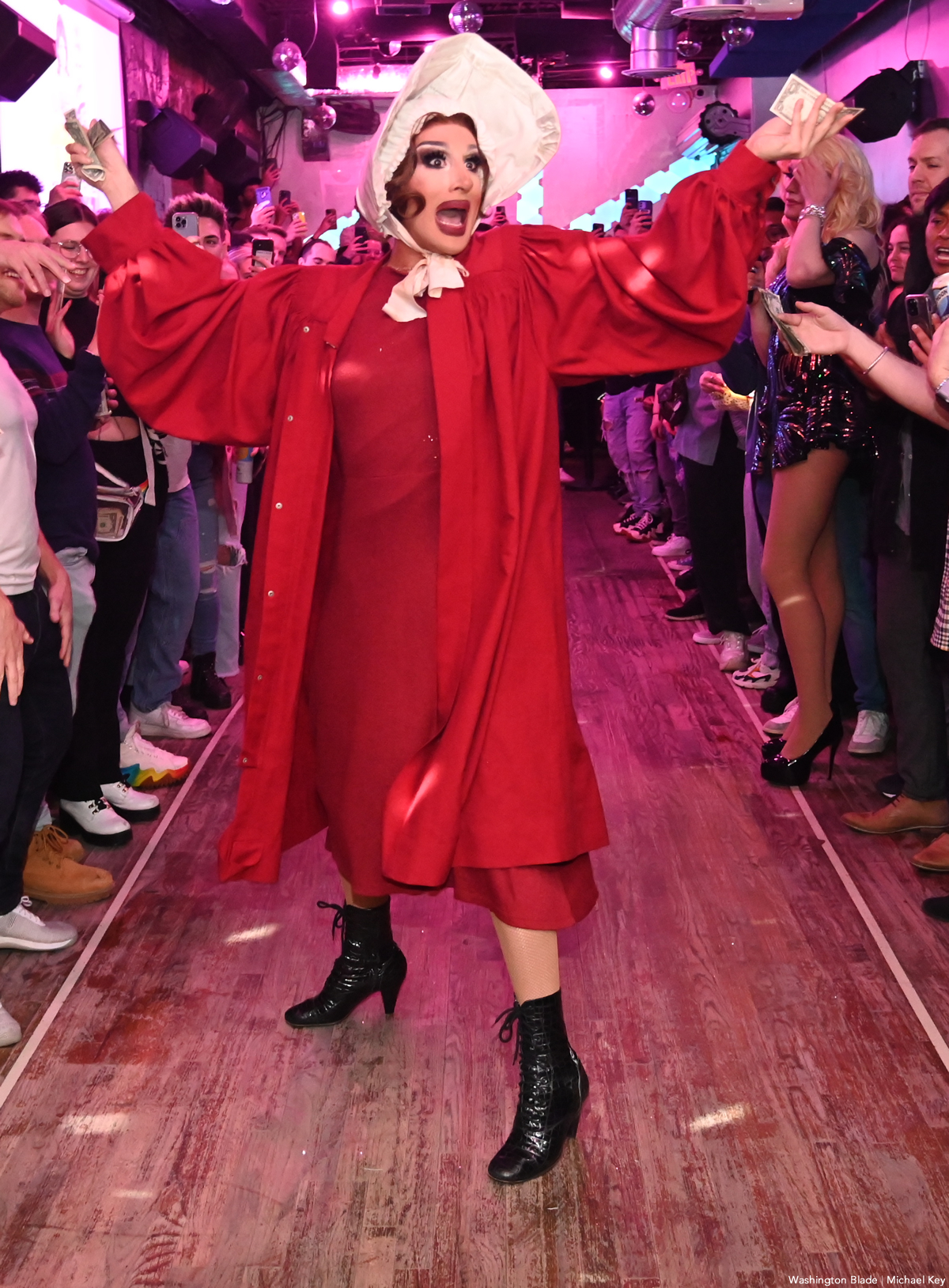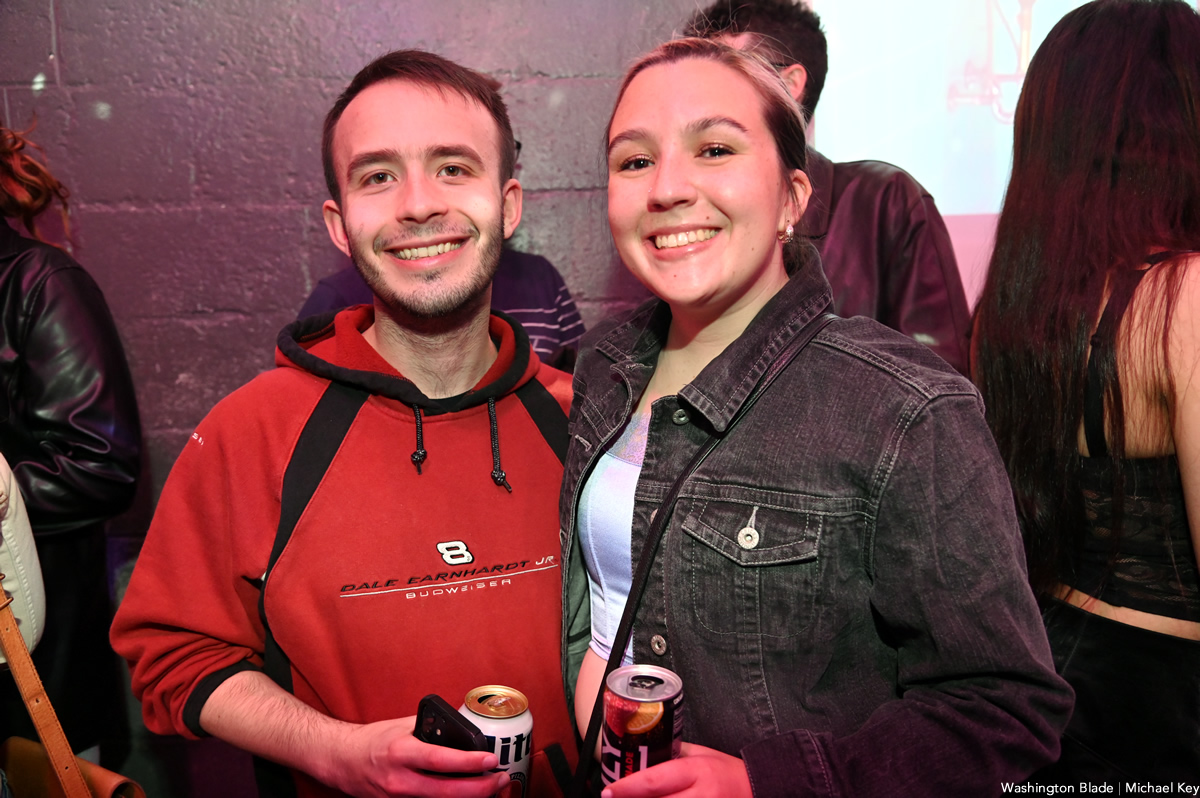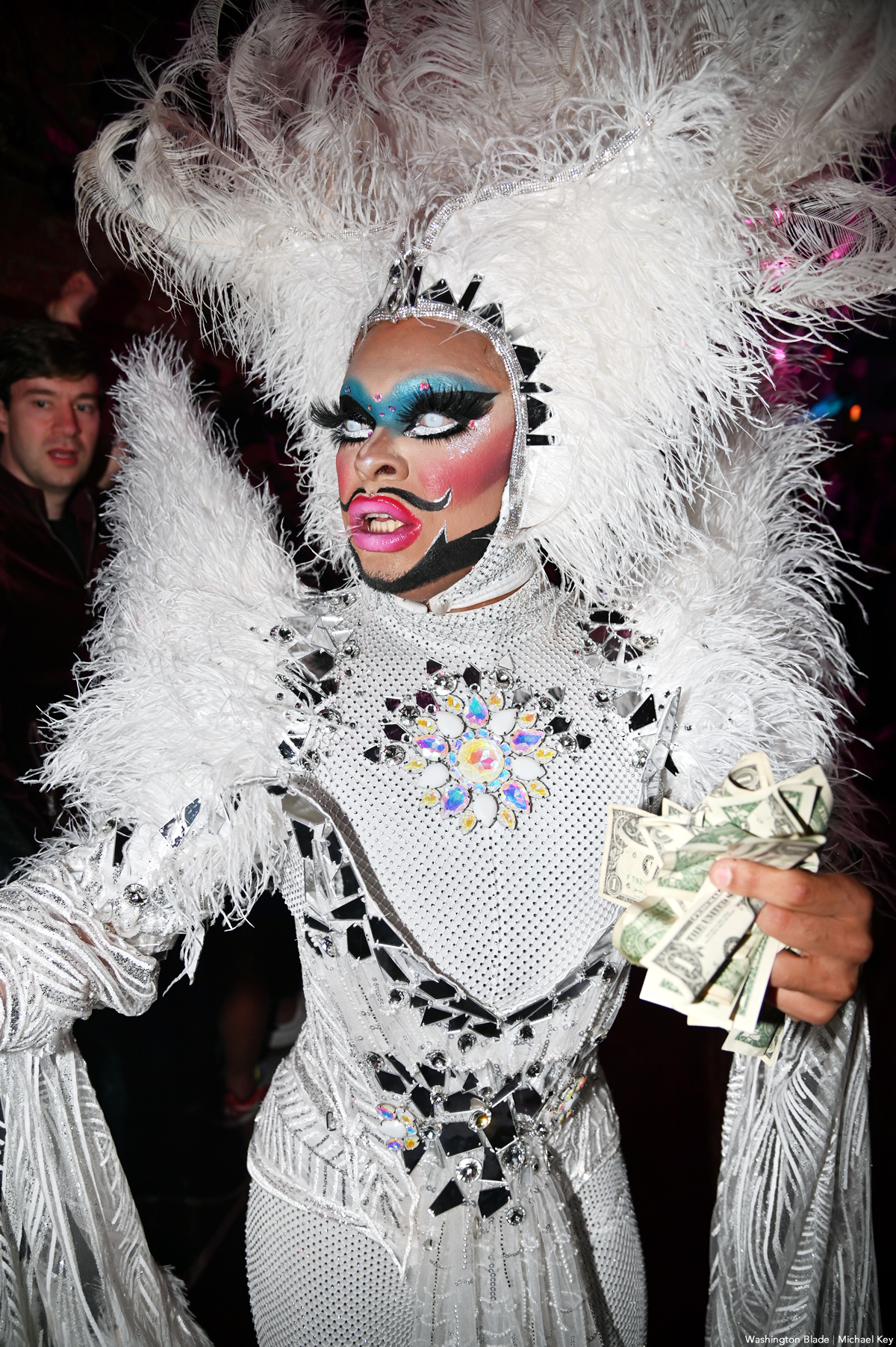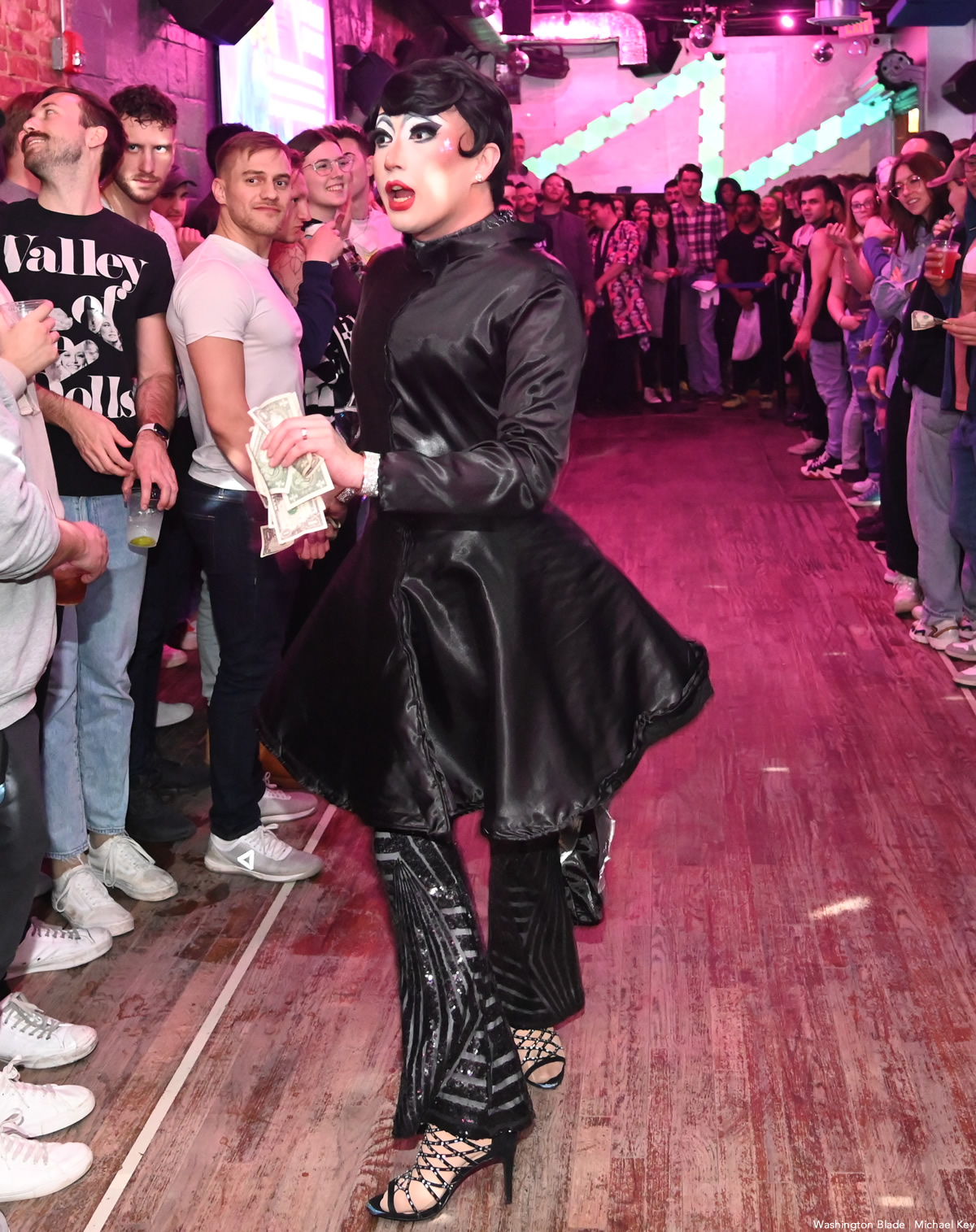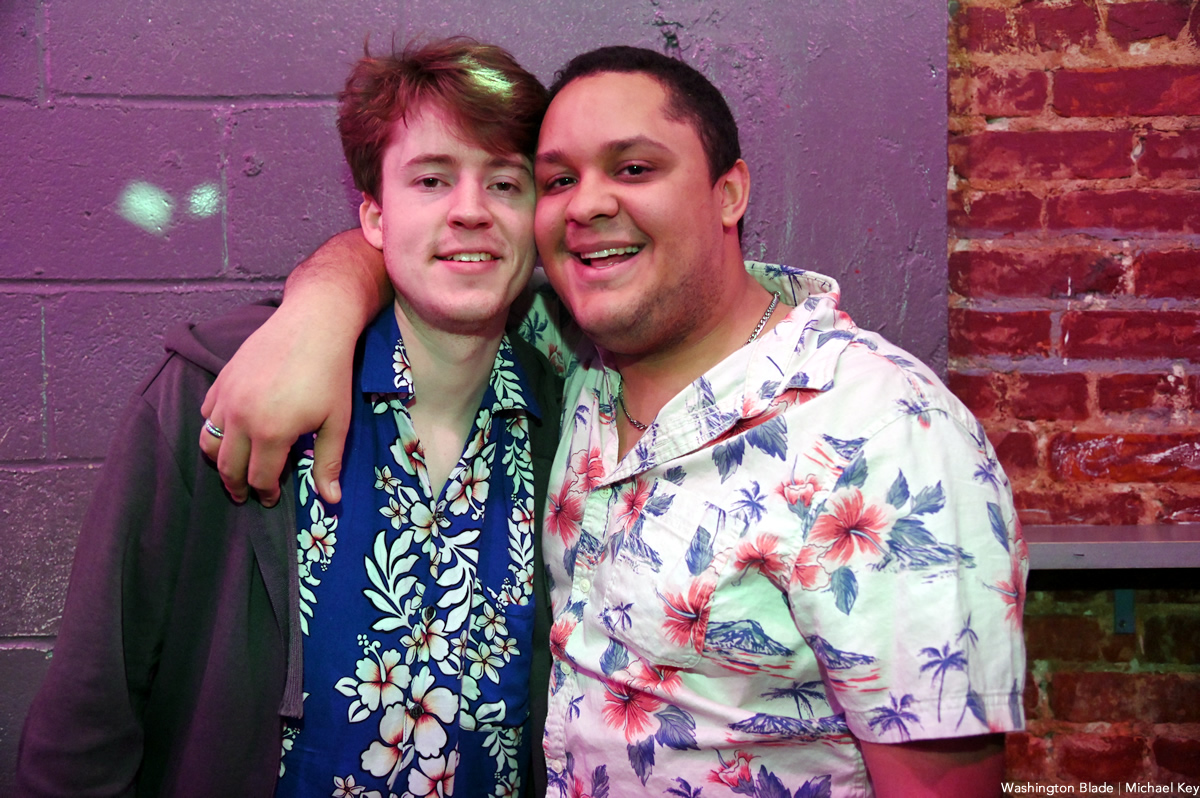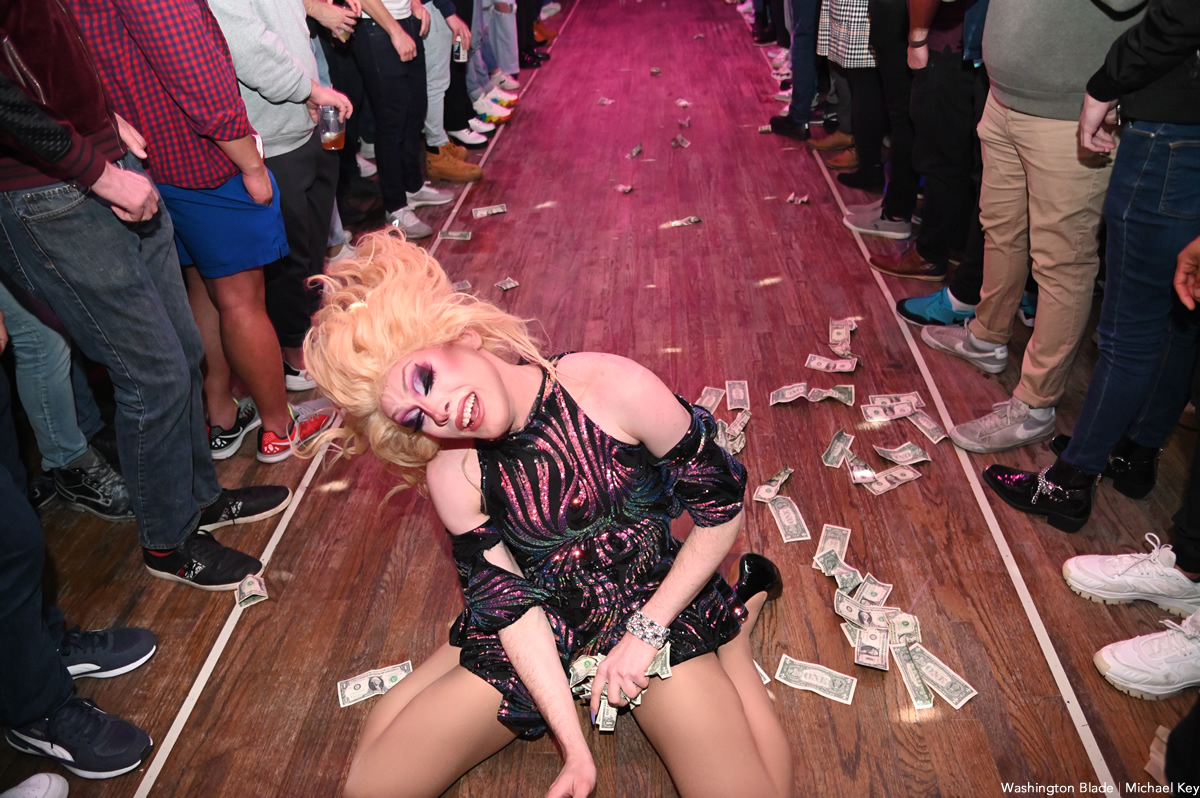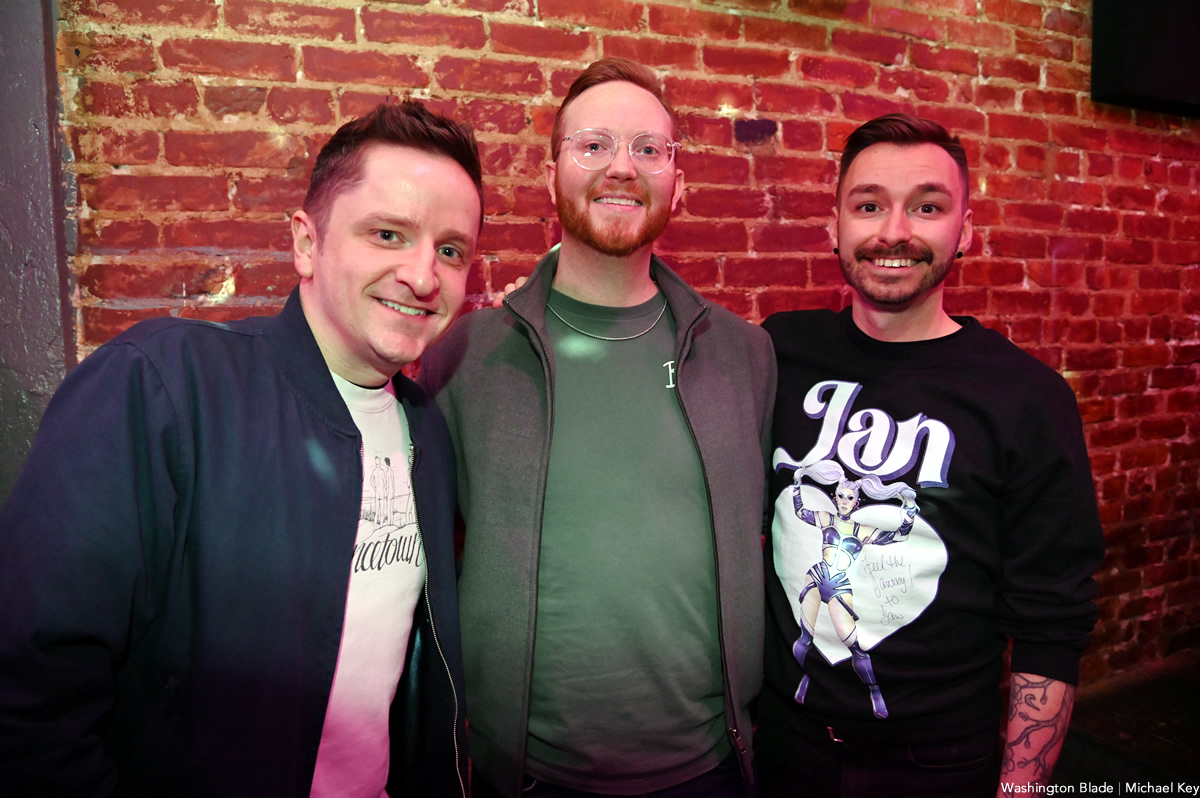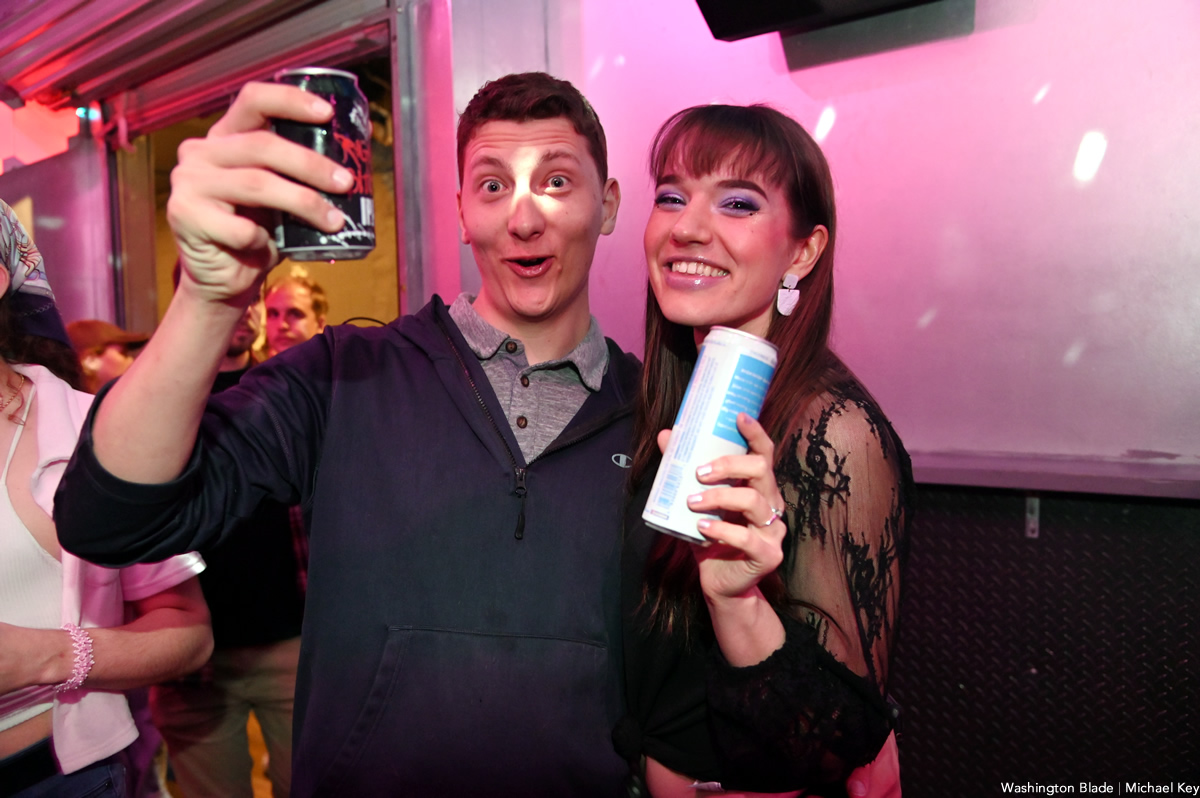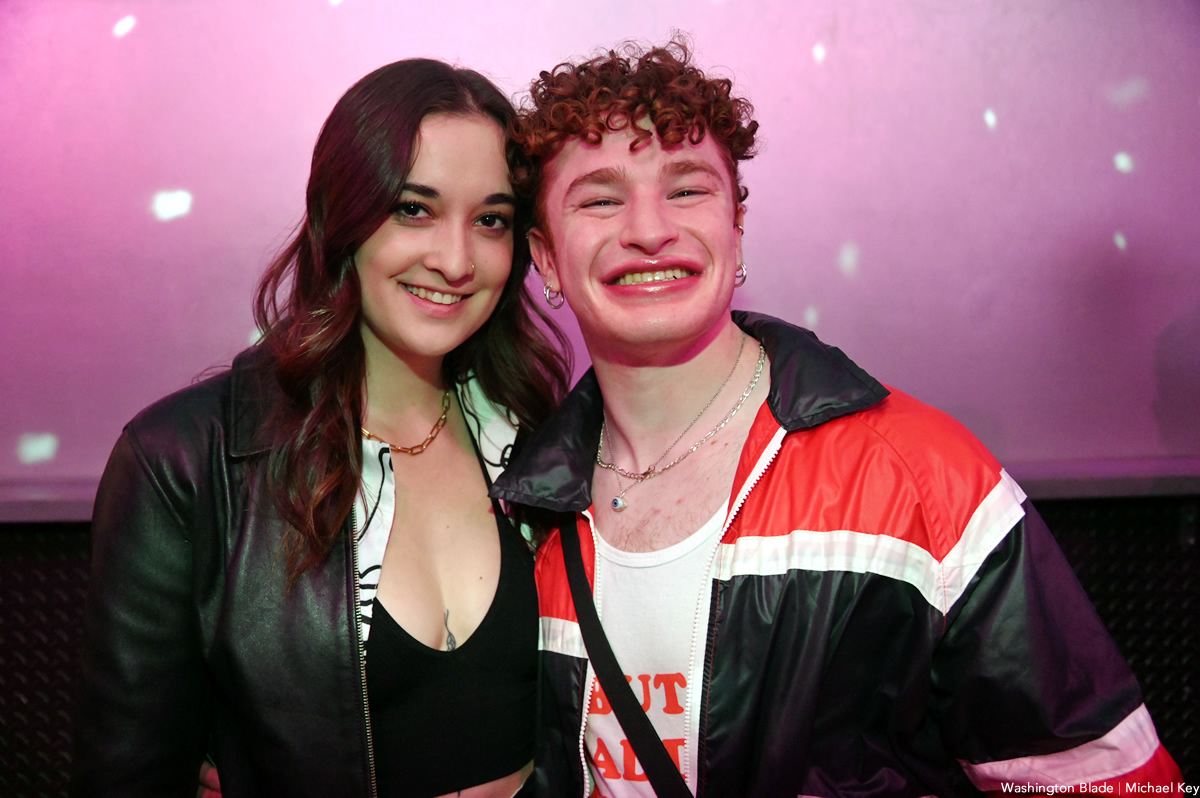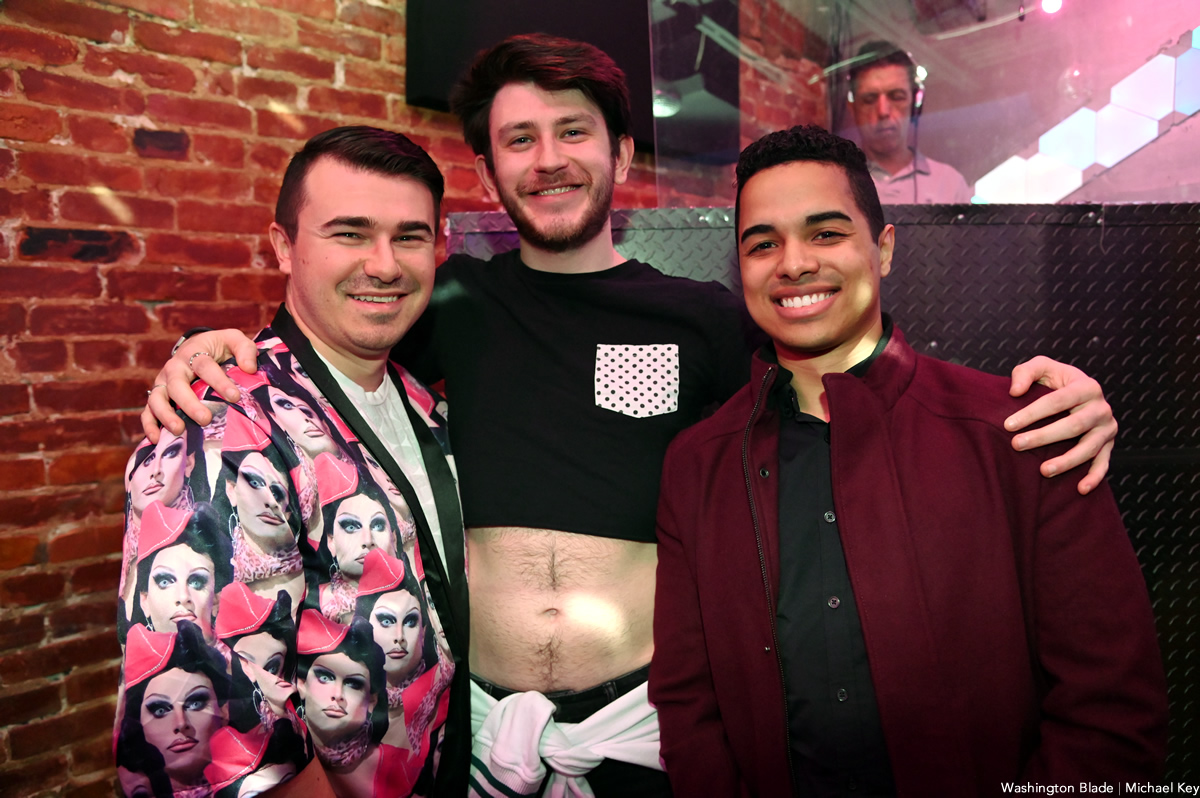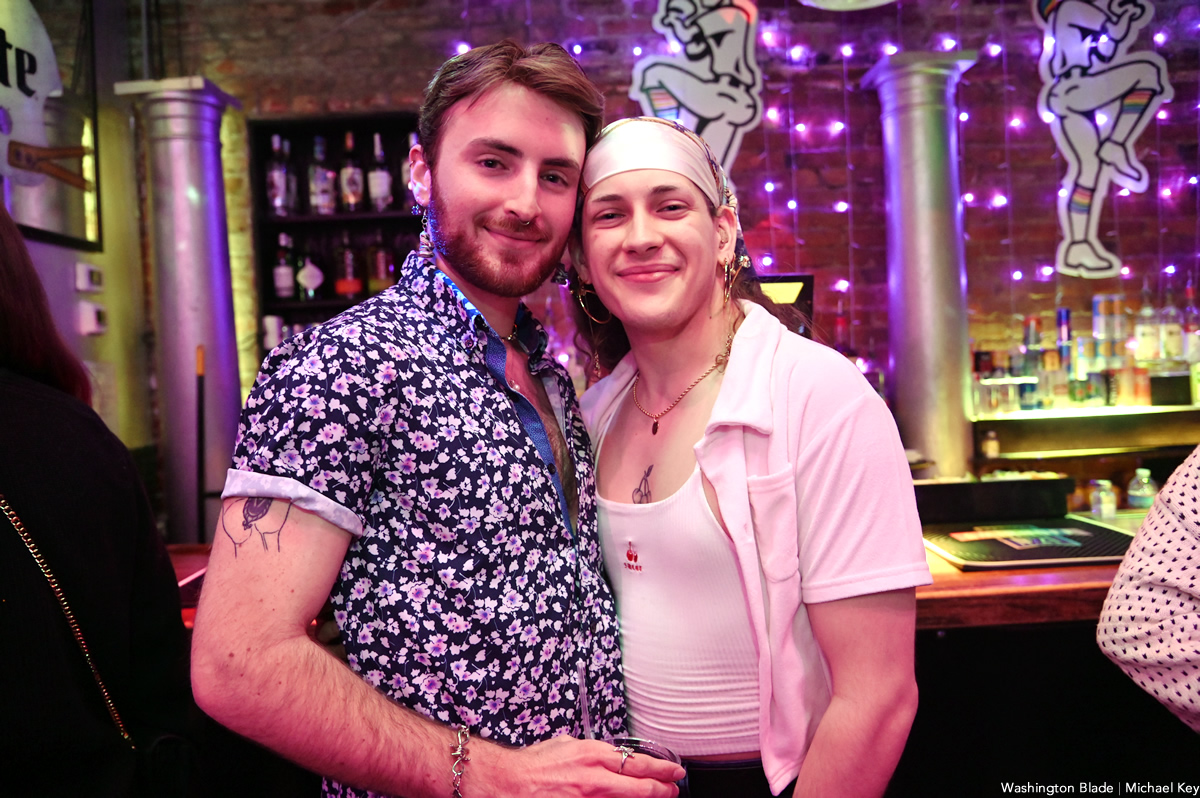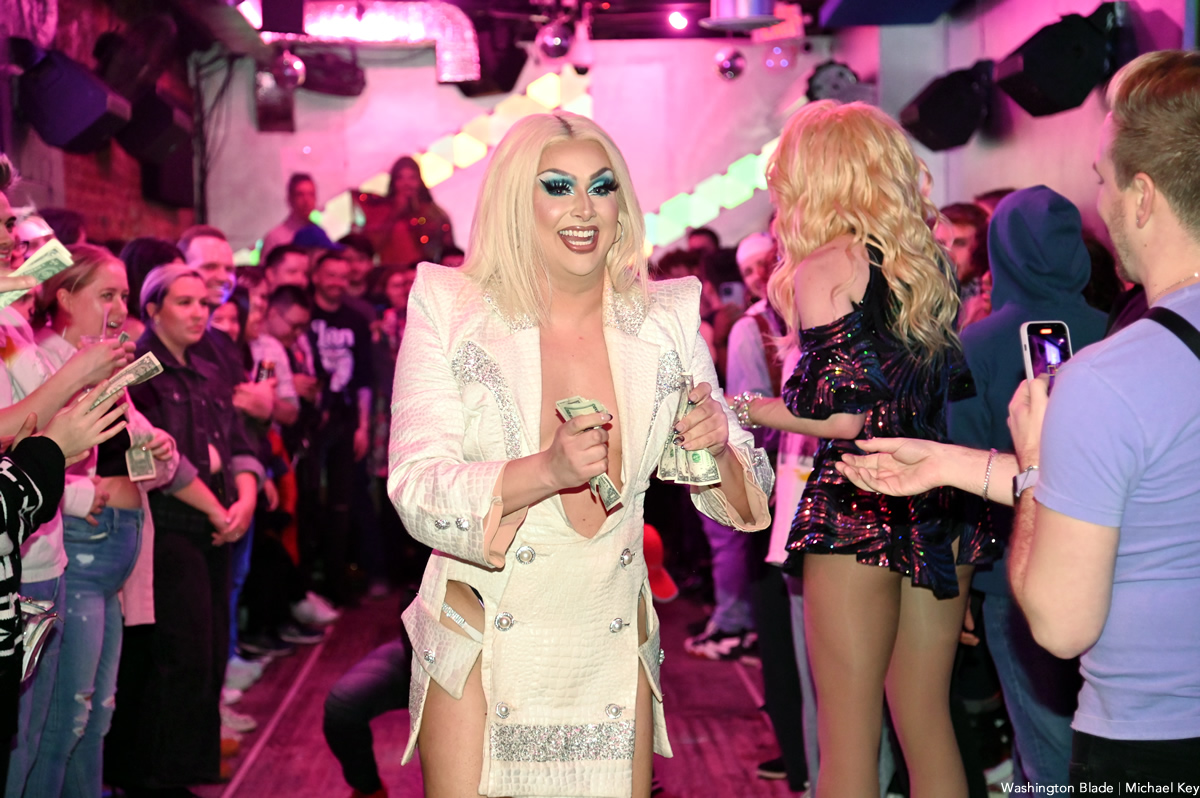 Covering @RuPaulsDragRace @JackieCoxNYC at @PitchersDC for @WashBlade . pic.twitter.com/DkB4P3GrJC

— Michael Patrick Key (@MichaelKeyWB) March 30, 2023