Melissa Harris-Perry discusses voter suppression, marriage
Tulane University professor's MSNBC show began in February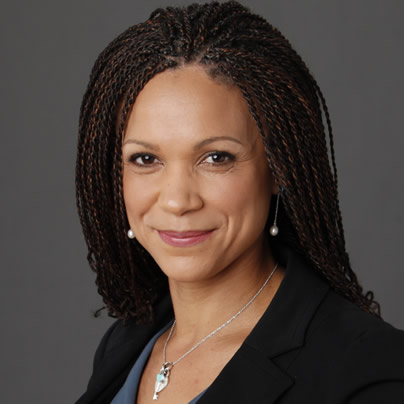 MSNBC anchor Melissa Harris-Perry stressed during an interview with the Washington Blade last week that voter suppression efforts continue to impact transgender Americans.
"They don't look like what their photo IDs are," she said from New Orleans. "So if they are self-presenting in front of an election official and they have an ID that says male or female and they're sort of gender self-presenting in a non-conforming way, of course you end up with the possibility of shame or embarrassment or not being believed to be who you are."
Harris-Perry had been scheduled to moderate a town hall on voter suppression and discrimination during the Congressional Black Caucus Foundation's annual Legislative Conference at the Walter E. Washington Convention Center in D.C. on Sept. 20, but she remained in New Orleans after Hurricane Isaac destroyed her home late last month. Harris-Perry further stressed that another problem for trans voters who have undergone sex-reassignment surgery face is they don't have birth certificates with names and gender markers that "are not informative of what their current life is."
"All of those things impact the ability of people to have the kind of state-issued ID that is allowable in a lot of these states around voting," she said. "And so the idea that a person would be a perfectly eligible American citizen who has an opinion about voting and is kept out of it because of those sorts of issues — it goes to the heart of helping us understand that these efforts are really voter suppression efforts, not efforts to keep the election process above board."
Harris-Perry further credited Rev. Al Sharpton with bringing the issue of voter suppression to mainstream cable news. She applauded "The Nation" and other progressive and LGBT media outlets for their coverage of the issue, but Harris-Perry said that the broader conversation around it remains what she described as particularly narrow.
"Part of it is we get stuck in a historical framework around Jim Crow and our memory of Jim Crow or what we think Jim Crow was about was primarily about keeping black folks from the polls. And that's both true, but also insufficient," she said. "It also had the effect of keeping old people out, people without education, folks without resources of all kinds. It had a huge impact among poor whites in the U.S. south. I think we haven't had a clear enough understanding of just how broad suppression is, how many different groups it impacts. And we have talked about it primarily as a race-based issue in order to keep black folks from voting from the black president. That is undoubtedly part of the story, but it's also only part of the story. And I do worry that we keep ourselves from having a truly broad-based coalition that we could have if we were clearer about the impact that on women who marry and change their names, and the impact that this has on queer voters and the impact that this has on students as well on poor people, people with disabilities, older folks and black and brown people. It's actually massive what these efforts to do in terms of limiting our democracy."
Harris-Perry said she has a better understanding of the issue and its specific impact on trans people because she said her gender non-conforming niece frequently confronts questions when she presents herself as male, but her student ID lists her gender as female.
"Because I am tuned into that, I have a sense of it but I don't think that it has been part of our civil rights framework to say wait a minute yes, race is important here, but here's how race is at the intersection of all of these other identities as well," said Harris-Perry. "We're only just kind of getting to the back end of the third wave of the feminist struggle. So part of it is ignorance, but that's only part of it. The other part of it is for many folks they are actively homophobic and disinterested in whether or not these sort of suppression efforts impact LGBT communities and as a matter of political strategy they think talking about it is a bad idea for building the coalitions they hope to build for social action. So the fact is there are four communities and black communities who are certainly happy to take it too far or are maybe insufficiently motivated by knowing that their fellow citizens who are gay and/or queer are also impacted by this. It just doesn't move them politically."
LGBT issues a frequent topic on Harris-Perry's show
Harris-Perry has frequently discussed LGBT-specific issues on her eponymous show since it began in February.
Mara Keisling, executive director of the National Center for Transgender Equality, appeared on an hour-long segment called "Being Transgender in America" in April alongside author Kate Bornstein and trans New York City Council candidate Mel Wymore. Harris-Perry also interviewed Dr. Scout of the Fenway Institute's Network for LGBT Health Equity in Boston who proposed to his girlfriend, Liz Margolies of the National LGBT Cancer Network, during the White House's LGBT Pride month reception.
Harris-Perry also appeared in a video for the Human Rights Campaign's Americans for Marriage Equality campaign in June. She said she has been a part of the movement for nuptials for same-sex couples "for a long time," but she conceded she has what she described as a "deep ambivalence about marriage as the driving policy issue" after the repeal of the ban on openly gay and lesbian servicemembers.
"My husband is a civil rights advocate in the area of housing and we just see how important the state laws are in housing and education and in employment are and what a deep material impact they have," said Harris-Perry. "Sometimes marriage feels symbolic comparatively to the impact that those kinds of material policies have on people's lives. And so in certain ways, even though I've always been an advocate of marriage equality because anything else seems patently discriminatory and unfair, it hasn't been important. And of course I support that, but here are my big issues of these other things."
She said remarrying changed her perspective.
"I've been married and divorced. My joke was that divorce had cured me of marriage and part of why I had a lot of resistance to marriage at the top of the equation — I felt like it was sort of pushing that there's only one kind of family and all of that, but then I made the decision to remarry and the fact is that's all that i had to do. I just one day I decided I wanted to be married to my life-partner and I did," said Harris-Perry. "I never had to justify it or explain it. I never had to petition anyone about it and in fact I experienced almost exclusively positive repercussions rather than any negative ones (and by that I mean from other people.) And it was such a reminder of how profound a privilege it is to be able to make decisions that are profoundly personal without the interference of government. We live in Louisiana where people cannot marry, and yet we could. It was such a reminder of how important that is, how important privacy is to our sense of equality and humanity that it became an even more deeply personal issue."
Black voters "not going to be punishing" Obama over marriage
Harris-Perry spoke to the Blade less than two months before the presidential election. Voters in Maine, Maryland, Washington and Minnesota will also consider same-sex marriage ballot measures and a proposed constitutional amendment that would ban nuptials for gays and lesbians on Election Day.
She stressed that she feels that black voters will continue to support President Obama in spite of his support of marriage rights for same-sex couples.
"It is completely clear to me that African American voters are not going to be punishing this president for this position, even if they are not in agreement with him on marriage equality," said Harris-Perry. "He is not going to lose black voters. There's been no evidence of the president losing African American support."
She added she feels Obama's position has actually caused others within the black community to evolve on the issue — the National Association for the Advancement of Colored People's Board of Directors passed a resolution in support of marriage rights for same-sex couples less than two weeks after the president publicly backed it during an interview with ABC News' Robin Roberts. Hip hop mogul Jay-Z and rapper 50 Cent subsequently backed the issue.
"It's a signal to queer communities that this president is in a position where in a second term he will back-up this evolution in personal opinion with an additional evolution on policy," said Harris-Perry. "Certainly with compared to his opponent, the choice is exceedingly clear now and there's no doubt from that my perspective that's helpful. This is a president who's going to go down in history no matter what. From the moment he's elected he was going to be in the history books, so let's be in the history not on the side of the restriction of civil rights. It doesn't really go that well for anybody, ever."
Harris-Perry, who commutes to New York from New Orleans on the weekends for her show, remains a political science professor at Tulane University. "The Root" last week named her it's most influential black person between 25-45, but she stressed living in the Big Easy and particularly in the city's poor and predominantly African American 7th Ward helps her keep things in perspective.
"I said, 'oh man that's so great,'" said Harris-Perry, referring to "The Root" designation. "And I have been all over this city today and talked to a dozen people — everybody from the insurance adjusters to the woman I bought my pants over at the White House Black Market, and none of those people have any idea that I have a TV show. They do not care. And it is really lovely and humbling and extremely important to continue to live in a world where the things that matter to people are real-life issues rather than fame or status."
Vigil held after Wilton Manors Pride parade accident
Fort Lauderdale mayor expressed 'regret' over initial terrorism claim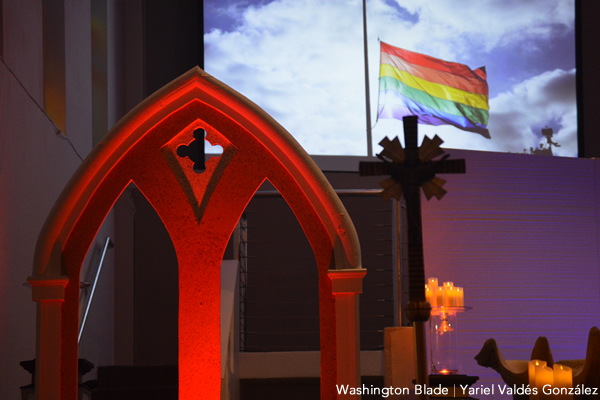 FORT LAUDERDALE, Fla. — More than 100 people on Sunday attended a prayer vigil in the wake of an accident at a Wilton Manors Pride parade that left one person dead and another injured.
The vigil took place at the Sunshine Cathedral in Fort Lauderdale.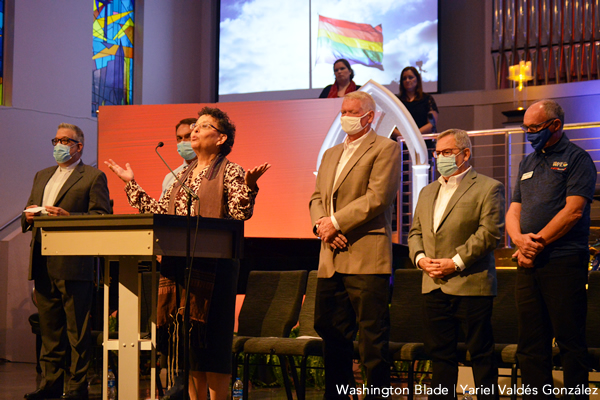 A 77-year-old man who was driving a pickup truck struck two men near the Stonewall Pride Parade's staging area shortly before 7 p.m. on Saturday. One of the victims died a short time later at a Fort Lauderdale hospital.
The pickup truck narrowly missed U.S. Rep. Debbie Wasserman Schultz (D-Fla.), who was in a convertible participating in the parade, and Florida Congressman Ted Deutch.
The driver of the pickup truck and the two men he hit are members of the Fort Lauderdale Gay Men's Chorus. The Fort Lauderdale Police Department on Sunday described the incident as a "fatal traffic crash" and not a terrorism incident as Fort Lauderdale Mayor Dean Trantalis initially claimed.
"As we were about to begin the parade, this pickup truck, this jacked up white pickup truck, dashed across, breaking through the line, hitting people, all of us that were there could not believe our eyes," said Trantalis as he spoke at the vigil.
Trantalis noted the pickup truck nearly hit Wasserman Schultz. He also referenced the arrest of a 20-year-old supporter of former President Trump earlier in the week after he allegedly vandalized a Pride flag mural that had been painted in an intersection in Delray Beach, which is roughly 30 miles north of Fort Lauderdale.
"I immediately knew that something terrible was happening," said Trantalis, referring to the Stonewall Pride Parade accident. "My visceral reaction was that we were being attacked. Why not? Why not feel that way?"
"I guess I should watch to make sure there are no reporters standing by when I have those feelings, but that was my first reaction and I regret the fact that I said it was a terrorist attack because we found out that it was not, but I don't regret my feelings," he added. "But I don't regret that I felt terrorized by someone who plowed through the crowd inches away from the congresswoman and the congressman, myself and others."
Trantalis also told vigil attendees that "I guess we forgive" the pickup truck driver.
"But I regret that his consequences resulted in the death of an individual who was innocent and who was there to have a good time, like the rest of us, and I regret there is a man who is in serious condition … fighting for his life and there," added Trantalis.
Police describe Wilton Manors Pride incident as 'fatal traffic crash'
Pickup truck driver identified as 77-year-old man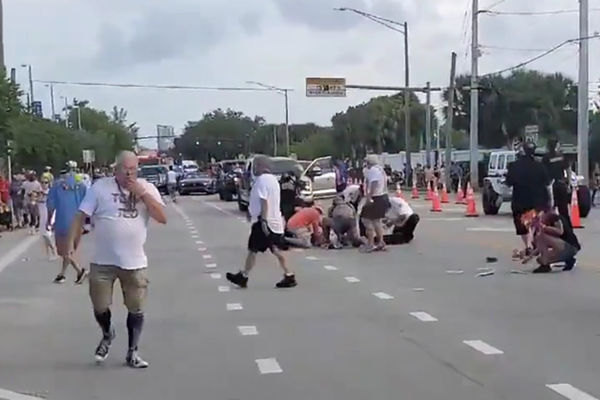 The Fort Lauderdale Police Department on Sunday released additional information about an incident at a Wilton Manors Pride parade that left one person dead and another injured.
A press release notes a 77-year-old man who was "a participant who had ailments preventing him from walking the duration of the parade and was selected to drive as the lead vehicle" was behind the wheel of a 2011 white Dodge Ram pickup truck that struck the two people near the Stonewall Pride Parade's staging area shortly before 7 p.m. on Saturday.
"As the vehicle began to move forward in anticipation for the start of the parade, the vehicle accelerated unexpectedly, striking two pedestrians," reads the press release. "After striking the pedestrians, the driver continued across all lanes of traffic, ultimately crashing into the fence of a business on the west side of the street."
"The driver remained on scene and has been cooperative with investigators for the duration of the investigation," further notes the press release. "A DUI investigation of the driver was conducted on scene and showed no signs of impairment."
The press release confirms the driver and the two people he hit are members of the Fort Lauderdale Gay Men's Chorus.
Fort Lauderdale Fire Rescue transported both victims to Broward Health Medical Center "with serious injuries." The press release notes one of the victims died shortly after he arrived at the hospital.
The Fort Lauderdale Police Department, which is leading the investigation, has not publicly identified the victims and the driver, but the press release describes the incident as a "fatal traffic crash." The press release notes the second victim remains hospitalized at Broward Health Medical Center, but "is expected to survive."
"While no arrests have been made, the Fort Lauderdale Police Department continues to investigate this incident and will not be releasing the names of the involved parties due to the status of the investigation," says the press release. "The Fort Lauderdale Police Department asks anyone who may have witnessed this incident, who has not already spoken to investigators, to contact Traffic Homicide Investigator Paul Williams at (954) 828-5755."
The pickup truck narrowly avoided U.S. Rep. Debbie Wasserman Schultz (D-Fla.), who was in a convertible participating in the parade. Florida Congressman Ted Deutch was also nearby.
"Our thoughts and prayers are with those affected by the tragic accident that occurred when the Stonewall Pride Parade was just getting started," said Fort Lauderdale Gay Men's Chorus President Justin Knight in a statement he issued after the incident. "Our fellow chorus members were those injured and the driver was also part of the chorus family."
"To my knowledge, this was not an attack on the LGBTQ community," added Knight. "We anticipate more details to follow and ask for the community's love and support."
Fort Lauderdale mayor initially described incident as anti-LGBTQ 'terrorist attack'
Fort Lauderdale Mayor Dean Trantalis initially described the incident as "a terrorist attack against the LGBT community," without any official confirmation. Detective Ali Adamson of the Fort Lauderdale Police Department on Saturday confirmed to reporters that investigators are "working with" the Federal Bureau of Investigation, but stressed the "investigation is active and we are considering and evaluating all possibilities."
"Last evening, at the start of what was to be a celebration of pride for the LGBT community and commemoration of our hard-won victories for equality, our community faced the worst of tragedies. The grief of our LGBT community — and greater Fort Lauderdale as a whole — is palpable," said Trantalis on Sunday in a statement he posted to his Facebook page.
"I was an eyewitness to the horrifying events. It terrorized me and all around me. I reported what I saw to law enforcement and had strong concerns about what transpired — concerns for the safety of my community. I feared it could be intentional based on what I saw from mere feet away," he added.
Trantalis added "law enforcement took what appeared obvious to me and others nearby and investigated further — as is their job."
"As the facts continue to be pieced together, a picture is emerging of an accident in which a truck careened out of control," he said. "As a result, one man died, two others were injured and the lives of two members of Congress were at risk. My heart breaks for all impacted by this tragedy."
ACLU and Justice Department to jointly challenge anti-Trans laws
Recently passed anti-transgender laws in West Virginia and Arkansas violate the Equal Protection Clause of the U.S. Constitution.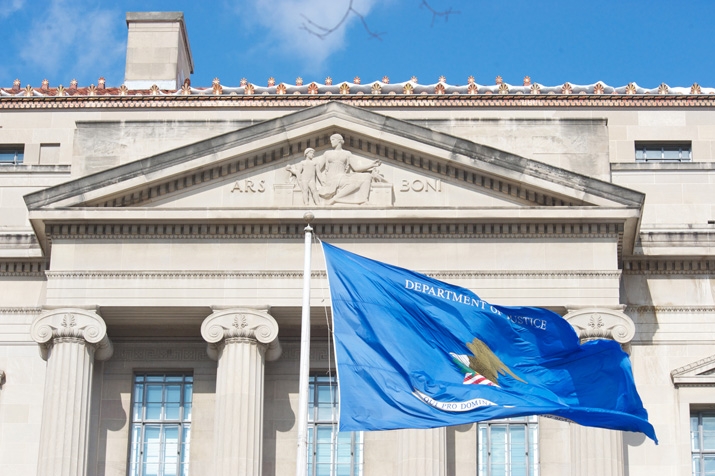 WASHINGTON – In court documents filed Thursday in the U.S. District Court for the Southern District of West Virginia and in U.S. District Court for the Eastern District of Arkansas, the U.S. Department of Justice, in Statement of Interest filings, joined the American Civil Liberties Union, (ACLU), arguing that recently passed anti-transgender laws in West Virginia and Arkansas violate the Equal Protection Clause of the U.S. Constitution.
The suits filed by the ACLU challenges an Arkansas law that bans gender-affirming care for transgender youth and a West Virginia law banning transgender youth from participating in school sports.
Chase Strangio, deputy director for Trans Justice with the American Civil Liberties Union LGBTQ & HIV Project, issued the following statement responding to the Department of Justice submitting a statement of interest in two federal courts supporting transgender youth;
"Today's filings from the Department of Justice send a powerful message that discrimination against transgender youth is not just wrong, it is also plainly unconstitutional. These filings from the Department of Justice confirm what we have been telling legislatures all year: Banning trans youth from sports and denying trans youth health care violates the Constitution and federal law. We hope that state legislatures finally get the message."
Law and Crime reported that in the West Virginia case filing, the Justice Dept. argued that House Bill 3293, which bans transgender athletes at public schools from competing in female sports at the middle school, high school, and collegiate level, violates both the Equal Protection Clause and Title IX of the Education Amendment of 1972.
The case stemmed from a complaint filed by the parents of transgender girl who said their daughter was unlawfully prohibited from trying out for the school's cross-country track team because of the measure.
In Arkansas, the Justice Dept. backed an ACLU-filed lawsuit challenging a state law (Act 626) which bans gender-affirming health care for transgender youths. The DOJ also claims that state ban violates the Equal Protection Clause of the Fourteenth Amendment, Law & Crime reported.