'Fiscal cliff' brings fears of devastating AIDS cuts
More than 12,000 HIV patients could lose access to care next year

Pending across-the-board cuts to federal programs have advocates concerned that up to 12,200 people living with HIV/AIDS in the United States could lose access to drugs and programs unless Congress takes action.
The anticipated cuts, set to take effect on Jan. 2, are the result of the Budget Control Act, legislation President Obama signed last year as part of a compromise to raise the limit on the nation's debt ceiling. It would reduce continued funding for the U.S. government in 2013 and beyond by cutting an estimated 8.2 percent in the first year from discretionary federal programs — including HIV/AIDS programs.
Carl Schmid, deputy executive director of the AIDS Institute, said unless Congress acts to institute an alternative budget, the level of funding provided would be troublesome because "people wouldn't be able to get their drugs."
"The sequestration wasn't ever to occur and within three months from now, it's going to take place unless Congress acts," Schmid said. "It would be devastating to our programs."
Kimberly Crump, policy officer at HIV Medicine Association, said problems are already emerging because care providers aren't sure what level of funding will ultimately be provided.
"It really hinders them in hiring staff and making decisions around personnel, around controlling costs of labs and accepting new patients, the hours that they can be open," Crump said. "It's going to really start to impact availability of services."
Estimates for what these cuts would mean for people living with HIV/AIDS have varied widely. In a letter dated Sept. 19 to Congress, the AIDS Institute says the reductions to ADAP funding could mean wait lists for drugs would once again be extended and around 9,400 patients would lose access to medication.
"This would automatically create wait lists again, and extremely long ones," Schmid told the Blade. "But it could be even more than that, we're doing some further analysis, so some people are saying it's like 10,000 to 12,000 people removed from the ADAP program if this sequestration goes through."
The number is an estimate from the Department of Health & Human Services. In a June 29 letter to Congress, Ellen Murray, HHS assistant secretary for financial resources, writes that "approximately 12,150 fewer patients" would receive benefits from the AIDS Drug Assistance Program.
A July 25 report from the Senate Health, Education, Labor & Pensions Committee similarly estimates that 12,219 people in the United States receiving drugs from ADAP would lose access to medicine. The report details how many individuals would lose access for each jurisdiction in the United States. For example, the committee estimates 199 fewer people in D.C. would have access to drugs.
In the letter to Congress, the AIDS Institute spells out the reductions to four federal HIV/AIDS programs that would result from sequestration, which amounts to a total reduction of $538 million based on calculations from fiscal year 2012 levels:
• funding for HIV prevention at the Centers for Disease Control would be cut by $64 million;
• the Ryan White HIV/AIDS Program, which provides care to low income people with the disease, would be cut by $196 million, including $77 million in cuts from the AIDS Drug Assistance Program;
• AIDS research at the National Institutes of Health would be cut by $251 million;
• and the Housing Opportunities for People with AIDS, or HOPWA, program would be cut by $27 million.
One consolation is that funds for Medicare and Medicaid would largely be immune from cuts. Medicare would only be reduced by 2 percent — and those cuts wouldn't come from programs for patients, but providers. Medicaid, under which 50 percent of people living with HIV/AIDS receive care, won't see any cuts.
The Washington Blade reported in August 2011 at the time President Obama signed the Budget Control Act that the legislation could impact HIV/AIDS programs, and again reported on the issue when the congressional supercommittee established by the legislation failed to provide an alternative to across the board cuts, but cost estimates for reductions weren't previously known.
But the cuts wouldn't only affect domestic programs aimed at providing care to people with HIV, but global programs as well, including the President's Emergency Plan for AIDS Relief, or PEPFAR, and U.S. contributions to the Global Fund to Fight AIDS, Tuberculosis and Malaria.
Chris Collins, director of policy for amfAR, said the sequestration — commonly referred to as the "fiscal cliff" — would have a "devastating impact" on programs aimed at confronting HIV/AIDS overseas.
"It would undercut multiple aspects of the global AIDS response from treating people, which we know has a potential for saving lives, but also to preventing infection, as well as programs to help kids who are vulnerable," Collins said. "Sequestration sets us up for seriously backtracking in response to global AIDS just at the time when we have the ability to really accelerate progress."
In a brief published Sept. 25, amfAR provides details on the problems that reductions to global AIDS initiatives would cause. As a result of projected decreases to U.S. government bilateral support, HIV/AIDS treatments for 276,500 people wouldn't be available, potentially leading to 63,000 more AIDS-related deaths and 124,000 more children becoming orphans. The decrease in U.S. contributions to the Global Fund would result in an additional 100,000 people not being treated for HIV/AIDS.
In addition to HIV/AIDS programs, federal initiatives that more generally serve the LGBT community would also face cuts under the sequester. The U.S. Equal Employment Opportunity Commission, which earlier this year interpreted federal law to allow it to protect transgender workers from discrimination, would face cuts as would the Justice Department's community relations service to fight hate crimes.
Laurie Young, the National Gay & Lesbian Task Force's director of aging and economic security, said the sequester could have an impact on local LGBT community centers that rely on funds from the federal government.
"Any programs … that are funded out of the Older Americans Act — community health programs, community health centers — any of the programs that receive any kind of federal support could be affected by it," Young said.
Young said the cuts could also affect U.S. governmental efforts in research, including data collection efforts for LGBT people on health surveys, which the Department of Health & Human Services began to implement last year upon requests from LGBT advocates.
HIV/AIDS advocates expressed dismay that the pending defense cuts under the sequester — which would reduce the Pentagon's budget by an estimated $54.7 billion in 2013 — have received attention in the media, but other programs haven't received significant attention.
Crump said big ticket items like defense and Medicare have greater "political clout" behind them, which makes other programs such as HIV/AIDS more vulnerable to cuts.
"It makes the non-defense discretionary budget more vulnerable to cuts when these other big ticket items have their champions talking about fencing off or protecting them," Crump said. "That means we're going to have to cut more steeply into these other annually funded programs."
Government agencies that operate programs for people with HIV/AIDS referred the Washington Blade to the White House Office of Budget & Management, which issued a report on Sept. 14 detailing the extent of cuts to government programs.
"As the administration has made clear, no amount of planning can mitigate the effect of these cuts," the report states. "Sequestration is a blunt and indiscriminate instrument. It is not the responsible way for our nation to achieve deficit reduction."
Amid this fear, observers were generally optimistic that Congress would institute an alternative to the Budget Control Act to avoid the cuts to HIV/AIDS and other programs.
A Senate Democratic aide, who spoke on condition of anonymity, said an agreement to avoid the sequester would likely be reached after campaign season has concluded.
"As much as we like to piss on each other's boots and do nothing, when there's a gun to our head, we know it's time to do something," the aide said.
The aide predicted a proposal similar to previously proposed bipartisan debt reduction plans — those from the Simpson-Bowles Commission, the Domenici-Rivlin Task Force or the "Gang of Six" — would be enacted.
But even if an agreement is reached, concerns persist that Congress could enact a plan that would cut into HIV/AIDS funds even more so than the Budget Control Act — especially because another agreement on the debt ceiling must be reached in February when the limit will likely be reached.
Schmid said an alternative plan that Congress might come up with could reach into currently protected programs of Medicare and Medicaid to pay for budget reduction.
"We still have to come up with these cuts, and so they are looking at different ways," Schmid said. "But Medicare and Medicaid will be back on the table again, and we are concerned about that as well."
Young predicted that any plan Congress would enact for deficit reduction would cut funding for government programs, but it remains to be seen where those cuts would fall.
"There's going to be some pain somewhere because the whole reason that the sequestration was enacted and passed was because of the rampant fears about the outrageous federal deficit," Young said. "Now I could get on my soap box with you, but the reason that the deficit is the way it is today is because we've had 10 or 12 years of tax cuts, and in order to pay our bills we have to have money coming in."
And Crump said if the election results in wins for Republicans, they may feel emboldened to pass a plan similar to what House Budget Committee Chair and Republican vice presidential nominee Paul Ryan has proposed, which she said would "cut even more deeply" than sequestration.
"There's a looming series of threats to the whole health care environment that could very much impact the hope that the Affordable Care Act held for improving HIV care and access to care for people with HIV," Crump said.
GOP majority city council to repeal LGBTQ+ law in Pennsylvania
"I don't know of any reasons for repealing it other than a political move […] This issue should not be politicized"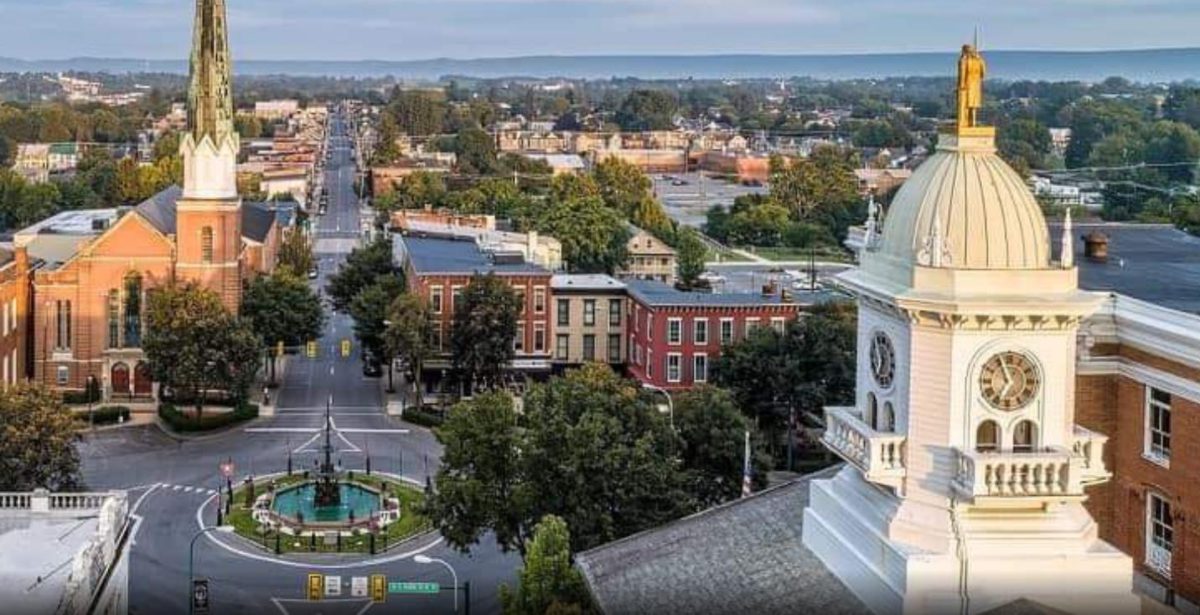 The council of this central Pennsylvania borough (town) will meet on Monday, January 24 for a likely vote to repeal an ordinance passed this last October that safeguards residents against discrimination based on their sexual orientation, ethnicity or gender identity.
Opposition to the ordinance is led by newly installed borough council president Allen Coffman, a Republican. In an interview with media outlet Penn Live Saturday, Coffman said, "All of us that ran in this election to be on council we think we got a mandate from the people," he said. "People we talked to when we were campaigning did not like this ordinance at all. I don't know what the vote will be, but I have a pretty good idea."
The political makeup of the council changed with the November municipal election, which ushered in a 7-3 Republican majority.
The ordinance, which extends protections against discrimination to gay, transgender or genderqueer people in employment, housing and public accommodations, was passed in October by the then-Democratic majority council, Penn Live reported.
"I don't know of any reasons for repealing it other than a political move," said Alice Elia, a Democrat and the former Chambersburg borough council president. "This issue should not be politicized. It's an issue of justice and having equal protection for everybody in our community. It shouldn't be a political or a Democratic or Republican issue. This should be something we are all concerned about."
Coffman told Penn Live that the ordinance serves no purpose and is redundant. He points out that Pennsylvania's Human Relations Commission handles discrimination complaints from residents across the state.
"There are no penalties, no fines," he said. "There's nothing that the ordinance can make someone do. The most they can hope for is that the committee request the two parties to sit down with a counselor or mediator and talk about it. Quite frankly there is nothing that compels them to. There's no teeth in this."
Penn Live's Ivey DeJesus noted if Chambersburg succeeds in repealing the ordinance, it would mark the first time an LGBTQ inclusive law is revoked in Pennsylvania. To date, 70 municipalities have ratified such ordinances.
The Commonwealth of Pennsylvania is one of the 27 states in the nation that have no explicit statewide laws protecting people from discrimination on the basis of sexual orientation or gender identity in employment, housing and public accommodations.
Central Pa. borough poised to become first to repeal LGBTQ protections https://t.co/ZFpDOfRivw

— PennLive.com (@PennLive) January 22, 2022
Florida House committee passes "Don't Say Gay" bill
Equality Florida quickly condemned the measure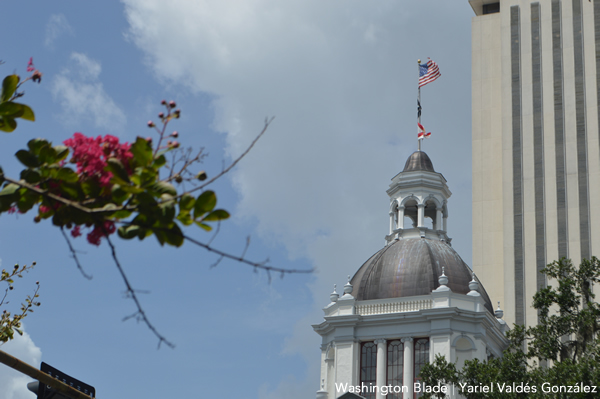 The Republican majority Florida House Education and Employment Committee on Thursday passed House Bill 1557, the Parental Rights in Education bill, colloquially referred to as the "Don't Say Gay" bill advancing the measure to the full House.
HB 1557 and its companion bill, Senate Bill 1834, would ban classroom discussions about sexual orientation and gender identity in schools, erasing LGBTQ identity, history, and culture — as well as LGBTQ students themselves.
The bill also has provisions that appear to undermine LGBTQ support in schools and include vague parental notification requirements which could effectively "out" LGBTQ-identifying students to their parents without their consent.
"The Trevor Project's research has found that LGBTQ youth who learned about LGBTQ issues or people in classes at school had 23 percent lower odds of reporting a suicide attempt in the past year. This bill will erase young LGBTQ students across Florida, forcing many back into the closet by policing their identity and silencing important discussions about the issues they face," said Sam Ames, director of advocacy and government affairs at the Trevor Project. "LGBTQ students deserve their history and experiences to be reflected in their education, just like their peers."
In an email to the Los Angeles Blade, Brandon J. Wolf, the press secretary for Equality Florida noted; "Governor DeSantis' march toward his own personal surveillance state continues. Today, the Don't Say Gay bill, a piece of legislation to erase discussion of LGBTQ people from schools in Florida, passed its first committee and became another component of an agenda designed to police us in our classrooms, doctor's offices, and workplaces. Make no mistake — LGBTQ people are your neighbors, family members, and friends. We are a normal, healthy part of society and we will not be erased."
This will kill kids, @RonDeSantisFL. You are purposefully making your state a harder place for LGBTQ kids to survive in. In a national survey (@TrevorProject), 42% of LGBTQ youth seriously considered attempting suicide last year. Now they can't talk to their teachers? https://t.co/VtfFLPlsn3

— Chasten Buttigieg (@Chasten) January 20, 2022
The Trevor Project's 2021 National Survey on LGBTQ Youth Mental Health found that more than 42 percent of LGBTQ youth seriously considered attempting suicide in the past year, including more than half of transgender and non-binary youth.
According to a recent poll conducted by Morning Consult on behalf of The Trevor Project, 85 percent of transgender and non-binary youth — and two-thirds of all LGBTQ youth (66 percent) — say recent debates about state laws restricting the rights of transgender people have negatively impacted their mental health.
When asked about proposed legislation that would require schools to tell a student's parent or guardian if they request to use a different name/pronoun or if they identify as LGBTQ at school, 56 percent of transgender and non-binary youth said it made them feel angry, 47 percent felt nervous and/or scared, 45 percent felt stressed, and more than 1 in 3 felt sad.
If you or someone you know needs help or support, the Trevor Project's trained crisis counselors are available 24/7 at 1-866-488-7386, via chat at TheTrevorProject.org/Get-Help, or by texting START to 678678.
NCAA adopts new policy amid fervor over transgender athletes
Sport-by-sport approach requires certain levels of testosterone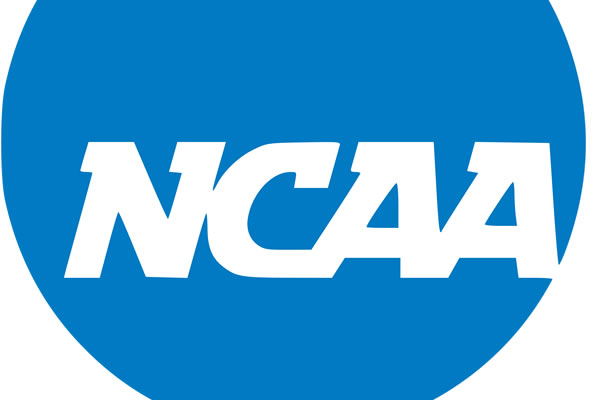 The National Collegiate Athletic Association has announced it has adopted new procedures on competition of transgender athletes, creating a "sport-by-sport" approach that also requires documentation of testosterone levels across the board amid a fervor of recently transitioned swimmers breaking records in women's athletics.
The NCAA said in a statement its board of governors voted on Wednesday in support of the "sport-by-sport" approach, which the organization says "preserves opportunity for transgender student-athletes while balancing fairness, inclusion and safety for all who compete."
Although the policy defers to the national governing bodies for individual sports, it also requires transgender athletes to document sport-specific testosterone levels beginning four weeks before their sport's championship selections. The new policy, which consistent with rules for the U.S. Olympics, is effective 2022, although implementation is set to begin with the 2023-24 academic year, the organization says.
John DeGioia, chair of the NCAA board and Georgetown president, said in a statement the organization is "steadfast in our support of transgender student-athletes and the fostering of fairness across college sports."
"It is important that NCAA member schools, conferences and college athletes compete in an inclusive, fair, safe and respectful environment and can move forward with a clear understanding of the new policy," DeGioia said.
More specifically, starting with the 2022-23 academic year, transgender athletes will need to document sport-specific testosterone levels beginning four weeks before their sport's championship selections, the organizational. These athletes, according to the NCAA, are also required to document testosterone levels four weeks before championship selections.
In terms of jurisdiction, the national governing bodies for individual sports are charged determines policies, which would be under ongoing review and recommendation by the NCAA, the organizational says. If there is no policy for a sport, that sport's international federation policy or previously established International Olympics Committee policy criteria would be followed.
The NCAA adopts the policy amid controversy over University of Pennsylvania swimmer Lia Thomas smashing records in women's swimming. Thomas, which once competed as a man, smashed two national records and in the 1,650-yard freestyle placed 38 seconds ahead of closest competition. The new NCAA policy appears effectively to sideline Thomas, who has recently transitioned and unable to show consistent levels of testosterone.
Prior to the NCAA announcement, a coalition of 16 LGBTQ groups, including the Human Rights Campaign and Athlete Ally, this week sent to a letter to the collegiate organization, urging the organizations strengthen non-discrimination protections as opposed to weakening them. The new policy, however, appears to head in other direction, which the LGBTQ groups rejected in the letter.
"While decentralizing the NCAA and giving power to conferences and schools has its benefits, we are concerned that leaving the enforcement of non-discrimination protections to schools will create a patchwork of protections rather than a comprehensive policy that would protect all athletes, no matter where they play," the letter says. "This would be similar to the patchwork of non-discrimination policies in states, where marginalized groups in some states or cities are protected while others are left behind by localities that opt not to enact inclusive policies."
JoDee Winterhof, vice president of policy and political affairs for the Human Rights Campaign, said in a statement after the NCAA announcement the new policy was effectively passing the buck.
"If the NCAA is committed to ensuring an environment of competition that is safe, healthy, and free from discrimination, they cannot dodge the question of how to ensure transgender athletes can participate safely," Winterhof said. "That is precisely why we and a number of organizations across a wide spectrum of advocates are urging them to readopt and strengthen non-discrimination language in their constitution to ensure the Association is committed to enforcing the level playing field and inclusive policies they say their values require. Any policy language is only as effective as it is enforceable, and with states passing anti-transgender sports bans, any inclusive policy is under immediate threat. We are still reviewing the NCAA's new policy on transgender inclusion and how it will impact each and every transgender athlete."