Debt deal could jeopardize HIV/AIDS funds
Prevention, drug programs threatened by agreement

The resolution of the debt ceiling negotiations between the White House and congressional leaders has HIV/AIDS advocates concerned that federal funds for prevention and drug initiatives could be on the chopping block as a result of the agreement.
The agreement — which enables President Obama to raise the debt ceiling by $2.1 trillion and eliminates the need for another increase until 2013 — also requires a total of nearly $2.5 trillion in spending cuts to reduce the federal deficit, which could affect federally funded HIV/AIDS programs.
Carl Schmid, deputy executive director of the AIDS Institute, said any cuts to federal spending as a result of the deal will likely "impact HIV programs in a negative way."
"There will be less money to go around and it will be more competition over that smaller amount of funding," Schmid said. "And there can be direct cuts to our programs particularly if they are taken across the board. Not going in the right direction if we are going to end AIDS let alone prevent new infections and provide care and treatment to people with HIV/AIDS."
All federal funding of discretionary HIV/AIDS programs could see an impact as a result of the decision, Schmid said, including the Centers for Disease Control & Prevention, the Ryan White HIV/AIDS Program and AIDS research programs. Additionally, Schmid said AIDS Drug Assistance Programs could be cut and already lengthy wait lists to receive medication through this program could be extended.
"It's going to be harder and harder to make the case for our programs, but, hopefully, Congress will be receptive to our voices and concerns about the importance of preventing HIV in our country and to provide care and treatment for people who are HIV positive," Schmid said.
The concerns come as the CDC on Wednesday unveiled new numbers showing that HIV incidence in the United States continues to be a problem affecting young gay and bisexual men, although as a whole infection rates have been relatively stable in recent years.
New infections among among young men who have sex with men increased 34 percent between 2006 and 2009, while infections among young, black men who have sex with men increased 48 percent from 4,400 in 2006 to 6,500 in 2009.
Fred Sainz, vice president of the Human Rights Campaign, said any concerns HRC would have over the debt deal depends on what cuts to federal programs are eventually made. However, he noted for time being, those cuts have yet to be identified and maintained it's too early to cry foul.
"We are consulting with our coalition partners to better assess the situation," Sainz said. "We would be concerned, for instance, if programs that fund critical HIV/AIDS were cut. There is no knowledge yet so we're not in a position to know."
Obama signed the deal into law on Tuesday after both chambers of Congress approved the measure. The Democratic-controlled Senate approved the measure on Tuesday by a vote of 74-26 while the Republican-controlled House passed the measure by a vote of 269-161.
Prior to the signing, Obama delivered a statement in the White House Rose Garden in which he said the federal government will have to make tough choices to reduce spending, and no programs will be excluded from cuts.
"This compromise requires that both parties work together on a larger plan to cut the deficit, which is important for the long-term health of our economy," Obama said. "And since you can't close the deficit with just spending cuts, we'll need a balanced approach where everything is on the table."
The agreement calls for a first tranche of spending cuts that total nearly $1 trillion over 10 years. Those cuts include $350 billion from the defense budget, but the remaining cuts could impact discretionary HIV/AIDS initiatives. However, Medicare and Medicaid — as well as the services they provide to people with living with HIV/AIDS — are protected under this first round of cuts.
To institute more cuts, the deal creates a bipartisan panel that has become known as a "Super Congress" made up of congressional leaders and will be required to identify an additional $1.5 trillion in deficit reduction that could include cuts to entitlement programs and tax reform. Both Medicare and Medicaid as well as discretionary HIV/AIDS initiatives could be on the chopping block for this round of cuts. The committee must report out legislation by Nov. 23 and Congress is required to vote on committee recommendations by Dec. 23.
Should Congress fail to act on the committee's recommendations, a trigger mechanism will be enacted for mandatory spending cuts. Those cuts — which would begin in January 2013 — will be split 50/50 between domestic and defense spending, although Social Security, Medicare beneficiaries and "low-income programs" would be exempt from those cuts. Additionally, Obama has pledged to veto any extension of the Bush-era high-income tax cuts as a means to increase government revenue should Congress fail to come up with a balanced deal.
In a joint statement, Kathleen Squires, chair of the HIV Medicine Association, and Jim Raper, c0-chair of the Ryan White Medical Providers Coalition, urged Congress not to target HIV/AIDS programs in its search for funding cuts in federal programs.
"Congress has outlined a framework for enacting major cuts to the federal budget over the next decade that could have far reaching consequences for people living with, and at risk for, HIV infection here and abroad," Squires and Raper said. "We urge members of Congress to seriously consider the human impact of the funding and policy decisions that they will be making in the coming months."
Squires and Raper maintained that continued federal funding for HIV/AIDS initiatives is important because they extend the lives of those living with the disease and stop new infections. Access to HIV care, Squires and Raper said, reduces transmission by 96 percent, but only 50 percent of people with HIV in the United States have reliable access to treatment. Further, Squires and Raper said as many as 15 million people in developing countries await access to lifesaving therapy.
"A retreat in the battle against HIV disease will be costly whether measured in lives lost or federal dollars," Squires and Raper conclude. "As the deficit reduction process moves forward, we urge members of Congress to consider the impact of their decisions on people with HIV disease and other medically vulnerable populations."
Shin Inouye, a White House spokesperson, said the debt agreement is "a down payment on deficit reduction so that we begin to live within our means," but maintained the details of which programs will be cut have yet to be decided.
"The nearly $1 trillion in discretionary spending cuts are achieved through spending caps both on security and non-security spending," Inouye said. "Specifics about how these levels will be met will be determined through discussions between the administration and appropriators in Congress over the coming months."
Barbara Lee: PEPFAR is 'more in peril' than ever before
Congress has yet to reauthorize funding for Bush-era HIV/AIDS program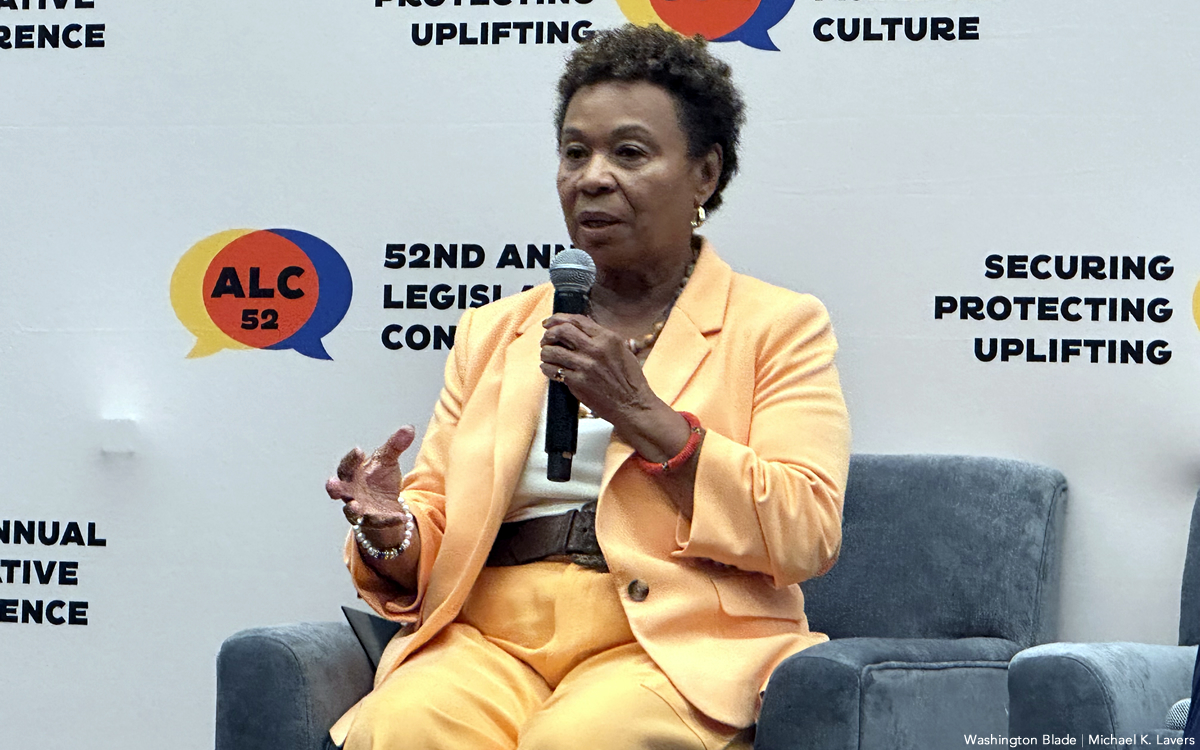 California Congresswoman Barbara Lee on Sept. 22 said the President's Emergency Plan for AIDS Relief is "more in peril" now than at any point since its launch two decades ago.
"This program is reauthorized every five years, but it's always on a bipartisan basis," said Lee during a panel at the Congressional Black Caucus Foundation's Annual Legislative Conference that took place at the Walter E. Washington Convention Center in D.C. "As we approach the benchmark of an AIDS-free generation by 2023, it is unfortunately more in peril now than ever before."
Then-President George W. Bush in 2003 signed legislation that created PEPFAR.
Lee noted PEPFAR as of 2020 has provided nearly $100 billion in "cumulative funding for HIV and AIDS treatment, prevention and research." She said PEPFAR is the largest global funding program for a single disease outside of COVID-19.
New PEPFAR strategy includes 'targeted programming' for marginalized groups
The panel took place amid the continued push for Congress to reauthorize PEPFAR for another five years. The federal government will shut down on Oct. 1 if Congress does not pass an appropriations bill.
Secretary of State Antony Blinken last December at a World AIDS Day event in D.C. acknowledged HIV/AIDS continues to disproportionately impact LGBTQ and intersex people and other marginalized groups. A new PEPFAR strategy the Biden-Harris administration announced that seeks to "fill those gaps" over the next five years includes the following points:
• Targeted programming to help reduce inequalities among LGBTQ and intersex people, women and girls and other marginalized groups
• Partnerships with local organizations to help reach "hard-to-reach" communities.
• Economic development and increased access to financial markets to allow countries to manufacture their own antiretroviral drugs, tests and personal protective gear to give them "the capacity to meet their own challenges so that they're not dependent on anyone else."
The Family Research Council Action in an email to supporters urged them to tell Congress to "stop Biden from hijacking PEPFAR to promote its radical social policies overseas." Family Watch International has said PEPFAR "has been hijacked to advance a radical sexual agenda."
"Please sign the petition to tell the U.S. Congress to ensure that no U.S. funds go to organizations that promote abortion, LGBT ideology, or 'comprehensive sexuality education,'" said the group in an email to its supporters.
A group of lawmakers and religious leaders from Kenya and other African countries in a letter they wrote to members of Congress in June said PEPFAR, in their view, no longer serves its original purposes of fighting HIV/AIDS because it champions homosexuality and abortion.
"We wrote that letter to the U.S. Congress not to stop PEPFAR funding to Kenya, but to demand the initiative to revert to its original mission without conditioning it to also supporting LGBTQ as human rights," it reads.
Biden in 2021 signed a memo that committed the U.S. to promoting LGBTQ and intersex rights abroad as part of his administration's overall foreign policy.
American officials earlier this year postponed a meeting on PEPFAR's work in Uganda in order to assess the potential impact the country's Anti-Homosexuality Act will have on it. The law, which Ugandan President Yoweri Museveni signed on May 29, contains a death penalty provision for "aggravated homosexuality."
Biden in his U.N. General Assembly speech last week noted LGBTQ and intersex rights and highlighted PEPFAR. Family Watch International in its email to supporters included a link to the letter from the African lawmakers and religious leaders.  
The Southern Poverty Law Center has designated both the FRC and Family Watch International as anti-LGBTQ hate groups.
"[PEPFAR is] not about abortions," said Lee.
U.S. Agency for International Development Administrator Samantha Power during the panel referenced Bush's recent op-ed in the Washington Post that urged lawmakers to reauthorize PEPFAR.
"The way he put it is no program is more pro-life [than] one that has saved more than 25 million lives," said Power.
Power referenced the "manufactured controversy that is making it difficult to get this reauthorization." U.S. Global AIDS Coordinator Dr. John Knengasong said a failure to reauthorize PEPFAR would weaken "our own foreign policy and diplomacy."
"Once again the United States will be missing in action," stressed Lee.
Assistant Health and Human Services Secretary for Legislation Melanie Egorin and Kenny Kamson, a Nigerian HIV/AIDS activist, also spoke on the panel that MSNBC host Jonathan Capehart moderated.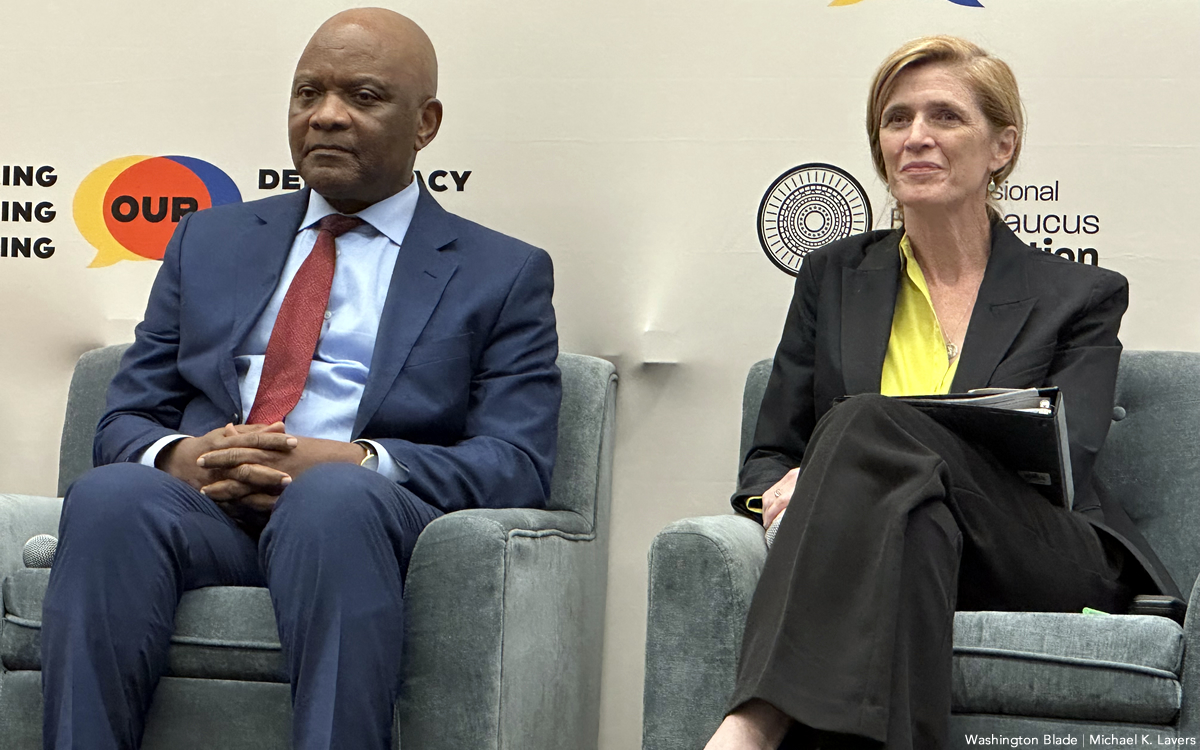 Biden, Harris, deliver remarks for White House Office of Gun Violence Prevention
Pulse survivor Brandon Wolf among those who spoke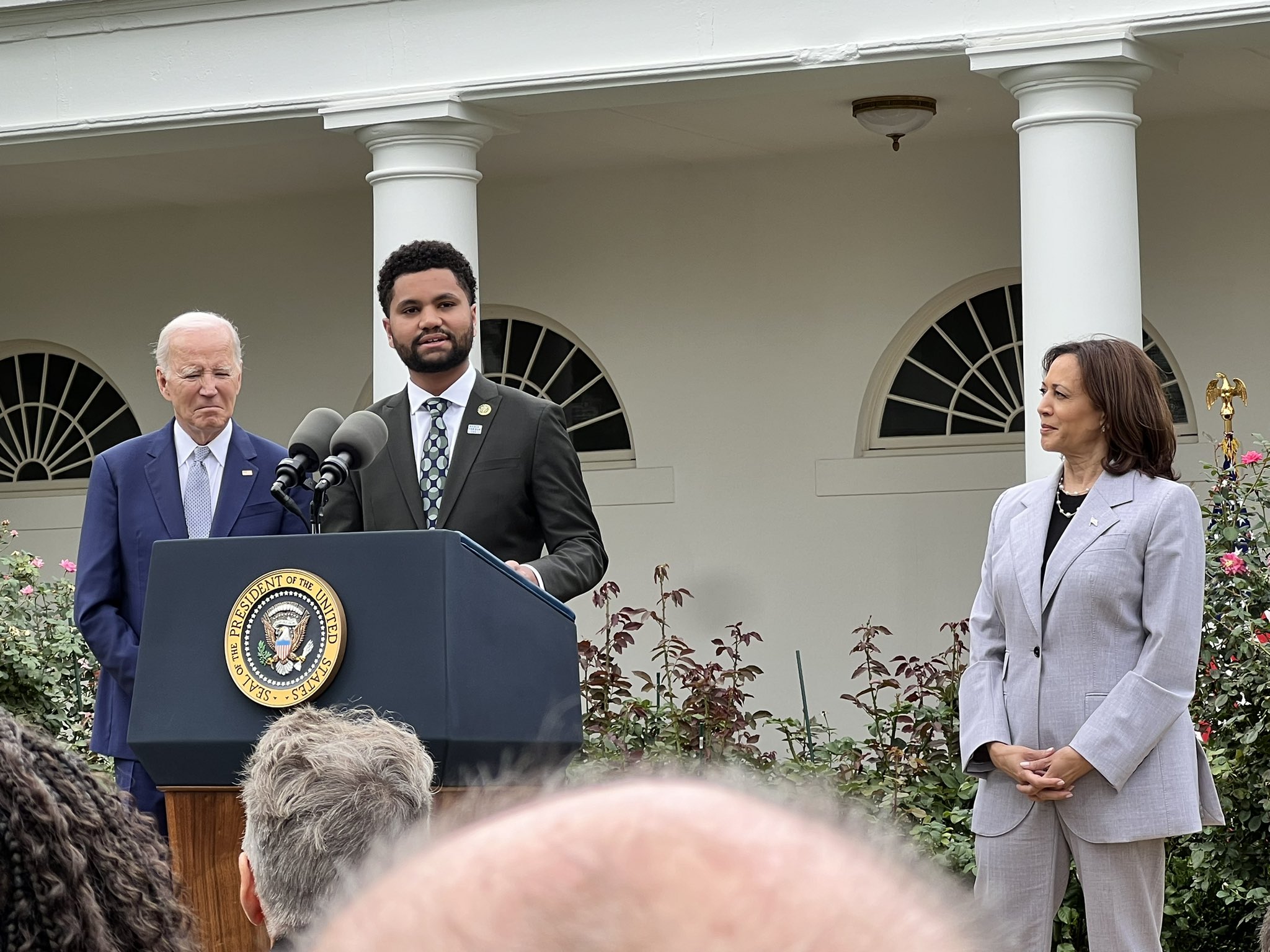 President Joe Biden, Vice President Kamala Harris, and U.S. Rep. Maxwell Frost (D-Fla.) addressed an audience from the Rose Garden of the White House on Friday to honor the establishment of a first-ever White House Office of Gun Violence Prevention.
In a press release Thursday announcing the move, the administration said its aim is to implement and expand the provisions of last year's Bipartisan Safer Communities Act along with those contained in the president's executive orders targeting issues of gun violence.
Additionally, Biden explained in his remarks, the office will coordinate more support for survivors, families and communities, including mental health services and financial aid; identify new avenues for executive action; and "expand our coalition of partners in states and cities across America" given the need for legislative solutions on the local and state level.
Harris, who will oversee the office, pledged to "use the full power of the federal government to strengthen the coalition of survivors and advocates and students and teachers and elected leaders to save lives and fight for the right of all people to be safe from fear and to be able to live a life where they understand that they are supported in that desire and that right."
The vice president noted her close experiences with the devastating consequences of gun violence in her work as a federal prosecutor, San Francisco district attorney, California attorney general and in her current role.
Biden's comments also included highlights of his administration's accomplishments combatting gun violence and a call to action for Congress to do more. "It's time again to ban assault weapons and high capacity magazines," he told lawmakers.
The president also credited the the work of advocates including those who were gathered at the White House on Friday: "all of you here today, all across the country, survivors, families, advocates — especially young people who demand our nation do better to protect all; who protested, organized, voted, and ran for office, and, yes, marched for their lives."
Taking the stage before introducing Biden, Frost noted that "Right before I was elected to Congress, I served as the national organizing director for March for Our Lives, a movement that inspired young people across the nation to demand safe communities."
"The president understands that this issue especially for young people, especially for marginalized communities, is a matter of survival," the congressman said. And the formation of this office, "comes from Pulse to Parkland," he said, adding, "we fight because we love."
Human Rights Campaign National Press Secretary Brandon Wolf, a survivor of the 2016 Pulse nightclub shooting, which was America's second deadliest mass shooting and the deadliest against the LGBTQ community, shared a comment with the Washington Blade after Friday's ceremony:
"Seven years ago, when my best friends and 47 others were murdered at our safe place — Pulse Nightclub — we promised to honor them with action. This is what that looks like. This deep investment in the fight to end gun violence matters, and I cannot wait to see Vice President Harris lead these efforts. We can blaze the path toward a future free of gun violence. And today marked an important step in that direction."
Federal judge: drag is 'vulgar and lewd,' 'sexualized conduct'
Ruling 'bristles with hostility toward LGBTQ people'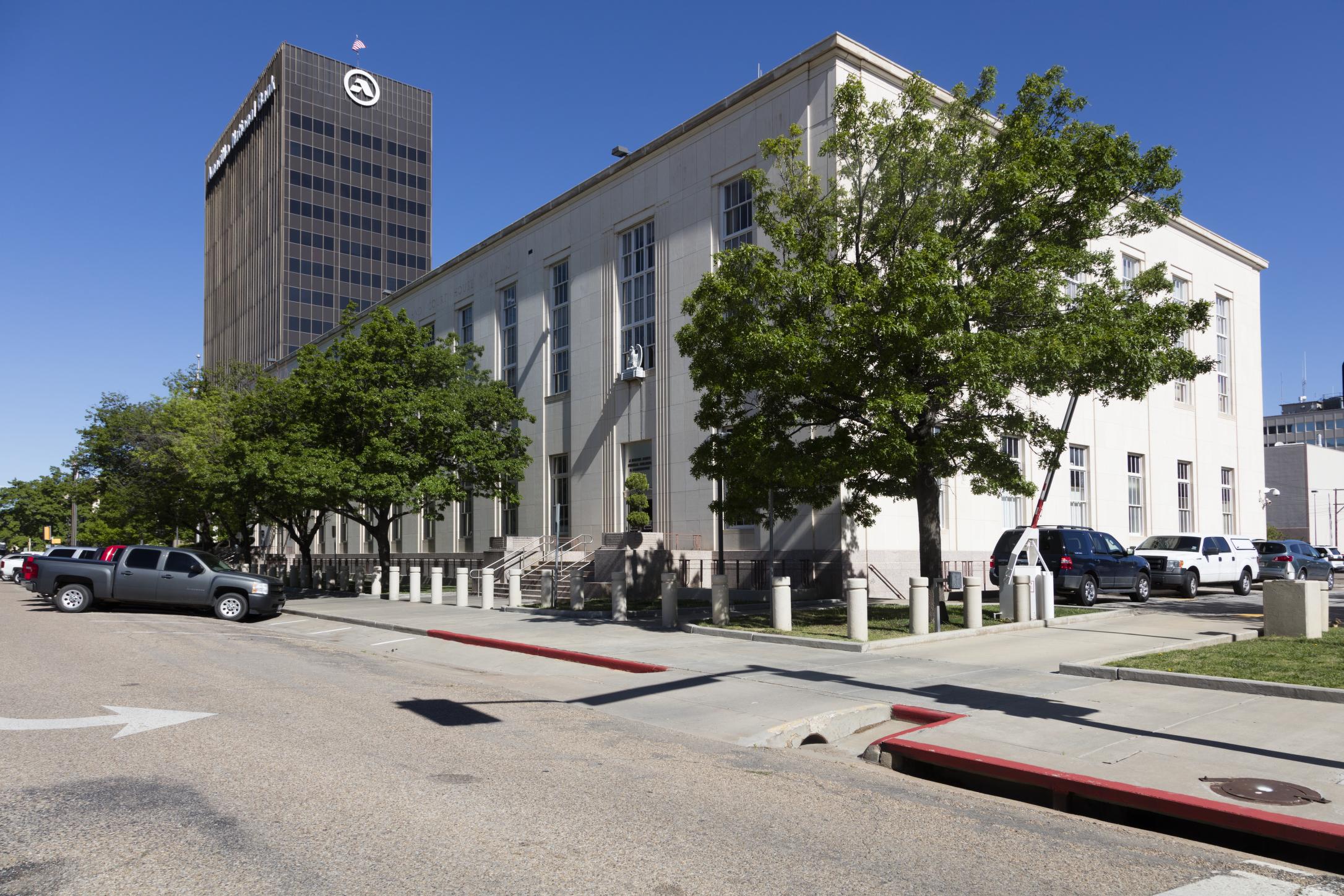 Judge Matthew Kacsmaryk of the U.S. District Court for the Northern District of Texas issued a ruling Thursday denying relief to a group of university students who sought to host a drag show over the objections of their school's president.
A Trump appointed jurist with deep ties to anti-LGBTQ and anti-abortion conservative legal activists, Kacsmaryk argued that drag performances probably do not constitute speech protected by the First Amendment.
As Slate Senior Writer Mark Joseph Stern wrote on X, this conclusion "conflicts with decisions from Texas, Florida, Tennessee and Montana which held that drag is constitutionally protected expression."
"It also bristles with undisguised hostility toward LGBTQ people," he added.
Kacsmaryk's 26-page decision describes drag performances as lewd and licentious, obscene and sexually prurient, despite arguments the plaintiffs had presented about the social, political, and artistic merit of this art form.
Judge Matthew Kacsmaryk refuses to grant relief to Texas college students who may be punished for hosting a drag show.

His condemns drag as "vulgar and lewd" "sexualized conduct" that harms children and is likely unprotected by the First Amendment. https://t.co/UPeolMfGON

— Mark Joseph Stern (@mjs_DC) September 22, 2023
As the Human Rights Campaign recently wrote, "drag artists and the spaces that host their performances have long served as a communal environment for queer expression."
The group added, "It is a form of art and entertainment, but, historically, the performances haven't only served to entertain, but also to truly advance the empowerment and visibility of LGBTQ+ people."
Nevertheless, anti-LGBTQ conservative activists and organizations have perpetuated conspiracy theories about members of the community targeting children for sexual abuse including by bringing them to drag performances.
Among these is a group with ties to the Proud Boys that was cited by Kacsmaryk in his ruling: Gays Against Groomers, an anti-LGBTQ and anti-transgender extremist group, according to the Anti-Defamation League and Southern Poverty Law Center.