9 races to watch as gays run for Congress
Baldwin seeks to become first openly gay senator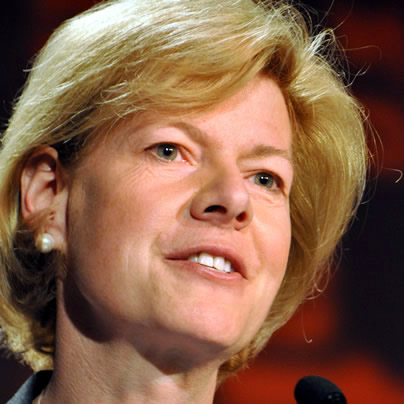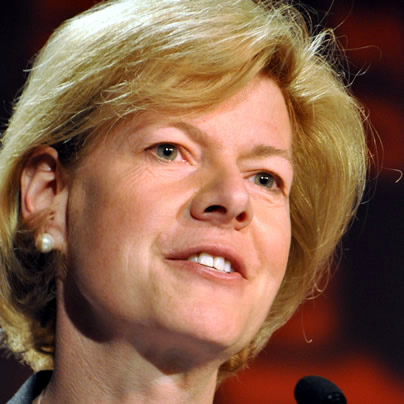 A record number of openly gay candidates running for Congress will face their critical test on Tuesday as many — including U.S. Senate candidate Tammy Baldwin — are seeing polls tighten as Election Day approaches.
HOW DO BARACK OBAMA AND MITT ROMNEY COMPARE ON LGBT ISSUES? 
A total of nine openly gay, lesbian and bisexual candidates are seeking office in the U.S. House and U.S. Senate. With the retirement of gay Rep. Barney Frank, openly LGBT representation in Congress will look very different after next week.
Baldwin's race is the most high-profile among these candidates because she'd be the first openly gay person elected to the U.S. Senate and the outcome of the race against Republican former Gov. Tommy Thompson may determine which party controls the chamber after the election.
Denis Dison, a spokesperson for the Gay & Lesbian Victory Fund, said all eyes will be on the race because — following the spike in polls that Baldwin enjoyed after her speech at the Democratic National Convention — the contest has become increasingly high-profile and competitive due to spending from outside conservative groups.
"I know groups like Karl Rove's Crossroads GPS and Americans for Prosperity — also the U.S. Chamber [of Commerce] — I think the total amount is about $13 million they have spent on ads attacking Tammy," Dison said. "That has caused the race to get very close."
N.H. MARRIAGE EQUALITY AT STAKE IN GUBERNATORIAL RACE
For her part, Baldwin made public on Oct. 30 her closing TV ad showing workers and families as well as footage of her campaigning with former President Bill Clinton.
"One big difference between Tammy Baldwin and Tommy Thompson is that she stood up to the special interests, and he's stood up for them," Clinton says in a voice over. "If you put people first, it works better than trickle-down economics."
Another race that will be closely watched is Massachusetts' 9th congressional district — where gay Republican challenger Richard Tisei seems poised to beat Democratic incumbent Rep. John Tierney.
WHERE ARE YOU WATCHING ELECTION NIGHT?
New York's 18th congressional district is another race of interest to the LGBT community. Gay Democrat Sean Patrick Maloney is seeking to unseat Republican U.S. Rep. Nan Hayworth, who has a pro-LGBT record in Congress and the backing of gay conservative groups.
In a statement to the Washington Blade, Maloney said the LGBT community should rally behind him because Hayworth has aligned herself with conservative groups.
"Tea Party Congresswoman Nan Hayworth doesn't believe that my family is equal to hers or that members of the LGBT community deserve equal protection under the law," Maloney said. "I think folks around the country, LGBT and otherwise, are tired of this extreme ideology."
9 gay candidates to watch this election day
REP. TAMMY BALDWIN
Race: U.S. Senate seat in Wisconsin
Opponent: Republican former Wisconsin Gov. Tommy Thompson
Significance: Baldwin, a Democrat, would be first openly gay person elected to the U.S. Senate.
Polls: 10/28 Rasmussen Reports — Thompson 48, Baldwin, 47; 10/22 Mason-Dixon — Baldwin 47, Thompson, 45.
RICHARD TISEI
Race: U.S. House seat in Massachusetts, District 6
Opponent: Incumbent Democrat U.S. Rep. John Tierney
Significance: Tisei would be the first openly gay Republican elected to Congress as a non-incumbent and the only out Republican serving on Capitol Hill.
Polls: 10/1 Boston Globe — Tisei 37, Tierney 31.
REP. DAVID CICILLINE
Race: U.S. House seat in Rhode Island, District 1
Opponent: Republican challenger Brendan Doherty
Significance: Cicilline, a Democrat, is pursuing his first re-election effort since becoming the fourth sitting openly gay member of Congress in 2010.
Polls: 10/10 Brown University — Cicilline 46, Doherty 40.
SEAN PATRICK MALONEY
Race: U.S. House seat in New York, District 18
Opponent: Republican incumbent U.S. Rep. Nan Hayworth
Significance: Maloney, a Democrat, would be the first openly gay member of Congress from New York State.
Polls: 10/19 Siena College — Hayworth 49, Maloney 42.
O'MALLEY : MD MARRIAGE CAMPAIGN 'IN GOOD SHAPE'
MARK POCAN
Race: U.S. House seat in Wisconsin, District 2
Opponent: Republican candidate Chad Lee
Significance: Pocan would replace Baldwin in the U.S. House.
Polls: The district is widely considered a Democratic safe seat and Pocan is expected to win.
REP. JARED POLIS
Race: U.S. House seat in Colorado, District 2
Opponent: Republican challenger Susan Hall
Significance: Polis is set to become the most senior openly gay member of the U.S. House.
Polls: The district is widely considered a Democratic safe seat and Polis is expected to win re-election.
KYRSTEN SINEMA
Race: U.S. House seat in Arizona, District 9
Opponent: Republican candidate Vernon Parker
Significance: Sinema, a Democrat, would be the first openly bisexual person elected to Congress.
Polls: 10/16 Summit Consulting Group —Parker 44, Sinema 42.
MARK TAKANO
Race: U.S. House seat in California, District 41
Opponent: Republican candidate John Tavaglione
Significance: Takano, a Japanese-American Democrat, would be the first openly gay person of color elected to Congress.
Polls: 8/21 EMC Research — Takano 42, Tavaglione 38
GAY DELAWARE STATE SENATE CANDIDATES POISED TO MAKE HISTORY
NICOLE LEFAVOUR
Race: U.S. House seat in Idaho, District 2
Opponent: Republican U.S. Rep. Mike Simpson
Significance: LeFavour, a Democrat, isn't endorsed by the Gay & Lesbian Victory Fund.
Polls: The district is widely considered a Republican safe seat and Simpson is expected to win.
New Supreme Court term includes critical LGBTQ case with 'terrifying' consequences
Business owner seeks to decline services for same-sex weddings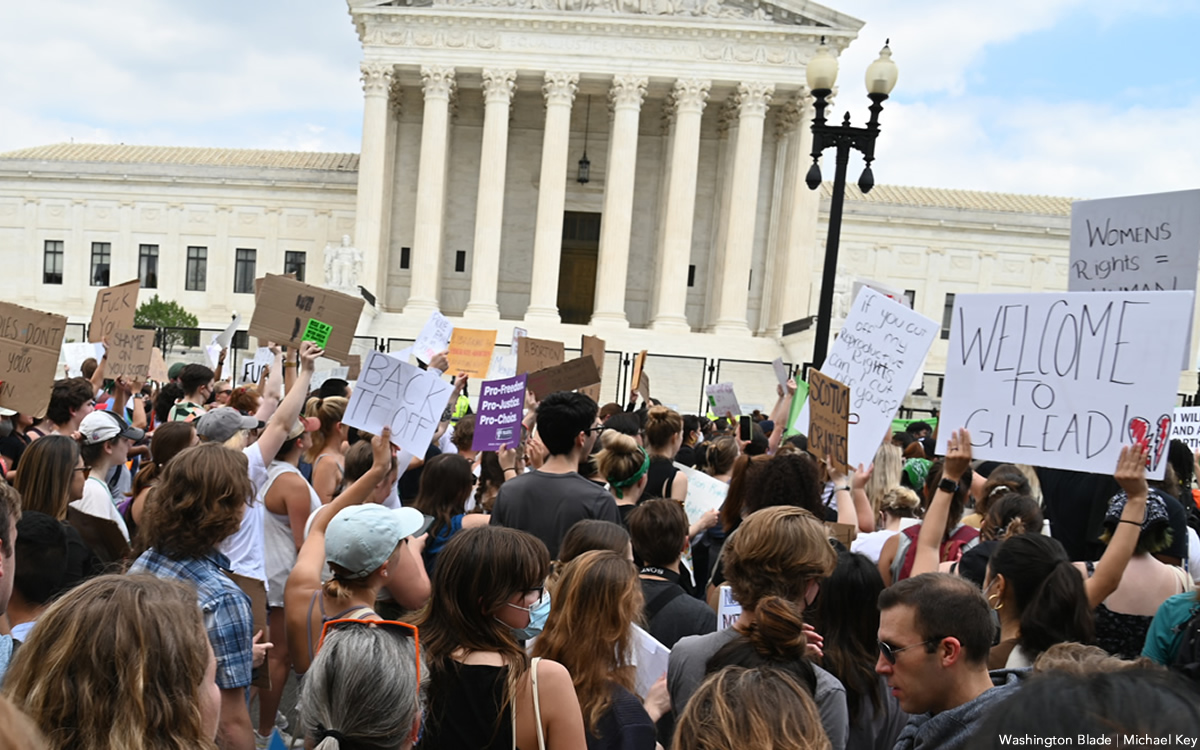 The U.S. Supreme Court, after a decision overturning Roe v. Wade that still leaves many reeling, is starting a new term with justices slated to revisit the issue of LGBTQ rights.
In 303 Creative v. Elenis, the court will return to the issue of whether or not providers of custom-made goods can refuse service to LGBTQ customers on First Amendment grounds. In this case, the business owner is Lorie Smith, a website designer in Colorado who wants to opt out of providing her graphic design services for same-sex weddings despite the civil rights law in her state.
Jennifer Pizer, acting chief legal officer of Lambda Legal, said in an interview with the Blade, "it's not too much to say an immeasurably huge amount is at stake" for LGBTQ people depending on the outcome of the case.
"This contrived idea that making custom goods, or offering a custom service, somehow tacitly conveys an endorsement of the person — if that were to be accepted, that would be a profound change in the law," Pizer said. "And the stakes are very high because there are no practical, obvious, principled ways to limit that kind of an exception, and if the law isn't clear in this regard, then the people who are at risk of experiencing discrimination have no security, no effective protection by having a non-discrimination laws, because at any moment, as one makes their way through the commercial marketplace, you don't know whether a particular business person is going to refuse to serve you."
The upcoming arguments and decision in the 303 Creative case mark a return to LGBTQ rights for the Supreme Court, which had no lawsuit to directly address the issue in its previous term, although many argued the Dobbs decision put LGBTQ rights in peril and threatened access to abortion for LGBTQ people.
And yet, the 303 Creative case is similar to other cases the Supreme Court has previously heard on the providers of services seeking the right to deny services based on First Amendment grounds, such as Masterpiece Cakeshop and Fulton v. City of Philadelphia. In both of those cases, however, the court issued narrow rulings on the facts of litigation, declining to issue sweeping rulings either upholding non-discrimination principles or First Amendment exemptions.
Pizer, who signed one of the friend-of-the-court briefs in opposition to 303 Creative, said the case is "similar in the goals" of the Masterpiece Cakeshop litigation on the basis they both seek exemptions to the same non-discrimination law that governs their business, the Colorado Anti-Discrimination Act, or CADA, and seek "to further the social and political argument that they should be free to refuse same-sex couples or LGBTQ people in particular."
"So there's the legal goal, and it connects to the social and political goals and in that sense, it's the same as Masterpiece," Pizer said. "And so there are multiple problems with it again, as a legal matter, but also as a social matter, because as with the religion argument, it flows from the idea that having something to do with us is endorsing us."
One difference: the Masterpiece Cakeshop litigation stemmed from an act of refusal of service after owner, Jack Phillips, declined to make a custom-made wedding cake for a same-sex couple for their upcoming wedding. No act of discrimination in the past, however, is present in the 303 Creative case. The owner seeks to put on her website a disclaimer she won't provide services for same-sex weddings, signaling an intent to discriminate against same-sex couples rather than having done so.
As such, expect issues of standing — whether or not either party is personally aggrieved and able bring to a lawsuit — to be hashed out in arguments as well as whether the litigation is ripe for review as justices consider the case. It's not hard to see U.S. Chief Justice John Roberts, who has sought to lead the court to reach less sweeping decisions (sometimes successfully, and sometimes in the Dobbs case not successfully) to push for a decision along these lines.
Another key difference: The 303 Creative case hinges on the argument of freedom of speech as opposed to the two-fold argument of freedom of speech and freedom of religious exercise in the Masterpiece Cakeshop litigation. Although 303 Creative requested in its petition to the Supreme Court review of both issues of speech and religion, justices elected only to take up the issue of free speech in granting a writ of certiorari (or agreement to take up a case). Justices also declined to accept another question in the petition request of review of the 1990 precedent in Smith v. Employment Division, which concluded states can enforce neutral generally applicable laws on citizens with religious objections without violating the First Amendment.
Representing 303 Creative in the lawsuit is Alliance Defending Freedom, a law firm that has sought to undermine civil rights laws for LGBTQ people with litigation seeking exemptions based on the First Amendment, such as the Masterpiece Cakeshop case.
Kristen Waggoner, president of Alliance Defending Freedom, wrote in a Sept. 12 legal brief signed by her and other attorneys that a decision in favor of 303 Creative boils down to a clear-cut violation of the First Amendment.
"Colorado and the United States still contend that CADA only regulates sales transactions," the brief says. "But their cases do not apply because they involve non-expressive activities: selling BBQ, firing employees, restricting school attendance, limiting club memberships, and providing room access. Colorado's own cases agree that the government may not use public-accommodation laws to affect a commercial actor's speech."
Pizer, however, pushed back strongly on the idea a decision in favor of 303 Creative would be as focused as Alliance Defending Freedom purports it would be, arguing it could open the door to widespread discrimination against LGBTQ people.
"One way to put it is art tends to be in the eye of the beholder," Pizer said. "Is something of a craft, or is it art? I feel like I'm channeling Lily Tomlin. Remember 'soup and art'? We have had an understanding that whether something is beautiful or not is not the determining factor about whether something is protected as artistic expression. There's a legal test that recognizes if this is speech, whose speech is it, whose message is it? Would anyone who was hearing the speech or seeing the message understand it to be the message of the customer or of the merchants or craftsmen or business person?"
Despite the implications in the case for LGBTQ rights, 303 Creative may have supporters among LGBTQ people who consider themselves proponents of free speech.
One joint friend-of-the-court brief before the Supreme Court, written by Dale Carpenter, a law professor at Southern Methodist University who's written in favor of LGBTQ rights, and Eugene Volokh, a First Amendment legal scholar at the University of California, Los Angeles, argues the case is an opportunity to affirm the First Amendment applies to goods and services that are uniquely expressive.
"Distinguishing expressive from non-expressive products in some contexts might be hard, but the Tenth Circuit agreed that Smith's product does not present a hard case," the brief says. "Yet that court (and Colorado) declined to recognize any exemption for products constituting speech. The Tenth Circuit has effectively recognized a state interest in subjecting the creation of speech itself to antidiscrimination laws."
Oral arguments in the case aren't yet set, but may be announced soon. Set to defend the state of Colorado and enforcement of its non-discrimination law in the case is Colorado Solicitor General Eric Reuel Olson. Just this week, the U.S. Supreme Court announced it would grant the request to the U.S. solicitor general to present arguments before the justices on behalf of the Biden administration.
With a 6-3 conservative majority on the court that has recently scrapped the super-precedent guaranteeing the right to abortion, supporters of LGBTQ rights may think the outcome of the case is all but lost, especially amid widespread fears same-sex marriage would be next on the chopping block. After the U.S. Tenth Circuit Court of Appeals ruled against 303 Creative in the lawsuit, the simple action by the Supreme Court to grant review in the lawsuit suggests they are primed to issue a reversal and rule in favor of the company.
Pizer, acknowledging the call to action issued by LGBTQ groups in the aftermath of the Dobbs decision, conceded the current Supreme Court issuing the ruling in this case is "a terrifying prospect," but cautioned the issue isn't so much the makeup of the court but whether or not justices will continue down the path of abolishing case law.
"I think the question that we're facing with respect to all of the cases or at least many of the cases that are in front of the court right now, is whether this court is going to continue on this radical sort of wrecking ball to the edifice of settled law and seemingly a goal of setting up whole new structures of what our basic legal principles are going to be. Are we going to have another term of that?" Pizer said. "And if so, that's terrifying."
Lesbian candidate trails by just 17 votes in Hyattsville Council race
Election board mum on whether all ballots are counted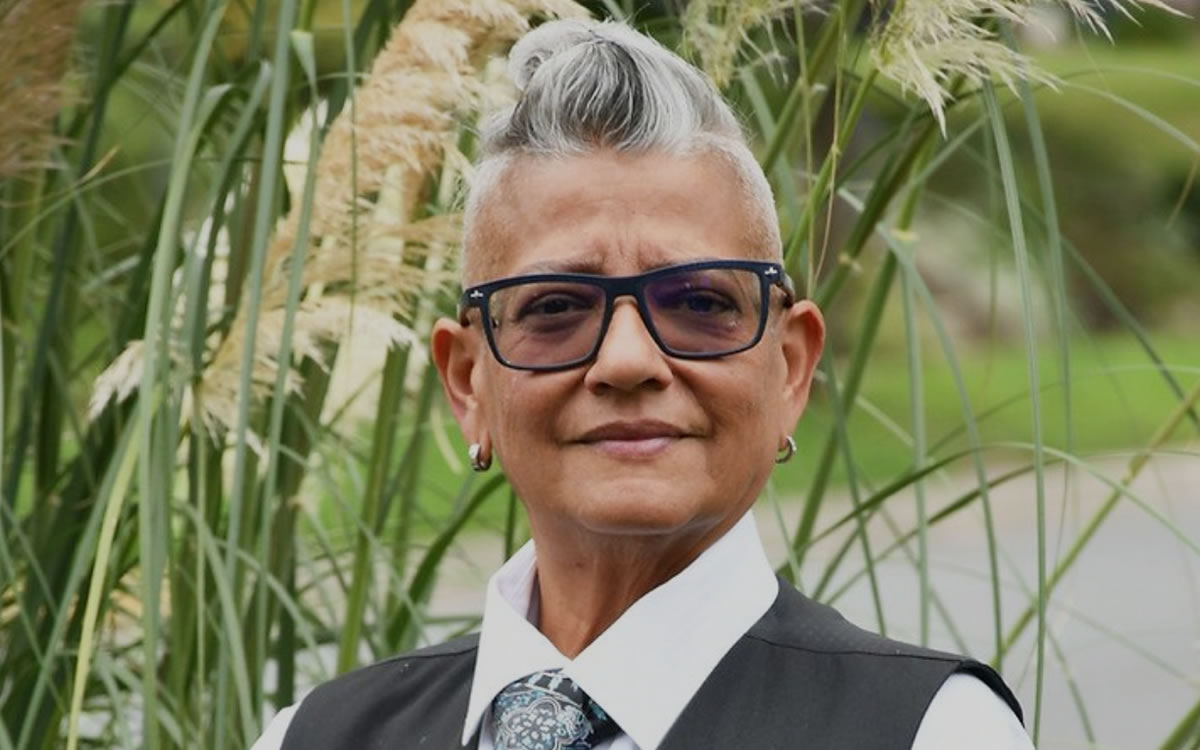 Lesbian activist and diversity consultant Lisbeth Melendez Rivera was behind her closet rival by just 17 votes on Tuesday night in a three-candidate special election to fill a vacant seat on the Hyattsville, Md., City Council.
In what it said were the unofficial results of the special election, the Hyattsville Board of Supervisors of Elections posted on its website that candidate Emily Strab had 280 votes, Melendez Rivera had 263 votes, and candidate Kelly Burello had 152 votes. Three votes were cast for write-in candidates, the election night posting said.
"Results are unofficial until certified by the Board of Supervisors of Election," the posting said. The certification was scheduled to take place at 1 p.m. Thursday, Oct. 6.
The online posting of the results did not say whether there were any outstanding votes from absentee or mail-in ballots. A spokesperson for the election board couldn't immediately be reached Tuesday night or Wednesday morning.
The Ward 2 seat on the 10-member Hyattsville Council in the Prince George's County suburban city became vacant when the incumbent Council member, Robert Croslin, won election as mayor.
Melendez Rivera currently operates BQN Consulting, a firm she created to provide support services related to organizing, training and capacity building, according to the firm's website. The website says that from 2014 to 2017 she served as Director of Latinx & Catholic Initiatives for the Human Rights Campaign, the D.C.-based national LGBTQ advocacy organization.
"I congratulated Emily," Melendez Rivera told the Washington Blade Wednesday morning.
"Have I said this is the end? No, because I want to wait until tomorrow at 1 to see the outcome," she said.
"What I know is everything that was available to them was counted as of 9:30 last night," she said, referring to the election board. "There is a process today. They will do a last check of the mail to see if anything was postmarked before 8 p.m. last night," Melendez Rivera said in referring to possible additional mail-in ballots.
Melendez Rivera said she portrayed herself as the most progressive of the three candidates running for the nonpartisan City Council seat in a city that many consider to be one of the most progressive jurisdictions in the Washington metro area. Residents starting at age 16 and non-citizen immigrants are allowed to vote in local elections.
Like Melendez Rivera, Strab, a former teacher and school administrator, and Burello, who has worked as a workplace diversity trainer, each expressed support for Hyattsville's diverse population, including racial minorities and immigrants.
The 698 total votes cast in the special election as of Tuesday night is considered a low turnout in the Ward 2 election district, which has a little over 2,000 registered voters.
This story will be updated when new information becomes available.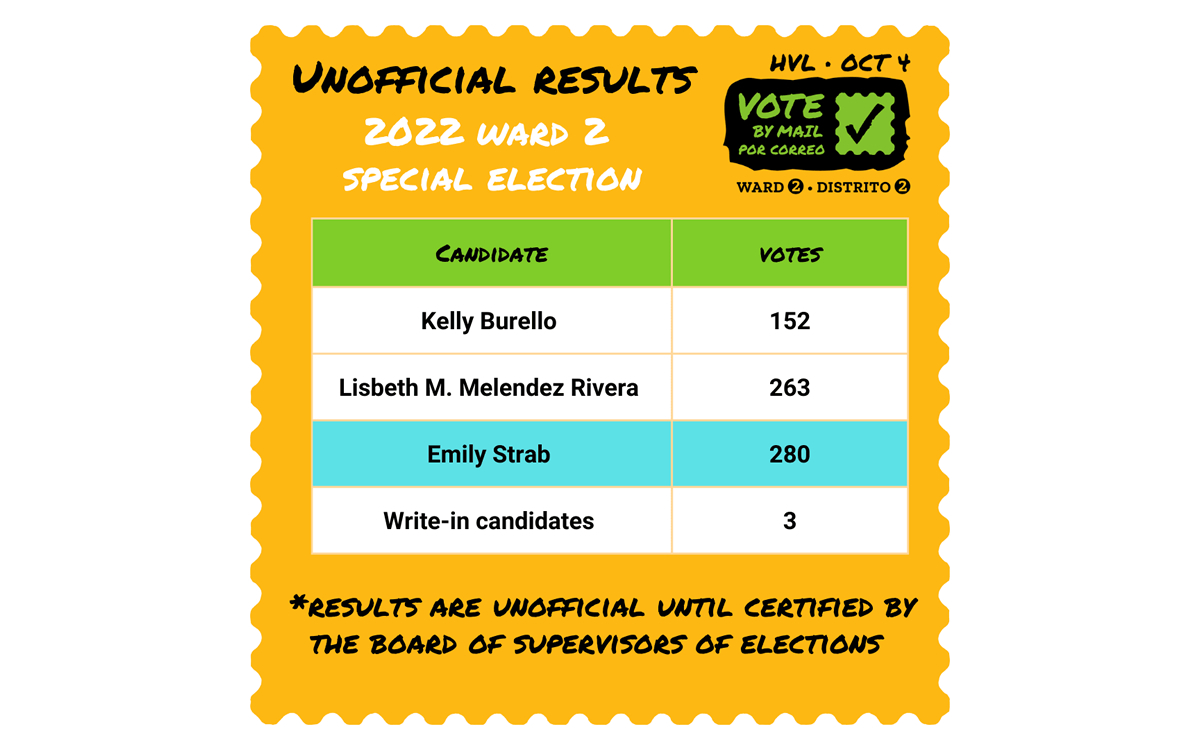 Gay ANC commissioner nominated for director of D.C. Office of ANCs
Confirmation hearing set for Oct. 12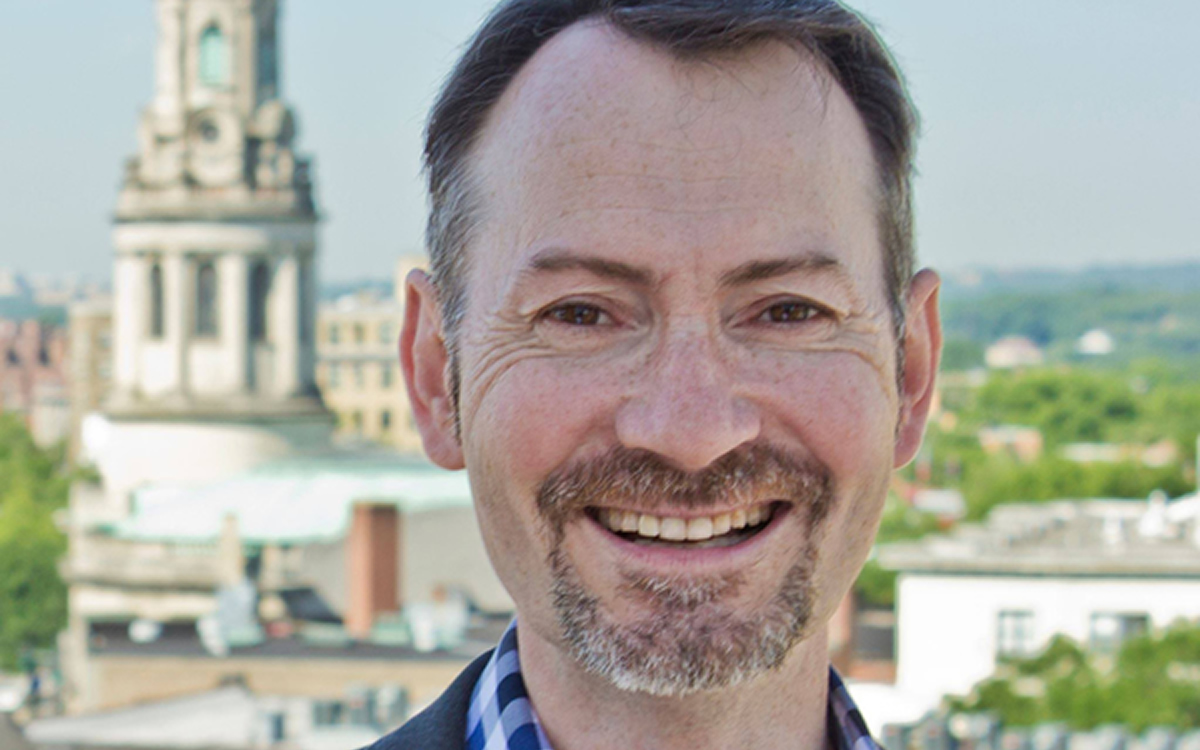 D.C. Council Chair Phil Mendelson (D-At-Large) on Sept. 19 introduced a resolution nominating gay law librarian and Ward 1 Advisory Neighborhood Commissioner Kent Boese to become executive director of the D.C. Office of Advisory Neighborhood Commissions.
The ANC Office director, who is nominated and confirmed by the Council, oversees the operations of the city's 40 ANCs, which consist of nearly 300 commissioners representing single member ANC districts located in neighborhoods throughout each of the city's eight wards.
Boese currently represents ANC Single Member District 1A08 in Ward 1.
Shawn Hilgendorf, staff director of the D.C. Council Committee on Government Operations and Facilities, which has jurisdiction over the Office of ANCs, said Mendelson nominated Boese for the Executive Director's position after the committee earlier this year accepted applications for the position and "interviewed a number of candidates."
The Council's Committee of the Whole, which is chaired by Mendelson, is scheduled to hold a confirmation hearing for Boese on Oct. 12, Hilgendorf said. The committee consists of all 13 members of the Council. If it approves Boese's nomination, as expected, the full Council is expected to then take a final vote on the resolution calling for Boese's appointment.
Boese is a former president of the D.C. Gertrude Stein Democratic Club, the city's largest local LGBTQ political group, which has since changed its name to the Capital Stonewall Democrats. In 2018, Boese ran unsuccessfully as a candidate for the Ward 1 D.C. Council seat in the Democratic primary.
A resumé for Boese submitted to the Council at the time of his nomination says he has worked since August 2008 as a law librarian, manager of technical services, and manager of library services for the D.C. law firm Wiley Rein.
"I'm honored & humbled by the confidence & support I've received from Chairman Mendelson during the selection process for a new Director of OANC," Boese wrote in a Twitter posting. "I'm excited to leverage my ANC experience & relationships to build stronger supports & new services for ANCs across DC."
Created under the city's Home Rule Charter in the 1970s, ANCs serve as non-partisan, unpaid bodies that advise city government agencies on a variety of issues impacting neighborhoods, including zoning, trash collection, liquor license approval, and public safety. Although D.C. government agencies make the final decisions on these issues, they are required to give "great weight" to the recommendations of the ANCs.
ANC commissioners are elected to two-year terms by the approximately 2,000 people who live in their Single Member Districts.
The director of the ANC Office oversees the administrative affairs, including the budgets, for all of the ANCs. The position became vacant last year when its longtime director Gottlieb Simon resigned. The Council appointed Schannette Grant as interim executive director while it conducted its search for a permanent director.