Gay attorney elected head of Rehoboth marriage bureau
Anti-gay mailers attacked losing gay candidates in Delaware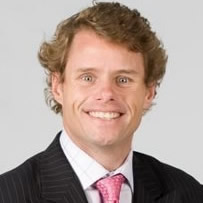 In a little noticed development, an openly gay attorney won election on Nov. 6 as Clerk of the Peace in conservative, Republican leaning Sussex County, Del., where the liberal enclave of Rehoboth Beach is located.
John Brady, a Democrat, defeated a Republican opponent by a margin of 54 percent to 44 percent, winning in parts of the county where gay Democrats Andy Staton and Marie Mayor lost their bids to become the first openly gay members of the Delaware Legislature.
As Clerk of the Peace, Brady, among other things, will issue marriage and civil unions licenses as well as perform civil marriages and civil unions in his role as head of the Sussex County Marriage Bureau.
Staton lost in a newly created State Senate district and Mayor lost in a newly created State House of Representatives district that most political observers believed to be favorable to Democrats.
But Staton, a Rehoboth Realtor, and Mayor, a farmer and businesswoman in the town of Milton, became the target of attack mailings and emails generated by the anti-gay Delaware Family Policy Council.
"Did you hear? The largest gay activist group in the country, the Gay and Lesbian Victory Fund, just endorsed – and is fully backing – two Delaware candidates: Andy Staton for Senate in the new 6th district and Marie Mayor for Rep. in the new 20th district (Georgetown, Milton, Lewis, Rehoboth)," says an Oct. 17 email to voters from Nicole Theis, president of the Delaware Family Policy Council.
Theis' email quotes from a Victory Fund statement supporting Staton and Mayor that says the two "understand that Delaware is only 1 or 2 votes away from passing same-sex 'marriage.'" Theis implies in her email — printed copies of which reportedly were distributed in dozens of churches — that Staton and Mayor's election could result in the approval of a gay marriage bill by the Delaware Legislature.
"We also uncovered from sources on the ground that hundreds of out-of-state gay activists with a radical agenda are in Delaware door knocking by twos for Mayor and Staton," Theis said in her email.
Republican Ernesto "Ernie" Lopez beat Staton by a 56.1 percent to 42.7 percent margin. GOP opponent Stephen Smyk defeated Mayor by a margin of 53.2 percent to 46.8 percent.
The Cape Gazette, a newspaper that covers Delaware's eastern shore communities, including Sussex County, reported that Lopez beat Staton in 15 of the 17 precincts in the district where the two ran, with Staton winning only one precinct in his home base of Rehoboth Beach and one in Milton.
Smyk beat Mayor in 8 of the 10 precincts in the 20th House district, in which the two competed, according to the Cape Gazette.
"It just wasn't in the cards for a Democrat down here in Sussex County," Staton told the Blade. "I'm told there was an 80 percent Republican turnout in this part of the county and a much lower Democratic turnout."
Sussex was the only one of Delaware's three counties to give Republican presidential candidate Mitt Romney a win over President Obama in the Nov. 6 election.
However, other popular state Democrats who are strong supporters of LGBT rights did win in Sussex. Among them were Gov. Jack Markell, U.S. Sen. Thomas Carper, U.S. Rep. John Carney, and state Rep. Pete Schwartzkopf, whose district includes Rehoboth Beach. All four won their re-election bids.
Brady, who's been openly gay in the county for more than 10 years, said the Family Policy Council did not target him, possibly because the group knew he's widely known and respected by many Republicans and Democrats.
Brady, 53, changed his party affiliation from Republican to Democrat in 2009. He's been praised as a good government advocate during his tenure as an elected and appointed official in offices that include county Recorder of Deeds and solicitor, or attorney, for the towns of Milton, Dewey Beach and Ellendale.
"I flew by the wire," he said in explaining his Nov. 6 victory, which made him the only non-incumbent Democrat to win a county-wide race in Sussex.
"I have a record that people know about," he said. "When you run the land office you don't run on gay or straight issues, you run on getting the job done and saving the taxpayers money."
Brady ran against 23-year-old security guard Brooks Witzke, a Republican who stated in campaign appearances that he's a conservative Christian who opposes same-sex marriage and would lobby the state legislature to repeal the civil unions law, which lawmakers passed in 2011.
Bowser's highest-level adviser resigns after sexual harassment allegation
Female staffer accuses John Falcicchio of longstanding abuse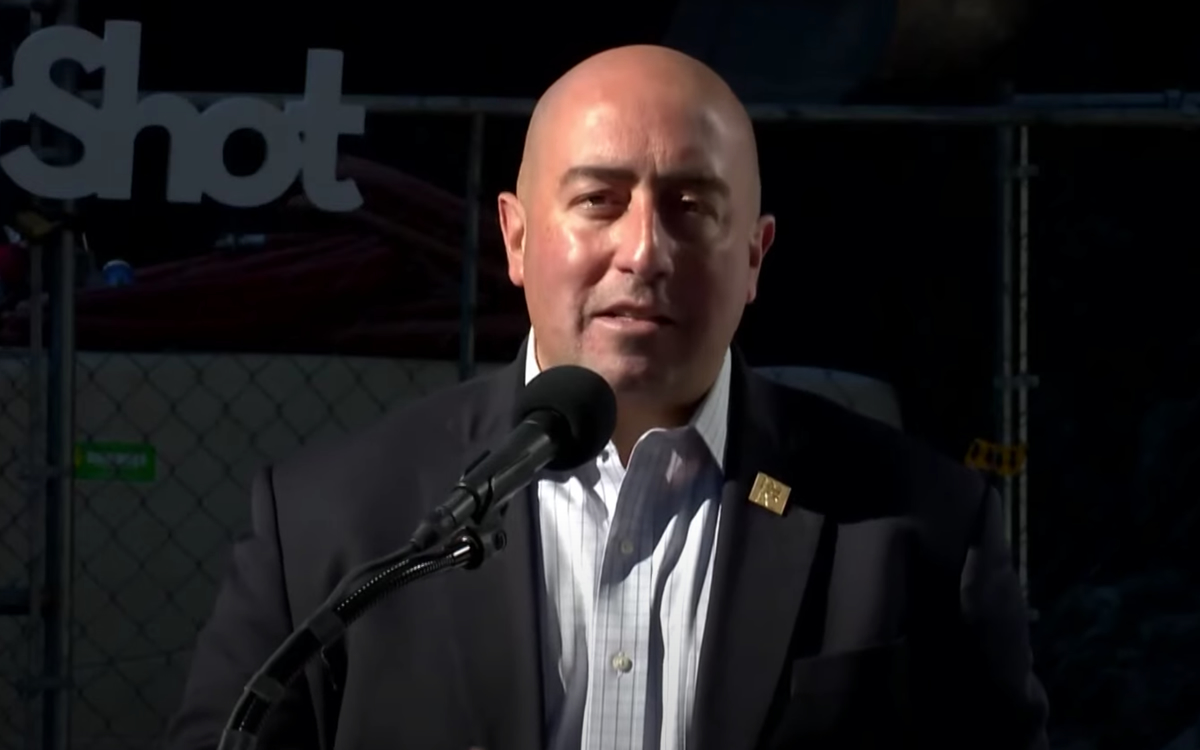 Lawyers representing a D.C. government employee shook up the city's political establishment on Monday when they announced that the employee filed a sexual harassment complaint against John Falcicchio, the now former D.C. Deputy Mayor for Planning and Economic Development and Mayor Muriel Bowser's longtime chief of staff.
The attorneys, Debra Katz and Kayla Morin, did not identify the city employee.
The announcement by Katz and Morin in a press release came shortly after Mayor Bowser issued her own announcement at a news conference on the same day. The mayor confirmed that Falcicchio's sudden resignation last Friday, March 17, followed her decision to launch an investigation into allegations against Falcicchio.
But Bowser said issues surrounding her longtime adviser's departure amounted to "a sensitive matter that includes privacy concerns" that prevented her from disclosing why she initiated the investigation and why Falcicchio abruptly resigned.
She said the investigation was being conducted by the city's Office of Legal Counsel, which is "following established policies and procedures" and that all relevant D.C. government staff members were fully cooperating with the investigation.
"I can also tell you that this investigation does not involve any allegations of improprieties related to business transactions," Bowser told reporters attending the news conference, which was initially called to celebrate the completion of the city's 9th Street, N.W. protected bike lane project and to discuss updates on the Capital Bikeshare program.
"I have every confidence in my new chief of staff, Lindsey Parker, and in our new Interim Deputy Mayor for Planning and Economic Development, Keith Anderson," Bowser said at the news conference. "And I have immense confidence in the 37,000 employees of the D.C. government who will keep us moving forward," she said.
Parker has served as the city's chief technology officer since 2019 and as assistant city administrator since 2022. Anderson has served as director of the D.C. Department of General Services, which oversees the city's buildings and properties.
"We represent an employee of the District of Columbia who came forward to report serious allegations of sexual harassment by former Chief of Staff and Deputy Mayor for Planning and Economic Development John Falcicchio," the statement released by attorneys Katz and Morin says.
"It is our understanding that this behavior is longstanding, and our client is cooperating fully with the investigation, which Mayor Bowser initiated immediately," the statement continues. "Our client is courageous. She came forward to ensure accountability and protect other women," it says. "Given the gravity of our client's allegations – which involve unwelcome advances and sexual contact – we ask the media to respect her privacy," the statement says.
It concludes by encouraging "everyone affected" to contact Maia Ellis, the Associate Director of the Mayor's Office of Legal Counsel, who's leading the investigation, at [email protected].
Katz is a founding partner and Morin is an associate of the D.C. law firm Katz Banks Kumin, which specializes in sexual harassment law, whistleblower law, and employment law, according to a write-up on its website.
Md. Senate approves transgender rights bill
Maryland House of Delegates passed similar measure on Saturday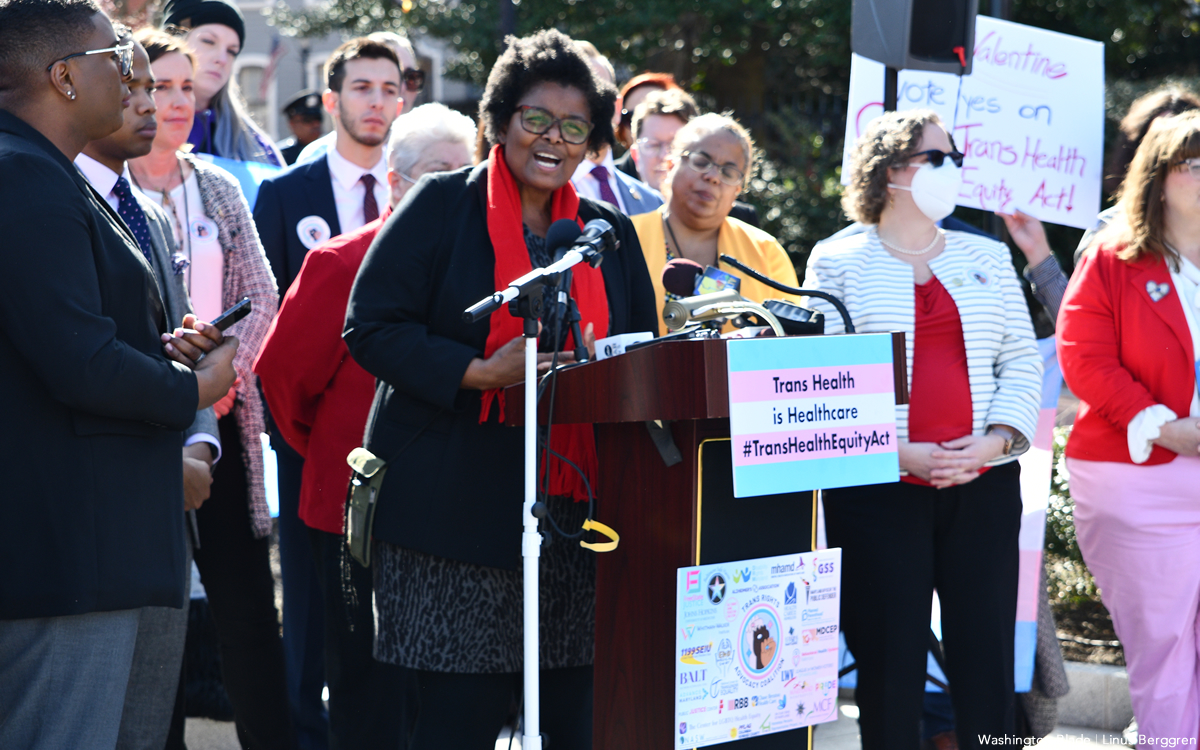 The Maryland Senate on Monday approved a bill that would require the state's Medicaid program to cover gender-affirming treatment for transgender people.
Senate Bill 460 or the Trans Health Equity Act passed by a 31-15 vote margin.
"Requiring, beginning on Jan. 1, 2023, the Maryland Medical Assistance Program to provide gender-affirming treatment in a nondiscriminatory manner; requiring that the gender-affirming treatment be assessed according to nondiscriminatory criteria that are consistent with current clinical standards; prohibiting the issuance of an adverse benefit determination related to gender-affirming treatment unless a certain experienced health care provider has reviewed and confirmed the appropriateness of the determination; etc," reads a summary of the bill.
The Maryland House of Delegates on Saturday passed a similar measure.
Md. House of Delegates approves transgender rights bill
State Medicaid program would be required to cover gender-affirming treatment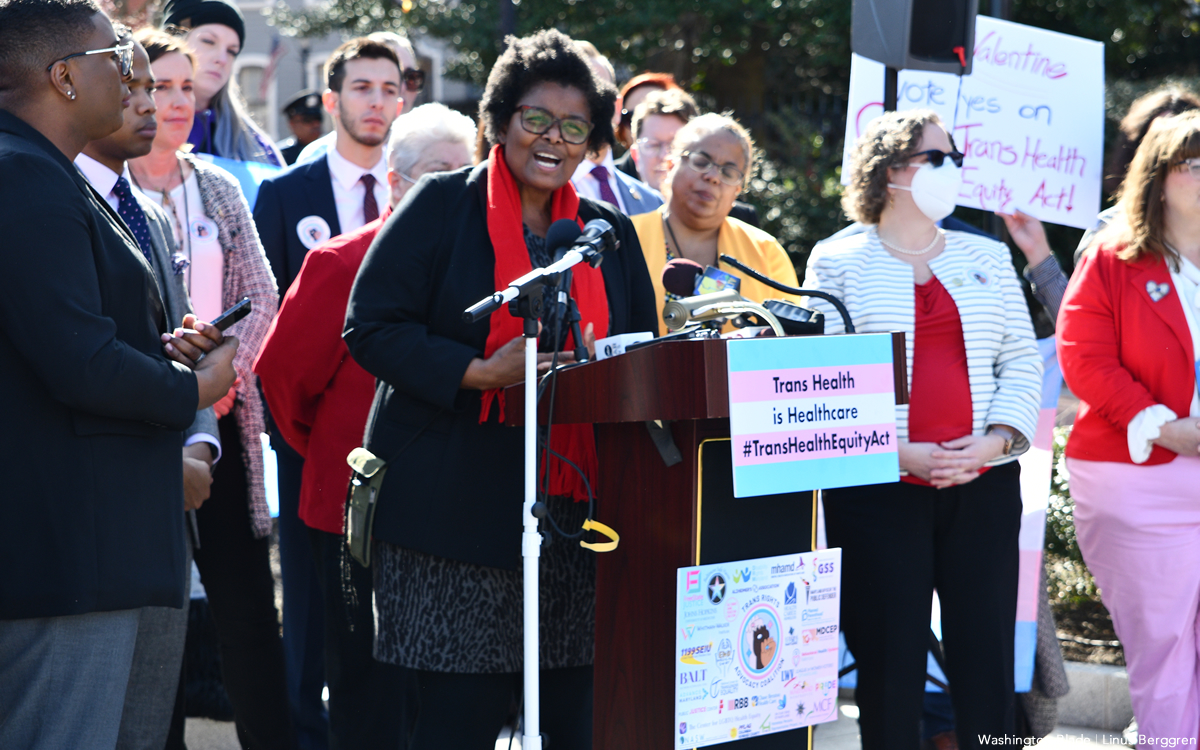 The Maryland House of Delegates on Saturday approved a bill that would require the state's Medicaid program to cover gender-affirming treatment for transgender people.
House Bill 283, or the Trans Health Equity Act, passed by a 93-37 vote margin. The measure now goes before the Maryland Senate.
"Proud that the MD House of Delegates passed the Trans Health Equity Act with such a strong majority," tweeted state Del. Anne Kaiser (D-Montgomery County), who introduced HB 283.
Proud that the MD House of Delegates passed the Trans Health Equity Act with such a strong majority. #TransHumanity pic.twitter.com/1E8MoDFQex

— Anne R. Kaiser (@DelegateKaiser) March 18, 2023