A journalist's convictions and a lawyer's fire
Remembering NLGJA's Michael Triplett, who died at 48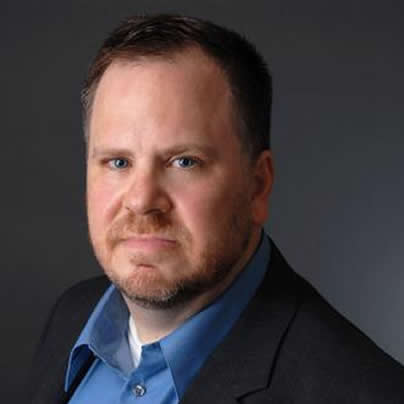 By MATTHEW E. BERGER
There are people who are constants in your life, arriving at an undefined moment and in the background for the large and small milestones. And then there are those who are with you for just a short time, but leave an impression that is everlasting.
Michael Triplett, president of the National Lesbian and Gay Journalists Association, died last month, losing his battle with oral cancer. He was too young—48—and had too much left to give. Michael had a journalist's convictions and a lawyer's fire. He was a strong advocate for the communities he cared for. But what he taught me was that quiet, persistent passion can often be more effective than being the loudest voice in the room.
I first met Michael six years ago when, as president of NLGJA's D.C. chapter, I sent out a notice seeking a treasurer. Michael responded that he knew how to balance a checkbook. We'd meet for coffee regularly, choosing our Starbucks based on the attractiveness of the baristas. It was there that I realized that Michael was not like many other journalists. He was stoic and focused in a fast-paced environment. Nothing seemed to faze him.
Michael succeeded me as chapter president and helped organize forums on the 2008 elections. He soon became a member of NLGJA's national board and then its vice president. Our friendship was upgraded as well, as we started meeting for brunch in Clarendon, at a spot chosen for its buffet (as well as the large number of cute, young suburban dads).
In the short time we were friends, Michael changed in my eyes. He became more outspoken, more comfortable in his own skin. He seemed to be hitting his stride. He found a partner, was promoted at work, was doing charity work overseas. Michael seemed happy, well adjusted, successful, as if he had the whole world in front of him.
On Michael's 47th birthday, he started a Tumblr page – My 48th Year. There, he spoke of his happiness at home and at work. "But I also get to see a doctor today about my cancer," he wrote. "A week after it being diagnosed, Jack and I are going to see a head and neck oncologist to figure out what to do about this little tumor on my tongue. Well, I hope it's little. I pray it's little. We will see."
Michael saw opportunity in everything, even cancer. He blogged often about the indignities of his treatment, how he lost the taste for food and found it difficult to shave. He wrote essays on oral cancer, its link to the human papilomavirus (HPV) and the potential for it to be spread through oral sex. And he showed the lighter side as well, how he may have been the only person who could thank cancer for making him look younger and thinner.
As he fought cancer, Michael pressed on. He rarely missed a meeting or an email exchange. He kept chairing committees and blogging for our website. When NLGJA was asked to join an alliance of minority journalists known as UNITY: Journalists for Diversity, Michael was the voice that brought calm to sometimes contentious meetings. He was the leader we needed, and he soon became our president.
Throughout the fall, it seemed Michael kept being told he needed one more treatment or surgery. When he got the news he had been dreading, that the cancer was terminal, he took to Tumblr to share the news and his thoughts—a writer to the end.
Michael showed me that advocacy can take many forms. He fought for what he believed in because he knew his thoughtful words and sweet nature would get his point across. He knew a good writer uses his pen for everything, from advocacy to therapy.
But more importantly, Michael showed me there is more than one way to make an impression. Michael left many, and our community is better for his efforts and his passion.
A memorial service will be held at noon on Saturday, Feb. 2 at St. Paul's Lutheran Church, 4900 Connecticut Ave., N.W. A reception will follow. Memorial contributions may be made to NLGJA (2110 L St., N.W., Suite 850, Washington, D.C. 20037); St. Paul's Lutheran Church; or to Hospice Family Care (3304 Westmill Dr., S.W., Huntsville, Ala. 35805).
Matthew E. Berger is vice president of Dezenhall Resources, a crisis communications firm, and a member of NLGJA's board of directors.
Non-alignment or hypocrisy: South Africa's non-alignment costing Africa's human rights discourse
Country must take stronger stance against Uganda's anti-homosexuality law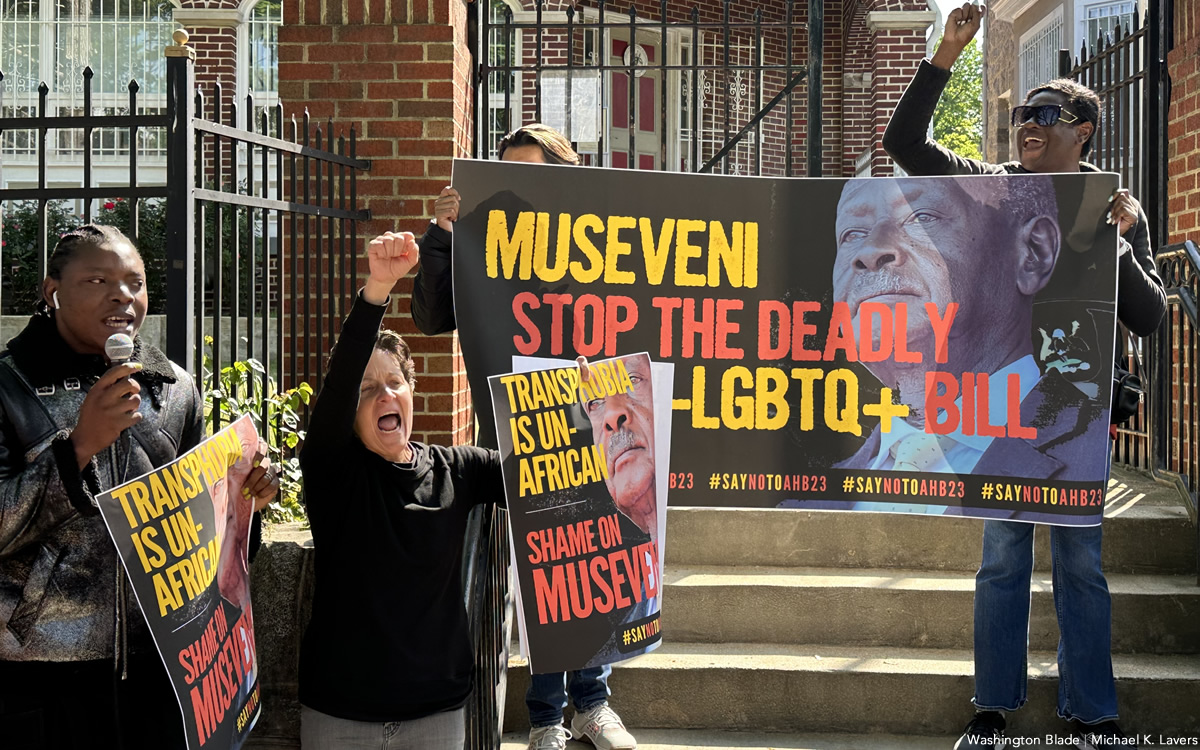 In the past several months, South Africa's foreign policy has been in the spotlight for essential and existential reasons that significantly impact geopolitics and the continent's stability.
The foreign policy for South Africa discussion document by the Department of International Relations highlights the "advancement of human rights and the promotion of democracy" as the pillars on which South Africa's foreign policy rests. This document emphasizes the role that South Africa is expected to play in the "promotion of human rights and democracy."
Minister Pandor echoed this document in her 2022 end-of-year remarks.
"We will continue with our unwavering position to advocate for a balanced Sustainable Development Program within the human rights framework as underlined in the Vienna Declaration and Program of Action (VDPA). In this regard, South Africa will be one of the chief proponents of a balanced agenda of the HRC, which reflects, among others, the primacy of achieving the realization of the right to development as well as moral human rights issues such as the eradication of poverty and underdevelopment."
South Africa has long been known for its commitment to human rights and its leadership in the fight against apartheid. However, its foreign policy continues to be viewed as ambiguous and nonresponsive to developments in African affecting the growth of the continent.
In 2021, President Ramaphosa — as chair of the SADC Organ Troika — committed to a national political dialogue in Eswatini to resolve the political killings in that country. However, the South African government has never followed up or called on the Eswatini government to adhere to its commitment, even as renowned human rights lawyer Thulani Maseko was mercilessly assassinated in January 2023. At the very least, this has not been seen publicly, which would be comforting to those political activists and citizens constantly living in fear in Eswatini.
On May 29, the president of Uganda enacted the draconian Anti-Homosexuality Act. The new law is a throwback to colonization, where religious fanatism was the basis for the persecution and killing of many Africans. While Africa seems to take the posture of "fighting against imperialism," it is saddening that this law is the brainchild of American zealots funding hate across Africa, whether it is in Uganda, Ghana, Kenya, Malawi or Namibia. These zealots, the Fellowship Foundation and many others, are well coordinated in their attacks on the judiciary and the African human rights framework, backed by the 75-year-old Universal Declaration of Human Rights.  
In an era where Africa is seen to be taking a stance against imperialism, I shudder to contemplate that hate may be the only imperialist agenda Africa is not actively standing up against. We know the history of petty offences like homelessness and loitering, sedition laws, and anti-LGBTI laws. These are remnants of colonization to keep Africa inferior and the colonial masters superior. Today, the hate continues through repressive and backwards sentiment being paraded as religious values. Uganda's anti-homosexuality law criminalizes what it calls "aggravated homosexuality" with the death penalty. It would be hard to imagine what "aggravated homosexuality" even means. 
This is another opportunity where South Africa's posture and foreign policy must be spotlighted. With the growing conversation about the ICC arrest warrant of President Putin, South Africa has reiterated its foreign policy as non-alignment and non-interference.
However, when the question of human rights and democracy is at play, all must take a stand. This law has been widely criticized by human rights organizations and the international community for violating the rights of LGBTIQ+ individuals and hindering the fight against HIV. It further impedes what Minister Pandor called the "balanced agenda of the HRC," which speaks to sustainable development within the human rights framework. 
It should be worrying if South Africa continues to maintain a policy of non-alignment and non-interference in the face of the new law in Uganda. While this policy may have its merits, it raises questions about South Africa's commitment to human rights and its role as a leader in Africa. A foreign policy that neglects the promotion of human rights and democratic principles is hypocritical. On the one hand, South Africa is seen as a leader in promoting LGBTIQ+ rights and has one of the most progressive constitutions in the world regarding protecting the rights of LGBTIQ+ individuals. However, on the other hand, it has failed to take a strong stance against Uganda's anti-homosexuality law, which is a clear violation of human rights.
By maintaining this policy, South Africa is essentially condoning Uganda's anti-homosexuality law and undermining the fight for human rights in Africa. This is particularly concerning given South Africa's leadership role in the African Union and its commitment to promoting human rights and democracy.
South Africa's foreign policy regarding Uganda's anti-homosexuality law raises questions about its commitment to non-alignment and human rights in Africa. While non-interference may have its merits, it should not come at the expense of human rights and the fight for equality and justice.
South Africa must take a stronger stance against Uganda's anti-homosexuality law and work towards promoting human rights and democracy in Africa.
Melusi Simelane is the Southern Africa Litigation Center's Civic Rights Program Manager.
Republicans prove how vile and frightening they can be
Attacks will continue if we don't defeat right-wing figures everywhere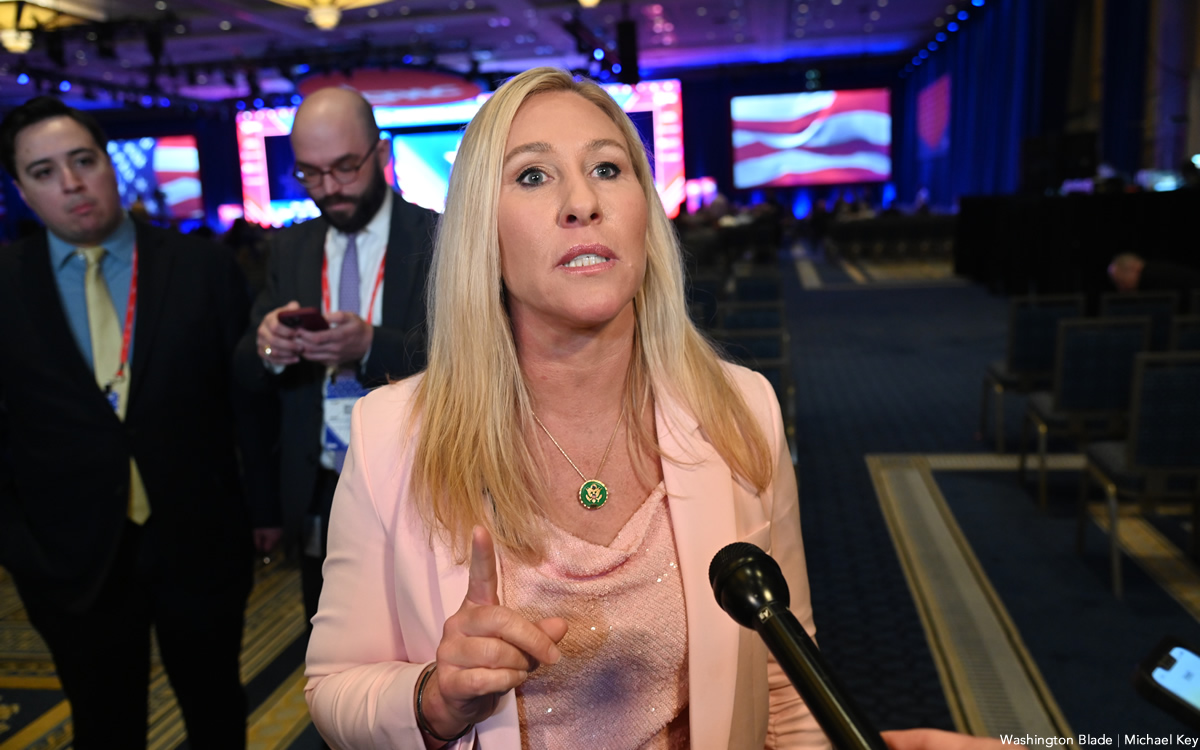 Day after day we see Republicans trying to outdo each other in how vile and frightening they can be. From the fight over the debt ceiling, to their presidential primary, they continue to try to take the nation backwards.
In the debt ceiling fight, they clearly say, "We will protect the wealthy in our country at all costs, and instead will cut, or eliminate, programs to help the poor." The far-right wing crazies like Marjorie Taylor Greene (R-Ga.), Matt Gaetz (R-Fla.), Andy Biggs (R-Ariz.), Chip Roy (R-Texas), and Lauren Boebert (R-Colo.), are threatening their own speaker, Kevin McCarthy (R-Calif.), with the loss of his job if he doesn't go along with what they want. Now that a deal has been cut, we will see how they, and left-leaning Democrats who have been putting pressure on President Biden to reject all Republican demands, will vote. These are facts of life in our nation today. Any person with a shred of decency should be embarrassed. I don't envy President Biden for what he has to do to keep the nation from defaulting on its debts. The political reality is that he had to give in on some issues. Democrats should not fault him, but rather blame Republicans.
It is scary when you see what Republicans are doing around the nation with regard to abortion rights, civil rights, and LGBTQ rights. One recent example being Florida Gov. Ron DeSantis proudly signing the bill making abortion only legal until six weeks. There are women who don't even know by then they are pregnant. Also, it's time men start understanding how this impacts them. Women need to remind the fathers what their responsibility will be if they both aren't ready for a child but are forced to have one.
One ignorant parent in Florida complained, and according to politico was able to have "A Miami-Dade elementary school limit some access to Amanda Gorman's presidential inauguration poem, 'The Hill We Climb,' complaining that it contained indirect "hate messages." This is insanity and the clear result of Trump's impact on the culture of the nation. He made it OK to once again have hatred spewed from the public square, frightening decent people.
Like the threats against Target. CNN reported the company was "removing some products that celebrate Pride month after the company and its employees became the focus of a "volatile" anti-LGBTQ campaign. The company told the Wall Street Journal that people have confronted workers in stores, knocked down Pride merchandise displays and put threatening posts on social media with video from inside stores. Some people have thrown Pride items on the floor, Target spokesperson Kayla Castaneda told Reuters. CNN went on to report "Prominent right-wing activists, Republican political leaders, and conservative media outlets, have focused their attention on a women's swimsuit that was described as "tuck friendly" for its ability to conceal male genitalia. Misinformation spread on social media that it was marketed to children, which it was not." Again, insanity, promoted by the right wing. The people doing this should be arrested and prosecuted.
It only gets worse as Republican candidates running for president try to outdo each other with anti-LGBTQ rhetoric, trying to improve their poll numbers. DeSantis can tout his "don't say gay legislation." Sen. Tim Scott (R-S.C.), a Black man, who says the country is not racist, touts his opposition to marriage equality. Then there is Mike Pence who will quote the Bible to you, claiming it tells us how terrible it is to be gay. 
The Daily News recently reported "Following last year's more than 220 anti-LGBTQ bills introduced across the country, a poll by The Trevor Project found 71% of LGBTQ youth — and 86% trans and nonbinary youth — said they were negatively impacted by the flurry of proposals to restrict their rights." They went on to report, "As of May 23, more than 520 anti-LGBTQ bills have been introduced in statehouses across the country, according to the Human Rights Campaign. More than 220 of those specifically restrict the rights of transgender and nonbinary people. These are all Republican bills.
This will continue unabated if we don't defeat Republicans everywhere. In sharp contrast, Democrats in the Maryland legislature, led by Delegates David Moon (D-Montgomery County) and Luke Clippinger (D-Baltimore County) and State Senator Howard Lam (D-Baltimore and Howard Counties), managed to repeal the states sodomy law and pass gun-control measures.
Republicans will continue to carry out their agenda of hate across the nation unless we say with our votes, "We won't take this anymore." The United States is better than this and we will show the world we will not tolerate hate; we will fight it.
Peter Rosenstein is a longtime LGBTQ rights and Democratic Party activist. He writes regularly for the Blade.
Trans rights have reached a crisis point
We should fear DeSantis more than Trump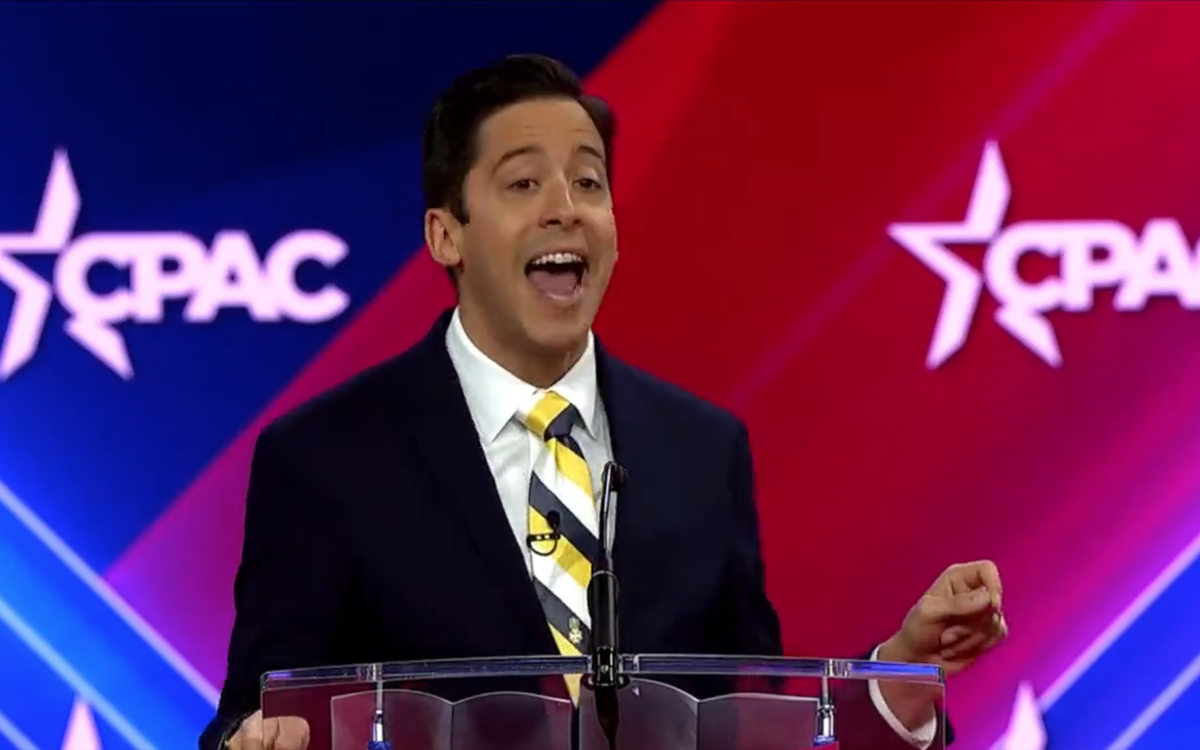 Trans rights have reached a crisis point. There's no other way to say it.
On March 4, CPAC speaker Michael Knowles plainly stated that "if [transgenderism] is false, then for the good of society, transgenderism must be eradicated from public life entirely – the whole preposterous ideology."
To liken transness as a mere ideology is problematic on many different counts, but that paled in comparison to Knowles's need for us to be eradicated. Eradication rhetoric is a genocidal tool, to ask and plead for an entire subpopulation to go away in one fell swoop is murderous and brutal. Genocides begin with this kind of rhetoric, then escalate to dangerous politicians being elected to office, then escalate even more to harsh policy, then escalate yet again when those harsh policies force humans to have to do many things — be locked in a cage, move out of the country, or even detransition, in this case.
Look no further than what happened at the southern border during Trump's years in office, when images of migrants and their children surfaced at maximum security facilities, lying on the floor with nothing but a meager blanket and barbed wire surrounding their bodies.
Indeed, a lot of the CPAC conference was dedicated to engaging in these culture wars — but Knowles's statement of eradication goes beyond the normal cultural bickering. This is why trans politics are at a dangerous turning point.
Adding to this chaos are bathroom bills and sports policies that prevent trans high schoolers from accessing the bathroom they need, or playing on the right side of their sports team.
In conversations with professionals, academics, and friends, I like to mention the fact that Republicans take peoples' rights away when they notice that those people have gained more freedom. Think of it this way: when I was in high school, in 2010, far fewer trans people were out with their identities. Transness didn't take a center stage in culture — be it on the left or on the right. And as a result, trans students were only attacked by bullies and in locker rooms, not by state politicians.
But the rise of Gen Z has witnessed many high schoolers now flouting gender norms, going by nonbinary pronouns, and being proud of their gender variance. Moreover, society is filled with many more trans models and celebrities. When our presence becomes celebrated and known, Republicans will then take the necessary tools to push us back into the closet.
What's adding to the concern is the rise of smarter Republican candidates for the 2024 election who have exactly the same feelings of Trump but with higher intellects. Ron DeSantis is an example of a presidential contender who mirrors Trump's bigotry and policies but is far more targeted and intelligent in his approach to public speaking and politics. Indeed, Democrats should be more afraid of DeSantis than of Trump.
On an end note, I like to summon an old saying by the late Martin Luther King. "The arc of the moral universe is long but it bends toward justice." No matter how much cruelty Republicans will put us through, they won't succeed in the long run. More and more of society is catching up to the fact that trans people deserve respect and fairness. There will come a day when we have to sigh less and less about the state of our rights.
Isaac Amend (he/him/his) is a trans man and young professional in the D.C. area. He was featured on National Geographic's 'Gender Revolution' in 2017 as a student at Yale University. Amend is also on the board of the LGBT Democrats of Virginia. Find him on Instagram @isaacamend.