February 8, 2013 at 12:36 pm EST | by Michael K. Lavers
Md. school district pulls bullying curriculum with 'ex-gay' references
Prince George's County Public Schools earlier this week stopped using an anti-bullying curriculum that included references to "ex-gay" organizations.
A 21-minute video the Washington Blade obtained from Christopher Doyle, director of the International Healing Foundation who developed the Acception curriculum, features four students who are assigned a project on anti-gay bullying.
The video contains a number of short clips that include a group of students — one who receives the aforementioned assignment from his teacher — who shout an anti-gay slur at a classmate before pushing him into a locker. Another features a group of students who use a cell phone to record a teenaged boy changing inside a restroom stall before gym class.
A black student who said her classmates bullied her because she is a lesbian discusses how she accepted her sexual orientation, while a Latina claims her "sexual feelings for girls gradually went away." Another clip features a gay teenager who said his former science teacher helped him come out to his parents and friends.
The video also includes cartoons of cavemen who explain the causes of bullying and a scientist discussing the science behind homosexuality to gay identical twins. One of the students who receives the assignment from his teacher also points out he has a cousin who said she became straight.
Both the curriculum and the website for Acception Productions, which produced it, lists Exodus International, the National Association for Research and Therapy of Homosexuality and Parents and Friends of Ex-Gays and Gays among a list of resources for "questioning and/or youth with unwanted same-sex attraction."
Doyle told the Blade the district's School Health Committee unanimously approved the curriculum last spring. A source familiar with it who requested anonymity said a staff training took place on Oct. 18 and seventh grade health teachers had the option to use it with parental permission.
Briant Coleman, spokesperson for the Prince George's County Public Schools, confirmed teachers first used it this school year. He said it was removed this week.
"We reviewed the video that was being used by six of our middle school health teachers," Coleman said. "We determined that there was not enough information about bullying prevention to justify using it as a supplemental resource for our anti-bullying program."
Doyle said the school district told him on Tuesday that it would no longer use his curriculum.
"This really came to me as a shock," he said, noting he has yet to meet with district officials. "I don't know exactly why they're pulling the video. All I know is the health education supervisor told me on Tuesday that the video was being pulled for further review because of the controversy surrounding some of the messages."
Doyle acknowledged Richard Cohen, whom the American Counseling Association permanently expelled in 2002, is the founder and former director of the International Healing Foundation. He stressed he had "nothing to do with the film" other than "he's a colleague of mine" who told Betsy Gallun, who recently retired as supervisor of health education in the district, about it.
Cohen is a member of the Prince George's County Public Schools' School Health Committee. Gallun is also listed as a "health education consultant" in the credits at the end of the Acception video.
"We believe in true tolerance, real diversity and equality for all," Doyle said. "I love the entire LGBT community. I once lived a gay life. I have friends that are gay and lesbians."
He further stressed gay-specific references are "only a small segment" of the Acception curriculum.
"Most of the curriculum does not focus on sexuality at all," Doyle said. "The film focuses on it, but only in the realm of sharing true stories of young people … who've experienced bullying because of their sexuality or non-acceptance."
This controversy is not the first time Prince George's County Public Schools has faced questions over its connections to anti-gay officials.
The Blade reported in October that Christian Hope Ministries, Inc., the Beltsville church led by Bishop Harry Jackson, who campaigned against marriage rights for same-sex couples in Maryland and D.C., rented 35,000 square feet of office space to the school district. Copies of leases obtained through a Maryland Public Information Act request indicate the church received more than $3.4 million in rental income from the Prince George's County Public Schools from Sept. 2007 through Aug. 2012.
"Anybody involved with him [Cohen] we would consider an extremist," Wayne Besen, executive director of Truth Wins Out, told the Blade. "Richard Cohen personifies extremism in the ex-gay industry and Christopher Doyle was his close associate."
Michael K. Lavers is the international news editor of the Washington Blade. Follow Michael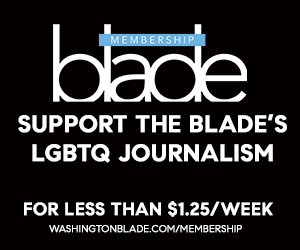 Sign Up for Blade eBlasts