February 27, 2013 at 3:21 pm EST | by Chris Johnson
LGBT, HIV/AIDS programs face 'tragic' cuts under sequester
Federal programs serving people with HIV/AIDS and others relevant to the LGBT community will be among those feeling the crunch on Friday once the sequester of government funds takes effect.
The sequester — approved by Congress and signed into law by President Obama in 2011 as part of an agreement to raise the nation's debt ceiling — would institute $1.2 trillion in cuts for U.S. government programs across the board starting this year over the course of 10 years.
The cuts were designed to be so onerous that Congress would come to an agreement on a more balanced approach to deficit reduction as opposed to letting the sequester take effect. Although lawmakers and Obama delayed the date on which the sequester would take effect until Friday as part of the "fiscal cliff" deal at the beginning of the year, they so far have been unable to agree to an alternative.
An estimated 8.2 percent in the first year would be cut from the budgets of discretionary federal programs, including HIV/AIDS and LGBT-related programs.
Crosby Burns, research associate on LGBT issues for the Center for American Progress, said the institution of these cuts on Friday would be a "tragedy" because minority communities like LGBT people take the biggest hit when policy makers issue across-the-board cuts to government programs.
"Politicians are literally playing games with people's lives," Burns said. "If the sequester happens, AIDS patients will lose access to life-saving drugs, programs that combat hate crimes and domestic violence in the LGBT community will be slashed, LGBT homeless youth will have to remain on the streets if homeless shelters receive less funding, and LGBT workers who have been discriminated against will see their cases go uninvestigated."
During a White House news briefing on Wednesday, Education Secretary Arne Duncan told the Washington Blade there would be "no upside" regarding how sequestration would impact administrative efforts to combat school bullying because the focus would instead move to getting by with fewer resources.
"We're not even having that conversation today, it's all about going in the opposite direction," Duncan said. "So creating safe communities, creating climates in which children live free of fear, thinking about what we're doing in the curriculum, afterschool clubs — all the things we should be doing whether it's around reducing bullying, or whether it's around the arts or robotics, or whatever it might be, we're not even having that conversation, which is, again, crazy to me."
Hope persists that Congress will come to an agreement to undo the sequester before March 27, when the continuing resolution expires that has provided funds for the U.S. government under fiscal year 2013 levels. At that time, funding will need to be renewed or the federal government will shut down. That date is just before worst purported consequences of the sequester — such as furloughs of government employees — are set to take effect on April 4.
But HIV/AIDS programs will be hit especially hard on Friday. According to a fact sheet issued by the White House earlier this month, cuts to the AIDS Drug Assistance Program could result in 7,400 fewer patients having access to life-saving HIV medications. The White House also says around 424,000 fewer HIV tests could be conducted by Centers for Disease Control State grantees, which could result in increased HIV transmissions and costs in health care.
Carl Schmid, deputy executive director for the AIDS Institute, said he hopes that lawmakers and Obama will come to an agreement before the next set of ADAP grants are issued in March or April because they would be lower under the sequester.
"We have had ADAP wait lists in the past, and those are for new people coming on," Schmid said. "This is they won't have enough to support the people that are currently on drugs, and that's really, really dangerous. So I'm sure the companies may try to help out as they have in the past and other parts of the Ryan White Program contributing to ADAP, but we don't want to get into that situation denying people who are already on medication their drugs, and that's very dangerous."
Chris Johnson is Chief Political & White House Reporter for the Washington Blade. Johnson is a member of the White House Correspondents' Association. Follow Chris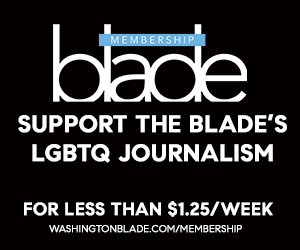 Sign Up for Blade eBlasts