Classical closet?
Van Cliburn's death inspires questions about how elite music treats its gay icons
It was publicly acknowledged in obituaries in the New York Times and the Los Angeles Times and at a funeral held last weekend that concert pianist Van Cliburn, one of the most famous classical musicians of the 20th century, was gay, but the references — the "g" word was not used — were as discreet and low key as the keyboard virtuoso was in his lifetime.
Cliburn, whose triumph at the 1958 International Tchaikovsky Competition in Moscow at age 23 was the crowning achievement of what had been a white-hot track record of competition winning and concertizing after a lauded three-year stint at the famous Juilliard School, died Feb. 27 at his home in Fort Worth, Texas, at age 78 following a battle with bone cancer. The story of his win in Moscow at the height of the Cold War when he was exalted as a symbol of overcoming the fear and paranoia of the era with great art, has been oft told, especially over the last week as his life has been remembered and celebrated. The long decades since it happened have cemented its mythic status and though Cliburn's return to performing in the late '80s and '90s after nearly a decade-long hiatus drew mixed reviews, the fire and talent he brought to his early career is pretty much universally acknowledged by critics.
Cliburn plays Tchaikovsky Piano Concerto No.1 Mvt III

"With the iconic nature of his rise to fame so to speak, he really became this symbol because what really happened there in Moscow was about so much more than the music," says Scott Beard, a gay concert pianist and professor at West Virginia's Shepherd University. "It wasn't like Glenn Gould with the 'Goldberg Variations,' it was a highly politicized thing and to [Nikita] Khruschev's credit, he said, 'He's the best, he should win.' I think with that came a lot of pressure."
And while one wouldn't expect Cliburn to have been out at the time — it was, after all, only a year after gay rights pioneer Frank Kameny was fired by the U.S. government for being gay and years before Stonewall — Cliburn's low-key handling of his homosexuality has been so understated that, at times, the references to it in mainstream media outlets are almost, one might argue, comically opaque.
The Los Angeles Times mentioned "Thomas L. Smith, his friend and manager who survives him." The New York Times said he was "survived by [Smith], with whom he shared his home for many years." A 2008 New York Times article commemorating the 50th anniversary of his Tchaikovsky win, mentioned "his home in Fort Worth, which he shared with a longtime friend." (Smith spoke briefly at Cliburn's funeral saying, "Van's death is a crater-sized void that is felt around the world but for me, it is the loss of my soul mate, the deepest friendship …")
A sunny 1993 biography from Chicago Tribune arts critic Howard Reich is more than 400 pages long yet includes not one mention of Cliburn's love life. (Reich wrote in an e-mail to the Blade this week regarding Cliburn that "my area of study is really the music itself.")
There was one episode the papers did dutifully report — a former boyfriend, Thomas Zaremba, sued Cliburn in 1996 seeking millions in palimony. The suit was eventually dismissed. Cliburn did briefly comment on the matter at the time, telling the Fort Worth Star-Telegram it was "absolutely a shocking surprise." Cliburn said there was no way he could have exposed Zaremba to HIV, as Zaremba had claimed, as Cliburn himself was negative.
If anything, though, the lawsuit did break the ice for acknowledgement of Cliburn's being gay in the press. Although friends and associates who knew him early in his career say he was never particularly closeted, it was not a topic ever publicly discussed. Aside from the fact that more gays were in the closet in the '50s, '60s and '70s than today, the near-constant presence of Cliburn's mother, the famous Rildia Bee O'Bryan Cliburn, who had been his first piano teacher, is generally acknowledged as a factor in his low-key lifestyle.
"When I first knew him, I knew he was gay from the very beginning, but I can't remember quite how I knew," says Robert Croan, a former classical music critic for the Pittsburgh Post-Gazette who's gay. "His mother, whom I met many times, was sort of a grand dame type, but very down to earth. She had a great sense of humor but she watched over him very carefully. I think he had his excursions with various men but she traveled with him and was just there all the time. … She was very proprietary with him and the father was sort of invisible as far as the public really knew." (Cliburn's father died in 1974.)
Croan says although he and Cliburn were not close friends, they were friendly over many years and saw each other multiple times, including when Croan covered the Van Cliburn International Piano Competition, a highly regarded quadrennial contest Cliburn started in the late '60s in Fort Worth, for the Post-Gazette. Croan helped facilitate an honorary doctorate for Cliburn from Pittsburgh's Duquesne University, where Croan previously taught.
Fans inevitably wondered to what degree — if any — Cliburn was out to his mother. Cliburn never publicly commented on the matter.
"I would say she had to have known," Croan says. "Whether they actually discussed it, I have no way of knowing but she couldn't have been around him all that time and not known. This was not a stupid woman. … I would guess at the very least she closed her eyes to what was going on or maybe acknowledged it privately."
But it's unlikely Rildia Bee, who died in 1994 at age 97, was the only factor. Cliburn spent his later years living in his native Texas (in a swanky suburb of Fort Worth), was a lifelong Baptist, member and regular attendee at Fort Worth's large Broadway Baptist Church and was also a Republican. Former President George W. Bush, also from Texas, spoke at Cliburn's funeral. (In 2009, Cliburn's church severed ties with the Southern Baptist Convention in a disagreement over the church's welcoming of LGBT members.)
And for all his musical achievements, Cliburn — at least so far as is publicly known — was not involved in LGBT advocacy work of any kind.
Philip Johnson, an 87-year-old Fort Worth gay activist who worked with Kameny and was involved in LGBT work for decades, says, "I don't think he ever associated with the gay movement at all."
"I used to see him sometimes at the Highland Park Cafeteria, this place where wealthy people ate that had really excellent food," Johnson says. "But we never crossed paths at any sort of gay rights rally or anything like that."
Darren Woods, general director of the Fort Worth Opera, agrees.
"I did not know him well outside of his attending operas occasionally and the occasional hello at a restaurant," Woods, who's gay, wrote in an e-mail. "He and his long-time partner, Tommy, were deeply involved with many straight married couples who were big arts patrons."
SIDEBAR: Mono recording of Cliburn's Moscow triumph available
The degree to which Cliburn was out at various periods of his life, while interesting enough in and of itself, also raises a bounty of other questions. Were many classical pianists of Cliburn's day — Liberace, for the record, was considered more of a pop entertainer and was never taken seriously by the classical establishment — gay? If so, how many were out? Are the numbers any different today? How does it compare to other classical professionals such as orchestra players, conductors and composers? And did the classical world warm to out gays more quickly than pop culture? Or the world at large? Or did the blue-blooded, elderly art patron types keep gays in the closet longer? And with so much emphasis in pop culture with who's sleeping with whom and the personal lives of celebrities, why do such questions seldom get asked of classical artists?
Nobody has numbers, but the anecdotal assessments are entertaining.
"Generally it's thought that a lot of concert pianists were gay," says David Patrick Stearns, a classical music critic at the Philadelphia Inquirer, who's gay. "Nobody really knows why, but it seems to be somewhere around 50 percent. Violinists? Almost never. Again, nobody really knows why. Cellists? That's a little up for grabs. Organists? Almost all of them. Countertenors? Most of the American ones are gay, but the non-American ones are not. … Opera is kind of a separate thing. Opera, I mean talk about queer energy, though. I've heard people talk about there being straight opera queens but I don't know."
Croan says more American composers have traditionally tended to be gay than pianists.
"(Fellow Cliburn Juilliard pianist) John Browning was out," Croan says. "Samuel Barber and Gian Carlo Menotti, certainly a large number of American composers of the mid-20th century were gay. Aaron Copland is another. They weren't out in the sense that there was any public announcement about it and the media wouldn't have touched on it unless there was some sort of a scandal, but it was kind of quietly acknowledged. I met a lot of gay performers of that generation. Some got married but most didn't. Ned Rorem was gay and was very open about it in his memoirs."
One wonders the degree to which this was acknowledged among the musicians themselves. Was anybody hosting pool parties on Sunday afternoons the way gay director George Cukor famously did in Hollywood?
"I don't know about pool parties, but I think there was a large degree of socializing," Croan says. "Classical music is a pretty small world to begin with so you have a smaller pool of people. … The difference from then and Van Cliburn is they didn't all travel with their mothers, that's a big difference. I think he stayed a bit more to himself in that way. … And I also think these groups could be very productive. It wasn't all just drinking and carousing. Their interactions were very artistically productive. You had a lot of interaction and influence and a lot of good artistic results, ramifications."
Stephen Hough, a highly regarded classical concert pianist who's released many recordings, remembers a "wonderful evening" of dinner and a recital Cliburn gave at Tanglewood, an estate and music venue in Lenox and Stockbridge, Mass., in the '90s.
"I didn't know him well but I found him to be a completely charming person at dinner," Hough, who's gay, says. "He was very humble and modest and always interested in what other people were saying. … He was a lovely person and I wish I'd been able to meet him more."
Hough says many factors likely contributed to Cliburn's discretion.
"He had a huge female audience," Hough says. "Women always found him very attractive. He was sort of the perfect bachelor everyone wanted to marry. There were older women who simply fell at his feet. There's a story I'm told where an older female fan greeted him once and told him with tears, 'You've made my life worth living.' He took her hands in his and held her to him and said, 'This is such a special moment in my life, you've touched my heart deeply.' Back in the earlier years, I don't think his audience would have even known what homosexuality was much less accepted it. It was a much different era."
Hough says he's seen the matter handled in many different ways by classical performers over the years.
"Jorge Bolet was a pianist of the same generation as Cliburn," he says. "He had a partner for decades who traveled with him always. He was just always there but it was never really laid out clearly who this was. You could think he was a boyfriend, you could think he was a secretary, a manager or whatever you chose, but there he was. We really shouldn't demand too much heroism in the past because it was so different."
As to how quickly the classical world warmed to the idea of its heroes being out, many say it pretty much mirrored the rates of society at large. It was never particularly unwelcoming, insiders say, but the seriousness with which its fans and artists approach their work made it perhaps an easier topic, historically, to avoid dealing with head on.
"Yes, you had all these staid, wealthy board members but they weren't stupid people," Croan says. "They put a blind eye to it in some ways, but they also liked socializing with the stars, just like they do in Hollywood. I'd say it was acknowledged on Broadway long before it was in Hollywood or in the classical music world. Broadway, I think, has always been pretty gay. I think Hollywood was probably the last. It was a medium for more people, more democratic and thus perhaps more conservative. You'd have children watching movies whereas classical music was pretty much an adult group."
'An old-fashioned institution'
Stearns says other arenas of performing lend themselves more easily to issues of sexuality.
"Movie stars and rock stars, too, they're presented as these sexual objects so of course the public is interested in their sex lives," he says. "But then you have people like [late gay pianist] Vladimir Horowitz and even gay people don't want to know what he was doing in the bedroom. It's a completely different playing field."
The inherent formality in classical music is also a factor, it is widely thought.
"Classical music is a more old-fashioned institution," Hough says. "You have Rufus [Wainwright] and he's on stage singing songs he just wrote last year. I'm playing with a whole different flavor and a much longer time frame. It's just generally a more formal art form. Some say they'd like us to come out in torn jeans and talking to the audience, but there's also something about that formality that provides its own kind of theater in a way. When the lights go down and the conductor or soloist comes out, it's a very theatrical moment and I think a certain amount of mystery can be a good thing."
Hough says he experienced no backlash after coming out several years into his career. "A couple youngsters wrote to tell me I'd encouraged them," he says. "Otherwise nothing good or bad really."
Patricia Racette, currently on stage in the opera "Manon Lescaut" at the Kennedy Center, writes in an e-mail (she's saving her voice, understandably, for the stage) that the demands placed on classical musicians are also a factor. Racette is in a lesbian relationship and has been out for years.
"We now live in a world inundated by reality TV," she writes. "And the reality for a classical musician is the demand of a continually honed skill, never-ending study, preparation and execution of all of the above in order to sustain this unrelenting art form. While so many artists are indeed fascinating in their personal lives, the emphasis on the work (in classical music) is the most relevant."
Racette, who earned her music degree from the University of North Texas, says she can relate to the conservative nature of the state being a factor in Cliburn's quiet life.
"I was so buried in my music and working to pay for my school that I honestly did not tap into a specific LGBT community there," she writes. "The campus itself was quite conservative making it a bit of a scary place to come into one's own as it were."
Others say too much personal information is sometimes seen as a distraction in classical music.
"I think it's just the issue of let the music speak for itself," Beard says. "Maybe on some level it helps to be out to help you build an audience … so I don't know if it's taboo per se, but … I think the focus is much more on the craft which I why maybe in a marketing sense you don't see it more often. You want the music critics to take you seriously so you can imagine them thinking, 'OK why are you telling me this, tell me how you play Beethoven,' or whatever. It's just kind of this unwritten thing of, 'OK, you're gay, you have your life, but the focus is not on your personal life.'"
Others are delighted to see how quickly the classical world and the world at large are changing in their acceptance.
Stearns says he and others at the Inquirer were debating how to address or broach the topic of the personal life of Yannick Nezet Seguin, who's gay and last September became music director of the Philadelphia Orchestra.
"We were all thinking, 'OK, how do we handle this?'" Stearns says. "People are always curious. They want to know who the wife is but we don't out people at the Inquirer so, the mayor was there and said, 'We welcome Yannick and his partner,' and it was like, 'OK, thank you.'" … Three or four years ago, I would have said yes, there might have been some squeamishness, but nobody batted an eye. Now he's the first conductor of one of the five biggest orchestras in the country to be out. And, you know, Philly isn't known to be the most progressive town on the planet. I think people were just really glad to just sort of snag this really wonderful up-and-coming talent. He's very extroverted and a real people person and people are just really drawn to him and his boyfriend."
Charles Miller, organist and music director at Washington's National City Christian Church, says it's up to each public figure to decide how to handle it depending on his or her comfort level.
"I think there are some good examples even in pop culture," Miller, who's gay, says. "You think of someone like David Hyde Pierce. We all know now and he's never really shied away from it, but he's not flaunting himself or his partner or activities in every magazine. In some cases, it's the artist sort of preserving something of their lives under wraps so that it doesn't detract from the art form. … [With Cliburn], you wouldn't just have expected, now it's the 2000s we're gonna see him come flying out of the closet and jump up on a float. It's really the individual's preference of how they want to live their life."
Cliburn did eventually tire of public life and for much of the '70s, lived quietly. He eventually returned to public life and performing and is widely acknowledged for starting the Cliburn Competition, but even so, there was an unexpected gay side to him in addition to his many eccentricities such as staying up all night, running late for recitals, hoarding antiques, opening recitals with "The Star-Spangled Banner" and saving dead flowers.
"If you really wanted to engage him and get him talking, you brought up Cher," Stearns says with a hearty laugh. "He absolutely loved Cher."
A fine 'Bro'-mance
Eichner, Macfarlane performances essential to movie's appeal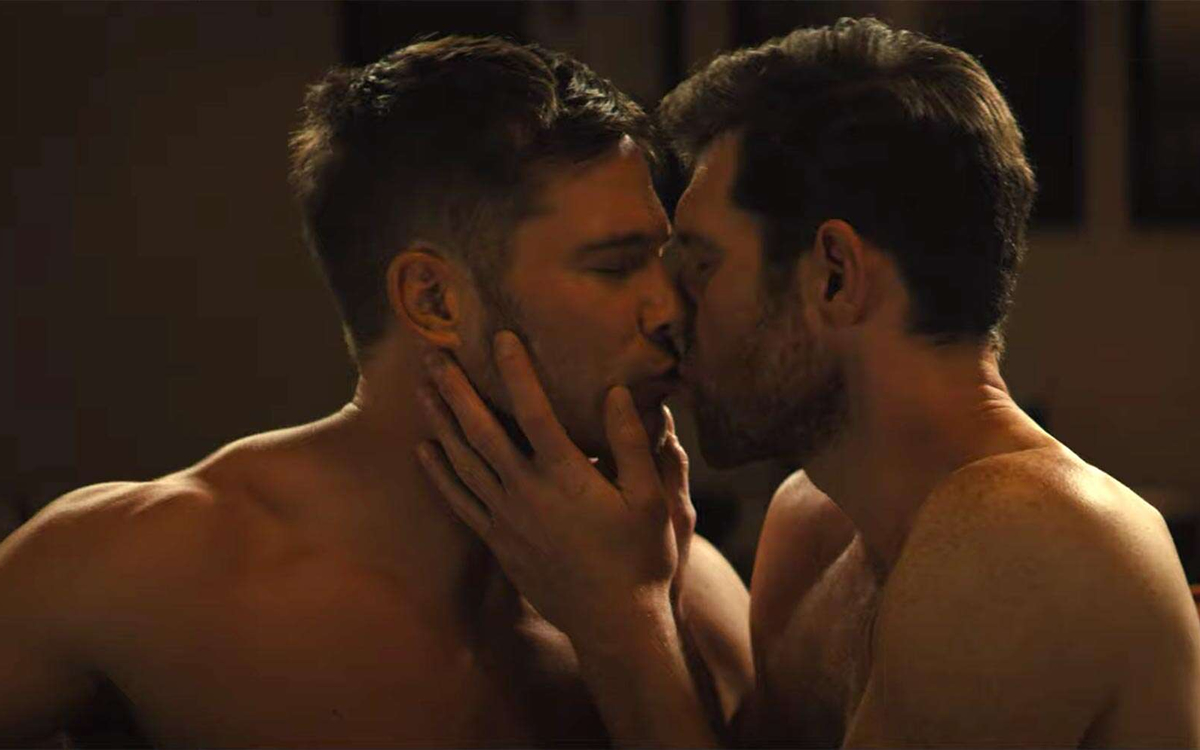 If you're reading this, you probably already know that "Bros" is a history-making milestone for LGBTQ representation in the movies — the first gay romantic comedy produced by a major Hollywood studio, written by an openly gay man (Billy Eichner) who also stars in it – and that it was made with queer talent filling virtually every role, both on camera and off. The "Billy on the Street" writer/comedian/actor, true to his brand, has been loud-and-proud about his efforts to foster authenticity and inclusivity throughout the making of his film, and rightly so.
Still, now that his much-anticipated movie is finally out, we can finally stop talking about all that. After all, even when a movie scores as many points for LGBTQ representation as this one does, what really matters is whether or not it's actually any good.
When Eichner was tapped to make his film for Universal, many may have assumed it would be a showcase for his signature comedic persona — acerbic but disarmingly funny, more than a touch manic, somehow confrontational, defiant, and self-deprecating all at the same time — that would also poke fun at a heteronormative genre beloved just as often by its queer fans for its camp value as for anything else. This expectation seemed all but confirmed when Eichner announced the casting of actor Luke Macfarlane – known for playing handsome hunks in the very romcoms his movie would presumably be sending up – as his love interest.
As it happens, those assumptions were not entirely wrong. "Bros" is unabashedly autobiographical in tone, presenting Eichner essentially as an alternative version of himself if he had been a queer history scholar and author instead of a poly-hyphenate show biz celebrity; his character, Bobby Lieber, has even got a podcast, allowing him to voice the kind of take-no-prisoners witticisms and shrewdly queer observations about life and culture for which both versions of himself have become famous.
While at a launch event for a new dating app, Bobby meets Aaron (Macfarlane), who – as one of the crowd of shirtless gay scenesters he's used to being ignored by, he assumes is shallow, not too bright, and not into him at all. It turns out he's wrong on all counts, and the two men soon find themselves drawn into a relationship, despite some serious issues around commitment and the fact that they seem to have nothing in common.
All of this is a perfect match for Eichner's comic sensibilities – he's built his image on calling out society for the absurdity of its assumptions, the illogic of its priorities, the depth of its shallowness, and "Bros" gives him plenty of opportunity to do exactly that, as well as plenty of fodder for his usual zingers and pop-culture references. It's very much the kind of savagely iconoclastic spoof we would expect from its creator, making fun of social conventions (both gay and straight) and lampooning everything from awards-show stunt fashion to celebrity athletes coming out of the closet to "Dear Evan Hansen" — but it's not nearly as scattershot as it sometimes feels. There's a method to Eichner's madness, and it hinges on reminding us that we are all, from a certain perspective, utterly ridiculous.
If that were all that "Bros" accomplished, it would be enough, but it gives us so much more. Not content to simply settle into familiar territory, he sets his sights on rising to the level of the romance classics he boldly references throughout, from "When Harry Met Sally" to "You've Got Mail" to "Manhattan." With the help of director and co-writer Nicholas Stoller, whose sure-handed cinematic sensibility allows the star's broadly satirical strokes and flights of absurdist fancy to flourish while still remaining grounded, he succeeds.
In large part, this is because Eichner's screenplay doesn't fall into the trap of being governed by the same tropes and expectations it makes fun of. Instead, it undermines them to take us further; unlike many romances, this one goes past the feel-good "falling in love" stuff and explores what it's like for two adult men to build a relationship that works. It's hardly a spoiler to say that's not an easy or comfortable process, especially for a generation that came of age under the lingering shadow of widespread homophobia, but "Bros" is willing to go there – and because of that, its seemingly mismatched and dysfunctional lead couple are infinitely more relatable.
That doesn't mean Eichner and Stoller ever allow their movie to become a "bummer." Things might get a little messy from time to time, but what relationship doesn't? By choosing to give "Bros" the kind of maturity that's able to weather the storm, they've built something deeper and more lasting – the kind of movie that's worthy of setting a few milestones – without sacrificing any of the comedy. And despite the cynical pose that's always been at the heart of Eichner's persona, they're not afraid to let it get a little sappy, too.
As for its two stars, Eichner and Macfarlane's performances are essential elements in the movie's winning appeal. It's perhaps not too surprising that Eichner, who's been able to show us hints of his wider range before, rises to the occasion for his debut as a leading man; it's the kind of work with the potential to elevate him into a whole new echelon of talent. A greater revelation is Macfarlane, who dives way below the pretty surface of Aaron to deliver a braver and more vulnerable performance than anyone might have expected. Together, the two actors find an easy and affectionate chemistry that is not only believable but makes it easy for real-life couples to recognize themselves in their relationship. They front a superb cast that includes Monica Raymund, Dot-Marie Jones, Jim Rash, Guillermo Díaz, Amanda Bearse, Miss Lawrence, TS Madison, Bowen Yang, and Jai Rodriguez, not to mention a host of queer and queer-friendly celebrity cameos from Kristin Chenoweth, Harvey Fierstein, and Amy Schumer, among several others.
It would be easy to go into detail about the many things that make "Bros" stand out as a piece of "queer cinema" — the way it weaves educational tidbits about LGBTQ history into the story as a tongue-in-cheek primer for straight viewers, or the sex-positive attitude with which it boldly and playfully depicts gay love-making, or its assertion of the differences instead of the similarities between same-sex relationships and straight ones — but it's better to let viewers discover these things for themselves, along with all the movie's other pleasures. We don't want to give any more away, though we will tell you to watch for a scene-stealing turn by Debra Messing, who seems to be having the time of her life.
Other than that, all you need to know is that "Bros" lives up to its hype to become one of the smartest, sexiest, and yes, sweetest comedies of the year so far – the kind of rom-com that's good enough to recommend even for people who don't like rom-coms.
And yes, it sets a lot of LGBTQ milestones, but don't see it because of that. See it because it's good.
Billy Eichner ready to make cinematic history
'Bros' could be first gay rom-com to become box office smash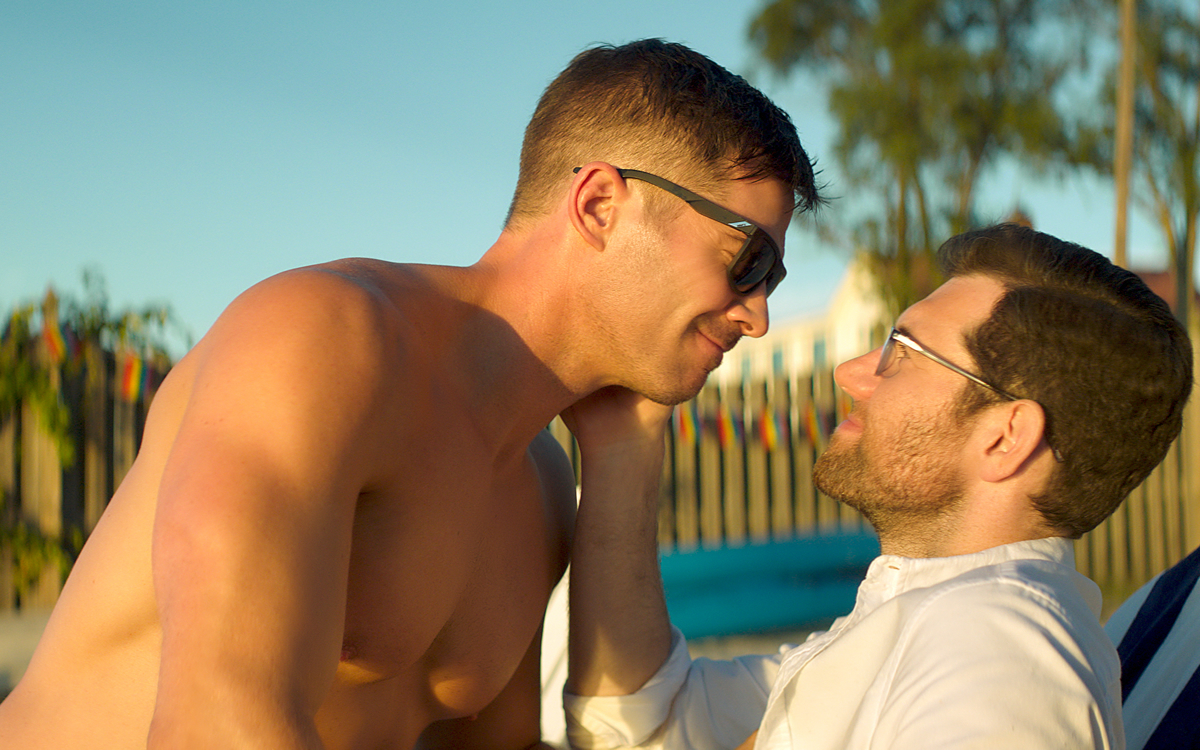 Billy Eichner, the gay comedian, is usually the one asking the questions. Eichner came to fame with his award-winning, 2011-2017 truTVshow, "Billy On The Street," where he would accost strangers on the streets of Manhattan, often with an A-list celebrity at his side. Eichner would interrupt someone in the middle of a jog, an errand, or daily commute, to ask a groan-inducing question or play a silly game. Most New Yorkers did not recognize either Eichner or celebrity sidekicks like Chris Evans, Will Ferrell, Mariah Carey, or Sarah Jessica Parker.
The tides have turned. Eichner, in a few short years, has gone from video class clown to a polished (dare I say very good) actor, writer, and all-around mensch – and ascended to celebrity A-list status himself. In 2019, he starred as the voice of Timon in the Disney live action remake of "The Lion King." He also voices Timon in the upcoming live-action sequel: "Mufasa: The Lion King."
But that's not all. Currently, Eichner is writer, producer, and co-star of "Bros," a  new romantic comedy about two commitment-phobic gay guys in a relationship—Eichner and costar Luke MacFarlane. MacFarlane—who came to fame playing in schmaltzy Hallmark Channel movies— is another gay (and very good looking) actor; indeed, all of Bros' writers, producers, and all of the lead and supporting actors (including Amanda Bearse) identify as LGBTQ (with the exceptions of director Nicholas Stoller and producer Judd Apatow.) "Bros" is the first 'almost' all gay, lesbian or trans major motion picture.
"My day hasn't even begun," says Eichner who has just arrived in San Francisco, and where it's the ungodly hour of 7:45 a.m. He's just back from the Toronto International Film Festival, where "Bros" debuted to great acclaim.
"The goal was to make the funniest, laugh-out-loud movie as possible, that just happens to be about a gay couple," explains Eichner. At 44, he is old enough to remember growing up during a time when gay-themed movies had limited releases and smallish audiences. "I went to see a lot of them," Eichner recalls. "'All Over the Guy,' 'Jeffrey,' 'Trick,' 'Edge of Seventeen,' 'Go.' But it felt like it was something I did in private. It felt like it did when I was hiding a magazine [for secrecy at home]."
"Bros" is written for contemporary audiences — straight, gay, and everything in between (my words) —who are unfazed by scenes and situations that would have seemed controversial even 10 years ago. And, given the talent behind the project and the early buzz, "Bros" could be the first gay rom-com to become a mainstream box office smash, particularly with director Nicolas Stoller and producer Judd Apatow on board.
"'The 40-Year-Old Virgin,' 'Bridesmaids,' 'Forgetting Sarah Marshall,' 'Neighbors…. Judd and/or Nick are responsible for some of the funniest movies during the past two decades," Eichner enthuses.
One of the most charming aspects of "Bros" is a pivotal scene filmed in Provincetown, Mass., a community with deep gay roots. "Provincetown is maybe my favorite place on Earth," says Eichner. "It's as far out on Cape Cod, Mass., as you can get. Being able to film in Provincetown added so much style to the classical romantic story. The town has a rich, gay history but is beautiful, sexy, and fun. It is so welcoming to everyone that Nick [Stoller, the director], who is straight, and married with three kids, takes his family there every summer. It is also the first place that we began filming." The production was shut down in between filming for more than a year and a half due to COVID-19.
Is there any romance going on in Eichner's life? When I asked him for a funny story about a first date, he laughed and said, "I'm still waiting to go on one. But, seriously, I met a guy that worked for a cannabis company. He showed up as high as he could be. And of course he was hungry. I should have just called it a night then. But we went out and all he could do was eat. There wasn't any conversation. But I don't know if that is funny, or just weird."
There's a musical moment in "Bros" that may surprise some Eichner fans—but shouldn't; he's a great singer and studied musical theater in college. His love of music predates his bar mitzvah, which he describes as "Broadway meets pop music…I had a life-sized, airbrushed Madonna standee from her 'Blonde Ambition' tour. And a standee from [the Broadway musical] 'The Phantom of the Opera'. I even sang 'Lean On Me.'"
Eichner's singing talents are displayed in "Bros," but briefly. "I don't want people to think 'Bros' is a musical, though," Eichner wants readers to know. And let me add my two cents: "Bros" is not a musical, at all. It is a comedy that is going to go down in history, in a great way.
"Bros" is in theaters Sept. 30.
Ladies Tea event to benefit SMYAL
Fall Edition held at Hank's Oyster Bar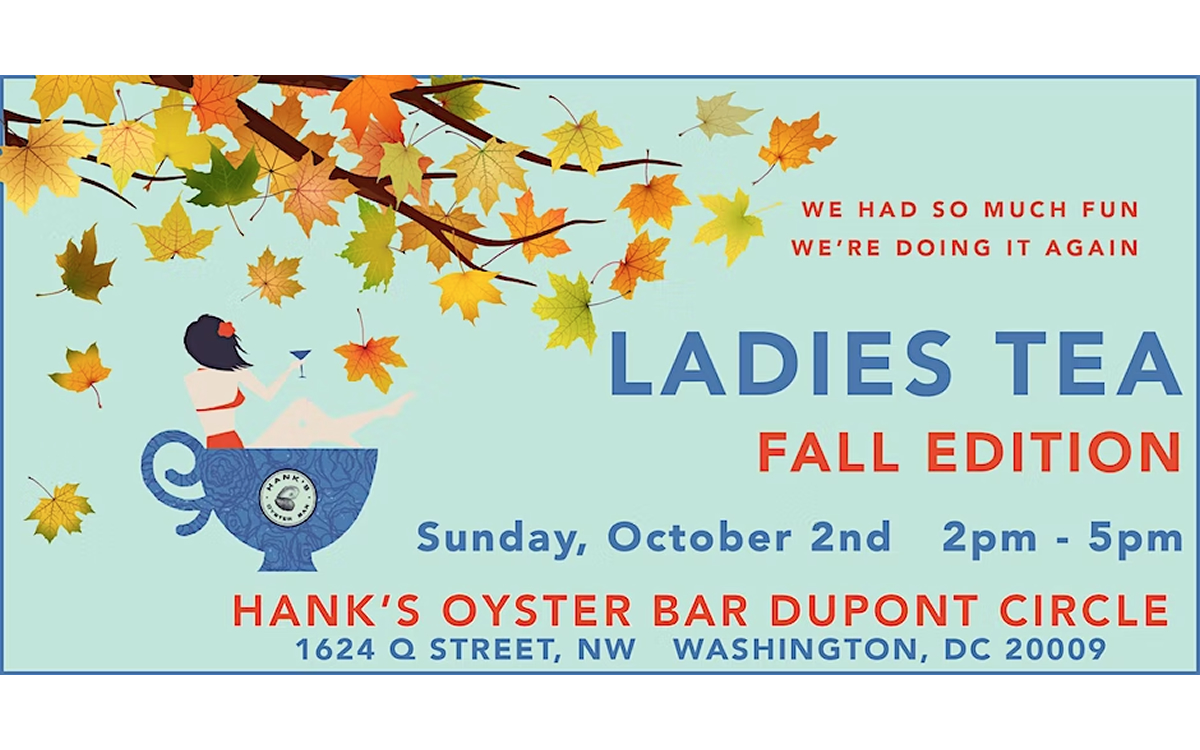 "Ladies Tea: Fall Edition," a fundraising event, will be hosted on Sunday, Oct. 2 at 2 p.m. at Hank's Oyster Bar Dupont Circle.
Ladies are encouraged to celebrate fall while mixing and mingling at the Up Bar and outdoor patio space of Hank's Oyster Bar.
Proceeds from the event will go to SMYAL DC, which supports and empowers LGBTQ youth in the D.C. region.
Tickets for the event cost $15 and can be purchased on Eventbrite.