Senate confirms gay official as Air Force under secretary
Fanning becomes second-highest civilian official for the service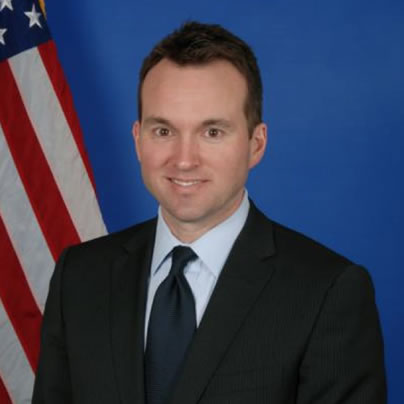 The U.S. Senate on Thursday confirmed a gay official to the second-highest civilian position within the Air Force.
Eric Fanning was confirmed as Air Force under secretary by voice vote as part of a group of other military nominees. President Obama nominated Fanning for the position on Aug. 1, 2012.
Prior to his confirmation, Fanning served starting in July 2009 as the deputy under secretary and deputy chief management officer for the Department of the Navy.
Fanning reflected on his previous role and said he looks forward to transitioning to work for the Air Force during his confirmation hearing before the Senate.
"I have been immensely proud to serve these last four years with the men and women of the Navy and Marine Corps, and if confirmed, I very much look forward to becoming a part of the Air Force family," Fanning said. "It would be my honor to play a role in making sure that the best men and women our country has to offer get all the support they need in undertaking the mission of defending our country, a mission for which they freely volunteered."
As part of senior leadership within the Air Force, Fanning is responsible for recruiting, organizing, supplying and mobilizing the service in addition to other duties.
According to his bio on the Navy website, Fanning has considerable experience working in military affairs. Before his tenure at the Navy, he worked for Business Executives for National Security, a think-tank in D.C., and worked at Robinson, Lerer & Montgomery, a strategic communications firm in New York City.
During the Clinton administration, Fanning was a research assistant with the House Armed Services Committee, a special assistant in the Immediate Office of the Secretary of Defense and associate director of political affairs at the White House. He's a graduate of Dartmouth College.
In addition to his military career, Fanning has been involved in LGBT acvitism. He's a former board member of the Gay & Lesbian Victory Fund and served on the board of directors from 2004 to 2007.
Allyson Robinson, executive director of the LGBT military group OutServe-SLDN, praised the Senate in a statement for the confirmation of Fanning.
"This appointment is yet another example of this administration's commitment to affirming the contributions and service of the LGBT community and underscores the new reality of open gay and lesbian service in our ranks," Robinson said. "We look forward to working with him to advance the cause of full military equality."
White House mum on whether Biden raised LGBTQ rights with Putin
Geneva summit took place amid ongoing Chechnya crackdown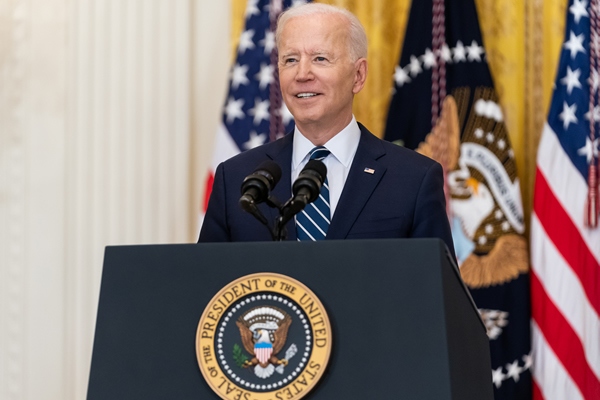 The White House on Wednesday did not say whether President Biden raised Russia's LGBTQ rights record during his summit with Russian President Vladimir Putin.
"I told President Putin my agenda is not against Russia or anyone else; it's for the American people: fighting COVID-19; rebuilding our economy; reestablishing our relationships around the world with our allies and friends; and protecting our people," Biden told reporters during a press conference that took place after the summit, which took place in Geneva, ended. "That's my responsibility as president.

"I also told him that no president of the United States could keep faith with the American people if they did not speak out to defend our democratic values, to stand up for the universal rights and fundamental freedoms that all men and women have, in our view," added Biden. "That's just part of the DNA of our country."
Biden said he told Putin that "human rights is going to always be on the table, I told him."
"It's not about just going after Russia when they violate human rights; it's about who we are," said Biden. "How could I be the president of the United States of America and not speak out against the violation of human rights?"
Biden also told reporters the U.S. will continue to "raise our concerns about cases like Alexey Navalny," a Russian opposition leader who remains in jail.
Navalny last August spent weeks in a coma after he was poisoned with Novichok in the Siberian city of Tomsk. Navalny underwent treatment in Germany before he returned to Russia in January.   
"I made it clear to President Putin that we'll continue to raise issues of fundamental human rights because that's what we are, that's who we are," Biden told the reporters. "The idea is: 'We hold these truths self-evident that all men and women … ' We haven't lived up to it completely, but we've always widened the arc of commitment and included more and more people."
Putin in 2013 sparked global outrage when he signed a law that bans the promotion of so-called gay propaganda to minors. Putin in April signed a series of constitutional amendments that, among other things, formally defines marriage as between a man and a woman in Russia.
Chechen President Ramzan Kadyrov, who is a close Putin ally, and the Kremlin continue to downplay the anti-LGBTQ crackdown in Chechnya.
The State Department in February expressed concern over the fate of two Chechen brothers who were arrested in Russia and returned to their homeland, even though they had fled its anti-LGBTQ crackdown.
The Russian LGBT Network, a Russian LGBTQ rights group, said authorities in Dagestan, a semi-autonomous Russian republic that borders Chechnya, on June 10 kidnapped a bisexual woman who had sought refuge at a shelter for domestic violence survivors. Reports indicate Chechen police officers forced her into a vehicle and drove her back to Chechnya.
The National Security Council before the summit did not respond to the Washington Blade's request for comment about whether Biden planned to raise Russia's LGBTQ rights record with Putin. A State Department spokesperson referred the Blade to the White House for comment.
Chris Johnson contributed to this article.
Lesbian, trans Defense nominees sail through confirmation hearings
Biden picks exemplify change after LGBTQ bans lifted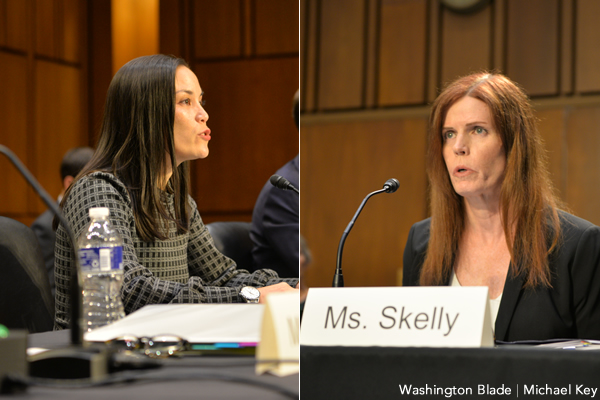 Two nominees, one lesbian and one transgender, sailed though a breezy confirmation hearing on Wednesday for high-ranking positions at the Defense Department.
Among the five nominees questioned before the Senate Armed Services Committee were Shawn Skelly, who's transgender and nominated to become assistant secretary of defense for readiness, and Gina Ortiz Jones, who's a lesbian and nominated to become under secretary of the Air Force.
The LGBTQ nominees for the high-ranking posts stand out in the wake of the Biden administration enacting to reverse the transgender military ban enacted under President Trump, as well as the coming anniversary of the lifting of "Don't Ask, Don't Tell."
Both Jones, a former Air Force pilot, and Skelly, a 20-year veteran of the U.S. Navy, served in the U.S. military at times when they would have been discharged due to their sexual orientation or gender identity.
Jones made a reference to serving under "Don't Ask, Don't Tell" as part of her opening statement for the confirmation hearing.
"My experience in the Air Force was hindered by the 'Don't Ask, Don't Tell' policy, yet I to remain undeterred because of my desire to serve our country," Jones said. "That experience cemented my resolve to ensure anyone ready and able to serve can do so to their full potential and accordingly our country's fullest potential."
Annise Parker, CEO of LGBTQ Victory Institute, said in a statement the nominations of the LGBTQ individuals to high-ranking Defense roles is significant.
 
"These two trailblazing nominees demonstrated their deep military expertise and qualifications before the committee and we know their experiences as LGBTQ people will shape their leadership in these critical positions," Parker said. "Their performance was a powerful testament to the progress our military and nation has made – just one decade after the repeal of 'Don't Ask, Don't Tell' – and is an important moment for LGBTQ service members who served or continue to serve in silence. Their confirmation will transform perceptions of LGBTQ people within the ranks of the U.S. military, but also among the leaders of militaries we work with around the world."
No member of the committee objected to — or even pointed out — the sexual orientation or gender identity of the nominees. In fact, Sen. James Inhofe (R-Okla.), who had openly called for codifying the transgender military ban into law as opposed to reversing it, notably recognized Skelly's gender identity by referring to her as "Ms. Skelly" when addressing her.
Questions, instead, comprised issues related to the U.S. military, including rooting out "extremism" in the military, competition with China, access to care at medical facilities and the U.S. military being the biggest single consumer of fossil fuels.
Skelly, in her opening statement, said she was "simultaneously humbled and inspired" over being nominated for the role as assistant secretary of defense for readiness, which includes being responsible for recruitment, career development, pay and benefits, and oversight of the state of military readiness.
"As a retired Naval flight officer, the importance of the department safety and professional military education programs, and the manner in which they support the readiness of the total force are deeply ingrained in me, and if confirmed, I will ensure they receive the priority and focus they deserve," Skelly said.
Jones and Skelly are two of three pending LGBTQ nominees for high-ranking Defense positions. The other is Brenda "Sue" Fulton, a lesbian who had advocated for "Don't Ask, Don't Tell" repeal and was nominated to become assistant secretary of defense for manpower and readiness.
It wasn't immediately clear why Fulton wasn't among the nominees questioned on Wednesday even though she was nominated at the same time. The Senate Armed Services Committee didn't respond Wednesday to the Washington Blade's request for comment.
House Republicans block LGBTQ small business credit measure
'No attack is too low'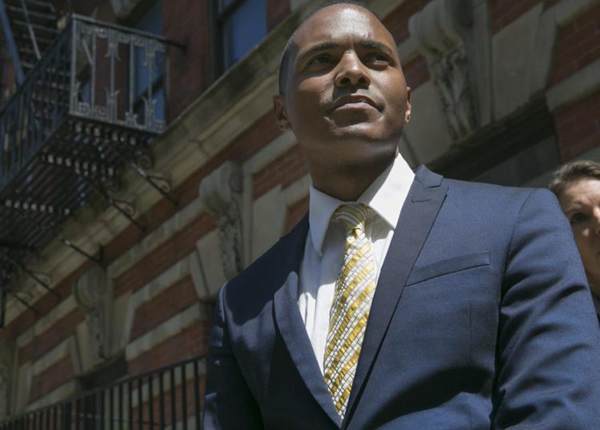 WASHINGTON – A measure introduced by freshmen New York Representative Ritchie Torres (D15-Bronx) that would ensure that financial institutions are providing LGBTQ-owned small businesses equal access to credit was blocked by the Republican caucus this week.
Torres' LGBTQ Business Equal Credit Enforcement and Investment Act, HR 1443, requiring financial institutions to collect data on credit applications by LGBTQ-owned businesses, was stopped from passing in a 248-177 vote Tuesday. The measure required a 2/3rds vote (284) to pass.
House Speaker Nancy Pelosi in a statement after the vote noted, "House Republicans are using Pride Month to attack LGBTQ-owned small businesses. […] Passing this uncontroversial bill to help small businesses stay afloat during a pandemic should be a no-brainer."
"Sadly, no attack is too low for this House Republican Conference, not even attacking LGBTQ-owned small businesses during Pride Month," Pelosi added.
The openly gay Ritchie tweeted, "The Republicans in the House voted down my legislation, HR 1443, which would protect LGBTQ-owned businesses from discrimination. A slap in the face to the LGBTQ community right in the heart of Pride Month."
The Republicans in the House voted down my legislation, HR 1443, which would protect LGBTQ-owned businesses from discrimination. A slap in the face to the LGBTQ community right in the heart of Pride Month. https://t.co/gTCLbex0wp

— Ritchie Torres (@RitchieTorres) June 15, 2021