Soaring at the Air Force
Under Secretary Fanning on his career and vision for an LGBT-inclusive military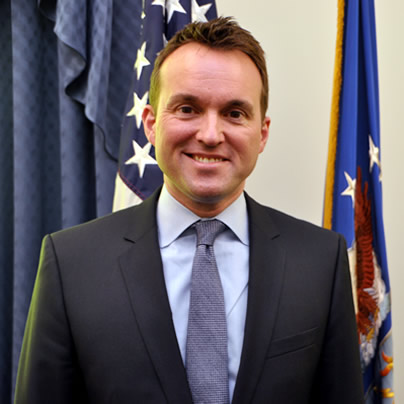 After being bitten by the politics bug in 1988, a gay Dartmouth college student would abandon plans to pursue a career in architecture and instead move to D.C. where, years later, he would ascend the ranks to take on the second-highest civilian position in the U.S. Air Force.
It was the New Hampshire primary after eight years of Ronald Reagan that led Eric Fanning to shift his career trajectory to politics and policy.
"The campaign hooked me on politics. I found my way into an internship on the Hill and decided I wanted to come back," Fanning said. "I got a great job on the House Armed Services Committee, which is not easy to do. I was very lucky to get that. The chairman of the committee, for whom I was research assistant, was, within 16 months, Clinton's first defense secretary, so I was over here in the Clinton Pentagon. The path kind of wrote itself very early on."
Fanning, 44, reflected on his career path and vision for an LGBT-inclusive Air Force during an interview with the Washington Blade in his office at the Pentagon on Wednesday — the first media interview he's granted since the U.S. Senate confirmed him last month as under secretary of the Air Force by voice vote.
After  his initial work on Capitol Hill, Fanning worked as special assistant to the Secretary of Defense, and associate director of political affairs at the White House. During the Bush administration, he worked for Business Executives for National Security, a D.C.-based think tank before joining the Commission on the Prevention of Weapons of Mass Destruction Proliferation & Terrorism.
Once President Obama assumed office, Fanning went to work as Deputy Chief Management Officer for the Department of the Navy and continued in that role until he was nominated in July for his role as Air Force under secretary. In that role as part of Air Force leadership, Fanning is responsible for affairs on behalf of the secretary of the Air Force, including organizing, training and equipping the service. Fanning, who's single, lives in Logan Circle and works at the Pentagon.
Throughout his service in the government, Fanning has witnessed the enactment of "Don't Ask, Don't Tell" in 1993 as well as the ban on openly gay service members being lifted after President Obama signed repeal legislation in December 2010.
"'Don't Ask, Don't Tell was implemented when I got here,'" Fanning said. "That wasn't a particularly fun experience listening to the senior generals and admirals talk about those issues — now it was 20-plus years ago. It made this last round more rewarding just to see the change in the attitudes in the senior uniform leadership."
Although he said he's never felt like he's been discriminated against while working at the Pentagon, Fanning said working for an institution that would have discharged him for being openly gay if he had served on the uniform side was "challenging" and he was on pins and needles as legislation to repeal the law met obstacles in Congress.
"I left the Pentagon before the re-election and then didn't come back until this administration when we had a president who said he was going to end it," Fanning said. "It was very difficult when we were getting to the end of the first two years and it wasn't clear if we were going to be able to repeal 'Don't Ask, Don't Tell.' I didn't know what I was going to do if we didn't get the repeal through because some people couldn't work because they were openly gay or lesbian."
Fanning isn't a stranger to LGBT advocacy work. From 2004 to 2007, he served on the board of the Gay & Lesbian Victory Fund. Fanning said he's limited in the degree to which he can take part in LGBT organizations, but does contribute to pro-LGBT causes. Among them was a recent donation to Scouts for Equality, the organization the led the way for the Boy Scouts to approve a resolution ending its ban on gay youth.
"I think those organizations are important," Fanning said. "It's one of the reasons I gave so much time to the Victory Fund. But I don't think there's anything as important as just living an open life of integrity and productivity. … The more of us that are out and just doing the normal course of work of what we do as brothers, sisters, sons, colleagues, neighbors, I think that's one of the most important things we can do."
Chuck Wolfe, CEO of the Victory Fund, said Fanning represents what LGBT Americans can achieve and said his new role in the Air Force appropriately fits someone who helped elect LGBT people as a Victory Fund board member.
"Eric's appointment is another positive step for LGBT Americans, who have begun to reject the idea that authenticity and public service are incompatible," Wolfe said. "As a Victory Fund board member, Eric worked to make it possible for talented, committed leaders to serve the public regardless of their sexual orientation or gender identity. It's fitting that he has now become a high-profile example of that mission."
Like many gay Americans, Fanning said he's closely monitoring the proceedings at the Supreme Court on two prominent gay rights cases: one challenging California's Proposition 8, the other challenging the Defense of Marriage Act. Fanning said the case against DOMA is also professionally important to him because that law precludes major partner benefits — including health and pension benefits — from flowing to service members with same-sex partners.
"It has a significant impact on the Department of Defense as well because so many of these benefits conversations are tied up with DOMA, which is a federal law that we have to follow," Fanning said. "In some ways, DOMA, which I think is a terrible law, made the repeal of 'Don't Ask, Don't Tell' easier because it took some of the more emotional issues off the table, but in terms of extending benefits, I think everyone who serves in uniform should have full access to legal benefits, and so, DOMA is the main roadblock to that."
Fanning also takes the helm of the Air Force after an announcement in February that the Pentagon would extend to service members with same-sex partners limited benefits that are available to them under DOMA. Most of these benefits are the result of issuing these partners military IDs so they have access to commissaries and other programs. The goal to implement these is by  by Aug. 31, but no later than Oct. 1.
"When we deploy airmen in this case, they need to know their families are being taken care of when they're back home," Fanning said. "The families are involved in deployments; we're taking families away for extended periods of time. So, I think extending those types of benefits to people who are serving in uniform, volunteered for those risks is very important. So, I'm glad to see that it's going forward."
With the process leading to those benefits underway, Fanning also said he supports other outstanding initiatives sought by advocates — in particular the LGBT military group OutServe-SLDN — on behalf of LGBT service members while emphasizing he was speaking in a personal capacity in support of those ideas.
One of them was an explicit non-discrimination policy on sexual orientation in the military that would protect gay service members who feel they're suffering discrimination or harassment. Currently, service members have no recourse for anti-gay discrimination outside of their chain of command. In respect to calls for an explicit non-discrimination policy, the Pentagon has consistently said it treats all service members with respect without committing to a new policy.
"Speaking personally, I always think it's important to have non-discrimination policies codified to include everyone," Fanning said. "The military, because it has a chain of command, has a different attitude about this and a different way to try to go about protecting airmen, sailors, soldiers, Marines — but Eric Fanning? Yes. I personally like to see these things in writing and codified."
While some advocates have said President Obama should issue a non-discrimination executive order to protect gay service members, OutServe-SLDN has shifted its focus to calling on Defense Secretary Chuck Hagel to include out service members in non-discrimination and anti-harassment protections. Fanning said his preference is for the policy to originate from the Pentagon.
"My view about government is you should always use those resources that are available to you first before you move up to the next level, so I think there are a number of things we can do inside this building for the Department of Defense," Fanning said. "If the president wanted to do that for the government at large, that's a different issue, but we have the ability within the Department of Defense to codify this without having the president issue an executive order."
Fanning also said he backs the idea of openly transgender service in the military. Currently, openly transgender people are unable to serve in the armed forces and face a medical discharge if their gender identity becomes known.
"I think that the military is stronger, institutions are stronger, and society is stronger the more inclusive that we are," Fanning said. "So, wherever we can root out discrimination, I think it's a positive thing."
Allyson Robinson, executive director of OutServe-SLDN, praised Fanning for expressing support for the initiatives and said his vision for the military brings the institution into alignment with the 21st century.
"Under Secretary Fanning shares the same vision we have at OutServe-SLDN: a U.S. military that leads the nation in LGBT inclusion rather than lagging behind it," Robinson said. "The steps he's suggested would bring our armed forces in line with proven best inclusion practices of some of America's most effective organizations, including our largest defense contractors, and of some of our strongest allies, like Great Britain and Israel. It's encouraging to see this kind of forward thinking from one of our top military leaders."
White House mum on whether Biden raised LGBTQ rights with Putin
Geneva summit took place amid ongoing Chechnya crackdown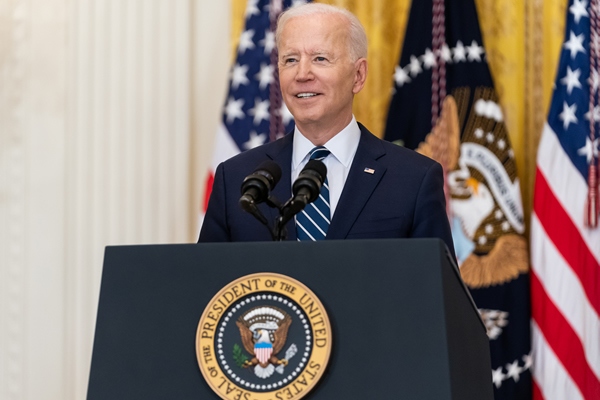 The White House on Wednesday did not say whether President Biden raised Russia's LGBTQ rights record during his summit with Russian President Vladimir Putin.
"I told President Putin my agenda is not against Russia or anyone else; it's for the American people: fighting COVID-19; rebuilding our economy; reestablishing our relationships around the world with our allies and friends; and protecting our people," Biden told reporters during a press conference that took place after the summit, which took place in Geneva, ended. "That's my responsibility as president.

"I also told him that no president of the United States could keep faith with the American people if they did not speak out to defend our democratic values, to stand up for the universal rights and fundamental freedoms that all men and women have, in our view," added Biden. "That's just part of the DNA of our country."
Biden said he told Putin that "human rights is going to always be on the table, I told him."
"It's not about just going after Russia when they violate human rights; it's about who we are," said Biden. "How could I be the president of the United States of America and not speak out against the violation of human rights?"
Biden also told reporters the U.S. will continue to "raise our concerns about cases like Alexey Navalny," a Russian opposition leader who remains in jail.
Navalny last August spent weeks in a coma after he was poisoned with Novichok in the Siberian city of Tomsk. Navalny underwent treatment in Germany before he returned to Russia in January.   
"I made it clear to President Putin that we'll continue to raise issues of fundamental human rights because that's what we are, that's who we are," Biden told the reporters. "The idea is: 'We hold these truths self-evident that all men and women … ' We haven't lived up to it completely, but we've always widened the arc of commitment and included more and more people."
Putin in 2013 sparked global outrage when he signed a law that bans the promotion of so-called gay propaganda to minors. Putin in April signed a series of constitutional amendments that, among other things, formally defines marriage as between a man and a woman in Russia.
Chechen President Ramzan Kadyrov, who is a close Putin ally, and the Kremlin continue to downplay the anti-LGBTQ crackdown in Chechnya.
The State Department in February expressed concern over the fate of two Chechen brothers who were arrested in Russia and returned to their homeland, even though they had fled its anti-LGBTQ crackdown.
The Russian LGBT Network, a Russian LGBTQ rights group, said authorities in Dagestan, a semi-autonomous Russian republic that borders Chechnya, on June 10 kidnapped a bisexual woman who had sought refuge at a shelter for domestic violence survivors. Reports indicate Chechen police officers forced her into a vehicle and drove her back to Chechnya.
The National Security Council before the summit did not respond to the Washington Blade's request for comment about whether Biden planned to raise Russia's LGBTQ rights record with Putin. A State Department spokesperson referred the Blade to the White House for comment.
Chris Johnson contributed to this article.
Lesbian, trans Defense nominees sail through confirmation hearings
Biden picks exemplify change after LGBTQ bans lifted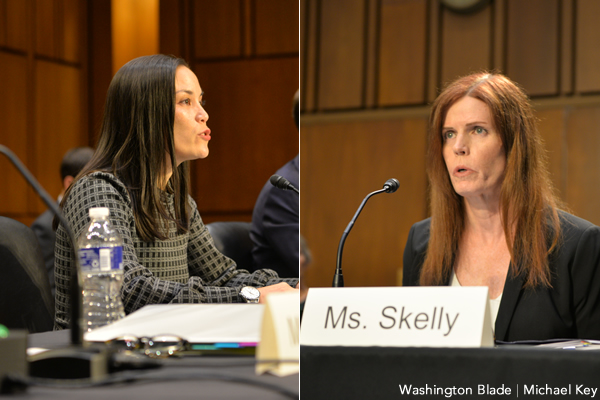 Two nominees, one lesbian and one transgender, sailed though a breezy confirmation hearing on Wednesday for high-ranking positions at the Defense Department.
Among the five nominees questioned before the Senate Armed Services Committee were Shawn Skelly, who's transgender and nominated to become assistant secretary of defense for readiness, and Gina Ortiz Jones, who's a lesbian and nominated to become under secretary of the Air Force.
The LGBTQ nominees for the high-ranking posts stand out in the wake of the Biden administration enacting to reverse the transgender military ban enacted under President Trump, as well as the coming anniversary of the lifting of "Don't Ask, Don't Tell."
Both Jones, a former Air Force pilot, and Skelly, a 20-year veteran of the U.S. Navy, served in the U.S. military at times when they would have been discharged due to their sexual orientation or gender identity.
Jones made a reference to serving under "Don't Ask, Don't Tell" as part of her opening statement for the confirmation hearing.
"My experience in the Air Force was hindered by the 'Don't Ask, Don't Tell' policy, yet I to remain undeterred because of my desire to serve our country," Jones said. "That experience cemented my resolve to ensure anyone ready and able to serve can do so to their full potential and accordingly our country's fullest potential."
Annise Parker, CEO of LGBTQ Victory Institute, said in a statement the nominations of the LGBTQ individuals to high-ranking Defense roles is significant.
 
"These two trailblazing nominees demonstrated their deep military expertise and qualifications before the committee and we know their experiences as LGBTQ people will shape their leadership in these critical positions," Parker said. "Their performance was a powerful testament to the progress our military and nation has made – just one decade after the repeal of 'Don't Ask, Don't Tell' – and is an important moment for LGBTQ service members who served or continue to serve in silence. Their confirmation will transform perceptions of LGBTQ people within the ranks of the U.S. military, but also among the leaders of militaries we work with around the world."
No member of the committee objected to — or even pointed out — the sexual orientation or gender identity of the nominees. In fact, Sen. James Inhofe (R-Okla.), who had openly called for codifying the transgender military ban into law as opposed to reversing it, notably recognized Skelly's gender identity by referring to her as "Ms. Skelly" when addressing her.
Questions, instead, comprised issues related to the U.S. military, including rooting out "extremism" in the military, competition with China, access to care at medical facilities and the U.S. military being the biggest single consumer of fossil fuels.
Skelly, in her opening statement, said she was "simultaneously humbled and inspired" over being nominated for the role as assistant secretary of defense for readiness, which includes being responsible for recruitment, career development, pay and benefits, and oversight of the state of military readiness.
"As a retired Naval flight officer, the importance of the department safety and professional military education programs, and the manner in which they support the readiness of the total force are deeply ingrained in me, and if confirmed, I will ensure they receive the priority and focus they deserve," Skelly said.
Jones and Skelly are two of three pending LGBTQ nominees for high-ranking Defense positions. The other is Brenda "Sue" Fulton, a lesbian who had advocated for "Don't Ask, Don't Tell" repeal and was nominated to become assistant secretary of defense for manpower and readiness.
It wasn't immediately clear why Fulton wasn't among the nominees questioned on Wednesday even though she was nominated at the same time. The Senate Armed Services Committee didn't respond Wednesday to the Washington Blade's request for comment.
House Republicans block LGBTQ small business credit measure
'No attack is too low'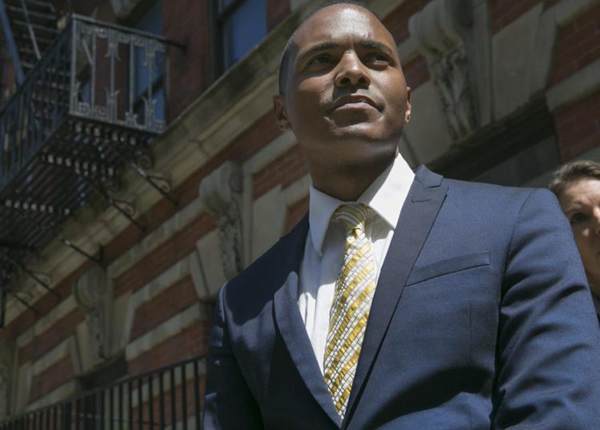 WASHINGTON – A measure introduced by freshmen New York Representative Ritchie Torres (D15-Bronx) that would ensure that financial institutions are providing LGBTQ-owned small businesses equal access to credit was blocked by the Republican caucus this week.
Torres' LGBTQ Business Equal Credit Enforcement and Investment Act, HR 1443, requiring financial institutions to collect data on credit applications by LGBTQ-owned businesses, was stopped from passing in a 248-177 vote Tuesday. The measure required a 2/3rds vote (284) to pass.
House Speaker Nancy Pelosi in a statement after the vote noted, "House Republicans are using Pride Month to attack LGBTQ-owned small businesses. […] Passing this uncontroversial bill to help small businesses stay afloat during a pandemic should be a no-brainer."
"Sadly, no attack is too low for this House Republican Conference, not even attacking LGBTQ-owned small businesses during Pride Month," Pelosi added.
The openly gay Ritchie tweeted, "The Republicans in the House voted down my legislation, HR 1443, which would protect LGBTQ-owned businesses from discrimination. A slap in the face to the LGBTQ community right in the heart of Pride Month."
The Republicans in the House voted down my legislation, HR 1443, which would protect LGBTQ-owned businesses from discrimination. A slap in the face to the LGBTQ community right in the heart of Pride Month. https://t.co/gTCLbex0wp

— Ritchie Torres (@RitchieTorres) June 15, 2021