Soaring at the Air Force
Under Secretary Fanning on his career and vision for an LGBT-inclusive military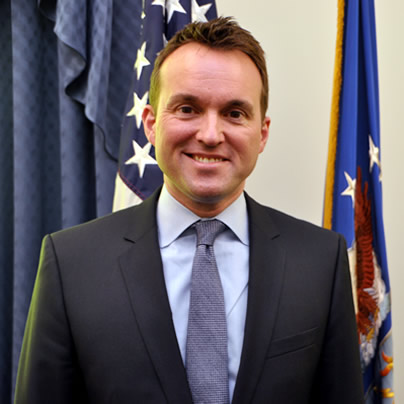 After being bitten by the politics bug in 1988, a gay Dartmouth college student would abandon plans to pursue a career in architecture and instead move to D.C. where, years later, he would ascend the ranks to take on the second-highest civilian position in the U.S. Air Force.
It was the New Hampshire primary after eight years of Ronald Reagan that led Eric Fanning to shift his career trajectory to politics and policy.
"The campaign hooked me on politics. I found my way into an internship on the Hill and decided I wanted to come back," Fanning said. "I got a great job on the House Armed Services Committee, which is not easy to do. I was very lucky to get that. The chairman of the committee, for whom I was research assistant, was, within 16 months, Clinton's first defense secretary, so I was over here in the Clinton Pentagon. The path kind of wrote itself very early on."
Fanning, 44, reflected on his career path and vision for an LGBT-inclusive Air Force during an interview with the Washington Blade in his office at the Pentagon on Wednesday — the first media interview he's granted since the U.S. Senate confirmed him last month as under secretary of the Air Force by voice vote.
After  his initial work on Capitol Hill, Fanning worked as special assistant to the Secretary of Defense, and associate director of political affairs at the White House. During the Bush administration, he worked for Business Executives for National Security, a D.C.-based think tank before joining the Commission on the Prevention of Weapons of Mass Destruction Proliferation & Terrorism.
Once President Obama assumed office, Fanning went to work as Deputy Chief Management Officer for the Department of the Navy and continued in that role until he was nominated in July for his role as Air Force under secretary. In that role as part of Air Force leadership, Fanning is responsible for affairs on behalf of the secretary of the Air Force, including organizing, training and equipping the service. Fanning, who's single, lives in Logan Circle and works at the Pentagon.
Throughout his service in the government, Fanning has witnessed the enactment of "Don't Ask, Don't Tell" in 1993 as well as the ban on openly gay service members being lifted after President Obama signed repeal legislation in December 2010.
"'Don't Ask, Don't Tell was implemented when I got here,'" Fanning said. "That wasn't a particularly fun experience listening to the senior generals and admirals talk about those issues — now it was 20-plus years ago. It made this last round more rewarding just to see the change in the attitudes in the senior uniform leadership."
Although he said he's never felt like he's been discriminated against while working at the Pentagon, Fanning said working for an institution that would have discharged him for being openly gay if he had served on the uniform side was "challenging" and he was on pins and needles as legislation to repeal the law met obstacles in Congress.
"I left the Pentagon before the re-election and then didn't come back until this administration when we had a president who said he was going to end it," Fanning said. "It was very difficult when we were getting to the end of the first two years and it wasn't clear if we were going to be able to repeal 'Don't Ask, Don't Tell.' I didn't know what I was going to do if we didn't get the repeal through because some people couldn't work because they were openly gay or lesbian."
Fanning isn't a stranger to LGBT advocacy work. From 2004 to 2007, he served on the board of the Gay & Lesbian Victory Fund. Fanning said he's limited in the degree to which he can take part in LGBT organizations, but does contribute to pro-LGBT causes. Among them was a recent donation to Scouts for Equality, the organization the led the way for the Boy Scouts to approve a resolution ending its ban on gay youth.
"I think those organizations are important," Fanning said. "It's one of the reasons I gave so much time to the Victory Fund. But I don't think there's anything as important as just living an open life of integrity and productivity. … The more of us that are out and just doing the normal course of work of what we do as brothers, sisters, sons, colleagues, neighbors, I think that's one of the most important things we can do."
Chuck Wolfe, CEO of the Victory Fund, said Fanning represents what LGBT Americans can achieve and said his new role in the Air Force appropriately fits someone who helped elect LGBT people as a Victory Fund board member.
"Eric's appointment is another positive step for LGBT Americans, who have begun to reject the idea that authenticity and public service are incompatible," Wolfe said. "As a Victory Fund board member, Eric worked to make it possible for talented, committed leaders to serve the public regardless of their sexual orientation or gender identity. It's fitting that he has now become a high-profile example of that mission."
Like many gay Americans, Fanning said he's closely monitoring the proceedings at the Supreme Court on two prominent gay rights cases: one challenging California's Proposition 8, the other challenging the Defense of Marriage Act. Fanning said the case against DOMA is also professionally important to him because that law precludes major partner benefits — including health and pension benefits — from flowing to service members with same-sex partners.
"It has a significant impact on the Department of Defense as well because so many of these benefits conversations are tied up with DOMA, which is a federal law that we have to follow," Fanning said. "In some ways, DOMA, which I think is a terrible law, made the repeal of 'Don't Ask, Don't Tell' easier because it took some of the more emotional issues off the table, but in terms of extending benefits, I think everyone who serves in uniform should have full access to legal benefits, and so, DOMA is the main roadblock to that."
Fanning also takes the helm of the Air Force after an announcement in February that the Pentagon would extend to service members with same-sex partners limited benefits that are available to them under DOMA. Most of these benefits are the result of issuing these partners military IDs so they have access to commissaries and other programs. The goal to implement these is by  by Aug. 31, but no later than Oct. 1.
"When we deploy airmen in this case, they need to know their families are being taken care of when they're back home," Fanning said. "The families are involved in deployments; we're taking families away for extended periods of time. So, I think extending those types of benefits to people who are serving in uniform, volunteered for those risks is very important. So, I'm glad to see that it's going forward."
With the process leading to those benefits underway, Fanning also said he supports other outstanding initiatives sought by advocates — in particular the LGBT military group OutServe-SLDN — on behalf of LGBT service members while emphasizing he was speaking in a personal capacity in support of those ideas.
One of them was an explicit non-discrimination policy on sexual orientation in the military that would protect gay service members who feel they're suffering discrimination or harassment. Currently, service members have no recourse for anti-gay discrimination outside of their chain of command. In respect to calls for an explicit non-discrimination policy, the Pentagon has consistently said it treats all service members with respect without committing to a new policy.
"Speaking personally, I always think it's important to have non-discrimination policies codified to include everyone," Fanning said. "The military, because it has a chain of command, has a different attitude about this and a different way to try to go about protecting airmen, sailors, soldiers, Marines — but Eric Fanning? Yes. I personally like to see these things in writing and codified."
While some advocates have said President Obama should issue a non-discrimination executive order to protect gay service members, OutServe-SLDN has shifted its focus to calling on Defense Secretary Chuck Hagel to include out service members in non-discrimination and anti-harassment protections. Fanning said his preference is for the policy to originate from the Pentagon.
"My view about government is you should always use those resources that are available to you first before you move up to the next level, so I think there are a number of things we can do inside this building for the Department of Defense," Fanning said. "If the president wanted to do that for the government at large, that's a different issue, but we have the ability within the Department of Defense to codify this without having the president issue an executive order."
Fanning also said he backs the idea of openly transgender service in the military. Currently, openly transgender people are unable to serve in the armed forces and face a medical discharge if their gender identity becomes known.
"I think that the military is stronger, institutions are stronger, and society is stronger the more inclusive that we are," Fanning said. "So, wherever we can root out discrimination, I think it's a positive thing."
Allyson Robinson, executive director of OutServe-SLDN, praised Fanning for expressing support for the initiatives and said his vision for the military brings the institution into alignment with the 21st century.
"Under Secretary Fanning shares the same vision we have at OutServe-SLDN: a U.S. military that leads the nation in LGBT inclusion rather than lagging behind it," Robinson said. "The steps he's suggested would bring our armed forces in line with proven best inclusion practices of some of America's most effective organizations, including our largest defense contractors, and of some of our strongest allies, like Great Britain and Israel. It's encouraging to see this kind of forward thinking from one of our top military leaders."
Rep. Sean Patrick Maloney introduces bill to make monkeypox testing free
Health insurers would be required to cover costs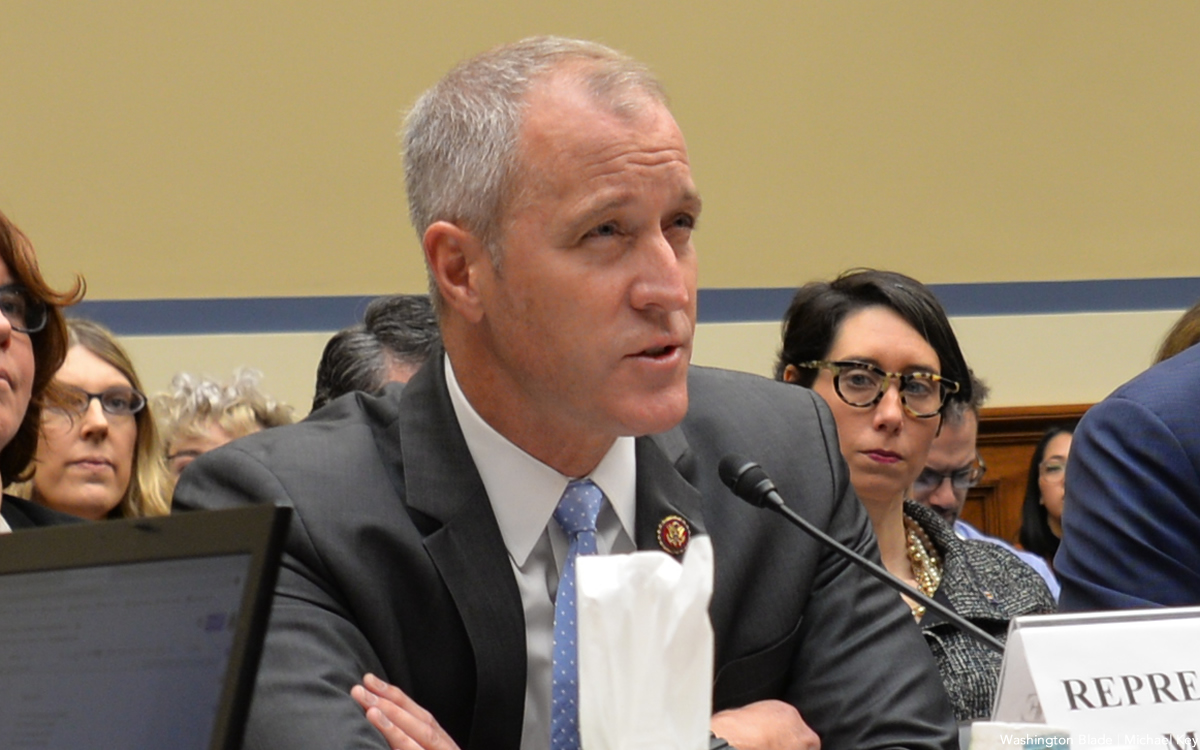 Rep. Sean Patrick Maloney (D-N.Y.), amid the ongoing monkeypox affecting gay and bisexual men, has introduced legislation in the U.S. House seeking to make testing for disease free to the public.
Maloney, one of seven openly gay members of Congress and chair of the Democratic Congressional Campaign Committee, said in a statement the measure, called the No Cost for Monkeypox Testing Act, would testing amid the monkeypox outbreak would be accessible to all.
"It is critical that we eliminate cost as a barrier to testing for monkeypox to ensure we can identify cases and prevent further spread," Maloney said. "This legislation takes the lessons we learned from past public health emergencies and protects those at risk of contracting monkeypox by making tests accessible to everyone."
The legislation would require private health insurers as well as Medicare and Medicaid to cover the costs of monkeypox testing at no expense to the patients, either through deductibles, co-payments, and co-insurance.
The bill introduction comes the week after the Biden administration declared the monkeypox outbreak a public health emergency and the same it has issued new guidance to enhance to the accessing of existing vaccines doses amid criticism federal officials were too slow in distributing shots.
The Washington Blade has placed a request in with the Centers for Disease Control seeking comment on the legislation. Secretary of Health & Human Services Xavier Becerra said Tuesday the federal government has the capacity to conduct an estimated 80,000 tests each week.
Maloney has been representing New York's 18th congressional district, but after redistricting is now seeking re-election in the 17th district. Amid controversy over a potential showdown between Maloney and Rep. Mondaire Jones (D-N.Y.), who's Black, another openly gay member of Congress and the current representative of that district, Jones has since opted to run for re-election in the New York's 10th congressional district. Maloney is now running unopposed in the 17th.
Out Vermont state senator wins Democratic primary race
Tuesday's victory makes her likely to become the first woman and openly LGBTQ+ person to represent the heavily Democratic state in Congress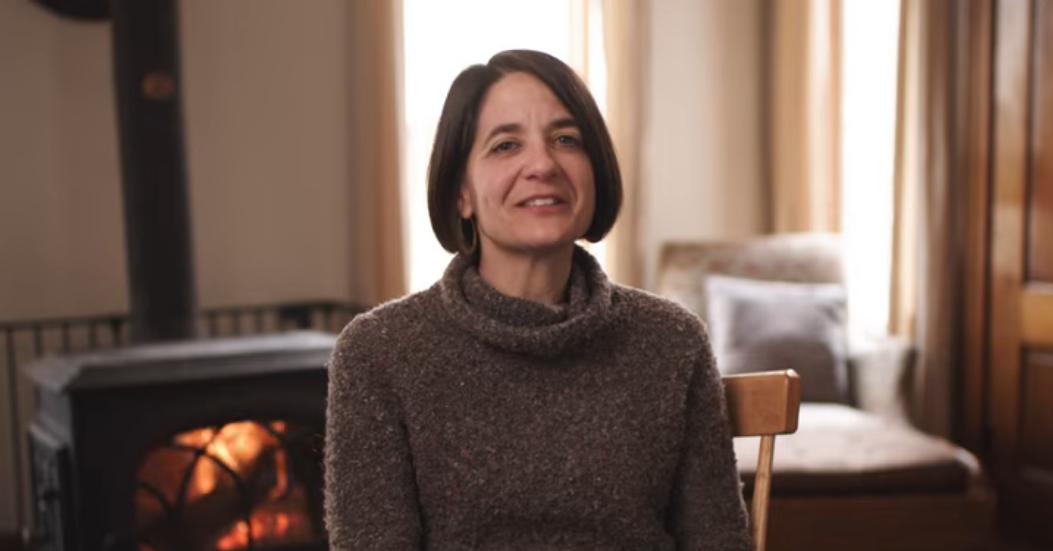 The Green Mountain State's state Senate president pro tempore has won the Democratic nomination for the state's at-large congressional seat, the state's lone seat in the U.S. House of Representatives.
Becca Balin is running to succeed U.S. Rep. Peter Welch and Tuesday's victory makes her likely to become the first woman and openly LGBTQ+ person to represent the heavily Democratic state in Congress if elected in November. Vermont is the only state that has never had a female member of its congressional delegation.
The VTDigger, a statewide news website, reported; "Balint, 53, is the first openly gay woman elected to the Vermont Senate and the first woman to serve as its president. The former middle school teacher and stay-at-home mother won her first political contest in a race for her southeastern Vermont Senate seat in 2014.
She rose quickly through the ranks of the Democrat-controlled chamber, becoming majority leader in 2017, at the start of her second term. Four years later, in 2021, she was elected pro tem — the top position in the Senate."
Becca Balint, the president pro tempore of the Vermont Senate, has won the Democratic primary for the state's open congressional seat. She could become the first woman and the first openly gay person to represent the state in Congress. https://t.co/RaAgwmtQJD

— The Associated Press (@AP) August 10, 2022
Lindsey Graham: Same-sex marriage should be left to the states
Republican senator says issue a distraction from inflation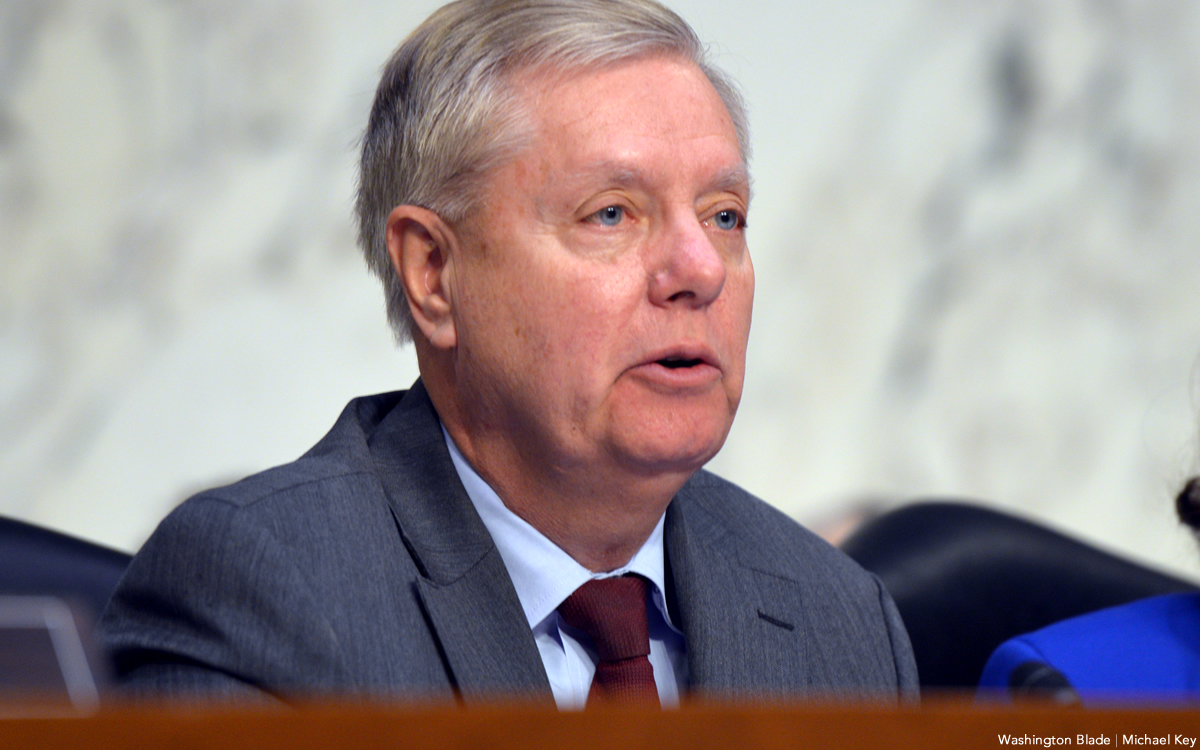 Sen. Lindsey Graham (R-S.C.), seven years after the U.S. Supreme Court ruled in favor of same-sex marriage nationwide, said Sunday he still thinks the issue of gay nuptials should be left to the states.
Graham made the remarks during an interview with CNN's Dana Bash in a rare televised bipartisan debate with Sen. Richard Blumenthal (D-Conn.) as the Senate was in the middle of voting on amendments for the Inflation Reduction Act.
When discussing the 6-3 conservative majority of the Supreme Court, Graham said consistent with the recent decision overturning Roe v. Wade justices could overturn other precedents, such as the 2015 decision in Obergefell v. Hodges in favor of same-sex marriage.
Asked point blank if he was saying it should be overturned, Graham said "no, I'm saying that I don't think it's going to be overturned." Graham, however, had an infection his voice, suggesting same-sex marriage could be undone.
"Nor should it be?" asked Bash.
"Well, that would be up to the court," he responded, then added: "I think states should decide the issue of marriage, and states should be decide the issue of abortion."
When Bash brought up another case, Loving v. Virginia, the 1965 case that overturned states bans on interracial marriage, and asked if that should be revisited as well, Graham replied, "no."
Graham quickly moved on to tamp down any expectation the would address the issue of same-sex marriage, saying fears the court would revisit the issue are unfounded and meant as a distraction from issues such as inflation.
"But if you're going to ask me to have the federal government take over defining marriage, I'm going to say no," Graham added.
Graham's remarks are consistent with what he told the Washington Blade in 2015 when asked about same-sex marriage as the issue was being adjudicated by the Supreme Court. However, they contrast to his support for a Federal Marriage Amendment that was pending before Congress during the Bush administration and would have made a ban on same-sex marriage nationwide part of the U.S. Constitution. Graham was not asked about his views on now defunct idea of an amendment during the CNN interview.
h/t The Independent