Campaign finance complaint filed against Christine Quinn
NYC mayoral candidate challenged over Victory Fund travel reimbursements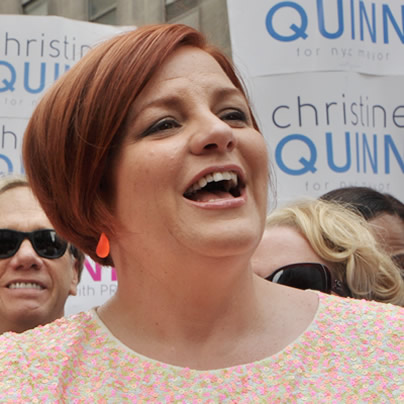 A Brooklyn attorney has filed a complaint against New York City Council Speaker Christine Quinn over travel reimbursements she accepted from an LGBT political action committee while raising funds for her mayoral campaign.
The Wall Street Journal on Thursday reported that Garfield Heslop filed a complaint with the New York City Campaign Finance Board on June 24 asking it to investigate Quinn over more than $20,000 in contributions her campaign received from donors in Houston, San Diego and Chicago after she attended Gay & Lesbian Victory Fund events in the three cities in 2011 and 2012.
The newspaper reported last month the Victory Fund paid Quinn to travel to the three cities to attend their fundraisers.
Quinn, who hopes to become New York City's first gay and female mayor, spoke at the Victory Fund's annual National Champagne Brunch in D.C. in April alongside U.S. Sen. Tammy Baldwin (D-Wis.) and Pennsylvania state Rep. Brian Sims.
Heslop did not immediately return the Washington Blade's request for comment, but the Wall Street Journal reported that he wrote in his complaint that Quinn "may have broken both the letter and the spirit of New York City campaign finance laws" when she "participated in fundraisers for both the Gay and Lesbian Victory Fund and her own mayoral campaign."
The New York City Conflicts of Interest Board opined on May 5, 2011; Nov. 21, 2011 and Oct. 18, 2012 that the Victory Fund could reimburse Quinn for travel costs to their events because she attended them in her official capacity as an openly gay government official.
The Victory Fund declined comment.
Quinn spokesperson Mike Morey defended the campaign's actions.
"We work diligently to report any and all costs related to fundraising for the campaign," he told the Blade. "We continue to review any expenses related to fundraising for the campaign to ensure full compliance of reporting requirements."
New York City campaign finance records indicate the Victory Fund has contributed $165,078 to Quinn's mayoral bid as of May 15.
Edith Windsor, the Manhattan widow who successfully challenged the Defense of Marriage Act before the U.S. Supreme Court, is among the prominent LGBT New Yorkers who have endorsed Quinn to succeed Mayor Michael Bloomberg in Gracie Mansion. Long-time LGBT rights advocate Allen Roskoff, who co-founded the Jim Owles Liberal Democratic Club, are among Quinn's most vocal opponents.
"Anyone seeking the highest office in New York City government should avoid even the appearance of the possibility of conflict of interests," Pauline Park, a Queens, N.Y.,-based transgender activist who frequently criticizes Quinn, told the Blade. "Christine Quinn failed to adhere to that standard when she accepted expense reimbursement from the Gay and Lesbian Victory Fund for fundraising trips that clearly benefitted her own mayoral campaign as well."
Quinn's campaign has raised $7,174,177 and spent $1,342,502 as of the same date. Former Congressman Anthony Weiner, who declared his candidacy in May, reported $5,139,175 — which includes $4.5 million left over from his 2009 mayoral bid — in his campaign account and spent $869,109 as of May 15.
Republican Joe Lhota, who is the former chair of New York City's Metropolitan Transportation Authority, reported his campaign had raised $1,283,793 and spent $449,089 as of May 15.
The Wall Street Journal/NBC New York/Marist Poll released on June 26 shows Weiner leads Quinn among registered New York City Democrats by a 25-20 percent margin. A Quinnipiac University survey released on the same day found Quinn ahead of Weiner by a 19-17 percent margin.
Former New York City Comptroller William Thompson came in third among Democratic voters in the five boroughs with 16 percent.
The New York City primary will take place on September 10.
Task Force targets five battleground states in 'Queer the Vote'
LGBTQ rights organization raises over $15,000 at D.C. event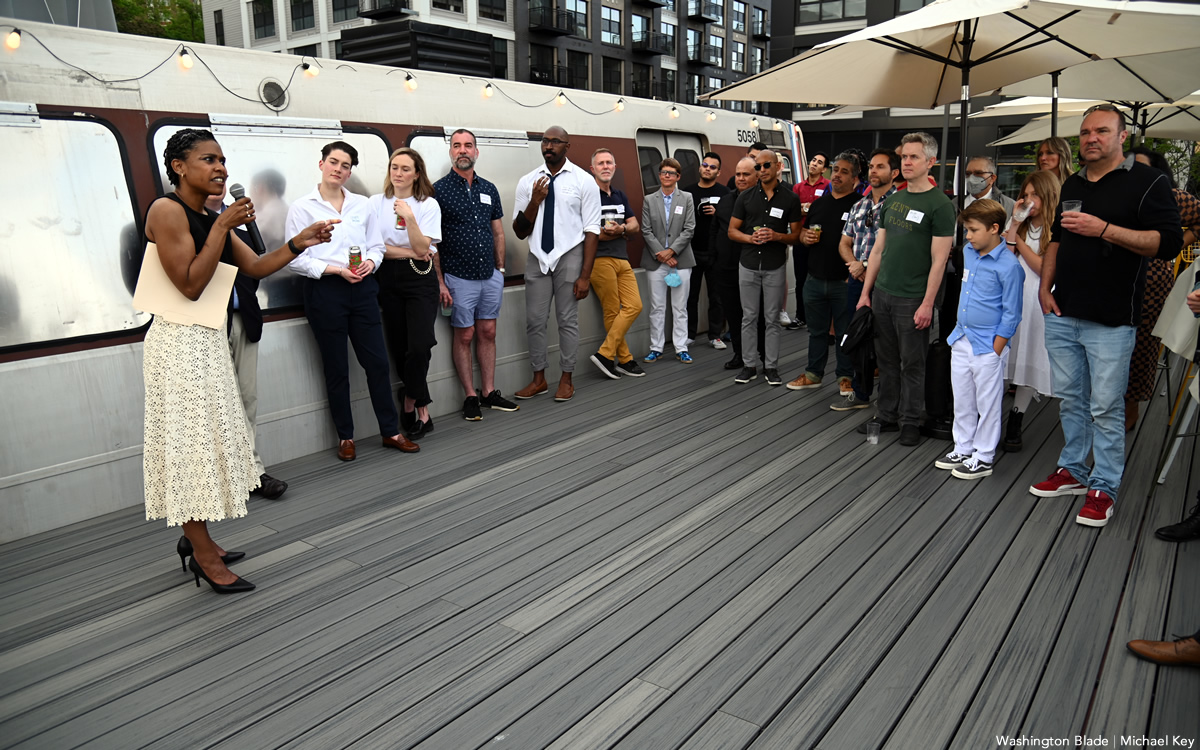 Nearly 50 people attended the National LGBTQ Task Force's Reunited and Resilient fundraiser at Metrobar on Friday, May 13.
Task Force board member Peter Chandler announced at the first in-person D.C. gathering of the organization since the start of the COVID-19 pandemic, "we all are thirsty and hungry for community right now."
Following remarks by Task Force Executive Director Kierra Johnson and Deputy Executive Director Mayra Hidalgo Salazar, the organization raised more than $15,000 in pledges of donations from guests.
"I think a lot of us are seeing this bill pop up," Salazar said, referring to Florida's "Don't Say Gay" law. "And some of us can feel hopelessness, but I'm really thrilled to share with you that the Task Force is super determined to make sure that we are driving the political power of the LGBT movement through our 'Queer the Vote' work in Florida."
Johnson elaborated on the Task Force's "Queer the Vote" initiative. "As we look to the 2022 midterms, the Task Force is moving our resources into civic engagement across five states: North Carolina, Texas, Florida, Ohio and Michigan," said Johnson.
"That's not by accident: that's intentional," continued Johnson. "These are battleground states. These are states where we are seeing not only attacks on LGBTQ issues, we're seeing attacks on abortion, we're seeing attacks on voting rights, we're seeing attacks on immigrants. We're seeing multi-front attacks on our people, and that's exactly where the Task Force wants to be: at those intersections of social justice issues and LGBTQ liberation."
"The states that we are going to — we could change the impact on elections. In some places the margin is one percent; it is a one percent margin of whether we win or lose. And the majority of states in this country are 10% LGBTQ voters. That plus BIPOC [Black, Indigenous, and people of color] voters, we have the power to impact elections and make real change."
Poland LGBTQ 'Free Zones' tossed, UK ranking drops, Pussy Riot singer escapes
Maria Alyokhina fled Russia disguised as a food delivery driver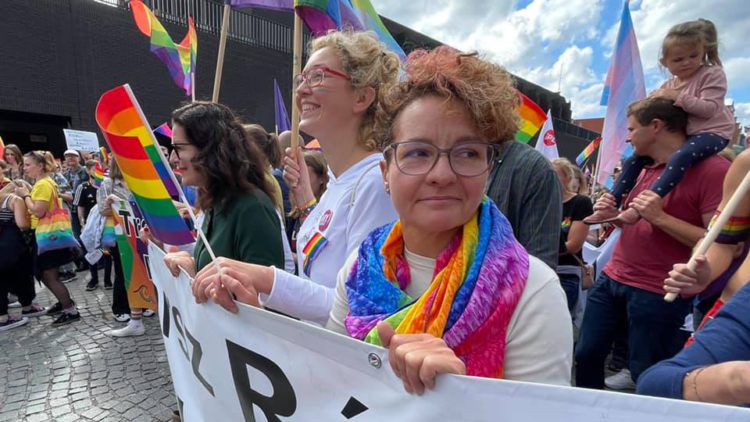 LGBTQ news from Europe this past week saw a major development in Poland after a court annulled actions taken previously to declare 'LGBT Free Zones' by provincial governments.
Large parts of Poland were labelled "LGBT-free zones," where regional governments declared they were against LGBTQ ideology. Last fall the executive branch of the European Union, the European Commission, sent letters out last week to the governors of five of Poland's voivodeships, (provinces) warning that pandemic relief funds totaling over 126 million euros ($150 million) will be withheld over anti-LGBTQ measures passed in their jurisdictions.
Poland has seen a resurgence in the past three years of rightwing religious ultra-conservative groups backed by nationalistic extremists in this heavily Catholic country of 38 million, which have led to passage of measures to restrict pride parades and other LGBTQ-friendly events from taking place.
Proponents of these measures claim the necessity of the provinces to be "free of LGBTQ ideology" saying this is mandated by average Poles as well as by the anti-LGBTQ views of the Catholic Church.
The majority of Polish people support LGBTQ rights surrounding marriage and family, according to research by Miłość Nie Wyklucza (Love Does Not Exclude.) 
The survey found 56 percent of respondents believe same-sex marriage should be legal to ensure the safety of their children. Even more, 65 percent, said they felt "a biological parent raising a child with a same-sex partner" fits the definition of family. And 58 percent of people said a same-sex couple is a family even without children. 
Lublin Regional Assembly passed a resolution in April 2019 declaring that LGBTQ rights aim to "annihilate" the "values shaped by the Catholic Church" PinkNewsUK reported.
In the same month, Ryki County, a district in Lublin, passed a resolution voting to protect "children, young people, families and Polish schools" from an apparent wave of "homoterror" being unleashed by "left-liberal groups."
PinkNewsUK also reported that the Provincial Administrative Court in Lublin found the resolutions were "adopted without legal basis and in gross violation of the law" after a legal challenge by the Polish Ombudsman.
They become the eighth and ninth "LGBT-free zones" voided by the courts following interventions by the Polish Ombudsman. Municipal councils in Istebna, Klwów, Serniki, Osiek, Lipinki, Niebylec and the Tarnowski County Council all scrapped such measures in 2019.
This past June, the leaders of 17 European Union countries had signed a letter that urges the EU to fight anti-LGBTQ discrimination. The EU has also called out the anti-LGBTQ measures taken more recently in Hungary.
ILGA-Europe, a Brussels based advocacy group promoting the interests of lesbian, gay, bisexual, trans and intersex people, at the European level, in a statement it sent to the Blade in June after the EU letter was issued, notes that both Hungary and Poland, another EU country in which lawmakers have sought to restrict LGBTQ rights in recent years are at odds with the EU position on LGBTQ+ people.
"For quite some time now, we've been informing EU ministers about systematic breaches of EU law committed by Hungary and Poland, which impact on LGBTI rights and the lives of LGBTI people," says ILGA-Europe.
The UK has dropped to 14th in the ILGA-Europe's rankings for LGBTQ rights, scoring 53 out of a possible 100
ILGA-Europe, which produces a yearly "rainbow map" of 49 countries across Europe, revealed this past week that the United Kingdom had the most significant drop in ranking for LGBTQ equality rights this past year falling from 10th to 14th place.
Leading contributors to the loss in ranking and standing on the ILGA annual listing was due in part to the ongoing battles over transgender rights with a failure by the Tory-led government of Prime Minister Boris Johnson to set gender recognition policies especially in regard to a total ban on LGBTQ conversion therapy.
ILGA-Europe's advocacy director, Katrin Hugendubel, described the UK's plunging status to The Guardian newspaper as "a sad reminder that when governments don't stand strong on their commitments to advance minority rights, a powerful opposition can use that space to spread hate and division".
The chief executive of Stonewall UK, Nancy Kelley, warned that "years of progress on LGBTQ+ policy that was achieved under successive administrations has been rapidly eroded by a UK government that has taken its foot off the pedal".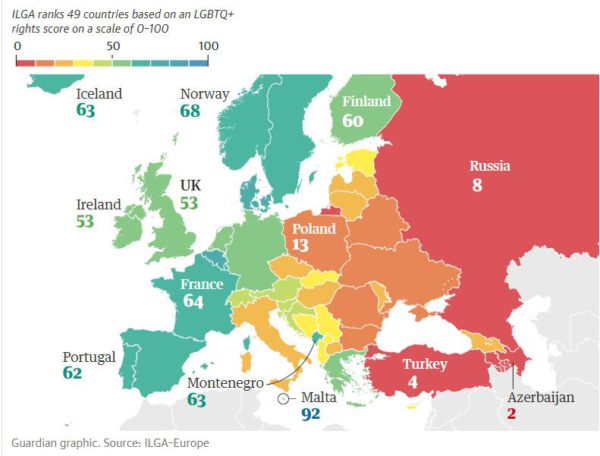 The ILGA highlighted the UK government's failure to extend a ban on conversion practices to transgender people, as well as abandonment of promised reforms on gender recognition and its equality action plan. It added that the UK also lost points because the government's equalities watchdog, the Equality and Human Rights Commission (EHRC), was "not … effectively protecting on the grounds of sexual orientation and gender identity" the Guardian reported.
Kelley called on the prime minister to "step back into the game" as a leader in protecting and promoting LGBTQ rights.
"As we approach the 50th anniversary of the first Pride in the UK, we call for his active leadership to rebuild our human rights institutions and to deliver a strategic policy programme that enables all LGBTQ+ people in the UK to live their lives in freedom and safety."
Maria Alyokhina of Pussy Riot escaped from Russia disguised as a food delivery worker
In what could be best described as a story worthy of a Cold-War era spy novel, the leader of the Russian activist band Pussy Riot fled Russia disguised as a food-delivery worker. Maria V. Alyokhina in an interview with the New York Times that she was able to get to her girlfriend's home in Vilnius, Lithuania, after evading Russian Federal Security Services agents.
The queer singer-songwriter musician and human rights activist who was on house arrest at the time of her escape was set to be transferred to a penal colony in the Russian Far East after being arrested six times in the past year protesting the policies of Russian President Vladimir Putin and more recently his order for the Russian invasion of Ukraine.
According to the account in the New York Times, Alyokhina left her apartment in the food-delivery worker disguise, and an unnamed friend drove her to the Belarusian border. The problem then became exiting from Belarus to Lithuania as she was turned away at the border twice by Lithuanian border agents.
The Times reported that Icelandic performance artist Ragnar Kjartansson eventually helped Alyokhina acquire the necessary travel documents from an unnamed country that in turn assisted her entering into Lithuania, where many Pussy Riot members had already escaped to, including Alyokhina's girlfriend, Lucy Shtein.
The band has now kicked off their European tour in Berlin.
Pussy Riot concert with activist after escape from Russia
Capital Stonewall Democrats holds D.C. Council chair, at-large Council candidates forum
Mendelson, Bonds join opponents in discussing LGBTQ forum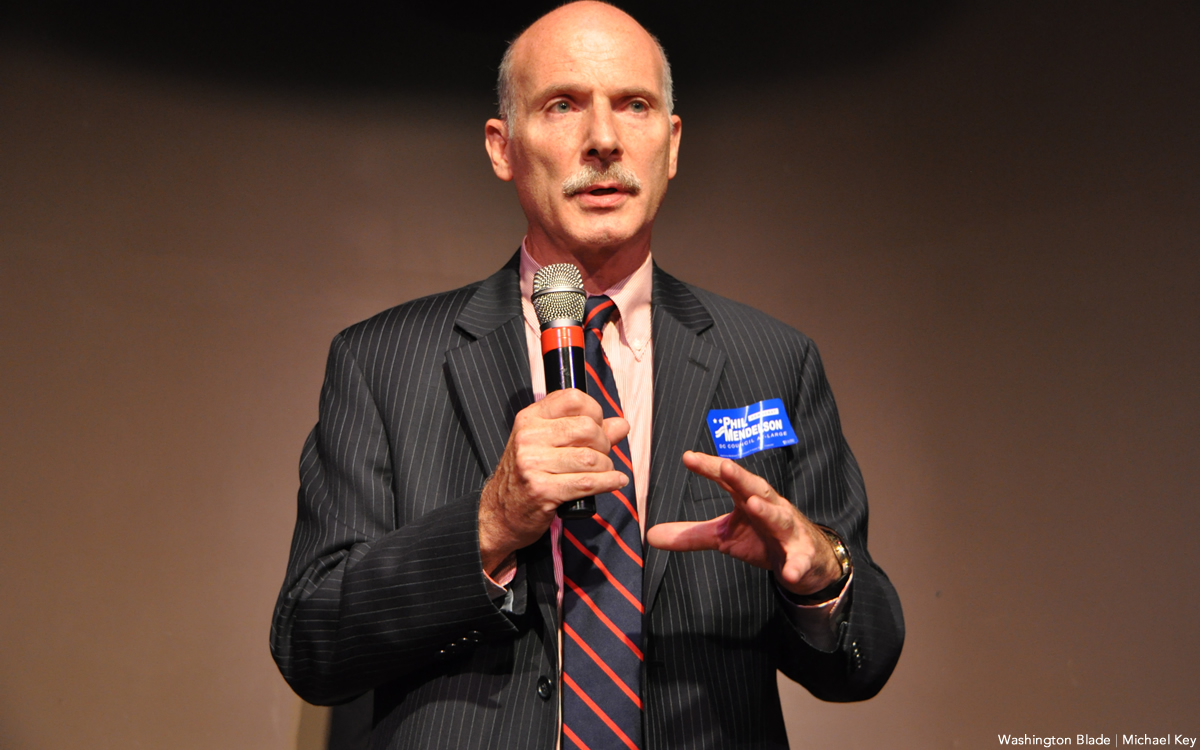 The Capital Stonewall Democrats, D.C.'s largest local LGBTQ political group, hosted the fifth and last of its series of LGBTQ candidate forums on May 11 by hosting candidates running for D.C. Council Chair and At-Large D.C. Council in the city's June 21 Democratic primary.
Similar to the earlier forums, each of the candidates, including incumbent Council Chair Phil Mendelson and incumbent at-large Councilmember Anita Bonds, expressed strong support for LGBTQ rights and cited their records in office or their work in the community on various issues related to LGBTQ programs or projects.
Among those participating in the virtual forum broadcast via Zoom was ethics attorney and Advisory Neighborhood Commissioner Erin Palmer, who is challenging Mendelson for the Council Chair position.
The candidates challenging Bonds for the at-large Council seat included Lisa Gore, Ward 3 Advisory Neighborhood Commissioner and former housing fraud investigator for the U.S. Department of Housing and Urban Development; Nate Fleming, former D.C. shadow U.S. House member and former D.C. Council staffer; and Dexter Williams, former Howard University government relations official, former D.C. Council staffer, and current election systems consultant.
Local community activists and small business owners Heidi Ellis and George Kerr, who served as co-moderators of the forum, asked the candidates questions on a wide range of topics, including the city's efforts to curtail anti-LGBTQ hate crimes, city funding for local LGBTQ organizations that provide services for LGBTQ people in need and problems faced by LGBTQ elders.
Other questions touched on the topics of racial and economic justice, whether the candidates or incumbents have LGBTQ people on their Council or campaign staff; whether term limits should be put in place for members of the Council, and whether D.C. police and the Office of the federally controlled U.S. Attorney for D.C. were doing enough to address anti-LGBTQ violence.
Capital Stonewall Democrats President Jatarious Frazier stated at the forum that electronic voting had begun for members of the organization to decide on which candidates to endorse and that an announcement of the winners of the group's endorsements would be made on or shortly before May 17. Frazier said that under the organization's rules, a 60 percent majority vote for a candidate was needed for an endorsement to be given.
A full video recording of the May 11 forum can be accessed here:
https://www.facebook.com/StonewallDems51/
A Washington Blade transcript of the candidates' opening statements at the May 11 forum can be viewed below.
D.C. COUNCIL CHAIR RACE
Opening Statements
Phil Mendelson
Thank you, Capital Stonewall Democrats for doing this once again. Although I have to say this is the first time in my many years that this has been virtual. So, it's a different experience. But I very much welcome this opportunity. For those of you who don't know me, I was an ANC commissioner for 20 years before I was elected to the Council. I have been chair of the Council for the past 10 years.
I have an adopted daughter who graduated from the D.C. public schools with a major in art, which she is pursuing as her career. As an incumbent, I have a record, not just promises. And I am proud of my record. And my record has been very strong in the area with regard to issues that are important to the LGBTQ community.
Although it was a few years ago, when I chaired the Committee on the Judiciary, I got through the Council our legislation to make the District the sixth jurisdiction in the country to recognize marriage equality. And I got it through with a strategy that ensured that Congress wasn't going to override what we did. As you know, they tried to do it many other times.
I have a very strong progressive record when it comes to these issues. When I chaired the Judiciary, I had hearings frequently with regard to hate crimes and enforcement against hate crimes. Most recently I introduced legislation to prohibit the gay panic defense in the District so that would not be used or misused with regard to hate crimes. As I said it's not enough to just say one has progressive values or to put forth campaign promises but actually to see how I delivered over and over again on issues, like universal paid leave, where I not only rewrote the law but got it through the Council over the opposition of the mayor. And other issues as well. I guess my time is up. But I look forward to the questions and ask for your support.
Erin Palmer
Thank you so much. Thank you to the Capital Stonewall Democrats. My name is Erin Palmer. I use she/her pronouns. And I'm running for D.C. Council chairwoman. And a little bit about myself–I'm a mom to three children who are 11, nine and seven. They are very much a part of my civic and political life. And if you know me, you'll get to know them as well. I fondly refer to them as the monsters because they're chaotic.
My profession—I'm in ethics … most recently having worked on judicial ethics and institutional accountability for the federal judiciary. And I'm also an Advisory Neighborhood Commissioner in Ward 4, where I have worked across commissions with commissioners citywide on systemic issues, including being an ally to the ANC Rainbow Caucus on some of the issues that they have worked on.
I'm running to bring energy, vision and compassion to D.C.'s challenges. And I think it is particularly important in light of the current national context. As we've seen, there was a recent release of a draft Supreme Court decision overturning Row v. Wade. And this is a reminder that we have to be constantly vigilant. We have to not take our rights and protections for granted. And we need to be dedicated at the local level to working very intentionally to support our communities with the most aid.
I bring a dedication to ethics in government and accountability. I'm the only Fair Elections candidate in this race, which means that I am rejecting corporate donations. And I'm accountable to and engaged with D.C. residents. I'm also the only candidate in this race with a D.C. Council accountability plan for a more modern ethical and accountable D.C. Council that ties specifically to the role of the chair in setting the procedures and governance structure for the Council.
I believe strongly in meeting basic needs as rights as a values-driven proposition. Things like housing, education and healthcare that lead with those values impacts how we budget, how we legislate, how we do oversight. And that doing those things keeps our community safe and strong. And I will lead with those values every day. Thank you so much.
AT-LARGE D.C. COUNCIL RACES
Anita Bonds
Well good evening, everyone. My name, of course, is Anita Bonds. And I am your at-large Council member on the D.C. Council. It is a pleasure to join with you this evening and to talk about our city that I have built my career on making sure that we, all of us, have an opportunity to continue to live here. It is vital that we hold ourselves and one another accountable for ensuring that we are allies, not only visibly but materialistically each and every day.
As an ally to the LGBTQ community, I have maintained a legislative agenda that consists of priorities demonstrated in my votes on legislation and in the budget that ensures the rights, protections and the livelihood of members of the LGBTQ community. While we work to achieve true equality and make sure that voices of the LGBTQ community are heard, especially considering the history of the violence that this community has endured for a number of years.
I made it a priority to include members of the LGBTQ community when making my appointments to the Police Reform Commission as an example. And I also have representation from the LGBTQ community on my staff, in fact, from the day when taking my seat on the Council. The senior LGBTQ community that has been historically neglected by society is one that always is dear to my heart. And I have spent a lot of energy trying to make things right. And I have also co-introduced and voted for care for LGBTQ seniors and—I ran out of time. Thank you.
Lisa Gore
Good evening, everyone, and thank you Capital Stonewall Democrats for hosting this important forum. I'm glad to be here tonight to discuss a little bit about myself and my campaign. And my name is Lisa Gore. I'm a D.C. public school mom. I am a current sitting ANC commissioner In ANC 34G serving both Ward 3 and Ward 4. And I recently retired as a federal investigator from the IG's office from HUD, where I spent over 25 years investigating housing fraud and conducting oversight of a national housing program.
My campaign is basically centered around marginalized communities. And our campaign is centered around making D.C. a more just D.C. That's everything from education, housing, environmental justice, aging and health, senior platform issues, and especially issues that are common in the LGBTQ community. I'm proud that I recently got the highest at-large rating with the GLAA endorsement of 8.5. And I think that really demonstrates the strength of our policy platform in this area.
There's several members of my campaign team paid and unpaid that are members of the LGBTQ community. And you might know me as a candidate that has rainbow signs out there, all across D.C. So, this community has been in my heart from day one and the day I started this campaign designing my yard signs. I wanted to make sure that D.C. knows that I'm representative of this community. So, thank you. I'm looking forward to hearing the issues and talking to you tonight about my platform.
Nate Fleming
Good evening, everyone. My name is Nate Fleming. I'm running for D.C. Council at-large. And I'm not here to pander to you. I'm here to speak to you about the issues impacting the LGBT community. I'm a member of this club. I've been a longtime member of this club since 2010. A little bit about me—I grew up in this city. Single mother household in the middle of the crack epidemic.
But education is what took me to Morehouse College. I was able to become a lawyer. I studied at Berkeley Law. I got a full scholarship to Harvard Kennedy School. And I believe that when you get opportunities like that coming from my background, you have a responsibility to try to create opportunities for others. And that's really what I worked to do. First, coming back to D.C. serving as D.C. shadow representative.
The first political endorsement I ever received was from the Gertrude Stein Democratic Club, the former name of the Capital Stonewall Democrats. I've been endorsed in every campaign that I've run. And in this race in 2014 I received more votes than any other candidate from the Capital Stonewall Democrats. That's because this club has done so much work in the fight for equal rights, justice and fairness, particularly the fight in 2010 for marriage equality, where I stood directly with members of this club to fight for those rights with the Council.
And I believe these issues, these values that this club represents needs to extend and permeate throughout the city. Because the pandemic has exacerbated the issues that are important to the LGBT community, whether that's housing, whether that's job and employment, whether that's healthcare. And we need more than ever bold, creative and thoughtful leadership that's going to help us build back better and reverse these systems so they can work for everyday people.
So, that's what I'm looking forward to doing. There's some great programs that are out there like the transgender and gender nonconforming workforce program. Thirty percent of LGBT youth identify as homeless. We have to expand LGBTQ centered health care, mental health care specifically in this city. And I'm looking forward to implementing the HIV long term bill of rights. Those are the type of issues I'm going to work on as your next at-large Council member.
Dexter Williams
Thank you and good evening. My name is Dexter Williams. I'm running for at-large Council member. And I want to thank the Capital Stonewall Democrats for sponsoring tonight's forum. As a candidate, I am very committed to the LGBTQ community, just as I am for all marginalized people across the city. What I want you to know is that this forum is no different for me because I am very sensitive to the inequities and struggles that are faced by many in the LGBTQ community, whether it is discrimination, crime and even murder impacting the trans community, double marginalization of race unemployment faced by the Black, Latino [inaudible] communities or the possible threats to marriage equality depending on just how far the Supreme Court and states will go in the future.
As a candidate, I am running on a theme of change. While D.C. is viewed as gay friendly, I know that housing discrimination, ageism, employment barriers and even in the [inaudible] issues still persist. Whether subtle discrimination such as the recent statement by Vincent Orange referring to Zach Parker as a candidate for Ward 5 Council member, who recently came out as gay, followed by Vincent Orange's equally weak apology for his egregious—for his weak apology or the more egregious trans murders that took place last year.
No one should be made to feel less for being their true selves. I know we are [inaudible] in the city, but we can and should do better in housing, places of employment. We should do better and I'm going to make sure that we do. Thank you.