New Mexico AG won't defend state marriage law
King latest to determine prohibition on same-sex marriage unconstitutional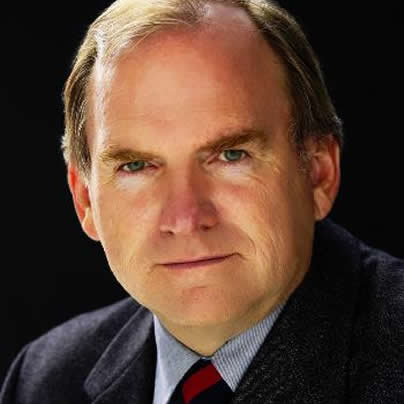 The attorney general of New Mexico has become the latest chief legal authority in a state to declare he won't defend its marriage law in court.
In a 29-page filing on Tuesday, Attorney General Gary King said New Mexico's marriage law is unconstitutional because the state constitution's guarantee of equal protection to citizens demands same-sex couples "be permitted to enjoy the benefits of marriage."
"There is no doubt that Article II [Section] 18 of the New Mexico Constitution requires the state to treat equally any of its citizens seeking legal recognition of their marriage, and that any statutory scheme interfering with that guarantee is flatly unconstitutional," King said.
King issued the opinion in the case of Hanna v. Salazar, a state lawsuit that the National Center for Lesbian Rights and the American Civil Liberties Union of New Mexico filed on behalf of Alexander Hanna and Yon Hudson, a Santa Fe couple seeking marriage rights.
Taking a line from the Obama administration's views on the Defense of Marriage Act, King argues that same-sex couples should be permitted to marry in New Mexico because the marriage law should be subject to heightened scrutiny, or a greater assumption it's unconstitutional. The opinion maintains gay people are a suspect class based on their history of discrimination and their political powerlessness.
King, who's expected to run for governor, is the latest in a series of state attorneys general who have elected not to defend a state's marriage law on the basis that it prohibits same-sex couples from marrying. Others are California Attorney General Kamala Harris and Illinois Attorney General Lisa Madigan. Most recently, Pennsylvania Attorney General Kathleen Kane said she won't defend her state's marriage law against a lawsuit filed by American Civil Liberties Union.
Chris Stoll, a staff attorney for the National Center for Lesbian Rights, praised King for joining other attorneys general in deciding not to defend a law prohibiting same-sex couples from marrying.
"It's great to see Attorney General King join many state officials around the country who have decided that excluding same-sex couples from marriage is indefensible under the constitution," Stoll said. "These laws serve only to harm same-sex couples and demean their families and children while helping no one."
The office of New Mexico Gov. Susana Martinez, a Republican who opposes same-sex marriage, didn't respond to multiple requests from the Washington Blade to comment on King's position.
But King's opinion goes further than just determining that the state's marriage law is unconstitutional. The filing also rejects an argument that same-sex marriage is already legal in New Mexico because the marriage law is gender neutral and doesn't explicitly ban same-sex marriage.
King says the marriage law currently doesn't allow same-sex marriage because the New Mexico's statutory scheme uses both gender-specific and non-gender specific terms and because other states that had similar statutes determined gay couples can't marry.
"State courts in New York, New Jersey, Massachusetts and Minnesota have considered analogous statutory schemes and concluded a mix of gender-specific and gender-neutral terminology does not convey the right for same sex couples to marry," King writes.
The position that same-sex marriage is already legal in New Mexico under current law was a view put forward by Santa Fe officials, including the city's mayor, David Coss, as part of a resolution approved in March.
Further, the attorney general rejects an argument that the New Mexico Supreme Court should issue a writ of mandamus so that plaintiffs in the case can receive a marriage license before the lawsuit ends. The couple had a filed a petition for mandamus as part of the relief.
"Issuing a writ of mandamus would to Respondent would thus represent an expansion of the jurisdiction conferred by Article VI [Section 3] and presents the very real threat of overloading the court's docket with mandamus actions concerning any dispute a party has with any local and county official: county tax assessment protests, local zoning disputes, and any other dispute concerning only county or local officials would all be fair game," King writes.
The opinion comes on the heels of a request from NCLR and ACLU for the New Mexico Supreme Court to issue a different writ of mandamus and take up the case so that it doesn't have to proceed through lower courts. Stoll said that petition before the court is still pending.
"It asks the court to hold that the New Mexico Constitution requires the state to permit same-sex couples to marry, and also to respect the marriages of those married in other states," Stoll said. "That petition remains pending alongside the one the attorney responded to yesterday."
Stephen Breyer announces retirement, opens up new battle over Supreme Court
Biden gets chance to add pick to bench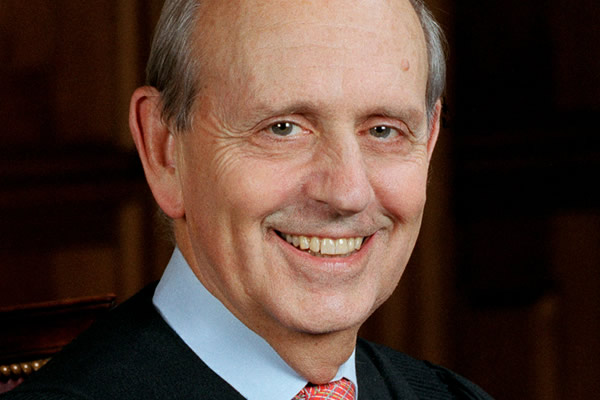 U.S. Associate Justice Stephen Breyer, who had joined landmark decisions from the U.S. Supreme Court in support of LGBTQ rights, announced on Wednesday he'd retire, opening up a new battle over the judiciary and the potential for President Biden to add his first nominee to the high court.
First reported by NBC News, the retirement of Breyer, appointed by former Bill Clinton and confirmed in 1994, fulfills a wish among progressives for him to step down for him to step down to ensure a replacement would be named with Biden in the White House and Democrats in control of the U.S. Senate.
LGBTQ advocates immediately hailed Breyer upon his departure as they called on Biden to name a choice who would fulfill that same approach to the law for generations to come.
Sharon McGowan, chief strategy director and legal director for Lambda Legal, said in a statement Breyer "has been a reliable defender of the civil rights of LGBTQ+ people."
"We strongly urge President Biden to select a nominee whose commitment to equal justice under law is beyond question, and whose record demonstrates their understanding that LGBTQ+ people are entitled to the full protection of the Constitution's guarantees of equality and liberty," McGowan said.
Breyer had joined each of the major decisions from the Supreme Court in favor of LGBTQ rights, which are all handed down during his tenure on the bench. Among them are earlier decisions in Romer v. Evans and Lawrence v. Texas as well as decision in favor in marriage equality in Windsor v. United States and Obergefell v. Hodges.
In Bostock v. Clayton County, which affirmed last year anti-LGBTQ discrimination is illegal under federal law, Breyer made the case during oral arguments Congress intended the Title VII of the Civil Rights Act of 1964 to help all vulnerable communities, which include include LGBTQ people.
"In the '60s, we were only 10 years away from where people who were real slaves and discriminated against obtained a degree of freedom," Breyer said. "And these statutes were all part of a civil rights movement that was designed to include in our society people who had been truly discriminated against for the worst of reasons. And at that time, this civil rights statute, when it was passed, would have put in the category gay people, transgender people as people who were suffering terrible discrimination."
Biden, who during his presidential campaign said he'd appoint a Black woman to the Supreme Court, now has the opportunity to act on that commitment in the wake of Breyer's retirement.
Ruben Gonzales, executive director of LGBTQ Victory Institute, said Biden should go a step further in that diversity and choose for the high court a Black LGBTQ woman.
"We urge President Biden to make history and appoint a Black LGBTQ woman to the U.S. Supreme Court," Gonzales said. "With his previous commitment to nominate a Black woman, President Biden affirmed the important role diverse perspectives have on the bench and on the health of our democracy and society. There is a powerful pipeline of Black LGBTQ judges, officials and leaders who are more than qualified to fulfill this promise.
One possibility, named by Gonzales in his statement, Washington State Supreme Court Justice G. Helen Whitener. Another potential choice would be U.S. District Judge Staci Michelle Yandle, who was nominated by former President Obama and confirmed in 2014.
LGBTQ groups stop short of criticizing Sinema for obstructing filibuster reform
Bisexual senator rebuffs Biden on voting rights proposal
Despite an out bisexual being among two Democrats responsible for thwarting President Biden's call to advance voting rights, LGBTQ groups that supported Sen. Kyrsten Sinema (D-Ariz.) stopped short of criticizing her directly for impeding legislation at the top of progressives' wish lists.
Although the change being sought was limited to voting rights legislation, the refusal from Sinema to change the filibuster rule, which requires 60 votes to move legislation to the Senate floor as opposed to a simple majority, effectively put a stake in the heart of the legislative agenda for Democrats, including any possibility of enacting LGBTQ civil rights legislation like the Equality Act.
The Human Rights Campaign, the nation's leading LGBTQ group, declined to identify Sinema by name in an organizational statement provided by a spokesperson via email in response to a Washington Blade inquiry on her refusal to change the filibuster to pass voting rights legislation.
"The core of our democracy is the right to vote," the statement says. "The United States Senate must act on legislation to protect that right now, including passage of federal voting rights and voting protection legislation. Without its essential safeguards guaranteeing that the voices of all voters — including LGBTQ+ Black, Brown and other minority voters — will be heard at the ballot box, we cannot ensure that any other right, even those currently enshrined in law, will be protected in the years to come."
The closest the statement comes to criticizing Sinema, without actually doing so, is the final line: "As a result, we feel that it is necessary for the Senate to take whatever actions are required, including changes to Senate rules, to ensure a majority to pass this essential legislation."
The Human Rights Campaign endorsed Sinema in the past as a candidate for U.S. Senate and hosted her as a special guest for fundraising and promotional events. It should be noted, JoDee Winterhof, HRC's senior vice president of policy and political affairs, once worked for Sinema as chief of staff.
Asked whether HRC's position was informed by Winterhof's past work, the spokesperson replied: "Many of our staff have experience working on the Hill. Regardless of who they have worked for, we continue to believe that it is necessary for the Senate to take whatever actions are required, including changes to the Senate rules, to pass federal voting reform."
Moments before Sinema was set last Thursday to meet with Biden on the filibuster, she took to the Senate floor preemptively and declared she wouldn't budge.
"There's no need for me to restate my long-standing support for the 60-vote threshold to pass legislation," Sinema said.
Added Sinema: "When one party need only negotiate with itself, policy will inextricably be pushed from the middle towards the extremes," adding that she doesn't support that outcome and "Arizonans do not either."
Joining Sinema in refusing to budge on the filibuster is her fellow moderate Sen. Joe Manchin (D-W.Va.), who has proposed alternatives to the current state of Senate rules, but ultimately rejected the changes proposed by the caucus.
In contrast to the relatively muted response from LGBTQ groups, other civil rights organizations were quick to denounce Sinema and Manchin for supporting the filibuster, calling the Senate rules as they stand Jim Crow 2.0. Late Monday, Emily's List announced it would no longer support Sinema for re-election over her position on voting rights.
Martin Luther King III, the son of the late civil rights leader, compared Manchin and Sinema to white moderates who half-heartedly supported his father's work.
"History will not remember them kindly," the younger King said, referring to Sinema and Manchin by name, according to PBS News Hour.
One exception to LGBTQ groups declining to criticize Sinema was the National LGBTQ Task Force, which said the senator should be coming up with alternatives to filibuster reform.
Kierra Johnson, executive director of the Task Force, said she's been "asking questions because Sen. Sinema is known for being a supporter of so many pieces of progressive legislation and culture change related to queer people and women's civil and human rights."
"I want to see better and more, right?" Johnson said. "Yes, we should be working to build bridges across the aisle, across political ideology, but for me, the question is if you're not going to support filibuster reform, then what are you supporting, and what is the pathway forward?"
Johnson added Sinema "owes it to the people who have supported her over the years to come up with these alternatives if she won't support filibuster reform."
Asked whether the Task Force has done any outreach to Sinema, Johnson said the organization is "in the process of trying to meet with her folks" and looking at ways to bring to her voices from LGBTQ movement community leaders.
Biden's call to reform the filibuster — even though it was limited to voting rights legislation — may have been dead on arrival as Sinema and Manchin have consistently resisted efforts in the Senate to reform the filibuster. The efforts to change Senate rules, however, appeared to have new strength after Biden's speech in Georgia last week making a plea for reform based on the Jan. 6 insurrection at the U.S. Capitol and the restrictive voting law passed in that state.
White House Press Secretary Jen Psaki, asked Friday about Sinema and Manchin refusing to budge on the filibuster, said the administration would continue to push for voting rights legislation.
"I would say that the president's view, as you heard him say yesterday, is that we're going to continue to press to get this done moving forward," Psaki said. "And that means continuing to engage with a range of officials who are supportive, some who have questions and some who are skeptical."
Psaki pointed out Biden ended up having the meeting with Sinema despite her remarks on the floor, adding "that's evidence of his continued commitment to keep engaging."
The LGBTQ community, as with any issue, isn't uniform in thinking Sinema should be obligated to have a certain view against the filibuster simply because she's bisexual, or that LGBTQ groups should criticize her for being obstructionist.
One LGBTQ strategist, who agreed to talk on condition of anonymity, outright rejects calls for Sinema to support a change in rules because the filibuster "ensures that minority perspectives cannot be trampled by majoritarianism."
"Portraying an LGBTQ woman as a gender and sexuality traitor shows a deep disrespect for our history," the strategist added. "Sinema's success in fighting for working families, vulnerable populations and LGBTQ rights is grounded in the belief that building large coalitions is how to best effect legal and social changes. Naturally, it follows she would be against a change in decades of Senate precedent that would prioritize hyper partisanship over persuasion."
Biden's speech in Georgia may have been more of an attempt to excite the progressive base as opposed to making a strategic push for filibuster reform. After all, his popularity is at an all-time low, which limits his influence. A POLITICO/Morning Consult poll asking voters to grade Biden after his first year in office found 37 percent gave him an "F," compared to the 31 who gave either "A" and "B," which is a touch worse than Trump at this point in his presidency.
The LGBTQ Victory Fund, which has endorsed Sinema in the past, declined to make any declarations about withholding an endorsement when asked by the Washington Blade.
"Our Victory Fund Campaign Board – made up of more than 150 political leaders and advocates from across the country – votes to determine our endorsements," said Elliot Imse, a Victory Fund spokesperson. "If Sen. Sinema runs for reelection, a review of her record as it relates to equality will of course be a primary consideration for whether she receives our endorsement. That board vote would take place, if she applies for endorsement, in late 2023 or 2024."
Imse added as a U.S. senator Sinema is not currently up for election because after being elected in 2018 she is set to hold her seat for another four years.
 
"Sen. Sinema is not currently endorsed by Victory Fund and is not on an active ballot," Imse said. "We last endorsed her in 2018 when she was running against Martha McSally – a right-wing extremist candidate vociferously opposed to equality for LGBTQ people."
Grenell emails reveal internal talk on Trump era policy against Pride flag
U.S. embassies barred from rainbow flag on official poles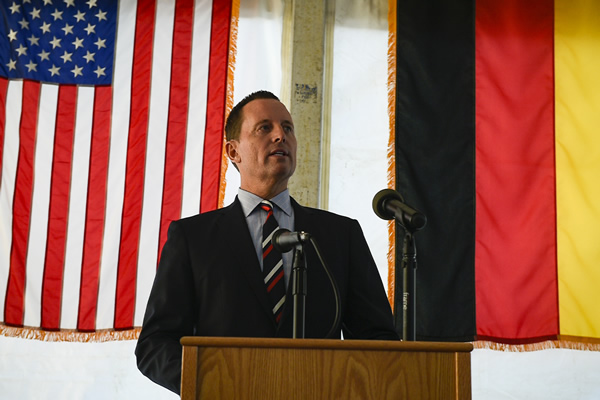 The latest emails from the State Department obtained by the Washington Blade via its lawsuit under the Freedom of Information Act reveal internal deliberation in the Trump administration over news reports about the prohibition of displaying Pride flags on the official pole at U.S. embassies.
Former U.S. Ambassador Richard Grenell, whose emails the Blade is seeking as the public face of a global initiative that pledged to decriminalize homosexuality, is repeatedly shown in the communications instructing his aides at the embassy in Berlin to give no comment to the media, including in response to an inquiry at the time from the Blade, on the flag policy for embassies.
"Thanks. Say nothing. I'm working it internally," Grenell responds in an email chain after being updated on the latest media inquiries, which included requests from ABC's Conor Finnegan, the Huffington Post, Buzzfeed, and CBS.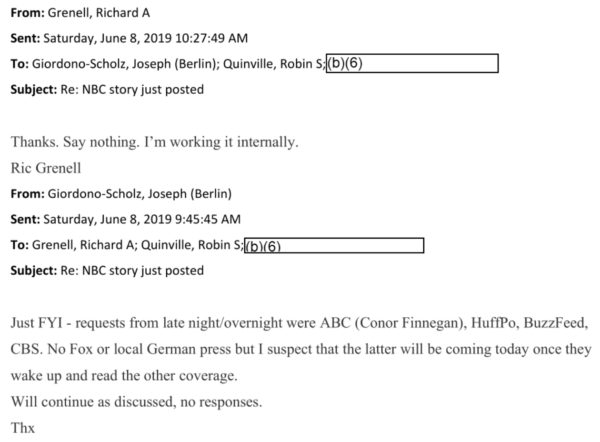 It's unclear what, if anything, Grenell was doing as part of "working it internally" as news broke that embassies were barred from flying Pride flags on the official pole, or even whether he was seeking a substantive change as opposed to crafting talking points to mitigate the appearance of the Trump administration being anti-LGBTQ.
"No Fox or local German press but I suspect that the latter will be coming today once they wake up and read other coverage," writes Joseph Giordono-Scholz, who was handling media relations for the embassy. "Will continue as discussed, no responses."
In 2019, shortly after Grenell announced he'd spearhead a global initiative to decriminalize homosexuality on behalf of the Trump administration, U.S. embassies that had sought to raise the rainbow flag in recognition of June as Pride month were barred from doing so under guidance from the State Department.
Critics at the time jumped on the policy as further evidence the Trump administration was anti-LGBTQ, despite having recently launched the decriminalization initiative. Trump defenders pointed out the prohibition was limited to the official pole, was a general ban of flying any flag other than the U.S. flag, and embassies found other ways to display the Pride flag on their grounds.
Grenell didn't respond Tuesday to the Blade's request for comment on the meaning of "working it internally," but Log Cabin Republicans, an organization close to Grenell, volunteered a message shortly after the Blade sent its inquiry to him.
Charles Moran, managing director of Log Cabin Republicans, said in the email the conception the Trump administration banned Pride flags at embassies is erroneous.
"We were very pleased that President Trump made it clear that pride flags could continue to be flown at embassies around the globe, despite logistical discussions internally being had at the State Department," Moran said.
Attached in the email is an image of Moran standing below a pole with both a U.S. flag and a rainbow flag, which Moran said was taken at the U.S. Embassy Berlin on July 26, 2019, when he was en route to a decriminalization discussion forum being hosted there.
Asked by the Blade whether that was the official pole, Moran replied, "I don't know what an 'official pole' is. It was a professionally installed flag pole, on the embassy next to the front door." Moran didn't respond to an additional follow up question on what he meant by Trump making it clear Pride flags would be allowed at embassies.
Morgan Ortagus, then-spokesperson for the State Department, defended former Secretary of State Mike Pompeo's policy against Pride flags on as she acknowledged "Pride Month that we're in right now celebrated around the world by many State Department employees, by many embassies."
"The secretary has the position that, as it related to the flag pole, that only the American flag should be flown there," Ortagus said.
The email chain within the U.S. embassy in Berlin on the news development began with Giordono-Scholz forwarding Grenell a link to a story from NBC News's Josh Lederman, who broke the story on U.S. embassies being unable to fly Pride flags, followed by a subsequent email with the text of his article. The immediacy with which the aide sends the link in an email first before the story itself in a subsequent message suggests a sense of urgency in distribution and awareness the article would be forthcoming.
Other news outlets were quick to follow up, including the Blade, as evidenced by Giordono-Scholz's follow up question to Grenell after sharing the initial NBC News story.
"CNN (Michelle Kosinski) just called, asked if we had anything to add," Giordono-Scholz writes. "Wash Blade also just emailed. How would like me to respond to these and coming inquiries — just point them to the NBC statement you gave and refer back to DC on questions about the Dept?"
Grenell was succinct in response: "Say nothing. Right now don't respond."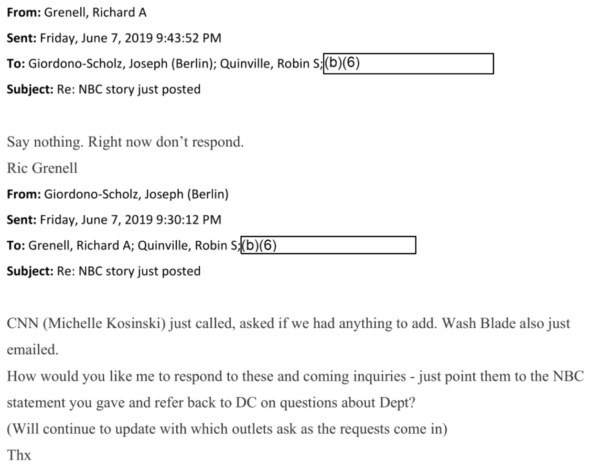 Giordono-Scholz acknowledges the instructions from Grenell in a subsequent email, which also notifies him of an inquiry from the Washington Post's Carol Morello.
"Will continue to let you know about inquires but not respond to any," Giordono-Scholz writes.
The emails were obtained in a FOIA production from the State Department this week as a result of a lawsuit filed by the Blade with attorneys at the law firm Davis Wright Tremaine LLP. The litigation was filed in August 2021 after interminable delays in production of communications, which the Blade initially sought by a FOIA request in September 2020.
The State Department has identified tens of thousands of emails potentially responsive to the Blade's request and is expected to release those it deems to be responsive periodically as a result of an agreement in the litigation.
Also ensnared in the latest email dump are communications on other foreign policy topics, including the Nord Strom 2 pipeline and Iran's seizure of oil tankers. Many of these emails reveal a preoccupation with using tweets as a tool to convey foreign policy messages with little else mentioned in terms of engagement.
"I'm watching. Already tweeted about it ;)" Grenell responds when an aide informs him that Iran has seized oil tankers.
Evyenia Sidereas, political minister-counselor at the U.S. embassy in Berlin, responds: "My twitter alerts can't keep up :)," which prompts Grenell to reply: "I've been a little busy today. Lol."
The emphasis on Twitter is also seen after an aide in May 2019 brings to Grenell's attention the Kenya high court has affirmed the country's law against homosexuality. An aide (whose name the State Department redacted in the email) informs him then-U.S. Ambassador Kyle McCarter is set to have a meeting with staff "to discuss whether he'll issue a statement" and the embassy in Nairobi had updated the State Department while awaiting further guidance.
"I'll tweet about this one, too," Grenell says. "Can you make a suggestion and I'll tweet Hungary today. Kenya tomorrow." (It's unclear what the reference to Hungary was regarding.)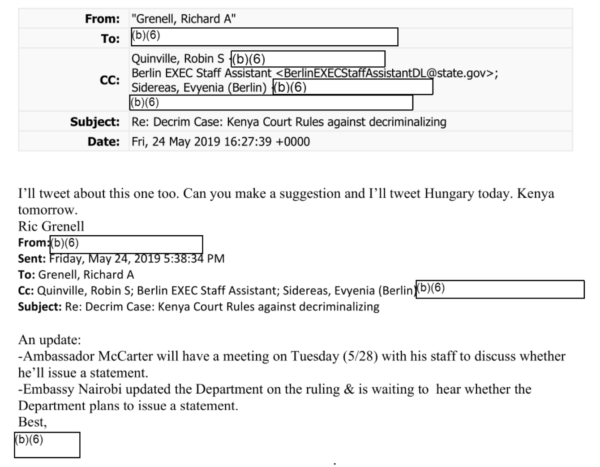 In terms of discussion at the U.S. embassy on the Kenya decision, whatever was considered apparently didn't bear fruit. The Blade couldn't immediately find any public statement on the Kenya decision from McCarter in his capacity as a U.S. ambassador during the Trump administration. McCarter didn't respond to the Blade's request to comment for this article.
In 2018, McCarter was grilled during his Senate confirmation hearing on his record as an Illinois state legislator who opposed LGBTQ rights, including his vote against an anti-bullying measure after stating he believed it would promote homosexuality. McCarter also had a history of misogynistic tweets and in 2016 tweeted: "Hillary for Prison. No, really."
Much of the focus on the Trump administration's global initiative appeared to be Iran, which has been an antagonist on the global stage and more so after Trump withdrew from the Iran deal. Iran is also one of the countries where homosexuality is not only criminalized, but punishable by death.
Although Grenell has publicly disputed Iran was the focus, he was quick to provide a quote to his assistant seeking a response from him after the country's foreign minister affirmed its anti-gay policy in response to questions from a reporter with a German newspaper.
"The UN's Declaration of Human Rights makes clear that these answers from the Iranian regime are violating basic UN principles," Grenell writes. "UN members should agree with the Declaration in order to be members. Criminalizing homosexuality violates the Declaration, plain and simple."
Grenell's response was later found online in an article in The Jerusalem Post, which covered reaction to the news in an article titled, "Iran's FM affirms right to execute gays and blasts U.S. and Israel."