Senate committee advances gay troops' benefits bill
Charlie Morgan Act would ensure gay veterans receive spousal benefits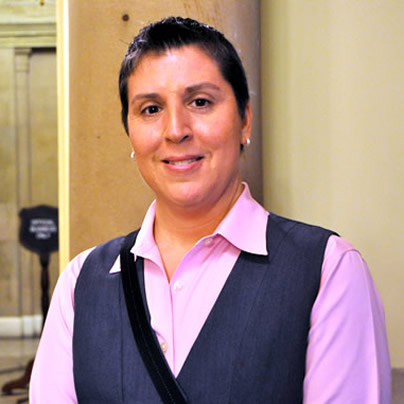 A Senate committee advanced legislation on Wednesday that would ensure married gay service members can receive benefits — including veteran's benefits — for their same-sex spouses.
The Senate Committee on Veterans' Affairs approved by voice vote as part of a package of additional bills legislation known as the Charlie Morgan Act, which would change the definition of spouse in U.S. code governing troop benefits to ensure spousal benefits flow to gay service members.
The legislation is named after Charlie Morgan, a New Hampshire guardsman who battled incurable breast cancer as she was a plaintiff in a lawsuit filed by gay troops against the Defense of Marriage Act. Morgan, who was seeking veteran's benefits for her spouse, Karen Morgan, succumbed to the diseased in February before the Supreme Court struck down DOMA on June 26.
Sen. Jeanne Shaheen (D-N.H.), the chief sponsor of the bill, said in a statement approval by the committee was a tribute to the late guardsman.
"Every individual who serves in uniform should have access to the benefits they've earned," Shaheen said. "Charlie served on the front lines for our country, but because of her sexual orientation her family has been wrongfully being denied many of the same benefits given to those who stood beside her."
In the aftermath of the Supreme Court ruling against Section 3 of DOMA, Secretary of Defense Chuck Hagel said he'd work to implement spousal benefits for gay troops that weren't previously allowed under the anti-gay law.
But Title 38, the portion of U.S. code governing veterans' benefits, defines marriage as an opposite-sex union independently of DOMA. Benefits afforded to veterans under this law include disability compensation and the right to be buried together in a state or national veterans' cemetery. It's unclear whether these benefits will flow to veterans with same-sex spouses even with the court ruling against DOMA.
Shaheen concluded passage of the Charlie Morgan Act would complement the Supreme Court ruling against DOMA to ensure gay veterans receive the same benefits as their straight counterparts.
"The Supreme Court's ruling on DOMA was a victory for the belief that all Americans are to be treated equally under the law, and I am pleased the Veteran's Committee has built on the landmark progress we've seen for marriage equality," Shaheen said. "I hope the full Senate will move forward on the Charlie Morgan Act so that finally no spouse, child or family is denied benefits they have earned and deserve."
Victory Fund honors Maine House speaker at D.C. conference
Ryan Fecteau is gay Catholic University alum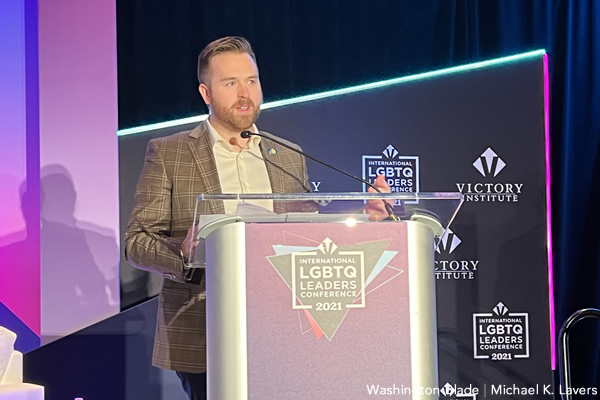 The Victory Fund on Saturday honored Maine House Speaker Ryan Fecteau on the last day of its International LGBTQ Leaders Conference in D.C.
Fecteau — an openly gay Catholic University of America alum — won a seat in the Maine House of Representatives in 2014. He became the chamber's speaker in 2018.
"Hate and intolerance will not derail us," said Fecteau after Florida state Rep. Carlos Guillermo Smith presented him with the Tammy Baldwin Breakthrough Award, which is named after U.S. Sen. Tammy Baldwin (D-Wis.). "Our community will not be intimidated."
The Victory Fund on Friday honored Guatemalan Congressman Aldo Dávila, a gay man who is living with HIV.
Rachel Levine: Efforts to deny health care to trans youth are 'politics'
Former Pa. health secretary opened Victory Fund conference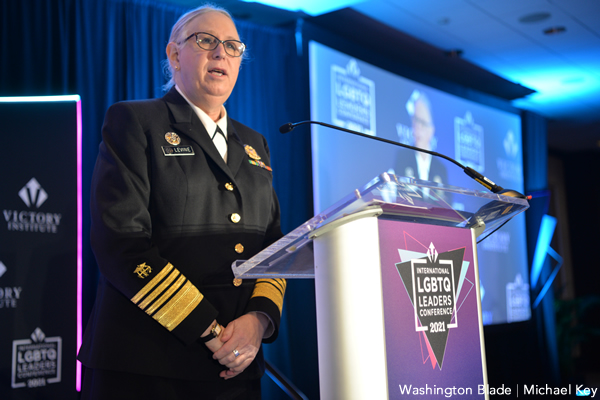 Assistant Health Secretary Rachel Levine on Thursday criticized efforts to prevent transgender youth from accessing health care.
"Unfortunately, some have fought to prevent transgender youth from accessing the health care that they need," she said in a speech she delivered at the opening of the Victory Fund's 2021 International LGBTQ Leaders Conference that took place in-person at the JW Marriott in downtown D.C. "This is politics and this politics has no place in health care and public health and they defy the established standards of care written by medical experts."
Levine was Pennsylvania's Health Secretary until President Biden nominated her to become assistant secretary of health.
She became the first openly trans person confirmed by the U.S. Senate in March. Levine in October became a four-star admiral in the U.S. Public Health Service.
The conference will take place in-person and virtually through Sunday.
VIDEO: Biden addresses advocates on World AIDS Day
President says end to transmission 'within striking distance'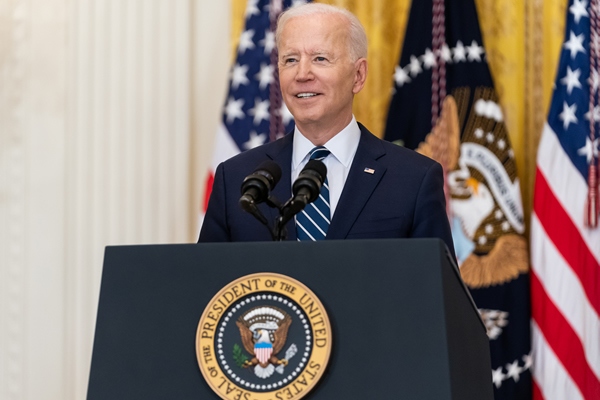 President Biden, in remarks delivered Wednesday at the White House in recognition of World AIDS Day, said to advocates in the fight against HIV/AIDS the end to HIV transmission was near.
"It's because of you and it's not hyperbole to suggest that we are within striking distance of eliminating HIV transmission, within striking distance," Biden told attendees in the East Room.
Joining Biden in the East Room were Secretary of Health & Human Services Xavier Becerra and Gabriel Maldonado, an HIV/AIDS Advocate and founder of TruEvolution, a Riverside, Calif.-based LGBTQ group.
Biden also during his remarks touted having made the appointment of Harold Phillips to lead the White House Office of National AIDS Policy — a position that had gone vacant throughout the entirety of the Trump administration.
Notably, Biden talked about the Ending the HIV Epidemic plan, an initiate health officials started in the Trump administration, by saying was to beat HIV domestically by 2030. That was initial target date when the initiative, but Biden had campaigned on defeating by HIV by 2025 to the skepticism off observers.
Watch Biden full remarks below: