Russian activist: Gay crackdown seeks to 'shut down' advocacy
Polina Andrianova's group fined 500,000 rubles under "foreign agent" law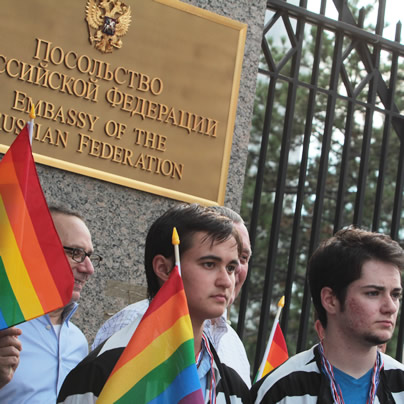 "These laws are aimed at driving LGBT people back into silence, back underground, back to the invisibility," Polina Andrianova of Coming Out, a St. Petersburg-based advocacy group, told the Washington Blade. "That's the whole point of them."
Andrianova spoke to the Blade from St. Petersburg after an appellate judge in the city on July 25 overturned a lower court's ruling that fined Coming Out 500,000 rubles or slightly more than $15,000 for violating a 2012 law that requires groups that receive funding from outside Russia to register as a "foreign agent."
"We were extremely surprised the appeal judge actually dismissed the decision of the lower court and sent our case back for trial," she said. "Even though it's clear we're not guilty of anything, we did not expect that."
The Coming Out case comes against the backdrop of growing outrage over Russia's LGBT rights record.
President Vladimir Putin in late June signed a broadly worded law that bans gay propaganda to minors across the country. A second statute that prohibits foreign same-sex couples and any couple from a country in which gays and lesbians can legally marry from adopting Russian children took effect last month.
Andrianova told the Blade only a handful of people have been charged and found guilty of violating the gay propaganda law. She said the statute's true impact, however, is felt outside the Russian legal system.
"The propaganda terminology is so vaguely defined that nobody knows what is right or wrong to do," Andrianova said. "All I know is it has something to do with me being openly gay. If I am on the streets and I hold hands with my girlfriend or kiss my girlfriend — something that any heterosexual couple can do at any time — I'm afraid now that somebody will call the police. Some mother with a child will call the police and the police will arrest me and harass me."
Authorities in the Russian capital in May arrested 30 people who tried to stage a Pride march outside Moscow City Hall. Police in Murmansk on July 21 arrested four Dutch LGBT rights advocates who were filming a documentary about gay life in Russia.
St. Petersburg police on June 29 took dozens of LGBT rights advocates into custody as they tried to stage their own Pride event.
Andrianova, who did not attend the gathering, told the Blade that several Coming Out volunteers and clients are among the roughly 50 people whom authorities arrested. She said her organization is representing them in court.
Anti-gay laws way for Putin to 'gain more conservative support'
Andrianova told the Blade she feels the ongoing anti-LGBT crackdown is part of what she described as a "much wider campaign" for Russia to "define itself and define itself in opposition to the West, Europe and the United States."
"Russia is defining traditional values and Christian orthodox heterosexual values, patriarchal when a man has a role and a woman has a role with a traditional family with kids," she said. "Gay people, non-Christian orthodox people, all of them are viewed as kind of dangerous to the traditional values of Russia and so they're viewed as non-Russian and [have] imported values from the West."
Andrianova added she feels Putin signed the gay propaganda to minors and adoption bans into law as a way to maintain his popularity within the country, especially after protests erupted after the country's 2012 presidential election the former KGB officer won.
"He got a bit worried about it," Andrianova said. "He's trying to gain more conservative support."
Andrianova blasts Russian sports minister over Sochi comments
Andrianova spoke to the Blade as concerns over whether Russian authorities plan to exempt athletes and visitors who will visit Sochi for the 2014 Winter Olympics in February from the country's gay propaganda law mount.
The Associated Press on August 5 reported the International Olympic Committee is engaged in "quiet diplomacy" with senior Russian officials on the issue.
Russian Sports Minister Vitaly Mutko told a Russian sports website last week the gay propaganda law will apply to those who travel to Sochi for the Olympics. He told reporters during a Moscow press conference on Thursday that the statute's critics need to "calm down."
"Does that mean that during all the rest of the time you don't need to be tolerant and we don't need to be correct in your behavior towards your own citizens?" Andrianova asked, referring to Mutko's statements. "This double standard and hypocrisy needs to be picked up and highlighted by the rest of the world."
All Out and Athlete Ally on August 7 presented a petition with more than 340,000 signatures to the IOC in Lausanne, Switzerland, that urges it to pressure Russian officials to protect the rights of their LGBT citizens. Andre Bank, executive director of All Out, on Thursday discussed the issue with Russian Ambassador to the United Nations Vitaly Cherkin before he met with U.N. Secretary General Ban Ki-moon in New York.
The Associated Press earlier on Friday reported IOC President Jacques Rogge sought further clarification from the Russian government over the application of the gay propaganda ban during the Sochi games.
Andrianova suggested to the Blade that President Obama's decision to cancel his meeting with Putin that had been scheduled to take place in Moscow before next month's G-20 summit in St. Petersburg is among the ways to continue to highlight Russia's LGBT rights record. She said she does not support calls to boycott the Sochi games.
"It's going to be much more effective to use the Olympics to raise this issue as loud and as visibly as possible," Andrianova said. "We should call on the athletes and the sponsors and staff and volunteers to make this issue as visible as they can, to speak as loudly as they can to speak about how shameful it is and how absurd it is for Russia to be acting like this towards its LGBT citizens. That's going to be more effective and more visible in Russia than some athletes not coming to the Olympics."
A member of a Russian LGBT rights group that was fined under the country's "foreign agent" law said on Friday the ongoing gay crack down in Russia seeks to "shut down any kind of possibility for LGBT advocacy."
White House sends Sean Patrick Maloney's OECD nomination to the Senate
Former N.Y. congressman narrowly lost re-election in 2022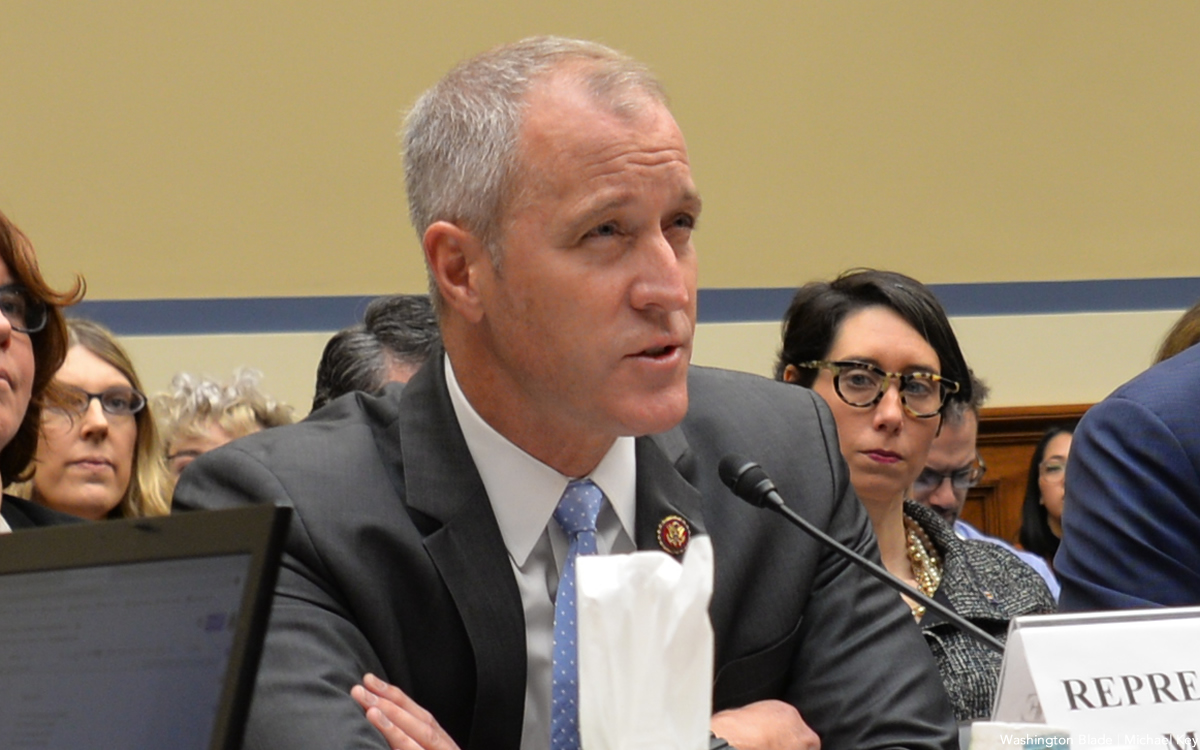 The White House on Thursday officially announced the nomination of former Democratic Congressman Sean Patrick Maloney of New York to serve as the Organization for Economic Cooperation and Development's U.S. representative with the rank of ambassador.
Since February 2022, former Delaware Gov. Jack Markell has represented the U.S. before the OECD, an intergovernmental body with 38 member countries founded to promote economic progress and stimulate world trade.
Along with Maloney's nomination to replace him, Markell's nomination last month to serve as ambassador to Italy is now pending before the Senate.
New York's first openly gay member of Congress, Maloney finished his fifth term as chair of the Democratic Congressional Campaign Committee, the Democratic Party's sixth highest-ranking position in the House, before narrowly losing his bid for reelection in 2022.
Maloney was credited with helping to secure the Democrats' better-than-expected performance in the midterm elections but lost his own race by just 1,800 votes after New York's 17th Congressional District was redrawn.
African advocacy groups condemn Uganda's Anti-Homosexuality Act
South African organizations criticize government's silence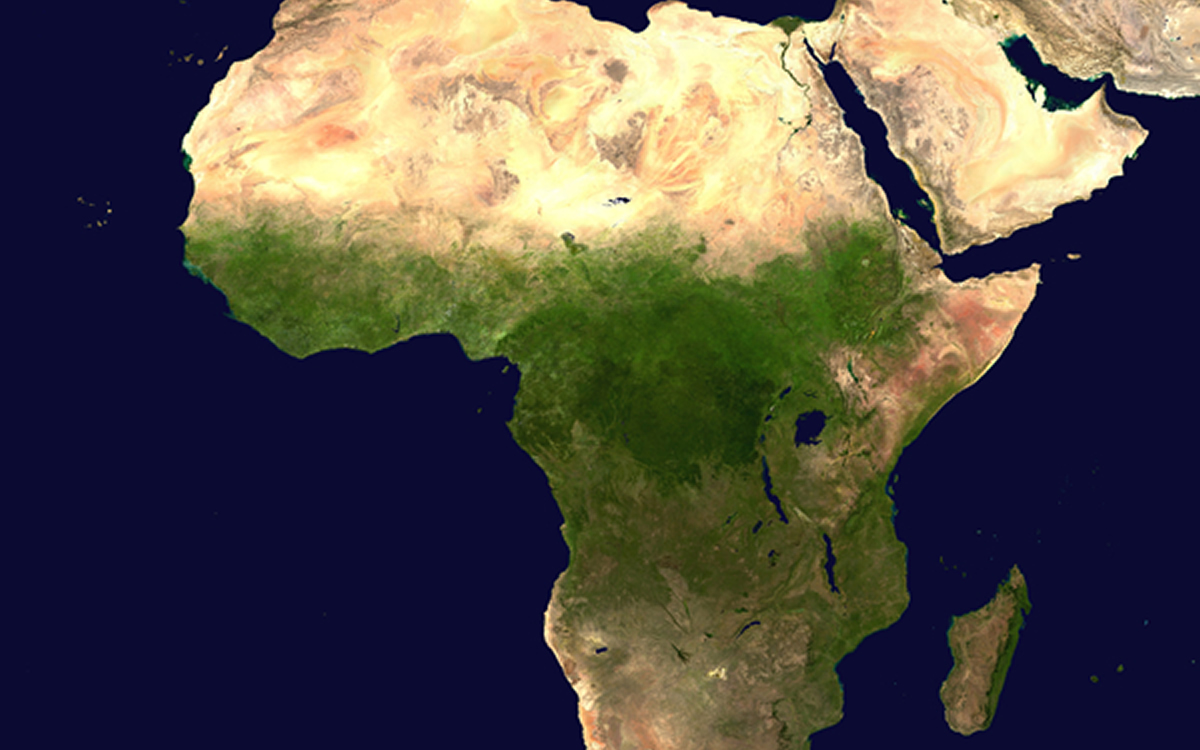 LGBTQ and intersex rights groups across Africa have condemned the signing of Uganda's Anti-Homosexuality Act that calls for the death penalty for "aggravated homosexuality."
Mpho Buntse, a spokesperson for Access Chapter 2, a South African LGBTQ and intersex advocacy organization, said it was very worrisome the South African government did not condemn the law, even though the country is the only one on the continent that fully upholds LGBTQ and intersex rights.
"It has really been apparent that South Africa would rather protect its diplomatic relations rather than impose on the sovereignty of a country like Uganda. However, we are not dealing with an issue of economic or financial diplomacy, but we are dealing with a human rights crisis. We are dealing with a situation where we could see potential violence being subjected to the LGBTQ+ community in Uganda, but not only to the LGBTQ+ community but the rest of the Ugandan population stands to be affected by this law because even if you don't identify as LGBTQ+ you will be compelled to report to the state those that you know that identify as LGBTQ+," said Buntse. "So we find it really problematic that we choose to be just spectators when we could or potentially have played an active role from the start of this."
Buntse noted Ugandan President Yoweri Museveni, who signed the Anti-Homosexuality Act on Monday, was in South Africa in late February.
"We didn't seize the opportunity to play an active role, so South Africa is always on a missed opportunity where we are now seeing a country to be a spectator instead of being an ally of the LGBTQ+ community," added Buntse.
Bruce Walker of Pretoria Pride, another South African advocacy group, said he was not surprised by the government's stance.
"They are showing their true colors," said Walker. "The governing party is full of homophobes. It's written in the constitution, the rights for the LGBTQI+ community, but they never support the LGBTQI+ community. They flatly ignore it. You either support and respect our constitution or not but as it stands they do not. They are far too scared to take a stand." 
Gays And Lesbians of Zimbabwe also condemned the law, saying it violates human rights.
"This law blatantly violates the human rights of LGBTQ individuals in Uganda including the right to privacy, freedom from discrimination and the right to equal protection under the law We stand shoulder to shoulder with the Ugandan LGBTQ community through this difficult time," said GALZ in a statement. "We call on the Ugandan leadership to engage in constructive dialogue, and to work towards solutions that are inclusive and respectful to all individuals."
Lesbians, Gays and Bisexuals of Botswana, like GALZ, also condemned the law and expressed solidarity with LGBTQ and intersex Ugandans.
"It's a great disappointed to have the president assent the Anti-Homosexuality Bill," said LEGABIBO. "To all LGBTIQ+ identifying persons in Uganda, we stand in solidarity with you."
East Africa Trans Health and Advocacy Network also castigated the law. EATHAN, like LEGABIBO and GALZ, said it will continue to stand up for LGBTQ and intersex rights in Uganda.
"Sad day for LGBTIQ Ugandans. We stand with our trans, intersex and nonbinary Ugandans and the entire LGBTIQ community. We must keep fighting and have the law declared unconstitutional," said EATHAN.
We Are All Ghana, a Ghanaian LGBTQ and intersex rights group, in its reaction said the community in Uganda and across Africa should not be silenced.
"As we stand in solidarity with the Ugandan queer community, let us remind ourselves as the Ghanaian LGBTQ+ community and Africans as a whole that we must not allow ourselves to be bullied into silence. our rights are as human as anyone else's," said We Are All Ghana.
Shemerirwe Agnes, executive director of Africa Queer Network, a Uganda-based advocacy group, said there was nothing anyone or any particular organization could have done to dissuade Museveni from signing the bill.
"We are being attacked and killed since that bill was passed because the society and the police thought that just because that bill was passed it was now law so one would think that just because it's now law then it's now going to be implemented," said Agnes. "It was implemented even before it was signed into law there is nothing we can do now because President Museveni doesn't listen to anyone."
U.S. President Joe Biden is among those who have also condemned the Anti-Homosexuality Act.
The White House has announced it will "evaluate" the law's implications and how it may impact U.S. aid to Uganda. Advocacy groups, meanwhile, have challenged the Anti-Homosexuality Act in the Ugandan Constitutional Court.
Daniel Itai is the Washington Blade's Africa Correspondent.
Bowser: No credible threats to D.C. Pride events
Mayor spoke with the Blade after flag-raising ceremony at the Wilson Building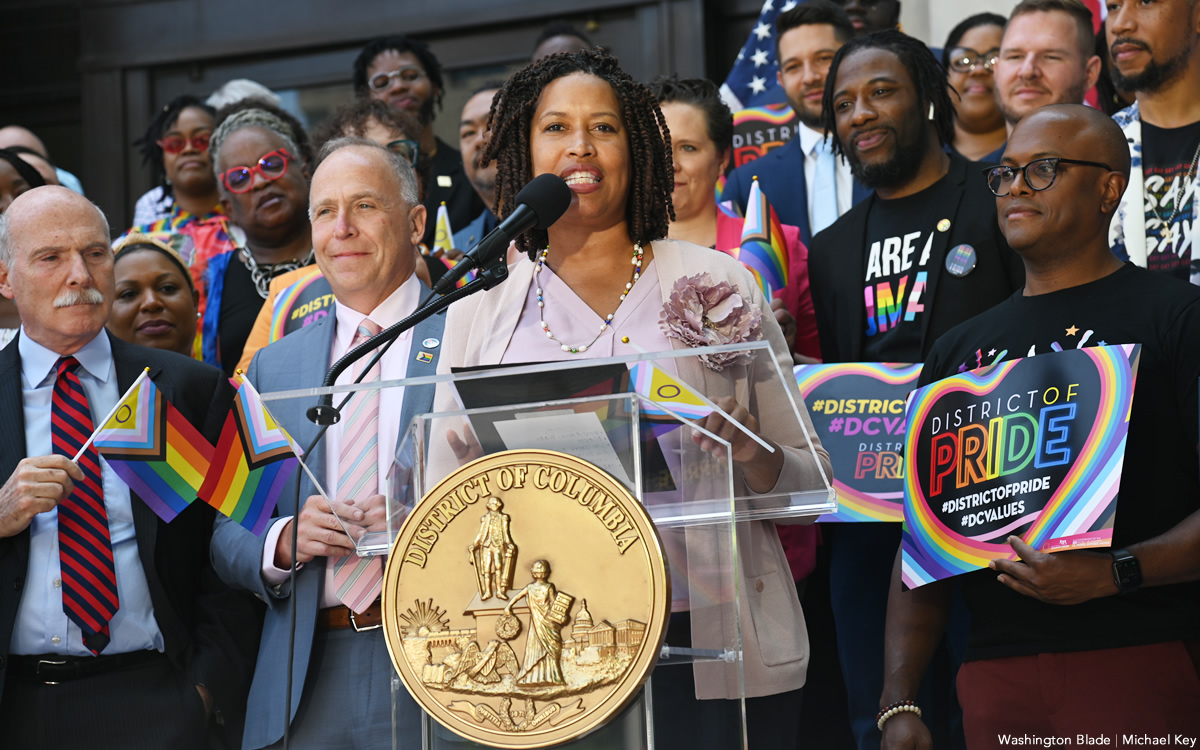 D.C. Mayor Muriel Bowser on Thursday said authorities have not received any credible threats to upcoming Pride events.
"We don't have any to report," she told the Washington Blade.
"MPD is constantly working with all of our agencies to make sure we have safe special events and we're going to keep going with our planning, like we do every year," added Bowser. "There's always a scan for any threats to the District."
Bowser spoke with the Blade after she joined D.C. Council Chair Phil Mendelson, Council members Anita Bonds, Charles Allen, Kenyon McDuffie and Zachary Parker, D.C. Attorney General Brian Schwalb, D.C. Mayor's LGBTQ Affairs Office Director Japer Bowles and other officials and activists in raising the Progress Pride flag in front of the Wilson Building.
The Blade last month reported D.C. police are investigating a bomb threat a Twitter user made against the annual District Pride concert that will take place at the Lincoln Theater on June 29. Bowles in a May 19 statement said his office reported the tweet, but further stressed that "no credible threat at this time has been made."